Purslane Cherry Salad with Lebneh and Crispy Freekeh Crumbs
17
May 20, 2015, Updated Dec 22, 2018
Disclosure: This post may contain affiliate links, which means I may earn a commission if you click on the link and make a purchase.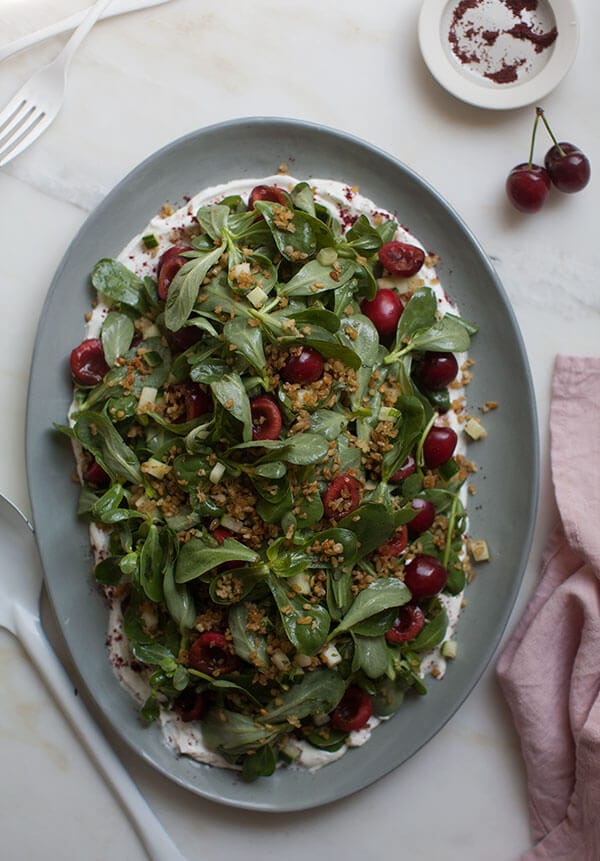 I'm on my way to Chicago for no reason at all other than to hang out. How amazing is that?! I wish I could bottle up the feeling right before a trip. You're running errands, packing, washing clothes, and while normally those are really lame things to do, it's actually ultra fun when they're for a vacation vs. normal life.
This salad has Memorial Day written all over it. It's large format or whatever you want to call it. Basically, it's a big-ass salad for hella ppl.
Do you have cherries yet? I feel like LA/California gets produce weeks (sometimes months!) before the rest of the country so it's hard for me to gauge if this is a useful recipe or totally pointless. ¯_(ツ)_/¯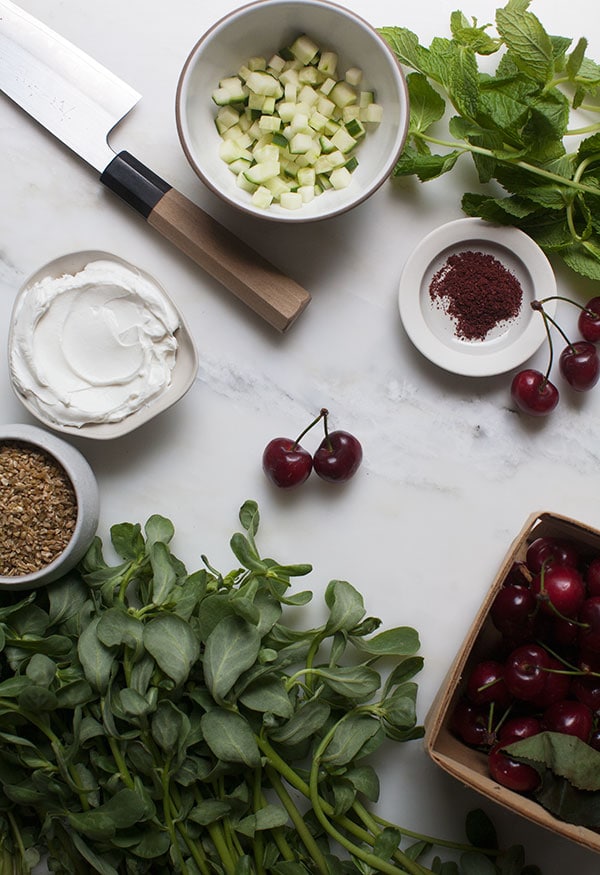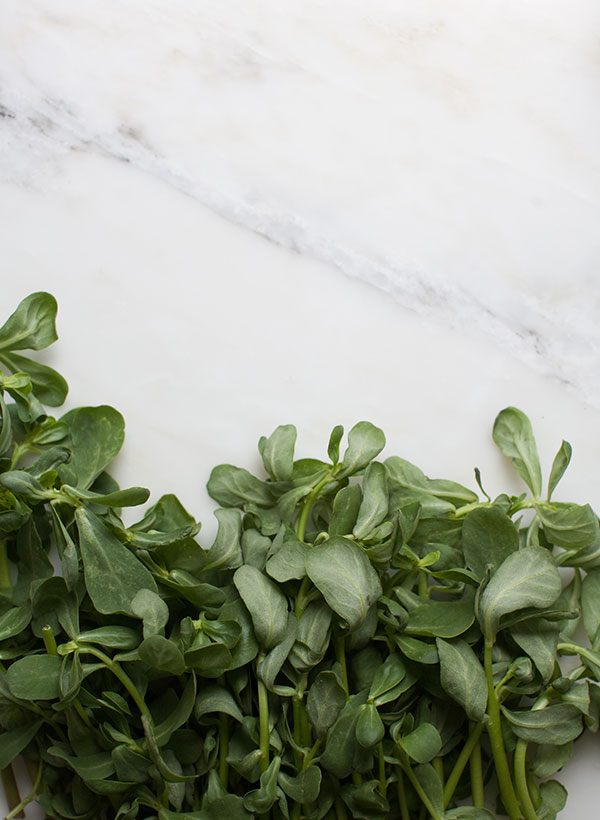 If this recipe is pointless for you, you can always replace the fresh cherries with dried. It's still be delicious!
Let's talk about freekeh because it might be the weirdo ingredient in this salad. I actually got the idea to use freekeh from Heidi's post linking to this write-up. I was super intrigued so I picked some up at the bulk section of my local Whole Foods.
I cooked them exactly like I cook quinoa. And then dried them out and then fried them. CRISPY! They were bread crumb-like. They're nutty yet sort of soft on the inside. I'd say they're more similar to brown rice in consistency vs. farro or wheatberries.
They added really nice texture to this salad.
Look at this crunch!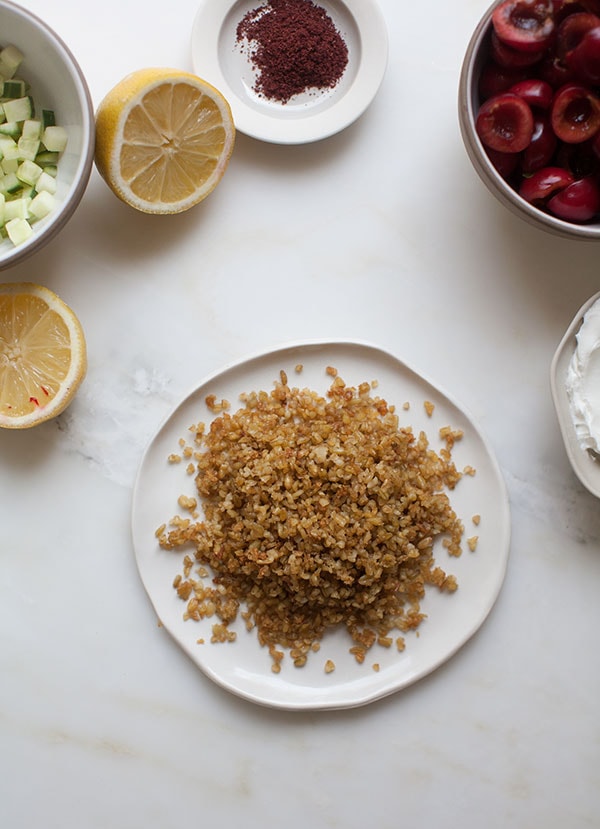 If you can't find purslane, which I usually find at farmer's markets and Middle Eastern grocery stores, you can always replace it with baby spinach. It'll be great.
I smothered lebneh (again, found at Middle Eastern grocery stores or you could use Greek yogurt) all over the base of my serving plate. Then I sprinkled a bunch of sumac all over because tartness is da best!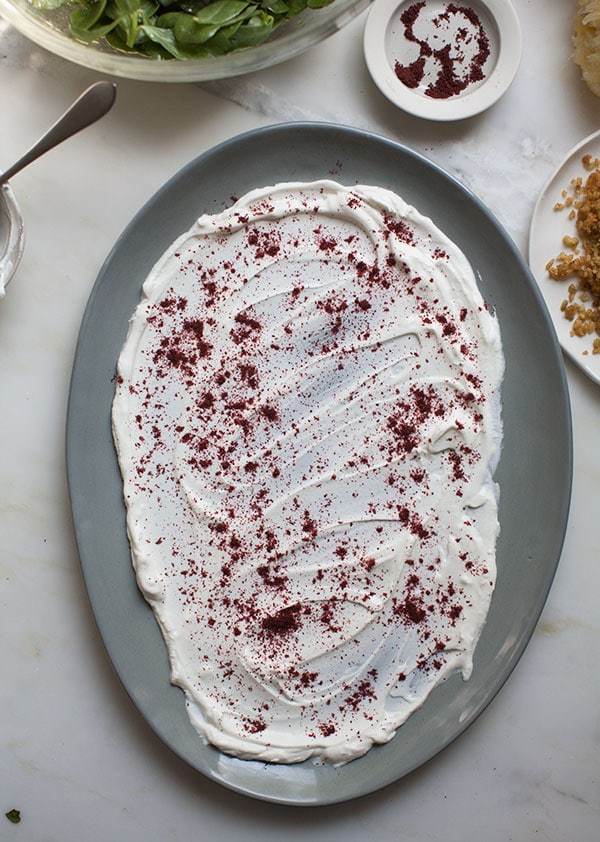 Then I piled everything super high. That's it! Then I ate half the salad while standing in my kitchen while Amelia begged for a salad she probably wouldn't like.
Hopefully your experience with this salad will be more civilized.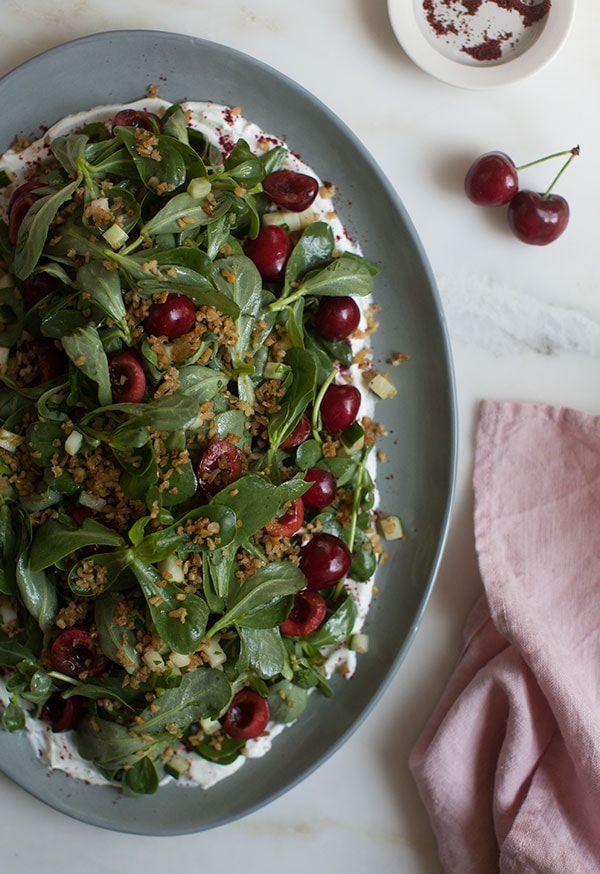 SIDE NOTE: Where should I shop in Chicago?! Is there anything I MUST do/eat/see?!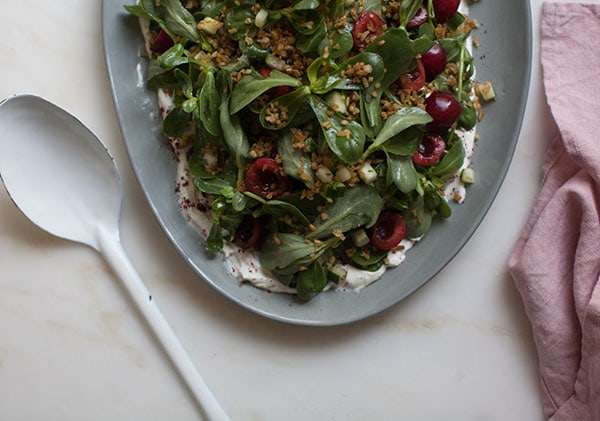 Purslane Cherry Salad with Lebneh and Crispy Frekkeh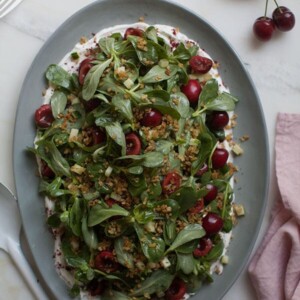 Ingredients
1/4

cup

freekeh

1/2

cup

water

Salt

Olive oil

Juice from 1/2 lemon

1

tablespoon

olive oil

5

cups

purslane leaves

,

from about 3 bunches

2

tablespoons

minced mint

,

from about 15 leaves

1

Persian cucumber

,

diced

1/4

cup

lebneh

1

teaspoon

ground sumac

1/2

cup

halved cherries

,

pitted (about 8 cherries)
Instructions
In a small saucepan, set over medium heat, combine the freekeh, water and pinch of salt. Cover the pan and allow to cook for 15 to 20 minutes, until the water is evaporated and the frekkeh has bloomed. (If all the water hasn't evaporated, pour through a sieve and press lightly.) Transfer to a bowl and place in the fridge to "dry" out for 1 hour.

In a small saucepan (you can use the one you cooked the freekeh in) or a small saute pan, set over medium-high heat, add a few tablespoons of olive oil. When the oil is hot, add a few tablespoons of freekeh at a time, frying it up until crispy, stirring it occasionally, about 1 to 2 minutes. Transfer the crispy freekeh to a bed of paper towels to drain. You'll definitely have to add more oil as you work through the batch of freekeh. Set aside.

In a small bowl, whisk together the lemon juice, a tablespoon of olive oil and a few pinches of salt. In a large bowl, toss together the purslane leaves, minced mint and cucumber. Pour the lemon juice and olive oil mixture over the salad and toss until the leaves are thoroughly coated. Add the reserved crispy freekeh and toss once more.

On a large serving plate or bowl, smear the lebneh all over the plate. Sprinkle with sumac. Arrange the salad on top and arrange the cherries all around. Serve immediately. This salad is served best right away. If you want to make it ahead, I'd make all of the components separately (crispy freekeh, salad mixture, dressing) and then toss them all together just before serving.
Notes
Here are some ideas if you can't find every ingredient in this salad:
Swap purslane with spinach
Swap lebneh with Greek yogurt
Swap Persian cucumber for hot house cucumber
Swap freekeh with brown rice or quinoa
If you don't have sumac, simply leave it out!
Nutrition
Nutrition information is automatically calculated, so should only be used as an approximation.