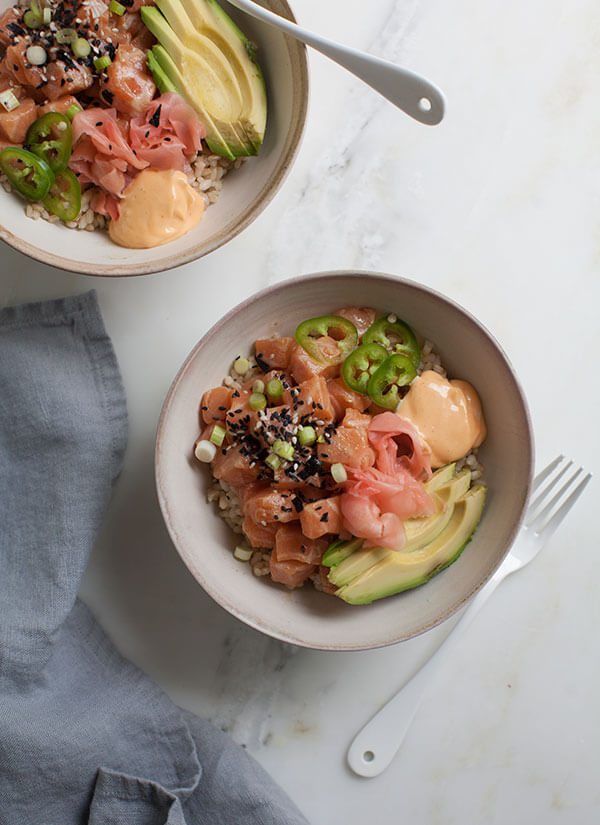 I'm back from Chicago where I ate and drank waaaaay too much. I realized that I'm too old for that shit. I've never been a big drinker but omg now I'm even less so because it seriously makes me feel like I might die. But it was fun and worth it. I'll be doing a lil' round-up of a few of my favorite places I visited…maybe tomorrow or the next day.
But first, recovery food. Poke restaurants are popping up everywhere in LA. It's the hot new thing, unfortunately most of them are not near my apt so out of pure laziness because I'm allergic to driving and traffic, I make them at home. Also, I love making things at home because it means I can add what I want. I DO WHAT I WANT!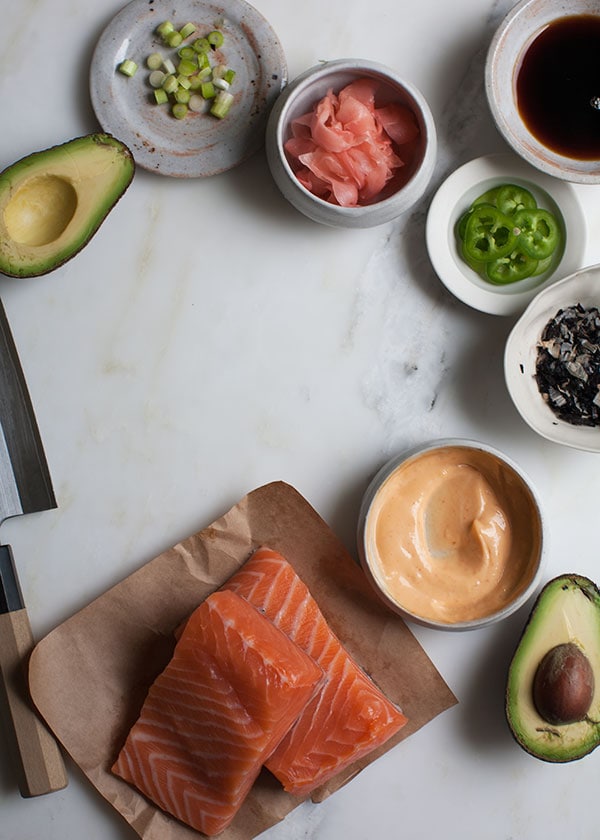 I like using really delicious, fatty salmon I get from McCall's Meat and Fish Co., but really any sort of ahi tuna or other sushi-grade salmon will work.
This is obviously more of an idea than a recipe. I mean, I do mix the sauces together and I do make my own furikake and I do whisk together some mayonnaise and Sriracha but you can just eyeball all of these things. No need for measuring spoons.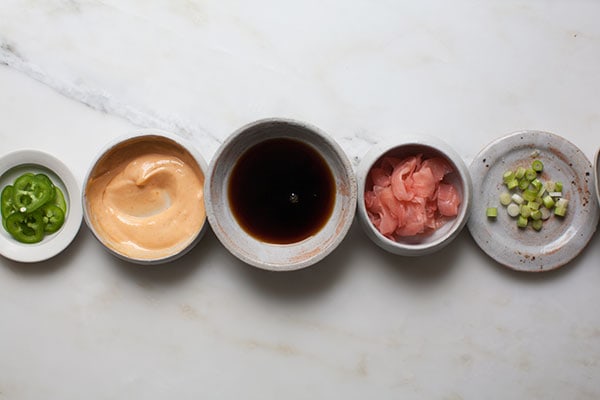 I diced up all of this salmon with one eye because after I sliced up the jalapeño, I thought it'd be a great idea to take out my contacts! WEEE! And then my eyeball felt like it was going to fall out. But, I forged forward because I was losing light.
Pretty good dice for only one working eye!
The salmon is tossed in a mix of ponzu and soy sauce. If you want to make the soy sauce spicy, you can mix in a bit of Sriracha. I like a quarter of an avocado, some pickled ginger, a dollop of spicy mayo and lots of green onion. If you have a seaweed salad, you can add that too! I actually like a bit of edamame in my bowls and actually bought some for this post but forgot to add it. I blame it on my wounded eyeball.
Really this whole post was just an excuse to make myself a poke bowl and show it to you. That is all.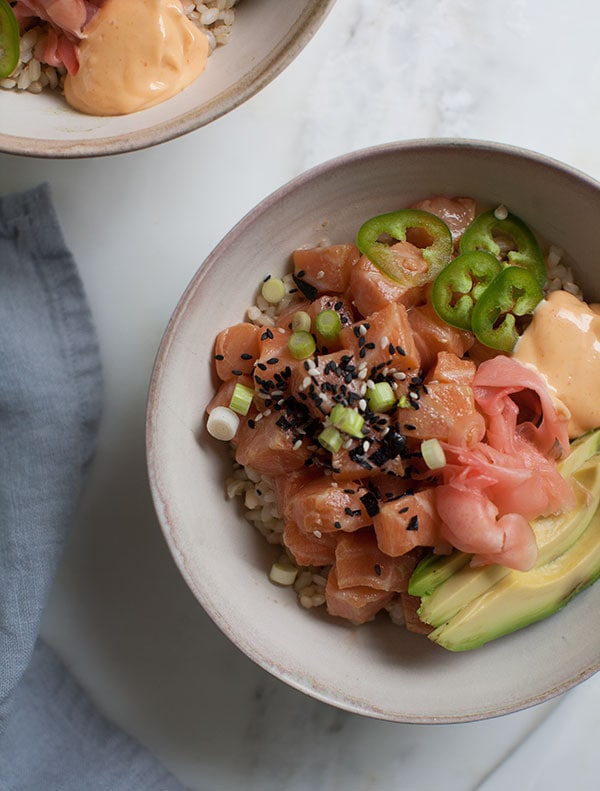 Print Recipe
Build a Poke Bowl
Ingredients
Brown Rice:
1

cup

brown rice

2

cups

water

1

teaspoon

umeboshi vinegar

optional

Pinch

of salt
Sauce:
3

tablespoons

soy sauce

1

tablespoon

ponzu

1

pound

salmon belly

skin removed and cubed
Furikake:
1

tablespoon

black sesame seeds

1

tablespoon

white sesame seeds

1/4

nori sheet

diced

1

teaspoon

bonito flakes

minced
Spicy Mayo:
2

tablespoons

mayonnaise

1

teaspoon

Sriracha
Other additions:
1/2

avocado

sliced

1/2

jalapeño

thinly sliced

Green onions

sliced

Pickled ginger

Edamame

Seaweed salad
Instructions
To a medium saucepan, set over medium high heat, combine the rice and water and umeboshi vinegar, if using. Cover the saucepan and cook until the water has evaporated and the rice is tender, about 10 to 15 minutes.

To make the sauce for the salmon, whisk together the soy sauce and ponzu. Add the salmon to a bowl and pour about half the sauce over it, tossing until coated (we're gonna add the rest of the sauce to the rice).

To make the furikake, mix all of the ingredients together in a small bowl. To make the spicy mayo, whisk the mayonnaise and Sriracha together.

To assemble the bowls, divide the rice amongst them and top with the remaining sauce. Add the salmon and sprinkle with furikake. Drop a dollop of spicy mayo, fan out the avocado, add some pickled ginger, edamame, seaweed salad—get creative with it. Eat immediately.
Notes
*I love umeboshi vinegar. It's my current jam but I'm not gonna lie, it can be a bit tough to find. Whole Foods, health food stores and Asian groceries stores will carry it. If you don't have it and can't find it, it won't be a big deal!