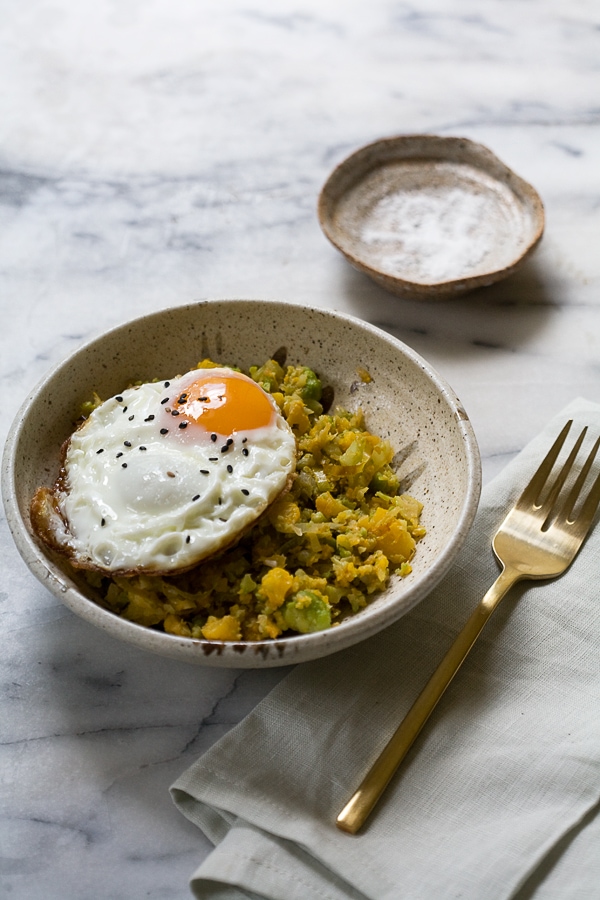 Ok, so here's another dish (besides these Zucchini Noodles) that I've been eating every other night. At first I was super hesitant to share this recipe because renditions of this live on so many other Paleo blogs on the internets, but then I figured that since you visit this here site, with all its biscuits and butter and pancakes, that you probably don't visit very many Paleo blogs, so there's a good chance that this might be new-ish to you. And plus, this is my take on the very ubiquitous cauliflower rice thingy. Also, if someone was being super technical, this isn't Paleo because there's soy sauce and soy is a bean. Ugh. Too many rules, man. I've never been good at following rules to a T; I always just pick and choose which ones I think make sense to follow and just do-away with the rest. My dad taught me to question everything so I do, and in my brain I don't think organic soy sauce is bad for me so there. Let me live!
I really really love this recipe. While zucchini will never taste like real flour noodles, this cauliflower kinda tastes like rice to me. It's amazing and so healthy and light and filling. Healthy food has to be satisfying to me because then I won't eat it and I'll drink smoothies all day.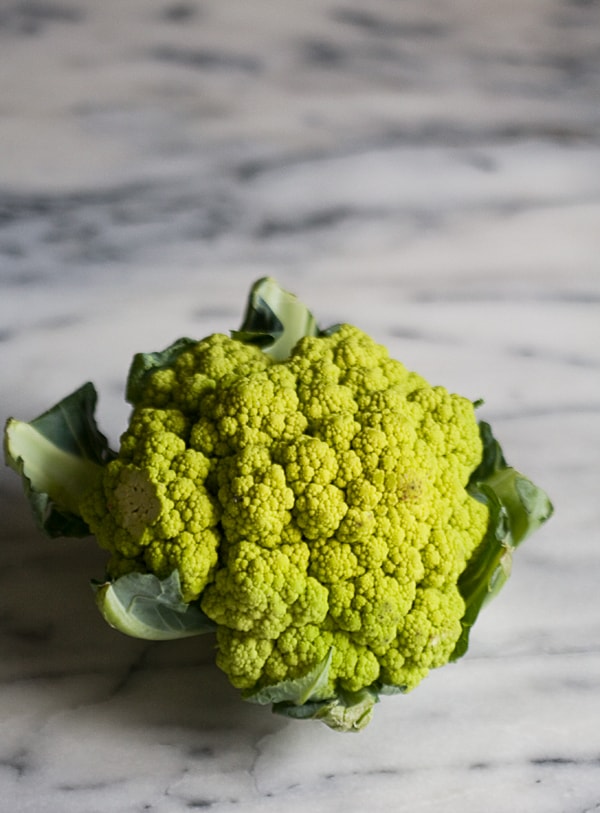 Let's start with the cauliflower rice and its preparation. Most people make cauliflower rice a different way. They pulse the raw cauliflower florets in the blender and then cook it from there. I did this once, to make this dish, and I found the cauliflower way too crunchy for my taste. So, I prefer the blanching method. You just have to be careful when you pulse it in the food processor because it can go from "rice" texture to "mash" texture very quickly.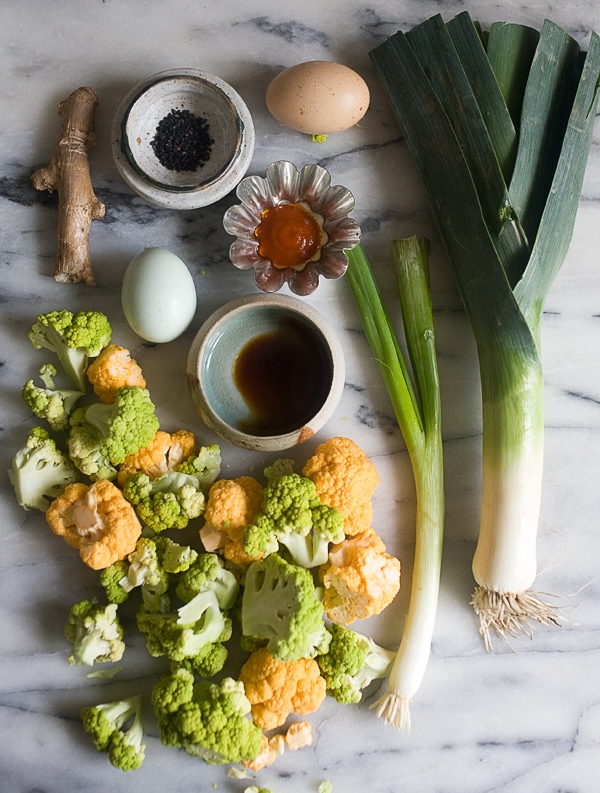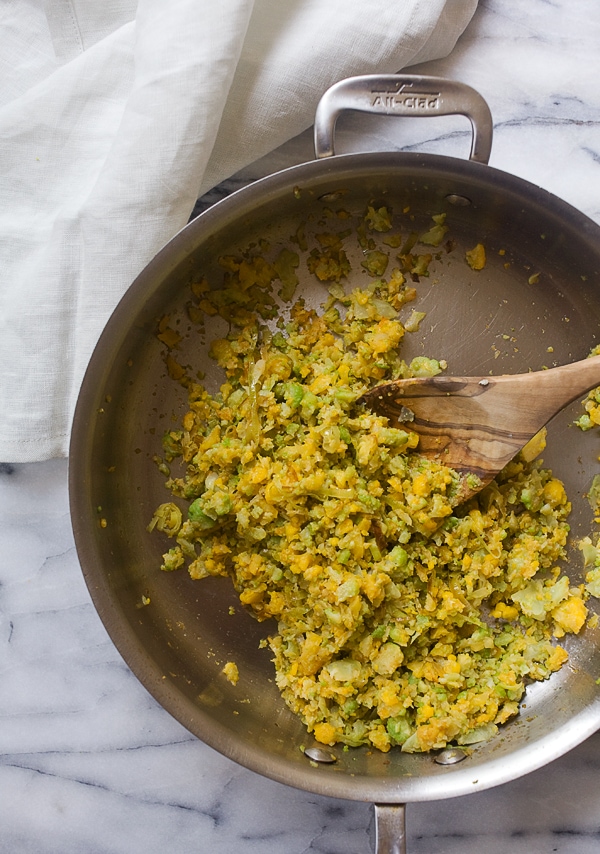 This rice has everything I love in fried rice: lots of fresh ginger, an onion-y flavor, some soy sauce and a bit of heat from the Sriracha. And sure, you can mix in a beaten into the mixture, but I like a fried egg on top better. Or, you can even do both. Up to you!
Healthy, cute, light, spicy. Basically my dream meal…for now anyway.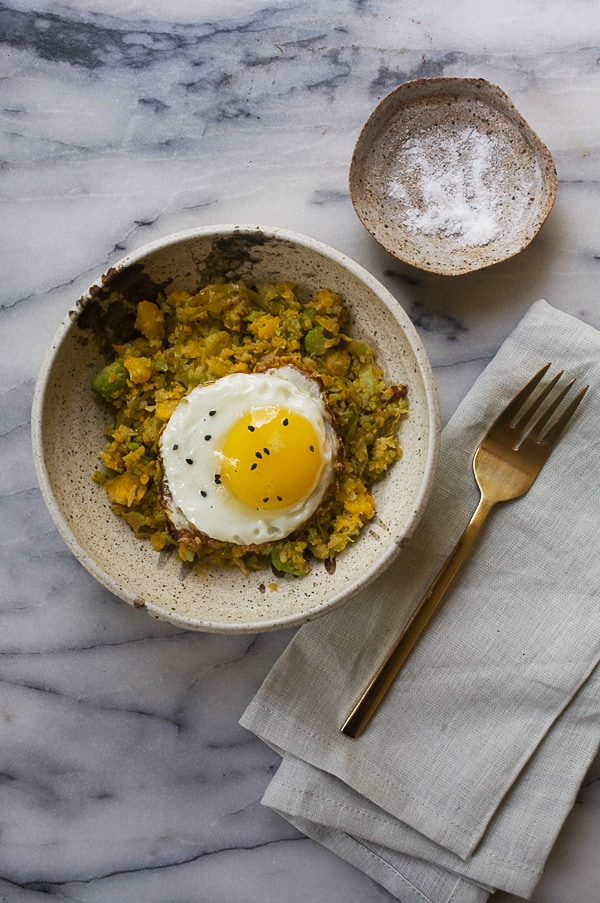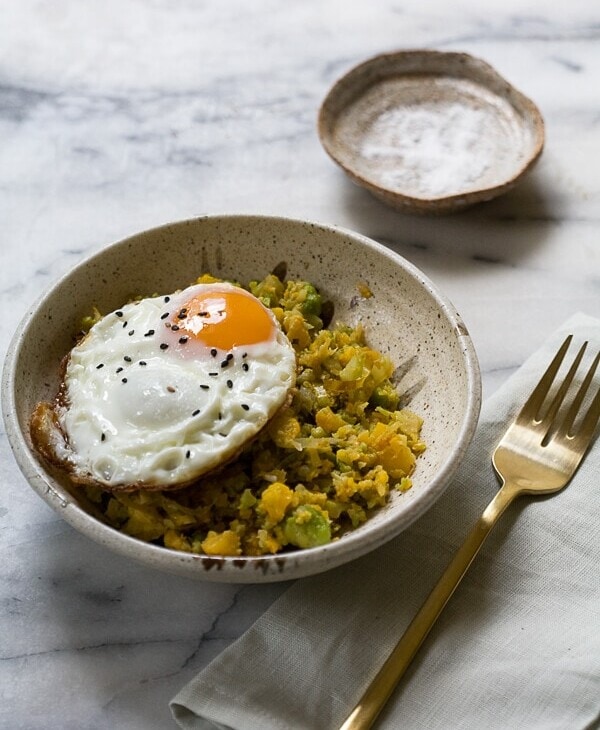 Print Recipe
Ginger Fried Cauliflower Rice
Ingredients
1

medium-sized head cauliflower

1

medium leek

sliced and cleaned

1

garlic clove

grated using a zester

1 1/2

teaspoons

freshly grated ginger

2

teaspoons

low-sodium soy sauce

2

teaspoons

Sriracha

or to taste

Salt

1/4

teaspoon

black or white sesame seeds

2

large eggs

fried
Instructions
Set a medium-sized pot of salted water over moderately high heat. When the water reaches a light boil, add the florets of cauliflower and cook for 3-4 minutes; drain the cauliflower and allow them to cool slightly for 2 to 3 minutes. To a food processor or blender (note: if you use a blender, you'll have to do this in batches), add the cauliflower and pulse a few times until the consistency resembles small bits of "rice." Be sure to not pulse too many times or else the mixture will resemble more of a mash. Pour the "rice" out onto a cutting board, spreading it out evenly and allow it to dry out slightly, about 10 minutes.

Meanwhile, to a large saucepan, heat one tablespoon of olive oil. When the oil is hot, add the leek and cook until softened, about 5 minutes. Add the grated garlic clove, ginger, soy sauce and Sriracha. Stir and cook for an additional minute, just until fragrant. Add the cauliflower and mix thoroughly, cooking for a about 3 to 5 minutes. Give it a taste and adjust the salt accordingly (I ended up adding about 1/2 teaspoon of salt). Divide the cauliflower rice between bowls and top with a fried egg. Garnish each dish with a pinch of salt and sprinkling of sesame seeds.