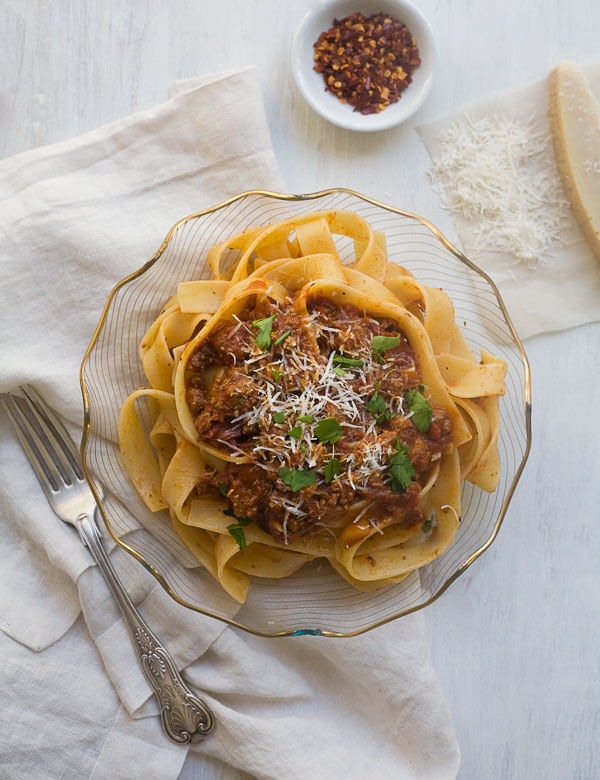 This is a story about a girl and dinner…and how she never cooks it.
This may come as a shock but after cooking for this space and doing my freelance stuff, the last place I want to be (usually) is in the kitchen washing dishes. Cooking is never really the deterrent, but the dishes keep me away. And plus, it's so nice to go out and about sometimes. But recently, all I've wanted to do is cook dinner. It also helps that Josh does the dishes. Teamwork is pretty chill.
A few weeks ago I went to my neighborhood grocery store and picked up a few ingredients for an impromptu bolognese with some ground lamb I already had in the fridge. I kind of thought nothing of it, in fact I actually fell asleep midway through because I was coming down with a cold. I came this close to burning it AND the house down, but luckily I didn't and I'm alive to share this recipe with you, because it turned out to be one of the best things I've made in quite some time, so said Josh.
This bolognese is one of my favorites. It's like if I put one of my awkward, too close for comfort hugs in a bowl. And then put it on the internet for you to recreate! If you love hugs, then you'll love this dish.
Some people HATE hugs. I have friends who desssspise them. I give them anyway because I think everybody deep down probably loves them. I do hate hugs from creepy people, though, which I imagine everyone does. Wait, does this mean my friends who hate hugs think I'm creepy?
This is what this dish is. Have I sold you on it?
Also: All I want to do right now is talk about Breaking Bad. But I can't. I won't. AHHH! Last night! Craziness!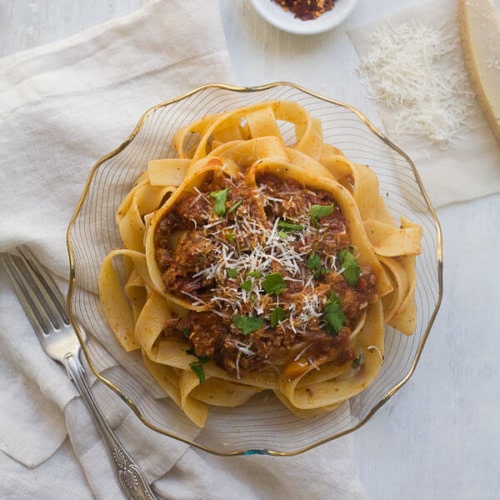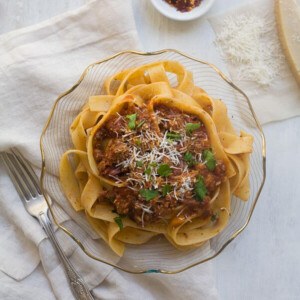 Ingredients
Olive oil

2

small carrots

,

trimmed, peeled and diced

1

shallot

,

minced

2

garlic cloves

,

minced

*1/4 teaspoon dried majoram

*1/4 teaspoon dried oregano

*1/4 teaspoon dried basil

1/4

teaspoon

red pepper flakes

3

tablespoon

tomato paste

1/2

pound

ground lamb

Salt

1 15-

ounce

can diced or cherry San Marzano tomatoes

7 to 9

kalamata olives

,

pitted and chopped

1

tablespoons

balsamic vinegar

3

tablespoons

grated Parmesan-Reggiano

,

plus more for garnish

1

tablespoon

unsalted butter

Italian parsley

,

for garnish
*You can also replace these spices with a good quality jar labeled "Italian Seasonings." That's !usually the spices that are included.
Directions
To a large pot, heat two tablespoons of olive oil over medium heat. When the oil is hot, add the diced carrots and shallot. Cook until the carrots have softened and the shallots turn translucent, about 5 minutes. Add the garlic, spices, red pepper flakes, tomato paste and ground lamb, using a wooden spoon to break up the lamb in to crumbles. Sprinkle the lamb with a few pinches of salt and cook, stirring frequently, for about 5-7 minutes, until the meat has browned.

Next, pour in the can of tomatoes. (If you're using a can of cherry tomatoes, take the back of your spoon and crush them.) Add 1/2 cup (you can eyeball this measurement) of water to the tomato can, swishing it around so you get all of the remnants of tomato juice; pour the tomato water into the pot and stir. Bring the tomato sauce to a slight simmer and then turn the heat down to low. Cover the pot and cook for 20 minutes, stirring frequently. At the 20 minute mark, stir in the kalamata olives, balsamic vinegar, Parmesan-Reggiano and a splash or two of water, if it's cooked down a bit too much. Cover the pot once more and cook for an additional 20 minutes, until the sauce is fragrant and has thickened slightly. (If at any time the sauce becomes too thick, you can simply add a bit more tomato paste and a 1/4 cup of water or veggie stock.) Right before tossing with the pasta, add the butter and mix until melted.

Meanwhile, boil some salted water and cook the paparadelle per the box's instructions. (Mine told me 10 minutes exactly.) Toss the pasta with a few tablespoons of sauce and serve with a few spoonfuls of bolognese on top. Garnish with more Parmesan-Reggiano and a sprinkle of Italian parsley
Nutrition Facts
Lamb Bolognese
Amount Per Serving (4 g)
Calories 0
* Percent Daily Values are based on a 2000 calorie diet.