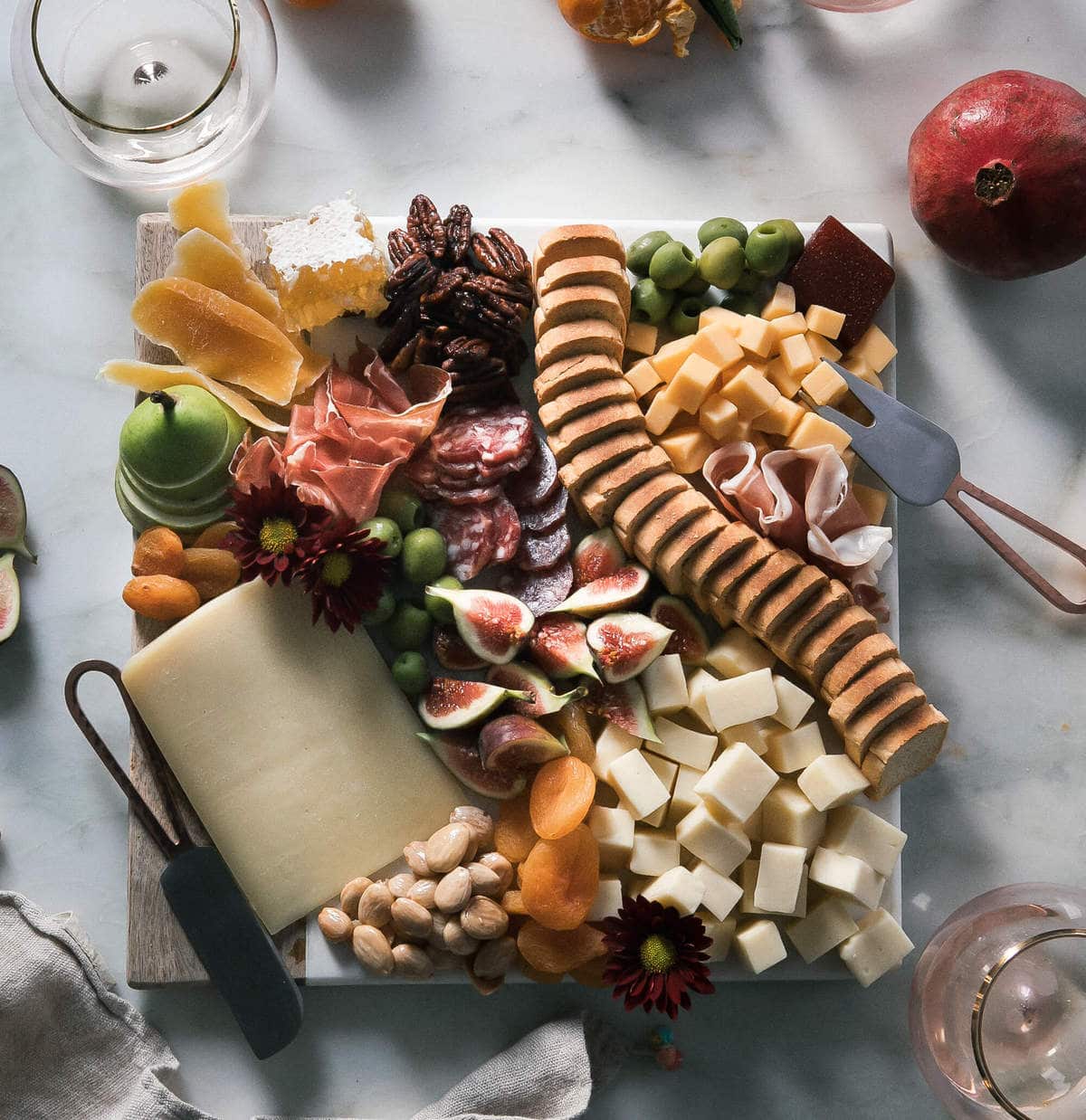 Today I am doing the very difficult and labor-intensive work to tell you How to Build a Fall/Winter Cheese Board!
I'm not trying to brag but I have been invited to two holiday parties already and we haven't the true Holiday season. This is going to be a very fun time for me! I'm excited. My neighborhood is very into the holiday spirit; each and every single house on the block already has lights up. In order to fit in with the Jones', we spent the weekend trying to get our lives together, i.e., getting rid of the squirrel-eaten pumpkins.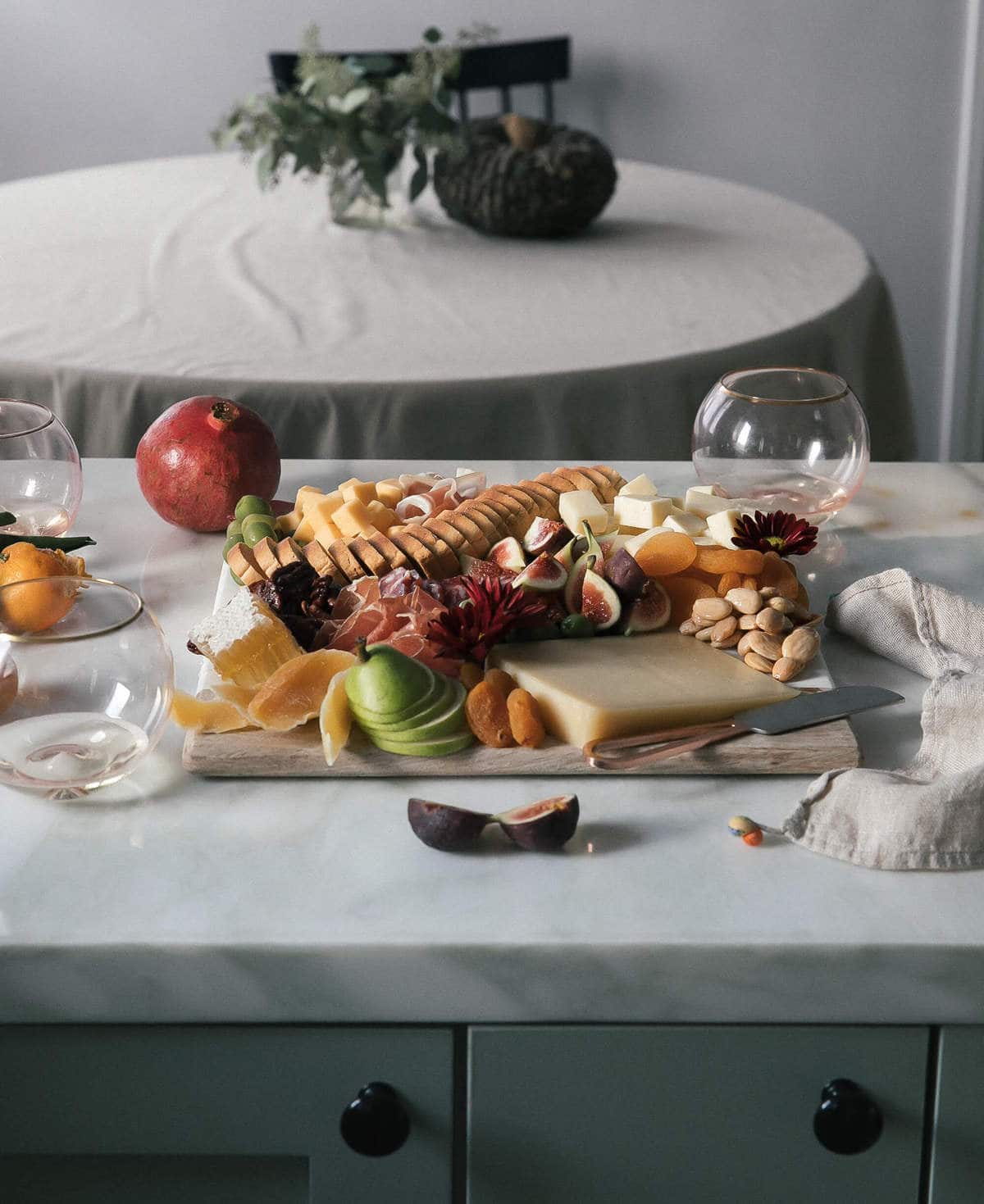 Let's dive in:
How to Build a Fall/Winter Cheese Plate!
– Pick your cheeses: Harvarti, Gouda, Alpine (gruyére) – I cubed up Havarti and Gouda for easy consumption. I am all for keeping cheese in their wedge-form but it's also great to cube up easy-to-eat cheese like these. This way people can use a toothpick and keep it moving.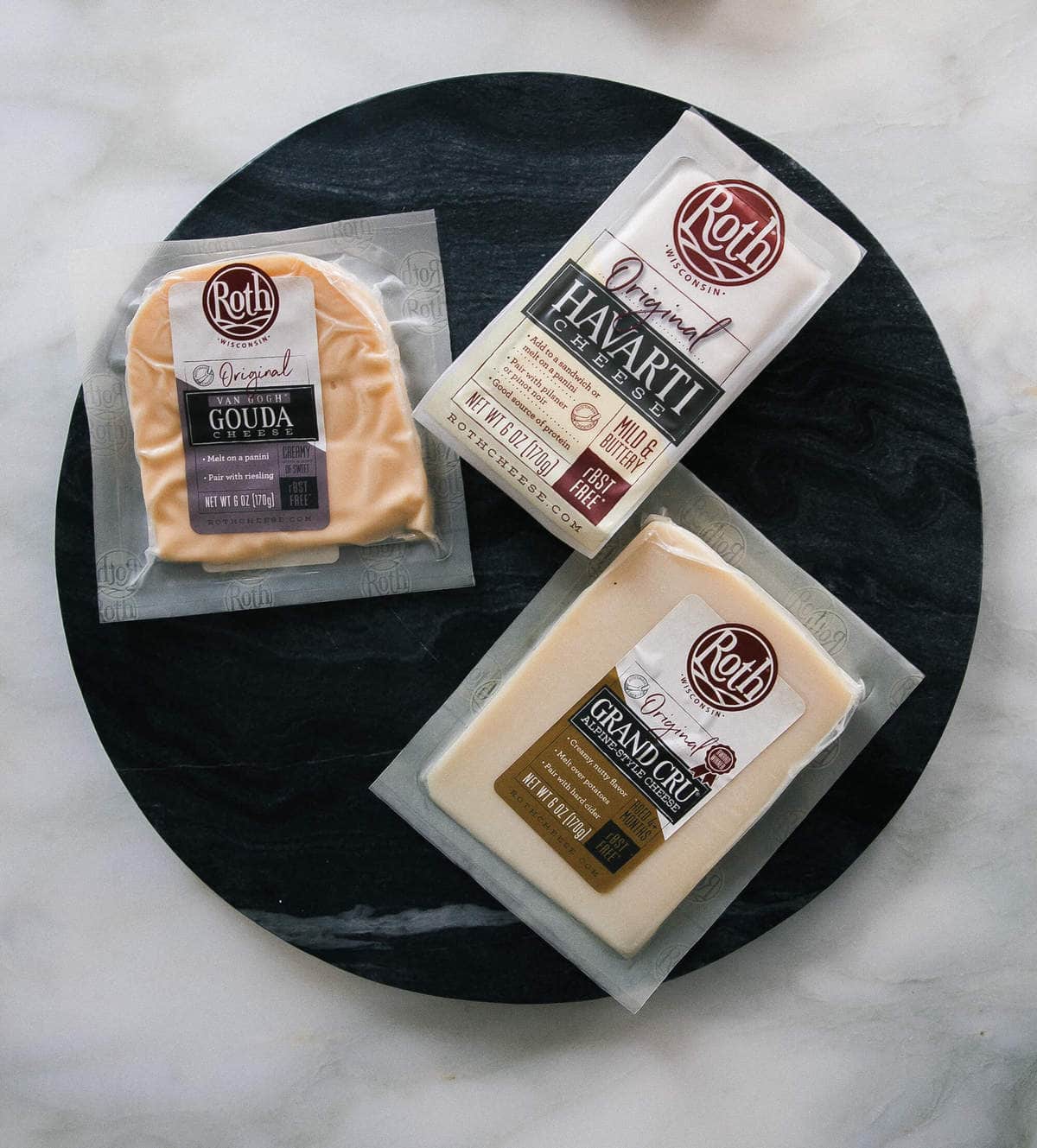 – Dried Fruit – I went with dried crystallized mango and dried apricots. Other good options would be dried cranberries, dates, cherries or golden raisins.
– Nuts! – I chose Marcona almonds and caramelized pecans. Other lovely options would be pistachios, walnuts or regular pecans.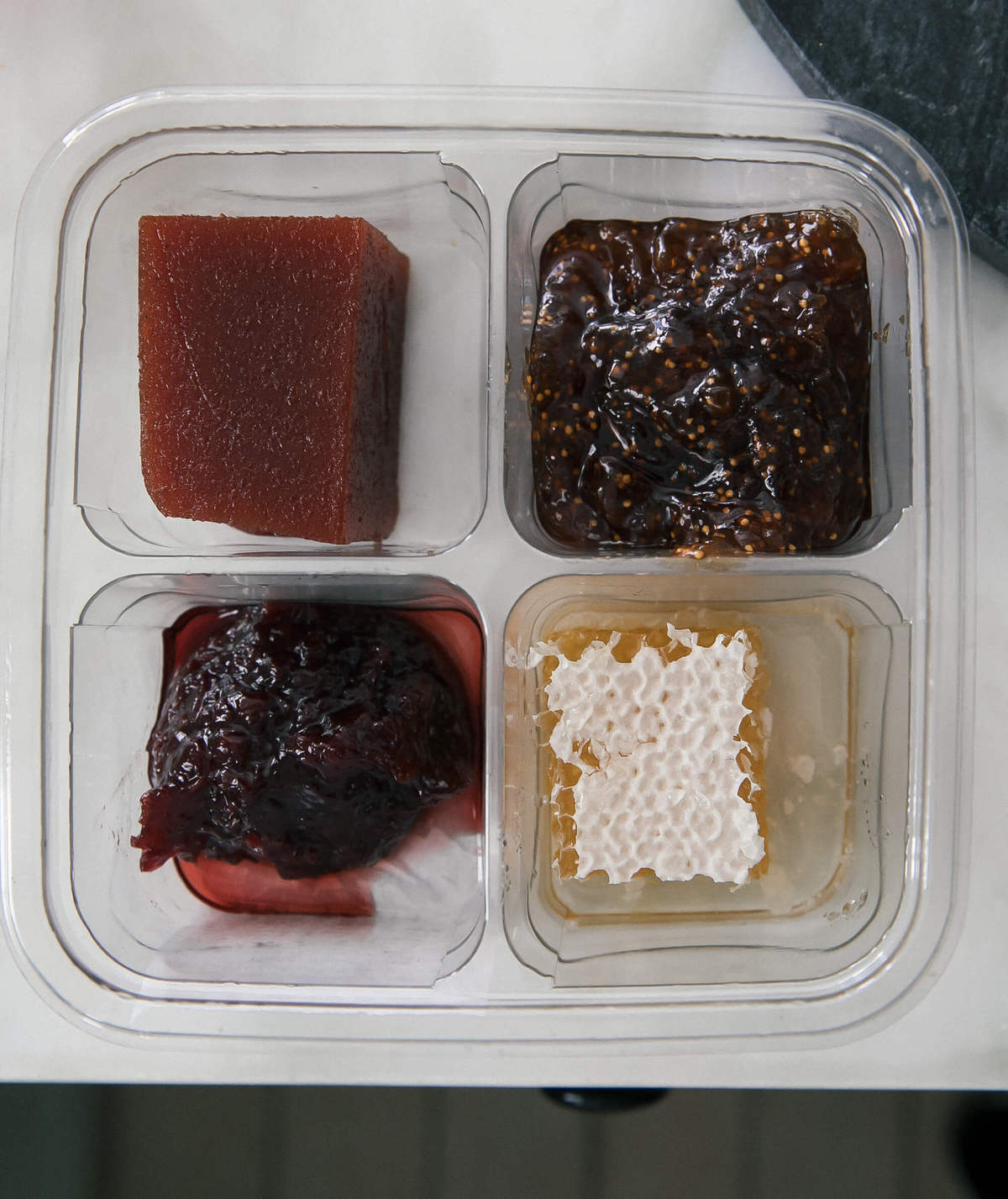 – Pick Your Carbohydrate Vehicle – I usually go with bread because it's easy and always delicious but on this particular day I went with mini toasts and some fruit-studded crackers. I support butter crackers, a good loaf of bread and water crackers, as well.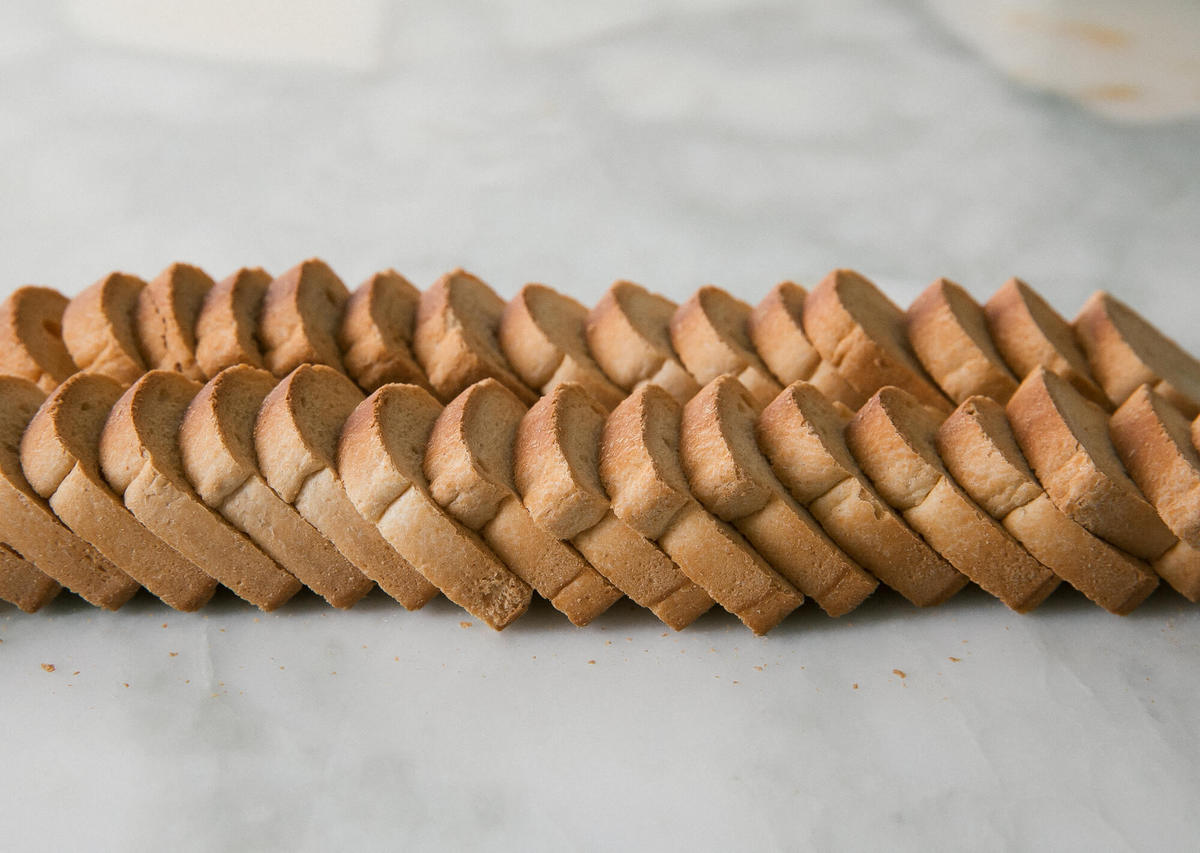 – Fresh Fruit – I think fresh fruit is a nice alternative to bread. One of my favorite things is to get a piece of cheese with fresh fruit. That pairing in the same bite is delicious! For this board I went with sliced figs and sliced Comice pears. Apples or persimmons would also be lovely and very winter-y.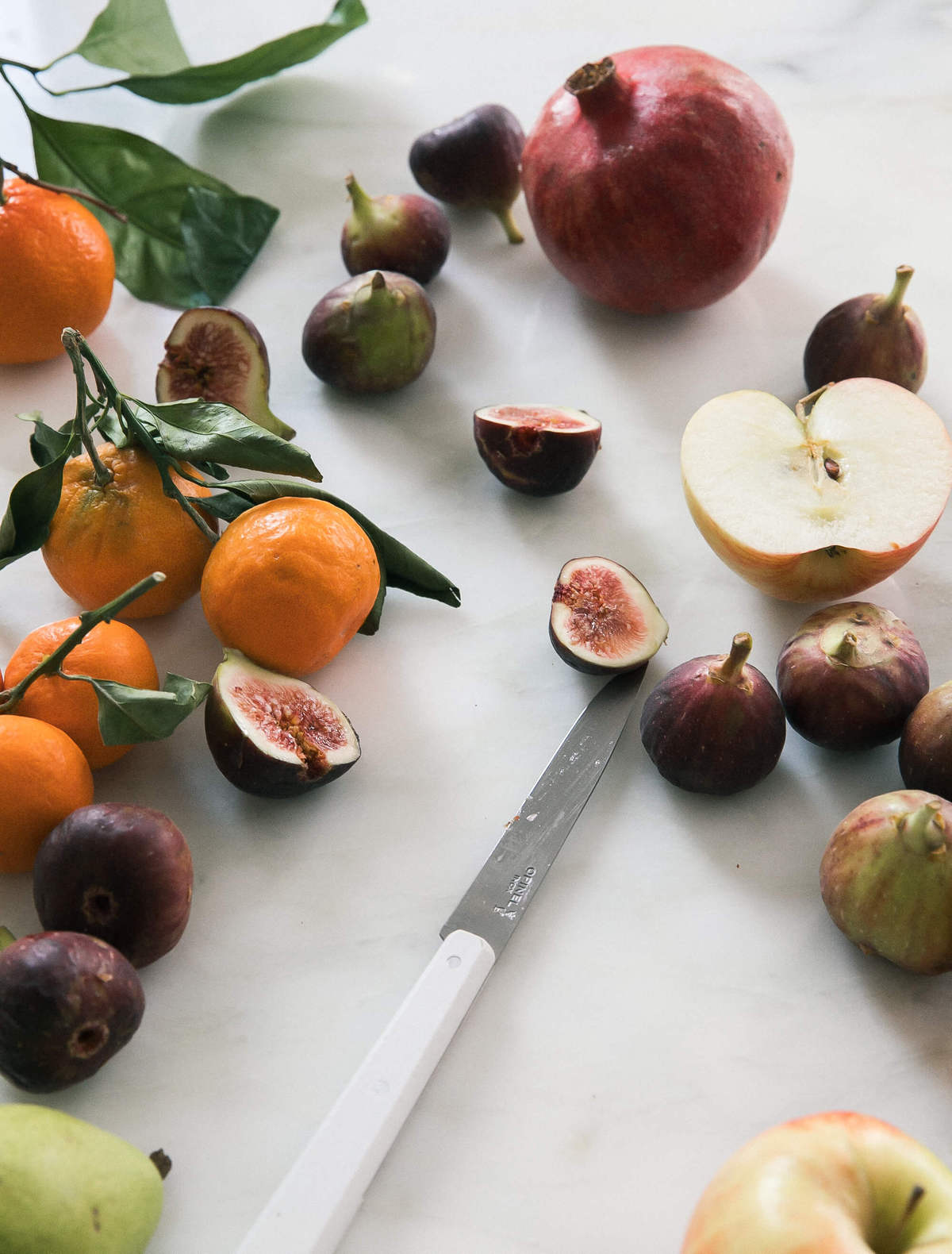 – Briny Things – I went with Castelvetrano olives this time around, but I also love cornichons, pickled artichokes, sweety drop peppers and peppadews.
<- strong>Meats – If you're vegetarian, obviously ignore this recommendation. I like to offer two different types: a thinly sliced prosciutto and a sliced salami. This gives guests some texture differences that's kinda nice.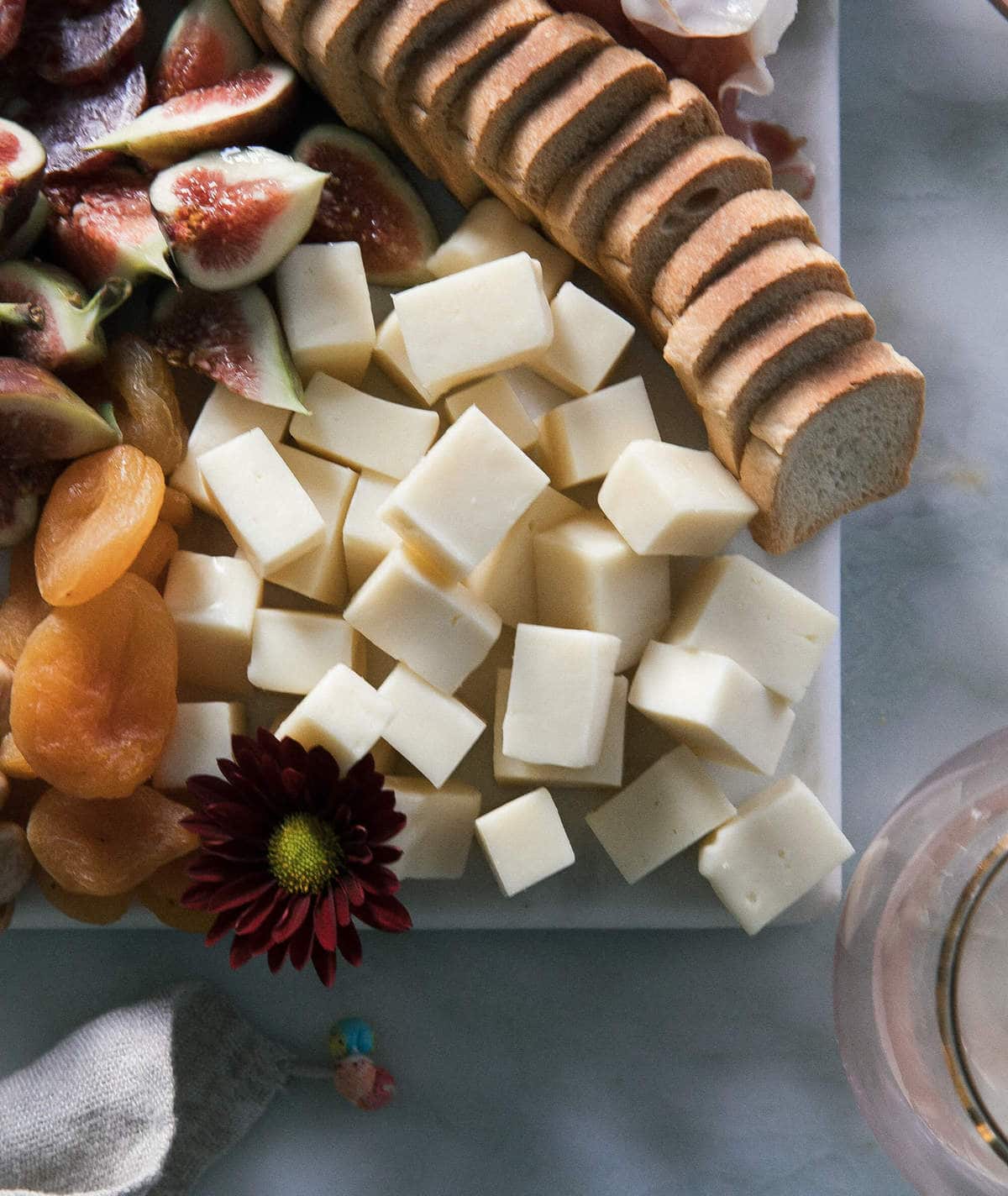 – Other fun additions – I love adding some form of jam like apricot or fig. I had some quince paste and some honeycomb, which always looks so gorgeous and sadly reminds me of My Girl the movie (the end ruined me forever). I also added some membrillo paste which is made from my favorite fruit on earth: quince.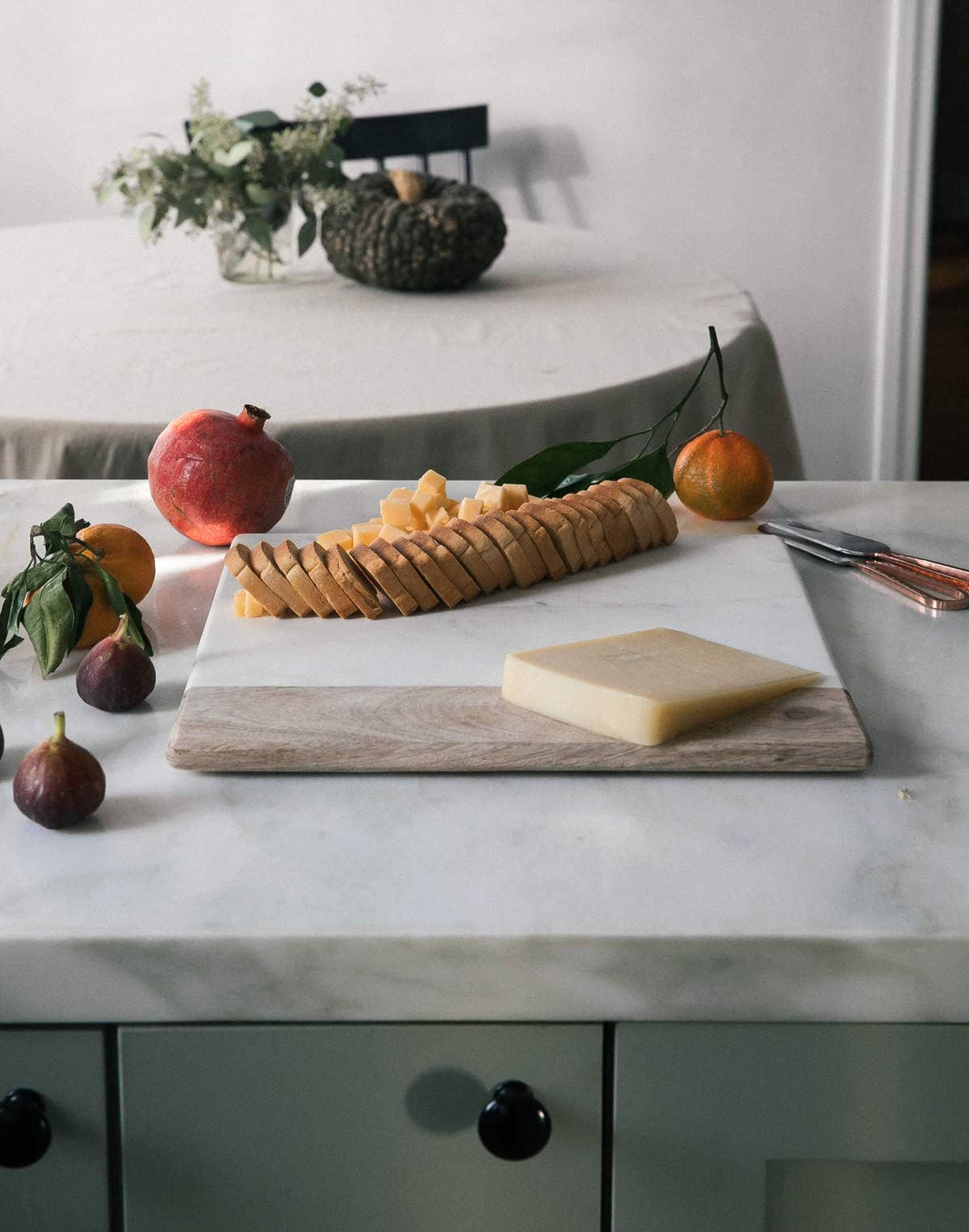 – Decor – Non-edible garnishes are very controversial but I'm down for it. I am pro-non-edible garnishes. I do go with organic flowers as garnish just in case someone decides they want to eat a flower (I dunno). You can also add little ornaments or tinsel around the cutting board.
I say get creative!
How to Arrange a Fall/Winter Cheese Plate
– I'm far from a pro, but I kinda like everything close together. I think it's ok to repeat ingredients. For instance, I have two groups of the same olives, two groups of dried apricots and two groups of prosciutto. I think it looks pretty! And it also offers a practicability factor. If two or three people are reaching for the board, they have options as to where they can grab for the ingredients.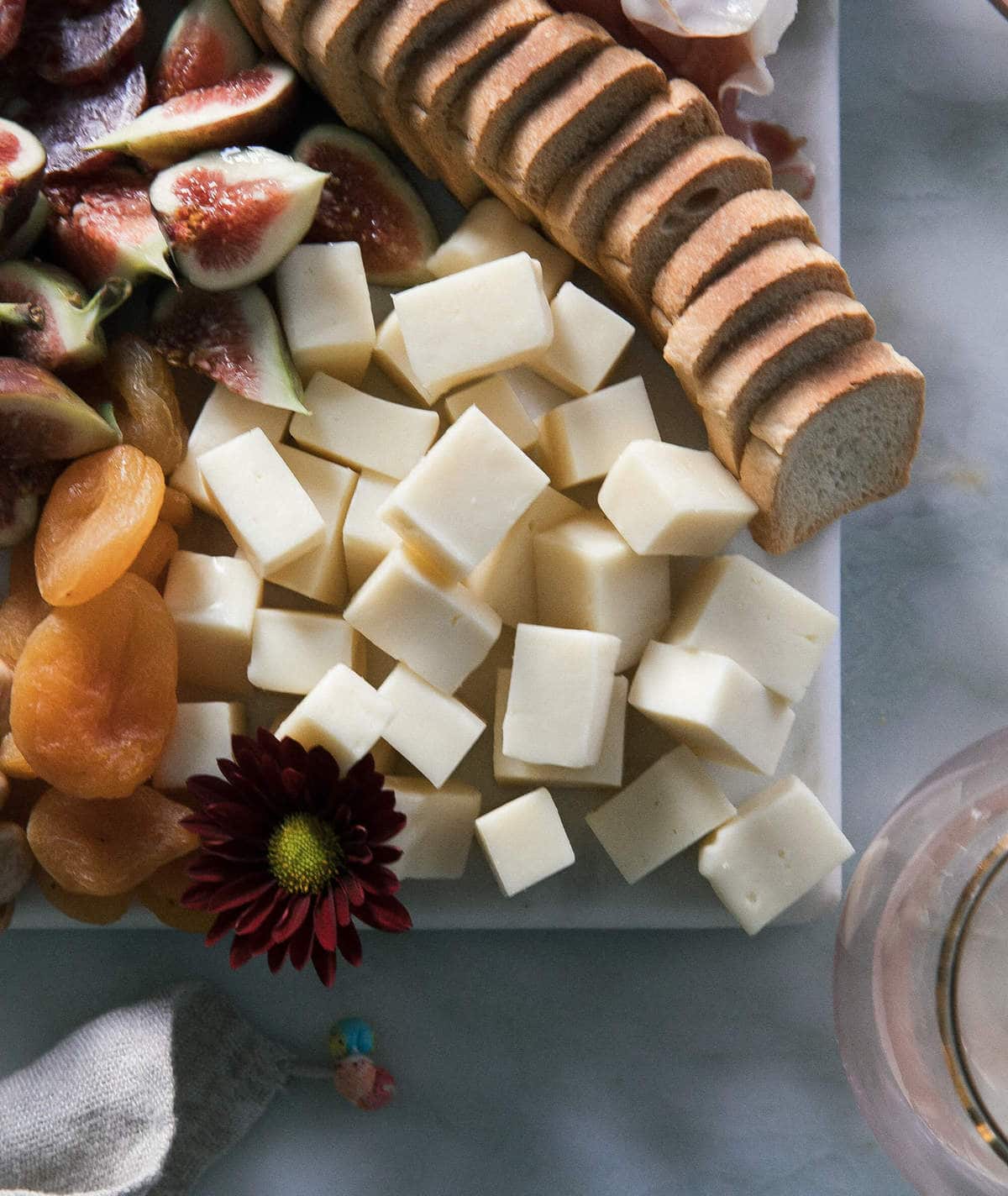 The wave with the cracker is 100% optional but I do think it's fun. Who doesn't love a wave?
Let me know if you have any tips of your own!
And if you make take a deep dive into: How to Build a Fall/Winter Cheese Board, let me know on Instagram!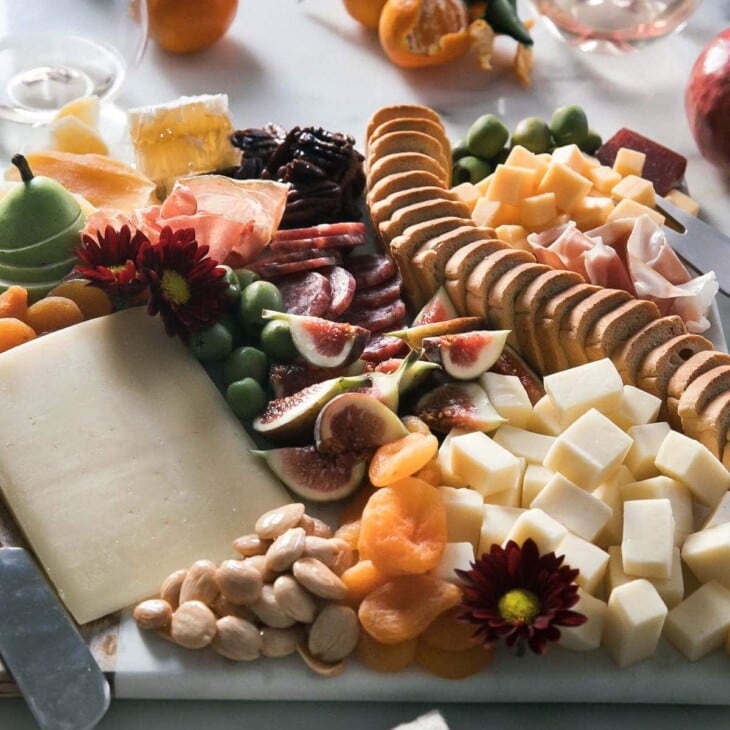 Print Recipe
How to Build a Fall/Winter Cheese Board
How to Build a Fall/Winter Cheese Board is an easy how-to on assembling the perfect cheese plate for the autumnal, winter-y seasons.
Ingredients
6

ounces

gouda or smoked gouda

cut into cubes

6

ounces

havarti cheese

cut into cubes

6

ounces

gruyére cheese

left in its wedge

4

ounces

dried fruit

(such as crystallized mango, ginger, cranberries, cherries or golden raisins)

6

ounces

nuts

(such as marcona almonds, caramelized pecans, pistachios, walnuts, pecans)

4

ounces

carb

(such as bread, crackers, mini toasts)

1

pound

fresh fruit

(such as sliced figs, pears, applies, grapes)

4

ounces

something briny

(such as olives, peppadews, cornichons)

1

pound

cured meats

(such as sliced salami, prosciutto)
Instructions
Place your board close to the area in which you're going to set it out. Traveling with this entire board can be heavy and scary (especially if you have a dog waiting for anything to drop). There's no wrong way to do this! I like to add all of the cheeses to the board FIRST, this way I can arrange around them. Then I add the dried fruit, nuts, meats, briny things, etc. Don't be shy to divide each category in two, adding multiple piles of each group.

Garnish with flowers, if you like and serve.
Equipment
1 cheese board (large cutting board or large serving plate)
And if you're looking for another cheese plate post, here's my How To Make a Cheese Plate for Two!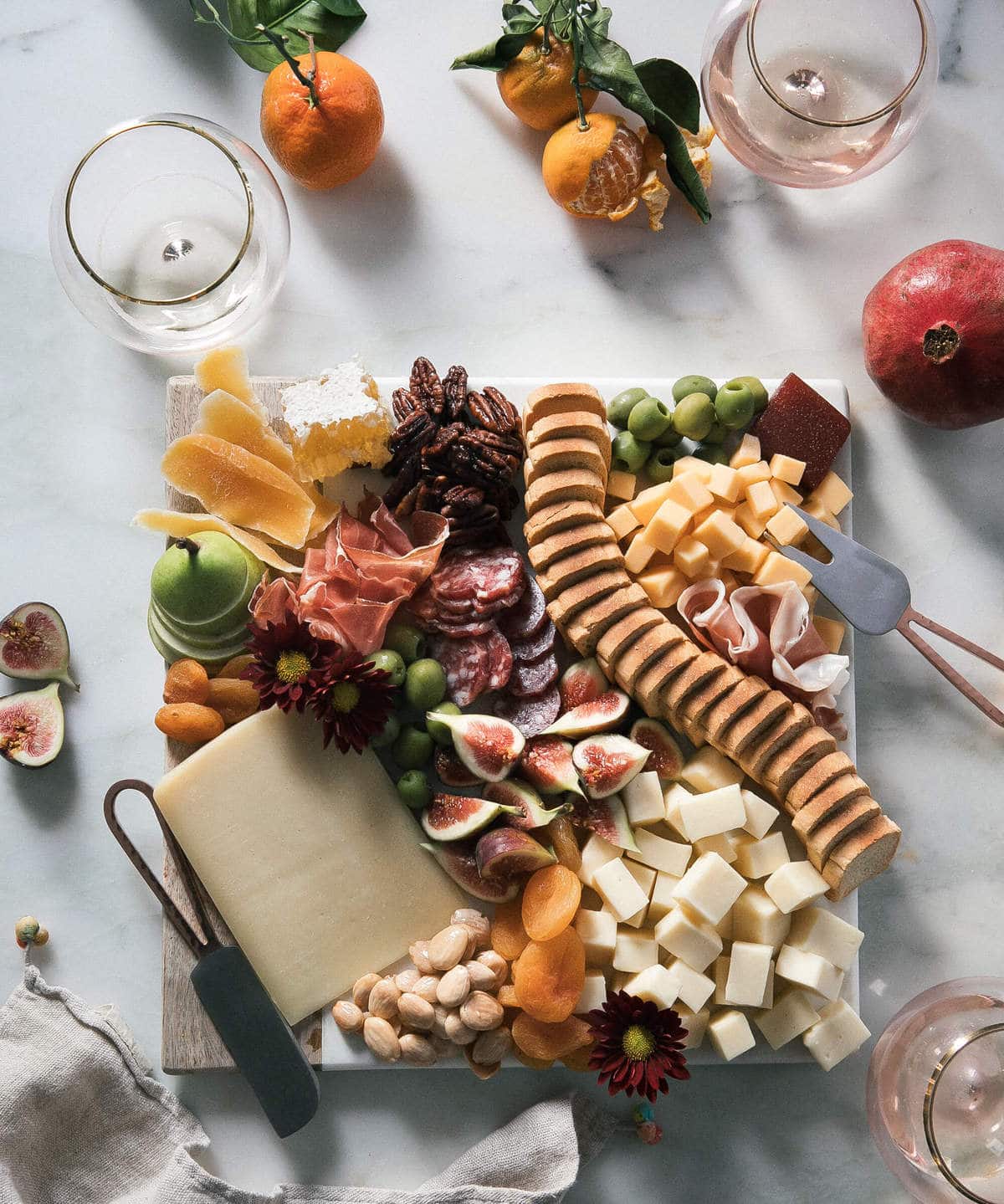 (This post was sponsored by Roth Cheese. All the opinions expressed herein are my own. Thanks for supporting the sponsors that keep A Cozy Kitchen cozy.)