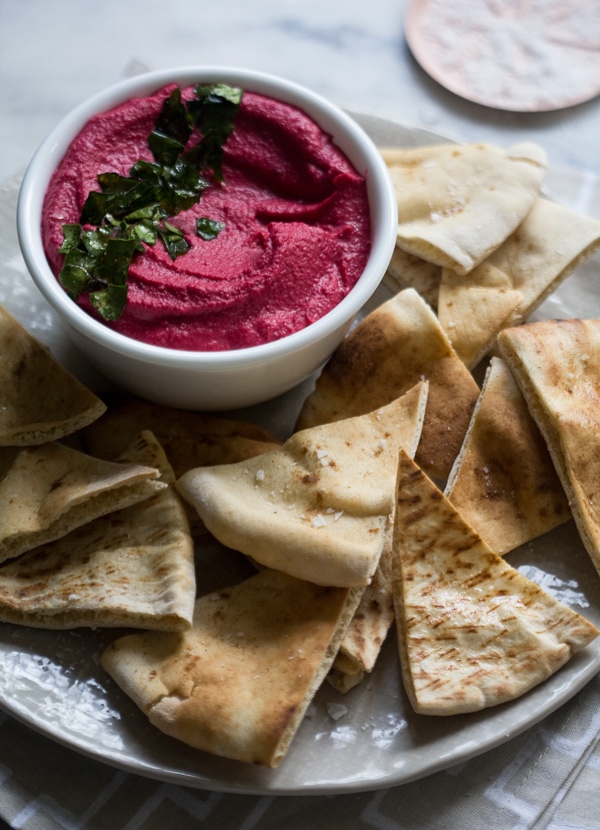 If you know me, you know that I'm not Valentine's Day's biggest fan. It's not that I hate relationships or love or love or any of that—if anything it's the complete opposite. I'm pretty sure my disdain for all things Valentine's Day has to do with how the internet celebrates. Everything immediately turns red and pink and pizzas on Pinterest are topped with heart-shapped pepperoni. WHY?!
Also, I'm convinced that we shouldn't be consuming that much food coloring in our lives. It's a very rare occasion where I'm like, let's turn this whole dish RED! PINK! Like, no. If it's not meant to be pink then let it live in its original color and chill. Let's all walk away from the food coloring, ok? (Red velvet cake on occasion is fine.)
Today the internet beat me. I made something festive…sorta. It was on my long list of to-makes so I figured it might be a good time, but this is naturally pink, so I'm defending it.
Here it is, internetz: (Resentfully) presenting pink hummus…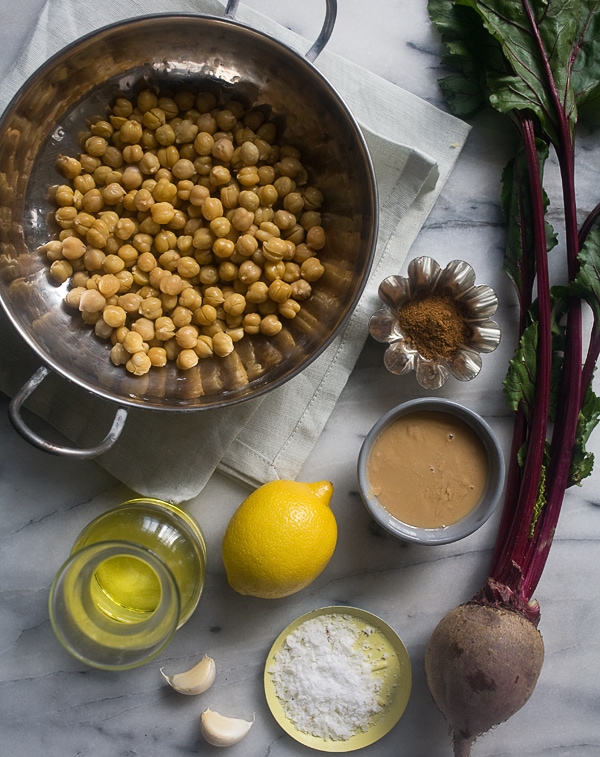 If you thought I used food coloring in this creation…girl you've lost your mind. I would NEVER!
This hummus is all about beets. I loooove it. I'd normally never add ground cumin or coriander to hummus (I like my hummus pretty simple), but I think with the beet those spices work really well.
I was wavering as to what to garnish the beets with and decided to quickly pan fry the beet greens to add a bit of crunch, especially since I was planning on eating it with slightly baked pita.
The last step is totally optional–no need to fry up beet greens if you don't want to, though I do love the idea of
utilizing every part.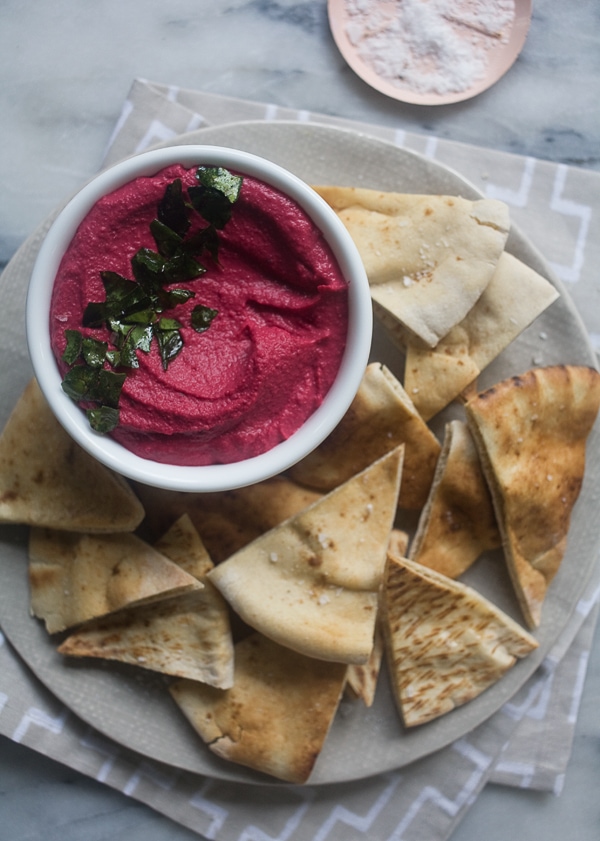 Oh! One last thing…
Since beets can tend to be a bit fibrous, I went with the method of removing the outer skin of the garbanzo beans. It just makes it a bit smoother than it'd normally be. And while you might feel like an OCD psycho doing a task so tedious, the texture will be totally worth it.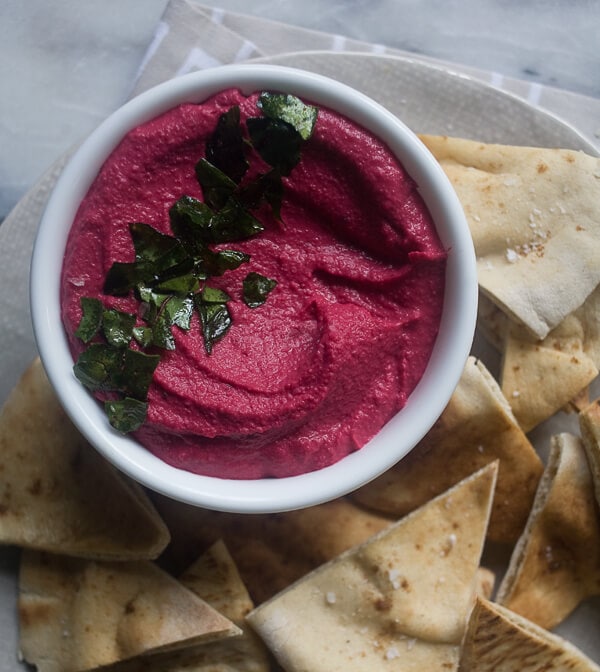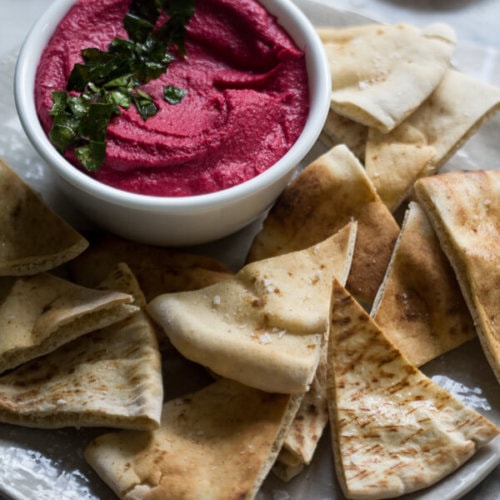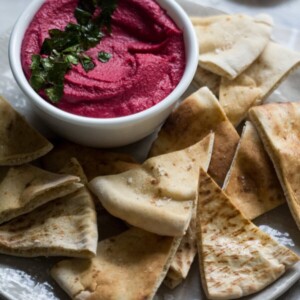 Beet Hummus with Crispy Beet Greens
Ingredients
1

medium-sized beet

,

with its greens still attached

1/4

cup

water

1

15-ounce can garbanzo beans, drained and outer skin remove (last part is optional)

2

garlic cloves

,

peeled

3

tablespoons

tahini paste

Juice from 1 lemon

Pinch

lemon zest

1

teaspoon

ground cumin

1/2

teaspoon

ground coriander

1/4

cup

extra-virgin olive oil

Salt to taste
Directions
Preheat the oven to 400 degrees F. Slice off the beet greens and set aside. To a small baking dish, add the beet, along with the 1/4 cup water. Cover the baking dish with foil and transfer to the oven to roast for 45 minutes, until the beet is tender when poked with a fork. Transfer the beet to a cutting board to cool; and being sure to reserve the beet juice for later use. Slice off the tops of the beet, peel it and then cube it up.

To the jar of a blender or food processor, add the cubed beet, garbanzo beans, garlic cloves, tahini paste, lemon juice, lemon zest, ground cumin, ground coriander, olive oil and a splash of beet juice. Blend until smooth. You may need to add a splash or two of beet water to get it to your desired consistency. Give it a taste test and salt to taste (I added about 1 1/2 teaspoons of salt). Transfer the hummus to a serving bowl.

To make the crispy beet green garnish, heat a tablespoon of olive oil in a sauté pan. As the oil is heating up slice your beet greens, discarding the stem. Transfer to a paper towel to drain. Immediately sprinkle with a pinch of ground coriander, ground cumin and salt. Repeat until the remaining beet greens are pan fried. Note: you don't need to do a lot. I did about 3 hand torn pieces.

Break up the fried beet greens into shards and garnish the hummus with them. Or not. I also love this hummus topped with a drizzle of olive oil and a few sprinkles of sumac.