Remember Spring Break?! (Maybe you're in college or high school and are lucky enough to be on Spring break or be on the verge of your break. I'm jealous.)
Where I went to college (Winston-Salem, North Carolina), the thing to do was to drive down to Savannah, Georgia and celebrate St. Patrick's Day. I was usually too poor to do this, but I did it one year and OMG that city knows how to celebrate St. Paddy's Day. The entire city shuts down and everyone is in the street, drinking, partying and being spooked by possible ghosts. Savannah is beautifully haunted.
Nowadays, the idea of drinking green beer in the street sounds like hell. Literally, you could not pay me. I'd much rather sit on a quiet beach where I can relax, drink a cocktail and have no one speak to me for hours at a time. That's what I crave at this age: silence and alcohol.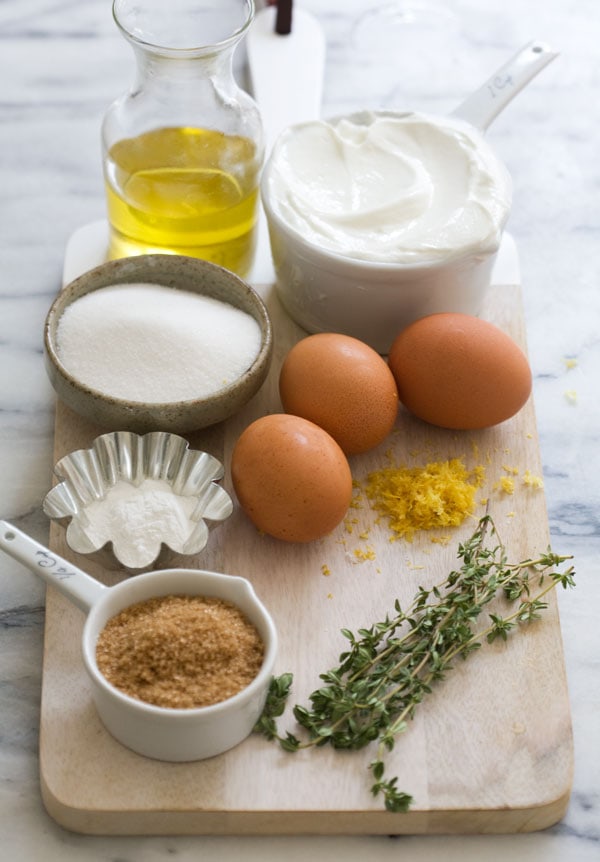 Since there is no spring break in my future, though I am going to Palm Springs for two days this weekend (woot, woot!), I'm trying to bring as many bright things as possible into my life. This cake, man. Bright! Festive! Spring-y!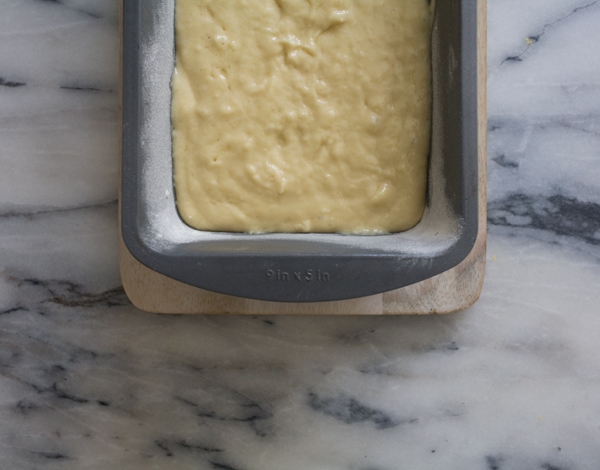 Spring is so close I can feel it. The market tells me Spring is on almost here. Strawberries are in abundance (though we did have a very warm Winter here in Los Angeles), fava beans are starting to make an appearance, and peas! Oh peas, I've missed you. You're so kewt.
Lemons aren't exactly spring produce, per se. I consider them more Winter-y fare. They're that produce that is on the cusp.
These lemons were gifted to Josh from his friend Karyn. She has a big lemon tree in her backyard and has too many lemons to know what to do with. Josh sort of ignored them, but I made a cake!
This cake is light and moist and so amazing. It's much like this Grapefruit Thyme Yogurt Cake I made last year, but there's no thyme, lemons are used in place of grapefruit, there's only one icing and I used olive oil. Also, I candied the lemon slices to go on top. This recipe is similar but a little different.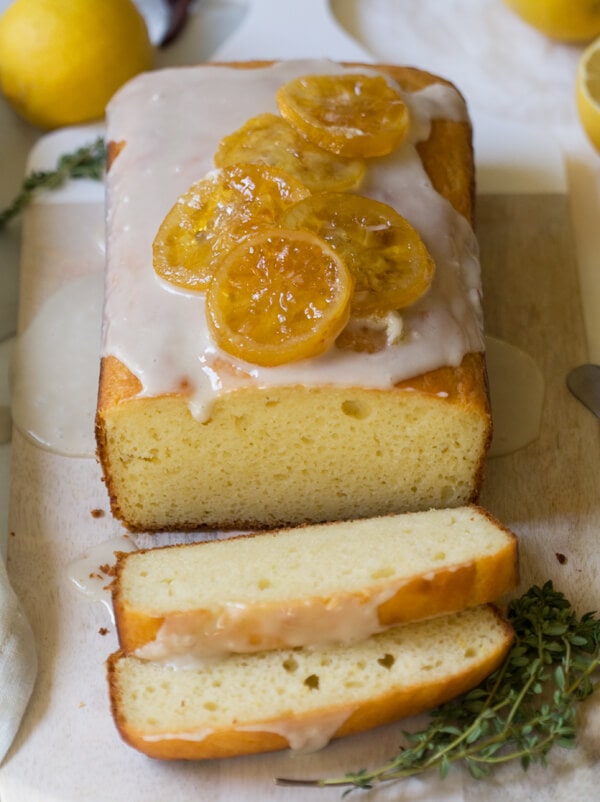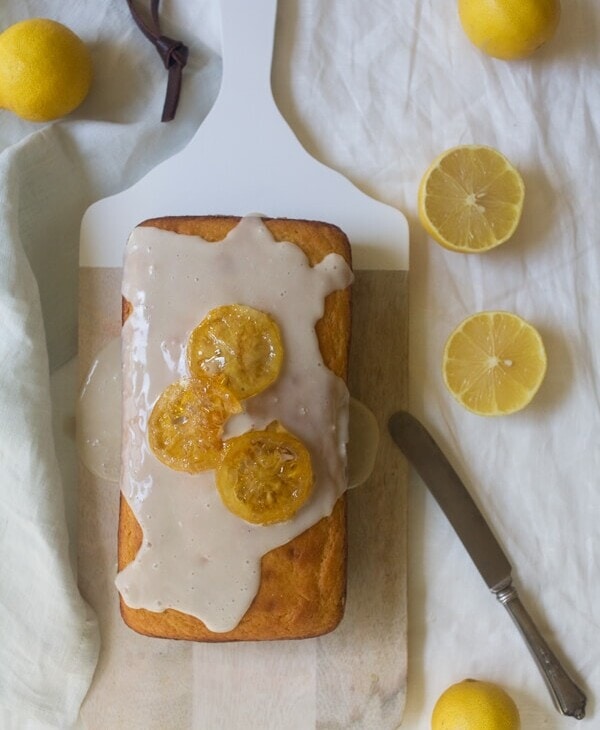 Print Recipe
Lemon Yogurt Pound Cake
Ingredients
Cake:
1 1/2

cups

all-purpose flour

2

teaspoons

baking powder

3/4

teaspoon

kosher salt

1

cup

Greek yogurt

3/4

cup

white granulated sugar

1/4

cup

light or dark brown sugar

3

large eggs

2

teaspoons

grated lemon zest

From about 2 small lemons

1/2

cup

olive oil
Glaze:
1

cup

powdered sugar

2

tablespoons

milk
Instructions
Preheat the oven to 350 degrees F. Grease an 8 x 5-inch or 9 x 5-inch loaf pan. (Note I used the latter and it's just a bit thinner of a pound cake. Both will work just fine.) Line the bottom with parchment paper. Grease and flour the pan.

In a medium bowl, whisk together the flour, baking powder, and salt. In another medium-sized bowl, whisk together the yogurt, white sugar, brown sugar, eggs and lemon zest. Slowly whisk the dry ingredients into the wet ingredients. With a rubber spatula, fold the olive oil into the batter, making sure it's completely incorporated. Pour the batter into the prepared pan and bake for about 40-45 minutes, or until a cake tester placed in the center of the loaf comes out clean.

Meanwhile, let's candy the lemon slices! To a medium saucepan, fill it with water and bring it to a simmer. When the water is rapidly simmering, add the lemon slices and allow to cook for 1 minute. Carefully remove the slices with a pair of tongs and transfer to a cutting board to drain. To the same saucepan, dump out the old water and add 1 cup of water and 1 cup of sugar. Bring mixture to a rapid simmer; add the lemon slices in one layer (none of the lemon slices should be overlapping). Simmer the lemon slices for about 45 minutes to 1 hour. You'll notice the water/sugar mixture will reduce by a lot and the lemons will become translucent. Remove the lemons from the mixture and transfer to a cooling rack or a parchment-lined baking sheet.

To make the glaze, sift the powdered sugar into a medium bowl. Whisk in two tablespoons of milk and mix until smooth.

Pour the glaze atop the cake and garnish with candied lemons.