Silky-Ass Quiche with Gruyere & Fresh Herbs
27
Dec 21, 2015, Updated Jan 27, 2019
Disclosure: This post may contain affiliate links, which means I may earn a commission if you click on the link and make a purchase.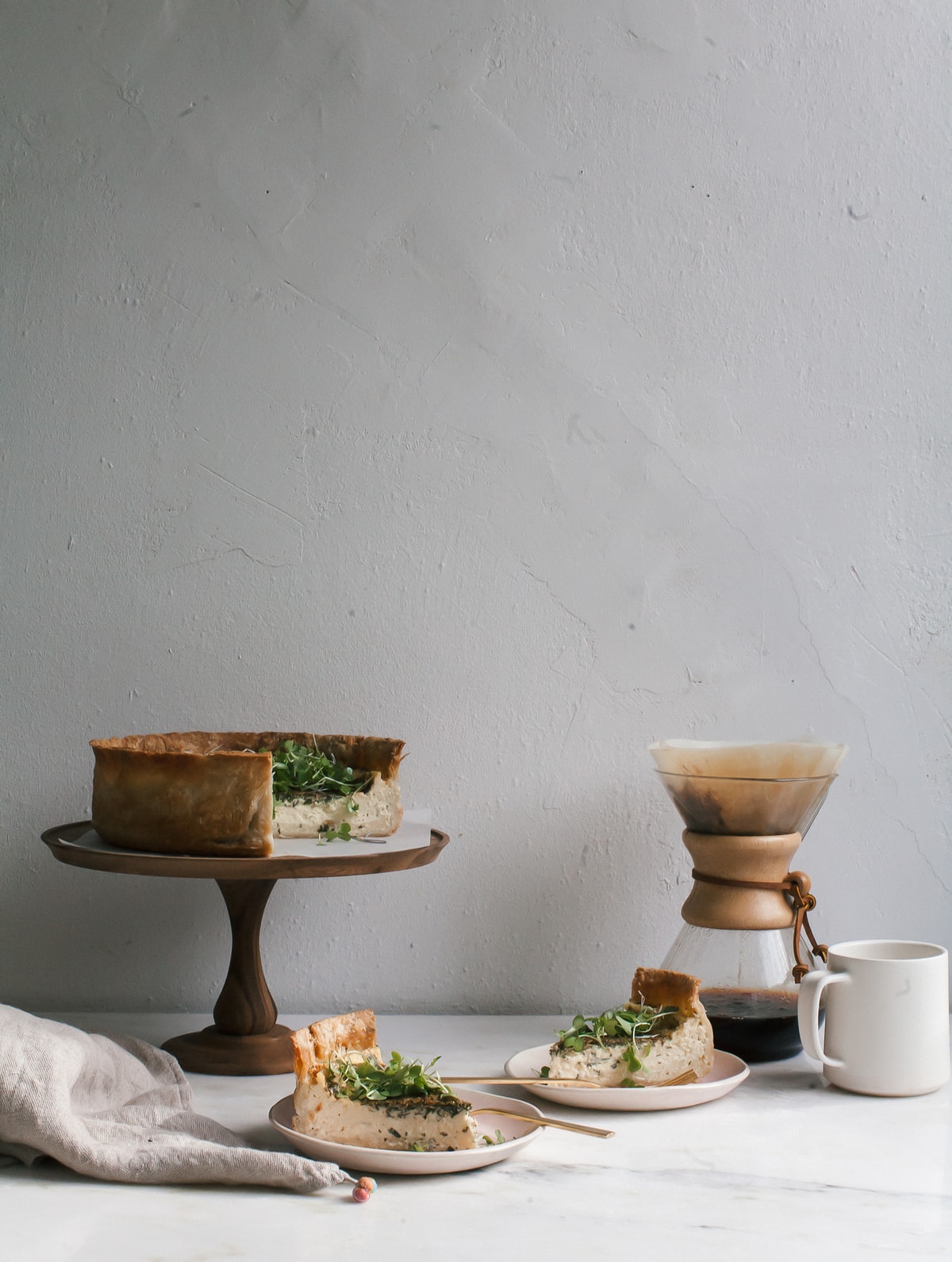 Gonna be very honest right now, I generally don't like quiche. But my mind was totally changed when I was in Chicago this past spring and had a slice at Cellar Door Provisions.
It wasn't sponge-y and gross; it was silky smooth, like a custard, with a crispy crust—so good!
I googled near and far for their recipe and never found one but I did find that Thomas Keller pretty much mastered the silky smooth quiche a long time ago and I'm pretty sure people just use his base recipe. The ratio that I found most frequently was 1:1 cream to milk with about 4 times as many eggs.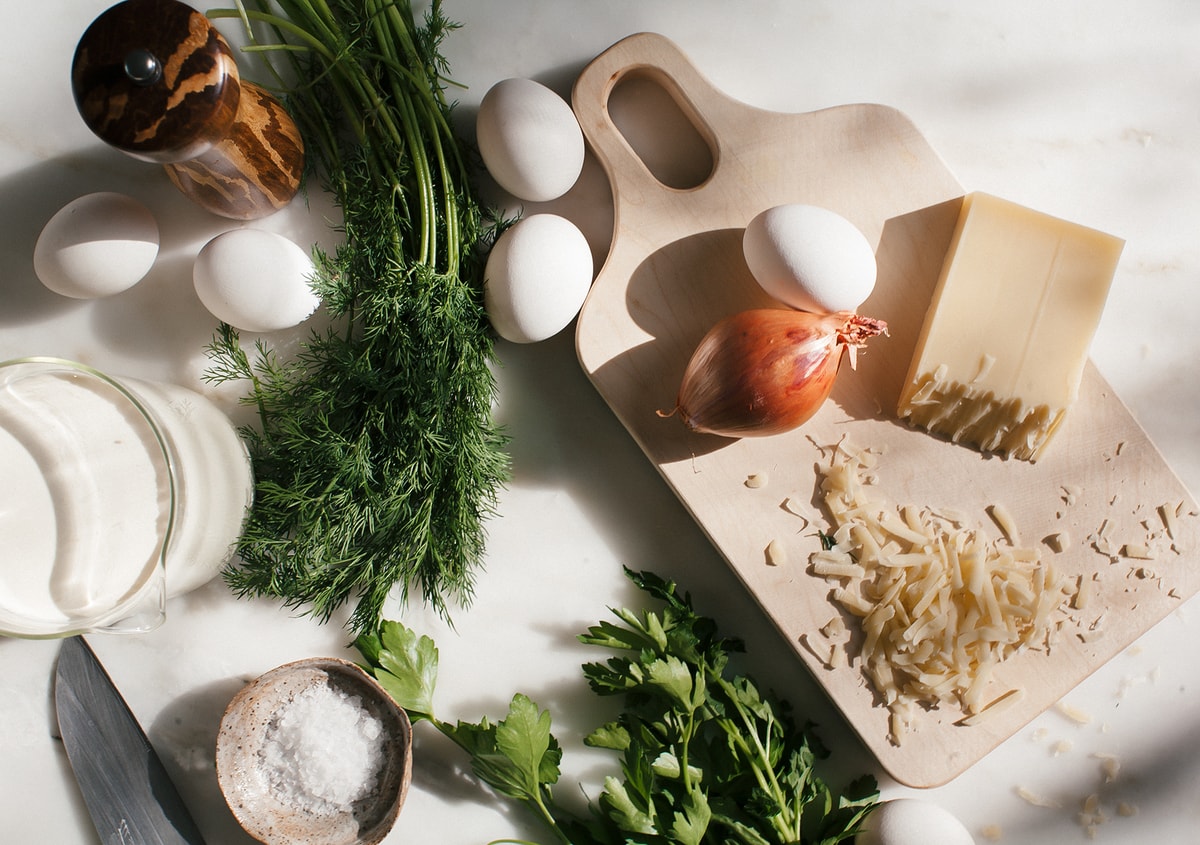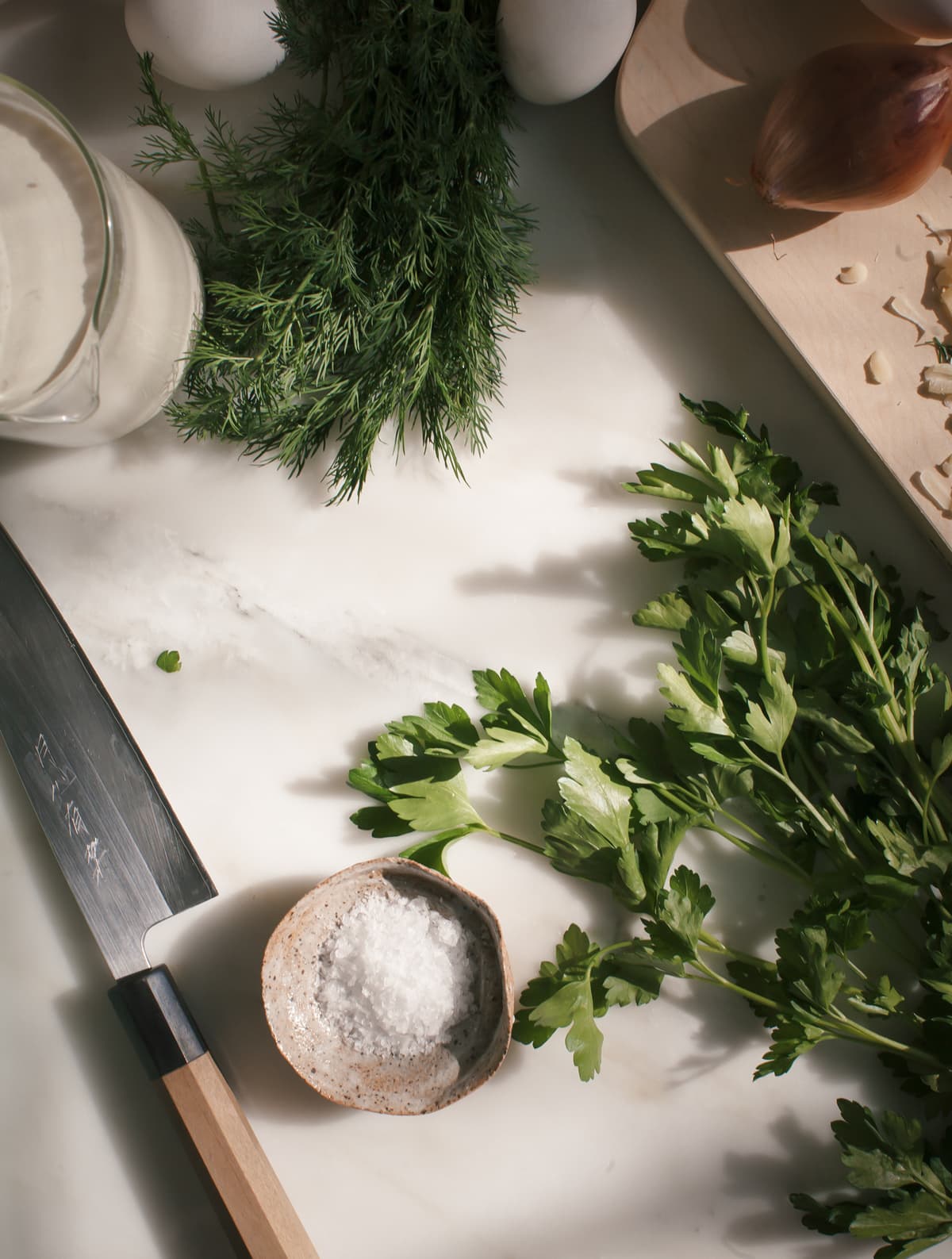 I wanted to make something that could be served on Christmas morning but that required no work. This is something you can make entirely the day before and then slice up. I think it's a-ok to keep at room temperature overnight but if that freaks you out then feel free to put it in the fridge.
I chose to go the vegetarian route with just herbs (Italian parsley and dill), Gruyere cheese and a bit of bite from a shallot that's blended with the milk in a blender.
The crust I made the night before I rolled it out but it isn't necessarily and dare I say, I think it's totally ok to use a store-bought crust.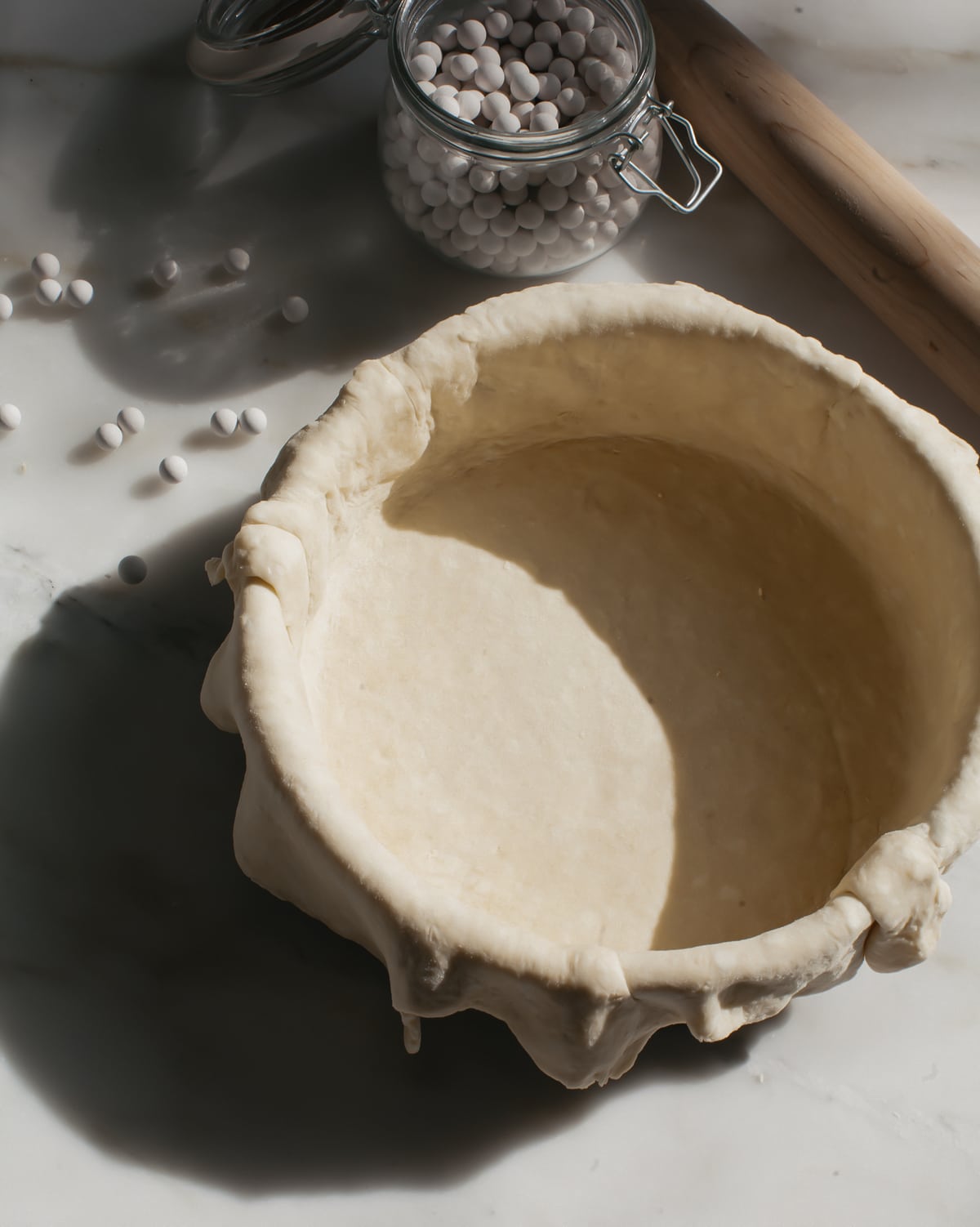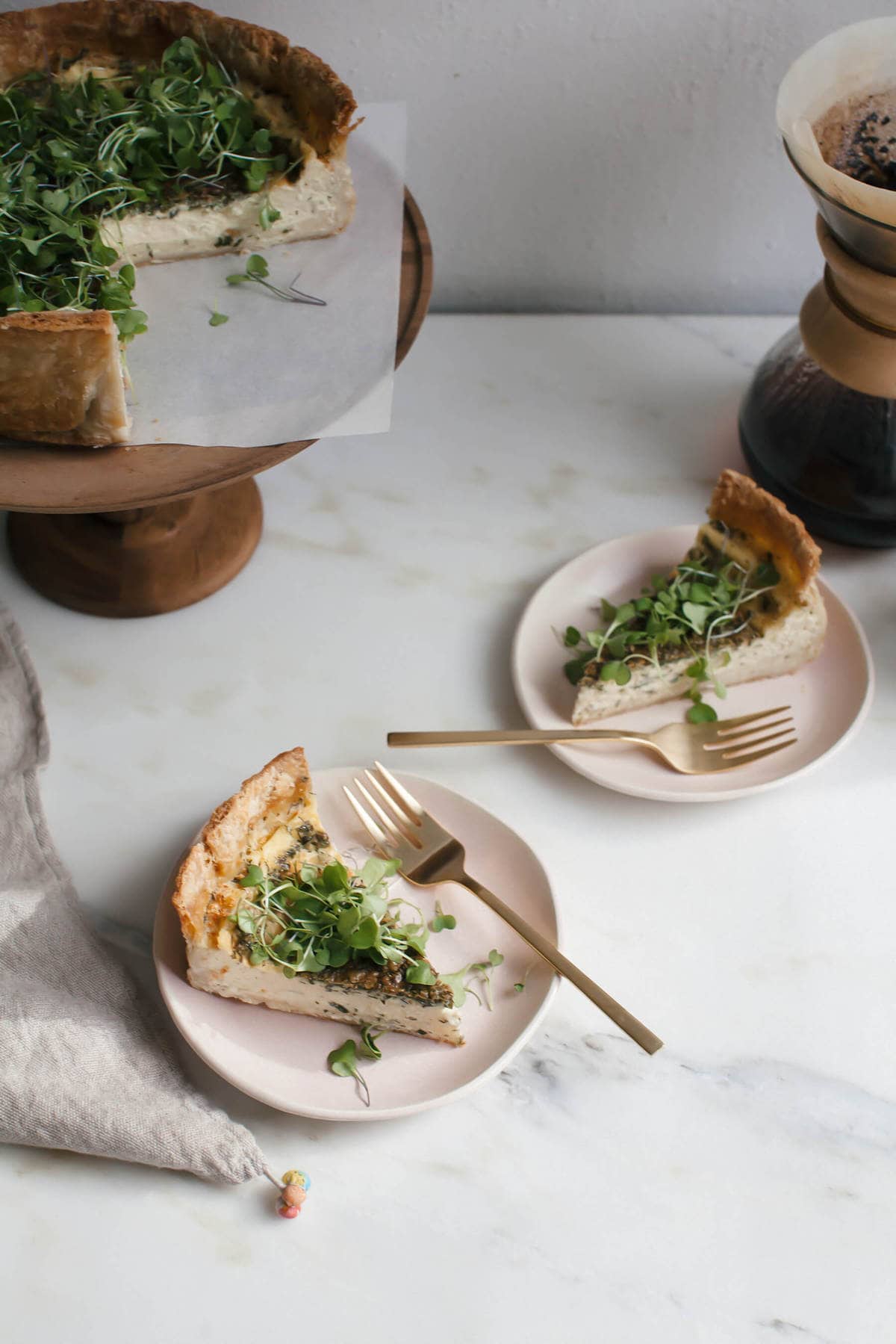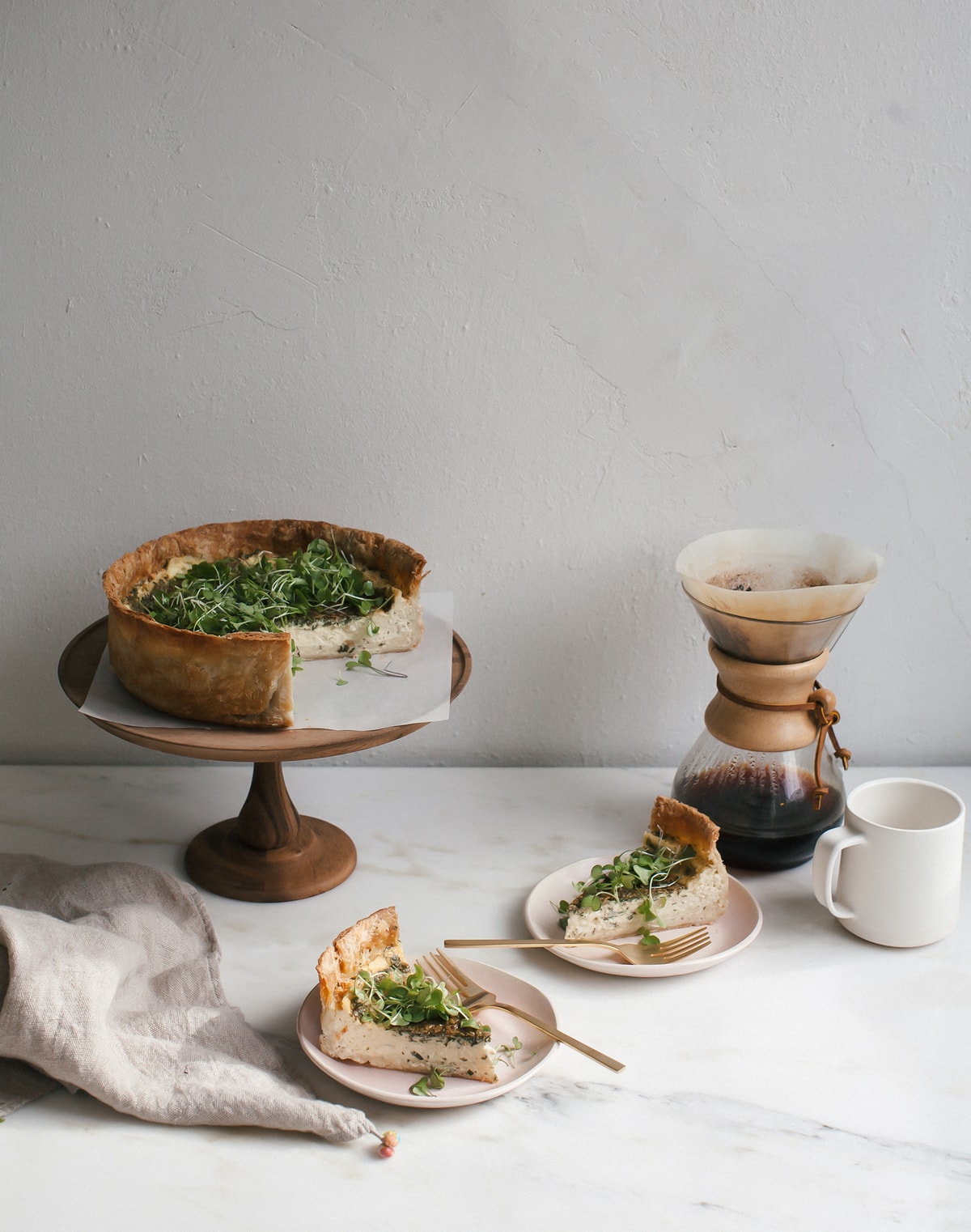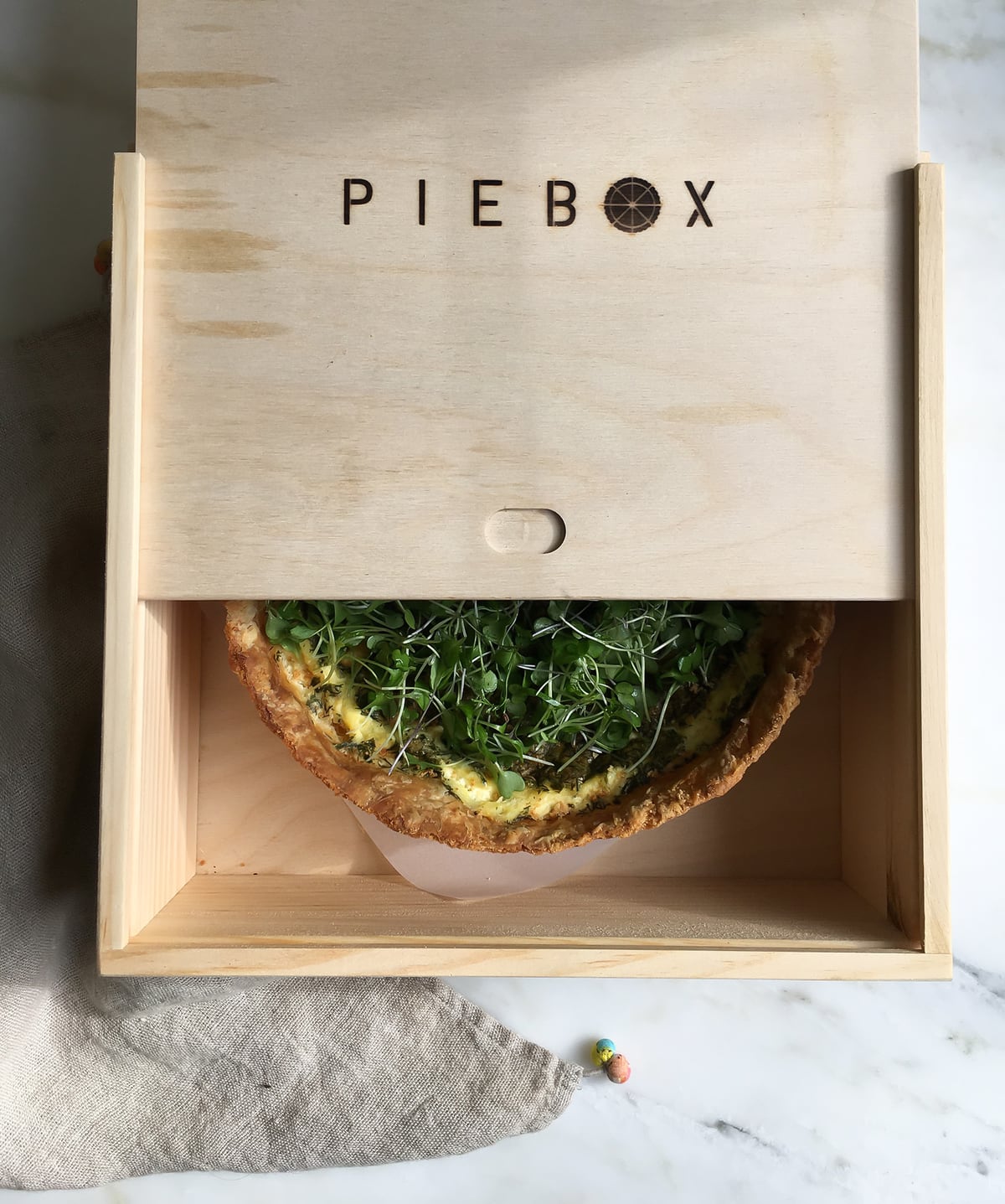 It's the holiday season. I feel like we all deserve a bit of a break, don't you think.
Oh! I almost forgot to talk about the Pie Box. I've been wanting one for so long and the people at Pie Box were nice enough to send me one. I've been using it the past couple days to transport all sorts of edible foods like cookies and a cake (that's short) and of course this quiche AND pie.
Check out the hashtag #pieitforward on Insta 'cuz a ton of my favorite bloggers are baking up my favorite food: pie.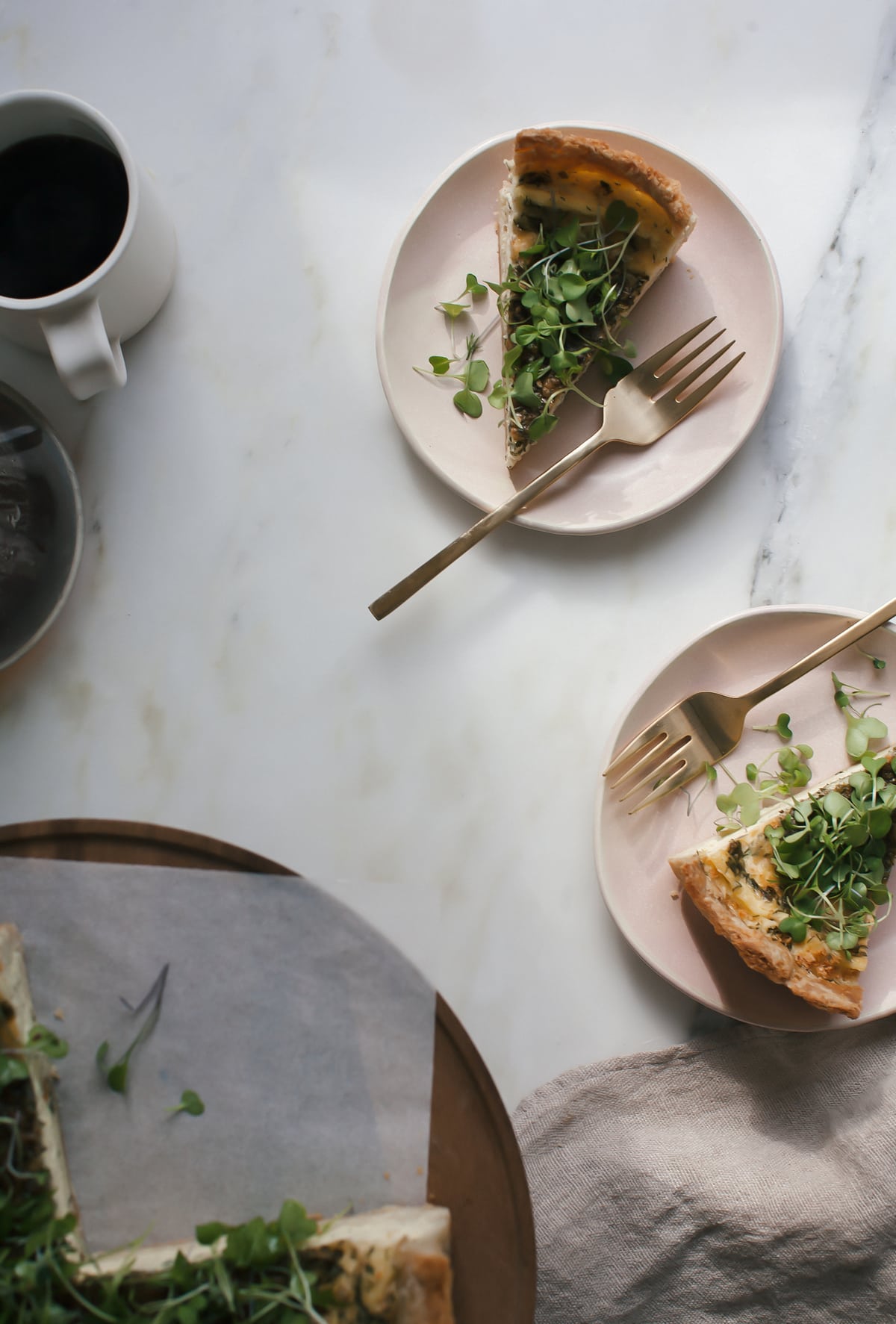 Silky-Ass Quiche with Gruyere & Fresh Herbs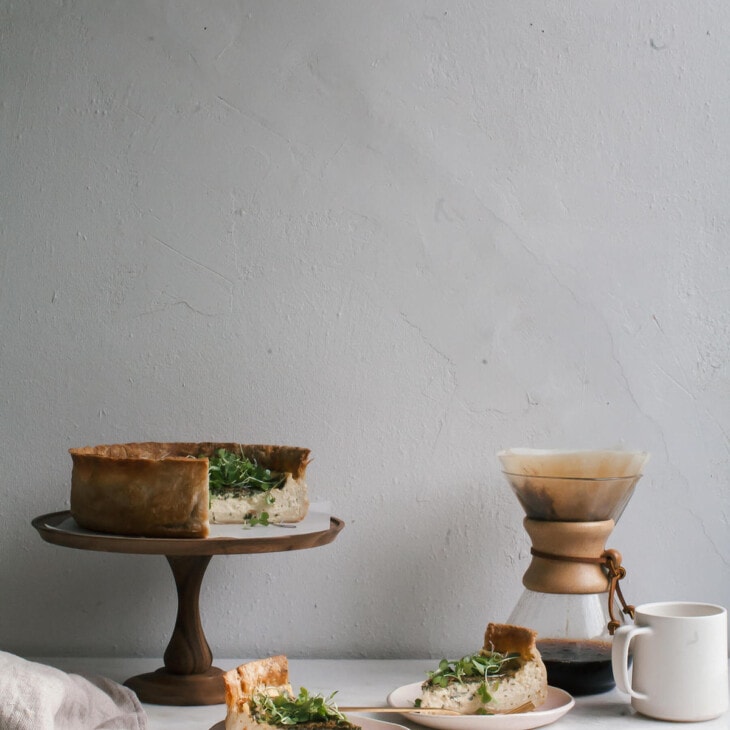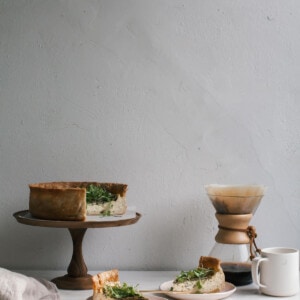 Ingredients
1

double pie crust,

(rolled out into one very large pie crust)

2

cups

heavy cream

2

cups

whole milk

,

(2% would work too)

6

large eggs

1

shallot

,

peeled and roughly chopped

1/3

cup

minced fresh Italian parsley

1/4

cup

minced fresh dill

4

ounces

Gruyere cheese, shredded

2

teaspoon

salt

1/2

teaspoon

crushed red pepper

1/4

teaspoon

freshly cracked black pepper

1/2

cup

micro greens, optional
Instructions
Remove the pie crust from the fridge. Heavily flour your rolling pin and work surface and roll the double pie crust out into a 17-inch circle. Roll the pie crust around your rolling pin and lay it over a 10-cup/9-inch spring form pan. Make sure it's flat on the bottom and flush to the sides of the spring form pan. You may need to overlap some of the parts of the pie crust since it the sides go straight up rather than fan out (like a traditional pie tin). One thing you need to be sure of is that the pie crust goes over the edge of the spring form pan by at least 2 inches. Don't bother trimming the edges (see photo), we'll do that later!)

Preheat your oven to 400 degrees. Spray a sheet of foil or parchment with cooking spray and place it inside the pie crust and fill it with pie weights (or dried beans or dried rice). Transfer the pan to a baking sheet and transfer the entire thing to the oven to bake for about 12 minutes. At the 12-minute mark, gently remove the sheet of foil with the pie weights and place it back in the oven to bake for an additional 12 minutes.

Meanwhile, in a blender, add about half (you can eyeball this) of the heavy cream, whole milk, eggs and shallot. Blend until the shallot is completely broken up and combined. Add the mixture to a very large bowl (ideally with a spout for easy pouring) and add the remaining heavy cream, milk, Italian parsley, dill, cheese, salt, crushed red pepper and black pepper. Mix until totally combined.

When the pie crust is done par-baking, remove it from the oven and decrease the heat to 325 degrees F. Pour the filling into the pie crust and return it to the oven when the temperature has decreased. Cook for 1 hour and 15 minutes, until the center has puffed slightly and is still wiggly. Allow to cool completely about 4 to 6 hours, ideally overnight, before slicing. Using a serrated knife, slice the pie crust edges off, making it nice and even. Remove it from the spring form pan carefully and slice it up and enjoy. Top each slice for microgreens, if you like.
Notes
Please note that the pie crust recipe above tells you to divide the dough in half. Don't do this. Keep it in one solid pie crust. You're going to use the entire thing to roll out one very large pie crust.
In the blog post, I recommend buying pie crust just to save some time. If you do this, you'll want to buy two and you'll want to roll them into one another so you have enough pie crust.