How to Build a Cheese Plate for Two
18
Apr 21, 2017, Updated Nov 25, 2020
Disclosure: This post may contain affiliate links, which means I may earn a commission if you click on the link and make a purchase.
I feel like this week is my week of giving you practical thangs to eat (see: Monday and Wednesday)!
And now…this!
I love gawking at those crazy cheese boards all over Instagram but realistically most of us won't make one of those. Or maybe we will but it'll be for a big party or around the holidays when we have twenty people over.
But sometimes I want to eat a cheese plate for dinner but it's just Josh and me. Or maybe it's just for a girlfriend/dude friend and me. Or just me and my mom.
I could eat appetizers for dinner and do all the time (especially when Josh is working late or out with his friends and I'm on my own).
Seriously, me wanting to eat an appetizer for dinner is Josh's worst nightmare. Nothing makes him give me a gigantic eyeroll more than when I tell him, "I'm not really that hungry, I kinda just wanna snack." NO. He is a meal person. I understand. Most of the time I am too but sometimes I just wanna eat this!
For him, this type of situation constitutes as pre-gaming.
Regardless, I figured I'd share how I build a cheese plate perfect for two:
Ok, so the main objective when I go to the store for something like this is to NOT spend a million dollars.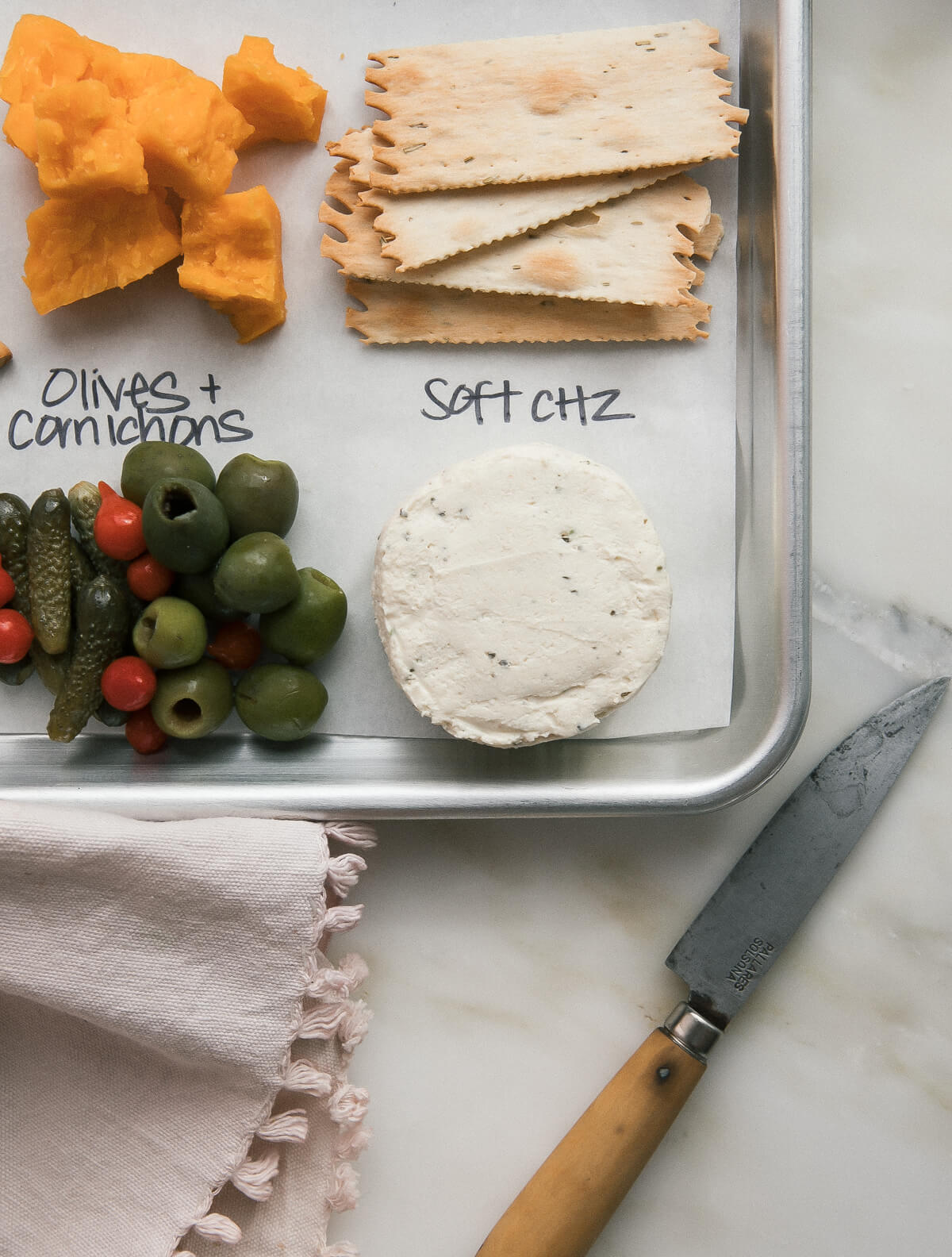 1. Two cheeses. I like to pick two cheeses that are complementary but opposites. One soft cheese and one hard cheese.
For this plate, I went with a an awesome Irish cheddar (for an affordable/delicious option, I love Kerry Gold cheddar—so good!).
The one soft cheese is from Boursin (it's another affordable/delicious option). But you could also do brie, goat cheese, camembert. (If you're feeling baller-istic, I love Epoisses.)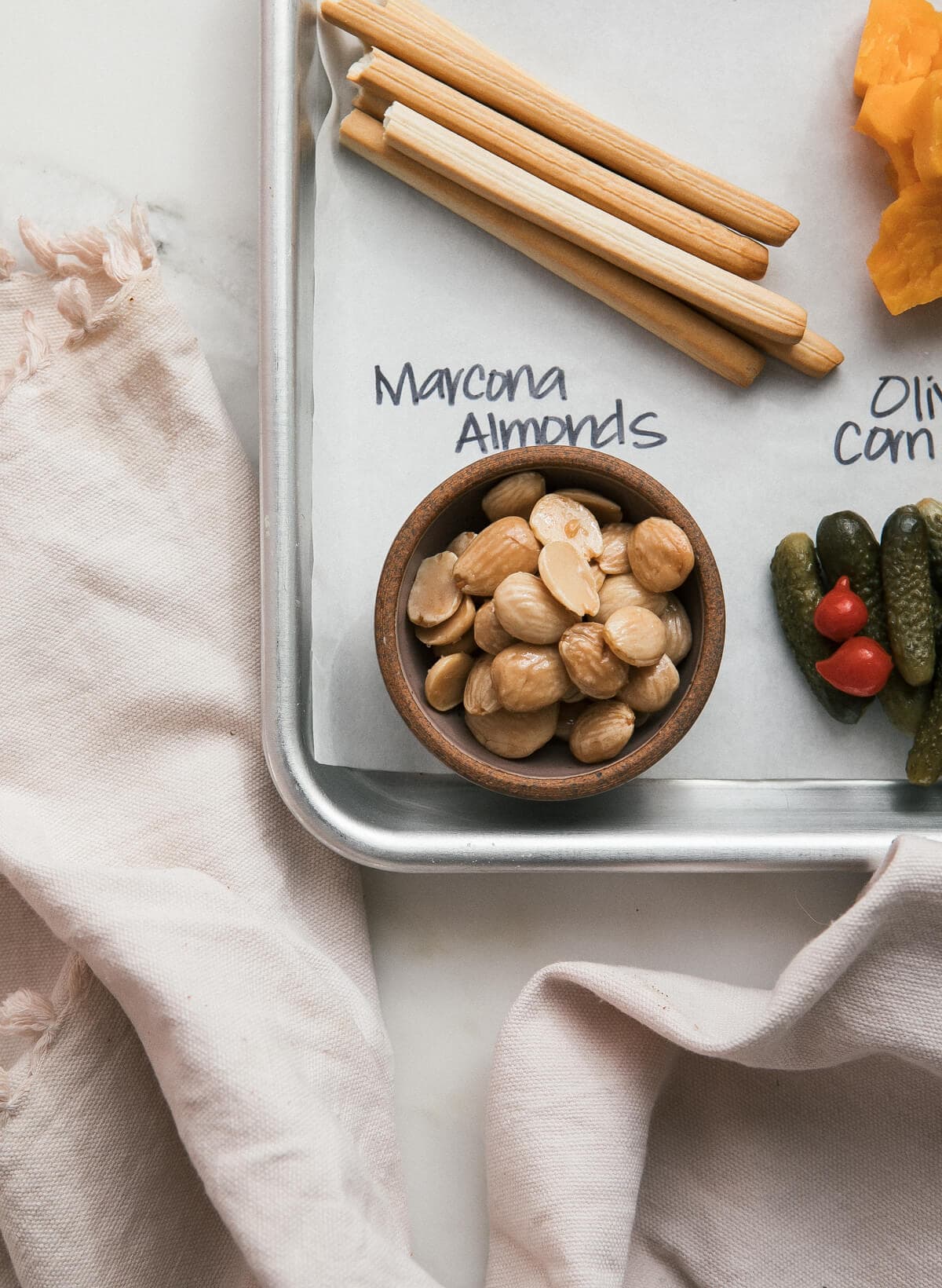 2. Nuts. You only need really one kinda nut snack situation. My favorite are macrona almonds. They're Spanish and fancy and delicious. The bulk-bin is perfect for the right amount of nuts.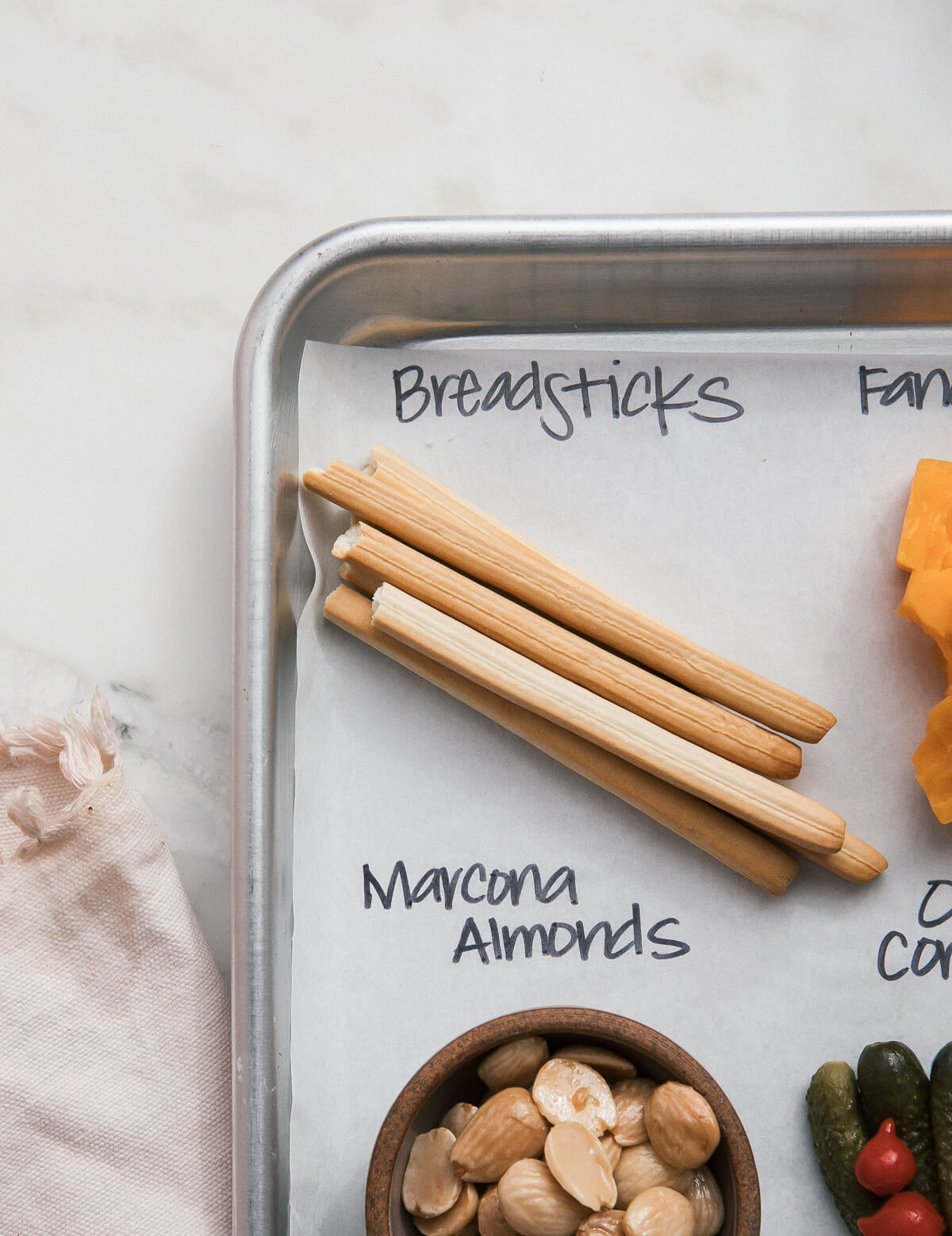 3. Carbs. You need a vehicle for that cheese. On this particular day I had grissini/breadsticks so I included those. But these rosemary salted crackers were also a great option. I think one cracker and one bread item is good.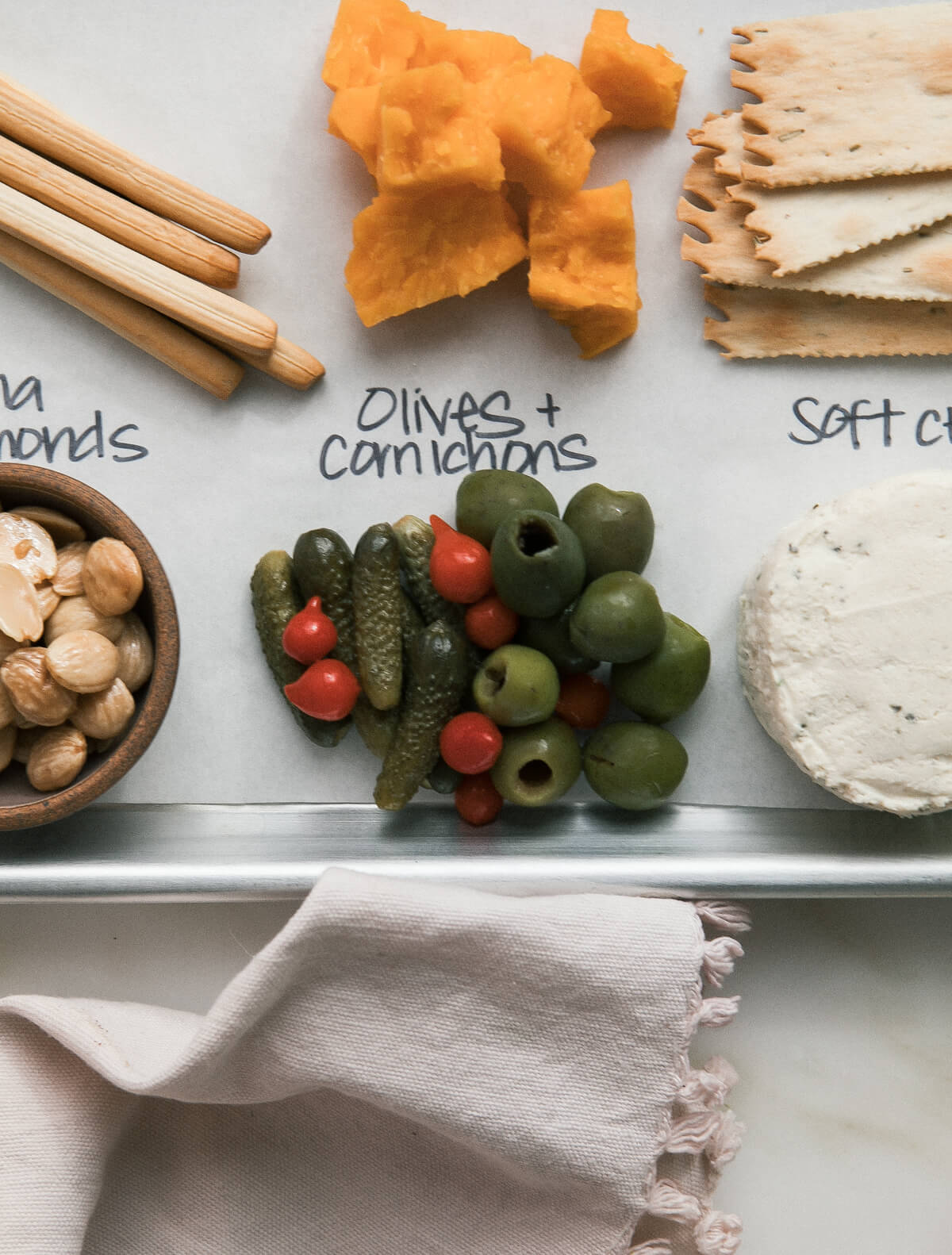 4. Something pickled. Or sweet. Or both. I went pickled on this particular day so that meant corichons, olives and sweet drop peppers (they're SO GOOD!). The olive bar at a grocery store is your best bet because you can buy exactly the amount that you want/need.
Some sweet options would be dried apricot, honey, dried cranberries, fresh fruit (apricots, pears, etc.) and/or jams.
That's it!
Oh and wine! Or beer. Or iced tea.
Happy Friday!
xoxo
Adrianna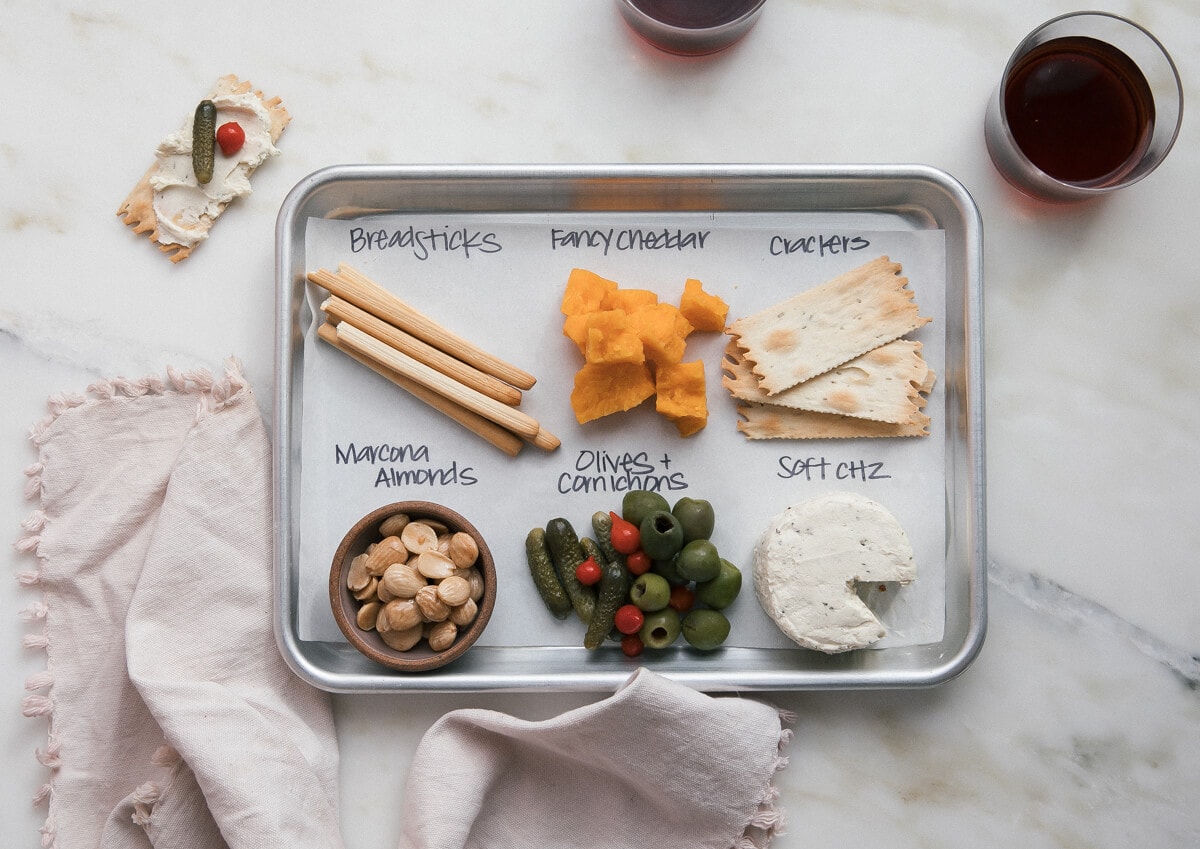 How to Build a Cheese Plate for Two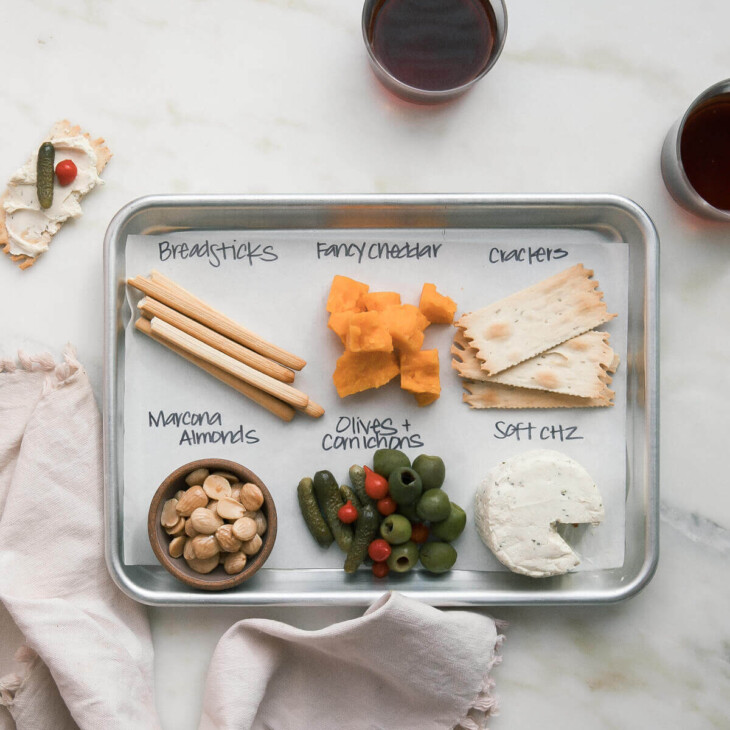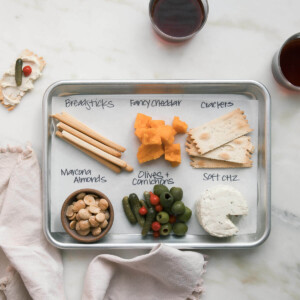 Ingredients
Two cheeses:
1

soft cheese

,

like Boursin, brie, camembert, goat cheese, tallegio

1

hard cheese

,

cheddar, manchego
Nuts:
1

type of nuts like marcona almonds

,

walnuts, pecans, almonds, pistachios)
Carbs:
2

types of carbs

,

sliced bread, crackers, grissini
Something pickled. Or sweet. Or both:
Cornichons

,

olives, sweet drop peppers OR

Jams

,

honey, dried fruit, fresh fruit
Instructions
Put it on a pretty cutting board or you can do it like I did: take a piece of parchment, label your favorite cheese plate items and place them right next to the labels.
Nutrition
Nutrition information is automatically calculated, so should only be used as an approximation.