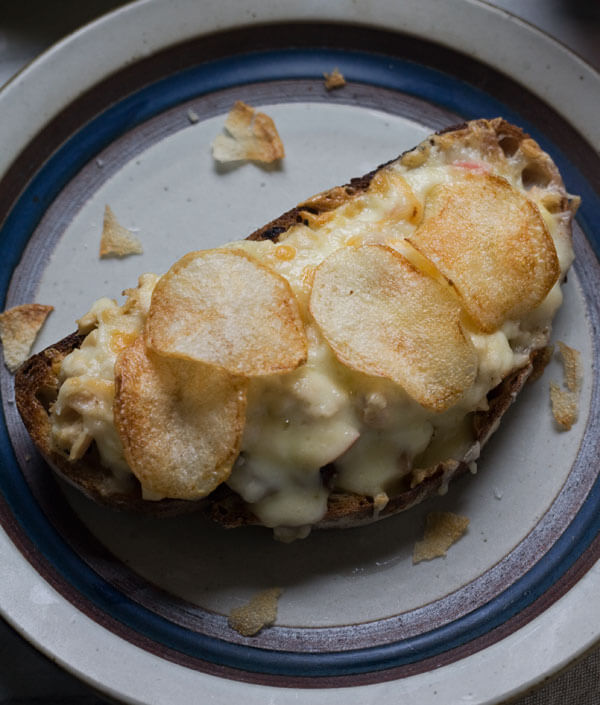 I had the weirdest school lunches when I was a kid. While most kids had cool bologna sandwiches smothered with mayo and snack-paks and Capri-Suns, I had yellow rice with chicken and crudités–it was way lame, and embarrassing. On occasion my mom would give in to my begging and whining and make me tuna salad sandwich, a Hi-C and a bag of Lays potato chips. And I always, ALWAYS would carefully open the sandwich and lay the potato chips atop the tuna. It was the only way.
If I ever had a cute lil' sandwich shop, I'd have a whole section of just "stuff on toast" and I'd totally have sandwiches on the menu that had potato chips inside. It'd be a thing. Adding potato chips gives sandwiches excellent texture and it adds another layer of flavor. My seven-year-old-self knew what was up.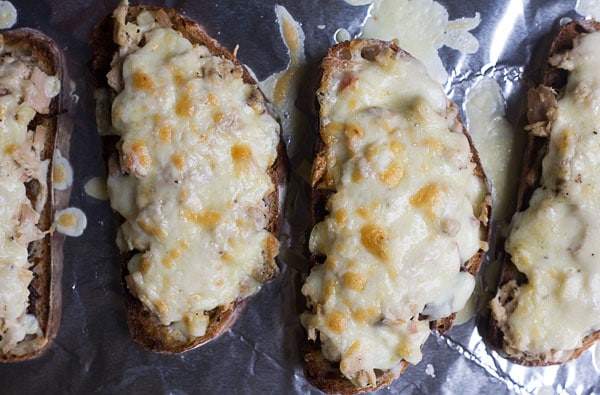 This is a fancy-ass version of my favorite 2nd grade lunch. The caramelized onions aren't something I would've liked then, but I love them now, except for the fact that caramelizing onions takes SO much patience. The first batch of caramelized onions were more burnt than the pretty dark brown I was going for. You need patience to be rewarded.
Also, salt and vinegar chips. Can we have a conversation about how amazing they are and how I die for them? My second year old self would've thought they were disgusting, too.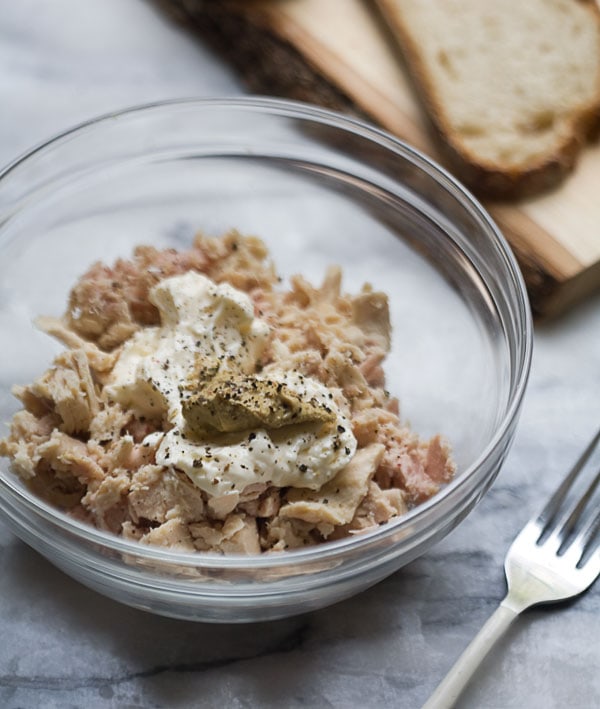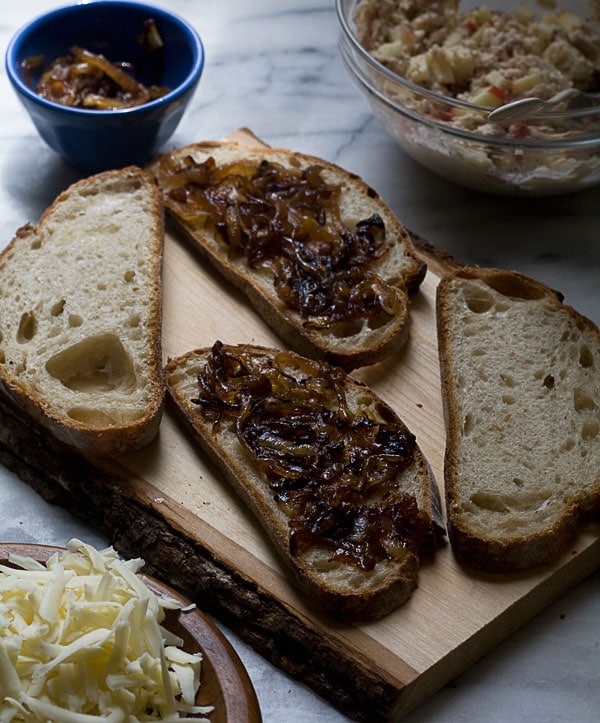 This sandwich is all about me coming to terms with the things I hated in my younger years, while simultaneously celebrating what was special. It's a play of the one of the best diner kind of sandwiches around, with a bit of a of a grown-up attitude. I'm into it. I hope you are too.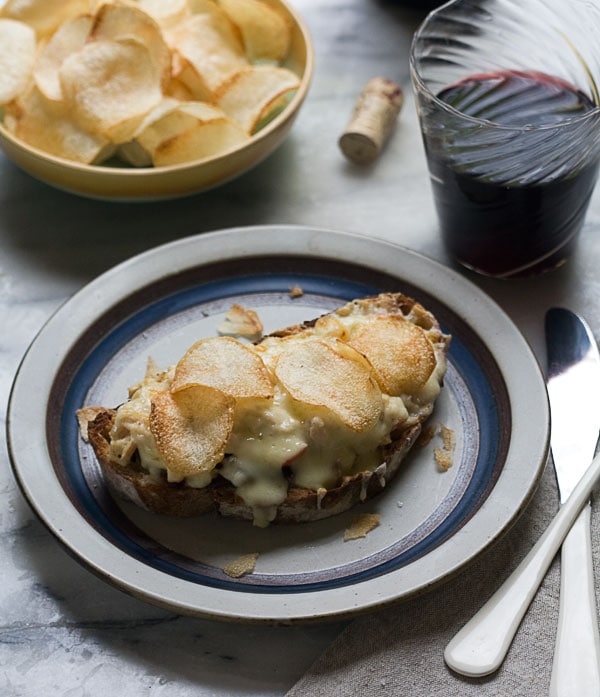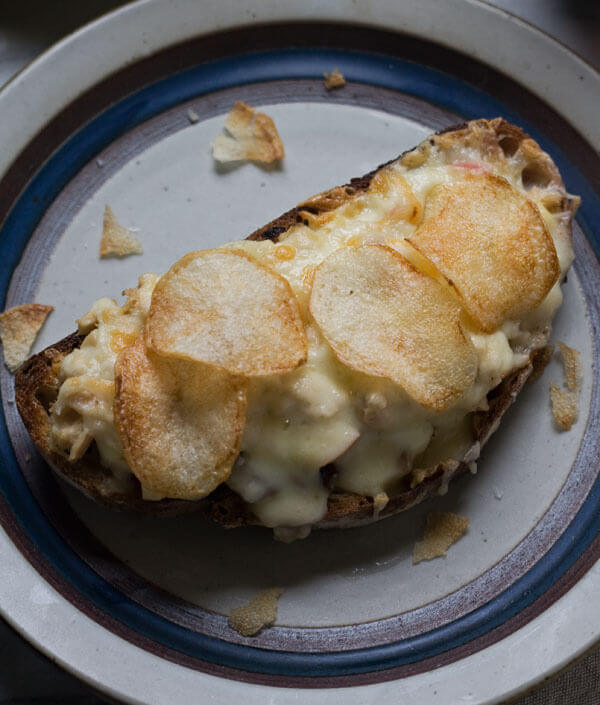 Print Recipe
Fancy-Ass Tuna Melts
Serving Size:
open-faced sandwiches
Ingredients
Olive oil

1

yellow onion

caramelized - dash of salt

2

5 ounce cans of albacore tuna, drained

2

tablespoons

mayonnaise

2

teaspoons

Dijon mustard

1/2

small apple

diced

3-4

turns of black pepper

1/2

lemon

Salt

4

slices

bread

I like it on a sourdough boule

3/4

cup

shredded provolone cheese

I think Monterey jack and cheddar cheese would also work splendidly

Salt and vinegar chips
Instructions
To a medium skillet, heat two tablespoons of olive oil over medium-low heat. Add the onions and cook for 15 minutes, stirring frequently. Add a pinch of salt and cook for 30 minutes more, stirring frequently, and adding more olive oil as needed, or until the onions are a golden brown color. Transfer the caramelized onions to a small bowl and set aside.

In a medium bowl, combine the albacore tuna, mayonnaise, mustard, diced apple, black pepper and juice from the lemon. Mix and salt and pepper to taste.

On a foil-lined baking sheet, lay out the slices of bread. Divide the caramelized onions among the slices of bread. Top with a few scoops of tuna; and then a liberal handful of provolone. Turn on the broiler and when hot carefully place the baking sheet under the broiler and cook until the cheese is melty and lightly browned. Top with a few potato chips and enjoy.