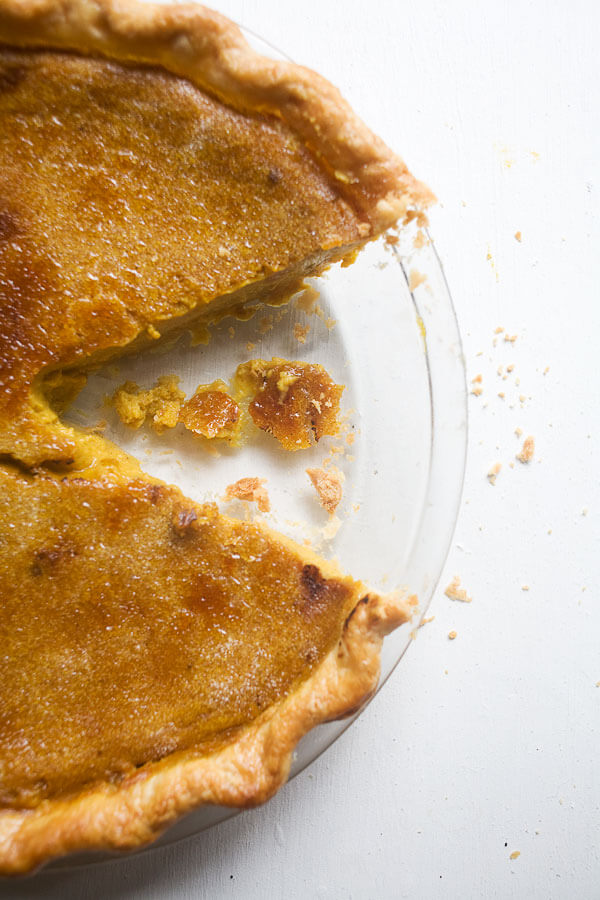 By "classic pumpkin pie, " I mean pumpkin pie spiked with rum, obviously. You know me.
This whole week I've spent under the covers with the sickness. Amelia thinks sneezes are the most terrifying thing in the world. Whenever I dramatically sneeze, she flinches, bracing for the worst. She's a weirdo. Luckily (for me and her), the sickness has almost run its course.
One of the many downsides of being sick is the loss of taste. I literally can taste nothing. Everything tastes flat, bland, the same. Except this pie. I tasted every little sweet and spicy note and looooved it. At its base, it's a classic, awesome pumpkin pie. Not too eggy. I have serious issues with super eggy pumpkin pie. It's sweet but obviously not too sweet. And the spices! Hello. Perfect amount, I think.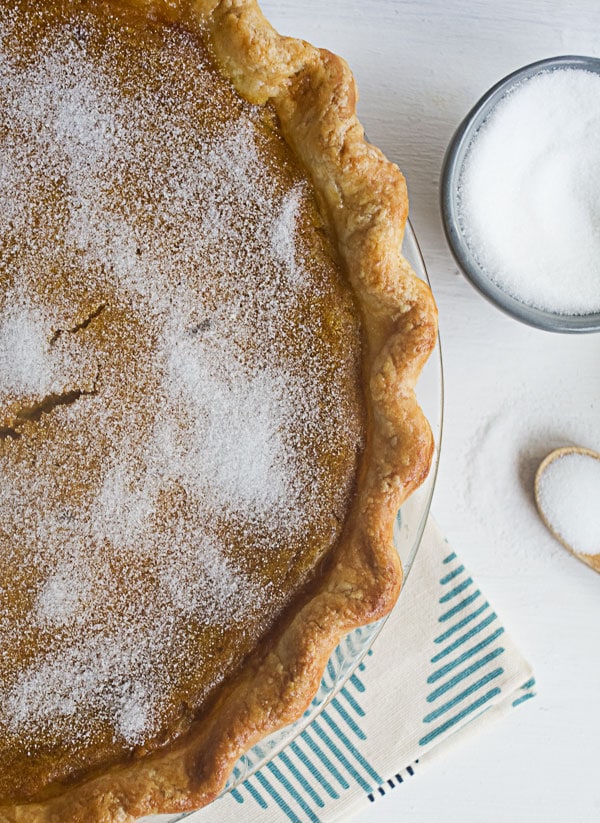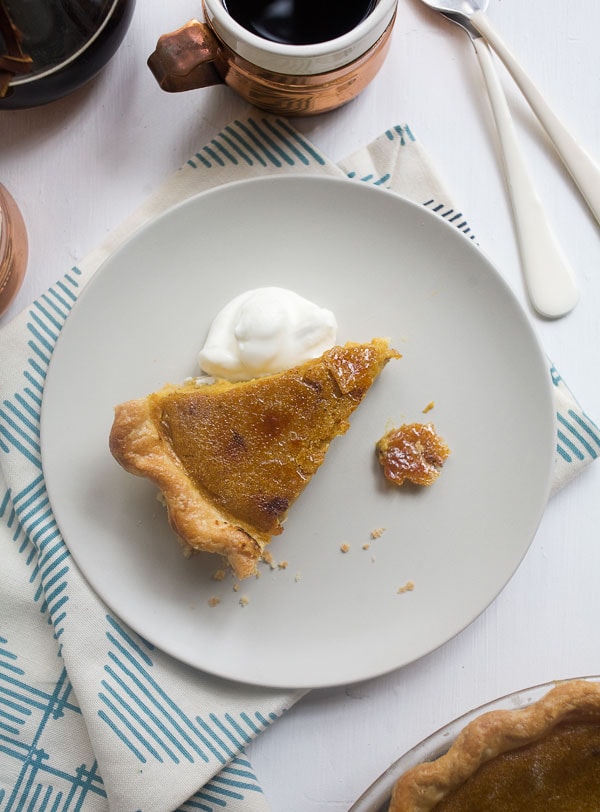 And the rum is not obvious. You won't eat this and go, "whoa, rum pumpkin pie" (not that that would be bad), but it lingers. It compliments the spices.
This is a perfect pie for the people who are obsessed with the classics.
Next week I'll be going to San Francisco to be spending it with Josh's grandparents. We are cooking a very traditional Thanksgiving dinner – no funny, crazy combinations.
Some people don't want new and crazy stuff. They want their traditional ol' stuffing and turkey and pumpkin pie. This pie is for them. There's nothing crazy about it, though I do think it's just a slightly elevated version of the classic.
The bruleed top of this pie is just fun. The torch is dramatic. The shards of sugar glass are delicious and actually offer a nice texture in an otherwise soft and silky smooth custard.
While the rose pie I posted earlier this week and the oat crumble pie were both pretty labor intensive, this is super easy.
The only thing I suggest is to make sure it's properly chilled. You really want the cold/hot effect–it's tasty!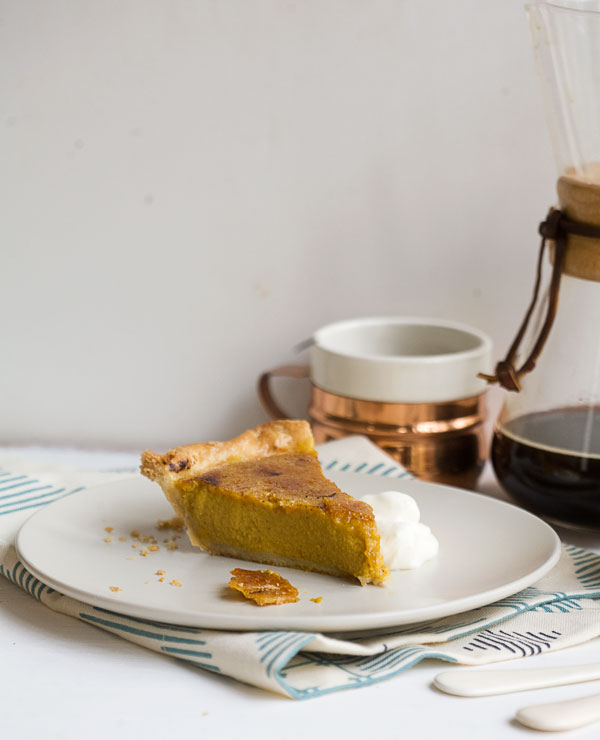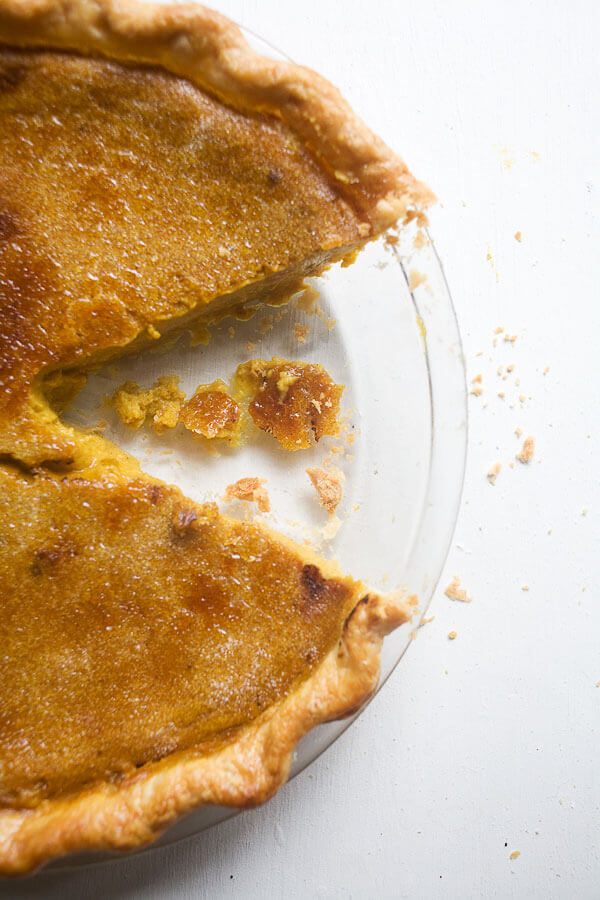 Brûléed Classic Pumpkin Pie
Print
Serving Size:
1
9-inch pie crust, chilled
Ingredients
Filling:
2

large eggs

,

plus 1 egg yolk

1/2

cup

white granulated sugar

,

plus more for topping

2

tablespoons

light brown sugar

1

15-ounce can pumpkin puree

1 1/3

cup

heavy cream

3

tablespoons

dark rum

1 1/2

teaspoons

ground cinnamon

1/2

teaspoon

ground ginger

1/4

teaspoon

freshly grated nutmeg

1/4

teaspoon

ground allspice

1/4

teaspoon

kosher salt
Directions
Note: I found it unnecessary to par bake this crust, which I have done in the past with pumpkin !pie. I tried it both ways: par baked and not par baked. I found it was an unnecessary step, but !one of you made this recipe and experienced some raw dough, which isn't ideal. So, I !recommend you should par bake just to avoid this issue. (The picture above is not par baked.)
To par bake your crust, preheat your oven to 400 degrees F. Using the tines of a fork, poke the bottom of the pie crust a all over. Line the crust with a piece of parchment and fill with beans or pie weights. Bake for 15 minutes. Remove the pie weights and parchment and bake for an additional 10 minutes. Remove from the oven and set aside while the filling is made.

Preheat your oven to 325 degrees F. In a medium bowl, whisk together the eggs, egg yolk, 1/2 cup white granulated sugar, light brown sugar, pumpkin, heavy cream, rum, cinnamon, ginger, nutmeg, allspice and salt. Mix until very smooth; if there are lumps due to the pumpkin puree, run the mixture through sieve.

Place your prepared 9-inch pie pan onto a baking sheet (this will help with transferring it in and out of the oven). Pour the pumpkin mixture into your pie crust and brush the edges of the crust with egg wash.

Carefully transfer the pie to the oven and bake for 45 to 50 minutes, and until the center of the pie is set and it jiggles slightly. Make sure to check on it at the 20 minute-mark. If the pie crust is becoming too dark, place a tent, using foil, around the pie crust. Allow to cool at room temperature for 1 hour. Transfer to the refrigerator to chill for at least 2 hours. Right before serving, sprinkle the top of the pumpkin pie with 2 teaspoons of sugar. Using a blow torch, move the flame in small circles over the sugar until it melts and turns a light golden brown color. Serve immediately.