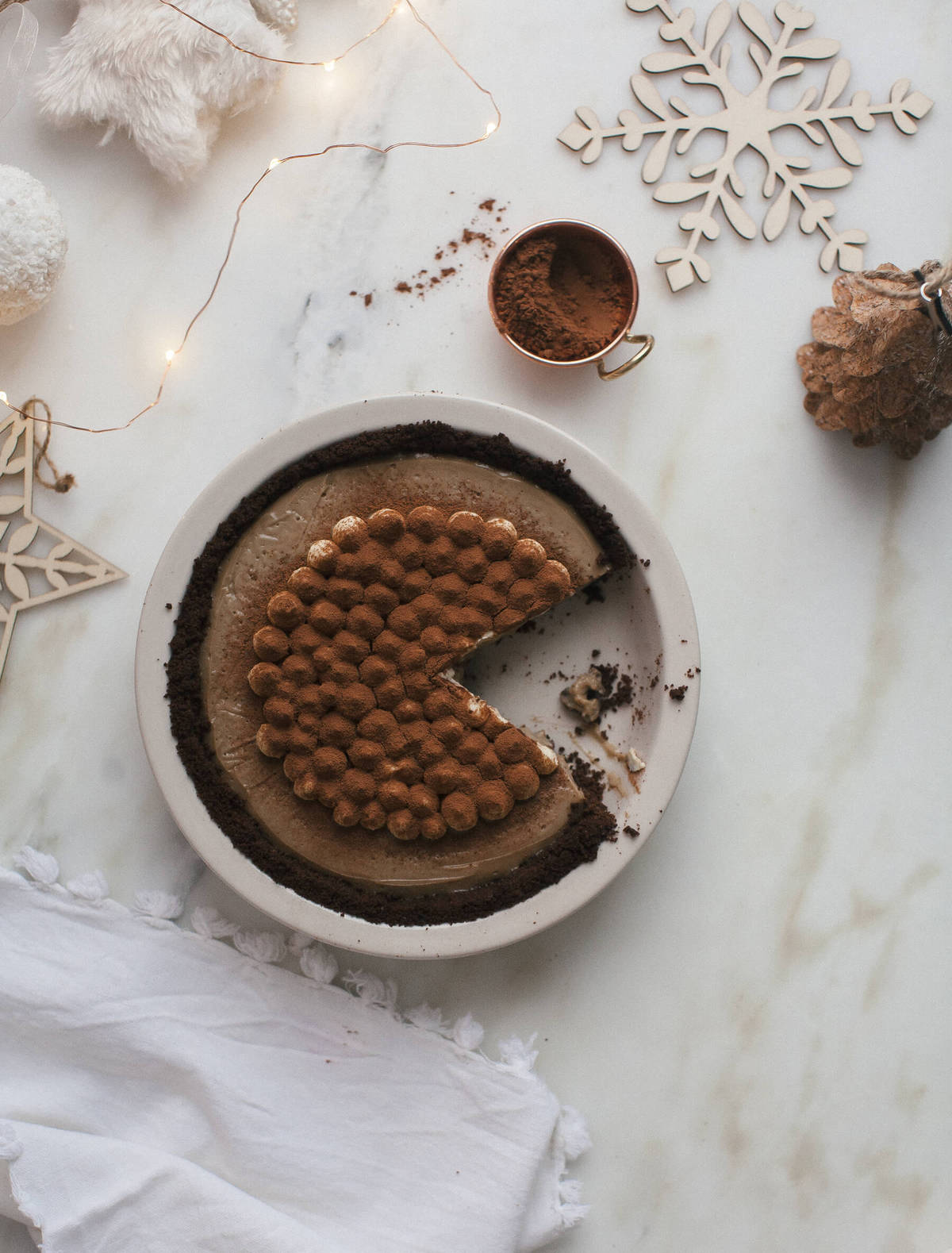 Los Angeles! Just a heads up, tomorrow I'll be in Echo Park at Shout & About signing books and handing out holiday cookies from 11am to 1pm. Stop by!
Now, for this tiramisu pie! I made this pie a few times to recipe test it, pretty normal stuff, but after I finally nailed it, I loved it SO much that I decided it was going to be my Thanksgiving pie.
It was really easy to make, which is why I made it, and right before I started to make it, I remembered that a friend of mine is gluten-free. Luckily I found out that you can totally make this pie with gluten-free ginger snaps and it'll be just great.
I needed a tablespoon less butter but it worked! I was pumped to find that out.
The pie goes like this: chocolate cookie crust on the bottom and up the sides of the pie pan. Then it's filled with an espresso cream custard that is SO good. At the end of making the espresso cream, I mixed in a few tablespoons of rum and it is BOMB. It tastes just like tiramisu. Then, the pie is filled and chilled. Right before serving, you pipe on some mascarpone cream and top it with a bunch of cocoa powder.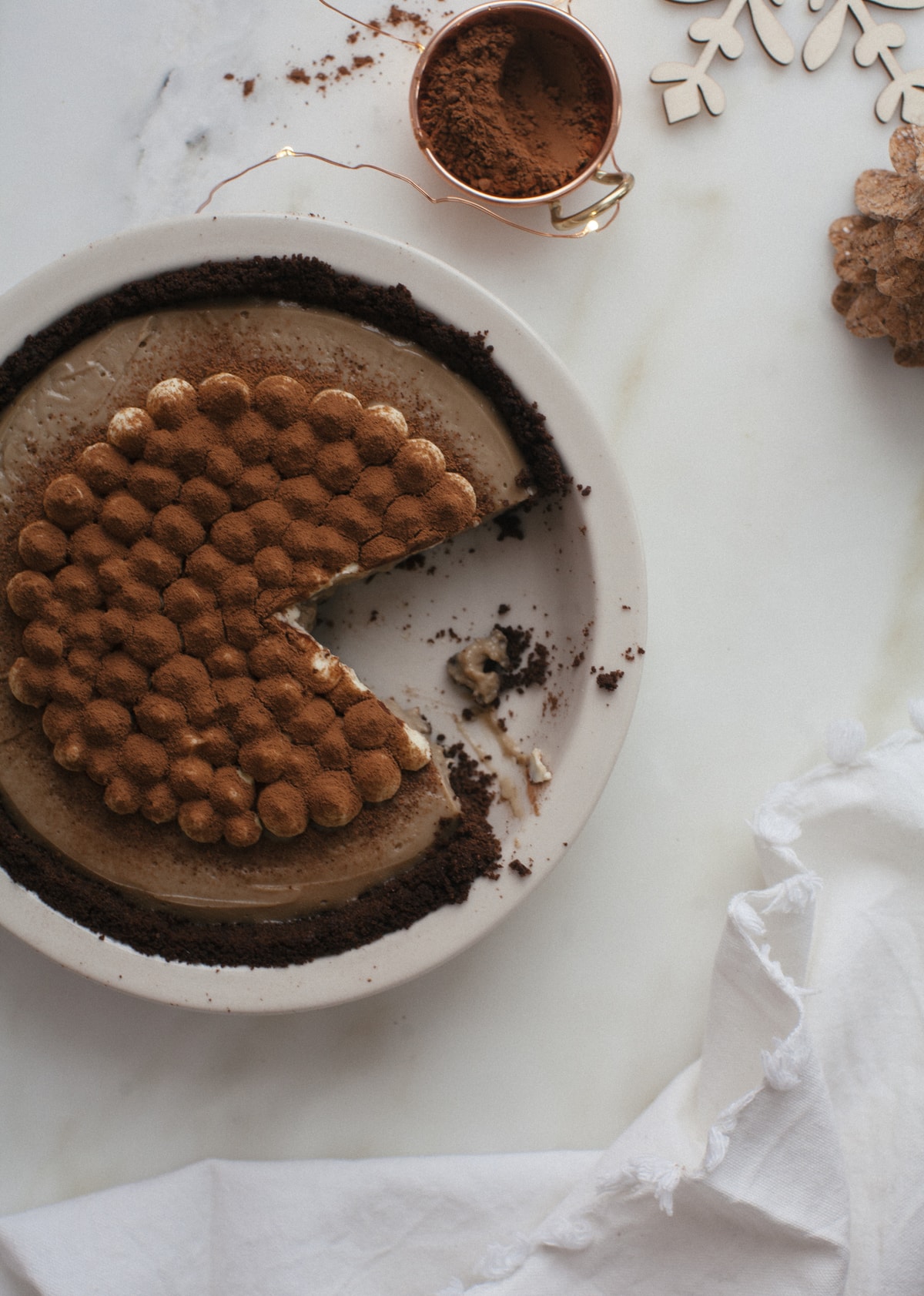 Now, I'm gonna keep it real and say that the slices aren't beauties. They're not perfect slices but I realized that to achieve that it would require more corn starch in the cream filling and I liked the texture how it was. So, it'll be messy slices but it'll still tastes really amazing.
Also, another idea about this recipe. You could make the espresso cream, fill it in bowls and top it with either lady finger crumbles or cookie crumbles and then the mascarpone cream. It would be so good. Think of it like a whole lot of flavors of tiramisu but just reimagined a little bit.
This weekend I think we're gonna get our Christmas tree. We're actually not spending the holidays in LA but I don't really care, I like Christmas vibes all up in my house.
This is also the time of year where Amelia thinks we bring a tree inside the house and hand dog toys on it because we she always ends up stealing ornaments and tearing them to pieces. For a few years we had to put her doggie gate around the tree so she wouldn't get to it. Yes, I'm sure that looked great!! Wish us luck!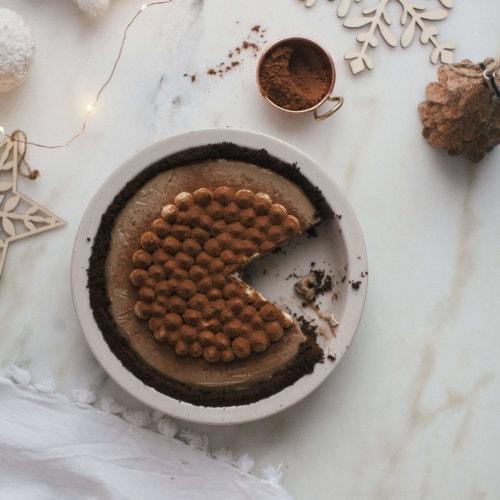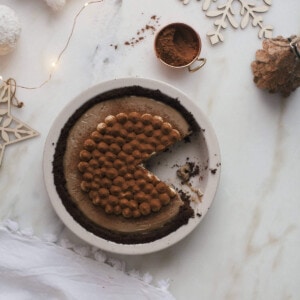 Ingredients
Chocolate Cookie Crust:
1 1/2

cups

chocolate cookie crumbs

Pinch

of salt

1/4

cup

unsalted butter

,

melted
Espresso Cream:
3/4

cup

granulated sugar

,

divided

1/4

cup

cornstarch

1/4

teaspoon

salt

2 1/2

cups

whole milk

,

divided

1

tablespoon

instant espresso powder

4

large egg yolks

2

tablespoons

dark rum

1

teaspoon

pure vanilla extract
Mascarpone Topping:
1/2

cup

mascarpone

2

tablespoons

white granulated sugar

1

egg yolk

1

tablespoon

heavy cream
Directions
To make the Cookie Crust: Preheat the oven to 350 degrees F. In a medium bowl, add the cookie crumbs and salt. Pour the melted butter on top and mix with your hands until the butter is evenly distributed. It should feel like wet sand. Add the mixture to a 9-inch pie dish and press it onto the bottom and up the sides of the dish until it's one even layer. Transfer to the oven to bake for 10 minutes, until the bottoms and edges have set. Remove and allow to cool completely before filling.

To make the Espresso Cream: Place a sieve or strainer over a bowl and set aside. In a medium skillet, whisk together sugar, cornstarch, salt and 1/4 cup milk together until the corn starch has dissolved.. Turn the heat to medium and then pour in the remaining 2 1/4 cups milk. Whisk until completely combined. While the milk is heating up, add the espresso powder and whisk until dissolved. Bring the entire mixture to a slight boil and then cook for 2 to 3 minutes, until thickened, stirring the entire time. In a separate bowl, whisk the egg yolks; add a few tablespoons of the hot mixture to the eggs to temper them and then pour the egg mixture into the milk mixture. Bring it to a simmer, cooking for the custard for about 3 to 3 minutes, stirring the entire time, until thickened. Pour the espresso cream through the strainer into the bowl, catching any eggy bits. Immediately whisk in the rum and vanilla extract.

Pour the espresso cream into the prepared pie cookie crust and smooth out the surface with a spatula. Immediately place a sheet of plastic wrap onto the surface of the custard. Allow to come to cool slightly on your kitchen counter for 10 minutes and then transfer to the fridge to chill for at least 3 hours, ideally overnight.

To make the mascarpone cream: add the mascarpone, sugar, egg yolk and heavy cream to the bowl of stand-up mixer with the paddle attachment and beat until smooth. Transfer to a piping bag and pipe onto the top of the pie however you like. You can also spoon it on and smooth it out with a spatula.

Dust the topping with cocoa powder and slice it up and serve.
Notes
*Just like the chai tiramisu, I favor Bellwether Farm mascarpone over Vermont Creamery. I tried this with both and I liked that Bellwether farm was a bit stiffer of a mascarpone which I think works better for the topping but honestly both will work and both will taste great.
*This pie will not give you super perfect slices. I liked the soft texture of the espresso cream. If you want more perfect slices, you can add an additional tablespoon of cornstarch to the espresso cream and it should firm it up quite a bit.
*Use gluten-free gingersnaps for the crust if you like to make the crust. Just be sure to add 1 tablespoon of melted butter less than the recipe you see above.
Nutrition Facts
Tiramisu Pie
Amount Per Serving (8 g)
Calories 0
* Percent Daily Values are based on a 2000 calorie diet.