Peanut Butter Cream Pie
26
Oct 22, 2014, Updated Nov 25, 2020
Disclosure: This post may contain affiliate links, which means I may earn a commission if you click on the link and make a purchase.
Amelia and Joy the Baker have never met. But I know they would get along because they're both what I could consider "peanut butter enthusiasts."
Amelia, in her little time on this planet, has tried peanut butter every which way: cheap creamy peanut butter (read: Jiff), all-natural chunky peanut butter, smokey peanut butter, and even peanut butter mixed with honey. She prefers her peanut butter vessels to be human spoons, slices of apple, bananas or even sneakily off the side of a bowl. She does not discriminate.
Joy prefers her peanut butter on bread with pickles, coupled with bacon, and in smoothies, and in her new book, Homemade Decadence, she puts PB on a bed of buttery chocolate crumbs and tops it with perfectly whipped cream and calls it a pie. An-omg-yes-please-pie.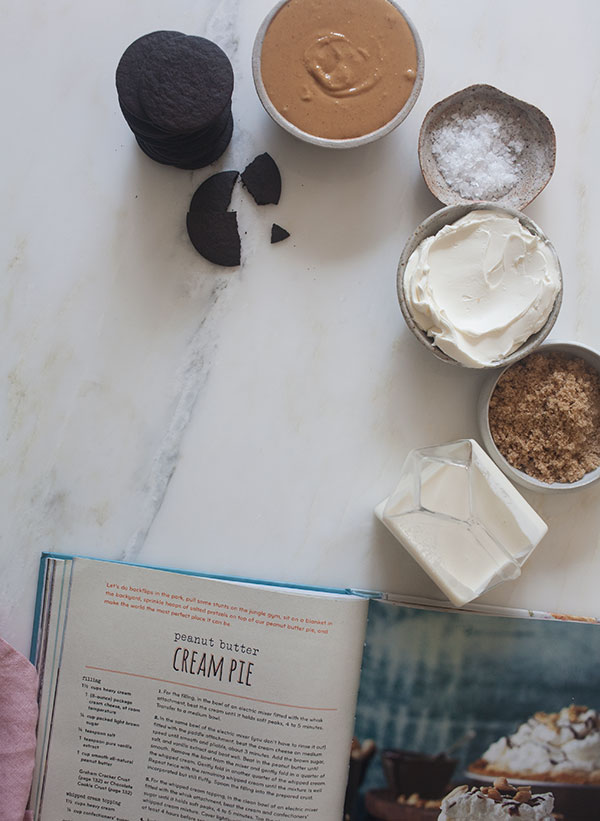 The book is filled with recipe after recipe that I want bake. With recipe titles like Chocolate-Dipped Cookie-Dough Balls, Banana Bread Biscotti, Chocolate Truffle Cookies, and Breakfast Cobbler, you realize this book is for baking when you want to wow people, when you want to make them happy. Most of the recipes aren't ones you can cook up in mere minutes, but instead they take time, patience and a little bit of love.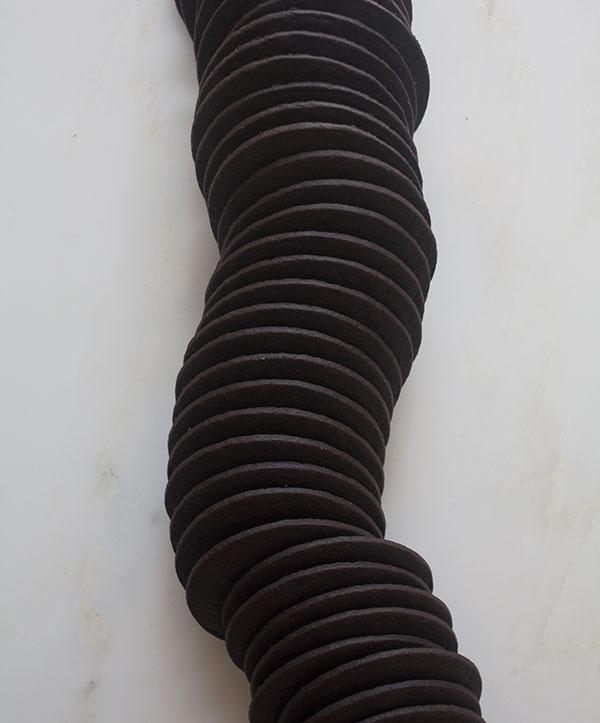 But more than anything, this book has soul. Have you ever bought a cookbook, looked through it, read the recipe headnotes and been like, cool this food looks so perfect and beautiful but it's boring!! This book is the opposite of that; it has heart and personality. Joy is present in the recipe instructions, props chosen and words written.
Amelia couldn't have a slice of this pie because it has cream and chocolate in it but, nonetheless, she asked me about the tasting notes because she's an emotional cutter and this is how I responded: This pie is pleasantly tart, not too sweet, creamy and the combination of peanut butter and chocolate is heavenly.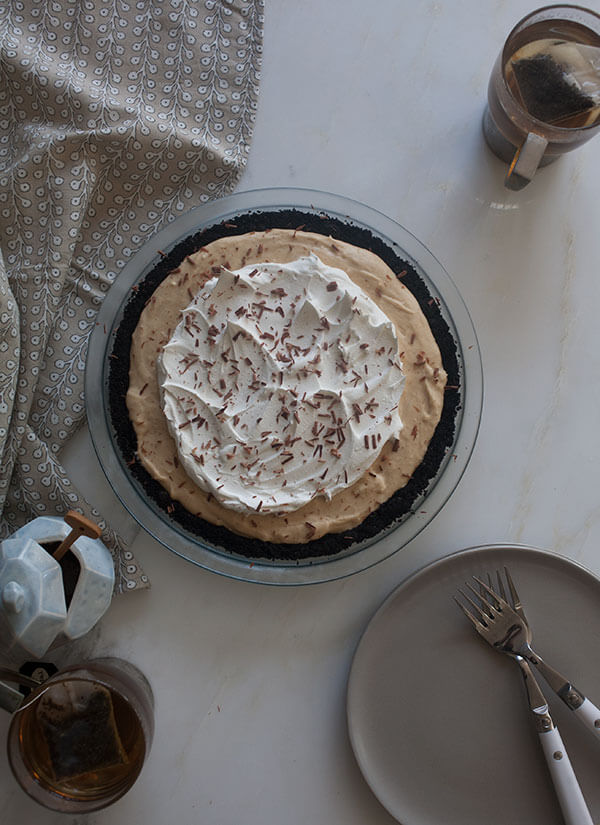 I had it for pre-lunch…before lunch, before fried chicken and such and it was a dream. And then I had another slice after dinner. And again, perfect, indulgent and decadent.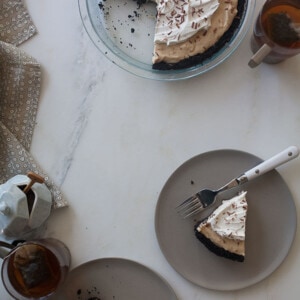 Ingredients
2

cups

chocolate wafer cookie crumbs

1

tablespoon

sugar

Pinch

of salt

5

tablespoons

unsalted butter

,

melted and cooled slightly

3

cups

heavy cream

,

divided

1

8-ounce package cream cheese, at room temperature

1/4

cup

packed light brown sugar

1/4

teaspoon

salt

1

teaspoon

pure vanilla extract

1

cup

smooth all-natural peanut butter

1/4

cup

confectioners' sugar
Instructions
For the chocolate cookie crust, put a rack in the upper-third of the oven and preheat the oven to 350 degrees F.

In a medium bowl, combine the chocolate cookie crumbs, sugar, and salt. Add the butter and stir with a fork until the mixture is thoroughly moistened. The mixture will not form a dough ball, but will stay a crumby texture.

Dump the crumb mixture into a 9-inch pie dish and, using your fingers, evenly press the mixture along the bottom and sides of the dish. Bake until the crust has darkened (you may not notice a difference in color so it's important to watch the clock), 12 to 15 minutes. Remove the pie dish from the oven and let cool completely before filling.

For the filling, in the bowl of an electric mixer fitted with the whisk attachment, beat 1 1/2 cups of cream until it holds soft peaks, about 1 minute. Transfer to a medium bowl.

In the same bowl of the electric mixer (you don't have to rinse it out), fitted with the paddle attachment, beat the cream cheese on medium speed until smooth and pliable, about 3 minutes. Add the brown sugar, salt and vanilla extract and beat well. Beat in the peanut butter until smooth. Remove the bowl from the mixer and gently fold in a quarter of the whipped cream. Gently fold in another quarter of the whipped cream. Repeat twice with the remaining whipped cream until the mixture is well incorporated but still fluffy. Spoon the filling into the prepared crust.

For the whipped cream topping, in the clean bowl of an electric mixer fitted with the whisk attachment, beat the cream and confectioners' sugar until it holds soft peaks, 4 to 5 minutes. Top the pie with the whipped cream mixture. Cover lightly with plastic wrap and refrigerate for at least 4 hours before serving.

The pie will last, well wrapped in the refrigerator, for up to 4 days.