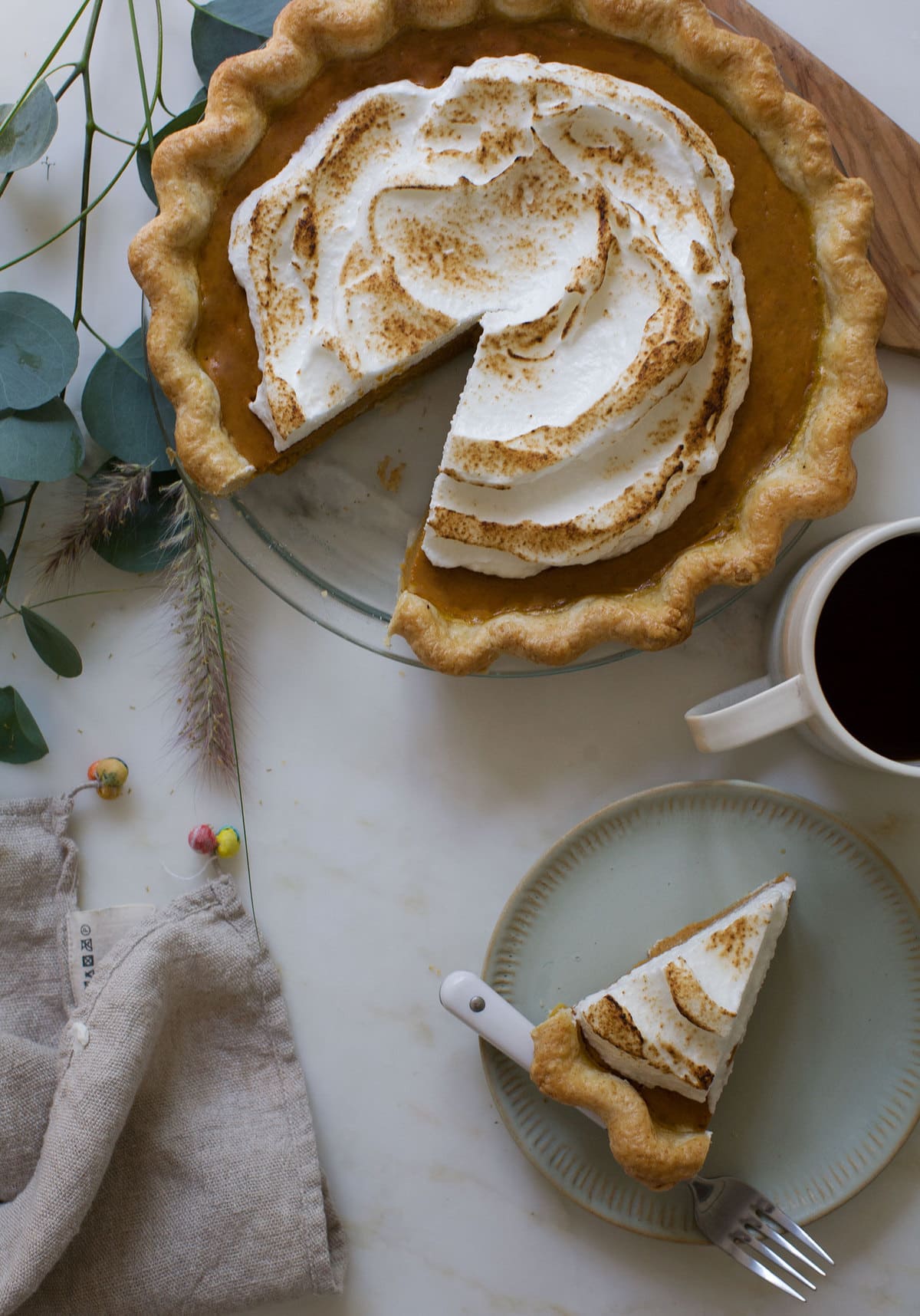 Fun news! I'm on Real Simple's podcast, Adulthood Made Easy: Hosting Your First Holiday. Since I am a lover of talking my head off (and the holiday season), this was a ton of fun! It's all about the biggest cooking holiday of the year–Thanksgiving!
I'm back in the US of A and I'm super stoked to be back cuddling with Amelia, eating chips and salsa and answering lots of emails. It's the simple things you miss when you're away. Nothing ever feels as good as home does.
But enough about me and my boring I miss home paragraph, let's talk about something way more exciting: PIE.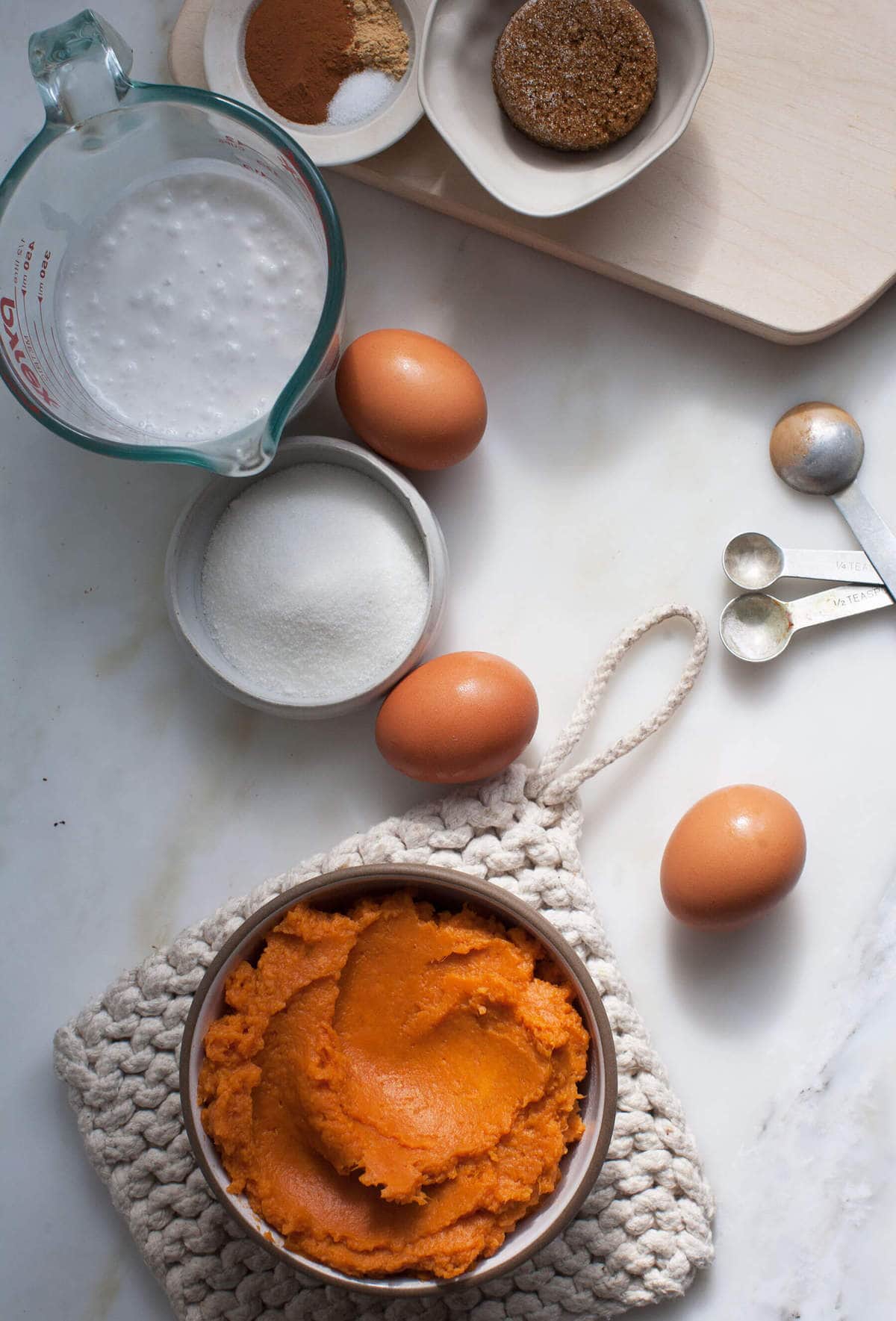 This pie is cool. I'm gonna be honest, up until like a month ago when I was prepping for Thanksgiving recipes, I'd never tried sweet potato pie. I know I know! I have no idea where I've been.
I think when I'm making my pie-eating decision, I go with apple or pumpkin pie, never sweet potato.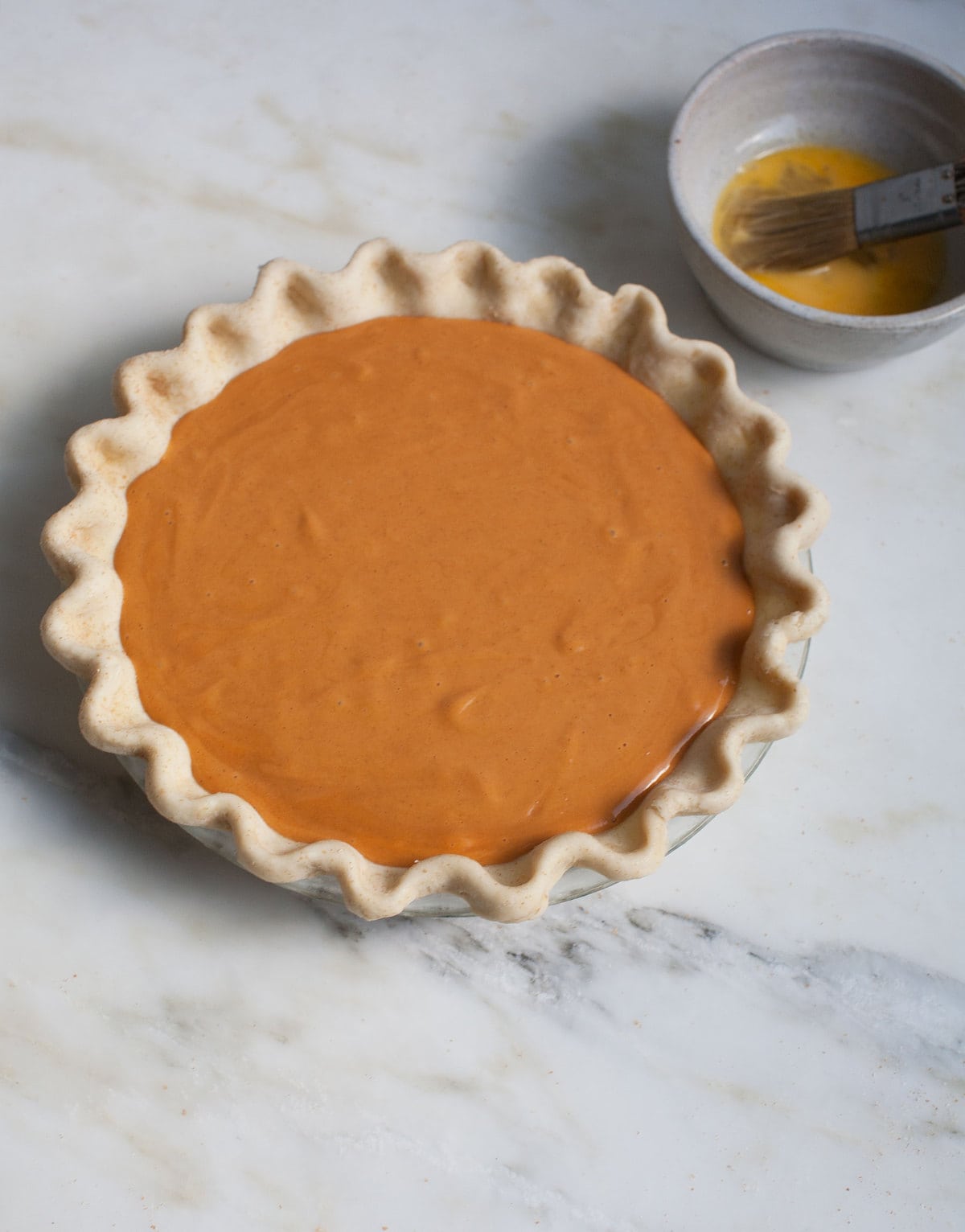 But that's all gonna change! This pie is super simple and chill. No crazy spices, no crazy amount of sugar. If you need to make it dairy-free, by all means use the coconut milk. I loooved the coconut milk. If you don't care, then use whole milk! It's chill and versatile.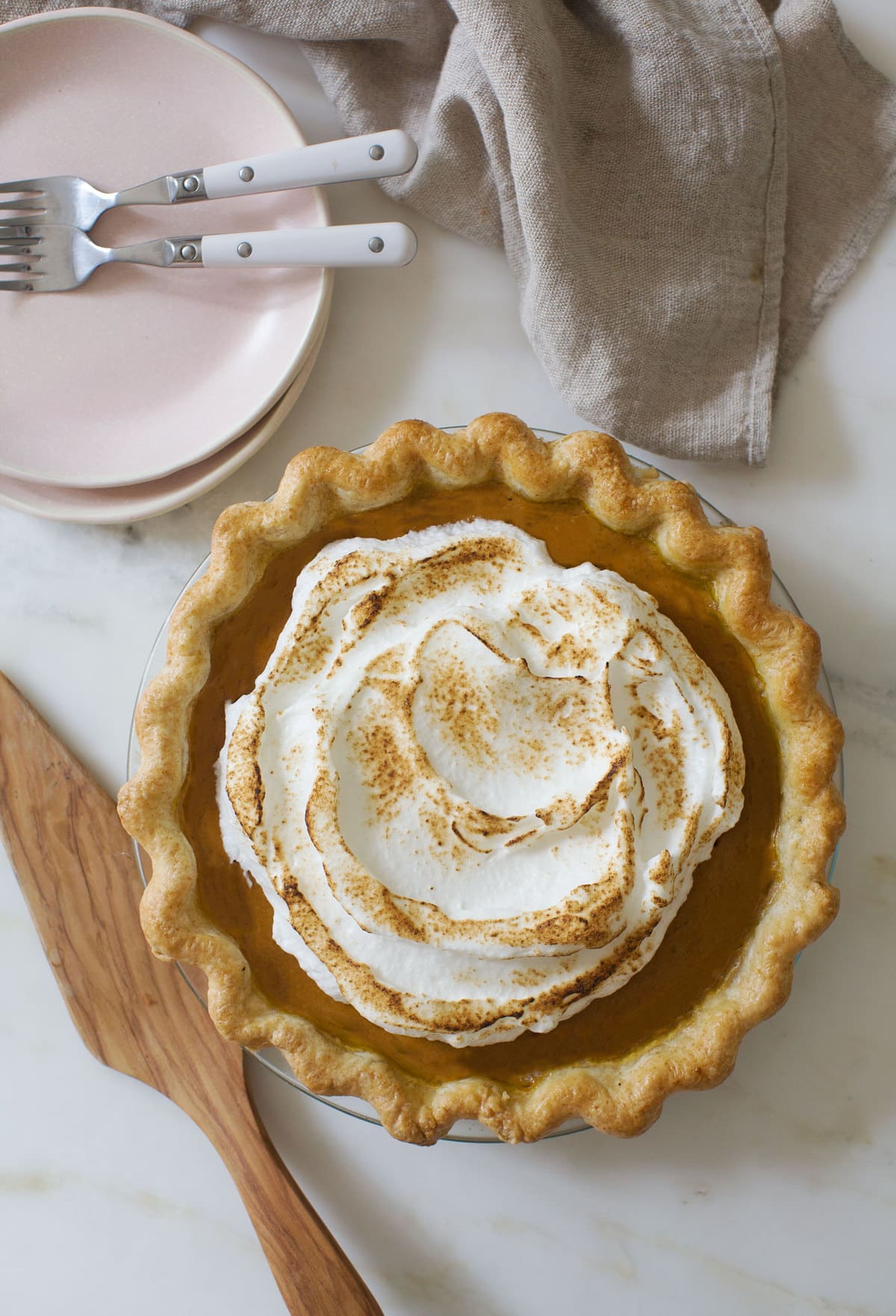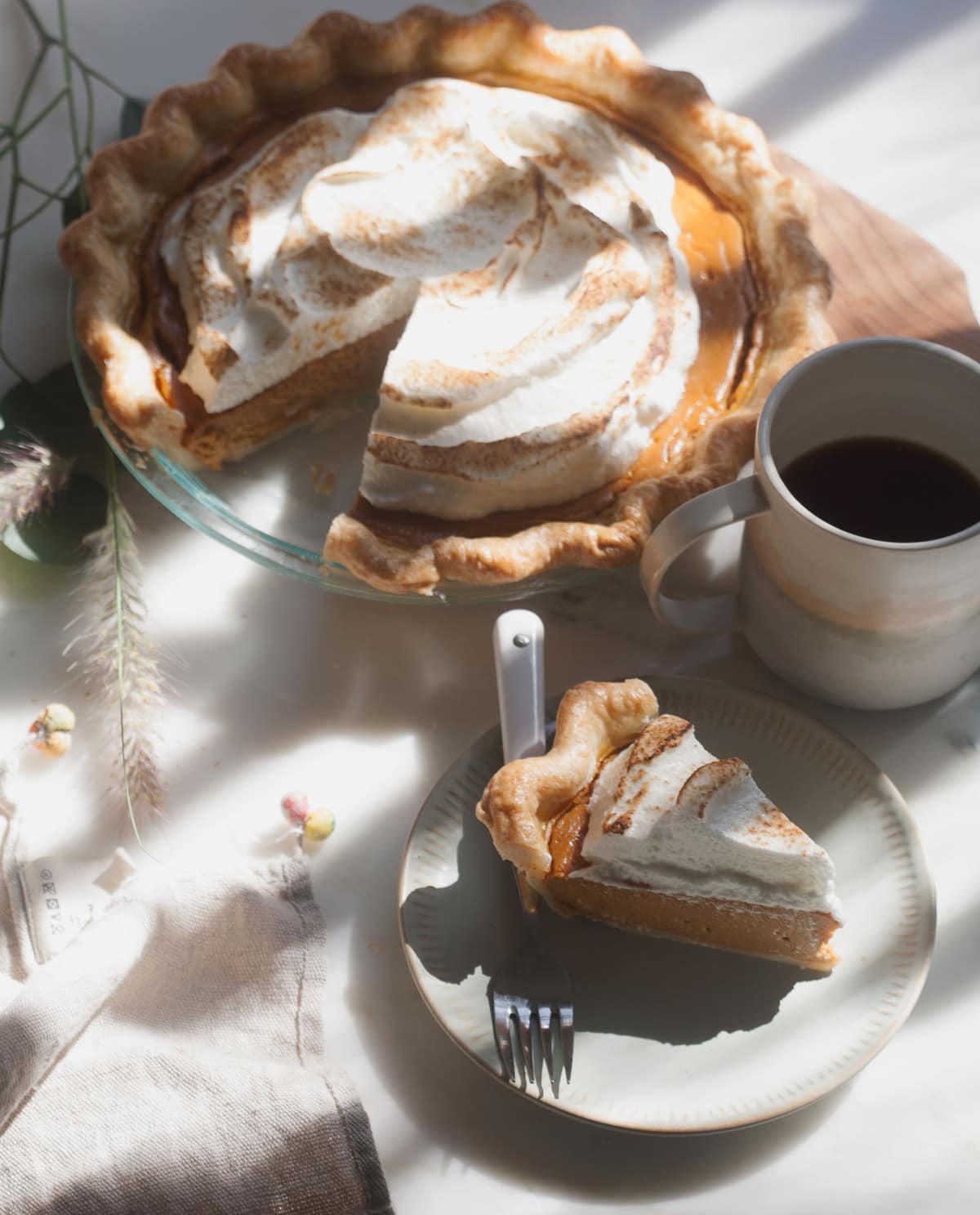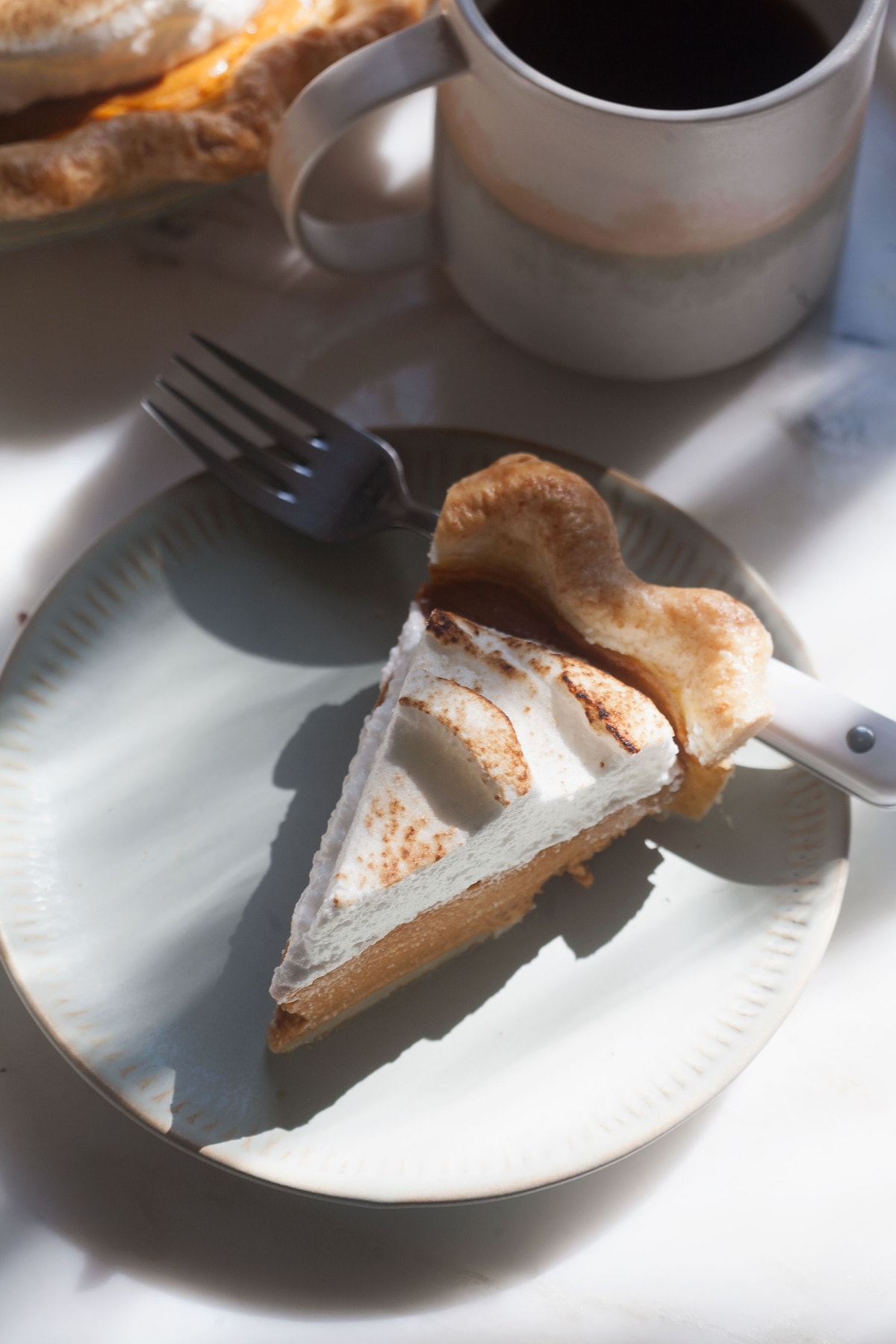 Classic Sweet Potato Pie 
Print
Total Time:
1
hour
45
minutes
Serving Size:
6
TO 8 - 1 (nine-inch) pie
Ingredients
Pie:
1

store-bought or

, homemade pie crust

2

sweet potatoes (about 1 1/2 pounds), peeled and cubed

3

large eggs

1/4

cup

sugar

1/4

cup

brown sugar

1

teaspoon

ground cinnamon

1/4

tsp

ground ginger

1/4

tsp

ground nutmeg

1/4

tsp

salt

1

cup

coconut milk or heavy whipping cream
7-Minute Frosting:
2

tablespoons

water

2/3

cup

sugar

2

large egg whites

Pinch

cream of tartar

Pinch

of salt

1/4

teaspoon

pure vanilla extract

Graham Cracker Topping:
Directions
To make the pie: Remove the pie crust from the fridge and allow to stand on the counter for about 10 minutes. I always find this helps with rolling it out. Begin to roll the dough, being sure to rotate it every so often to avoid sticking, to a 13-inch round. Wrap the dough around the rolling pin and unroll it over a 9-inch pie dish. Gently fit the dough into the bottom and up the sides of the pie dish. Trim the dough around the pie dish, leaving a 1 1/2-inch overhang (this is important if you want a nice crimp). Tuck the overhang under itself all the way around. Rest your right thumb on the edge of the pie crust and using your left hand, shape a V. Push the two together, creating a large crimp. Work your way around the entire pie crust until you're done. Stick the pie crust in the freezer while you make the filling.

Bring a medium pot filled with water to a boil. Drop the cubes of sweet potato in the water and boil for about 25 to 30 minutes, until very very tender. Drain and set aside. Using a ricer, add the sweet potato and press down until you've worked your way through all of the sweet potato. You should end up with about 2 cups of sweet potato puree.

Preheat the oven to 350 degrees F. To a blender, add the eggs, sugar, brown sugar, ground cinnamon, ginger, nutmeg, salt and coconut milk. Pulse until very smooth. Next, add the smashed sweet potato and pulse again until pureed and very smooth, about 1 minute. Remove the pie crust from the fridge and brush the edges with egg wash. Pour in the filling and transfer to the oven to bake for 45 to 50 minutes, until set but still wobbly in the center. Allow to set for 3 to 4 hours before slicing.

To make the 7-Minute Frosting: In large metal bowl, whisk together the water, sugar, egg whites, cream of tartar, and salt. Set bowl over pan of barely simmering water and mix with handheld electric mixer at low speed. Gradually increase speed to high, beating until mixture holds stiff peaks, about 5 minutes.

Transfer bowl from pan to folded kitchen towel on counter and continue beating until mixture is cool and billowy, about 2 minutes more. Beat in vanilla. (Frosting can be made 4 hours ahead and chilled, covered.)

To assemble: Transfer the 7-minute frosting to the top of the pie. Smooth it out creating little swoops all to your liking. Using a blow torch, torch the top to give it a nice meringue browned effect. Slice up and serve.