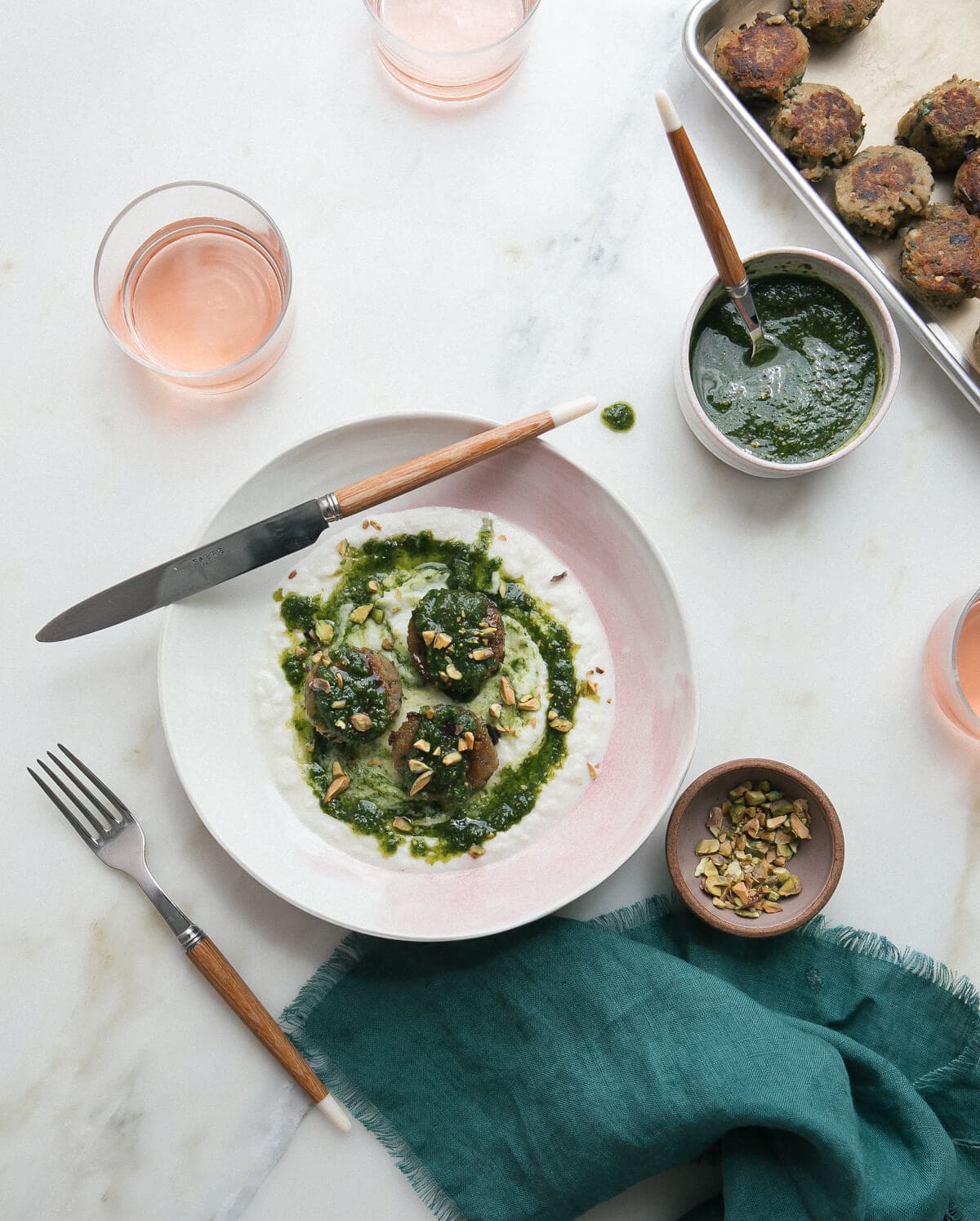 Meatballs might be my favorite food in the entire world. I strive to eat them ALL THE TIME. It doesn't always work out but I really do try.
I eat healthy ones when I'm vibing that paleo/Whole 30 lifestyle.
I like legit ones that I like to think I would eat if I lived in the movie Goodfellas.
And then there are these fine things: eggplant veggie meatballs.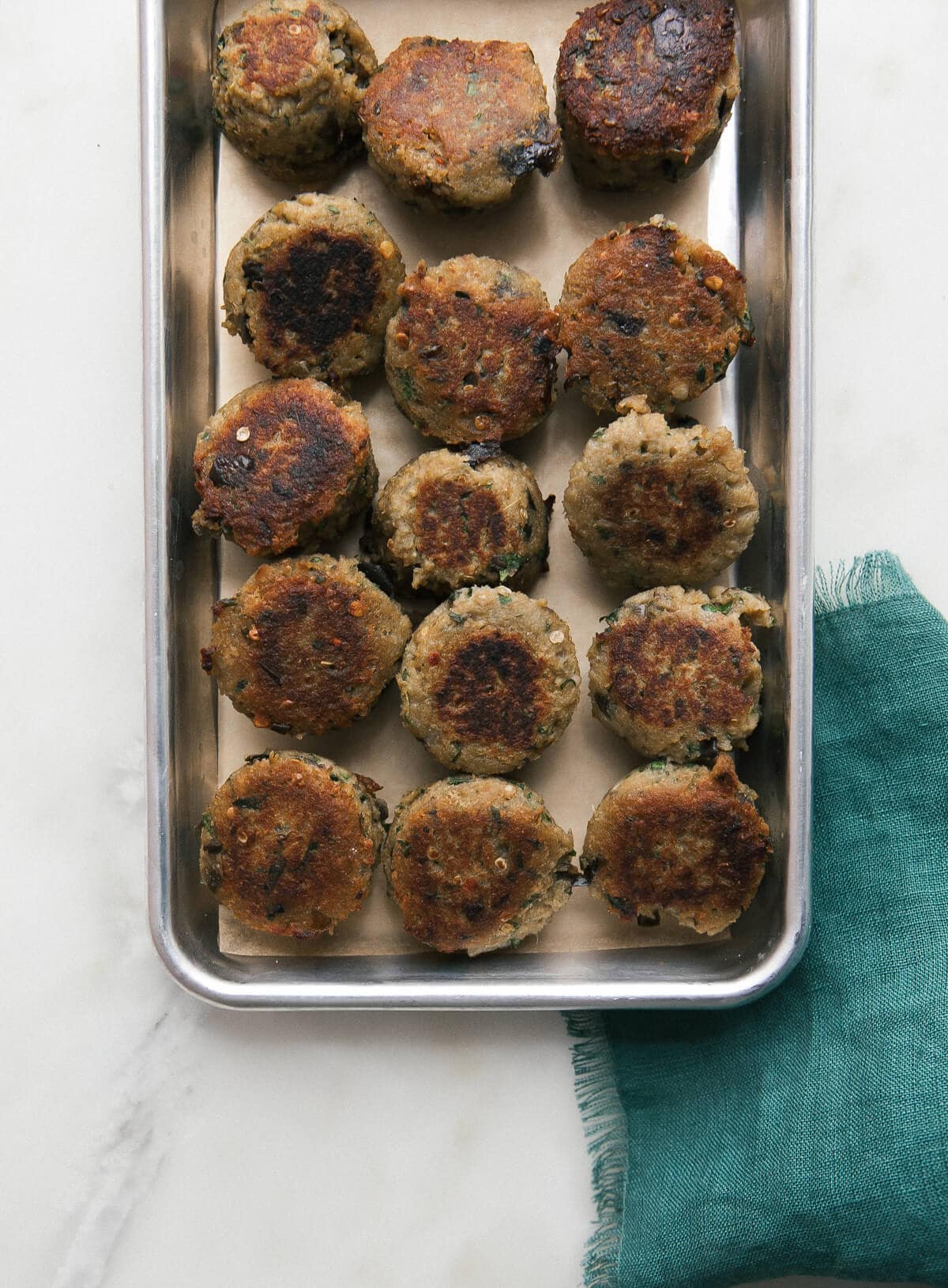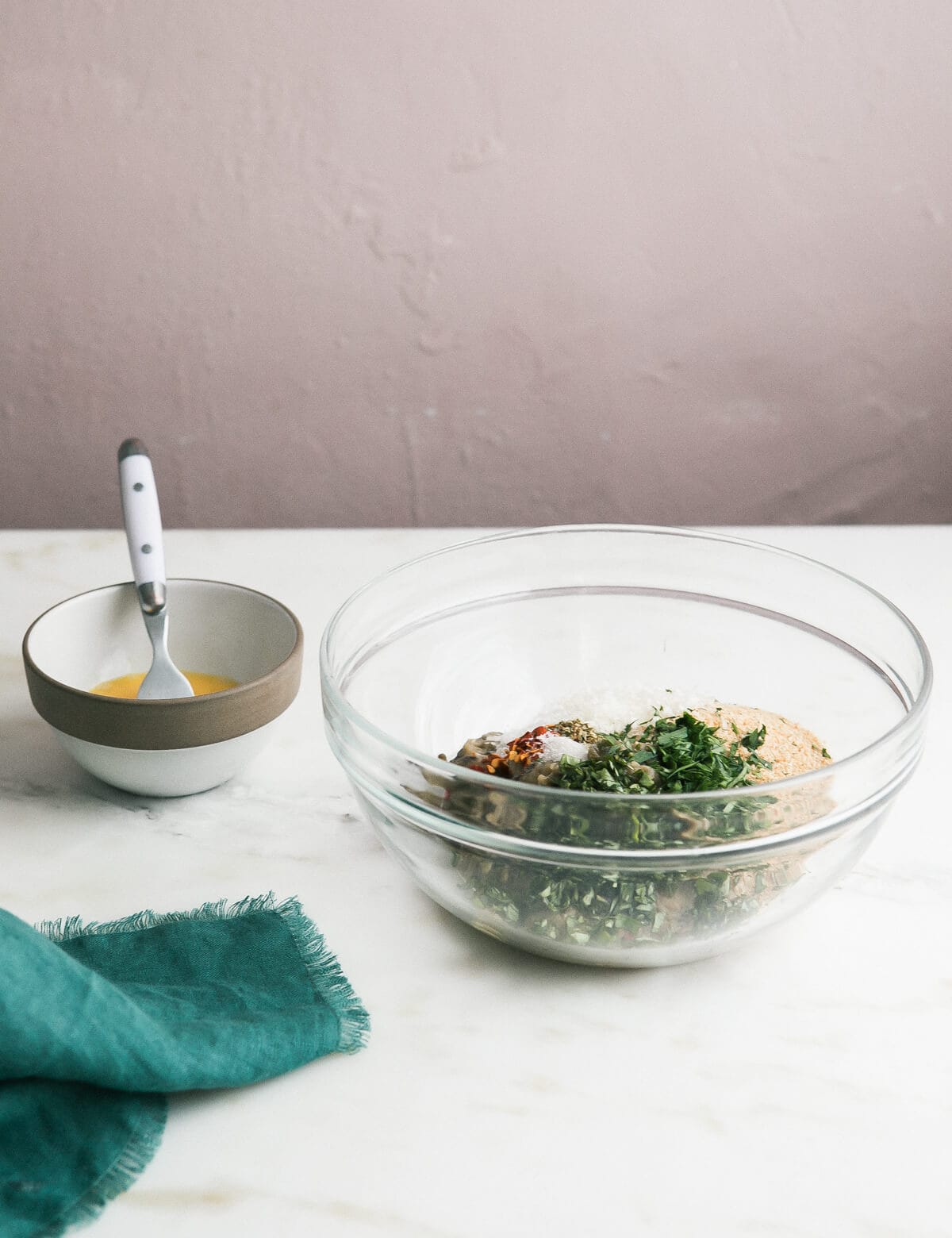 You can serve them to all your friends who don't like meat but also don't like fake meat. Also people who like meat love them too.
If you know me then you know that I was LATE to the eggplant game. I lived my life for years hating it but I love it SO much now. This sabich is still one of my favorite things to eat and the thing I love most on that sandwich is the deng harissa eggplant—it's too good!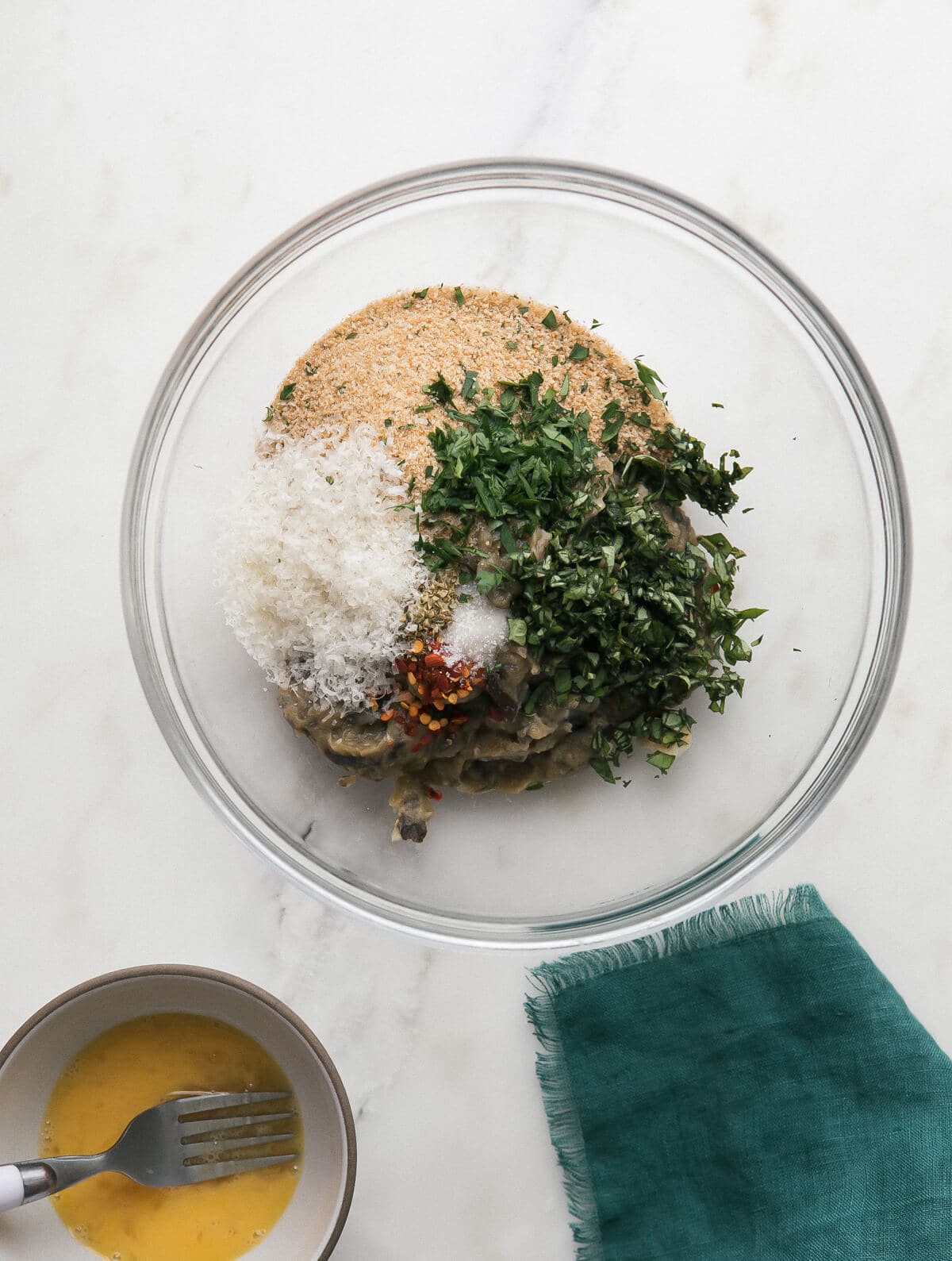 These meatballs come together pretty easily.
We do have an extra step and that's cooking the eggplant down a bit and then blending it all up in a food processor with a bunch of other delicious things.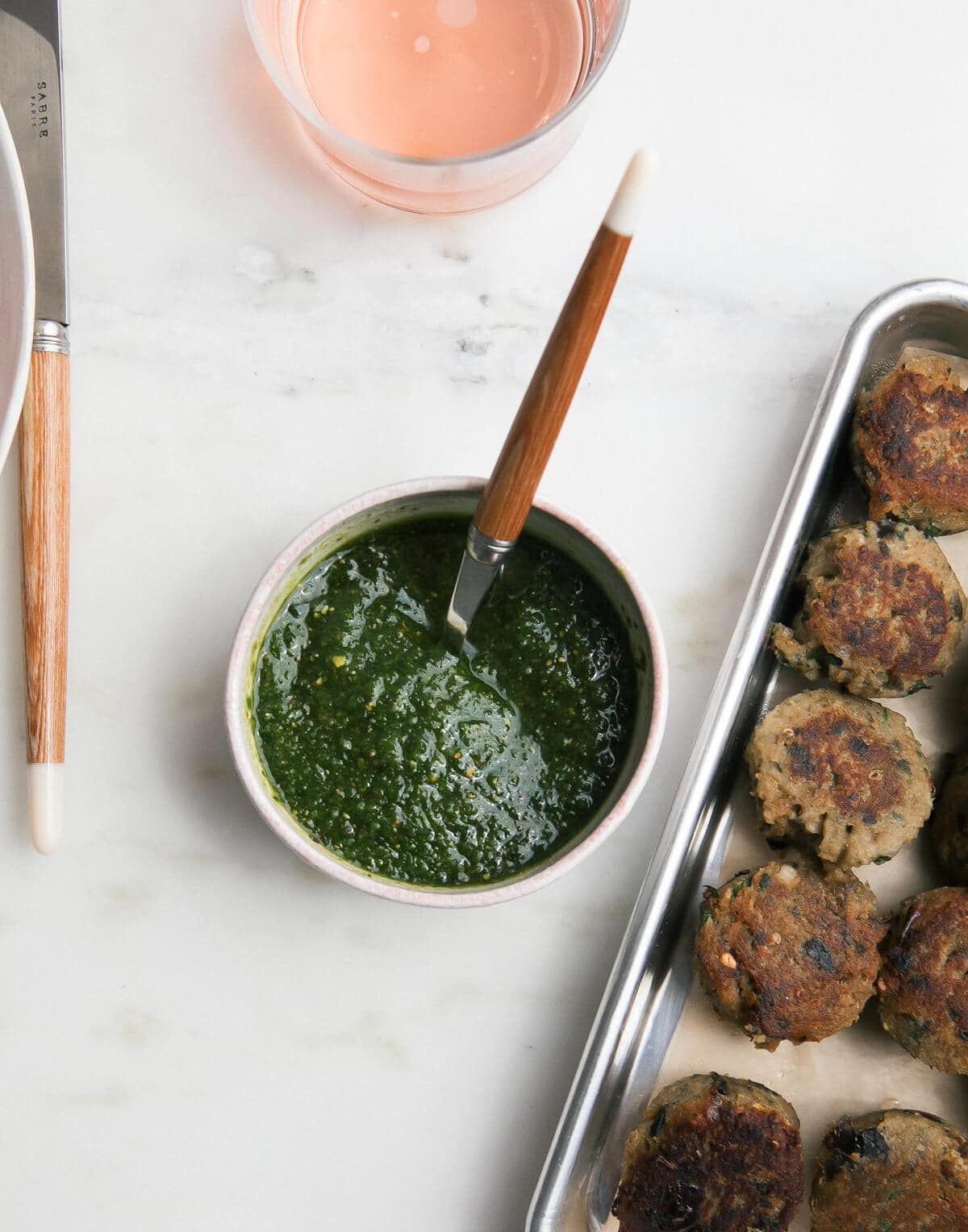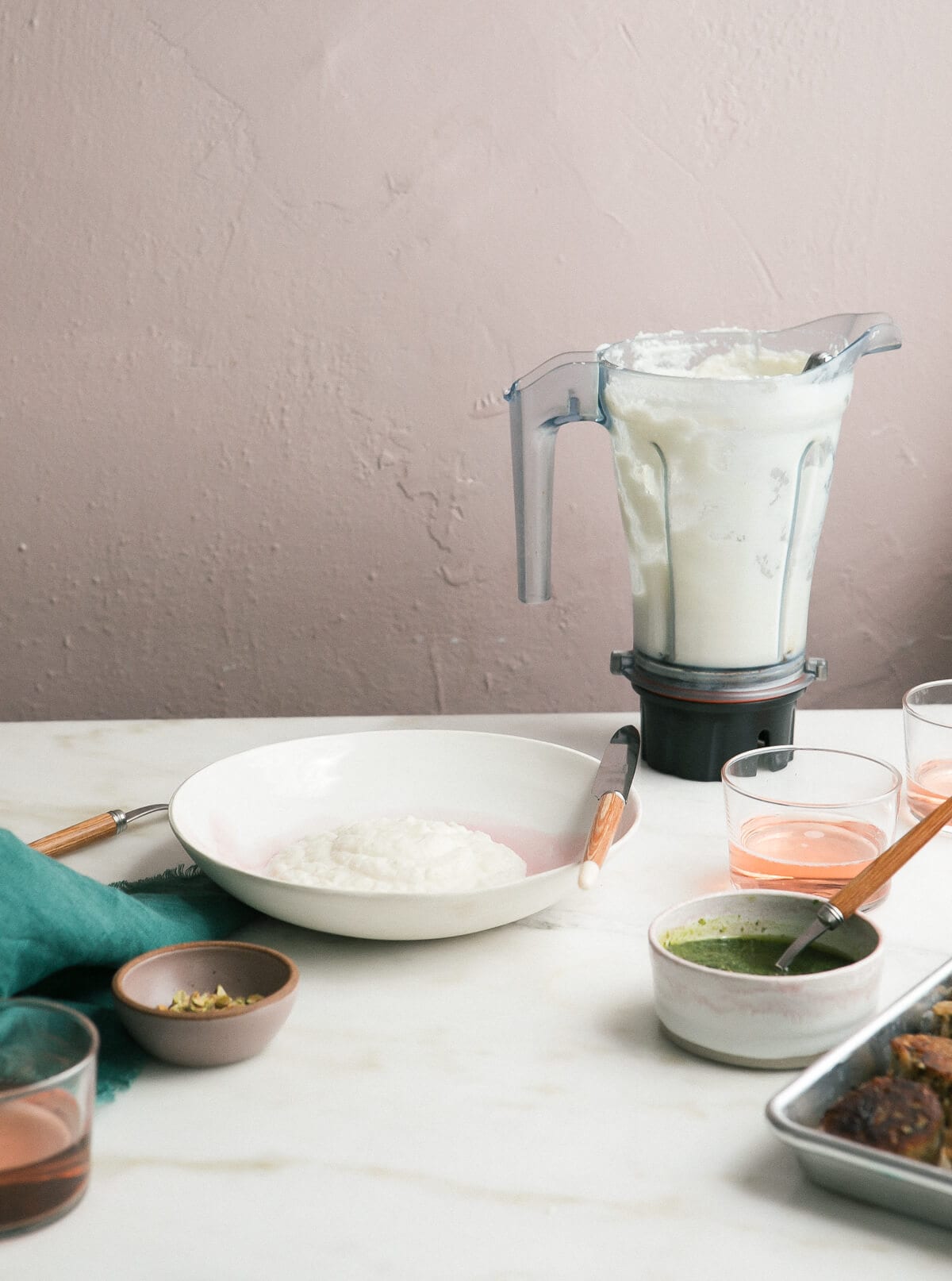 I like to use a non-stick pan for this so that I don't end up with crumbly-broken meatballs. These are definitely more fragile than your traditional meatball.
I served this over cauliflower puree and pesto and it was the perfect healthy meal. If you're looking to cut down on some time, serve it with store-bought pesto and some sautéed cauliflower rice.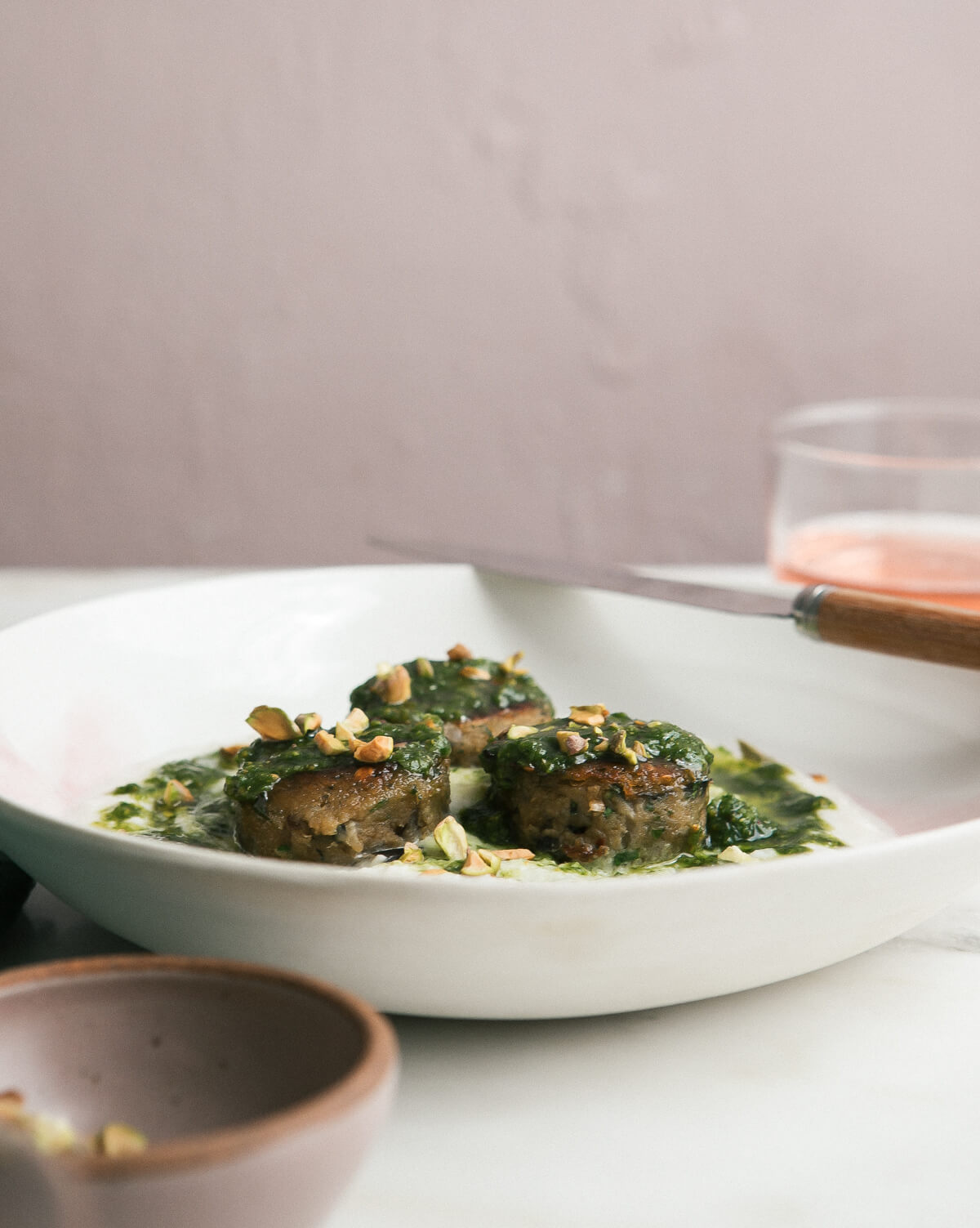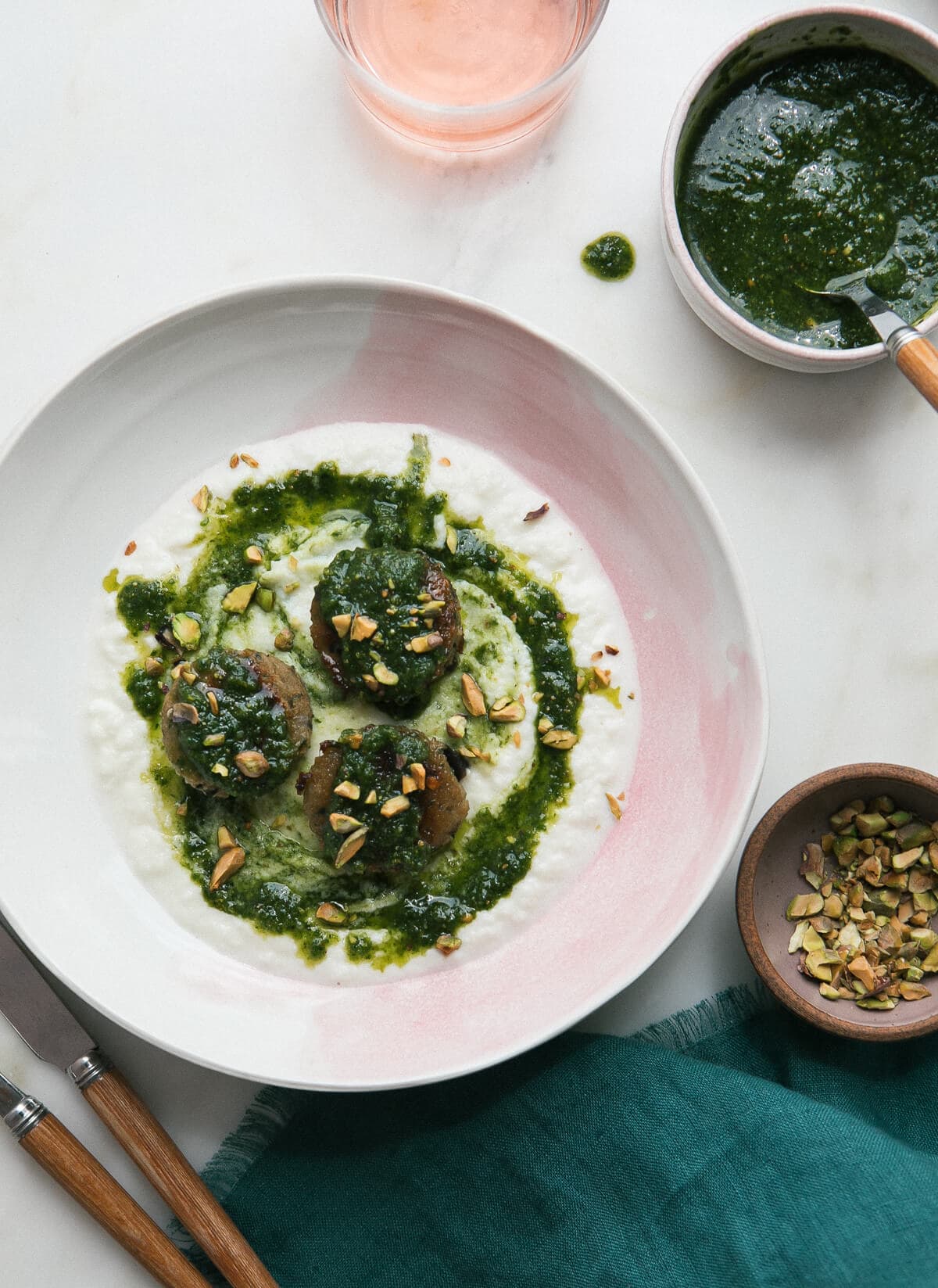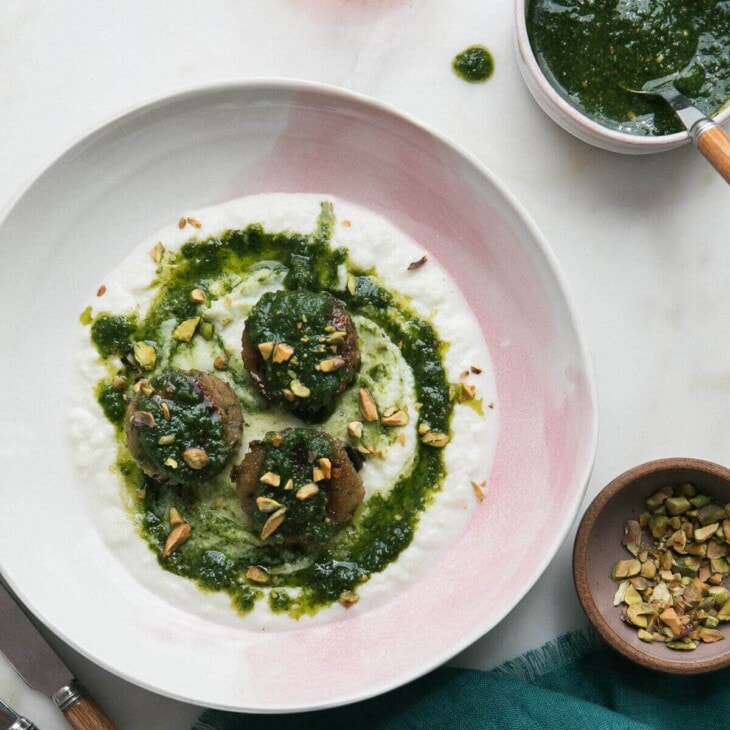 Print Recipe
Eggplant Meatballs over Cauliflower Puree and Pesto
Ingredients
Eggplant Meatballs:
1

tablespoon

olive oil

1

unpeeled eggplant

cut into 1-inch cubes

Salt

1/4

cup

water

2

garlic cloves

minced

1

shallot or 1/4 yellow onion

peeled and minced

1/4

teaspoon

crushed red pepper

1

teaspoon

dried oregano

3/4

teaspoon

salt

2

tablespoons

minced basil

2

tablespoons

minced Italian parsley

3/4

cup

Italian seasoned breadcrumbs

1/4

cup

finely grated Parmesan-Reggiano cheese

1

large egg

beaten
Cauliflower puree:
1/2

head of cauliflower

2

tablespoon

unsalted butter

2

tablespoons

creme fraiche

Salt
Easy Everyday Pesto:
1

cup

fresh basil

1/2

cup

Italian parsley leaves

1/4

cup

finely grated Parmesan-Reggiano cheese

1

tablespoon

pistachios

1/2

cup

olive oil

Salt
Instructions
To Make the Meatballs:
In a large saute pan, set over medium-low heat, add the olive oil. When the oil is warmed, add the eggplant, a few pinches of salt and water. Cover the pan and cook for about 5 minutes, until softened. Give it a good mix and then add the garlic and shallot or onion. Cook for an additional 5 minutes. Transfer to a food processor and pulse until mostly smooth.

Transfer to a bowl, along with the crushed red pepper, oregano, 1/2 teaspoon salt, basil, Italian parsley, bread crumbs, cheese and beaten egg. Mix until combined. Cover with plastic wrap and transfer to the fridge to chill for about 20 to 30 minutes. This will make it easier to scoop.
To Make the Puree:
Meanwhile, make the cauliflower puree. Bring a pot of salted water to a boil. Add the cauliflower florets and cook until softened about 5 to 7 minutes. Remove about 1/2 cup of the cauliflower water and set aside. Drain the cauliflower and transfer to a high-powered blender. Add the butter and creme fraiche (or yogurt) and a splash or two of the cauliflower broth. Pulse until smooth, scraping down the sides as needed. Give it a taste and add salt. I added about 1/2 teaspoon. You may need to give it a stir just before serving.
To Make the Pesto:
To a blender, add all of the pesto ingredients and pulse until smooth, scraping down the sides of the blender as needed. Salt to taste. I added about 1/2 teaspoon of salt.
To Cook the Meatballs and Assemble:
In a non-stick skillet or medium skillet, set over medium heat, add a teaspoon or two of oil. Using a cookie scoop or tablespoon, scoop out meatballs, dropping them on the warm skillet. Repeat until you've filled up with the skillet. Cook on each side for abut 2 to 3 minutes, until seared on two sides. Remove from skillet and set aside and repeat with the remaining mixture.

Divide the puree amongst bowls.
Notes
*Feel free to use store-bought pesto, if you're looking for a short cut feel free to use store-bought pesto OR tomato sauce.
*If you don't want to make the cauliflower puree, I bet this would be delicious over polenta or rice or couscous or pasta or spaghetti squash.