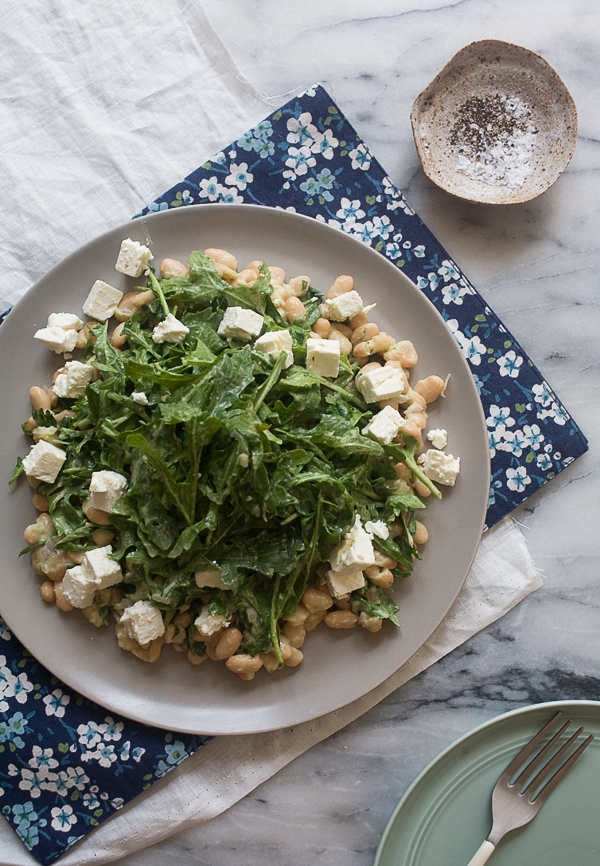 This is another installment of Adrianna Loves Butter But Is Eating Healthy-ish. Spring produce motivates me to eat greener, brighter things.
On Monday a pound of arugula (a pound!! that's a ton of arugula) was dropped on my doorstep and I immediately went into brainstorming mode as to what to do with it. I have pesto and soup and a few other things planned for that arugula, but first, a salad!
Since we're not exactly in full on Spring-mode yet, I wanted a salad that felt comforting. Something that you'd still want to have on a cold-ish day. There are a bit of beans that help with that, some feta for its wonderful saltiness, some mint and Italian parsley for flavor and the usual suspects of zested garlic and diced shallot.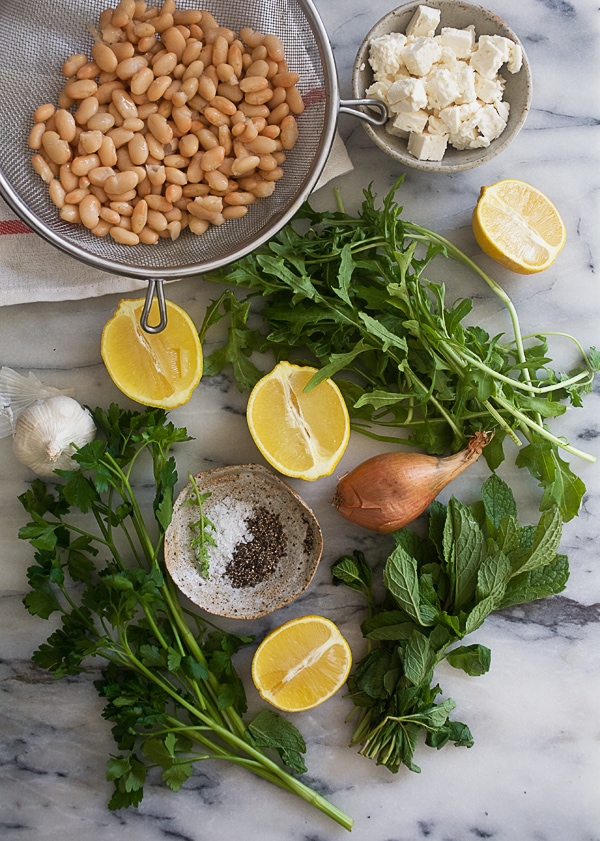 This salad isn't chock-full of unexpected ingredients or combinations that are unusual or particularly interesting. It's just a good tasting salad.
The internet LOVES weird combos and cheese oozing out of the sides of things. And that's ok, I do too. But sometimes, I like simple and familiar. This is a friendly salad.
The dressing might be my favorite part. Eating healthier has been a lot of me having to re-teach myself how to cook. I can't do the things I did in the past (read: put butter in everything). A little cleverness goes a long way.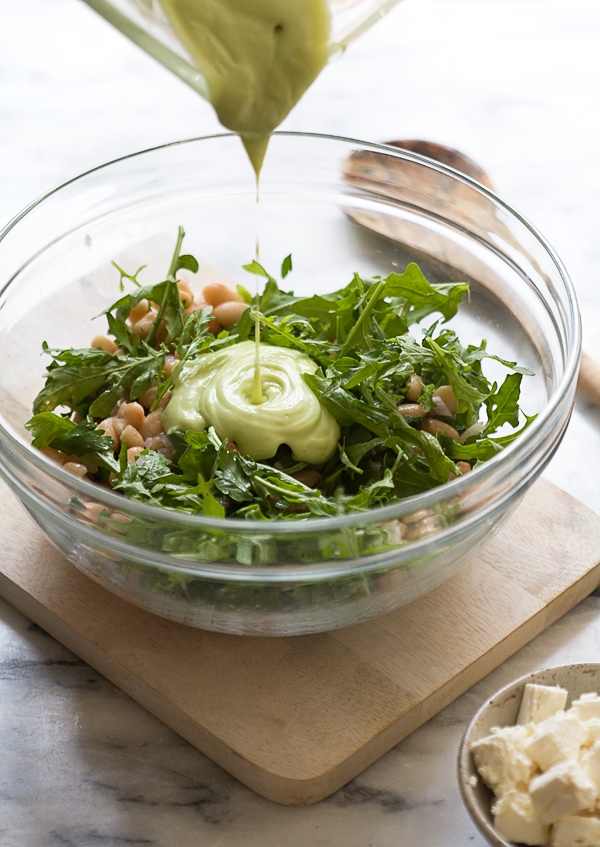 I'm particularly fascinated with healthy fats. And how to use them to our advantage, so they result in foods that are full of flavor and have great texture. (In the past I'd normally just add crème fraîche to dressings for added texture.)
In this case, the dressing is a celebration of two healthy fats coming together: olive oil and half of an avocado. They're emulsified together (think of it almost like a healthy aioli) until a thick (not too thick) and creamy dressing comes together.
I tossed everything together and salad-magic proceeded. I had a big plate of this for lunch and thought to myself, this healthy and familiar is kinda the ticket.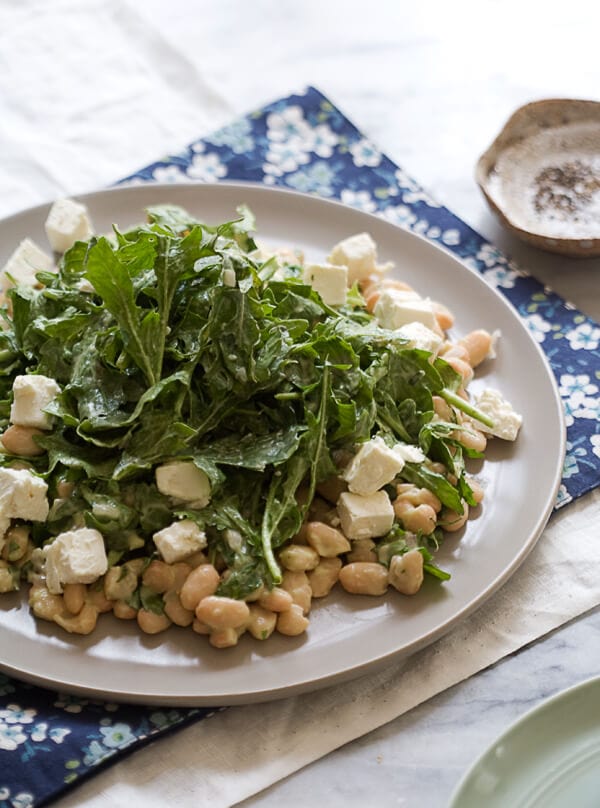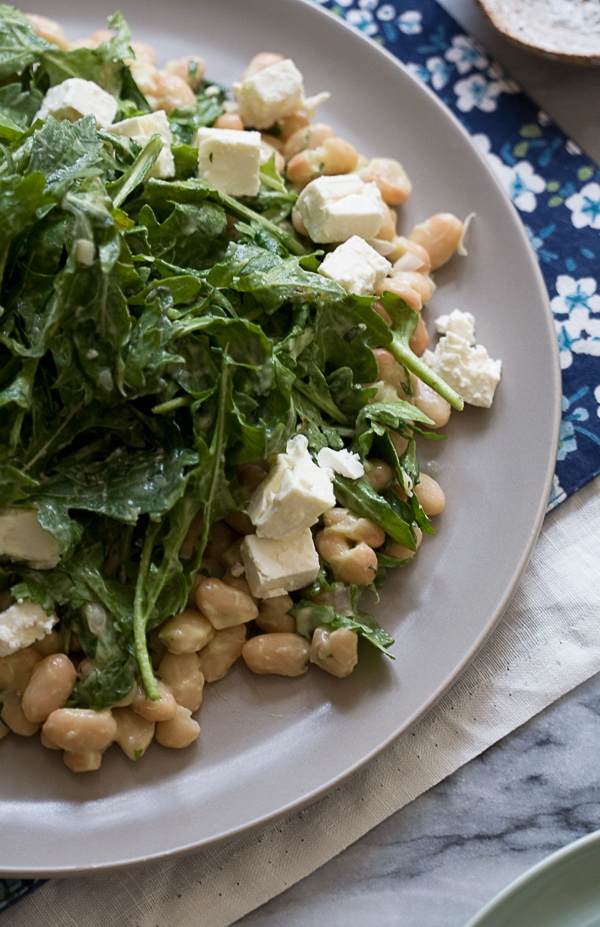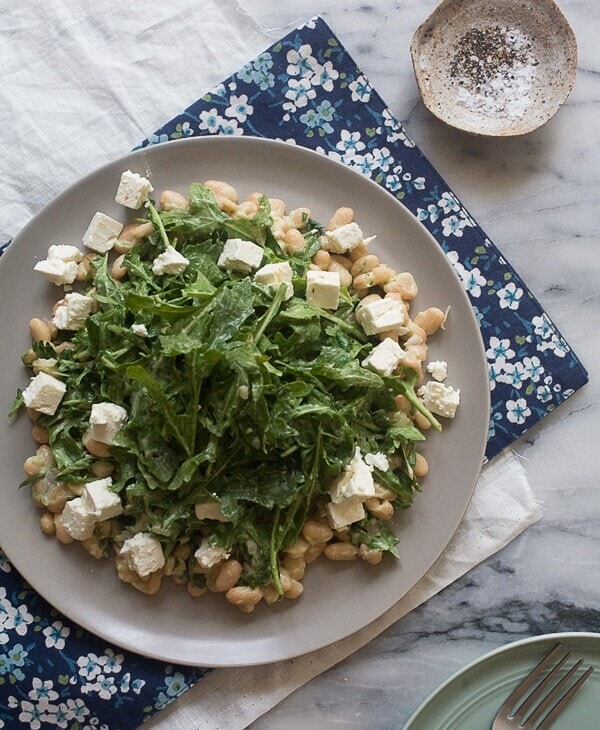 Print Recipe
Arugula Cannellini and Feta Salad with Creamy Avocado Dressing
Ingredients
Salad:
3

cups

arugula

1

15-ounce can of Cannelleni beans

3

tablespoons

minced mint

about 5 leaves

Small handful of Italian parsley

about 1/4 cup, roughly chopped

2

cloves

of garlic

zested into the salad (using a Microplane is a good idea)

1

small shallot

minced

1/4

cup

cubed feta

about 2 ounces
Avocado Dressing:
1/2

large avocado

or one small avocado

Salt

Pepper

1/4

cup

olive oil

Juice from 1 to 2 lemons

divided (and depending on taste)
Instructions
In a medium bowl, toss all of the salad ingredients together, minus the feta (it'll make a bit of a mess).

To a blender, add the avocado half, juice from 1 lemon and pinch of salt and pepper. Pulse a few times, until the avocado is broken up. With the blender going, pour in the olive oil until the mixture begins to thicken and become smooth. Add a few tablespoons (I ended up needing about 4 tablespoons) of warm water to help with the smooth texture. I let the blender run for about 1 minute to achieve the super smooth texture. If you're ok with tartness (I think this salad needs it because of the beans) squeeze in the remaining lemon juice and adjust salt and pepper to taste. It may seem too tart right now, but I can assure you that when you toss it with the salad ingredients, it'll be all good.

Add about half of the dressing and lightly toss the salad using your hands or a pair of tongs. Keep adding a bit of dressing as needed

Transfer to a serving plate, if you like, and top with the cubes of feta.