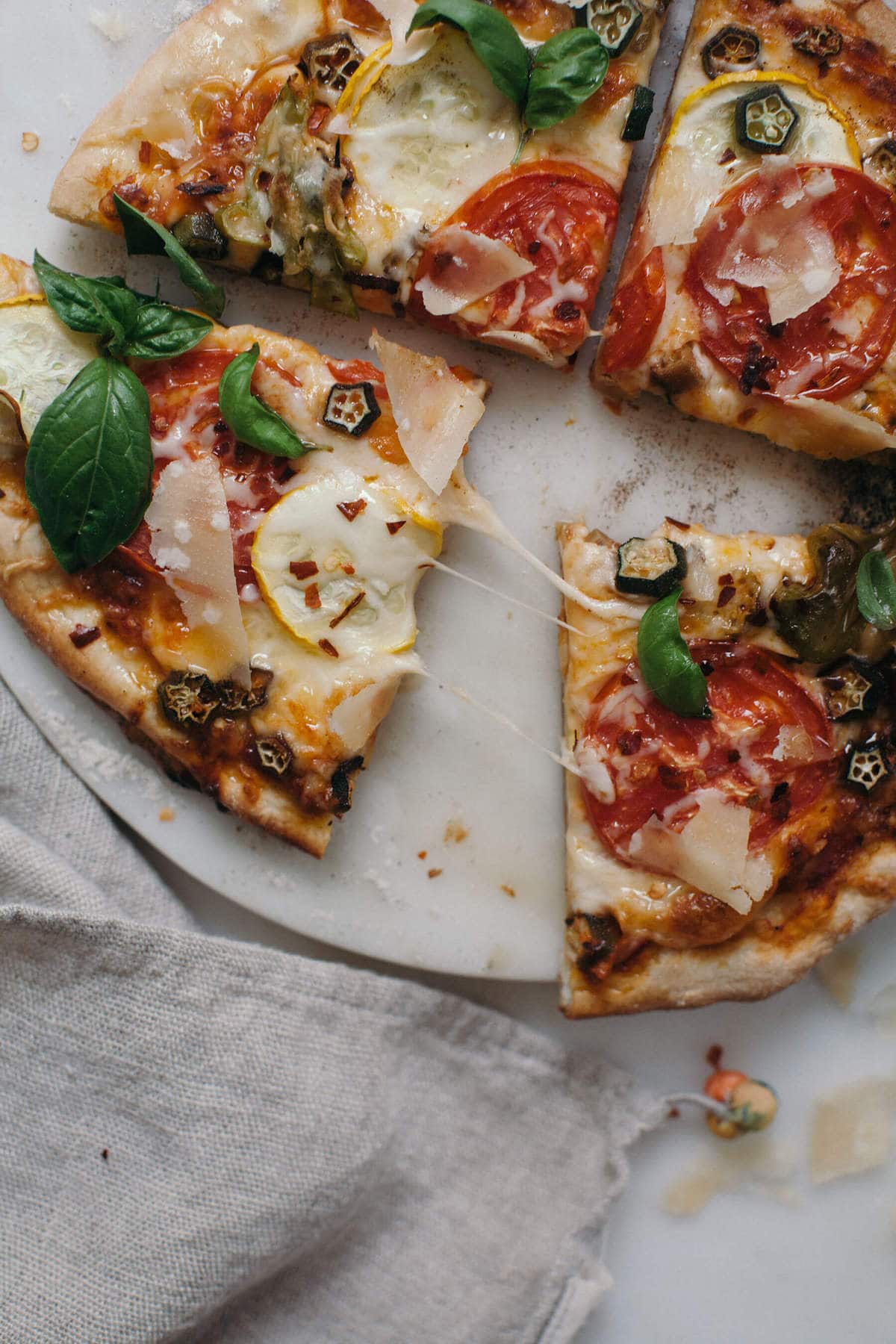 I didn't grow up ordering meat lover's pizza from Pizza Hut (or is it Domino's?). I was a junk food deprived child who would watch lustfully at the commercials that promised cheesy, carb goodness. Those slo' mo shots: AHHH!
But now that I'm an adult, I DO WHAT I WANT.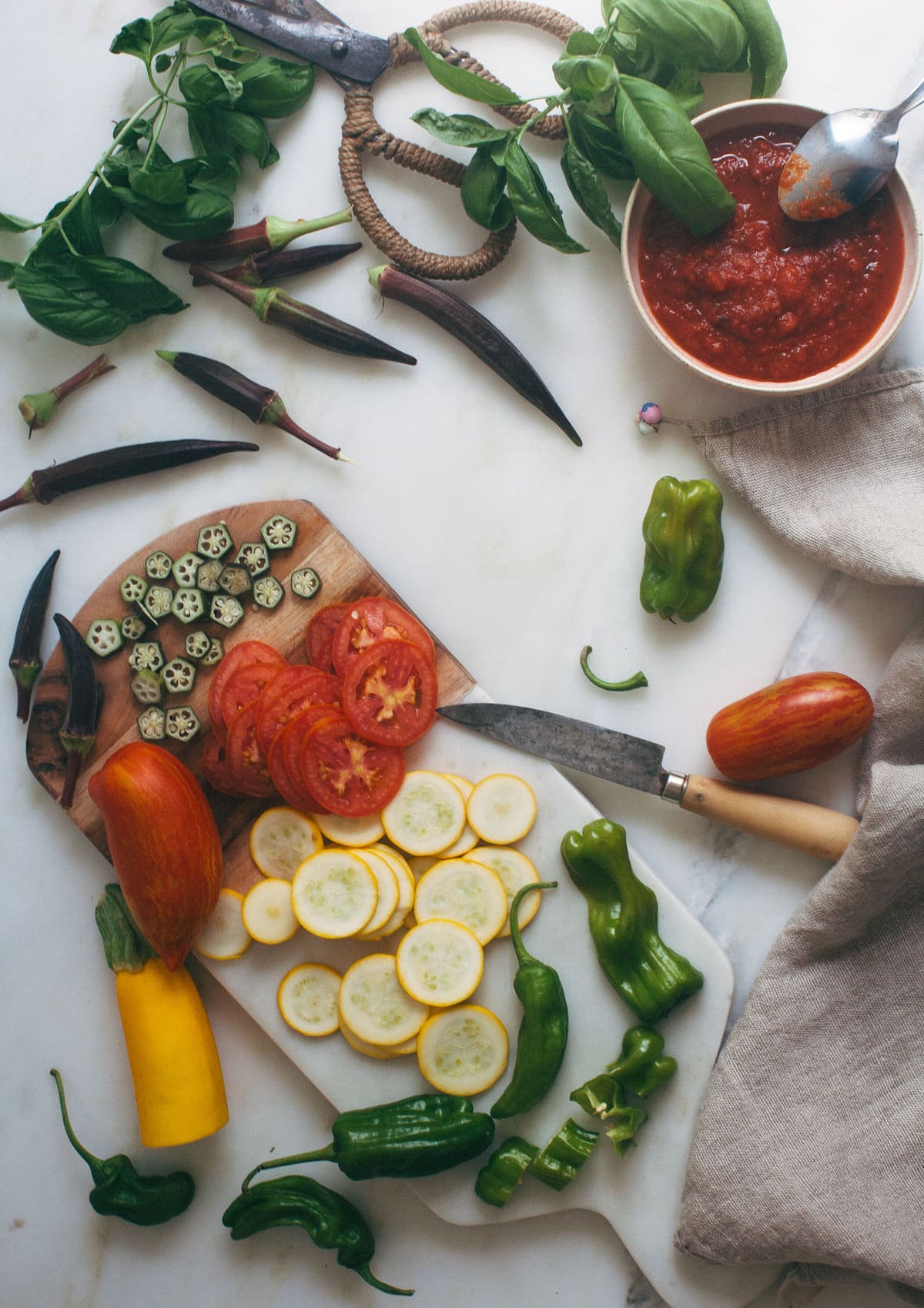 A few weeks ago I was having lunch with Stephanie and she told me she was planning on making a meat lover's pizza later that night. I was jealous. And then I thought, I kinda want to make one with vegetables. So when I was at the farmer's market this past Sunday, I bought up a bunch of late-summer produce: okra, yellow summer squash, these beautiful variety of tomatoes and basil. So much basil.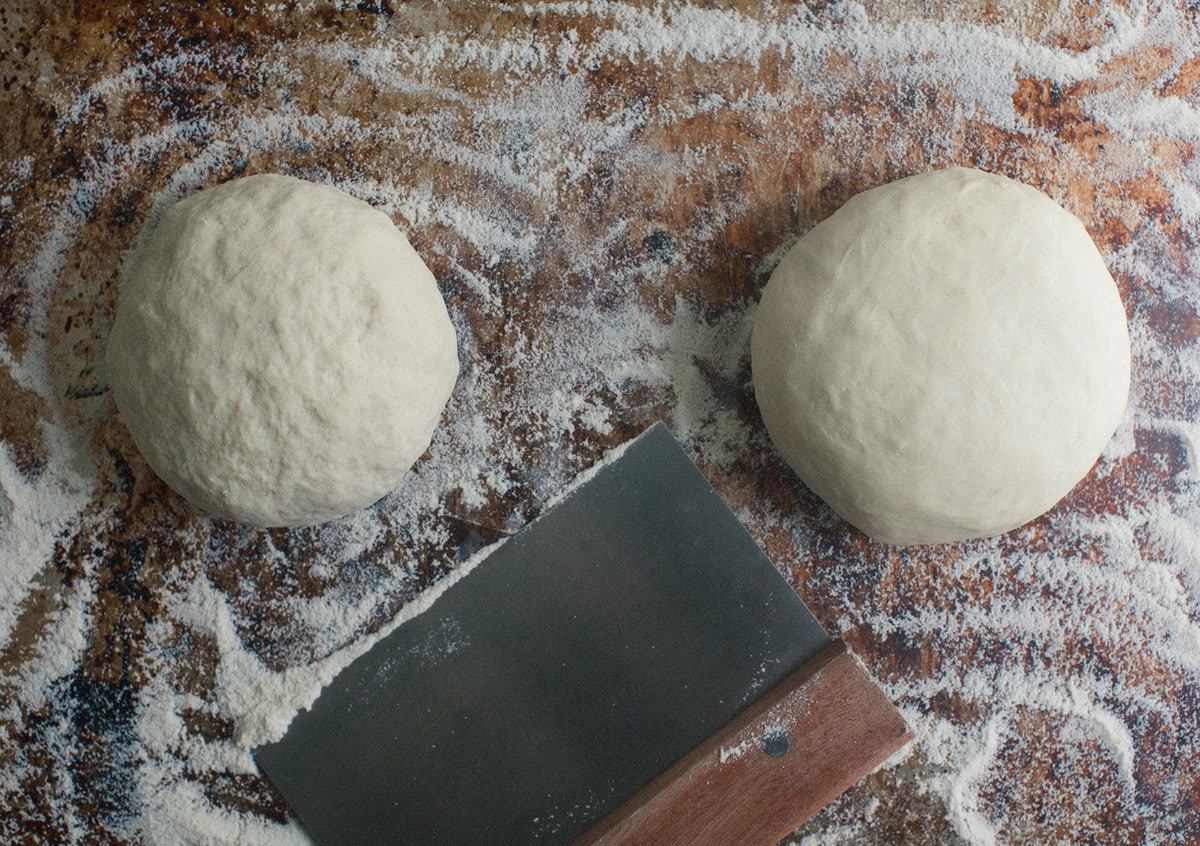 I used the crust recipe from How Sweet Eats. I let it rise a tad bit longer than she did because I'm badly at moving quickly apparently but I ended up really loving the rise time of 10 to 15 minutes. It's the perfect intersection of thin crust with a bit of volume. It's not super thick but not super thin either.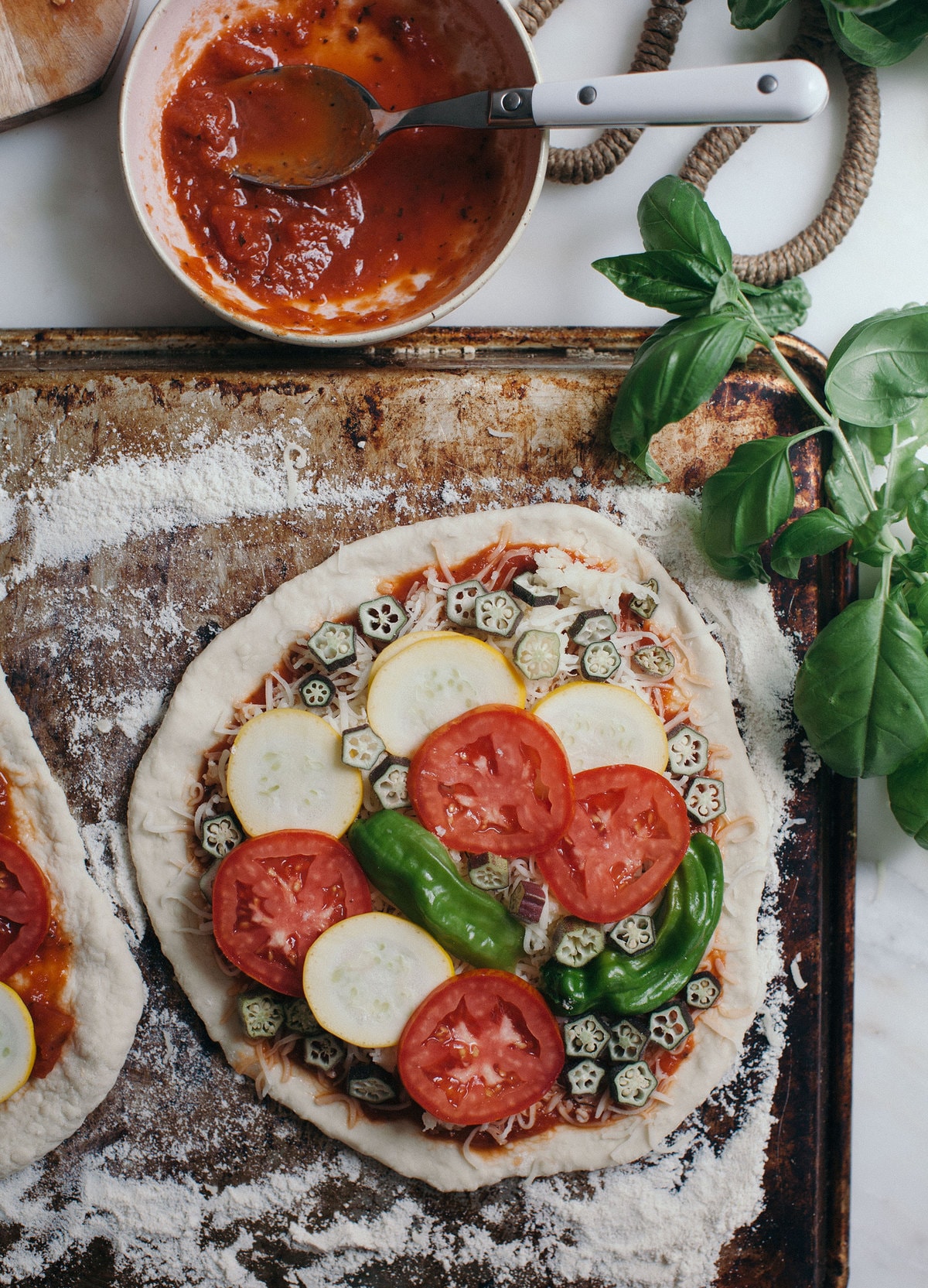 And I used my baking steel. If you don't have one, you can also bake this on a baking sheet.
Oh! And if you don't have a pizza peel (I don't), flip over a baking sheet and dust it with a bit of cornmeal. It'll slide right off onto the baking steel/pizza stone and you'll feel like a hack hero.
If you are a hater of okra, I'll say this: you most likely hate it because it's usually slimy, but not on this pizza! There's not a teeny bit of slime—just okra gloriousness.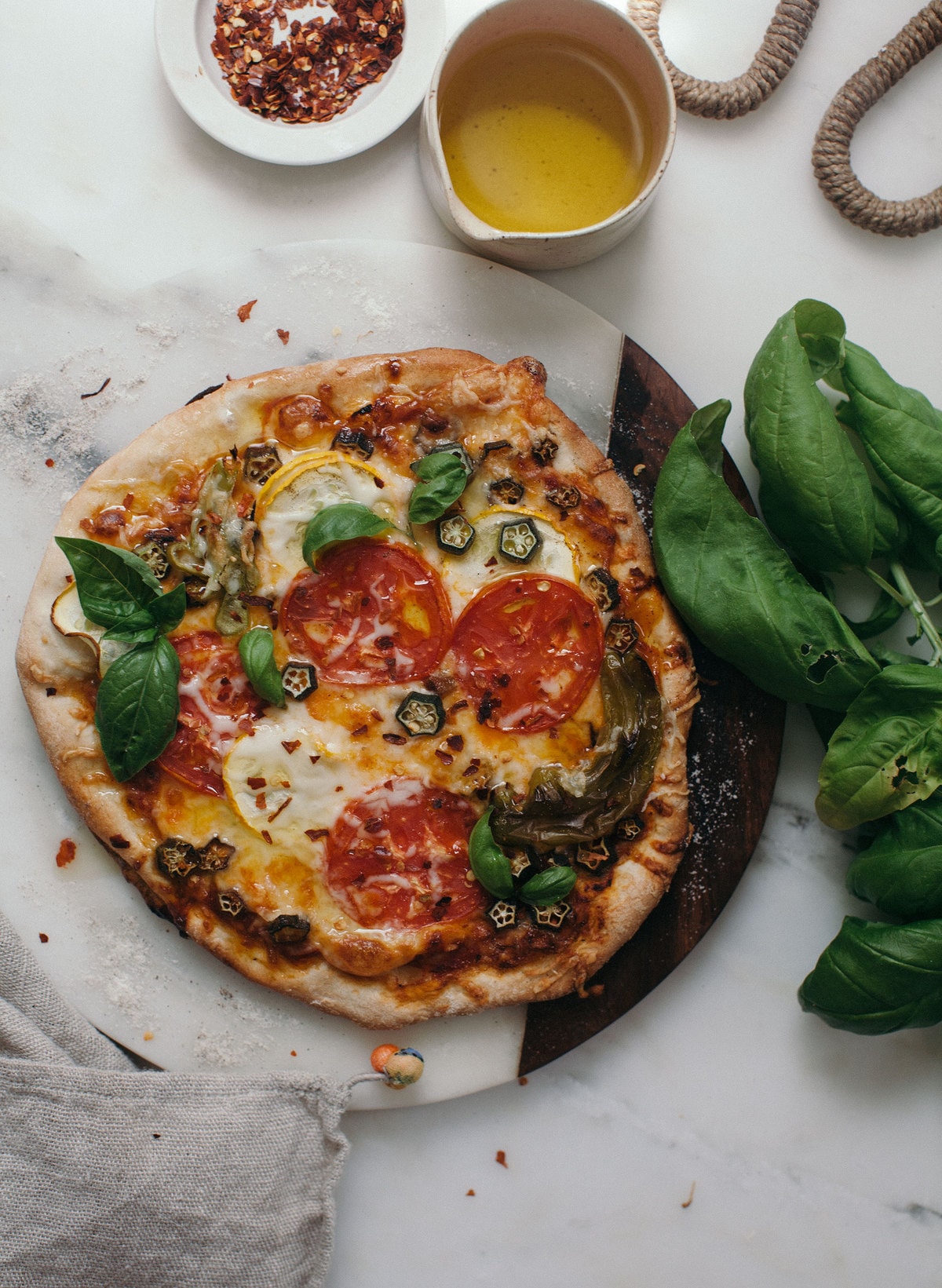 And of course, the vegetables are interchangeable. If you wanted to make this in the fall, include autumn vegetables; in the winter, include winter stuff…you get the idea.
Lastly, add more cheese than you think you should. That's always a good move.
P.S. Do you notice that there were two shishito peppers in the before shot and then only one in the after? I have no idea where the second shishito pepper went. I still can't find it. It's basically the strangest thing ever. I checked my oven, on the floor beside the oven. IT'S A SHISHITO MYSTERY!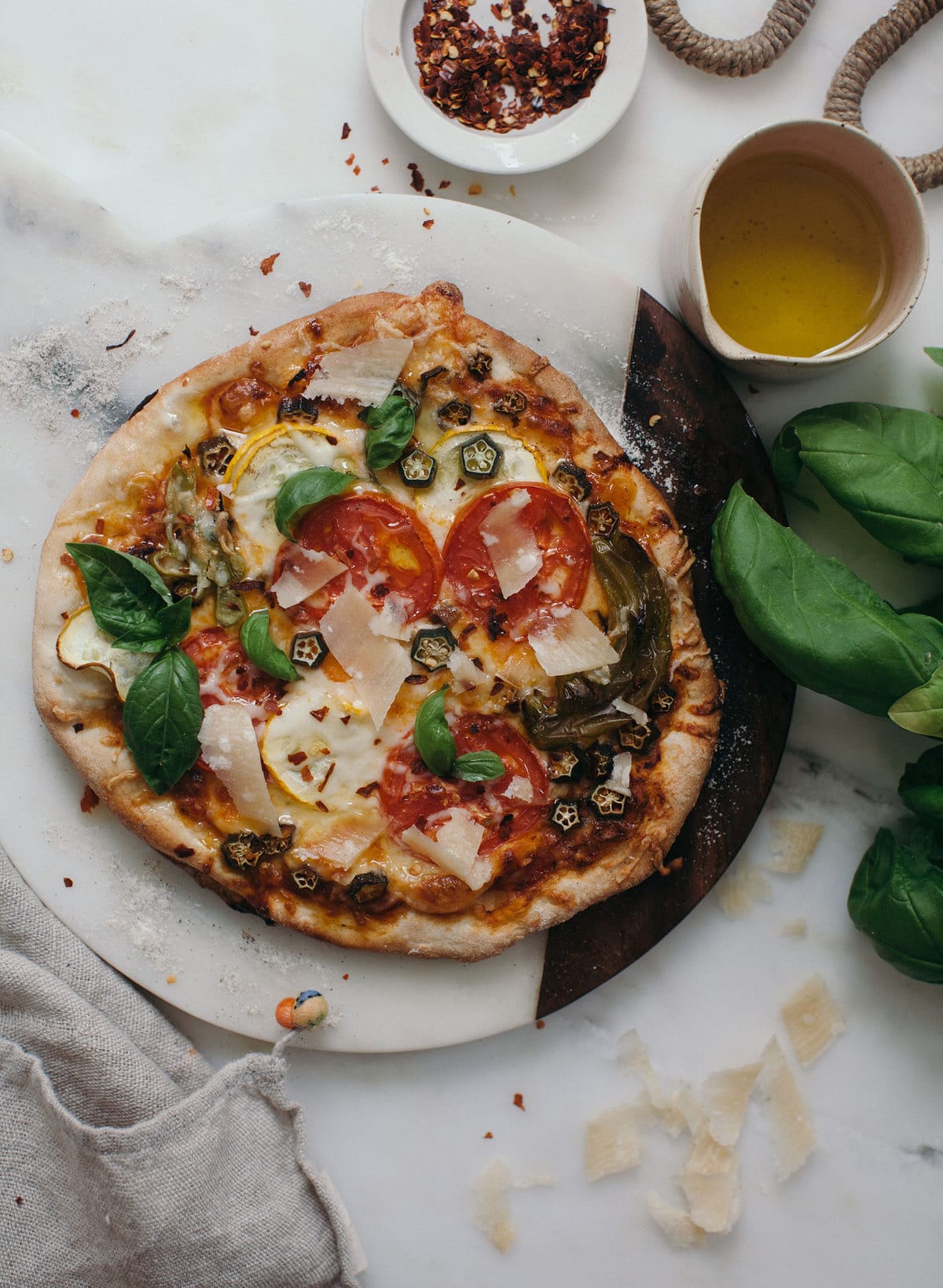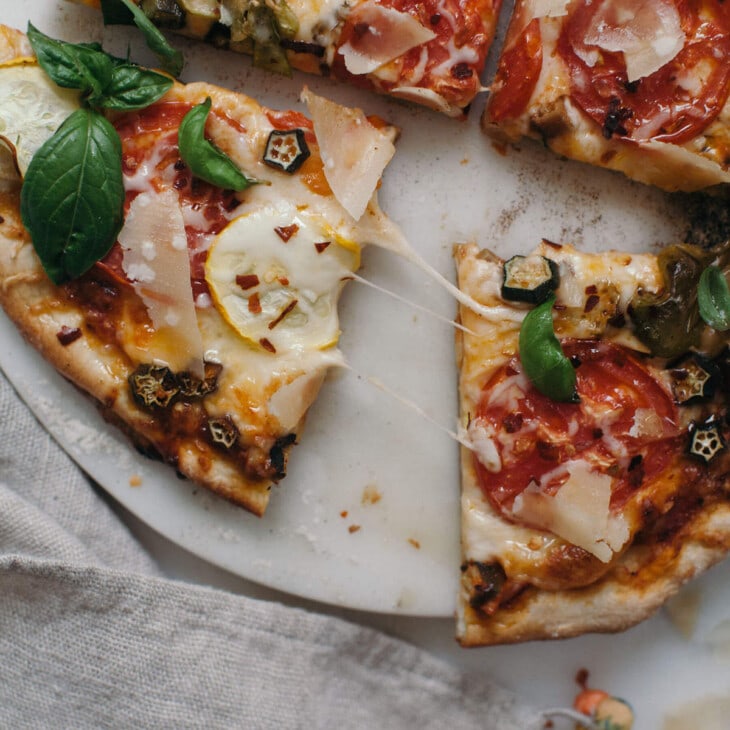 Print Recipe
Vegetable Lover'z Pizza
Serving Size:
personal-sized pizzas
Ingredients
Pizza Dough:
1/2

cup

lukewarm water

1/2

teaspoon

active dry yeast

1/2

teaspoon

honey

1 1/2

cups

all-purpose flour

1/2

teaspoon

salt

1

tablespoon

cornmeal or masa

for dusting
Veggie Pizza Toppings:
1/4

cup

tomato sauce

I used jarred

1

summer squash

thinly sliced

5

okra

sliced

1 to

mato

thinly sliced

4

ounces

shredded low-moisture mozzarella

divided

2 to 3

shishito peppers

stems removed and shishito halved

Handful of fresh basil leaves

for topping

Drizzle of olive oil

for topping

Crushed red pepper

for topping and because they give me life

Parmesan-Reggiano

for topping
Instructions
Preheat your oven to 500 degrees F or as hot as your oven goes (the max might be 450 F and that works, too).

In a measuring cup, measure out the lukewarm water and then mix in the active dry yeast and honey. Let stand 5 minutes. Meanwhile, in the bowl of a stand-up mixer, with the hook attachment (you can also do this by hand but I'm super lazy), add the all-purpose flour and salt. Give it a mix. When the yeast and water mixture is nice and foamy, pour it into the flour mixture and turn the mixer on low. At first the dough will be shaggy and dry, but eventually it'll all come together. Keep the mixer on for about 5 minutes, during this time a ball of dough will form. Stop the mixer and pull the dough off the hook. Form it into a round ball and then halve the dough; form it into two balls. Allow it to rise on the counter, uncovered, for about 10 to 15 minutes. During this time, let's get the toppings ready.

Sprinkle the cornmeal or masa on a pizza peel. If you don't have one, like me, flip over a (clean) baking sheet and dust that with cornmeal or masa. To form the pizza, start flattening the dough using your fingers, don't be afraid to pull the dough, thinning it out. I also like to pick up the dough and stretch it in the air a bit, allowing gravity to assist in the process. Flatten it out onto the pizza peel or baking sheet. Repeat with the second ball.

Divide the tomato sauce amongst pizza doughs. I personally favor a super thin layer. Set a handful or two of cheese aside (we're gonna put this on toward the end). Sprinkle the remaining cheese atop the pizza sauce. Next, arrange the summer squash, okra, tomatoes and shishito peppers. Slide it onto your pizza stone or pizza steel and cook for about 10 minutes, rotating the pizzas every so often if needed. At the 10 minute mark, sprinkle the reserved cheese all over the pizza. The oven will be too hot to sprinkle it on just the right spots so just throw it on--WHATEVER! Bake for an additional 1 to 2 minutes.

Carefully remove the pizza from the oven (I found a fork and pancake spatula to be great tools!). Top each pizza with a drizzling of olive oil, a few fresh basil leaves, a sprinkling of crushed red pepper and some parmesan shavings. Cut and serve, piping hot.
Notes
If you've never made pizza at home, I found these tools to be very helpful:
pizza stone or pizza steel (if you don't have one use a baking sheet!)
1-inch baking sheet (in lieu of a pizza peel)
Pancake Spatula (helps with getting pizza to and from pizza stone)
Fork (helps with pizza that likes to slide around)
Pizza Dough recipe by The Kitchn via How Sweet Eats