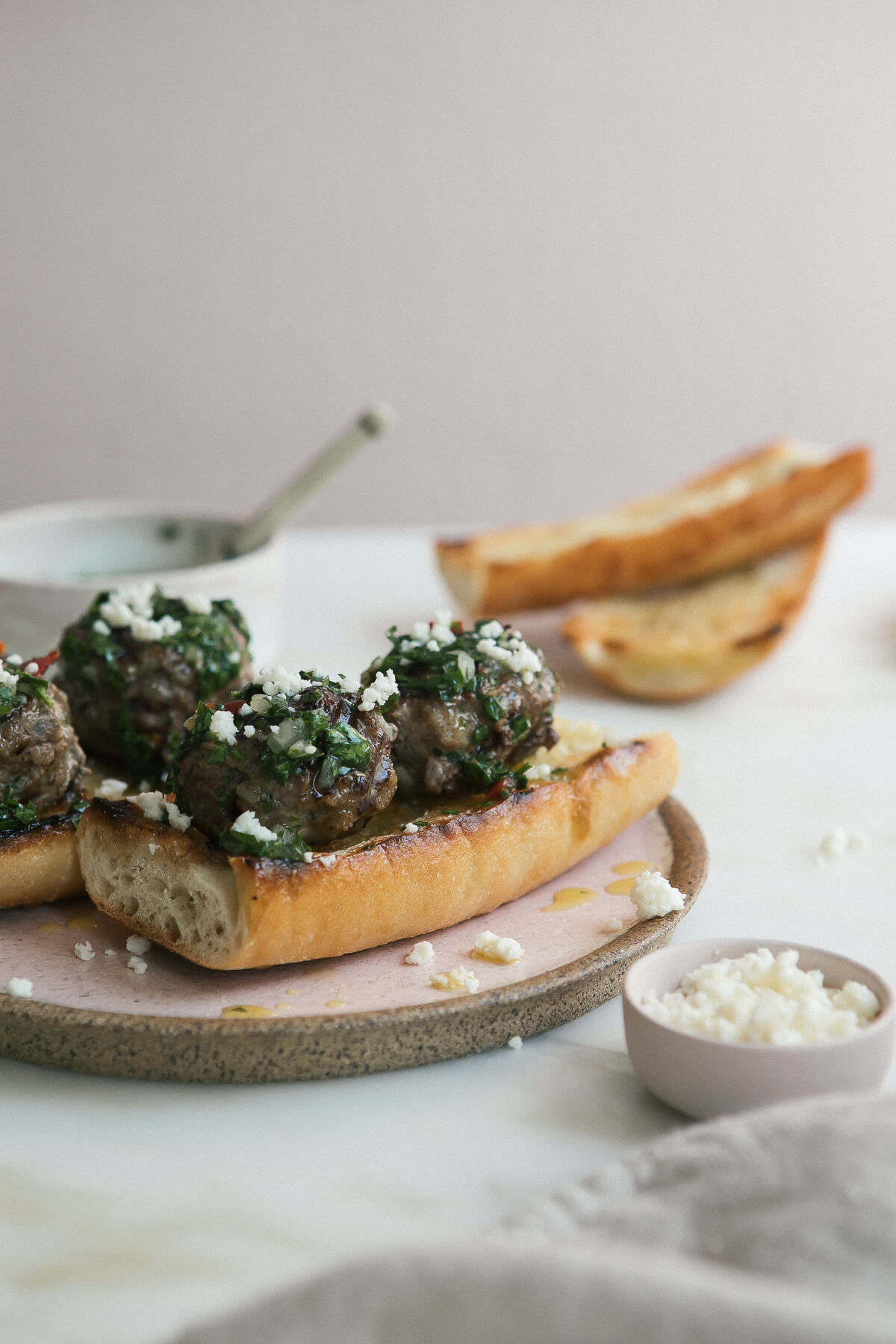 I love nothing more than a good meatball. But when I think of meatballs, I don't necessarily think of summer. I think of them being more in the "cozy comfort food" category that you're supposed to crave on a cold, wintery day. Well, I wanted to change that and bring you a more summer-fied version. A version that you could throw on the grill…maybe this weekend when it's 4th of July!
This post is sponsored ALDI. I went there to get all of the ingredients for this very summery lil' recipe and a ton more super affordable baking items (read: flour, sugar, brown sugar, etc). I literally can't walk into ALDI without stocking up on baking ingredients and fresh summery-y produce.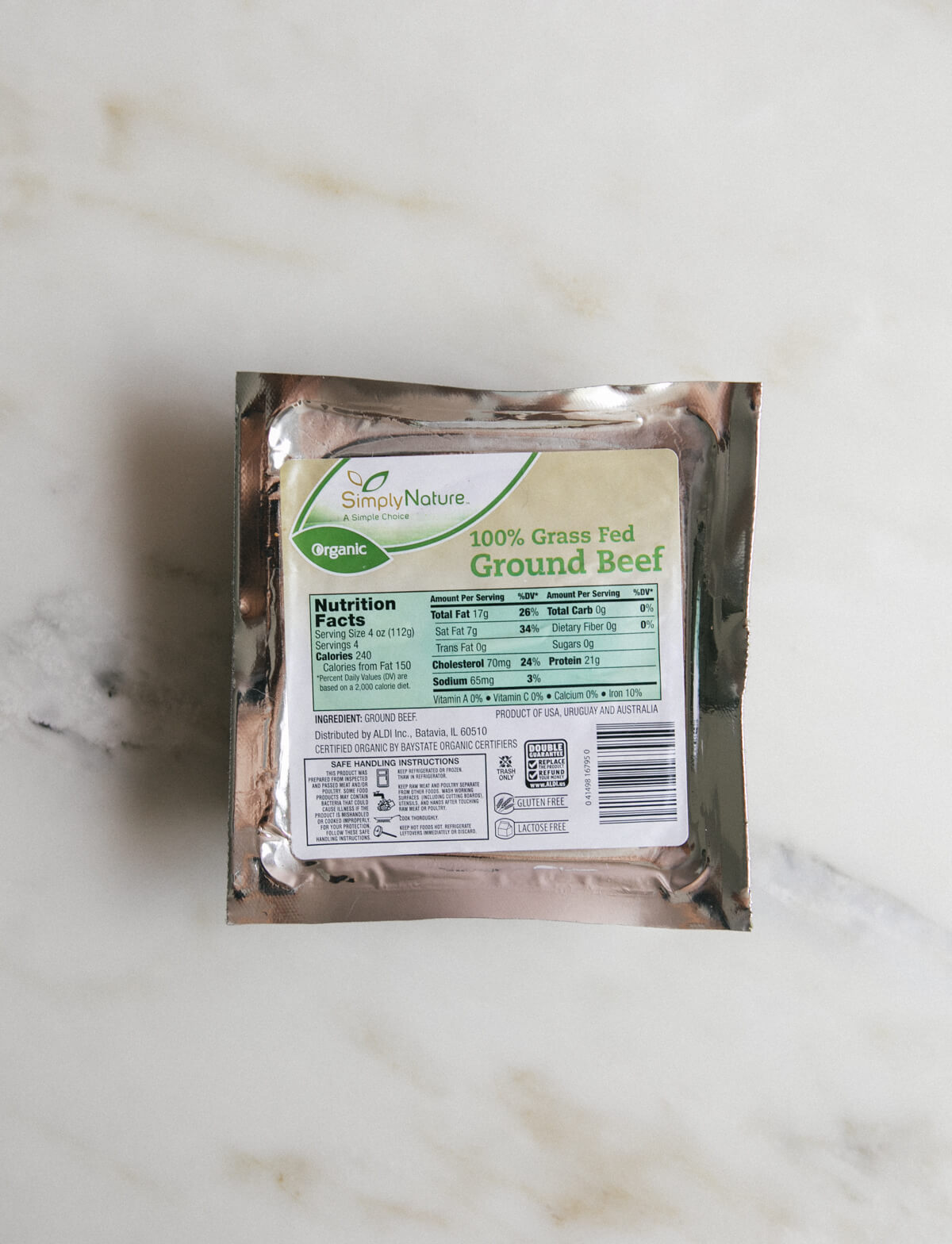 As for summer, they have everything you'll need, including 100% Organic Grass Fed Organic ground beef, which is perfect for making burgers and most importantly, meatballs.
Before this post, I had never grilled meatballs. Man, I was missing out. I love meatballs to begin with, but the crispiness and flavor that grilling provides is really special.
I threaded them on a skewer and grilled them with a bit of oil. They were delicious. I loved the slightly charred flavor and the chimichurri on top just made it taste super fresh and summer-like. I love queso fresco cheese on everything so when I sprinkled a bit on top of the meatballs, the salty flavor really hit the spot.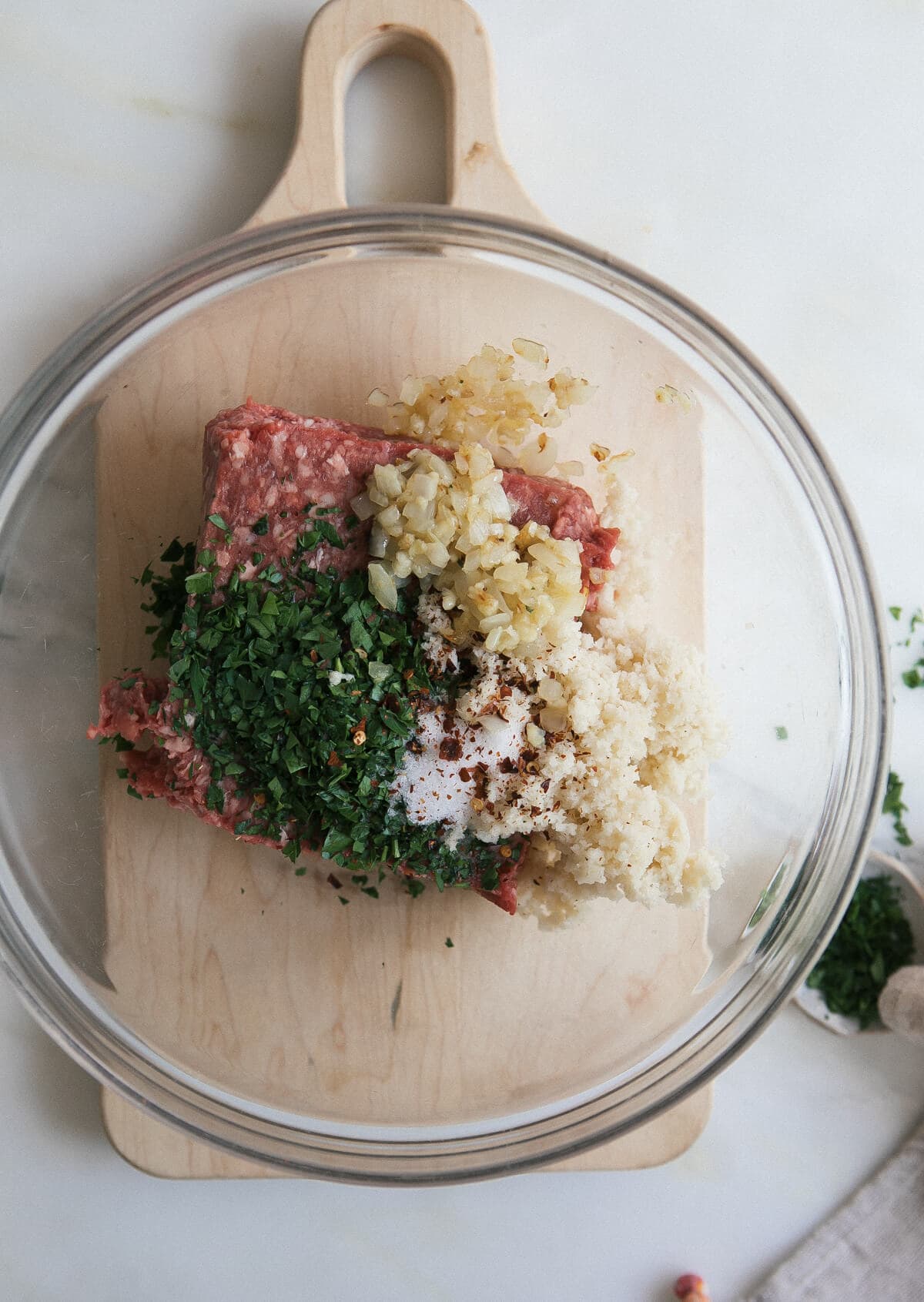 I put these on a piece of bread and called it a meatball sandwich but really the meatballs could be made all on their own and eaten with a side salad or my favorite salad: one with pasta in it.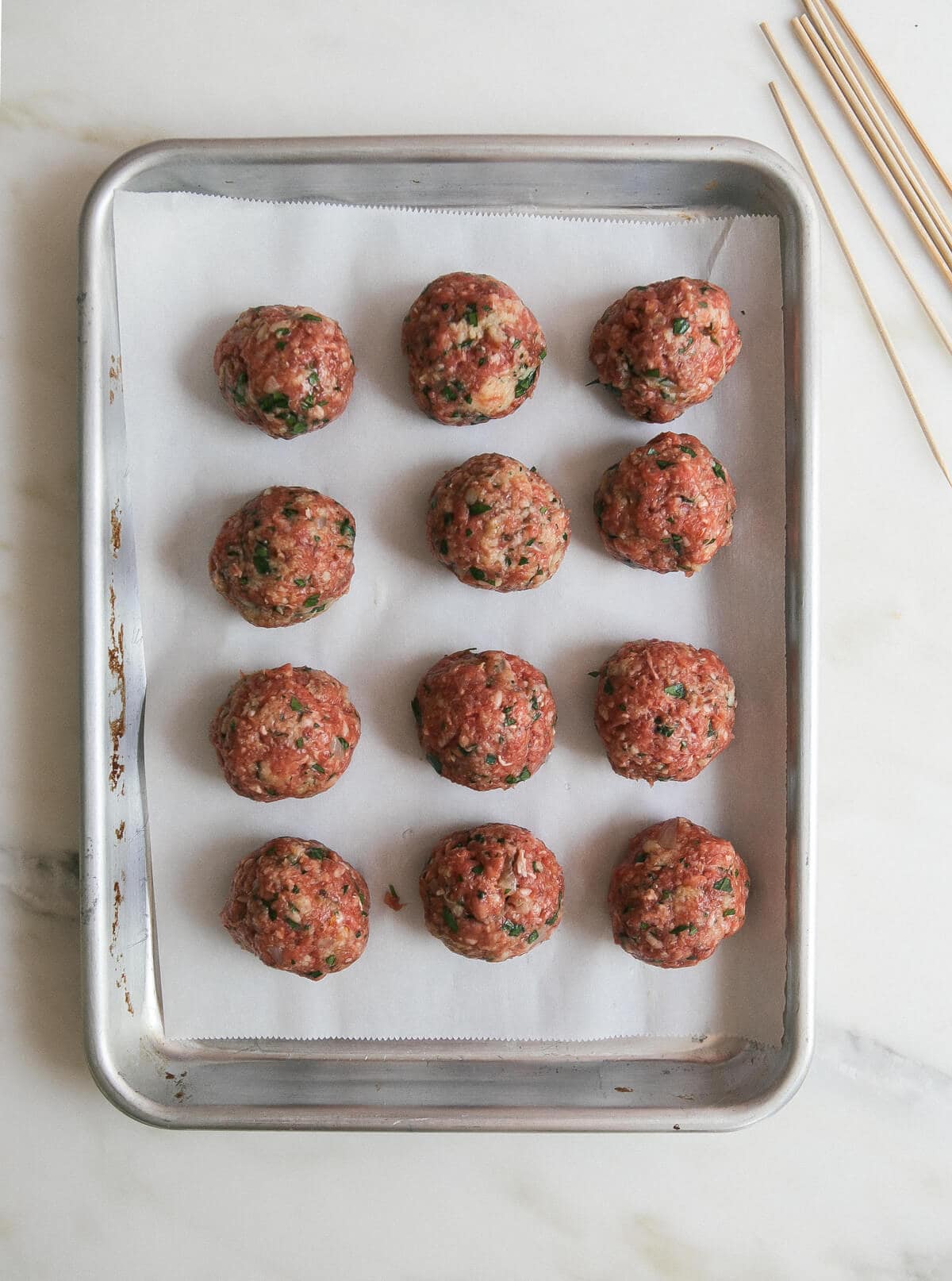 I'm still not sure what I'm doing for 4th of July but I hopefully it will involve Amelia, myself, Joshua, a pool and some grilled meatball sandwiches.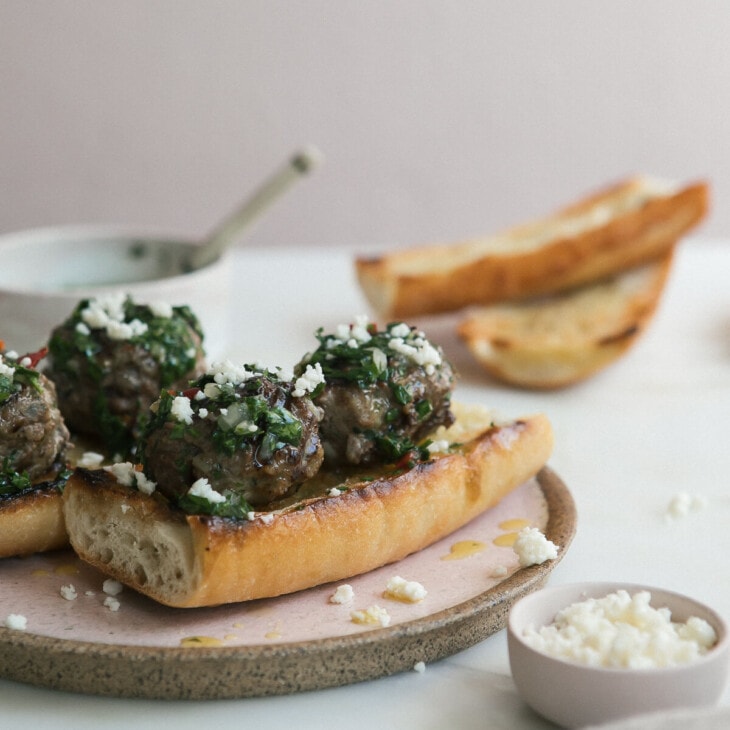 Print Recipe
Grilled Meatball Chimichurri Sandwiches
Ingredients
Meatballs: 
1

tablespoon

Carlini 100% Extra Virgin Olive Oil olive oil 

1

shallot

minced

2

garlic cloves

minced

1

pound

Simply Nature 100% Grass Fed

Organic Grass Fed Ground Beef 

1/4

cup

Chef's Cupboard Italian Bread Crumbs 

2

tablespoons

minced Italian parsley

1

teaspoon

Stonemill Salt 

1/2

teaspoon

Stonemill Crushed Red Pepper 

Oil, for searing the meatballs 
Chimichurri: 
1/2

cup

minced fresh Italian parsley

1/2

cup

Carlini 100% Extra Virgin Olive Oil olive oil 

1/2

teaspoon

Stonemill Crushed Red Pepper OR 1 fresno chile pepper

diced 

Juice from 1/2 lemon

1

garlic clove

minced (if you love garlic, add 2 cloves, this is your world!) 

Stonemill Salt
Assembly: 
Bread of choice

such as Specially Selected French Baguette

2

ounces

Pueblo Lindo Queso Fresco or queso blanco

crumbed 
Instructions
To make the meatballs:
To a small skillet, set over medium heat, add the olive oil. When warm, add the shallot and garlic cloves; cook until softened, about 3 minutes. In a medium bowl, add the meat, sautéed onion mixture, bread crumbs, parsley, salt and crushed red pepper. Mix ingredients together until barely combined. Form balls using your hands (or a cookie scooper—my preferred preference) and set aside. Repeat until you've worked your way through all of the meatballs. 

Skewer the meatballs two at a time. You can either cook these on a grill or in a grill pan. Whichever method you use, rub the grill or grill pan with a bit of oil. Turn to medium high heat, and when hot, add the meatballs. Cook for about 5 minutes on its first side and then flip to the other side and cook for an additional 5 minutes. Remove and set aside. Repeat until you've worked through all of the meatballs. 
To Make the Chimichurri: 
In a bowl, combine the Italian parsley, olive oil, chile, lemon juice and minced garlic. Give it a stir and add a few pinches of salt. Give it a taste and adjust the salt to your liking. 
To Assemble the Sandwiches: 
Place a few meatballs on toasted bread, top with a few spoonfuls of chimichurri and a sprinkling of cheese. Serve immediately.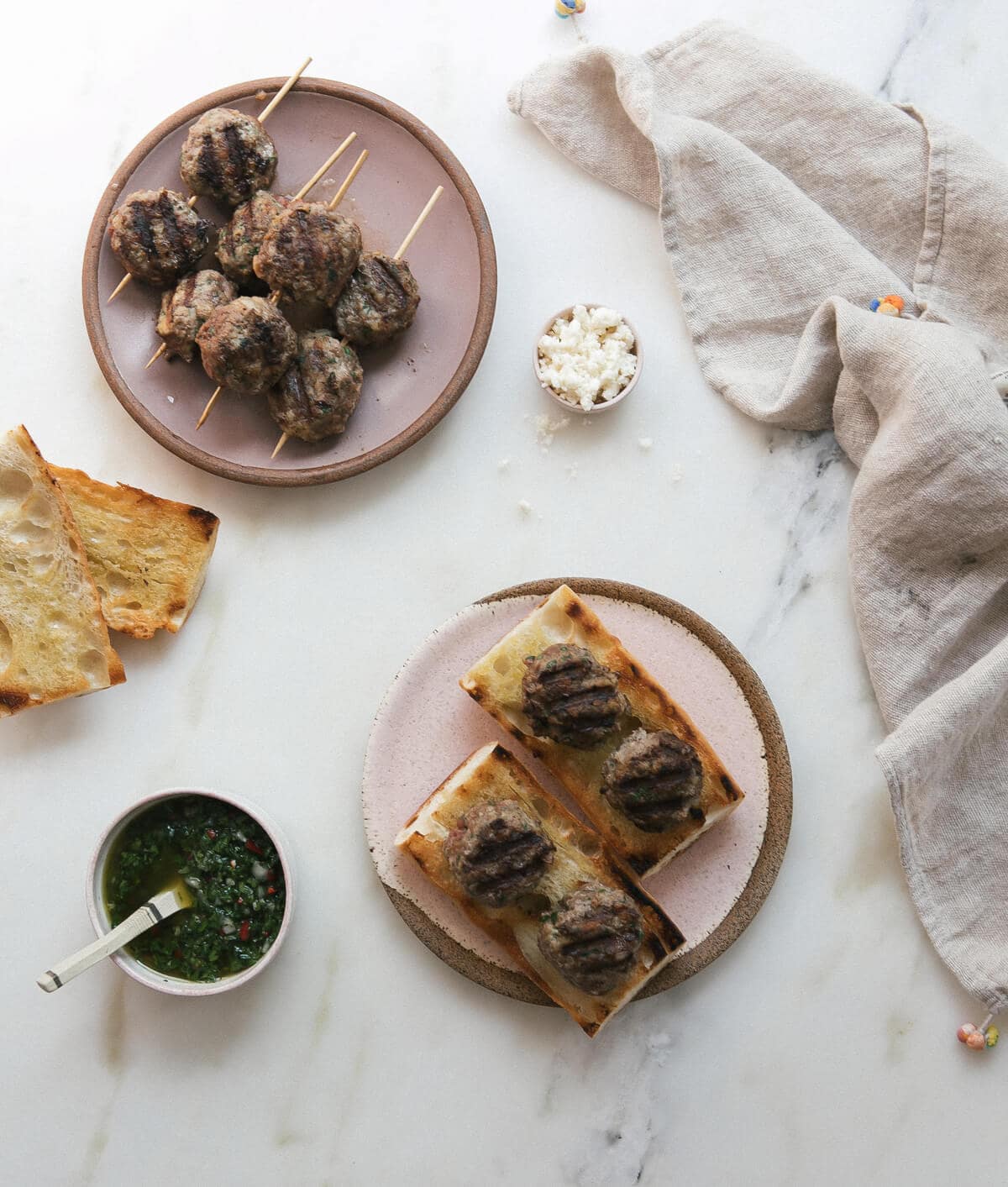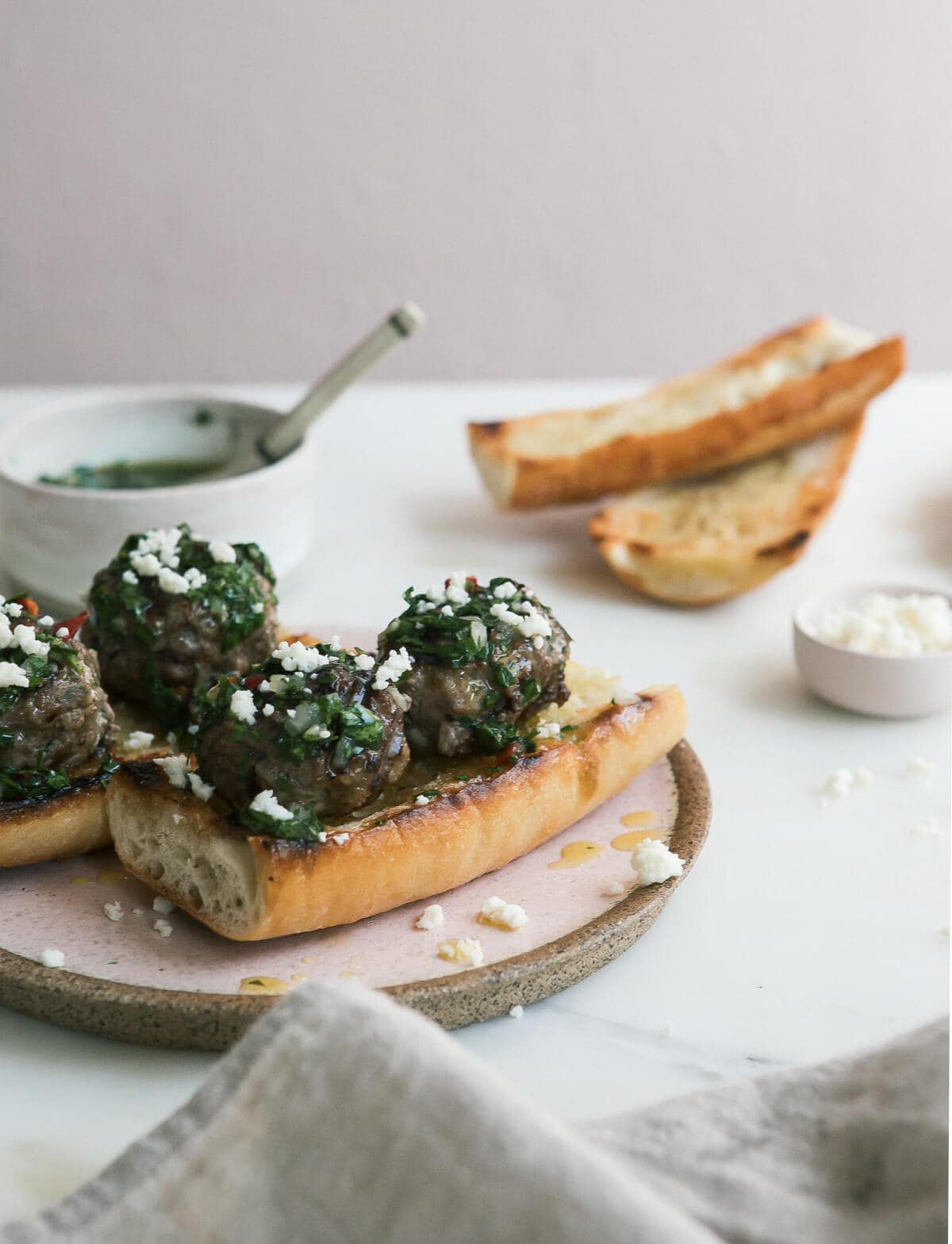 (This post is sponsored by ALDI. Thanks for supporting the sponsors that keep A Cozy Kitchen cozy.)