We have lots of stuff coming up!
First, there's a recipe I'm gonna make (loosely) based off the book from our Book Club (have you started reading?! have you finished?!?). Get to it!
And then, there is Game Day. I wasn't thinking I was really going to make anything for The Game…because, well, I don't even watch football but then I realized a lot of us don't but we still eat snacks. So, I'm warming up to the idea and am gonna make a few things this Friday to make sure we're prepared.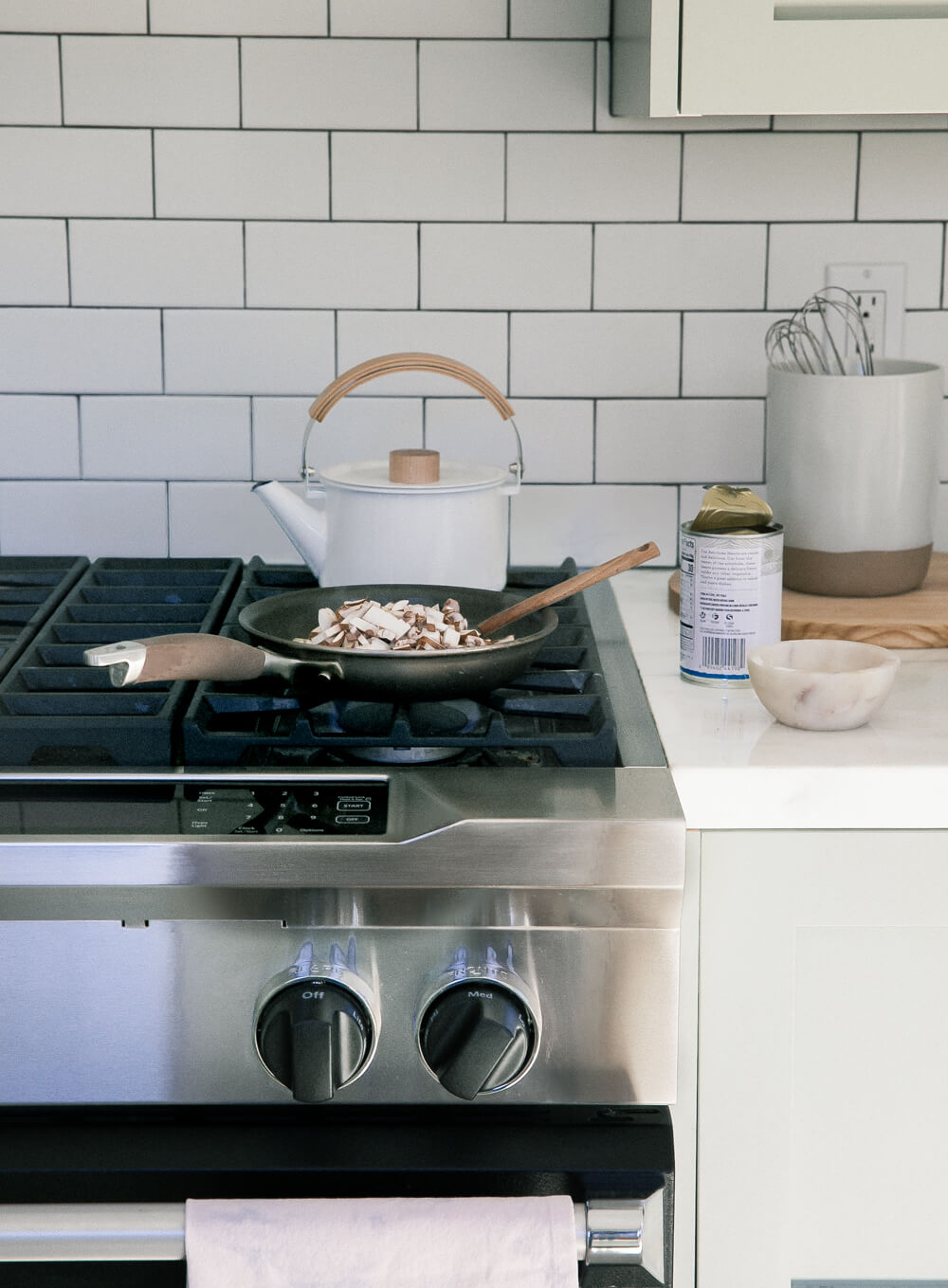 Oh and then Valentine's Day. For a long time, my eyes rolled very hard at V-Day but man, V-Day content is so fun to make. Everything is kinda cheesy and pink and heart-shaped. It's grown on me big time.
A few weeks ago, Josh made this vegan lasagna and naturally I was very skeptical about it…mainly because vegan cheese is suss. But when it was all said and done and it was dinner time, I took a bite and was like OH OKKKKK.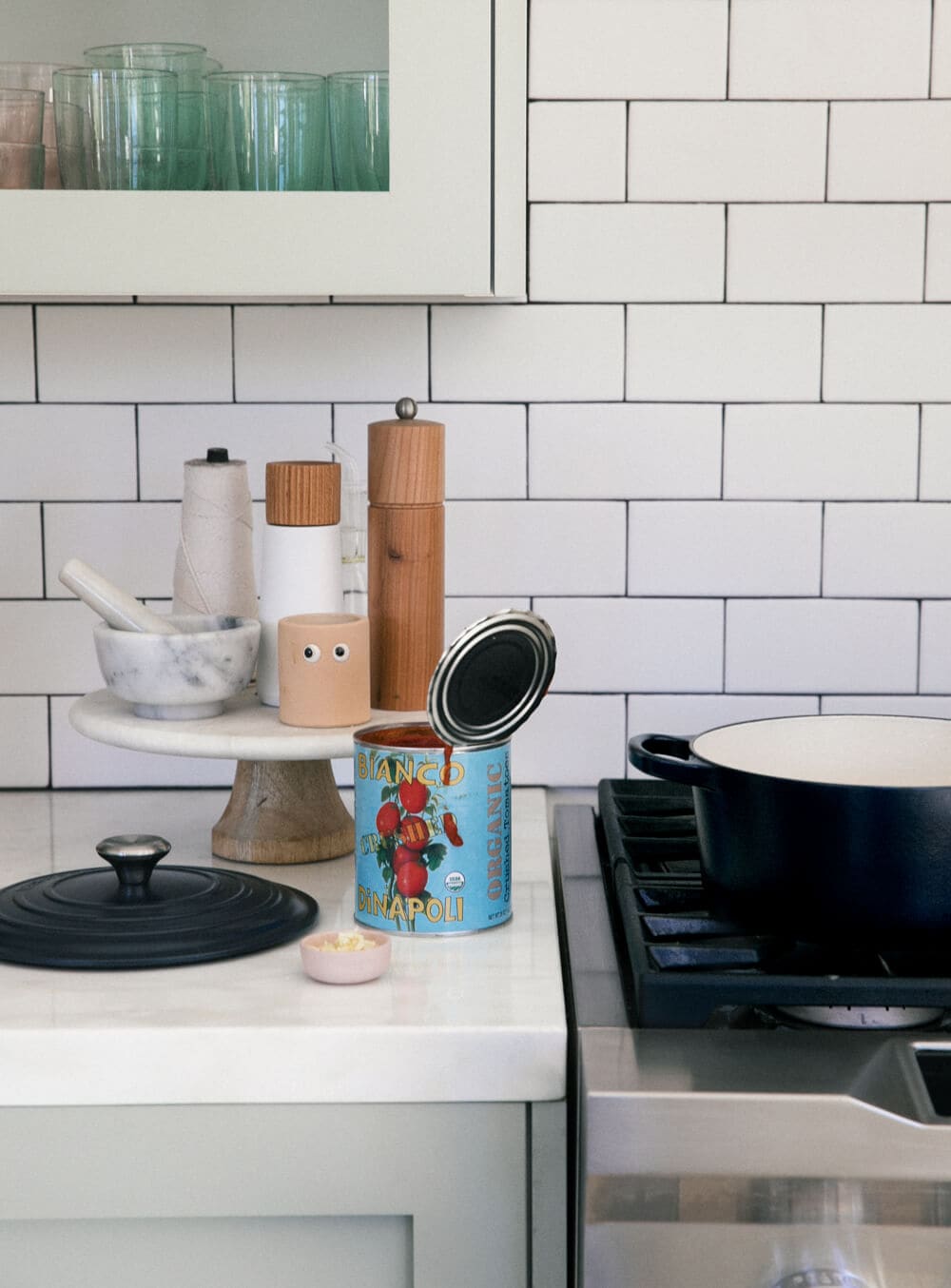 It's really good. Josh started with making this delicious zucchini, mushroom, artichoke combination that is the "meat" or filling, if you will. I duplicated his moves and made it too. I diced everything super small and sautéed it for only about 5 to 7 minutes because I like when vegetables have texture. No soggy-ass messes, please.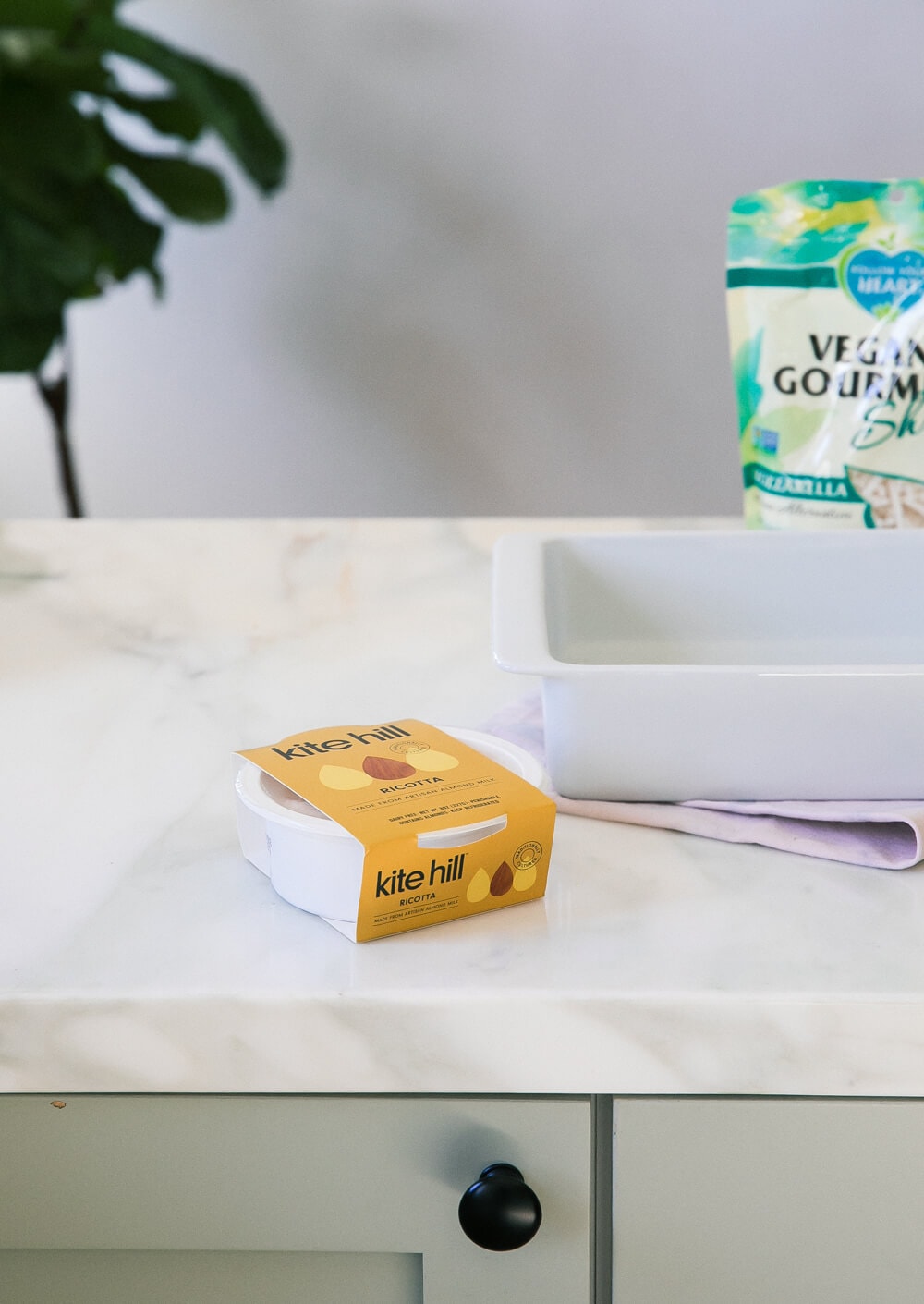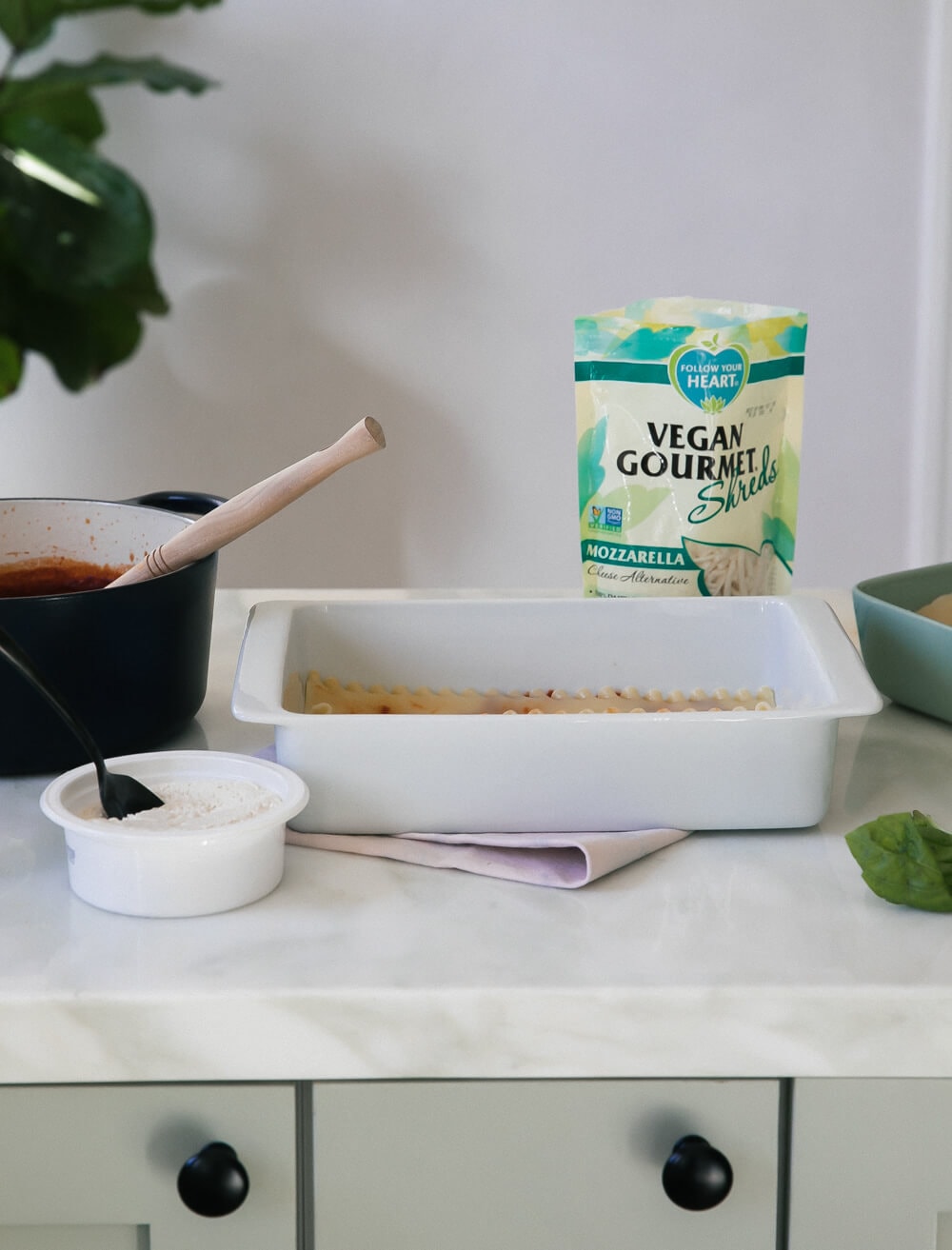 The sauce is something I cooked down because I liked that his (a puttanesca, which isn't vegan BTW) was a bit thicker. If the sauce is too saucy then the lasagna will be very loosy-goosey. I wanted it to have structure!
Feel free to skip the step of making tomato sauce and used jarred stuff. There is no shame in that game. I like Rao's jarred sauces the best. They're great.
Let's talk about layering, vegan cheeses and all that.
I used Kite Hill almond-milk ricotta and it's delicious. It's actually fermented almond milk and the texture is nearly identical to ricotta. It's very wild.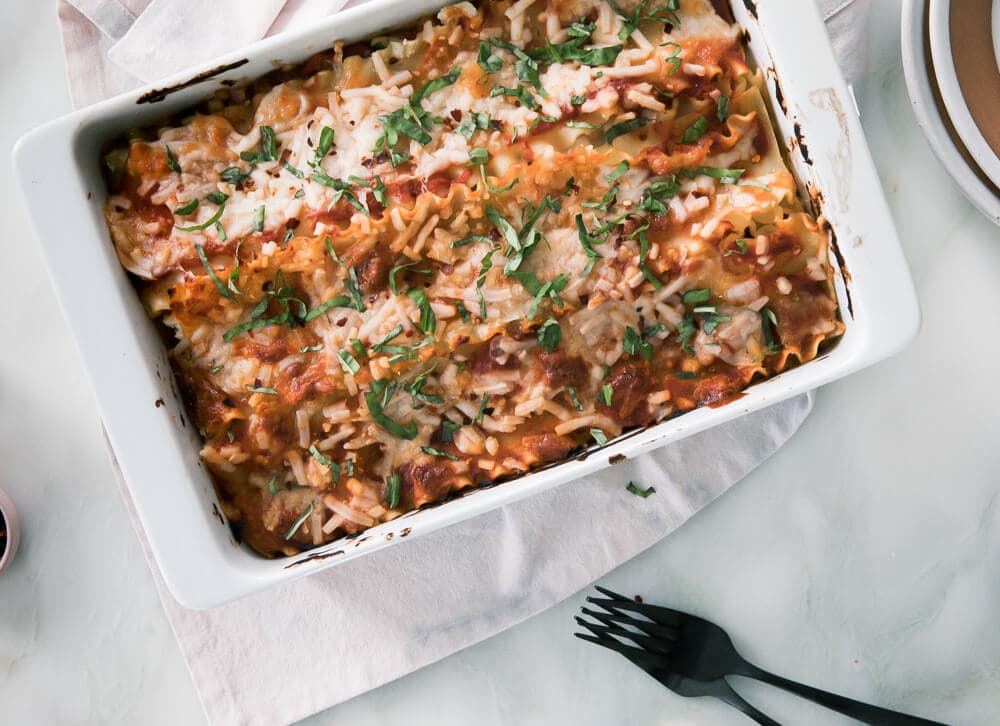 As for shredded cheese, I used Follow Your Heart cheese. It's really tasty and it's NOT weird at all.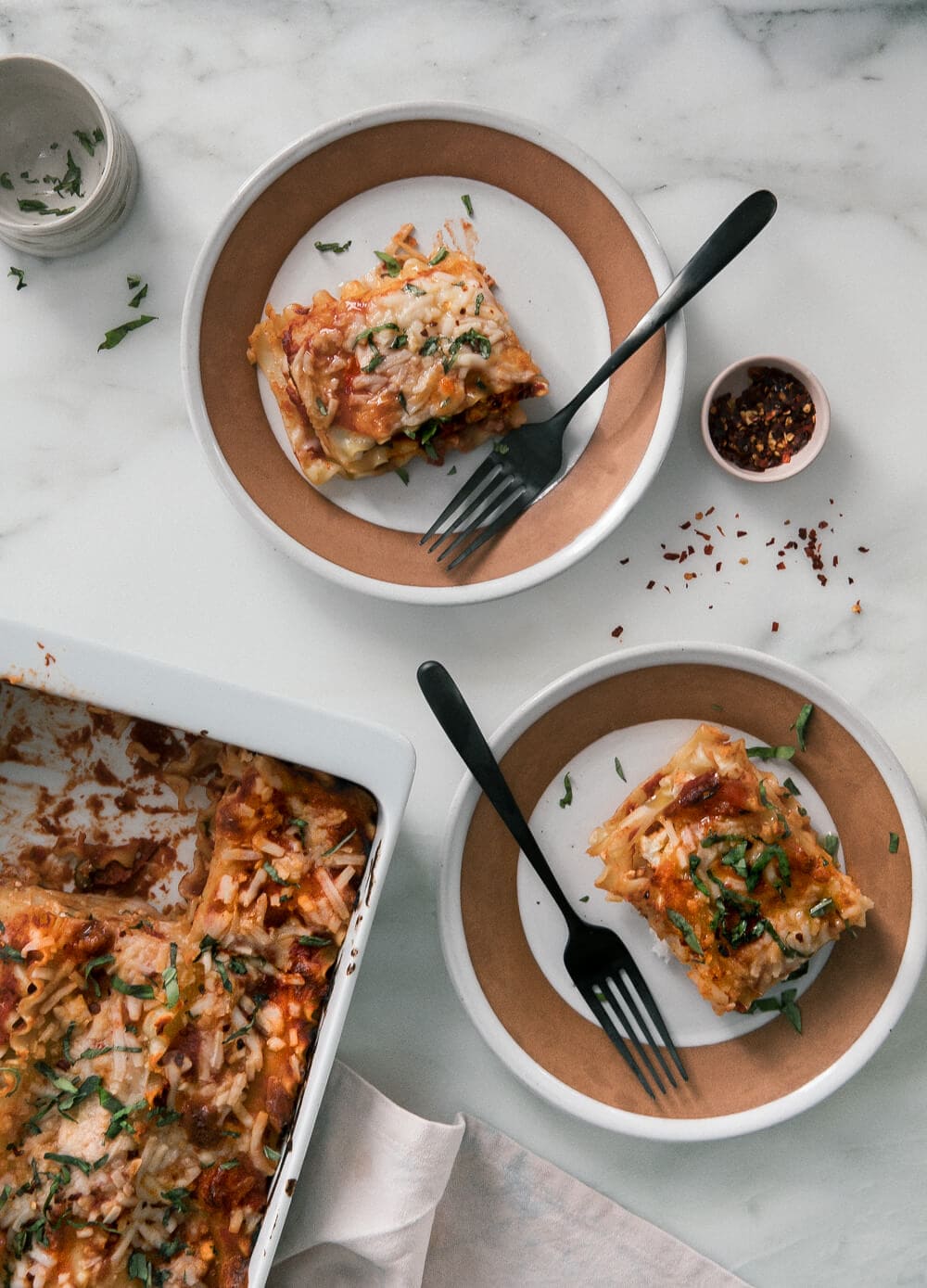 Does it melt like real cheese? Um. No. There is nothing like real, milk fat solids melting and being delicious on lasagna. But is it a good substitute? YES. This lasagna doesn't taste "vegan," it tastes really good and it's super light. I had a slice of lasagna and didn't feel full and uncomfortable—it was great!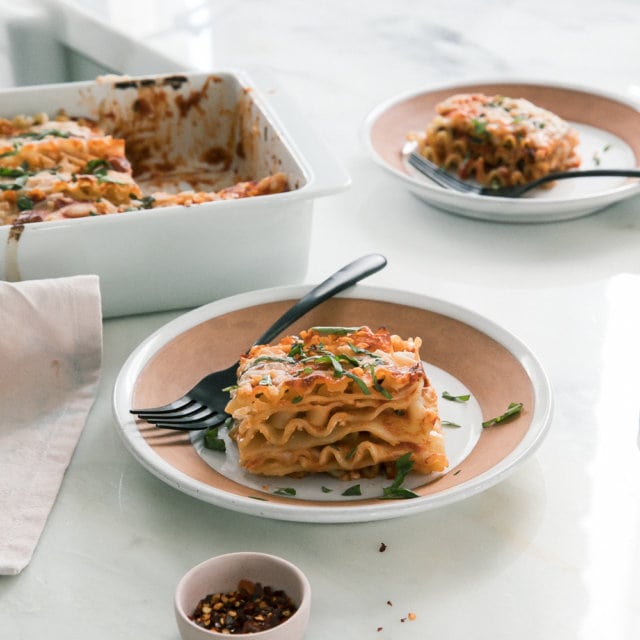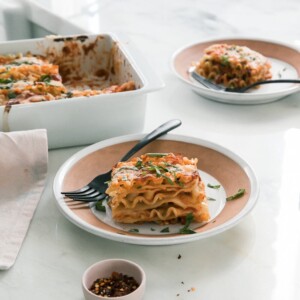 Ingredients
Simple Tomato Sauce:
1

24-ounce can crushed tomatoes

4

cloves

of garlic

,

peeled and minced

1/2

teaspoon

dried oregano

1/4

teaspoon

crushed red pepper

Salt
Zucchini and Mushroom Filling:
1

teaspoon

olive oil

1

small zucchini

,

diced

4

ounces

cremini mushrooms

,

diced

Pinch

of crushed red pepper

Salt

Juice from 1/4 lemon

1

handful of basil

,

minced, plus more as garnish for the lasagna
Lasagna Assembly:
Salt

1

pound

lasagna sheets

1

8-ounce bag of shredded vegan cheese of choice (I used the brand Follow Your Heart)

4

ounces

almond-milk ricotta
Directions
To Make the Tomato Sauce:
To a medium pot, set over medium-low heat, add the crushed tomatoes, garlic, oregano, crushed red pepper and a few pinches of salt. Bring to a gentle simmer and cook, partially covered, for about 15 to 20 minutes. Taste and adjust the salt to your liking. Turn the heat to low and continue cooking until you're ready to use the sauce.
To Make the Zucchini and Mushroom Filling:
To a small skillet, set over medium heat, add the olive oil. When warm, add the zucchini, cremini mushrooms, crushed red bell pepper and a few pinches of salt. Cook for about 5 to 7 minutes, until the zucchini and mushrooms have softened. Mix in the lemon juice and handful of minced basil. Give it a taste and adjust the salt to taste. Turn off the heat and set aside.
To Assemble the Lasagna:
Preheat the oven to 350 degrees F. Bring a pot of salted water to a boil. Add the lasagna sheets and cook until al dente. Drain and drizzle with a few teaspoons of olive oil (this will help them from sticking to each other). Lay them flat on a cutting board or use a casserole dish.

To the bottom of the lasagna dish, spread a thin layer of sauce. Top with three sheets of lasagna, overlapping them slightly. Spread a thin layer of sauce on the noodles and then add a few spoonfuls of the zucchini and mushroom filling. Top with a few dots of the almond milk ricotta and a handful of the shredded cheese. Repeat the layering process until you've reached the top and worked through all of the noodles. I ended up doing about four layers. The top layer should be pasta, a bit of sauce and a good amount of shredded cheese.

Transfer to the oven to bake for 30 to 40 minutes, until the top is as melty as vegan cheese will get. Lol. Top with a handful of minced basil. Slice and serve.

This lasagna is great to keep in the fridge. Cover with foil or plastic wrap. I like to heat the slices up in a toaster oven (for about 10 minutes) but a microwave works too!
Nutrition Facts
Vegan Lasagna
Amount Per Serving (6 g)
Calories 0
* Percent Daily Values are based on a 2000 calorie diet.