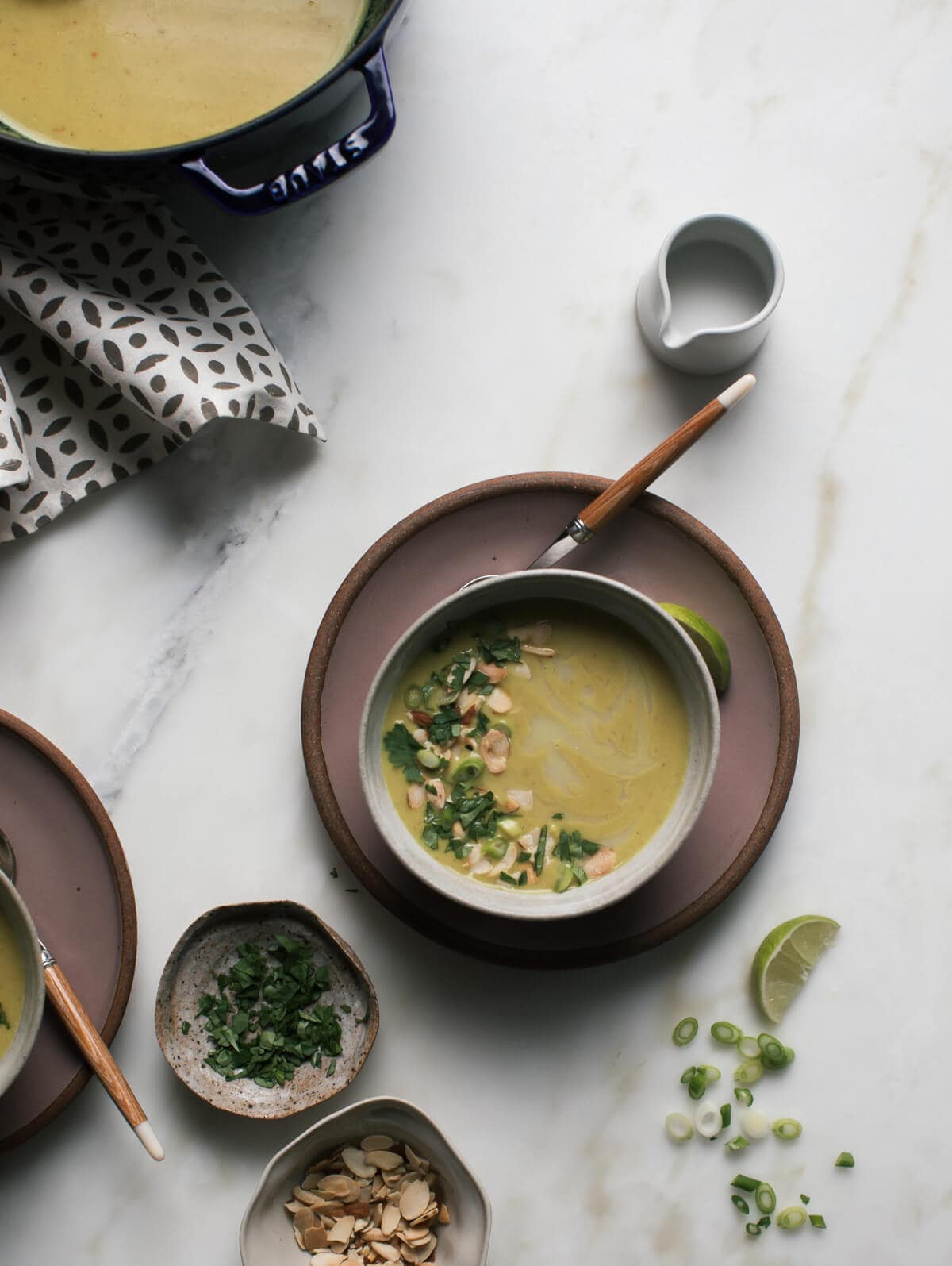 I like to treat January as a reboot month.
I'm currently getting this lil' blog redone, which is LONG overdue; I'm dyeing white linens (with food!) so I can have the exact colors that I want; I'm going to paint some surfaces all the colors that I think of when I think of A Cozy Kitchen; and of course, I'm eating healthy.
SORT OF BORING. Except this soup is not boring.
Eating healthy for the past few days hasn't been too bad. I've been mainly consisting off of these meatballs, boiled eggs, Korean BBQ, roasted chicken and spaghetti squash. I'm going to post my meal prep for Whole 30 on Monday. I wanted to wait a week because I really wanted to figure out what I ended up being my favorites to grab from this week.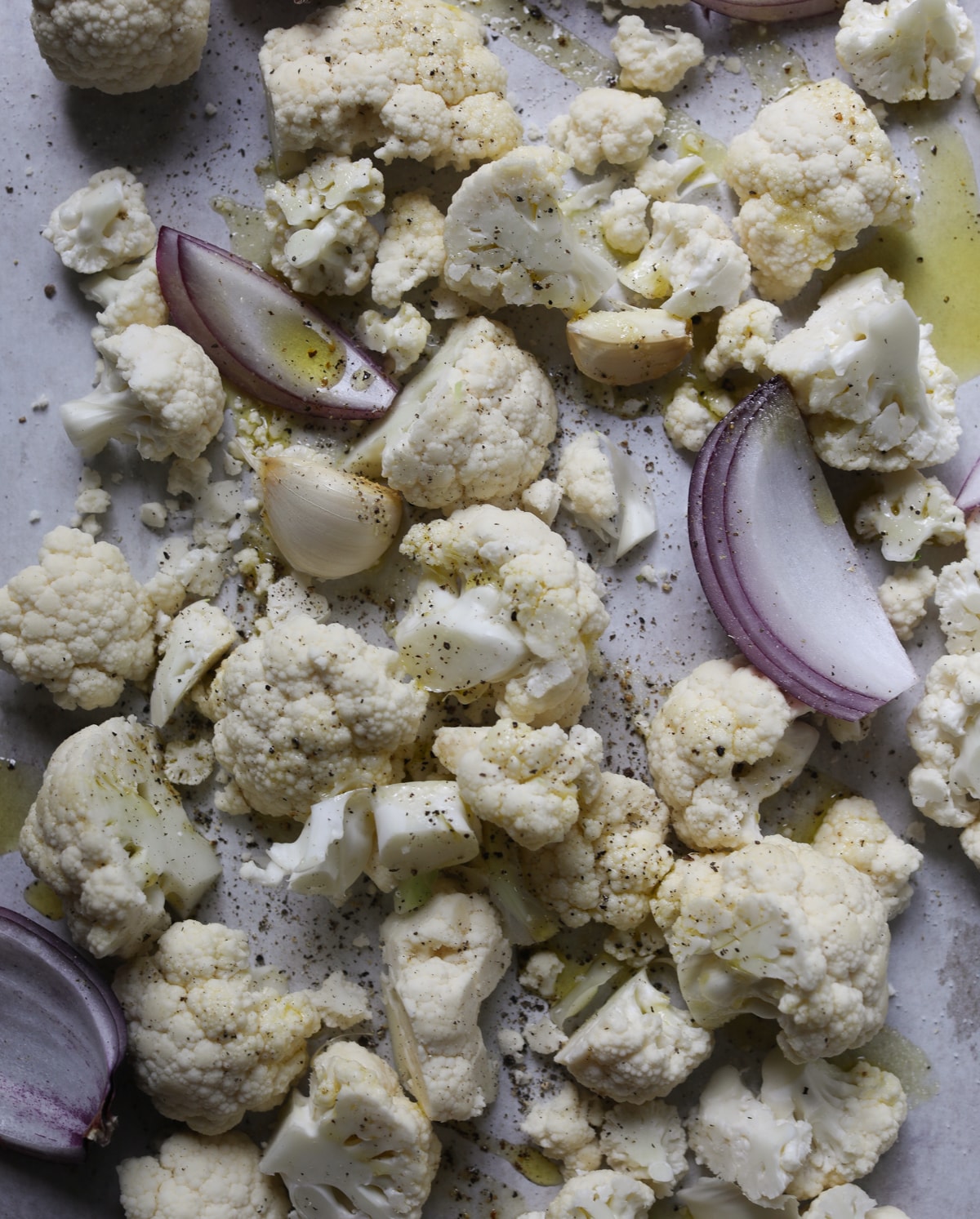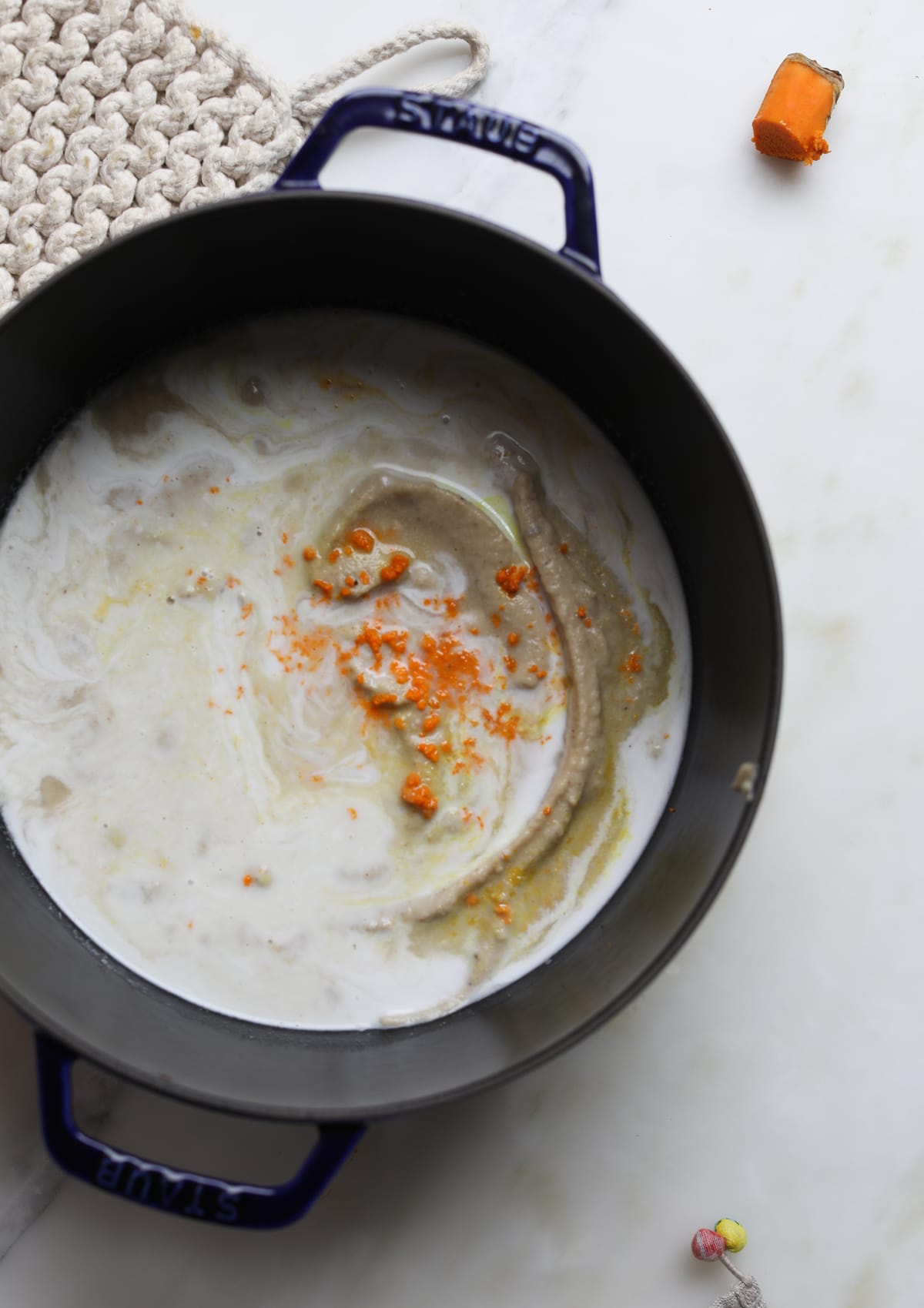 This cauliflower soup is healthy and flavorful and the almonds make it part snack, part soup. I have to put lots of toppings in my soup so that it feels substantial.
I've also learned that I enjoy chewing foods (if that makes sense). I need soups with lots of toppings so I can chew. It tricks my brain into thinking it's more of a meal. I always used to eat soup with bread or biscuits so these almonds are a nice healthy option (not nearly as good) but good for the moment. Only 25 more days of Whole 30 lolllll. I CAN DO IT!!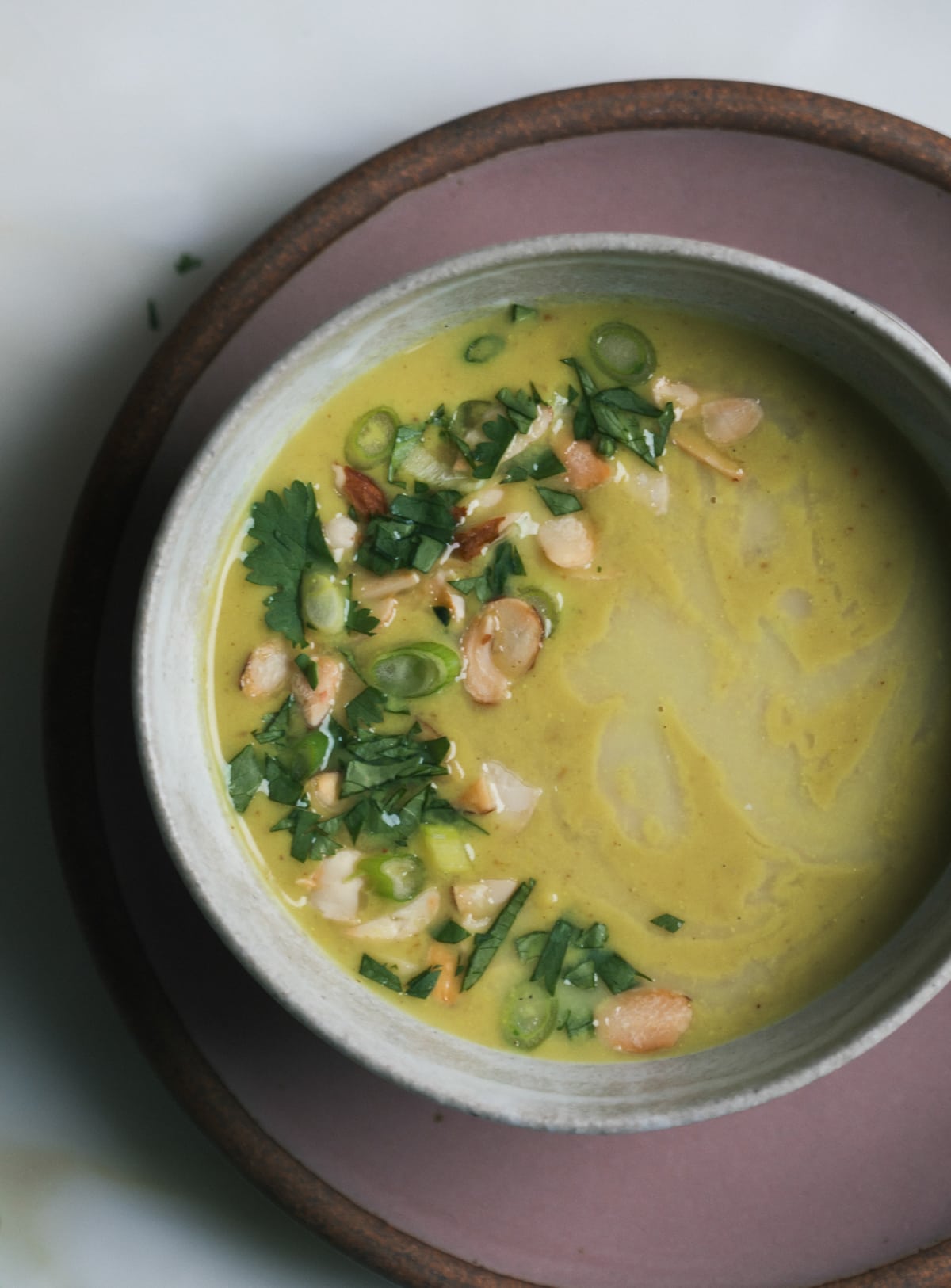 Not gonna lie the thing that I miss the most is sugar. Last night after dinner I wanted something sweet SO BADLY. Luckily you can have a few servings of fruit a day so I ate a banana and it totally cured my sugar craving. Crazy. That's all it took for me to chill out.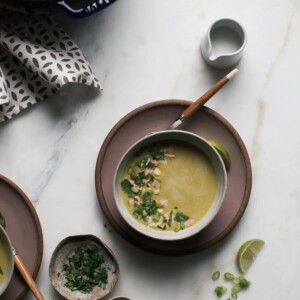 Ingredients
1

head of cauliflower, cut into florets

1

tbsp

olive oil

1/4

of a red onion

2

cloves of garlic (still in their skins)

2 1/2

cups

chicken broth, divided

1 1/4 cup

light coconut milk + more as garnish

1/4

teaspoon

ground coriander

1/4

teaspoon

ground ginger

1

teaspoon

salt

1/2

teaspoon

freshly ground pepper

1

teaspoon

freshly grated turmeric or 2 teaspoons dried turmeric

Juice from 1 lime

Cilantro, as garnish

Sliced green onions, as garnish

1/4

cup

sliced almonds, lightly toasted, as garnish
Directions
Preheat oven to 400 degrees F. On a parchment-lined baking sheet, toss together the cauliflower, red onion and garlic cloves with the olive oil. Transfer to the oven to roast for 30 minutes to 35 minutes, until the cauliflower has softened and browned, slightly. Carefully push the garlic out of its shell (it'll be super soft). To a blender, add 1 1/2 cups chicken broth, cauliflower, red onion and garlic. Blend until very smooth, about 2 to 3 minutes, scraping the sides as needed.

Pour the cauliflower mixture in a medium pot and add the coconut milk and the remaining 1 cup of chicken broth. Turn the heat to medium and stir, bringing the soup to a simmer. Add the coriander, ginger, salt, pepper and turmeric. Allow to simmer on medium-low for about 10 minutes, until all the flavors merry. Give it one last taste and adjust the salt according to your liking. Stir in the lime juice and then divide amongst bowls.

Garnish with a drizzle of coconut milk, cilantro, green onions and sliced almonds. This soup is awesome to make at the beginning of the week and then heat up whenever you like. Stays good in the fridge for up to 5 days.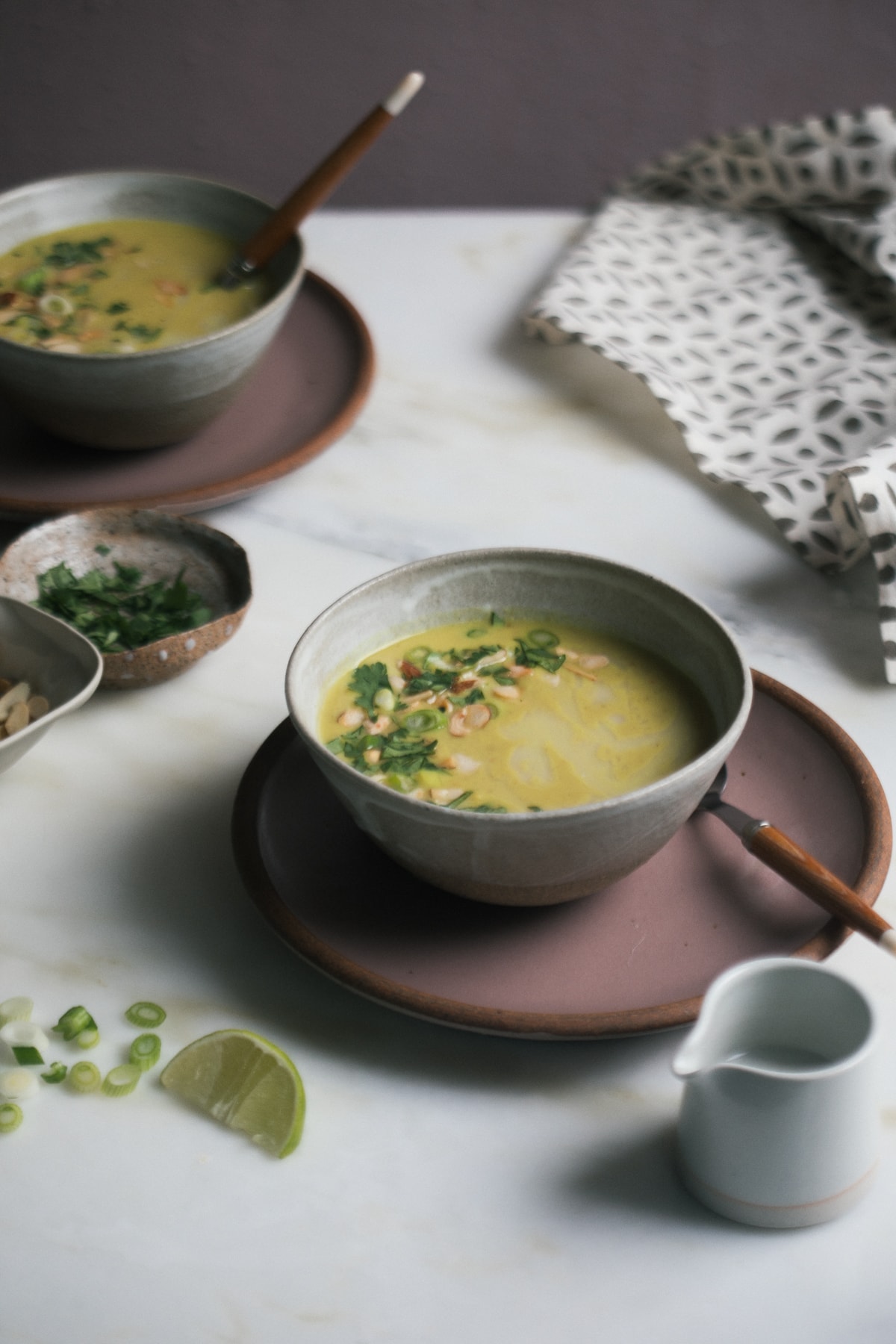 head of cauliflower, cut into florets