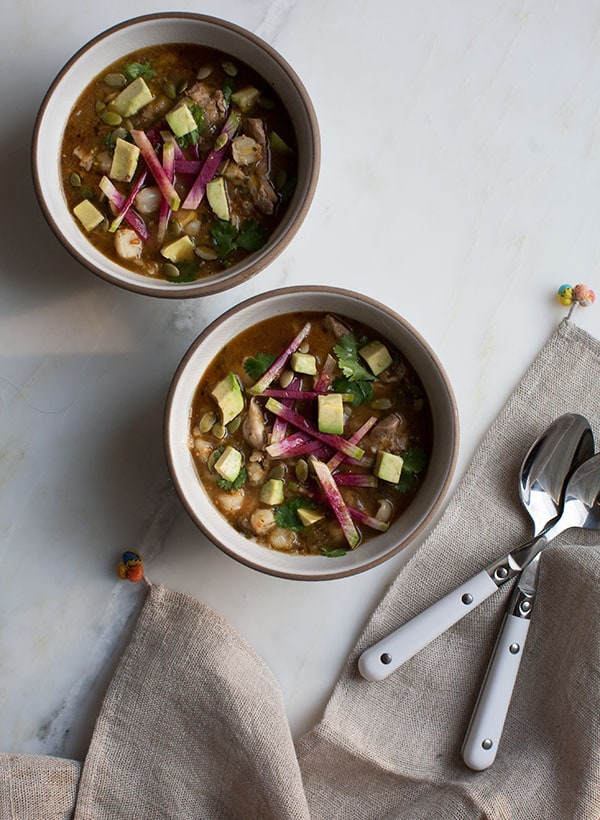 Lately I've been in search of warmth of all kinds. I'll call my mom and listen to her ramble on about her day because I like the sound of her voice regardless of what she's actually saying.
I'm currently obsessed with Amelia's warm chubby paws. She has soft hair growing in between the pads of them hat sometimes the groomer trims down, but I sort of like when he forgets and it grows super long. The warmest of places is the corner of Josh's shoulder where I retreat after a particularly terrible day. No place feels warmer.
And the thing I want to eat when it's cold and damp and sucky is this bowl of green pozole. It comes from Ashley Rodriguez's new book, Date Night In, which is a super pretty book all about my favorite day of the week: DATE NITE.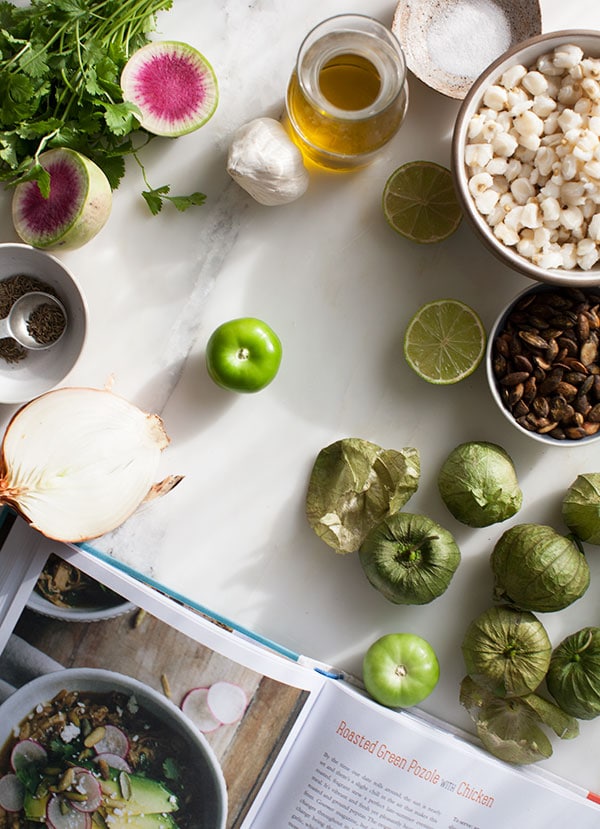 The best part of this pozole is the ground up cumin seeds and pepitas. It adds this really delicious mouthfeel and deep flavor that was really delicious. The tartness provided by the tomatillos was such a winner. This pozole is definitely more stew-like than other pozoles I've had, but I honestly really really liked it this way. Think more stew, less soup.
This book is full of good ideas to sort of push two people together. It encourages love and eating and talking. It's all about valuing what is most important in life.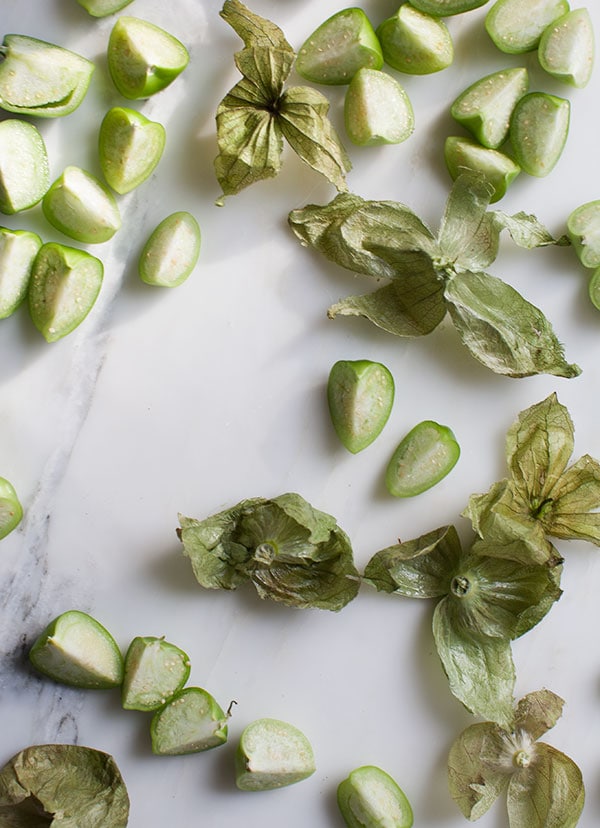 But I'll be honest, Josh and I hardly ever have date night in. Mainly because we both cook for work so the idea of doing dishes and cleaning sounds terrible. But, every now and then, particularly when it's sort of sucky out, we love to cook together. I made this pozole in under an hour, shot it and we ate together as we stared into each other's eyes. LIES. We ate it while we talked about the recent episode of Shark Tank and how this can of compressed air has made Amelia a better behaved animal. V v romantic.
Print Recipe
Roasted Green Tomatillo Pozole with Chicken
Ingredients
½

cup/60 g roasted

salted pepitas, plus more for garnish

1

teaspoon

cumin seeds

toasted

2

tablespoons

vegetable oil

I used olive oil, divided

10

ounces/280 g tomatillos

about 4 to 5 medium size, peeled and quartered

3

garlic cloves

peeled

1

large yellow onion

roughly chopped, plus more for serving

1

jalapeno pepper

halved and seeded

½

cup/10 g chopped fresh cilantro

divided, plus more for garnish

1 to 1 ½

teaspoons

salt

1

teaspoon

dried oregano

2 ½ to 3

cups/ 590 to 710ml chicken stock

homemade or store-bought

4

boneless

skinless chicken thighs, thinly sliced

1

15-ounce/430 g can hominy, drained and rinsed

½

avocado

diced (for garnish)

1

watermelon radish

cut into matchsticks (for garnish)

1

lime

cut into wedges (for garnish)
Instructions
Grind the peptias and cumin seeds in a spice grinder or blender until finely ground.

Add 1 tablespoon oil to a large pot or Dutch oven over medium-high heat.

When the oil is hot, add the tomatillos, garlic, onion, and jalapeno to the pot, along with a pinch of salt. Roast in the pan for 10 to 15 minutes, stirring occasionally, until the vegetables are charred, caramelized in parts, and tender.

Carefully transfer the roasted vegetables to a food processor or blender and process along with ¼ cup/5 g chopped cilantro and 1 teaspoon salt.

Add the remaining 1 tablespoon oil to the pot over medium heat. Return the puree to the pot and cook, stirring frequently until thickened, about 5 to 7 minutes. Scrape up the deeply flavored browned bits on the bottom of the pot. Stir in the ground pepitas and cumin seeds, along with the oregano and 1 cup/240 ml stock. Bring to a simmer and then add the remaining 1 ½ cups/360 ml stock, chicken, and hominy.

Let this simmer, mostly covered, for 20 minutes. Stir in the remaining ¼ cup/5 g chopped cilantro. Taste and adjust seasonings, adding more salt if you feel it needs it. I prefer the pozole to be thick, like a stew, but if you want it thinner, add more stock. Pozole can be made 1 to 3 days in advance, and in fact the flavor improves after a rest in the fridge. Leftovers can be refrigerated for up to 1 week. Serve with accompaniments.