Green Gazpacho
14
Jun 03, 2015, Updated Dec 22, 2018
Disclosure: This post may contain affiliate links, which means I may earn a commission if you click on the link and make a purchase.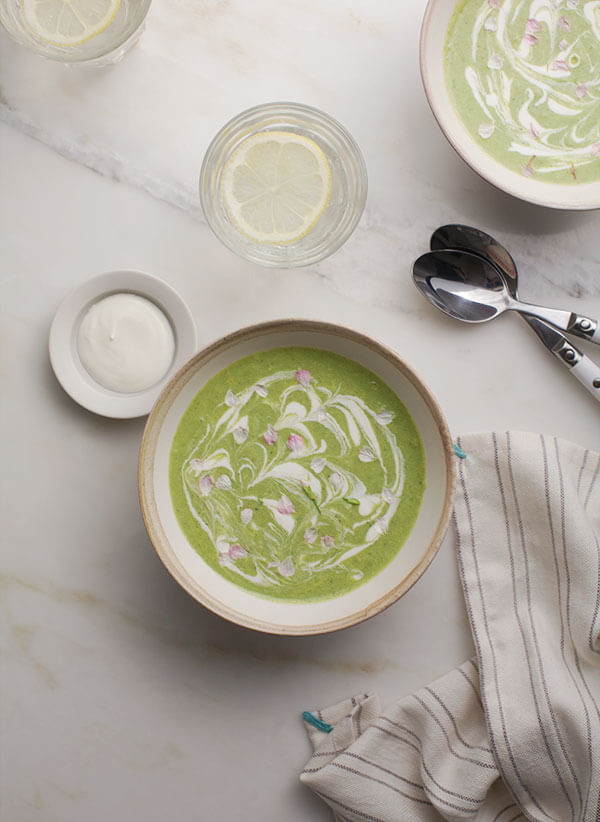 Gazpacho has a special place in my heart. It reminds me of being a kid, sitting on our brown flower sofas, watching Pedro Almodovar movies with my parents and them laughing hysterically. I probably got about thirty percent of the jokes in his movies—I was way too young!
There's a famous scene in Women on The Verge of a Nervous Breakdown when the main character finally recites the ingredients in her ex-lovers famous gazpacho: tomates, pepino, pimiento, ceboillia, una puntita de ago, sal, vinegar, pan duro y agua. I remember my parents being like whaaaa, pan duro?! Translation: stale bread. The secret ingredient to any gazpacho, green or red is bread. Always.
That movie inspired my parent's journey to making the best gazpacho ever. They did it. We had gazpacho every summer because of that movie. Today, I bring you a different version.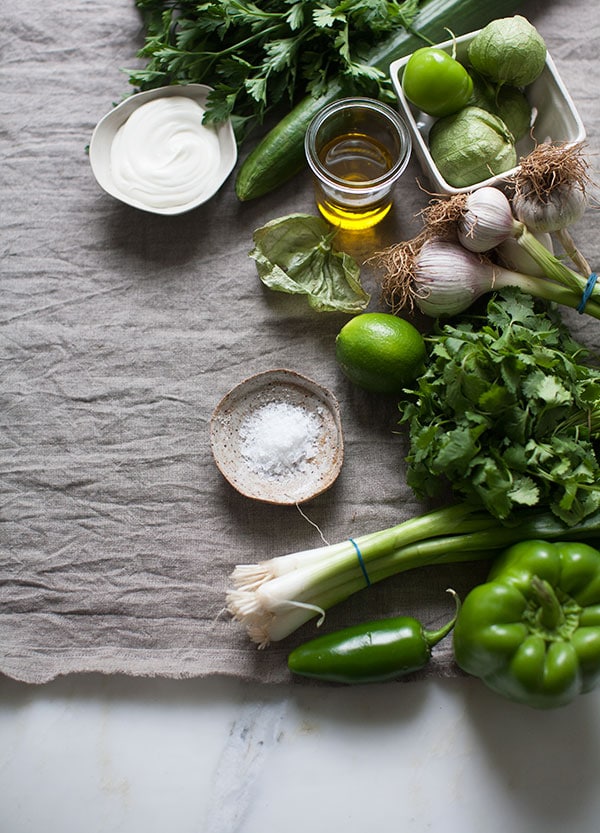 I made this green gazpacho in my new . I'm not gonna lie, I've always been a bit shy about pulling the trigger on investing in a Vitamix. I could always justify the cost because I cook so much, but the space was tough for me. My kitchen is small and some sizes are super large. But not this one! It's smaller, can easily fit in my cabinets, has a container for smoothies, which I use daily, and the power behind this machine means my soups and sauces are super smooth! Since this machine has entered my kitchen, I've actually stopped using my food processor. I just use this Vitamix for everything: pesto, hummus, pulsing dry ingredients like freeze-dried strawberries. It's my go-to.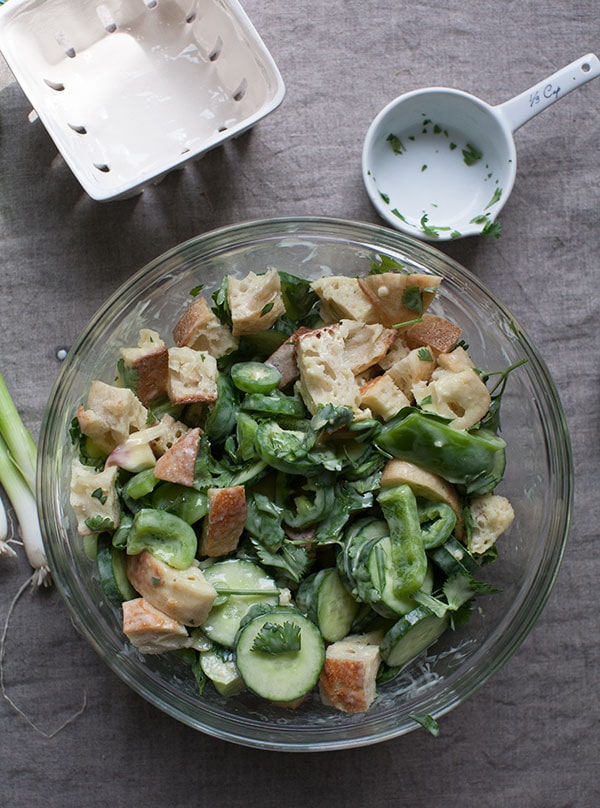 All of the ingredients you see pictured came from my local farmer's market. I like to go early on Sunday mornings, half asleep, so I can get first dibs at all the good produce.
This recipe utilizes all of the fresh produce of this current season. It has interesting layers of flavors. There's a bit of a kick thanks to the jalapeño, it's fresh and vibrant and tart and creamy. Like most vegetable-driven food, it's fresh tasting and uses seasonal and sustainable whole foods that my body craves during these warmer months.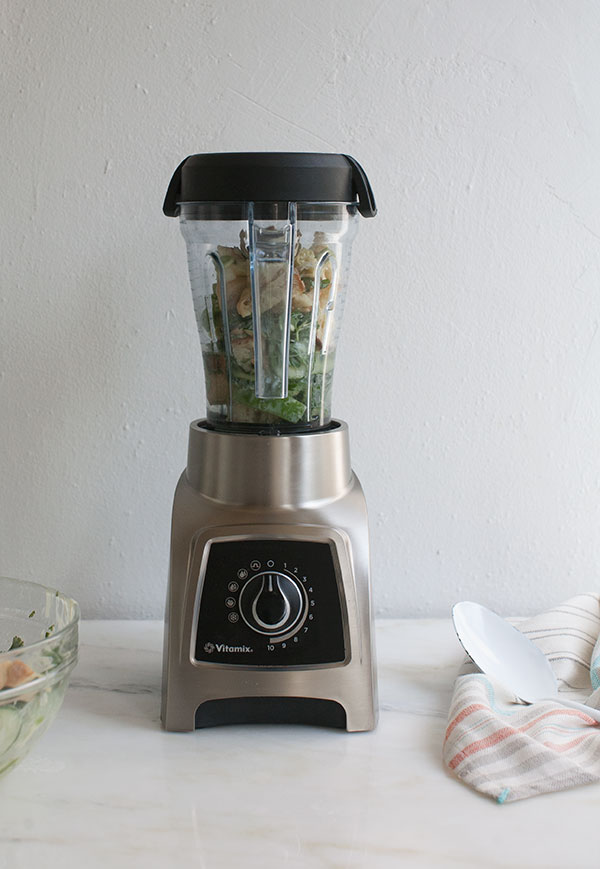 The word gazpacho comes from the Latin word "caspa" which means "fragments" or "little piece." Gazpachos are intended to be easy; perfection is not welcomed. Everything should be loosely chopped, stirred together, marinated overnight and then blended.
Almodovar thought of gazpacho in Women on The Verge as the characters' magic potion. So, we should think of this as our magical summer potion.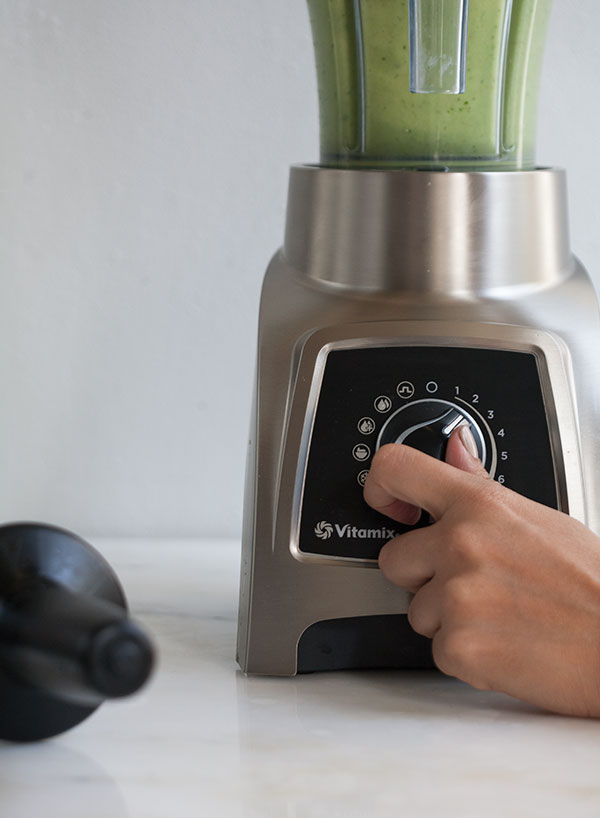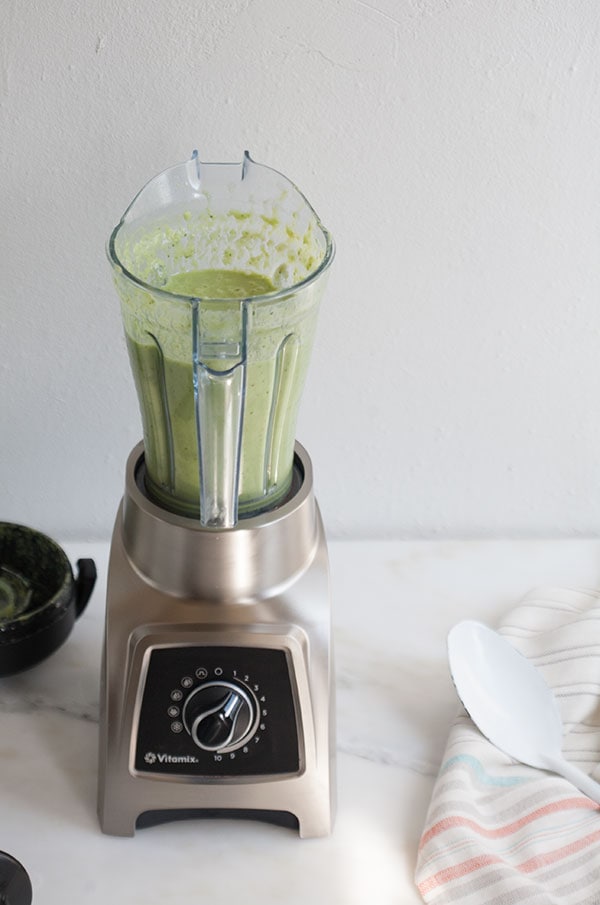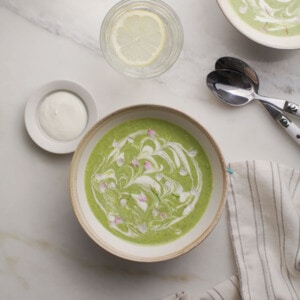 Ingredients
2

tablespoons

champagne vinegar

Juice from 1 lime

1/2

cup

crème fraîche

,

plus more for topping

1/2

cup

plus 2 tablespoons olive oil

1/2-

teaspoon

fine-grain sea salt

2

cups

cubed sour dough baguette

,

about 1/4 baguette

2

Persian cucumbers or 1 hot house cucumber

1/2

green bell pepper

4 to

matillos

,

husked and quartered

3

scallions

,

sliced

1

garlic clove

,

rough chopped

1/2

cup

tightly packed chopped Italian parsley

1/2

cup

tightly packed chopped cilantro

2

tablespoon

radish flowers

,

chive flowers or arugula flowers (optional)
Instructions
To a large bowl, thoroughly whisk together the champagne vinegar, lime juice, creme fraiche and olive oil and salt. Add the cubed bread, Persian cucumbers, green bell pepper, tomatillos, scallions, garlic clove, Italian parsley and cilantro. Toss together until all of the ingredients are coated in the dressing. Cover with plastic wrap and transfer to the fridge to marinate for at least 4 hours, ideally overnight.

2. Note: Depending on the size of your blender, you may need to do this in batches. Pour in 1 cup of water to the blender and then add all of the gazpacho ingredients. Blend on low for about a minute, tapping the ingredients down as needed. You want to make sure all of the ingredients are mostly blended. The soup may look broken but don't worry, it'll come together. Next, turn the machine to high and blend for 1 minute. Remove the lid, give it a taste and adjust the salt to your liking. Pulse once more. Transfer the soup to a serving bowl and mix in 1/4 to 1/2 cup of water. The consistency should resemble heavy cream. Divide the soup amongst bowls and top with a bit more of crème fraîche and if you're feeling super fancy (I was), you can add little edible flower petals like chive flowers, radish flowers or arugula flowers.
This post was sponsored by Vitamix.