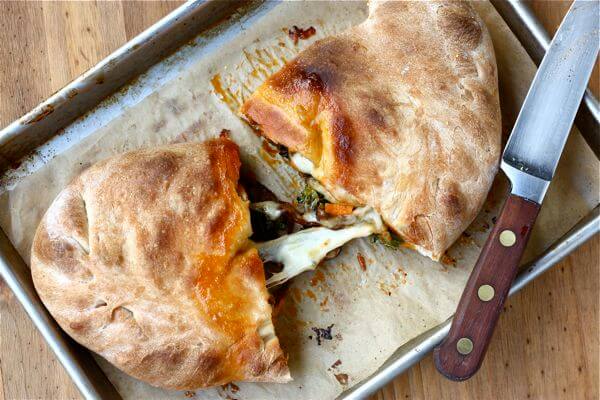 Uh-oh…this calzone shouldn't be a calzone.
Nope. It totally should be a picture of a pizza…topped with layers of ricotta, melted mozzarella, cubes of roasted butternut squash and broccoli rabe. That was the plan.
This pizza was supposed to convince me that broccoli rabe isn't this gross, bitter leaf situation…well that failed. I tried. I did. I blanched it, I sauteed it with garlic, seasoned it…even paired it with something like the butternut squash to offset its disgustingness. Didn't work. It's just gross. It just is.
I was gonna post it anyway, thinking some of you lunatics actually might like it…but I dunno…looking at the pictures of the pizza bummed me out, so I decided to turn the leftover ingredients (from the pizza) into something more awesome!!
Meet this calzone…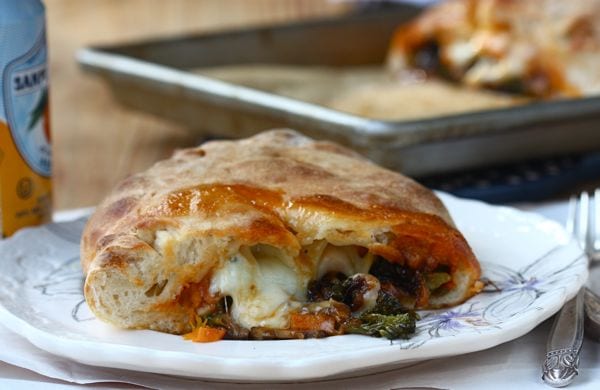 Have you ever noticed that Taco Bell works with, like, 10 ingredients.
And then they just re-invent different burrito crunches, XXL chalupas, etc. with those same ingredients–it's pretty genius.
Their chefs kinda remind me of those people that you can hire to come over and look in your closet and pair your already existing clothes together, creating brand-new outfits.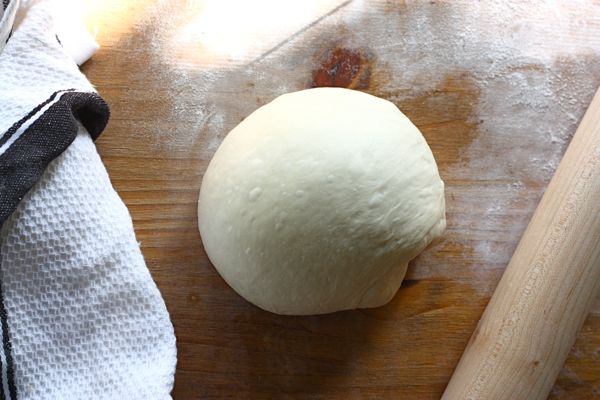 Calzones remind me of those taco bell inventions. And those outfit inventors. (I think they're called stylists.)
So, calzones are basically just pizzas in turnover form. Yet they taste different for some reason?
I think classier. Maybe because they require a fork and knife? Maybe because their new shape has those crimped edges?
Either way, they're delicious.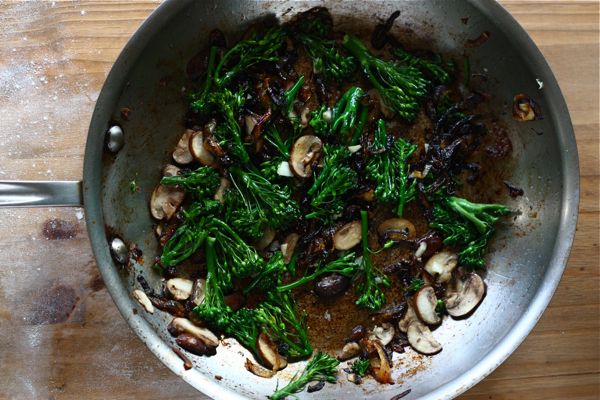 These things can take whatever you have lying around in the fridge.
In my case I had broccolini, squash, cremini mushrooms (leftover from the mushroom tacos!), a yellow onion and mozzarella.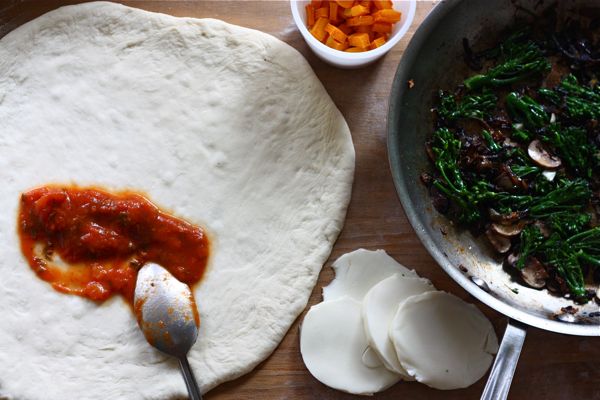 I roasted the squash.
I caramelized the onions.
Added (to the same pan) the thinly sliced mushrooms, broccolini, garlic, seasoned them and then put 'em in the calzone, along with some tomato sauce and cheese.
Flipped over one half, did a (terrible!) crimp action, sliced a hole in the top and baked it for 20 minutes.
Pizza…BOOM!…re-invented!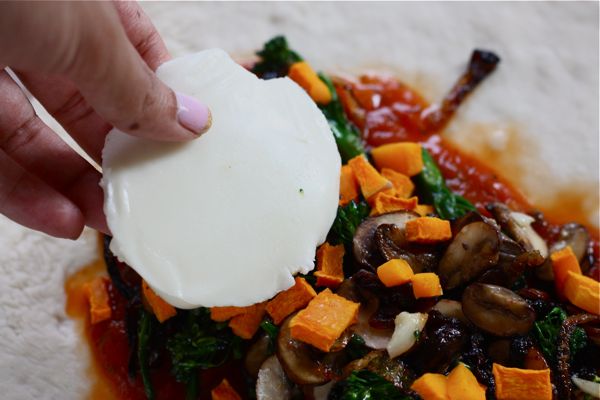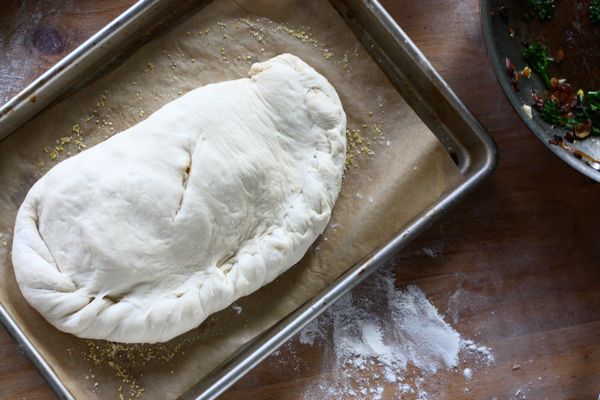 Calzone
Olive oil
1/2 yellow onion, thinly sliced
Pinch of salt
1/2 cup butternut squash, cubed
1/2 cup broccolini, trimmed
1/2 cup cremini mushrooms, sliced
1 garlic cloves, minced
1 – 12-ounce prepared pizza dough (I used this recipe!)
3 tablespoons jarred marinara sauce
1 – 4-ounce mozzarella ball (low-moisture-not water packed!)
In a medium skillet, heat olive oil over medium heat. Add thinly sliced onions and pinch of salt. Cook onions for 30 minutes, or until onions are browned and caramelized.
While the onions are cooking, pre-heat oven to 400F. Place cubed butternut squash on a baking sheet and toss with a teaspoon of olive oil and sprinkle with salt and pepper. Roast for 15 minutes, or until soft. Remove and set aside.
When onions are caramelized, add broccolini and cremini mushrooms and sauteé for 5-10 minutes. Add garlic to the top and cook just until fragrant.
Lightly flour your work surface and roll out pizza dough to a 1/8-inch thick circle. Transfer pizza dough to a piece of parchment. Add the tomato sauce to one half. Top with broccolini/mixture. Add the butternut squash and then finish it off with a few slices of mozzarella.
Fold dough in half, over filling, and crimp as desired to seal. Transfer parchment with calzone to a baking sheet. Using a knife, slice a hole in the top. This will allow steam to escape as it bakes. Place it in the oven and cook until dough is puffed up and golden brown, 15-20 minutes.