Fried Calamari with Quick Marinara
15
May 19, 2014, Updated Jan 04, 2019
Disclosure: This post may contain affiliate links, which means I may earn a commission if you click on the link and make a purchase.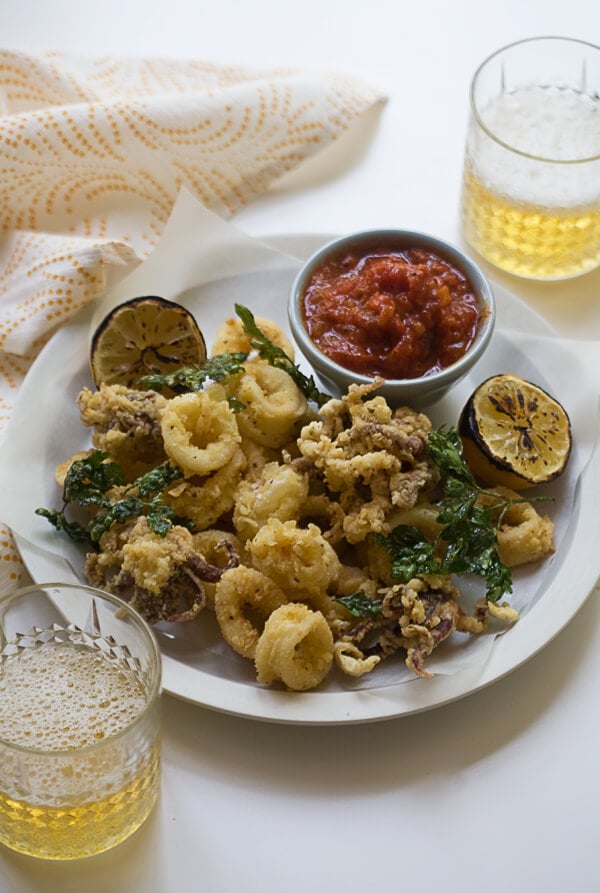 No matter who you are, you'll like this recipe. You'll LOVE this recipe if:
A. You grew up in the 90s and used to go to TGIFridays with your friends where you'd eat appetizers only.
B. You and your parents would go out to dinner at Olive Garden and you'd order fried calamari and the tentacles would terrify you, but you'd still play with them and give them voices.
C. If you went to Macaroni Grill and loved drawing (borderline offensive) things on the paper tablecloths in crayon.
I know I just described my 12 year old self here but I also did all of these things in college, too. Very little spiritual growth happened for me during that time.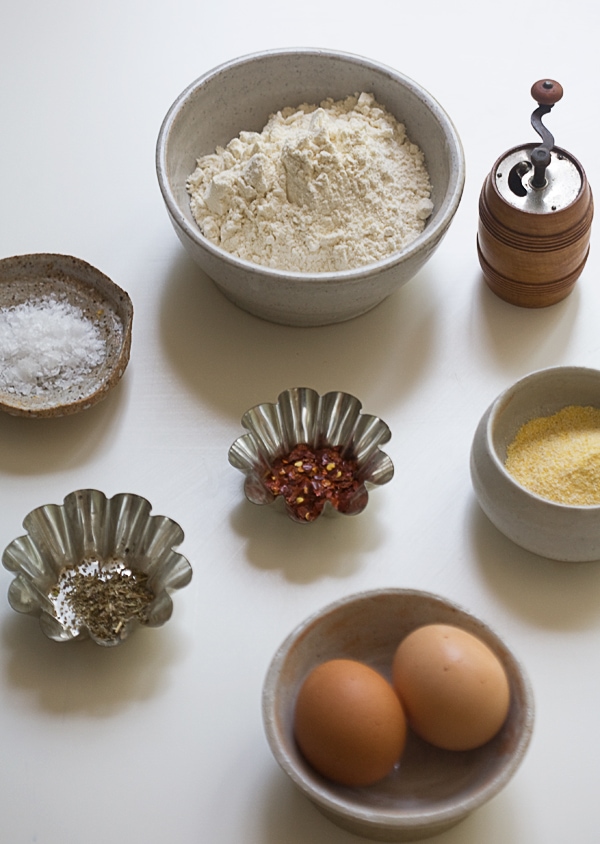 I'm excited about this recipe. EXCITED.
I guess I can say that this is a fancy version of the calamari you had at any of those restaurants but that'd be kind of a lie. This is just the version that doesn't have any prepackaged foods that they heat up in the wood fire grill so you think everything is homemade.
Everything just is, which automatically makes it better. If you've never purchased calamari at the grocery store to prepare at home, don't be intimidated. Calamari is actually SUPER inexpensive. And at most grocery stores, they clean it up for you so it's ready to go. All you'll have to do is cut it up in 1-inch tubes. As a child, I was terrified of the tentacles. I thought they were super alien-esque and it made me think I was eating E.T. which was not ok because he was my favorite.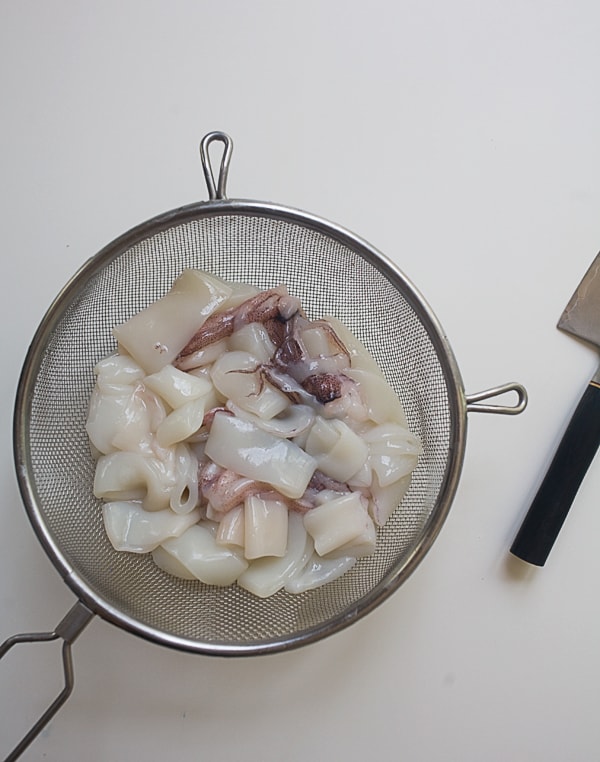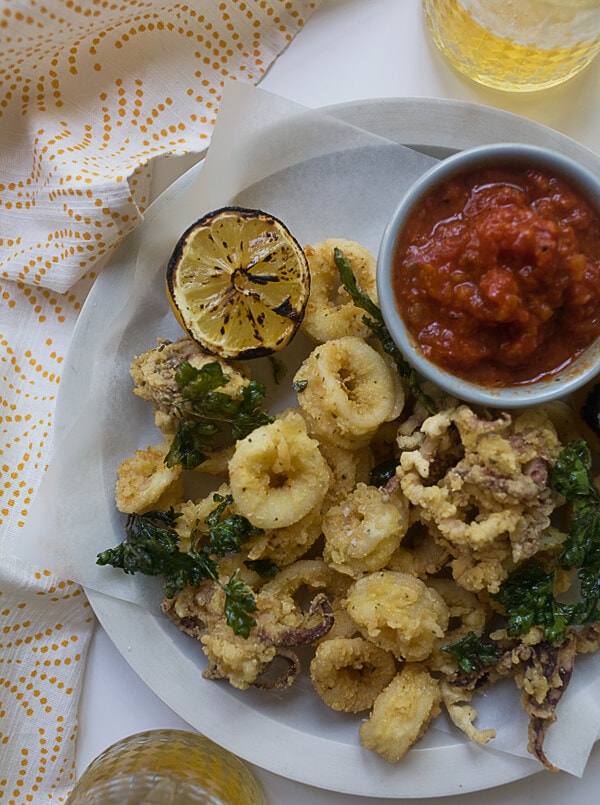 Now, I think they're really pretty.
The one trick to good tasting calamari is to not over cook it. It overcooks quickly, so below you'll see 1 to 2 minutes. Be sure to stick to that.
Oh and charred lemons. Good gracious. It makes it a million times better and it's as simple as placing lemons on the grates of your gas range.
This appetizer is a bit of a time machine. And I loved it.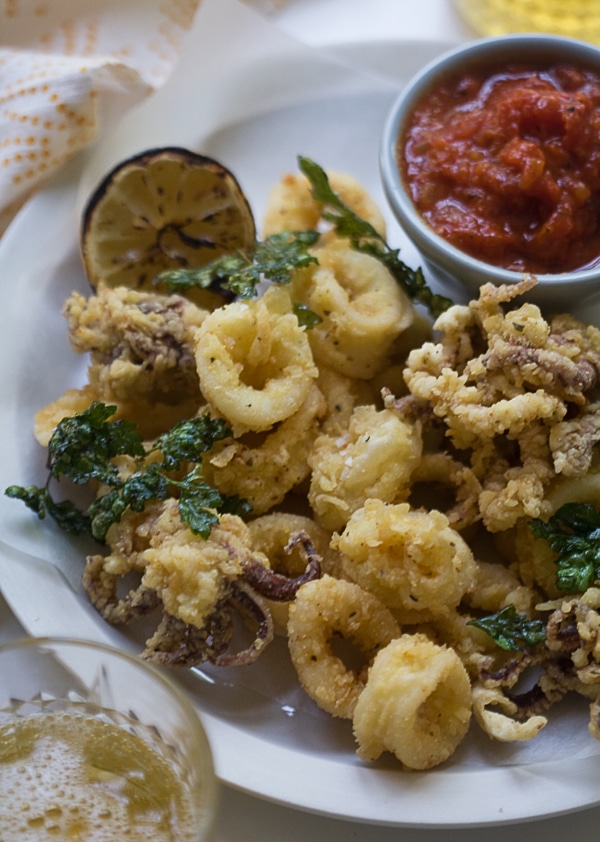 Fried Calamari with Quick Marinara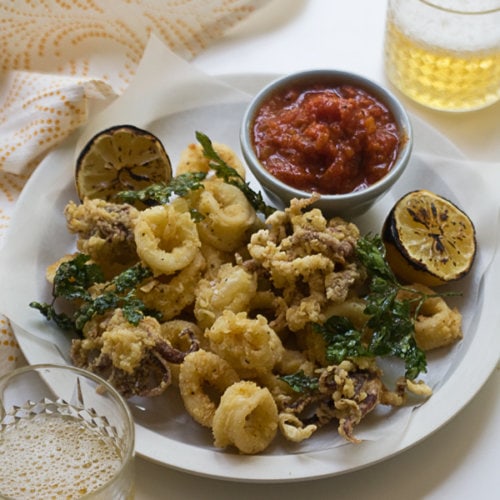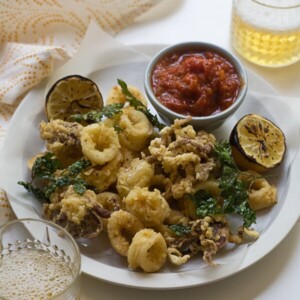 Ingredients
Sauce:
1

teaspoon

olive oil

1

shallot

,

diced

2

garlic cloves

,

minced

1

14-ounce can San Marzano crushed tomatoes

1

small carrot

,

grated

1

teaspoon

Italian seasoning

1/2

teaspoon

salt
Calamari:
2

large eggs

1 1/2

cup

all-purpose flour

1/4

cup

corn meal

2

teaspoons

Italian seasonings

1

teaspoon

salt

3/4

teaspoon

crushed red pepper

1

pound

calamari and tentacles

,

cleaned and cut into 1-inch tubes

Vegetable oil

3-4

sprigs of Italian parsley

1

lemon

,

halved and charred
Instructions
To a medium saucepan, heat the olive oil over medium heat. When the oil is hot, add the shallot and minced garlic; cook until softened, 2 to 3 minutes. Pour in the crushed tomatoes, grated carrot and Italian seasoning. Bring the tomato sauce for to a simmer and then immediately bring the heat down to medium low. Simmer, allowing the sauce to reduce, for 5 to 7 minutes. Mix in the salt and adjust seasonings to your liking. Cover the pot, so the sauce doesn't reduce anymore, and bring the heat down to very low.

In a medium bowl, beat together the two eggs. In a large bowl, toss together the all-purpose flour, corn meal, Italian seasoning, salt and crushed red pepper.

In a medium pot, pour in 3 inches of oil. Heat the oil to 325 degrees F. Working in batches, transfer the calamari and tentacles into the bowl with the beaten eggs. Transfer the calamari, a few handfuls at a time, into the flour mixture, being sure the calamari is thoroughly coated. Using a fork (I found this to be the best tool), drop the flour-dusted calamari into the hot oil, cooking for 1 to 2 minutes, until light brown. Transfer to a bed of a paper towels to drain. Place the fried calamari into a warm (200 degree F) oven while you fry up the rest of the calamari. Repeat the dredging, frying steps until you've worked your way through all of the calamari. For garnish, add a few sprigs of Italian parsley to the hot oil, cooking for about 1 minute.

Transfer the calamari and fried Italian parsley plate and serve with warm marinara sauce. Garnish with the charred lemon.