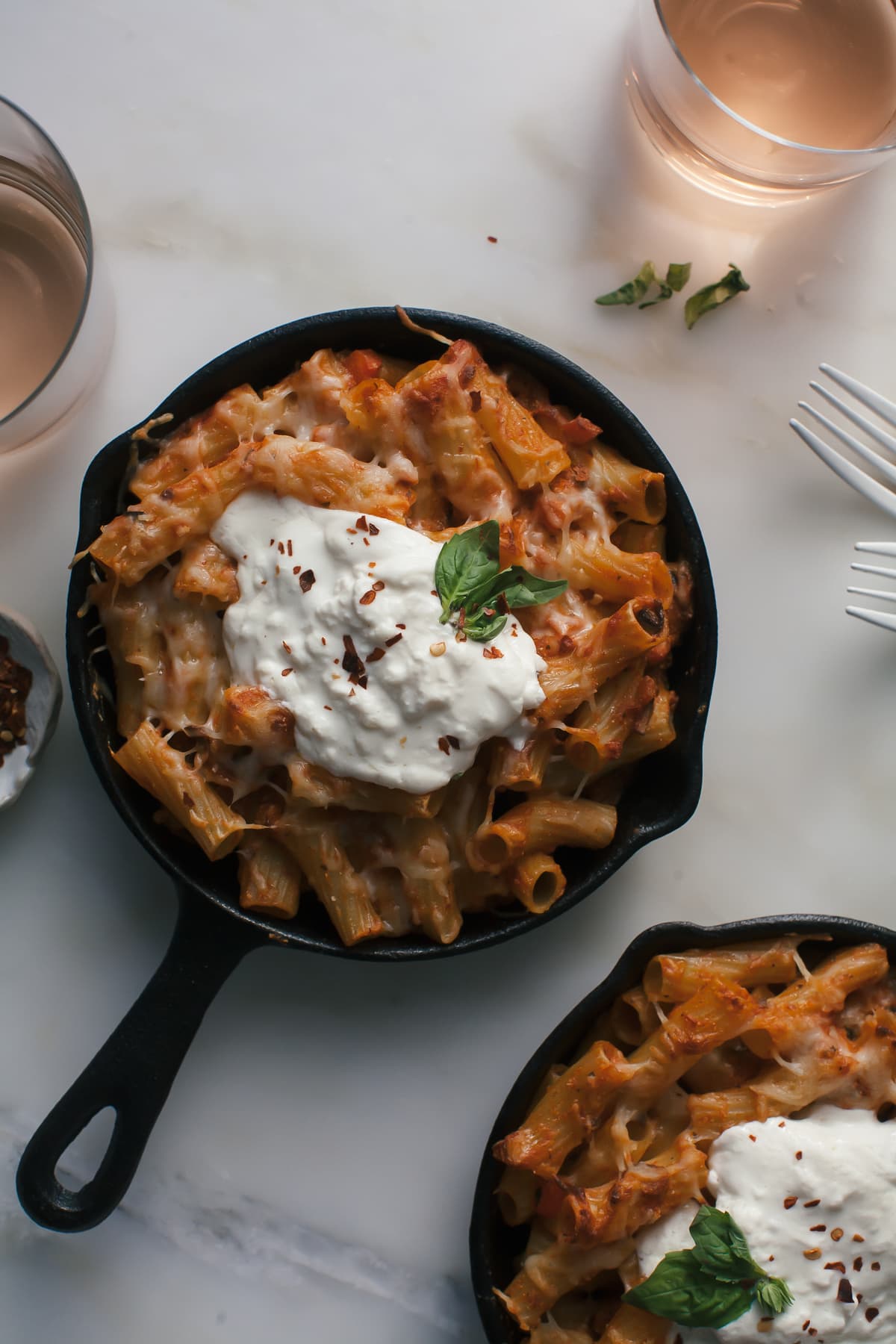 CARBS is a gift I can get behind for V-Day. I'm not a big go-out-to-dinner V-Day person. Instead we like to just stay in and cook a quiet, chill meal and then watch something trashy on television while talking about how we still can't believe we let a crazy corgi live with us.
We're actually headed to Big Bear on Sunday and I'm super excited to hang out in the snow and stay in a cabin for a few days, especially since there's this really strange and unusual heat wave in LA right now and it's really bumming me out. It makes me want to move. The snow will be a much welcomed change. I also maybe sorta bought Amelia a parka so that'll be cool. (She already hates me.)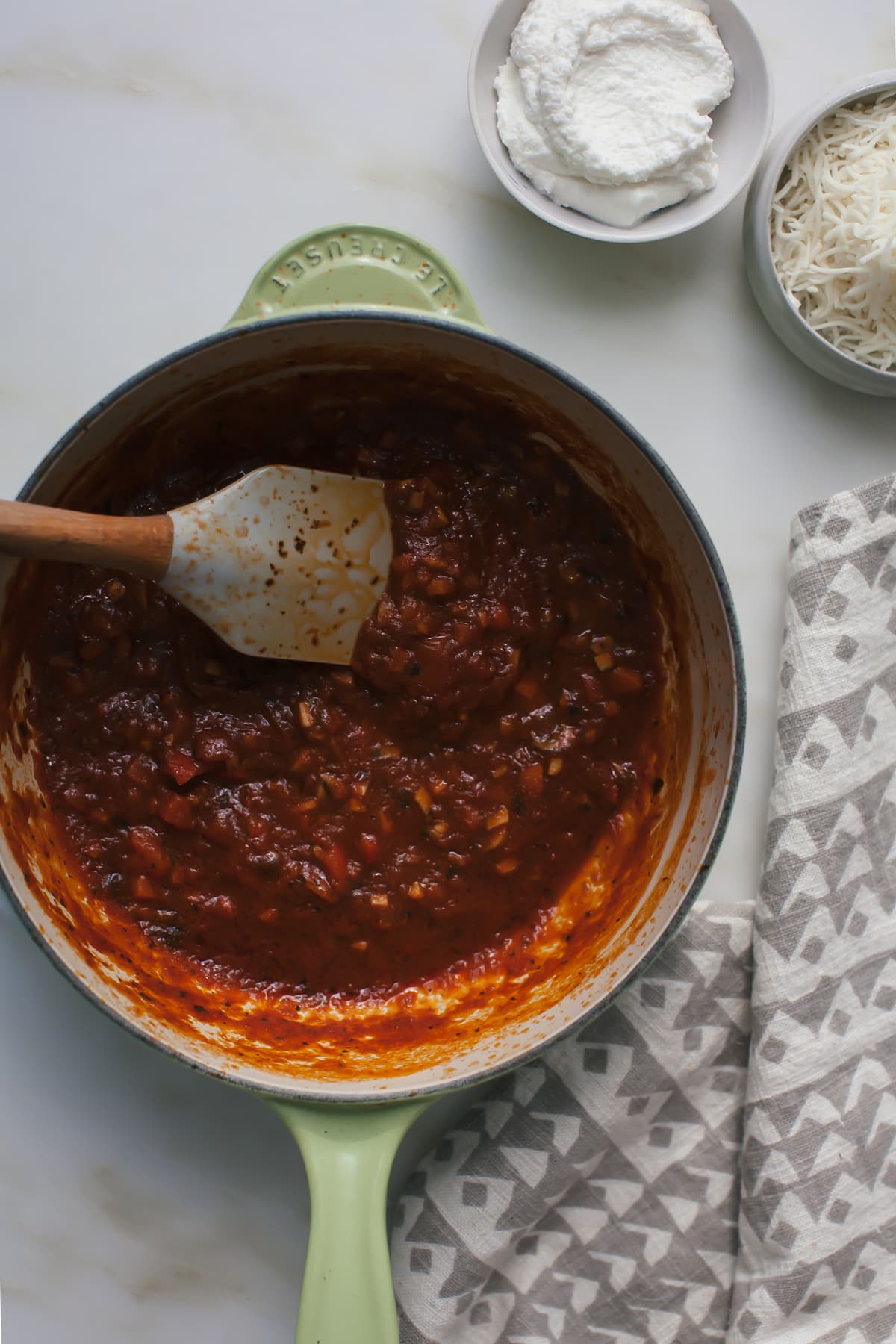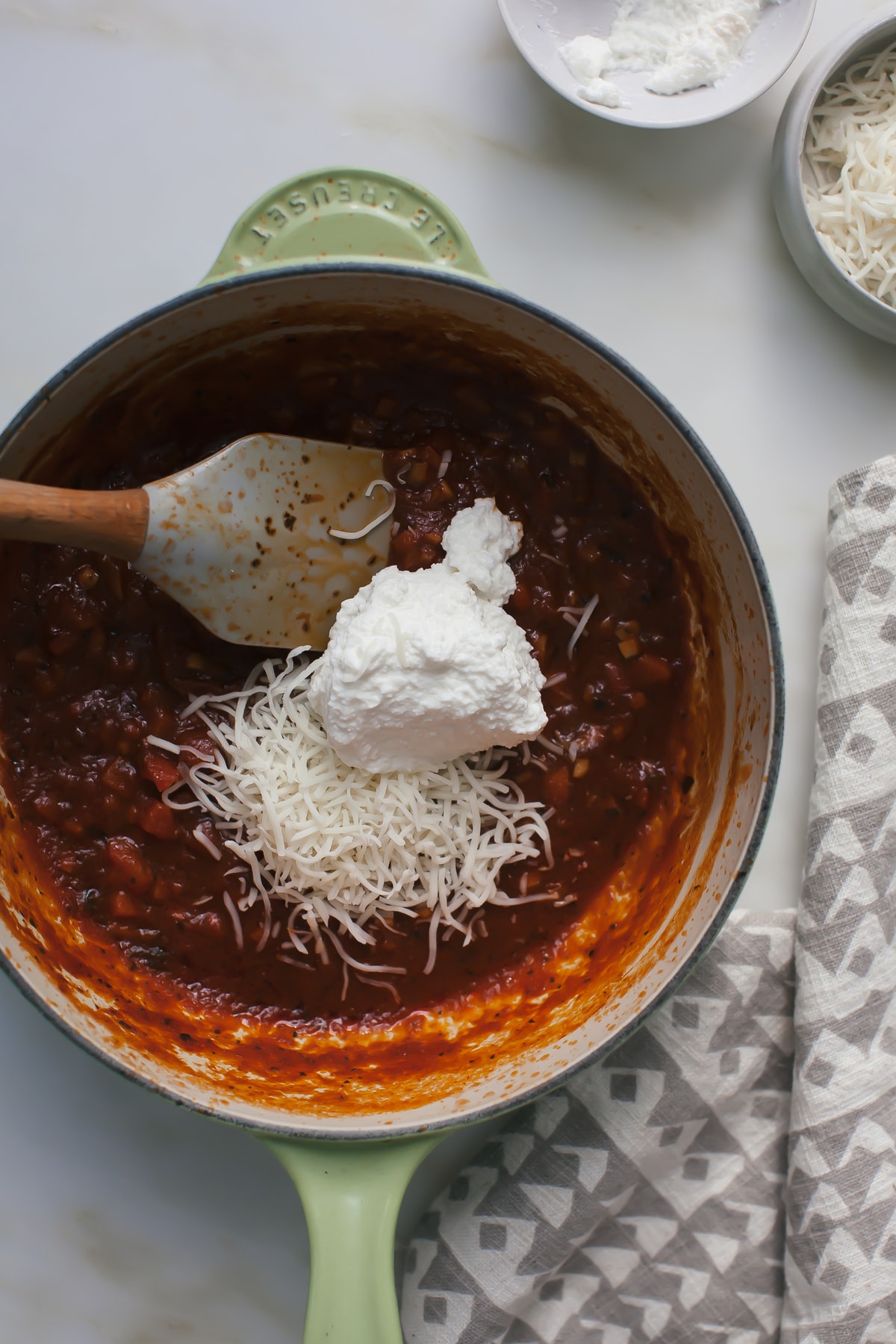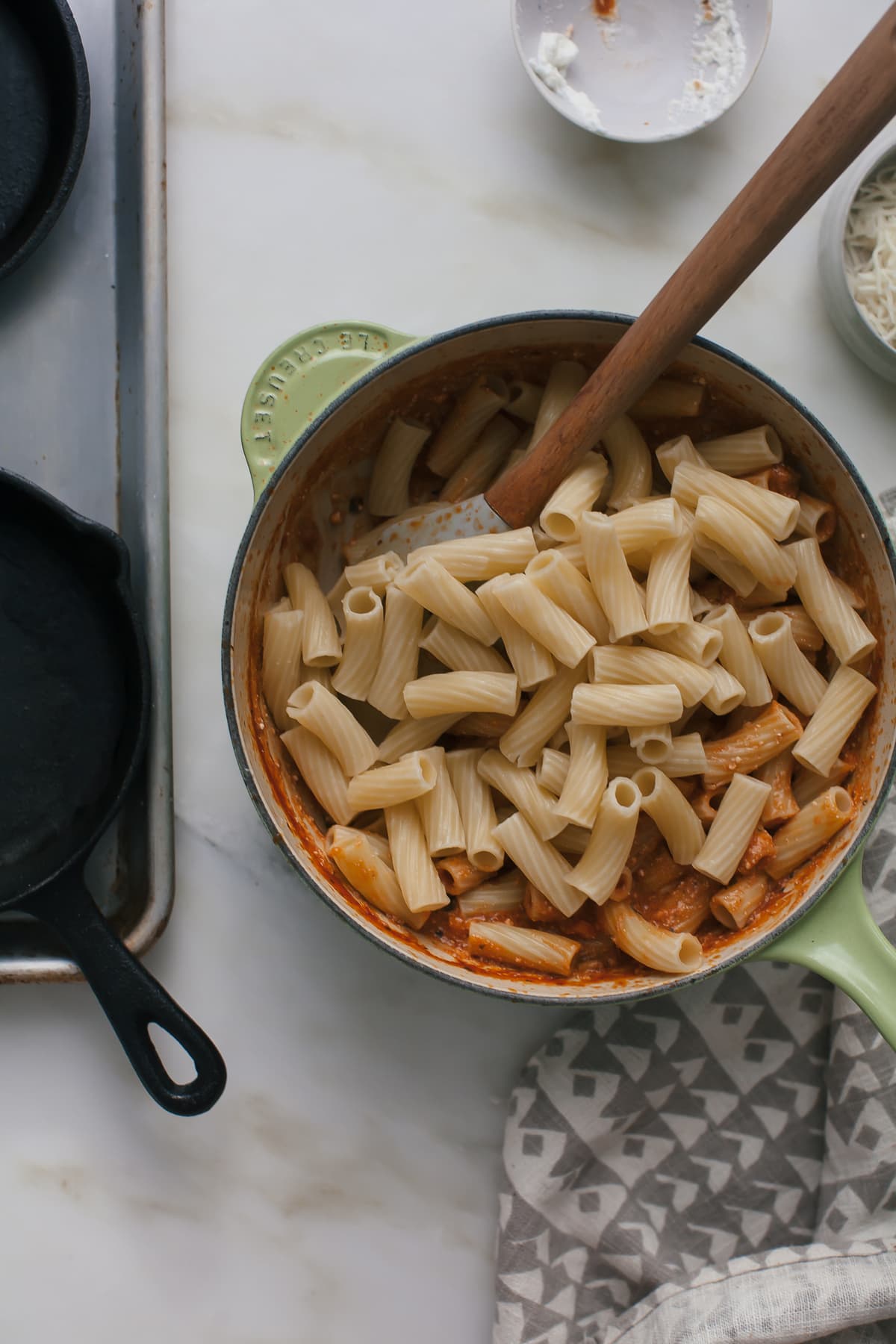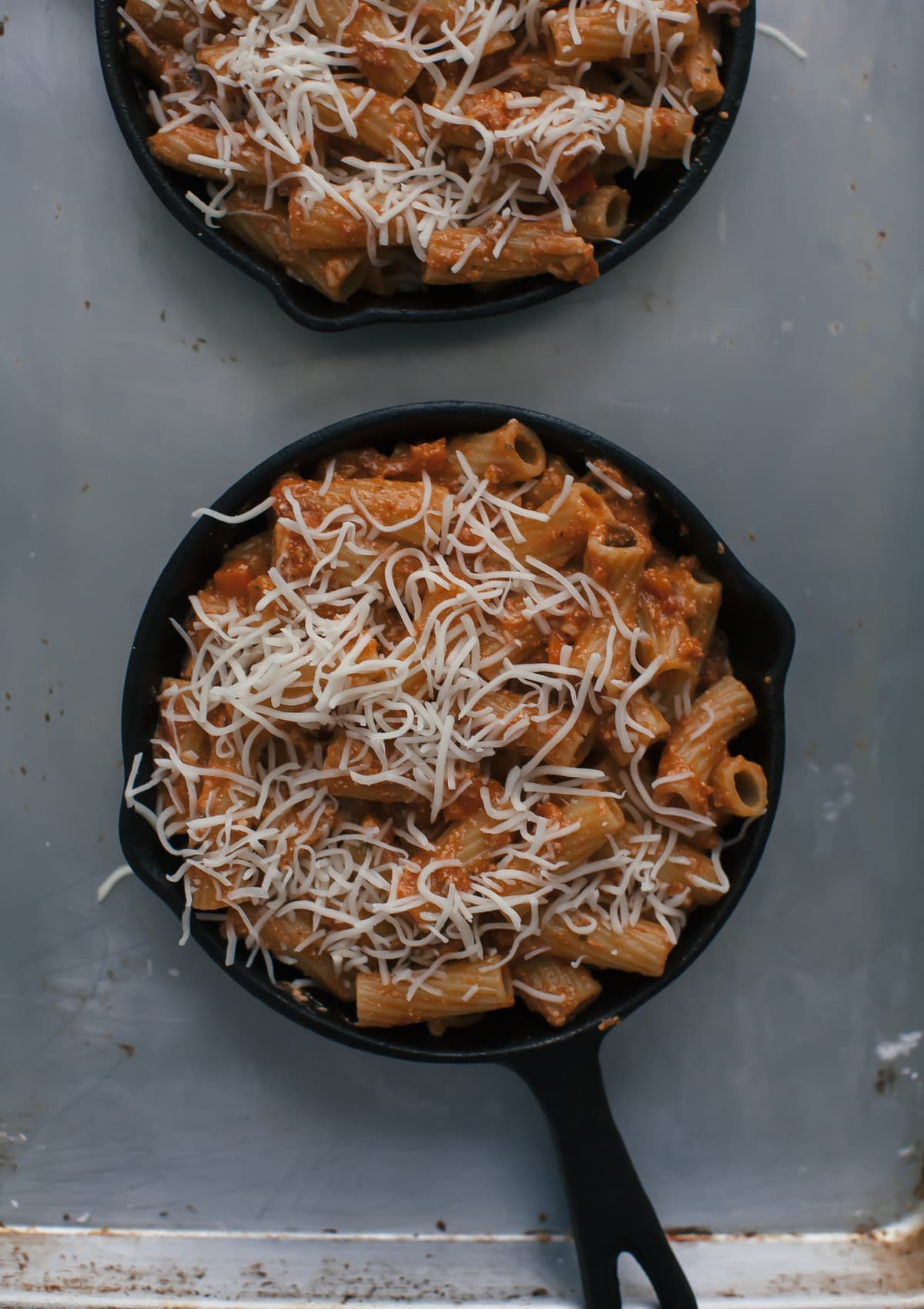 Fun fact! Josh and I actually went to the same tennis camp as kids in Big Bear. Maybe just different years? Maybe. It's sort of wild to think that we could've been at summer camp together and just never met each other/remember each other.
And now we're going back. I have really fond memories of Big Bear so it should be a fun lil' time.
Now, onto this pasta situation.
It's a veggie baked ziti so no meat. Just diced up carrots, red bell pepper and mushrooms. The sauce is mixed with a bit of mozzarella and ricotta for some lightness. And then the whole thing is baked. At the very end, you add half a ball of burrata to each dish and then put it back in the oven until it's juuuust melty. The results are SO GOOD it made me want to cry.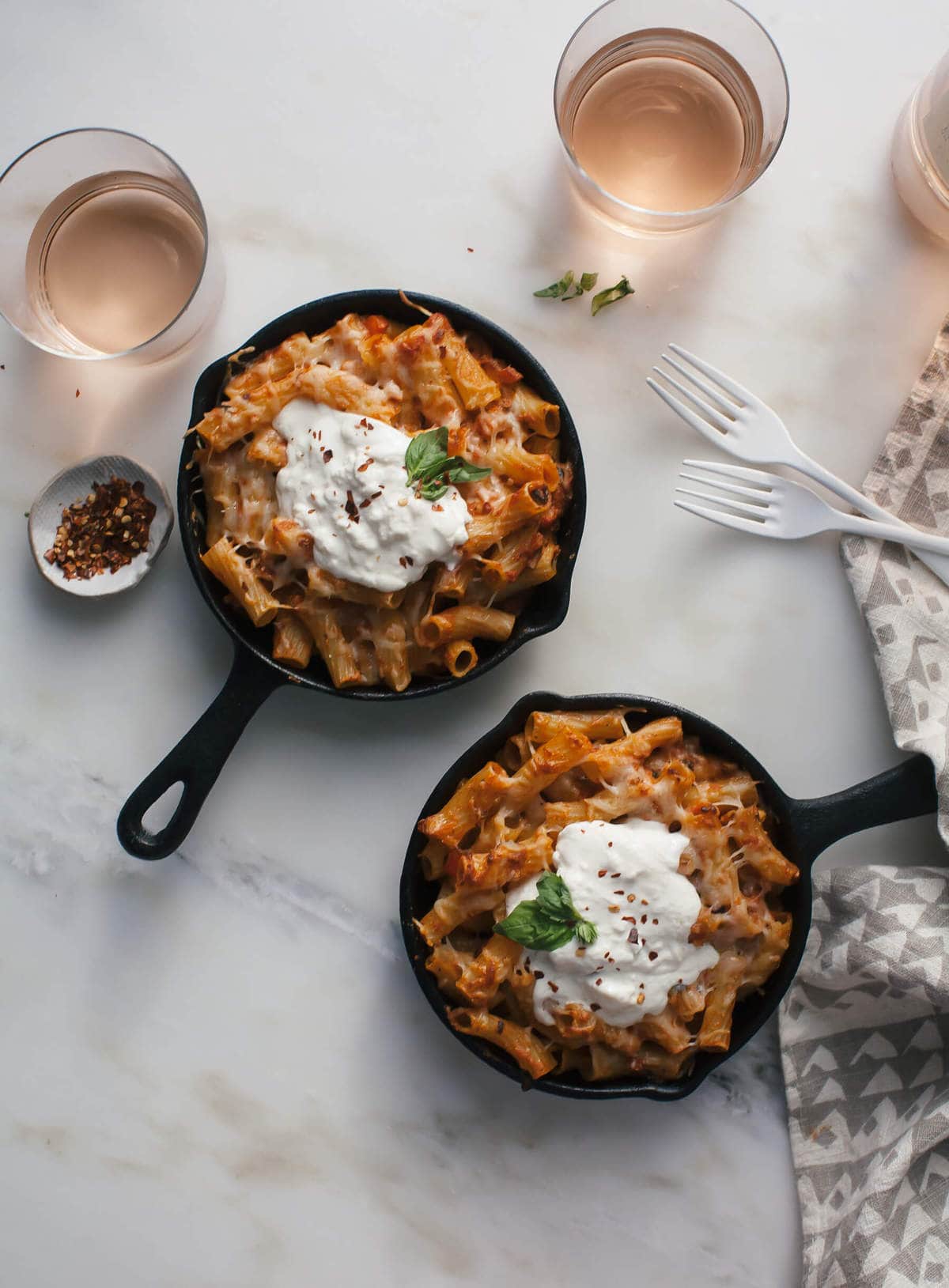 Veggie Baked Ziti (For Two) with Burrata
Print
Ingredients
1

teaspoon

olive oil

1

small carrot,

,

peeled and diced

1/4

red bell pepper,

,

diced

3

mushrooms,

,

stems removed and diced

1

garlic clove,

,

minced

1

cup

crushed tomatoes

,

(from a can) or store-bought marinara sauce

1/2

teaspoon

salt

1/4

teaspoon

to 1/2 teaspoon

,

(depending on how much you like heat) crushed red pepper, plus more for garnish

1/4

cup

water

1/4

cup

shredded mozzarella,

,

plus a 1 tablespoon for topping

1/3

cup

ricotta

1

ball of burrata

1/2

pound

ziti

Basil leaves or Italian parsley,

,

for garnish
Directions
In a medium saucepan, set over medium heat, add the olive oil. When the oil is warm, add the carrot, red bell pepper and diced mushrooms. Cook until softened, about 5 minutes. Next, mix in the minced garlic, crushed tomatoes or marinara sauce, salt and crushed red pepper and 1/4 cup of water. Bring the sauce to a simmer and reduce the heat to medium-low. Cook until the sauce has thickened, about 7 to 8 minutes. When the sauce has thickened, add the mozzarella and ricotta and mix it until combined.

Meanwhile, to a pot of salted boiling water, add the ziti and cook until al dente. Drain and add to the pot with the sauce and mix until the ziti is thoroughly coated in sauce.

Preheat the oven to 350 degrees F. Let's talk about the vessel. You can use two mini cast iron pans. Or you could use one small 8-inch baking dish or even a loaf pan would work nicely. add the ziti amongst whatever vessel or vessels you're using. Top with a small sprinkling of mozzarella. Transfer to the oven and bake for 20 minutes. At the 20 minute mark, remove it from the oven. Remove the burrata from its casing and divide it into two portions (obviously if you're using one 8-inch serving dish then don't divide it). Add it to the center of the ziti and place it back in the oven to bake for 3 minutes longer, just until it's melty and warm. Garnish with a teeny bit of crushed red pepper and a few leaves of fresh basil or Italian parsley.