This Lasagna for Two Recipe is a classic lasagna but made for two people in a loaf pan. This is convenient when you want lasagna but don't want to make a huge amount for tons of people!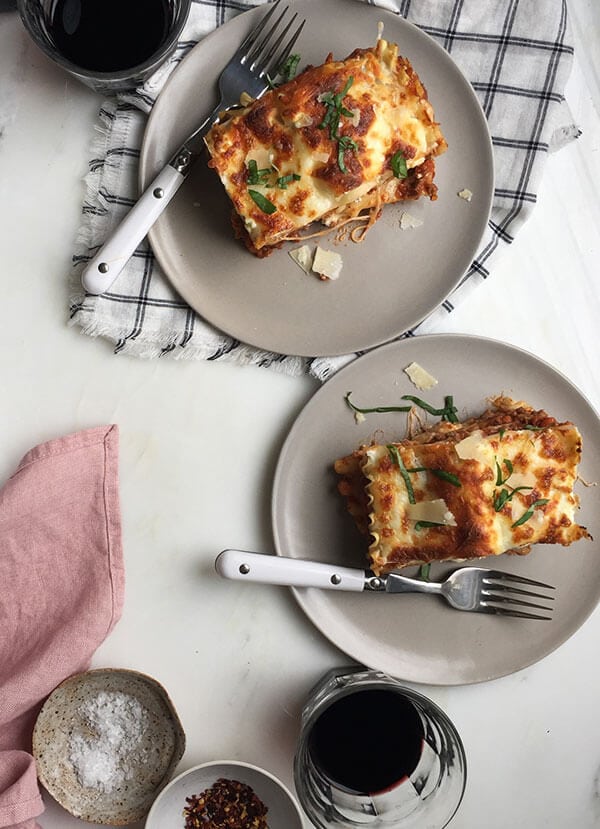 It's time for this Lasagna for Two Recipe!
So, usually in, oh I dunno mid-January, is when everything on Pinterest begins to be heart-shaped and red. Pancakes, jell-o, cookies, meringues, you name it. And every single time, my internal knee-jerk reaction is to whisper:
"DIE DIE DIE DIE"
I can't help it. I'm just not a huge fan of Valentine's day, but over the years I've realized it doesn't have to be a lame holiday. There are tons of ways to have a perfectly enjoyable Valentine's Day without it being dumb and annoying.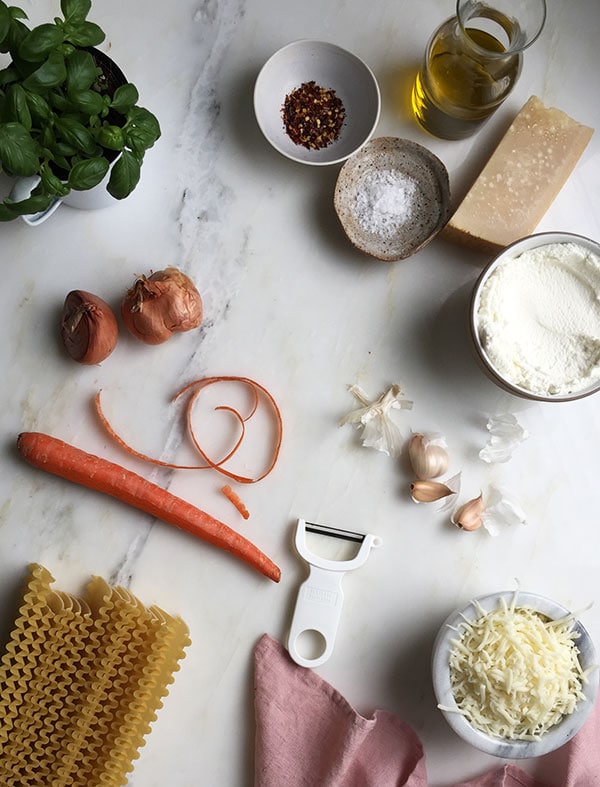 First step: Don't buy champagne (grocery stores usually mark it up during V-Day anyway). Drink a pét-nat instead. Or beer. I love beer.
Third step: If you're going to buy the cheesy candy from the drug store, buy it the day after when it's 50% off. Duh.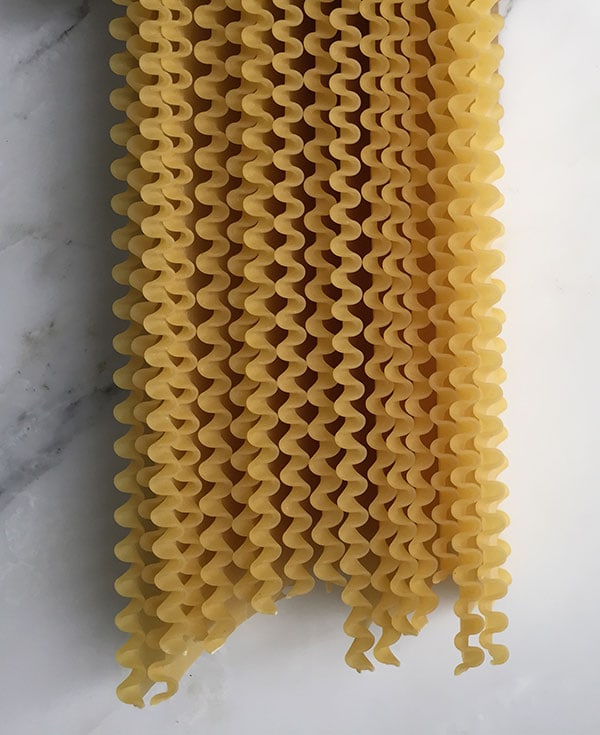 And lastly, fourth step: STAY HOME. Cook dinner for you and your man/girl or friends. Restaurants where prix fixe menus exist and they put heart-shaped confetti on the tables makes me want to vom.
Why Lasagna for Two Is Amazing?
A few months ago, Josh and I were craving lasagna. We wanted layers and layers of cheese and bolognese and carbs. But what we didn't want was a bunch of leftovers so when I was going through my baking dishes to decide which one we should and use none of them worked (all of my small ones are round), I noticed my loaf pan just whispering my name, dying to be put in the game. I'm so glad we figured out how to make this Lasagna for Two recipe.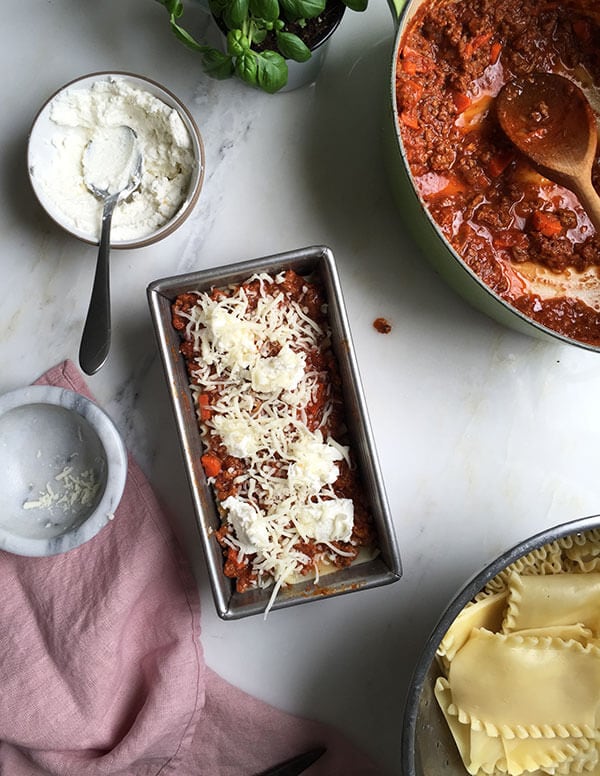 The clouds parted in the sky! AHHHH!! It's the perfect size for lasagna sheets (though they do need to be put side-by-side and overlapped by a bit).
We started a homemade bolognese, put it on low and allowed it to simmer for an hour while we went on a hike with Amelia. When we came home, we opened a bottle of wine, layered that bitch and put it in the oven. It was a glorious dinner for two.
We couldn't eat the entire loaf pan but the leftovers were manageable (I'd say we ate a bit more than half), which meant the next day we had just enough for lunch. Dinner perfection.
How to Make this Lasagna for Two Recipe
This recipe is super easy but here's how I like to make it:
Make the ragu! It's super simple and classic. It has onion, carrots, spices, crushed tomatoes, tomato paste that all simmers together for about 45 minutes. It really marries all the flavors together which is essential to developing a delicious ragu.
Cook the noodles. I like to cook the noodles. Whenever I cook no-cook lasagna noodles, I find they aren't as delicious. I always like to cook my noodles a minute or two under so they're nice and al dente.
Layer the lasagna. This recipe uses ricotta and mozzarella. I like to dot the ricotta on, add the sauce and then add a liberal handful of mozzarella. Repeat with the layering.
Freeze if you like! This is a good place to freeze the lasagna for later, if you like. See below in the *notes* section of the recipe card for detailed instructions.
Bake it! I like to bake it for about 30 minutes, and until the top of the cheese is nicely melted.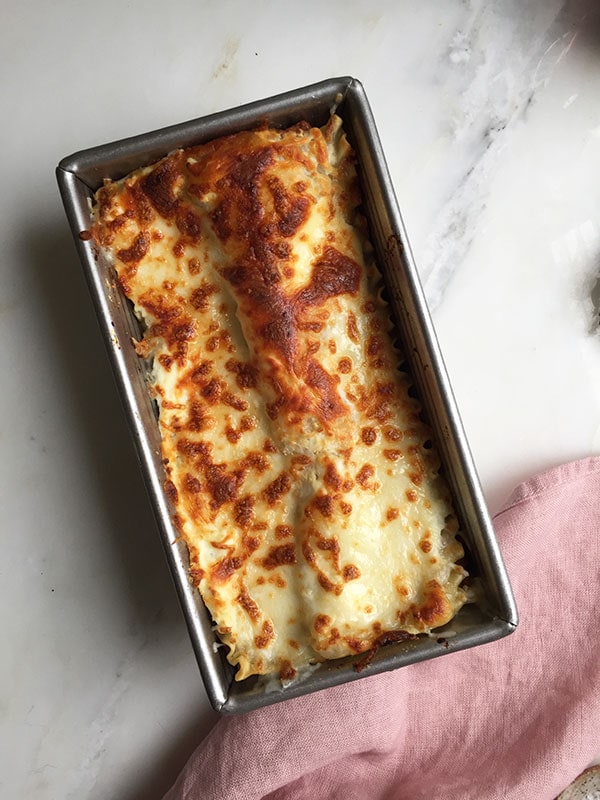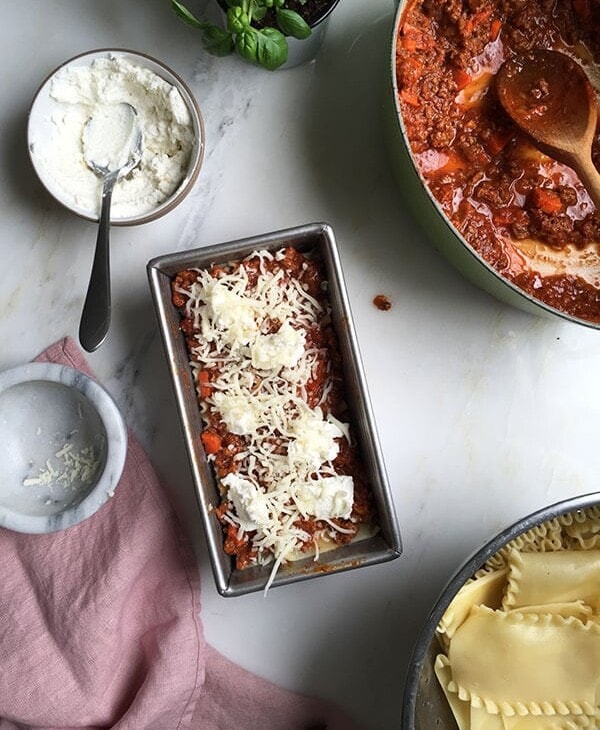 Print Recipe
Lasagna for Two Recipe
This Lasagna for Two is a classic lasagna but made for two people in a loaf pan. This is convenient when you want lasagna but don't want to make a huge amount for tons of people!
Ingredients
2

tablespoons

olive oil

2

peeled and minced shallots

1

carrot

(peeled and diced)

Kosher salt

3

garlic cloves

peeled and minced

1

teaspoon

dried Italian seasoning*

1/4

teaspoon

crushed red pepper

3/4

pound

(90%/10%) ground beef

1

(15-ounce) can

crushed San Marzano tomatoes

Water

2

tablespoons

tomato paste

1/2

pound

dried lasagna sheets

1/2

cup

fresh ricotta

1

cup

shredded low-moisture mozzarella
Instructions
To Make the Sauce:
In a dutch oven or medium pot, set over medium heat, heat the olive oil. When hot, add the shallots, diced carrot and a pinch of salt; cook until translucent, about 2 to 3 minutes. Next, mix in the garlic cloves, Italian seasoning and crushed red pepper; cook for an additional minute, until very fragrant. Add the ground beef and break it up with a spoon into crumbles. Cook for about 5 to 7 minutes, mixing occasionally, until browned.

Pour in the crushed tomatoes. Add about 3/4 cup water (you can eyeball this measurement) to the empty tomato can and swish it around, picking up any leftover tomatoes from the side of the can, and pour it in the pot. Next, stir in the tomato paste. Bring the sauce to a simmer and then immediately turn the heat down to low. Cover the pot and allow the sauce to simmer and merry for 30 to 40 minutes.

Uncover the pot, give it a taste test, and adjust the salt according to your liking. Allow the sauce to simmer for an additional 10 minutes, uncovered.
To Cook the Lasagna Noodles:
Meanwhile, bring a large pot of salted water to a boil. Add the sheets of lasagna and cook according to the packages directions, usually this is around 8 to 9 minutes. Drain and toss with a teaspoon of olive oil so the pasta sheets don't stick.
To Assemble the Lasagna:
Preheat your oven to 350 degrees F. To assemble the lasagna, grab your 8 x 5-inch loaf pan. Place two sheets of lasagna pasta on the bottom of the loaf pan, overlapping them slightly. Spread around a thin layer of bolognese, top with a few dots of ricotta and a handful of mozzarella. Repeat the layering process until you've reached the top. The top layer should be pasta, a bit of sauce and a good amount of mozzarella cheese.

Transfer to the oven to bake for 15 to 20 minutes. To get the top layer of cheese all burnt and bubbly, turn on the broiler. Place the lasagna underneath the broiler for 2 to 3 minutes, watching it the entire time. Allow to stand for a few minutes before slicing (it'll be crazy hot!). Top with some Parmesan, if you like, and some fresh basil.
Notes
To Freeze: 
Lasagna freezes incredibly well. If you'd like to freeze this, I'd suggest assembling it completely, not baking it, wrapping it in a few sheets of plastic wrap (or preparing it in a container that has a freezer-safe lid) and then wrapping it in one sheet of foil. Placing it in the freezer for up to 3 months. Bake from frozen, adding 5 to 10 minutes more, than the suggested time above. 
Equipment:
Medium Dutch Oven Pot | Silicon Spatula | Cutting Board | Chef's Knife | 8x5-inch Loaf Pan | 
Nutrition
Serving:
4
g
|
Calories:
266
kcal
(13%)
|
Carbohydrates:
10
g
(3%)
|
Protein:
8
g
(16%)
|
Fat:
22
g
(34%)
|
Saturated Fat:
7
g
(44%)
|
Cholesterol:
31
mg
(10%)
|
Sodium:
205
mg
(9%)
|
Potassium:
342
mg
(10%)
|
Fiber:
2
g
(8%)
|
Sugar:
4
g
(4%)
|
Vitamin A:
5687
IU
(114%)
|
Vitamin C:
7
mg
(8%)
|
Calcium:
167
mg
(17%)
|
Iron:
1
mg
(6%)
If you make this, let me know on Instagram!
Looking for more pasta recipes? Here are some of my other favorites: