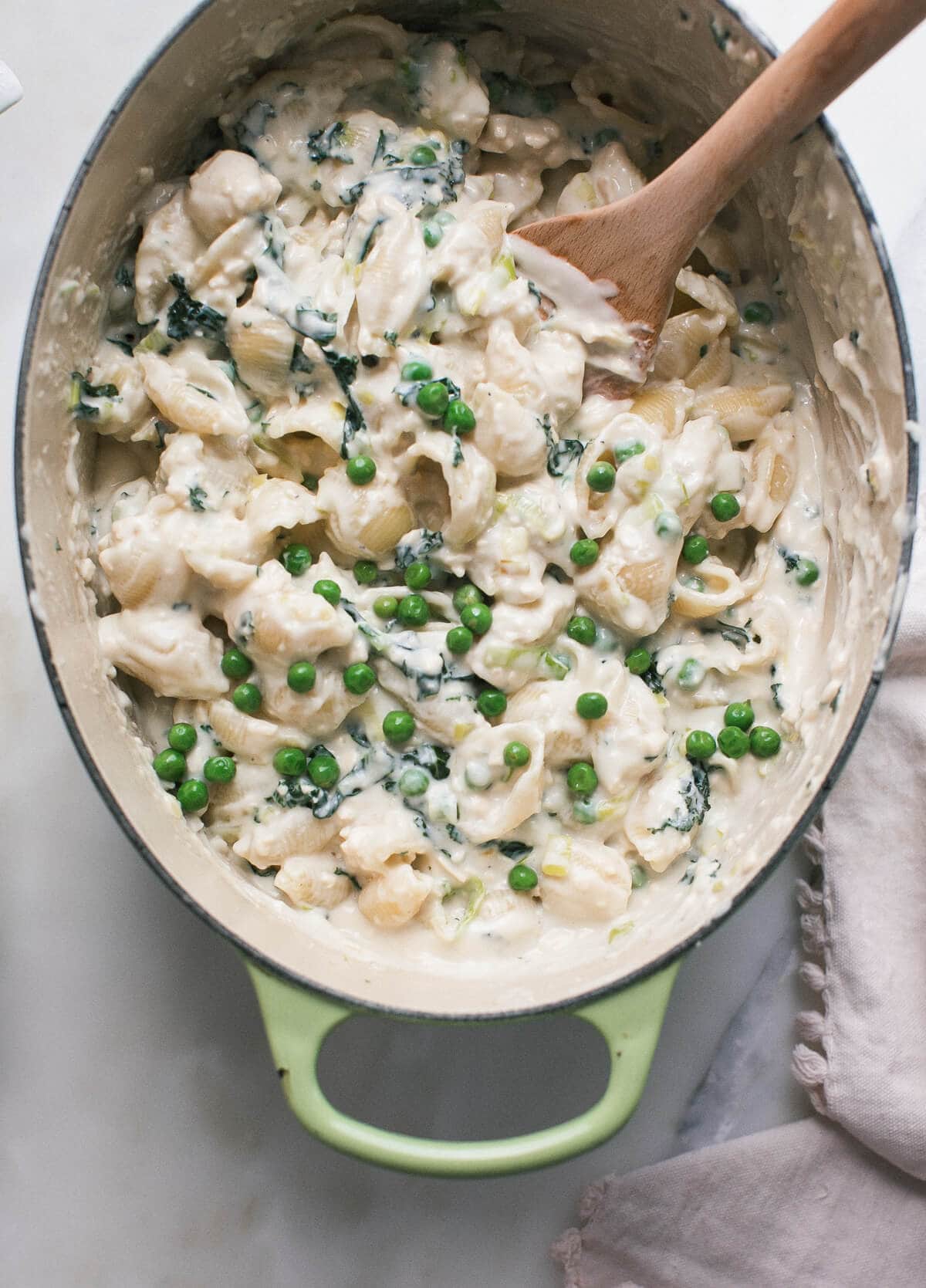 Spring time!! YASS! I feel like the season is in full effect.
I was gone for a week last week so I spent the weekend catching up on work and going to brunch and trying to (unsuccessfully) convince Josh that we needed to go see the new Beauty and the Beast. No dice.
I can't really blame him; he's usually such a good sport about seeing all sorts of movies with me so I figured I should let that one slide JUST THIS ONCE.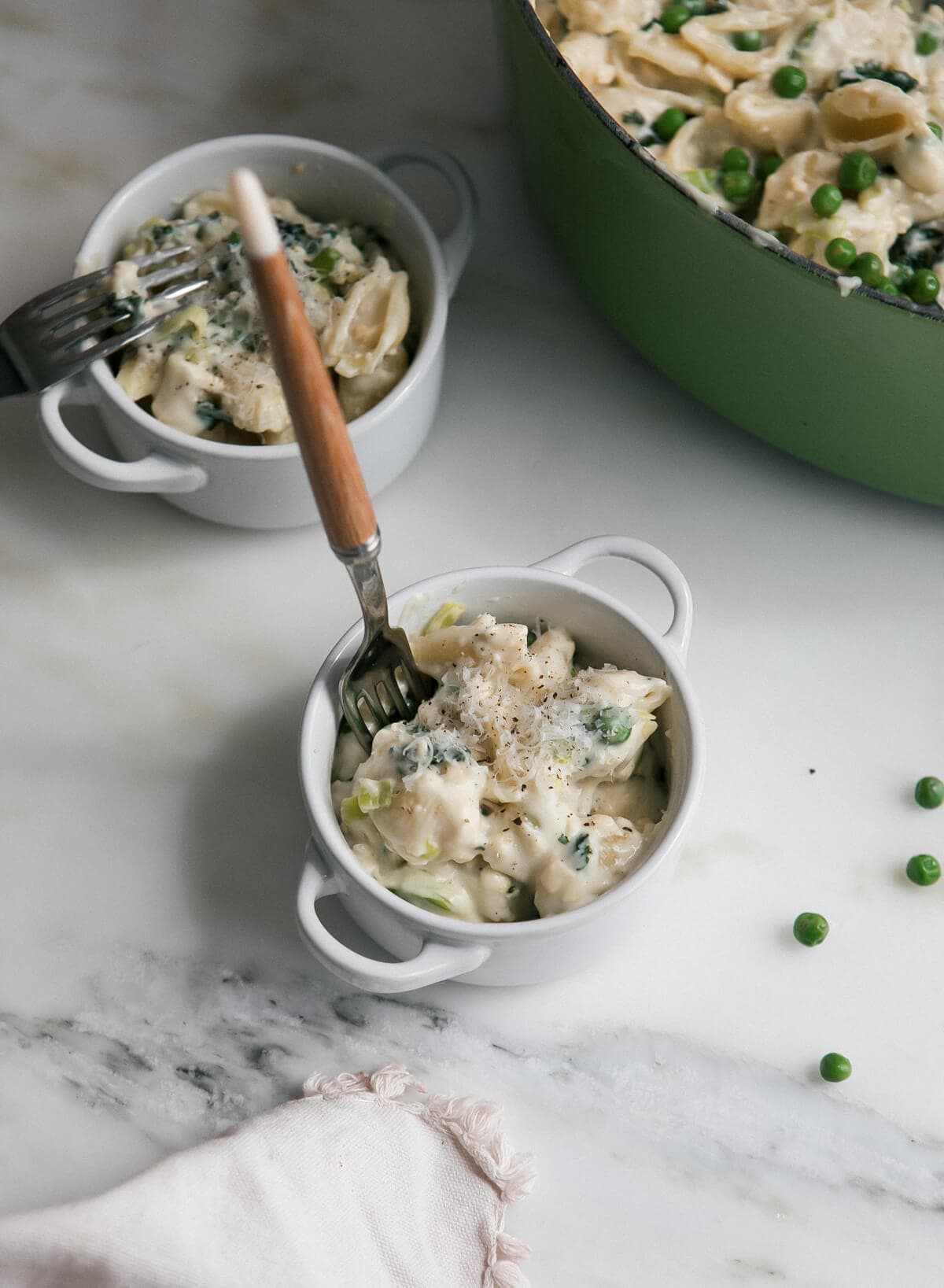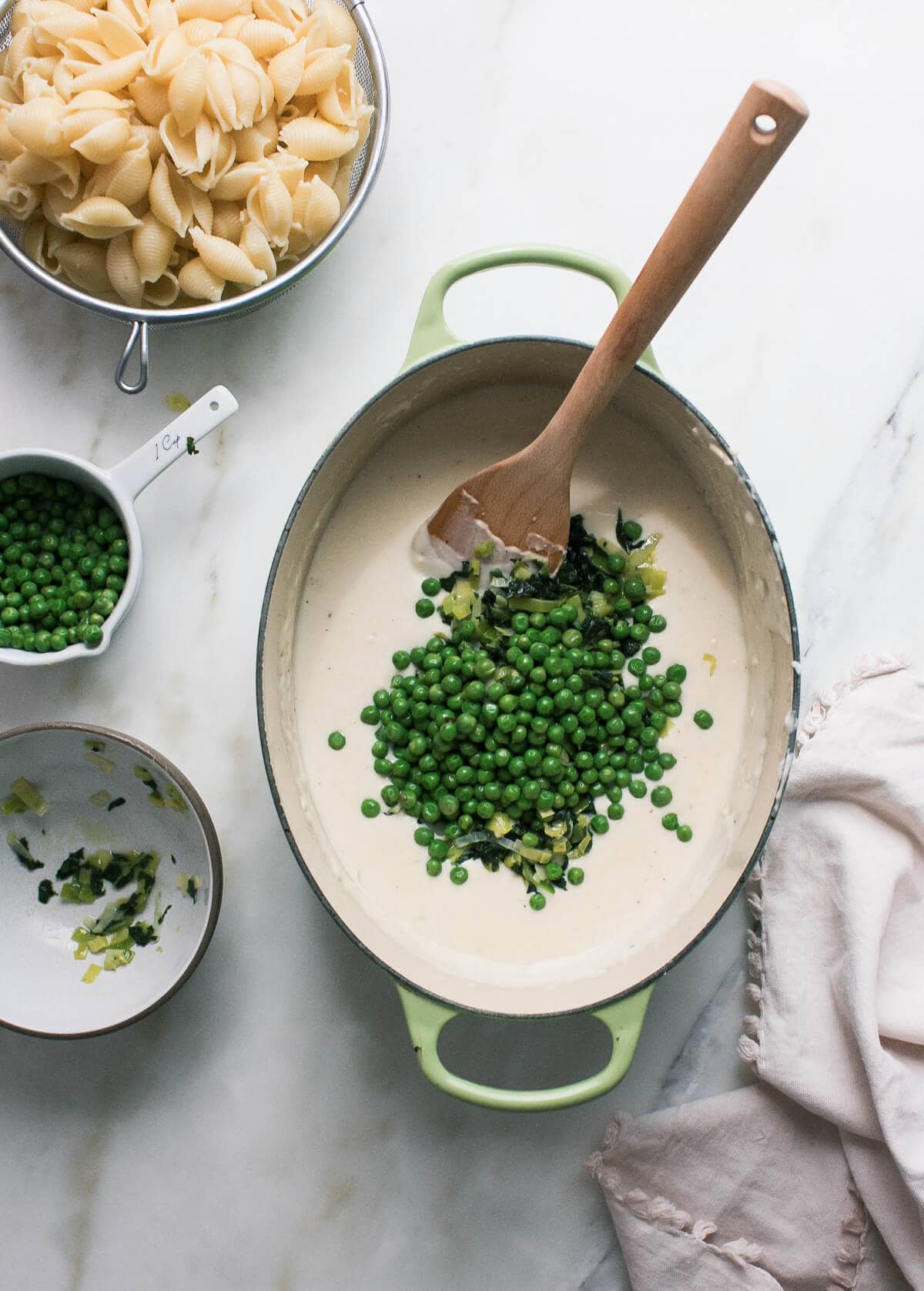 I love me some stovetop mac and cheese but I don't believe there's one single recipe on this lil' blog!
I needed to fix that so I figured I'd make a very spring-forward version that I pumped up with kale, leeks and peas...all sautéed in a liberal amount of ghee (my continued obsession). Of course you can use plain ol' butter or olive oil, too.
This mac and cheese is one hundred percent vegetarian but it kinda tastes meaty because of the smoked gouda.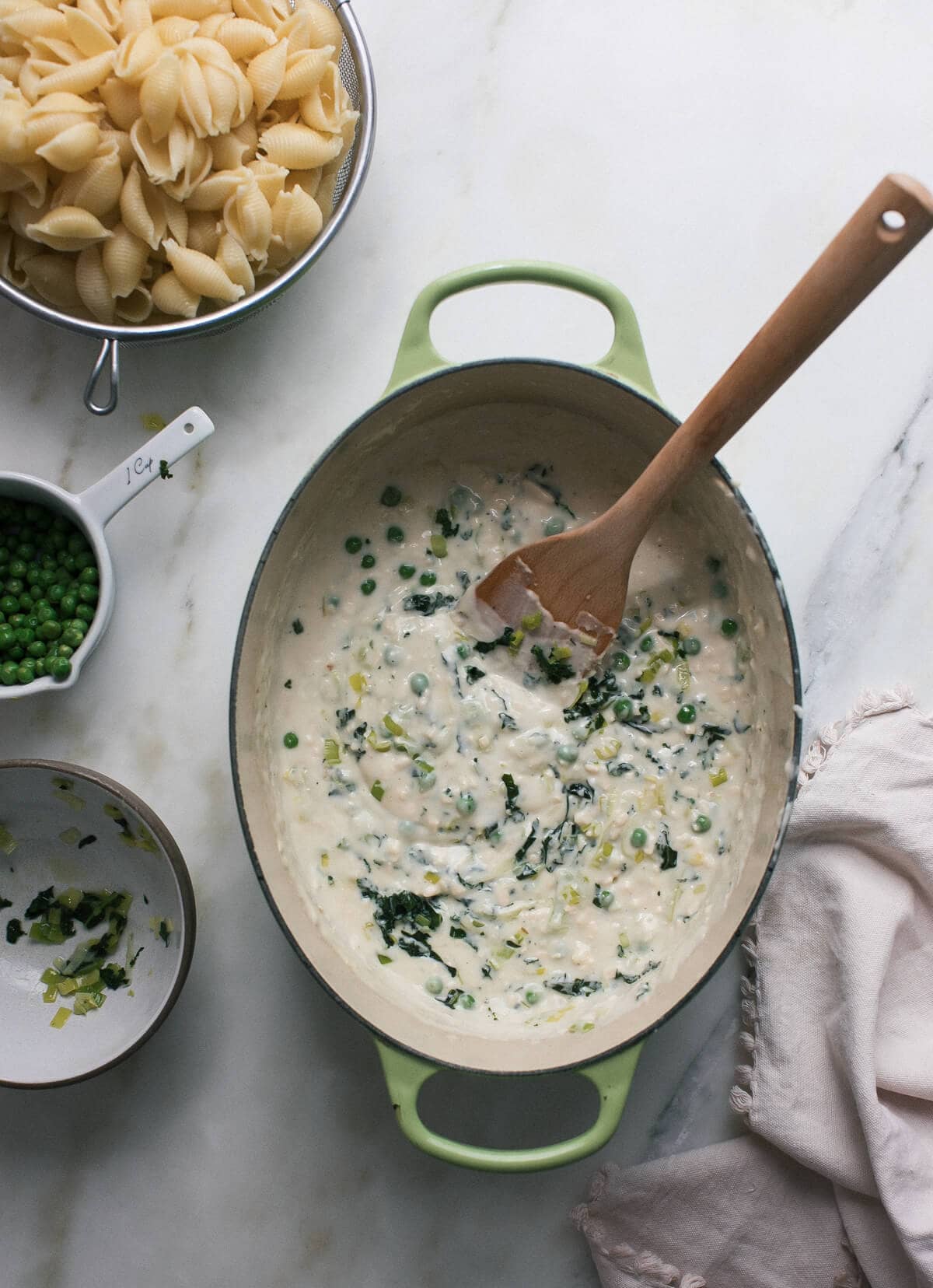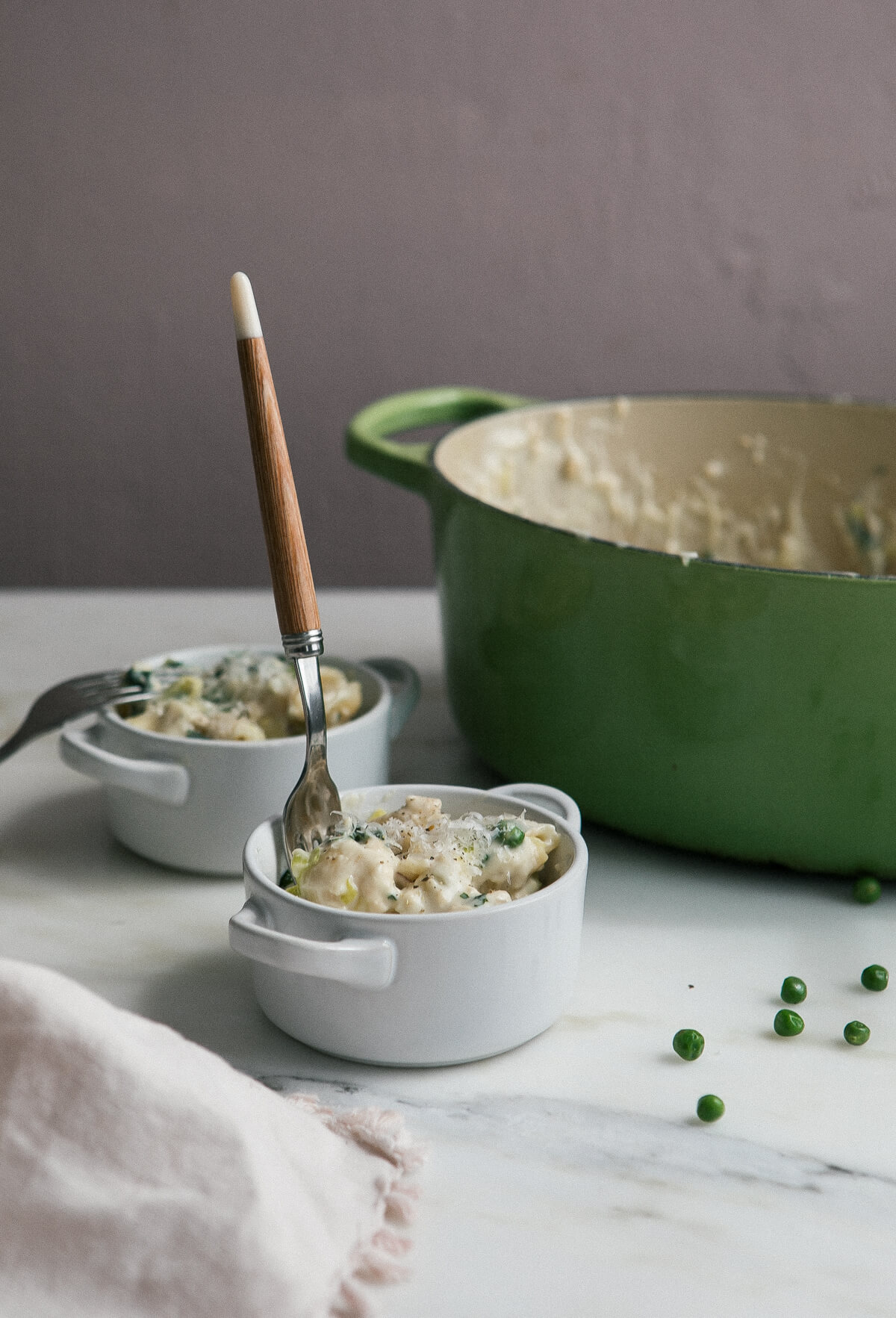 It is maybe my favorite type of cheese to use in a mac and cheese EVRRR. And you don't need a ton either. I used half smoked gouda and half fontina. The cheese could really vary depending on what you're feeling. I think gruyere would work well and even half mozzarella would be tasty.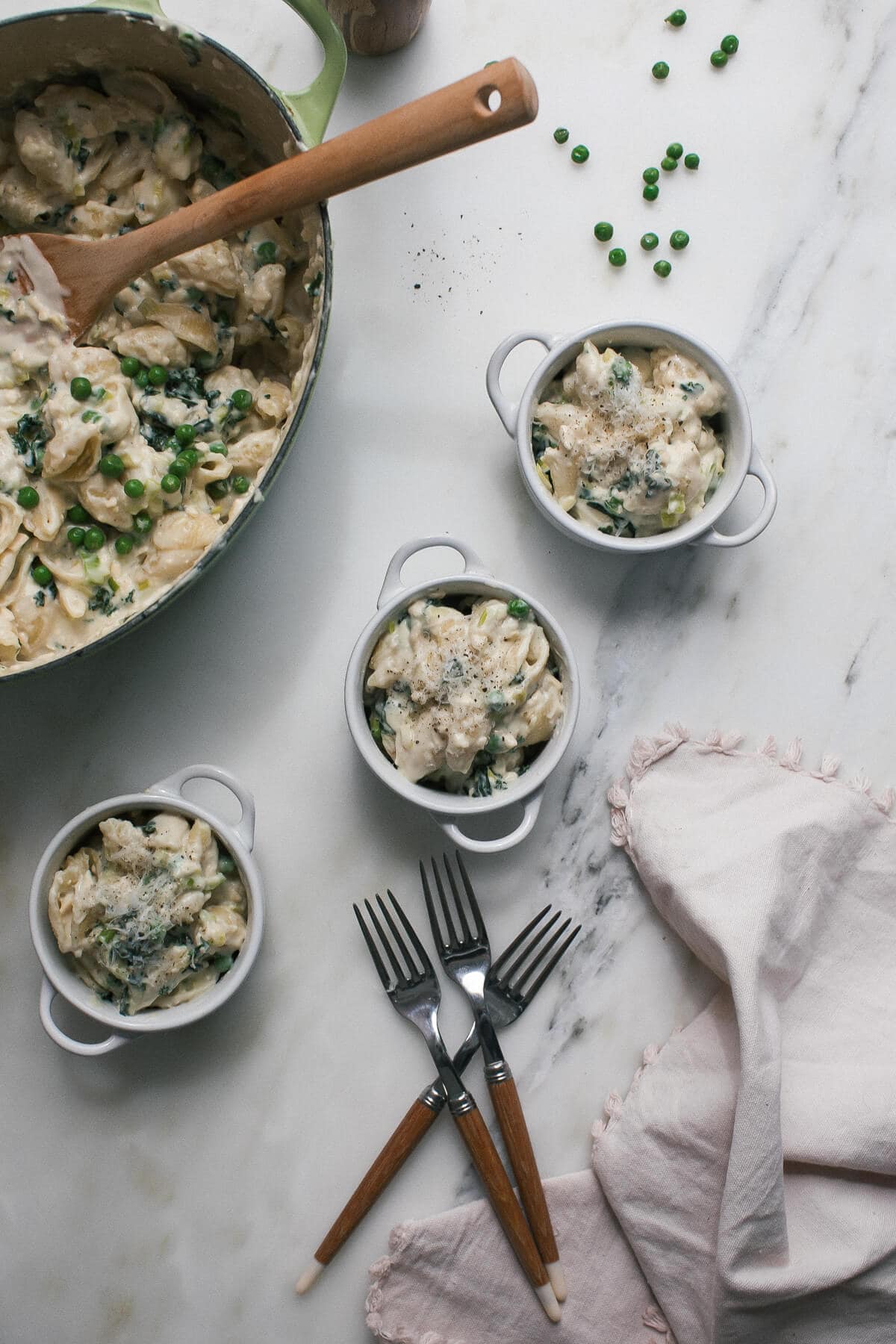 I'm spending the next few days trying to perfect my piped rose and getting through a bunch of boring admin work. I'm excited for the piping rose part…admin part…eh not so much.
Wishing you a cute week!
xo
Adrianna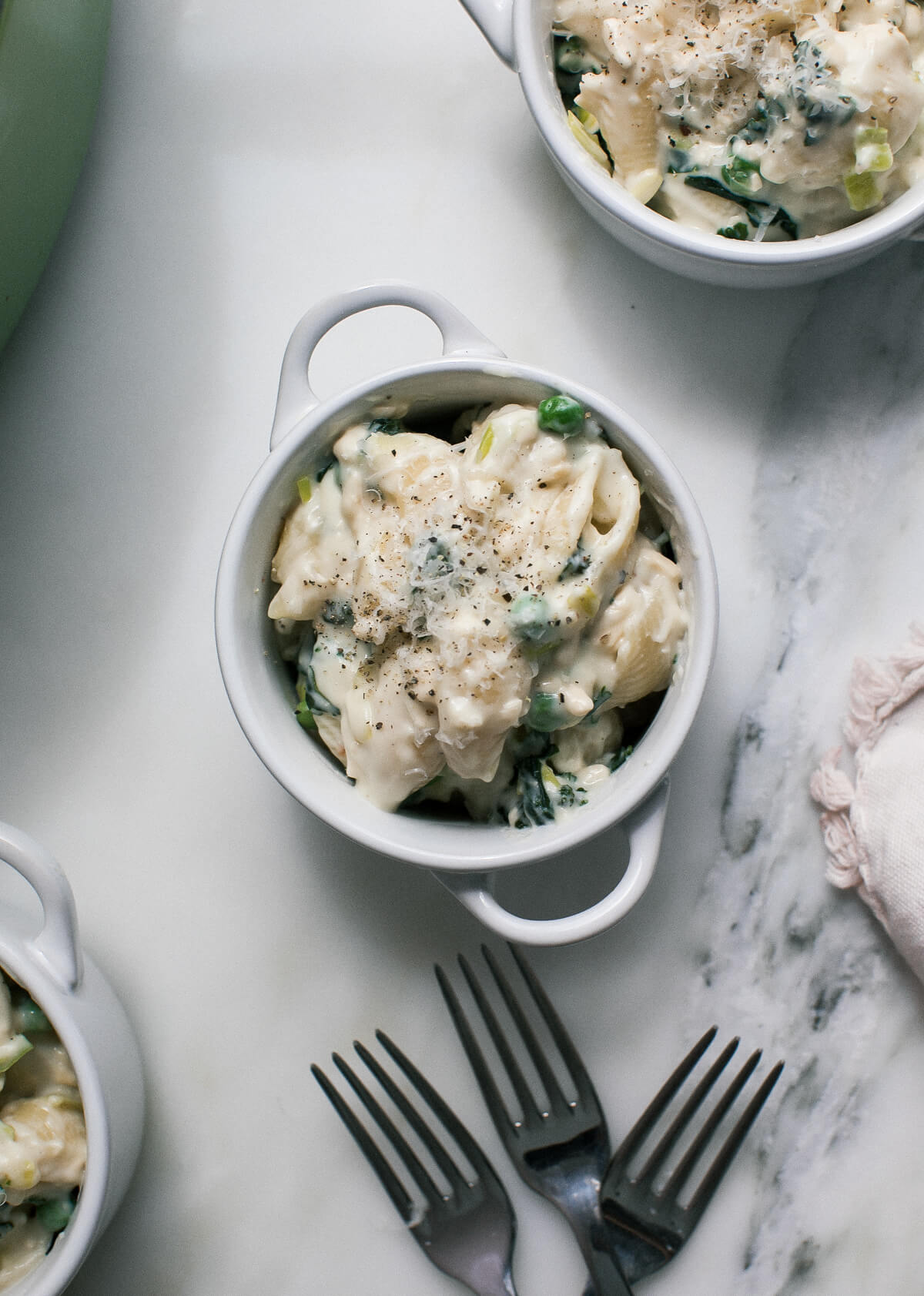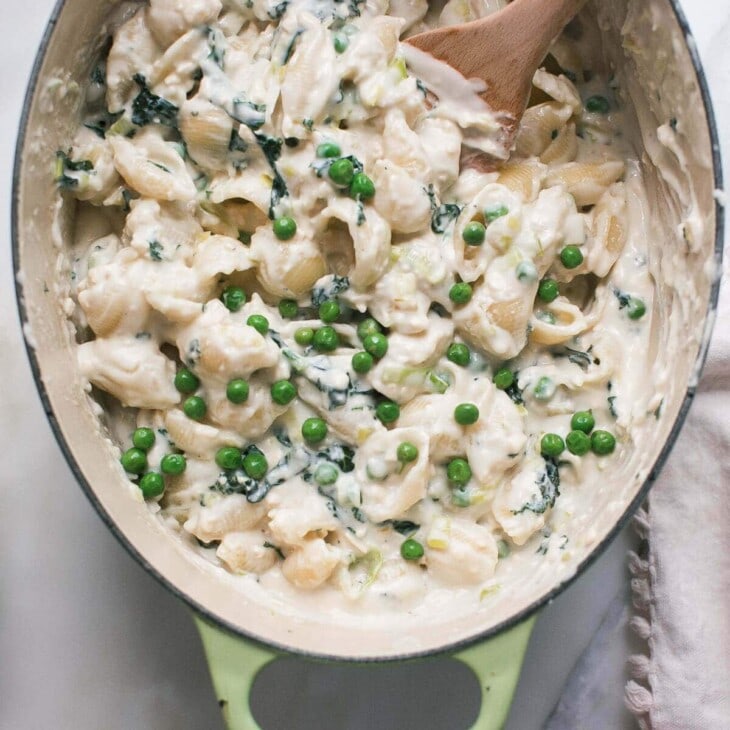 Print Recipe
Creamy, Spring-y, Smoked Gouda Stovetop Mac n Cheese
Ingredients
Salt

1

pound

of shell pasta

2

tablespoons

ghee or olive oil

1

leek

halved and sliced

3

large pieces of kale

leaves removed from stem and roughly chopped

⅔

cup

peas

6

tablespoons

unsalted butter

6

tablespoons

all-purpose flour

3

cups

milk

Freshly ground pepper

½

pound

of smoked gouda

shredded

¼

pound

of fontina

shredded
Instructions
Bring a pot or Dutch oven of salted water to a boil. Cook the pasta until al dente (my box of pasta said about 16 minutes—total lies! Mine took about 8 minutes). Drain and drizzle with a teeny bit of olive oil (this will prohibit them from sticking to each other).

In a medium skillet, set over medium heat, melt the butter. Add the leeks and a pinch of salt; cook for about 1 to 2 minutes. Stir in the kale and add a pinch of salt; cook for an additional 3 minutes, until the leeks and kale have softened. Lastly, add the peas and stir until the peas turn a bright green color, about a minute. Turn off the heat and set aside (to leave them in the pan is totally fine).

In a medium saucepan (I used the same dutch oven I used to boil the pasta), set over medium heat, add the butter. When melted, add the flour and stir until combined. Cook for about 1 minute. Pour in the milk and bring to a simmer; cook until it's thickened, about 3 to 5 minutes. It should coat the back of a spoon. Turn off the heat and allow to cool for about 5 minutes. Stir in a few rounds of freshly ground pepper (I did about 5).

Next, stir in the cheese and mix until melted. If needed, turn the heat to medium-low to completely melt the cheese. I found the smoked gouda needed some additional warmth to melt completely. (The fontina was perfect.) Give it a taste and add salt to taste.

Stir in the shells and add the reserved kale and leek mixture. Toss until evenly coated. Divide amongst bowls and top with a bit of parmesan and black pepper.
Notes
Other spring-y things you could use:
Dandelion greens (in place of kale)
Swiss chard (in place of kale)
Green onions (in place of leeks)
Spring onions (in place of leeks)
Ramps (you fancy if you do this but they'd be bomb in place of leeks!)
Fava beans (in place of peas)