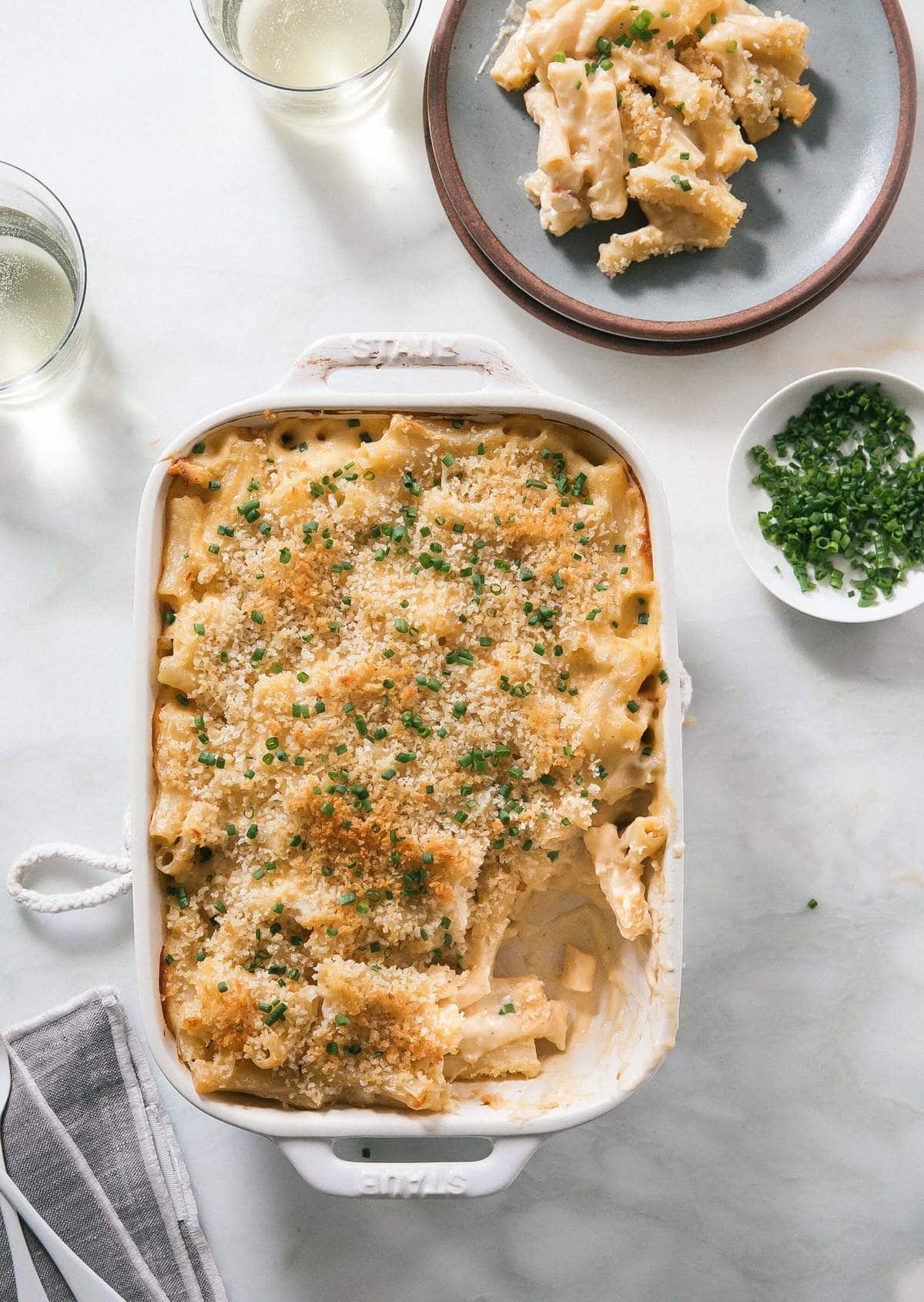 This whole blog post is going to be me attempting to convey my enthusiasm for this Lobster Macaroni and Cheese. I have wanted to make lobster macaroni and cheese for what feels like forever. But I've always hesitated. I've always doubted myself!
Does cheese and lobster actually go together?
Will it be good?
Is the price-point going to scare me and all of you away?
The first answer is YES. I don't typically cook any sort of seafood with cheese but in this context it absolutely works. Will it be good? Umm…yes, it's glorious. Will the price-point be scary? Not this time!
For this post, I teamed up with ALDI, where I went to get these VERY affordable and delicious wild-caught Maine lobster tails. FYI lobster tails are available in stores starting tomorrow (12/12)!! They also have lots of other holiday goodies at super affordable prices. Like this delicious 4 Year Aged Cheddar that gave this macaroni and cheese a nice, sharp flavor. I also picked up a wine advent calendar and it's the cutest thing I've ever seen. I love it.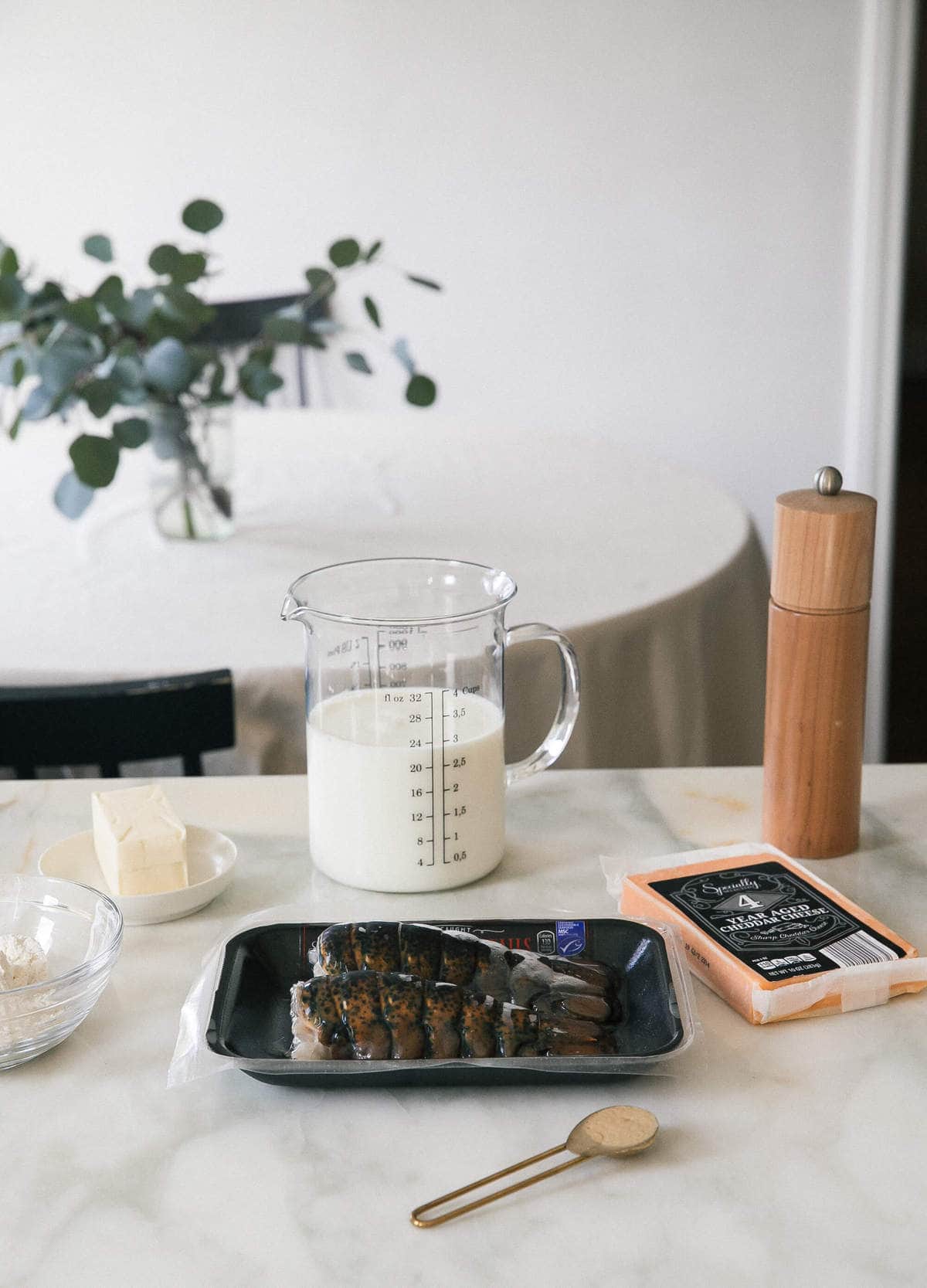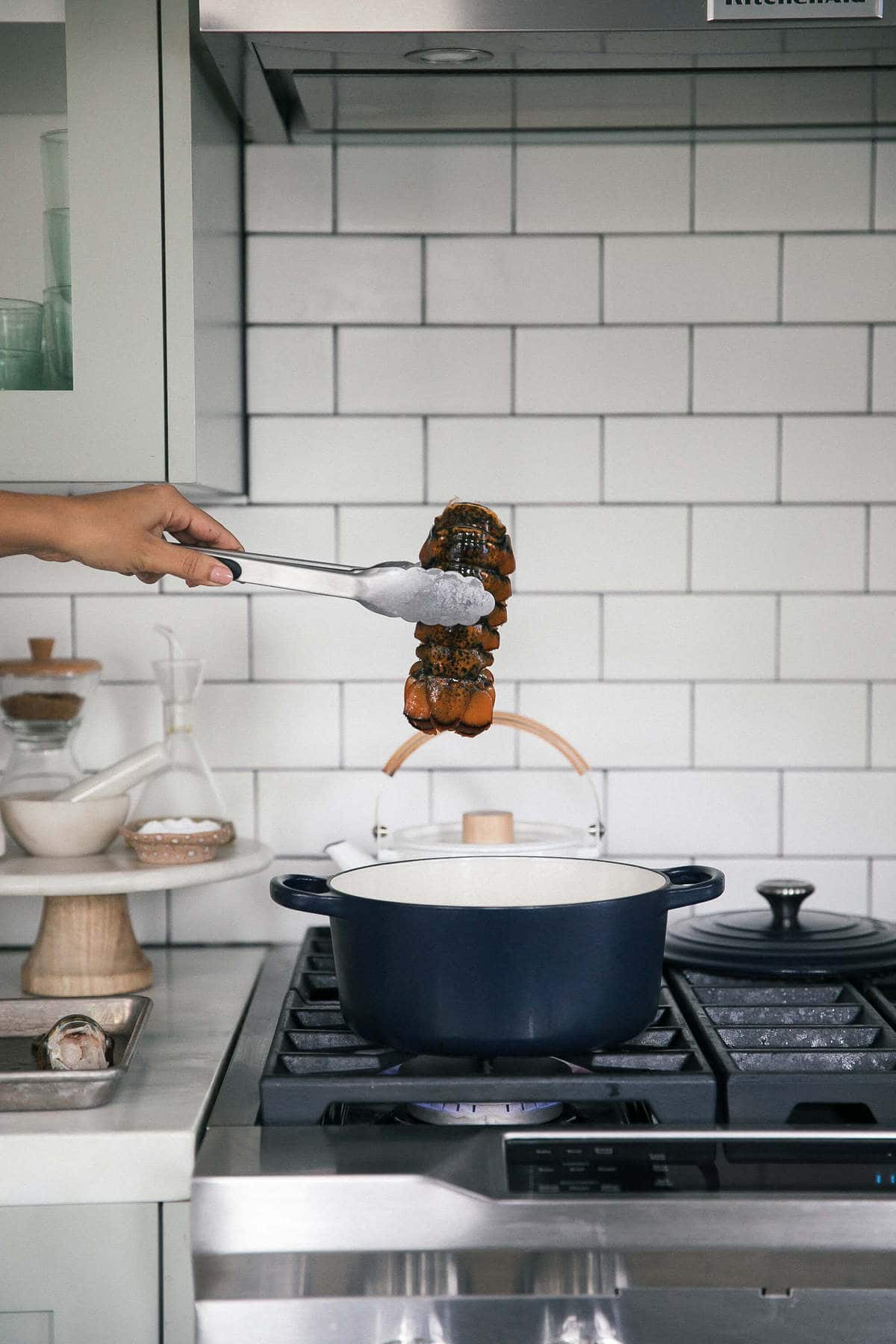 The Types of Cheese Is Essential
I gave a lot of thought to the other components of the mac n' cheese. I paired the Aged Cheddar with gouda, which adds great meltability. Other options could be mozzarella or Gruyere. I also love adding Dijon mustard to a rich cheese sauce.
The gouda adds meltability and the Dijon mustard is necessary so it's not too rich. The brininess from the lobster is so delicious in this macaroni and cheese.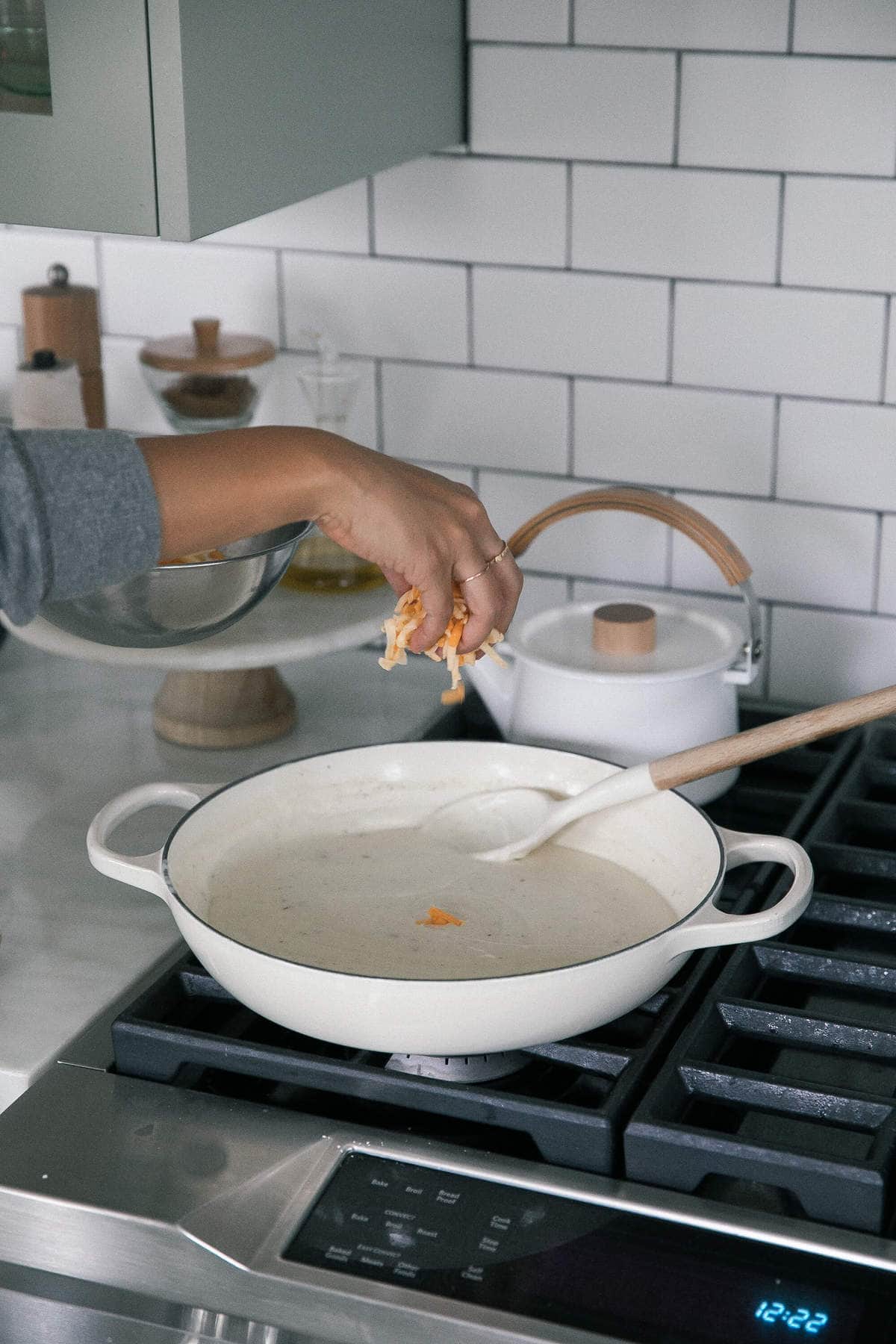 How to Make Lobster Macaroni and Cheese
I used 4 lobster tails, but it's definitely doable with 2 lobster tails. The question is: how much do you like the people coming over?! Hahah.
Here's how to make it:
Cook the lobster. You can cook lobster a few different ways. In this instance, I decided to poach it in salted water just until cooked. You actually want to undercook it by a bit so that it can finish cooking in the macaroni and cheese.
Then there's a roux. A roux begins with melted butter and flour. When the two have been combined, you pour in the milk.
The milk thickens. After while, the milk will thicken as it combines with roux. A bit of whisking helps a lot!
Cool it Down a Bit. When the roux mixture cools down a bit, you add the cheese. Mix until the cheese is all melty.
Add the cooked pasta. Mix in the cooked pasta and give it a good stir.
Mix in the chopped lobster. Add the chopped lobster to the cheesy mixture and pasta. Transfer it to a baking dish and top it with the panko bread crumb mixture.
Bake until bubbly and golden brown on top! 
I'm not a huge "baked macaroni and cheese" person. I usually like the creamy, stove-top version but this is with the crispy panko bread crumbs is absolutely delicious.
If you make this Lobster Macaroni and Cheese, let me know on Instagram!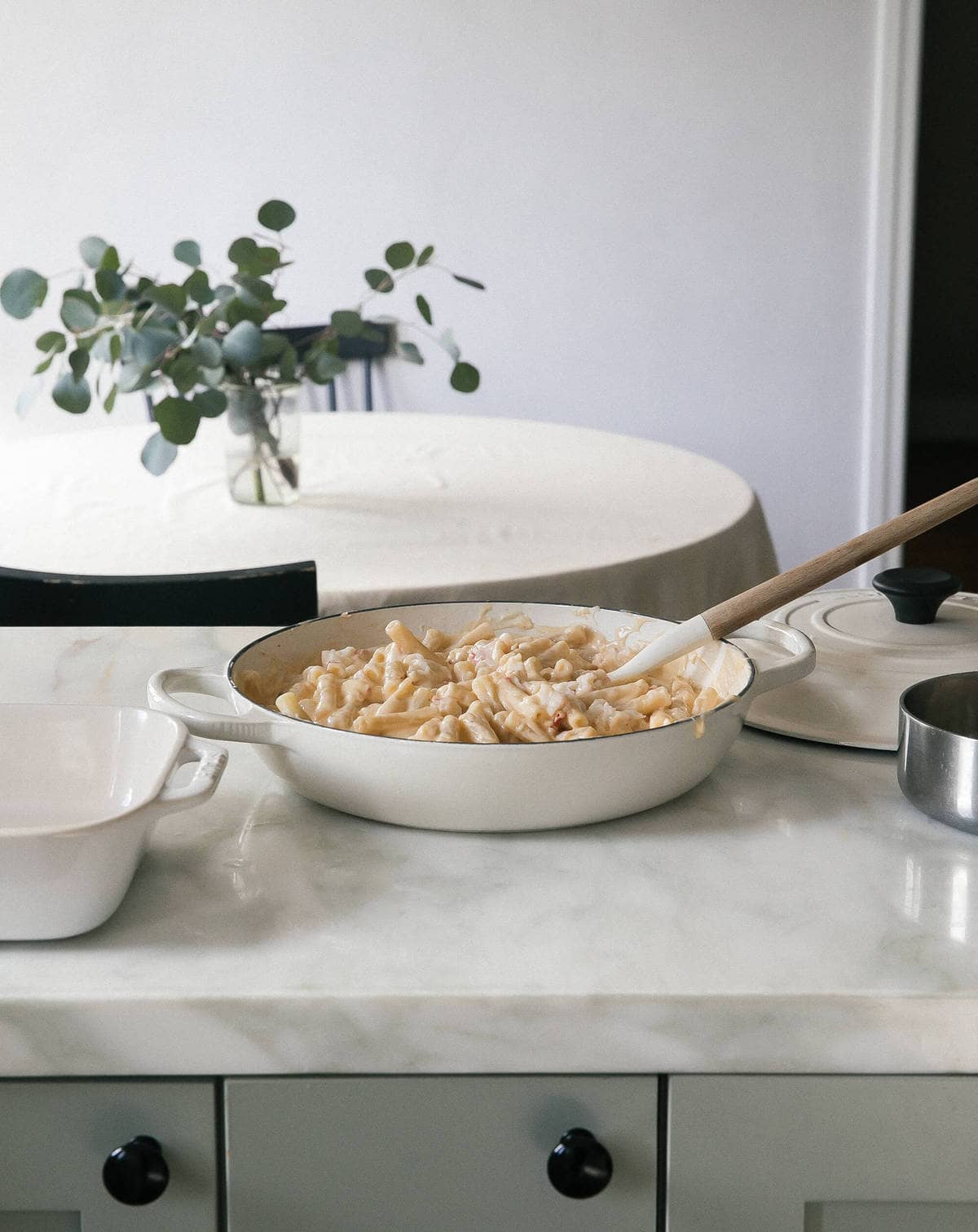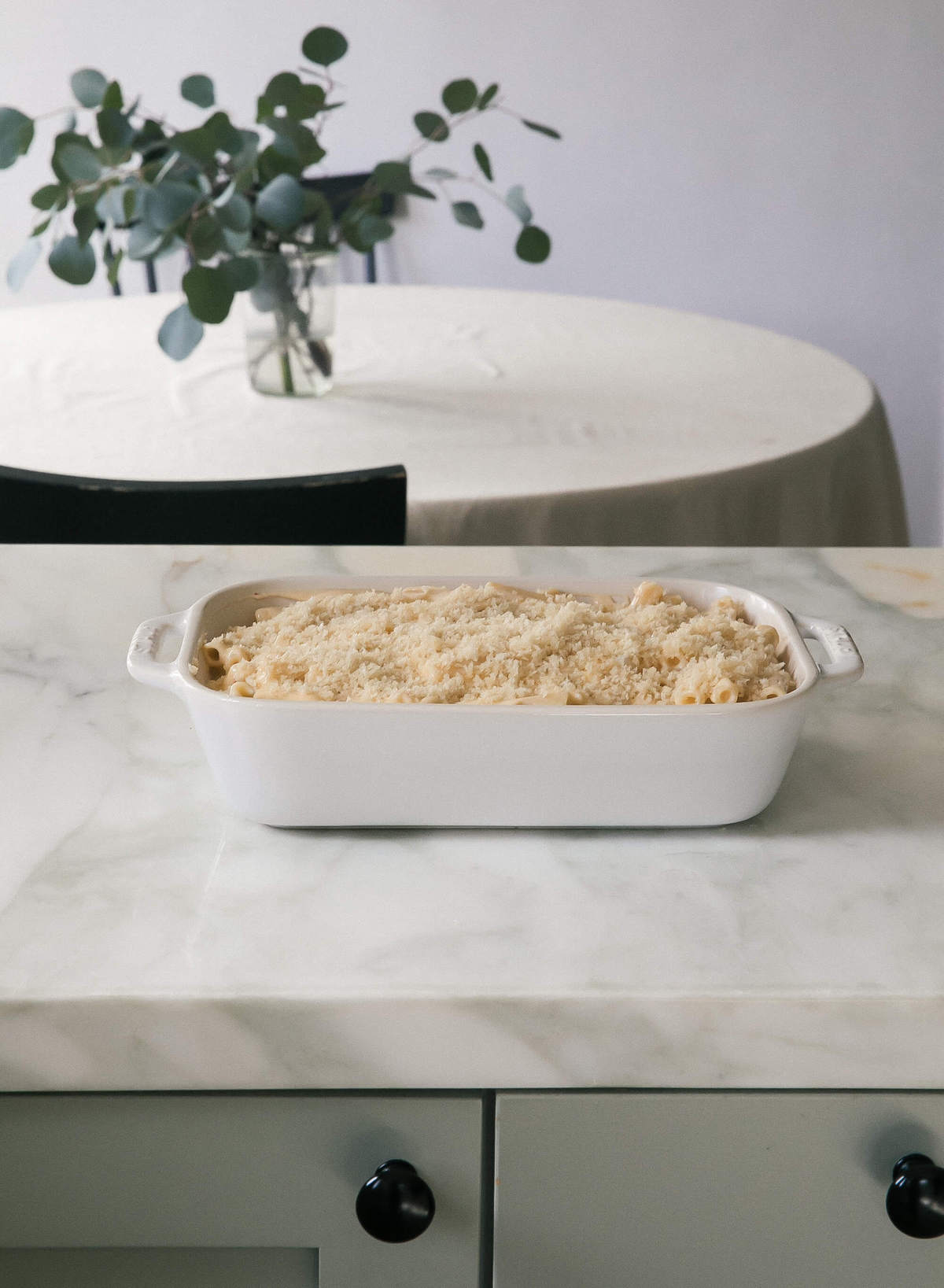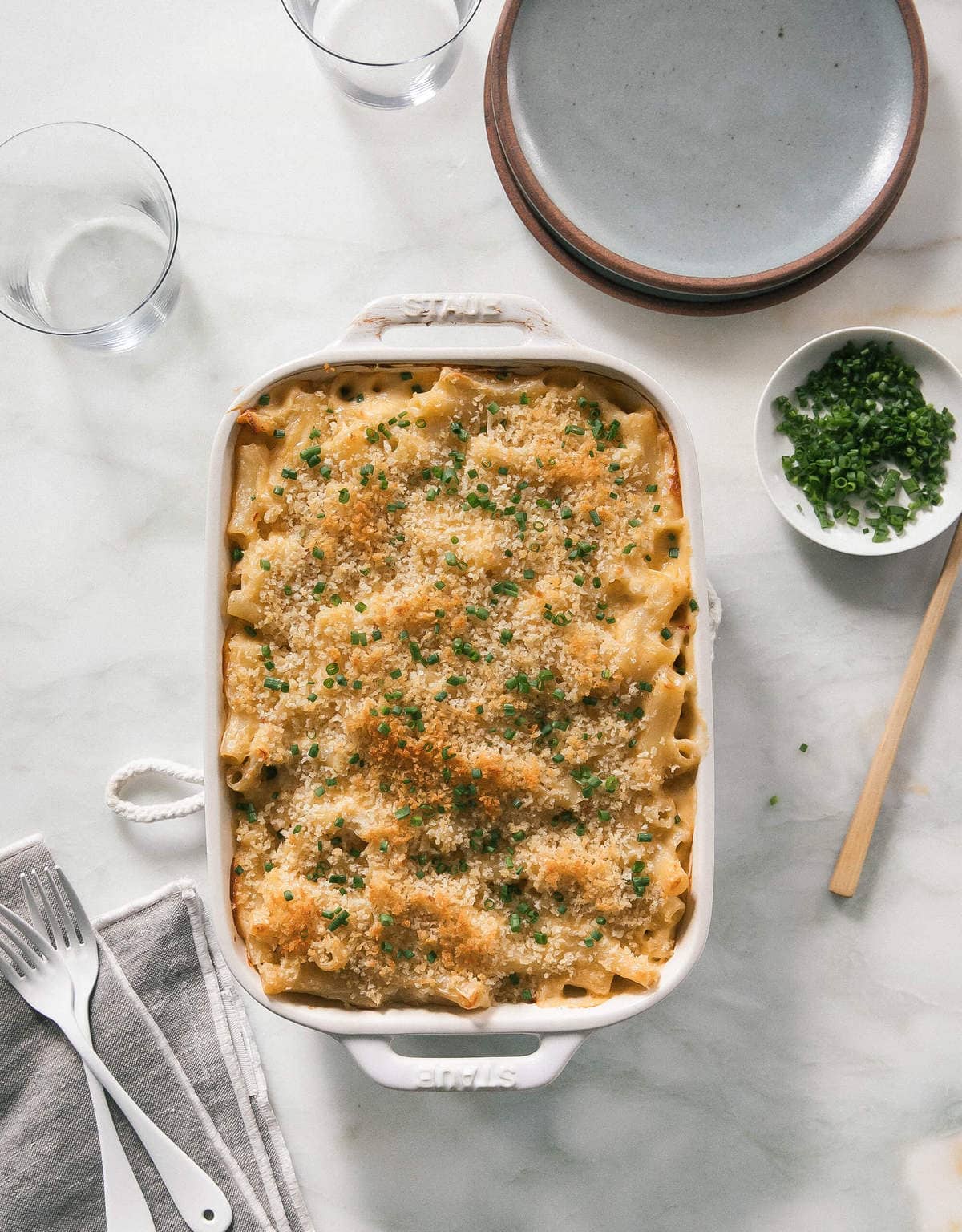 (This post is sponsored by ALDI. Thanks for supporting the sponsors that keep A Cozy Kitchen cozy.)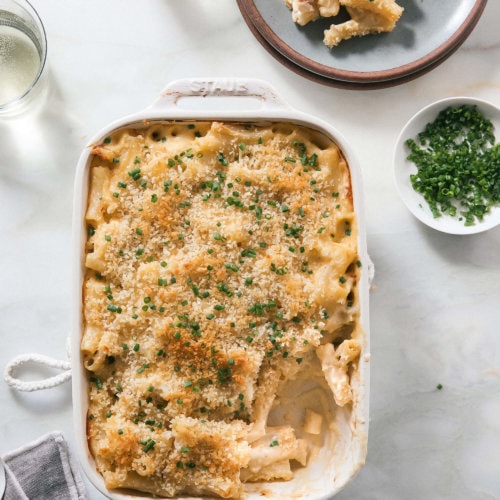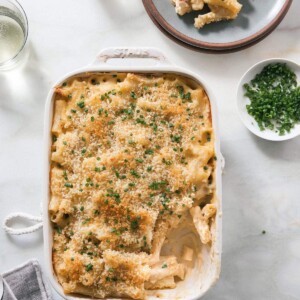 Lobster Macaroni and Cheese Recipe
Lobster Macaroni and Cheese recipe is so creamy and decadent. Perfect for the holidays or any other special occasion.
Ingredients
Bread Crumb Topping:
¼

cup

Panko bread crumbs

2

tablespoons

unsalted butter

Pinch

kosher salt
Macaroni + Cheese:
4

Main lobster tails

,

about 6 ounces total 

6

tablespoons

of unsalted butter

6

tablespoons

all-purpose flour

3

cups

milk

,

divided 

1 1/2

teaspoons

kosher salt 

1/2

teaspoon

crushed red pepper 

1

teaspoon

Dijon mustard

Freshly ground pepper

1 1/2

cup

Aged cheddar

1

cup

gouda Cheese

,

about 5 ounces

1

pound

of pasta of choice

,

I used rigatoni 

Chives

,

as garnish 
Directions
To Make the Buttery Bread Crumbs: 
To a small saucepan, set over medium heat, melt the butter. When melted, add the breadcrumbs and a pinch of salt. Mix until the breadcrumbs are thoroughly coated. Set aside. 
To Cook the Lobster Tails:
Bring a pot of salted water to a medium boil (should be a chill boil, nothing too aggressive). Drop the lobster tails into the water and cook for about 1 minute, until they mostly turn opaque. They will be undercooked, but no biggie, they'll cook more in the pasta. Run them under cold water. 

Using kitchen scissors, cut the shell on both sides. Pull out the lobster meat and chop it up into bite-size pieces. 
To Make the Macaroni + Cheese:
Preheat oven to 375 degrees F. 

To a medium pot, set over medium heat, add the butter. When the butter has melted, add the flour and mix it together and cook the flour butter mixture for about 1 minute. Pour in the milk in two batches, stirring continuously in between additions. Cook until it thickens up, about 2 to 3 minutes. It'll start to bubble up and thicken. Give it a good whisk and be sure to get in those corners of the pan to get any floury bits up and mixed in. It should be thick enough to coat the back of a spoon. 

Turn off the heat and whisk in the kosher salt, crushed red pepper, Dijon mustard and a few rounds of pepper. Give it a taste and adjust the salt to taste. Add the grated cheeses and mix them in until they're melted. Cover the pot with a lid and set aside. 

Meanwhile, bring a pot of salted water to a boil. Cook the pasta according to the package's instructions, about 9 minutes. 

Drain the pasta and then immediately add it to the pot with the cheesy sauce, along with the reserved lobster. Mix until thoroughly combined. 

Transfer to a 9 x 11-inch baking dish (or one that is comparable). Smooth it into an even layer and then top it with the reserved breadcrumbs. 

Transfer it to the oven to bake for about 15 to 20 minutes, until the top is lightly golden brown. 
Notes
This recipe calls for 4 Maine lobster tails but 2 lobster tails would totally be sufficient. 
Nutrition Facts
Lobster Macaroni and Cheese Recipe
Amount Per Serving (6 g)
Calories 425
* Percent Daily Values are based on a 2000 calorie diet.