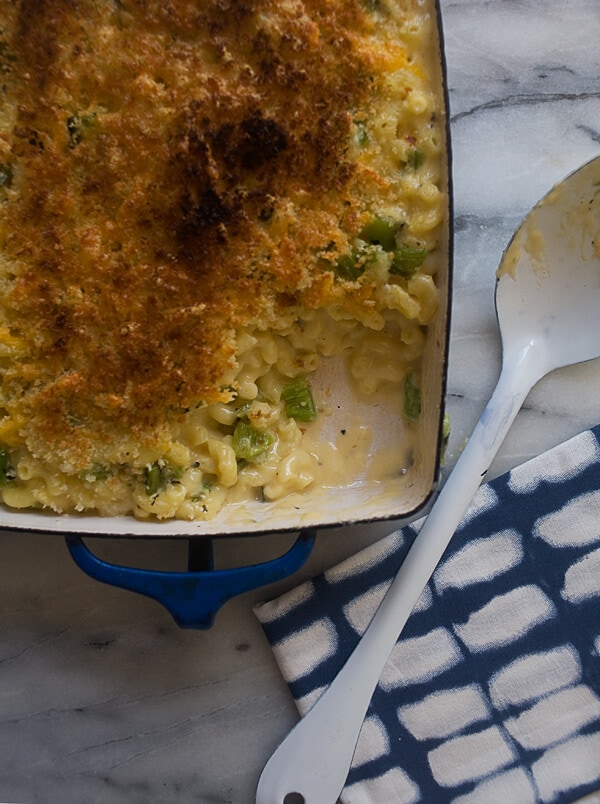 I tend to avoid bringing up world events or politics on A Cozy Kitchen. Not because I walk around with rose-tinted glasses on but I honestly figure you get enough of that elsewhere. And plus, this is the place I created to celebrate fun and warmth; devoted to things like cheese, butter and corgis. But this week has been particularly rough and I'm finding it hard to muster up the energy to talk about Aviva throwing her leg across the table.
Robin Williams' death made me so unexpectedly sad. If you know me, you know that me crying is a very common occurrence, but I was still shocked by how much I cried on Monday. I felt like I lost someone I knew; someone who had been there at so many different times in my life.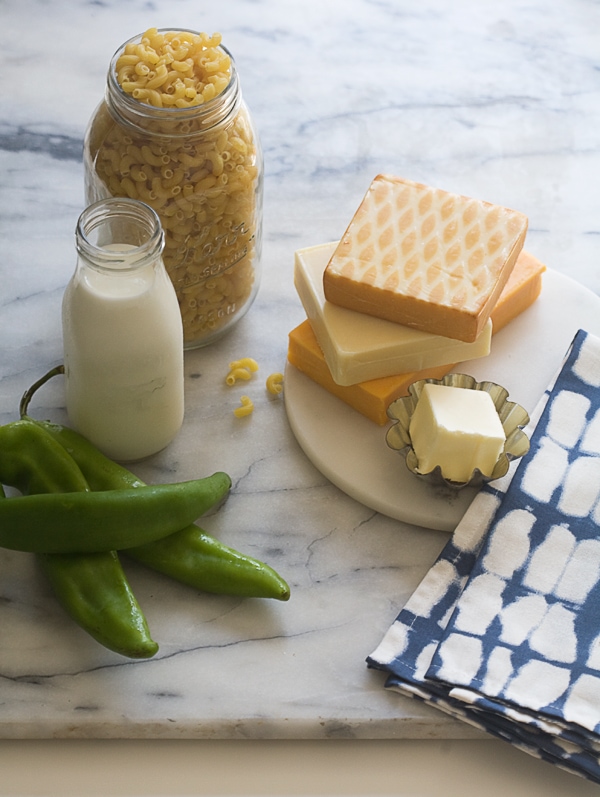 Also, the sheer irony in a man who dedicated his life to making so many laugh and yet was dealing with so many personal struggles, is just tragic. It's a reminder that we really have no idea what's going in other people's lives and their own personal struggles are ones we aren't always privy to. It reinforces my belief in trying to give people the benefit of the doubt.
Oh gosh and #Ferguson. Don't even get me started. Good gracious. I can't believe this is happening in 2014…yet I sort of can which is even sadder.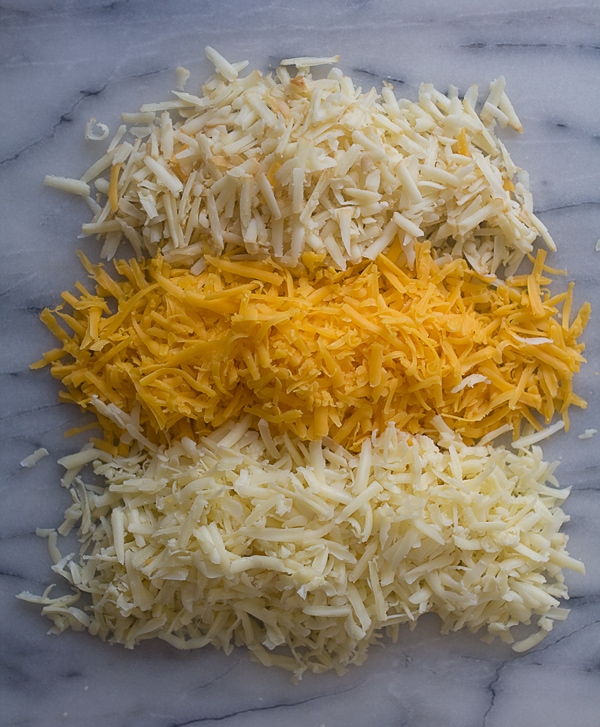 There's no real segue into this recipe. It's not here to make you feel better because no dish full of carbs and cheese can undo this week. Maybe you'll find comfort in this dish just a little, but if I'm being honest, I didn't make it for this reason, I made it because I bought way too many hatch chiles at the store because I was elated that they finally showed up.
Wishing you a peaceful weekend.
xo
Adrianna
P.S. If you're looking for something to listen to this weekend, I love Robin Williams on Marc Maron's WTF Podcast from a few years ago.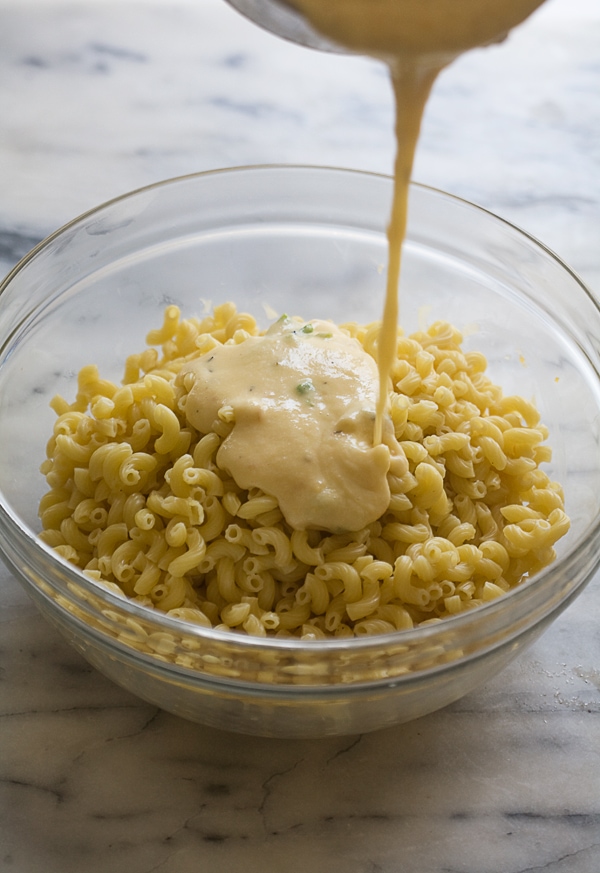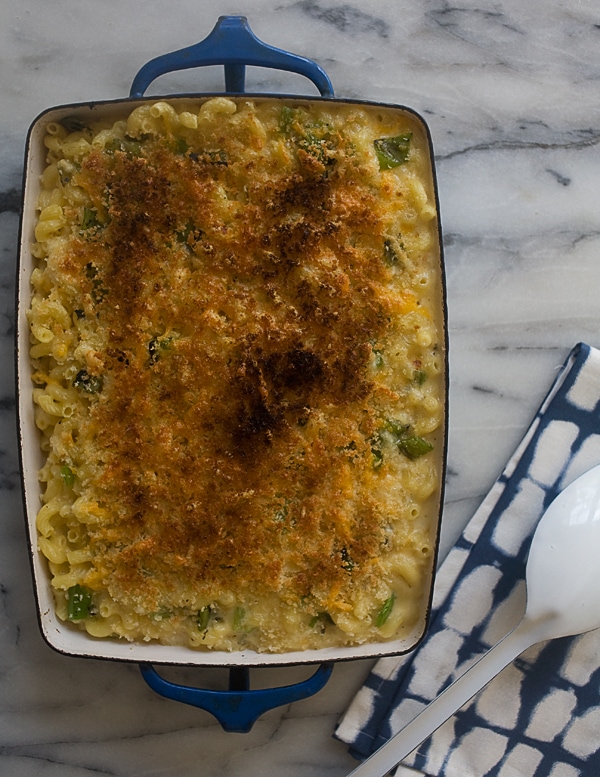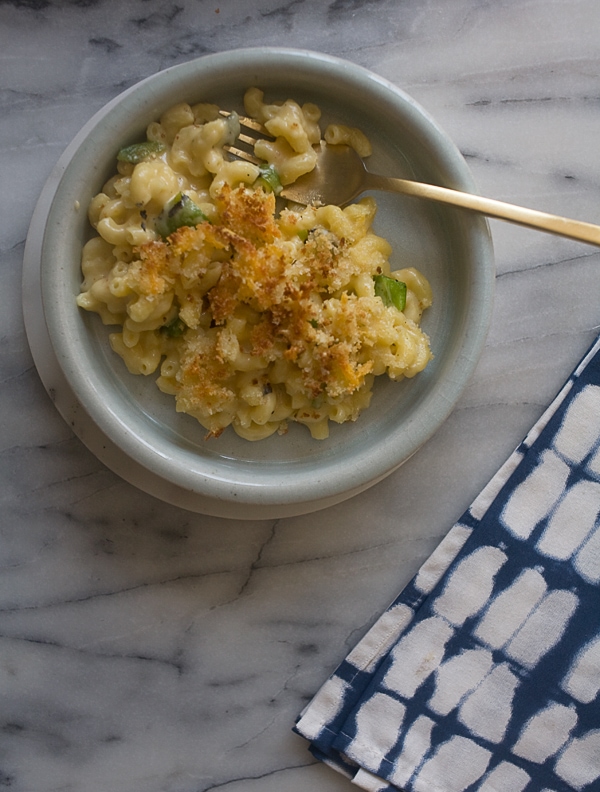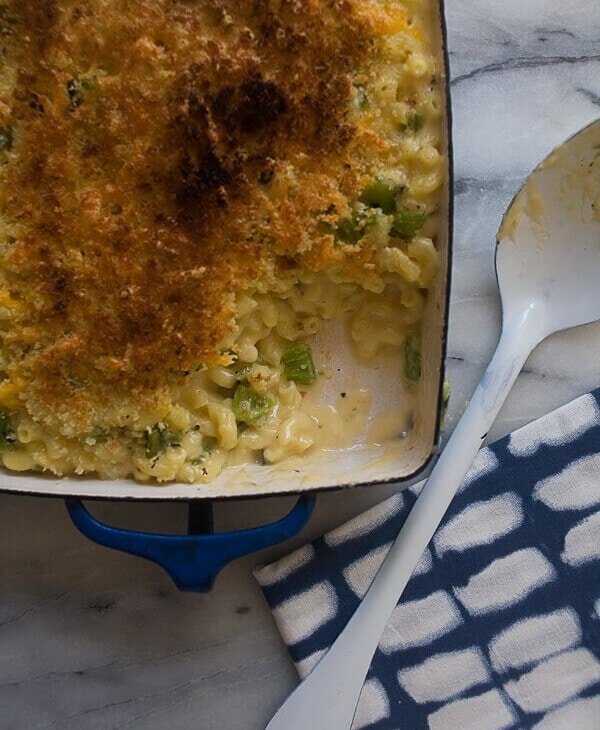 Print Recipe
Hatch Chile Macaroni and Cheese
Ingredients
1

pound

uncooked elbow macaroni

2

tablespoons

unsalted butter

melted

1/3

cup

panko bread crumbs

1/4

teaspoon

salt

2-3

hatch chiles*

3

tablespoons

unsalted butter

3

tablespoons

all-purpose flour

2 1/2

cups

whole milk

2

cups

grated gouda

3

cups

grated sharp cheddar

2

cups

grated medium cheddar

3/4

teaspoon

freshly ground pepper

1 1/2

teaspoons

salt
Instructions
Preheat the oven to 350 degrees F.

Bring a pot of salted water to a boil. Pour in the macaroni and cook until very al dente, about 7 minutes, or as directed per the instructions on the package of pasta.

In a bowl, toss together the melted butter, bread crumbs and salt. Place the hatch chiles on the grates of a gas range and turn the heat to high. Rotate the chiles until they're evenly charred. Immediately transfer them to a cutting board and using the blade of a knife, scrap the charred skin off of the peppers. Dice the softened peppers and set them aside. Beware that these are spicy so cut them into a small dice and don't rub your eyes!

To a medium saucepan set over medium-low heat, add the butter and flour. Cook the roux, until the butter melts and a paste forms. Whisk in the milk and bring the sauce to a very slight boil, whisking the entire time, and cook for about 1 minute. Turn the heat off and allow the milk mixture to cool slightly, about a minute or two. Stir in the cheeses and pepper. Add the salt and adjust according to your liking. This will largely depend on how salty the cheese you just added is.

In a large bowl, add the macaroni and pour the cheesy sauce on top. Stir the pasta until it's completely coated in the sauce. Add the hatch chiles and mix. Transfer the macaroni and cheese to a 9 x 13-inch baking dish. Top with the panko bread crumb mixture and transfer to the oven to bake for 15 minutes. Place the macaroni under the broiler to bake for an additional 5 minutes, until the top is golden brown. Serve immediately.
Notes
*Hatch chiles are pretty spicy so I recommend dicing them very small. Use two hatch chiles if you want a moderate kick. If you like things spicy, go with three! I used three and was like, dang, but I was into it.