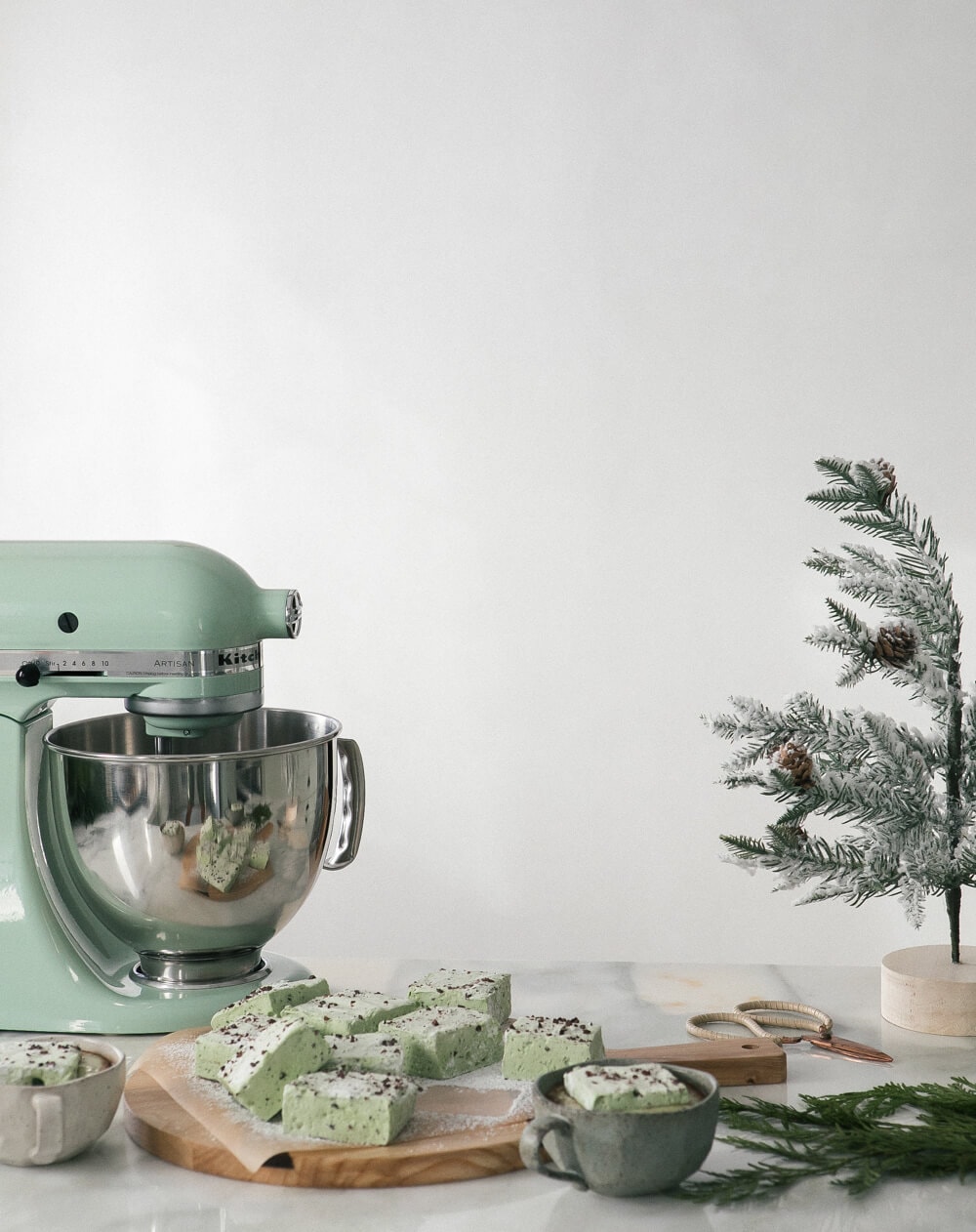 Last week I woke up early and headed to the flower market, which is one of my favorite activities. While it's always kinda chilly and damp at the flower market, it's also beautiful and full of life, especially during the holidays.
I decorated the kitchen with a beautiful garland, I bought gorgeous little ceramic houses and mini decorative trees. But, as of like this last weekend, I still had my fall pumpkins at the doorstep. Lol. Life is busy and this season moves so quickly for me!
I'm glad I was able to take some time this weekend and decorate the proper way. I also spent some time eating these marshmallows in a warm cup of cocoa and let me tell you they are SO good.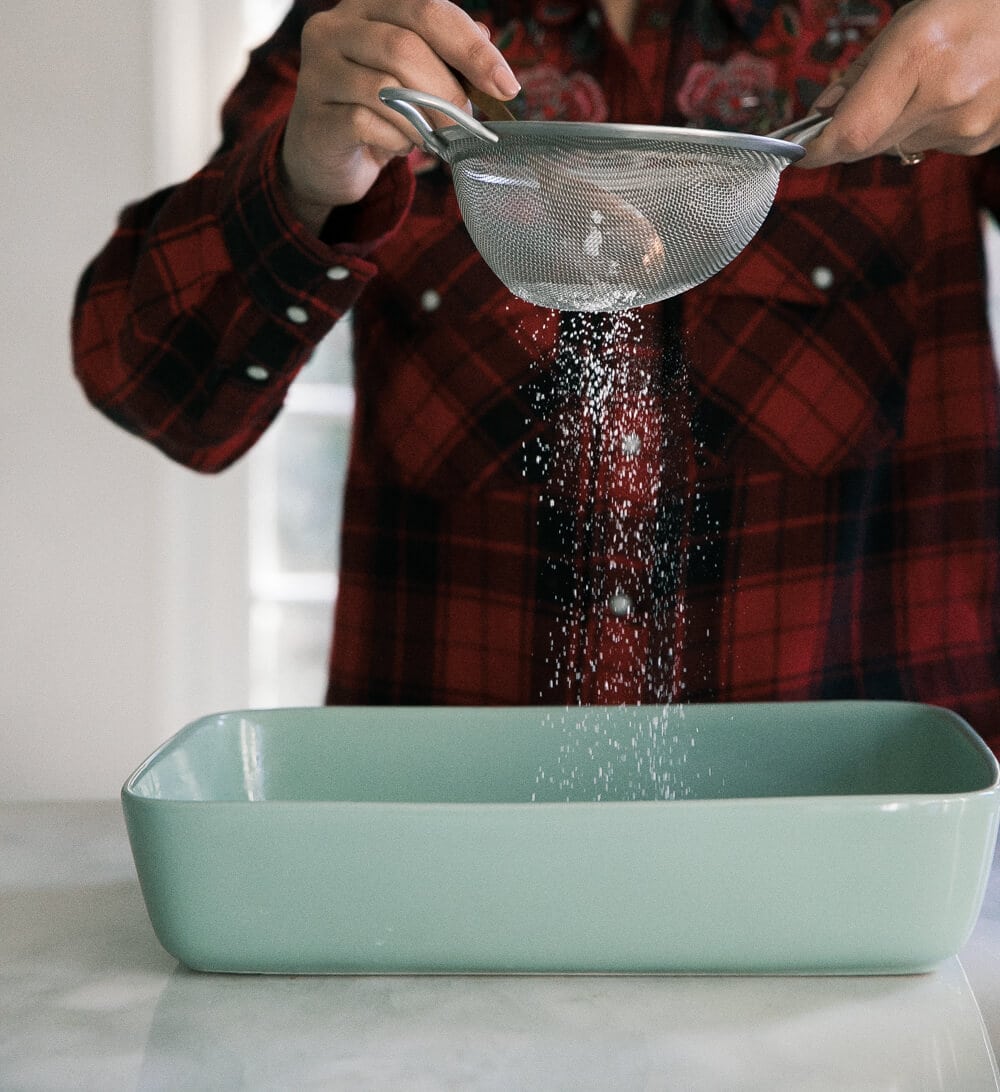 For this post, I teamed up with KitchenAid® and their Artisan® Stand Mixer, which is one of the tools in my kitchen that I pretty much use every single day. For years, I baked without one and life was so much harder then. Why is a stand-up mixer amazing, you might ask? Here are some things that I love about it:
1. KitchenAid Stand Mixers are really good quality. You will buy them once and they will last you a VERY long time.
2. You can make a wide-range of things in a Stand Mixer. Remember my mashed potatoes? I mix all sorts of things in it. It's not just for baking.
3. A lot of steps are now hands-free. If you're creaming butter and sugar together (the first step in a lot of cookies), you can just let it do its thing while you get the rest of the ingredients together. It allows you to multi-task.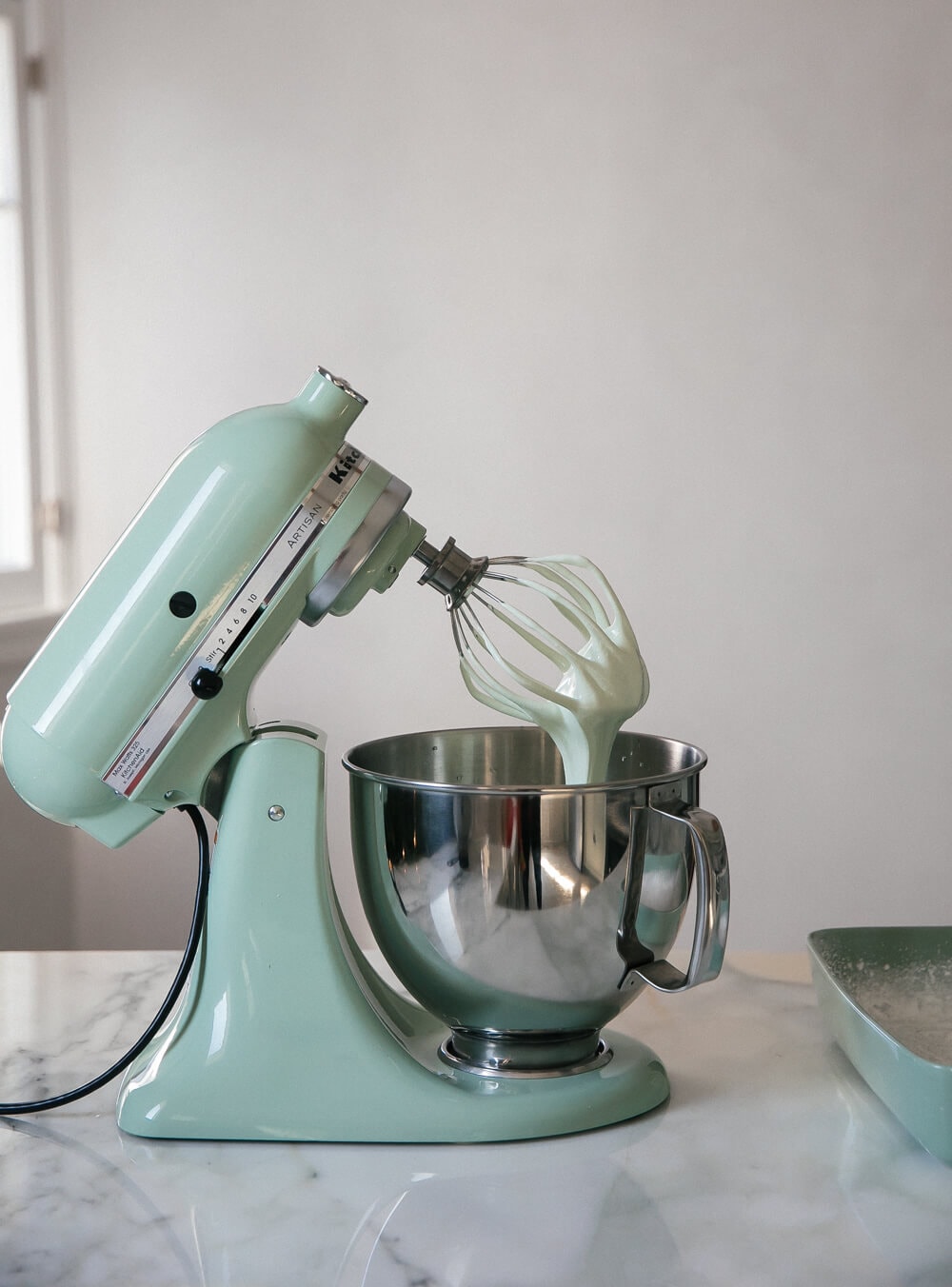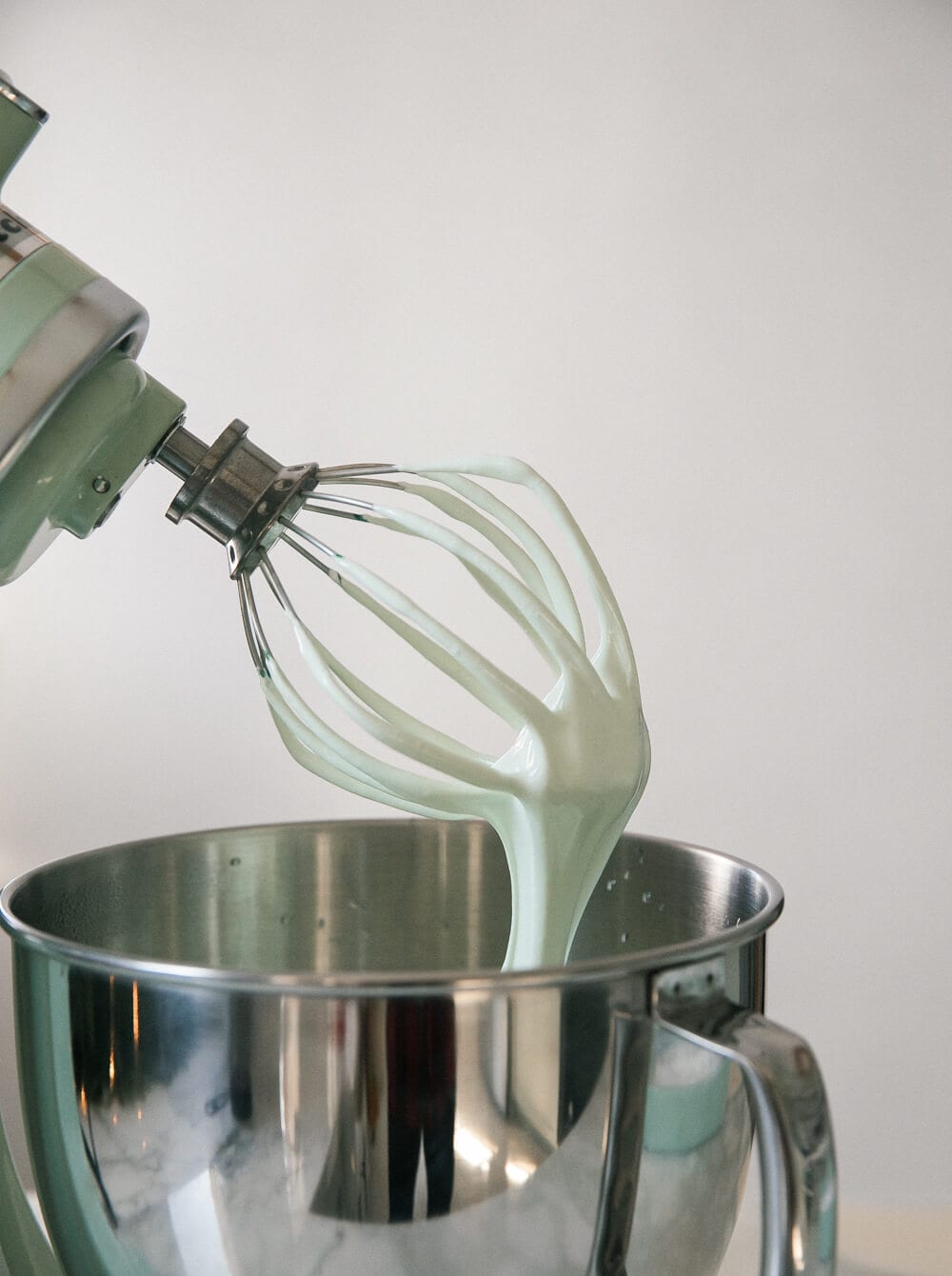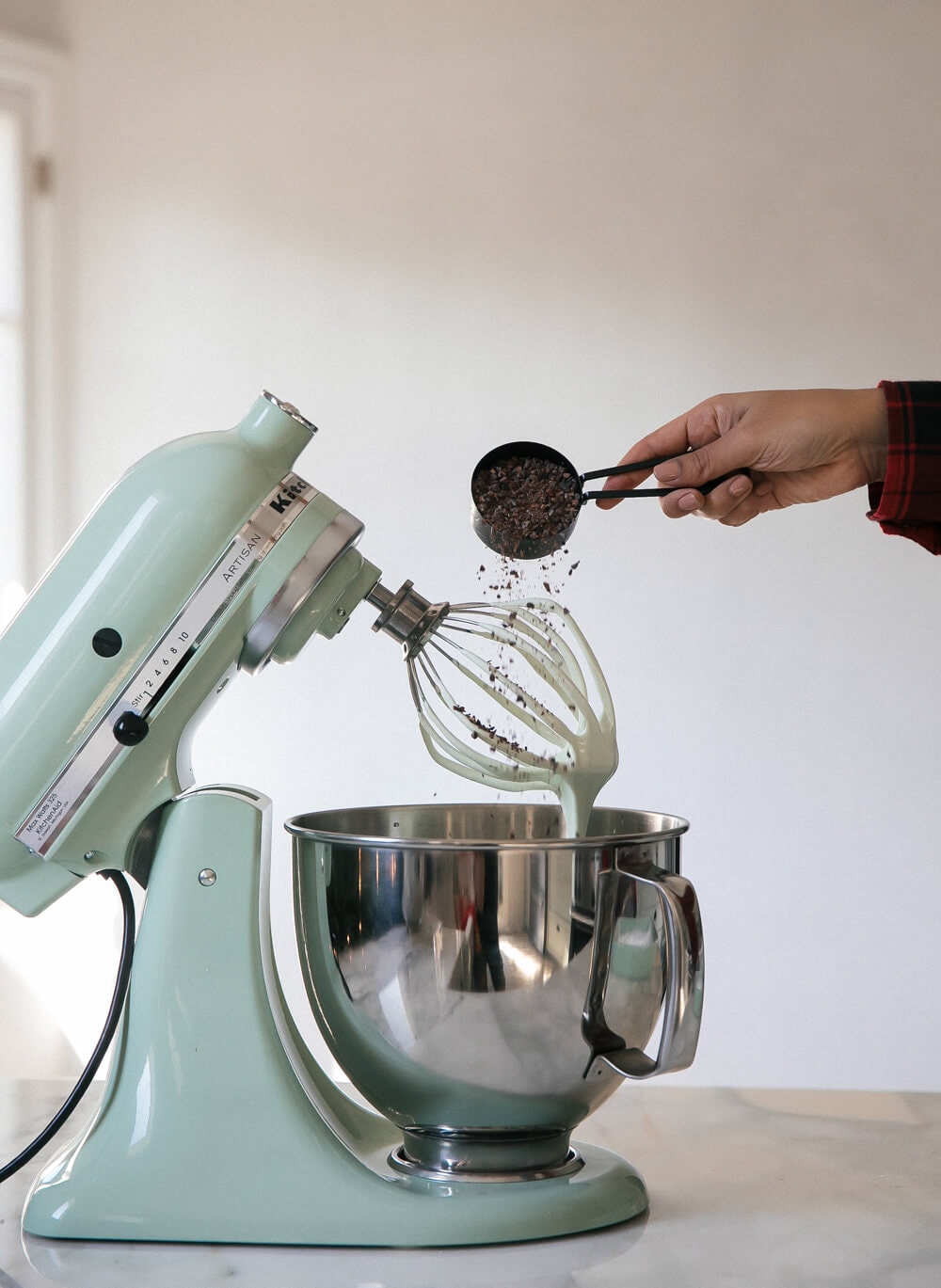 In this recipe, in particular, it allows you to actually pour the hot syrup into the mixer as it's going. You don't need a friend or partner. The mixer is your friend.
This marshmallow is magical. The cocoa nibs really give nice texture to these marshmallows and the peppermint extract is just enough of that peppermint-y flavor—it's not too overpowering. They're fluffy and delicious and perfect for that cup of hot cocoa that you've been craving all season.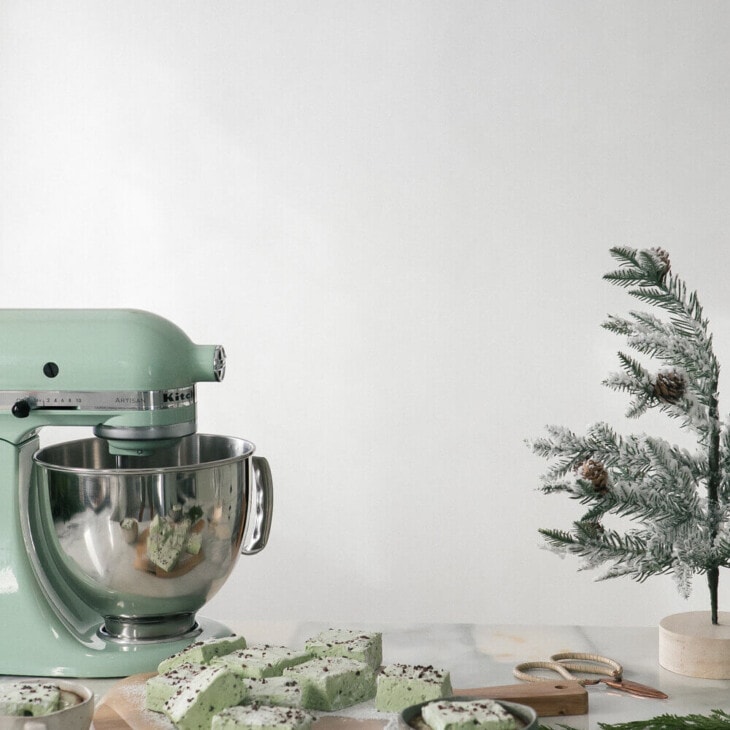 Print Recipe
Mint Chocolate Chip Marshmallows
Serving Size:
two-inch marshmallows
Ingredients
Powdered sugar mixture: 
3

tablespoons

powdered sugar

1

tablespoon

corn starch
Marshmallows:
3/4

cup

cold water

divided

3

envelopes of gelatin

7 1/2 teaspoons 

1 1/2

cups

white granulated sugar

1

cup

light corn syrup 

1/2

teaspoon

salt 

1/2

teaspoon

peppermint extract

Blue and Yellow Food Coloring 

1/2

cup

cocoa nibs

chopped reserving a tablespoon to sprinkle over the top
Special equipment:
Silicon spatula

Candy thermometer or digital thermometer

KitchenAid® Artisan® Stand Mixer with the whisk attachment
Instructions
Some prep work:
Before you begin, let's do some prep. Start by sifting together powdered sugar, corn starch onto a large plate. Grease you 9x13-inch casserole dish or baking dish.

Add a teaspoon of the powdered sugar mixture to the casserole dish and shake it around until the bottom of the edges are dusted. Set aside.
To make the marshmallows:
add the water and sprinkle the gelatin on top; allow to sit for 10 minutes. Attach the bowl to the stand-up mixer and add the whisk attachment.

Meanwhile, in a medium saucepan, with a candy thermometer attached to its side, combine the granulated sugar, corn syrup, salt and remaining 1/4 cup of water. Heat the mixture over medium heat until the sugar has dissolved. Turn the heat up to moderately high heat and bring the mixture to a hard boil and cook for 1 minute, until the candy thermometer reaches 240 degrees F.

Lower the whisk attachment and turn it on low. Carefully add the boiling liquid to the gelatin mixture. Turn the mixer to high and beat for 5 minutes, until the mixture has grown in volume. Stop the mixer and add 12 to 15 drops of each food coloring—this will make the perfect shad of "mint green."

Beat again for an additional 3 minutes, until doubled in volume and until it holds stiff peaks. Add the peppermint extract and vanilla extract. Beat for an additional minute or so until the both of them are incorporated. Fold in the cocoa nibs.

Pour the mixture into the prepared casserole dish or baking pan, smoothing out the top until it's evenly disbursed (it'll be sticky!). Sprinkle the remaining cocoa nibs on top. Lightly cover with plastic wrap.

Allow it to firm up on the kitchen counter for about 3 to 4 hours. Take a knife and run it around the edges of the casserole dish or pan and invert the marshmallow sheet onto a large cutting board, smacking the bottom of it, if needed. You also may need to use your fingers to loosen the marshmallow sheet from the casserole dish and gently glide it onto the cutting board.

Using a sharp knife, cut the marshmallows into 2 or 3-inch squares. Store the marshmallows in an airtight container for up to 1 week.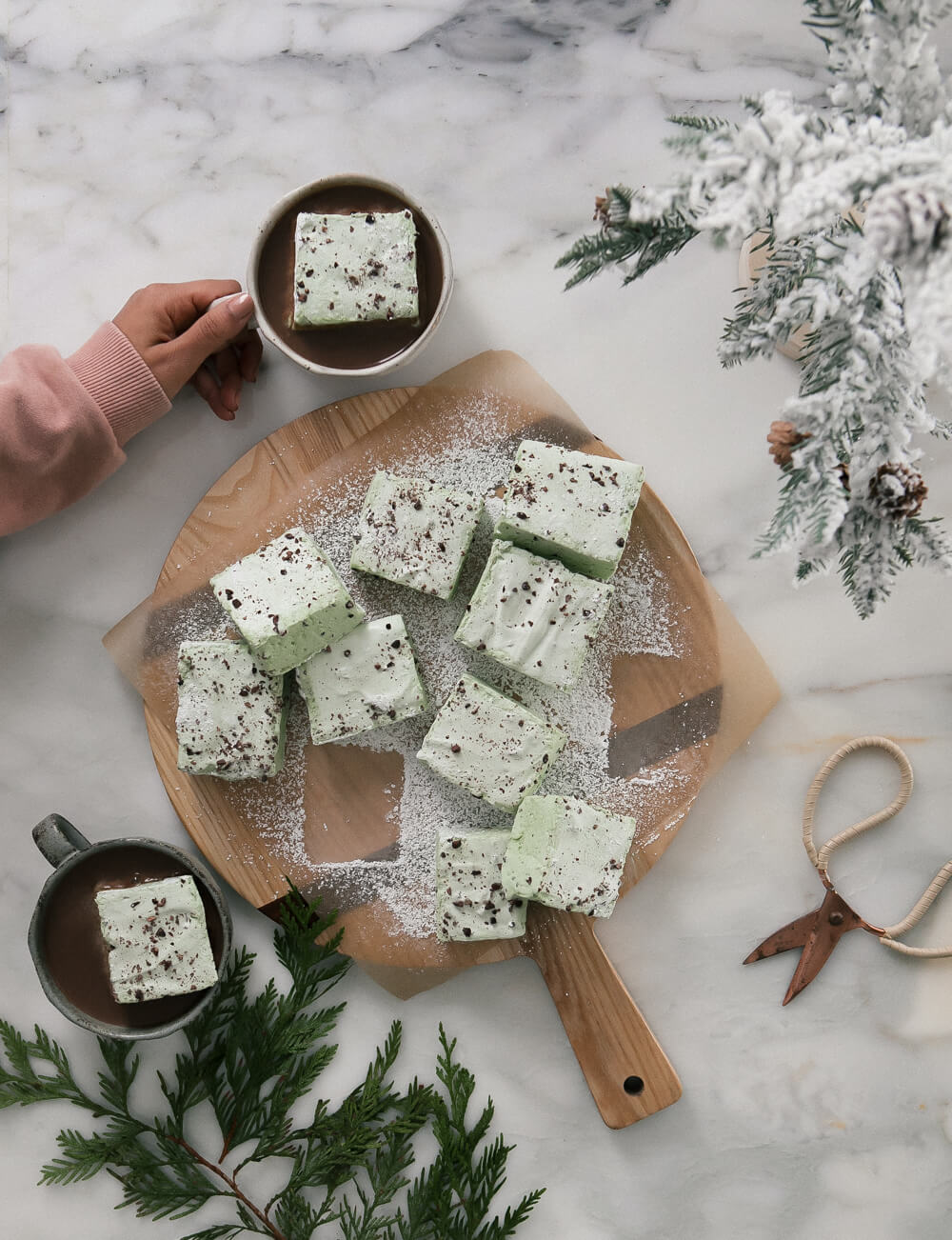 (This post is sponsored by KitchenAid®. Thank you for supporting the sponsors that keep A Cozy Kitchen cozy.)