This Instant Pot Braised Lamb Shanks smells like Sunday dinner. You know that smell…like sautéed onions while something braises in spices.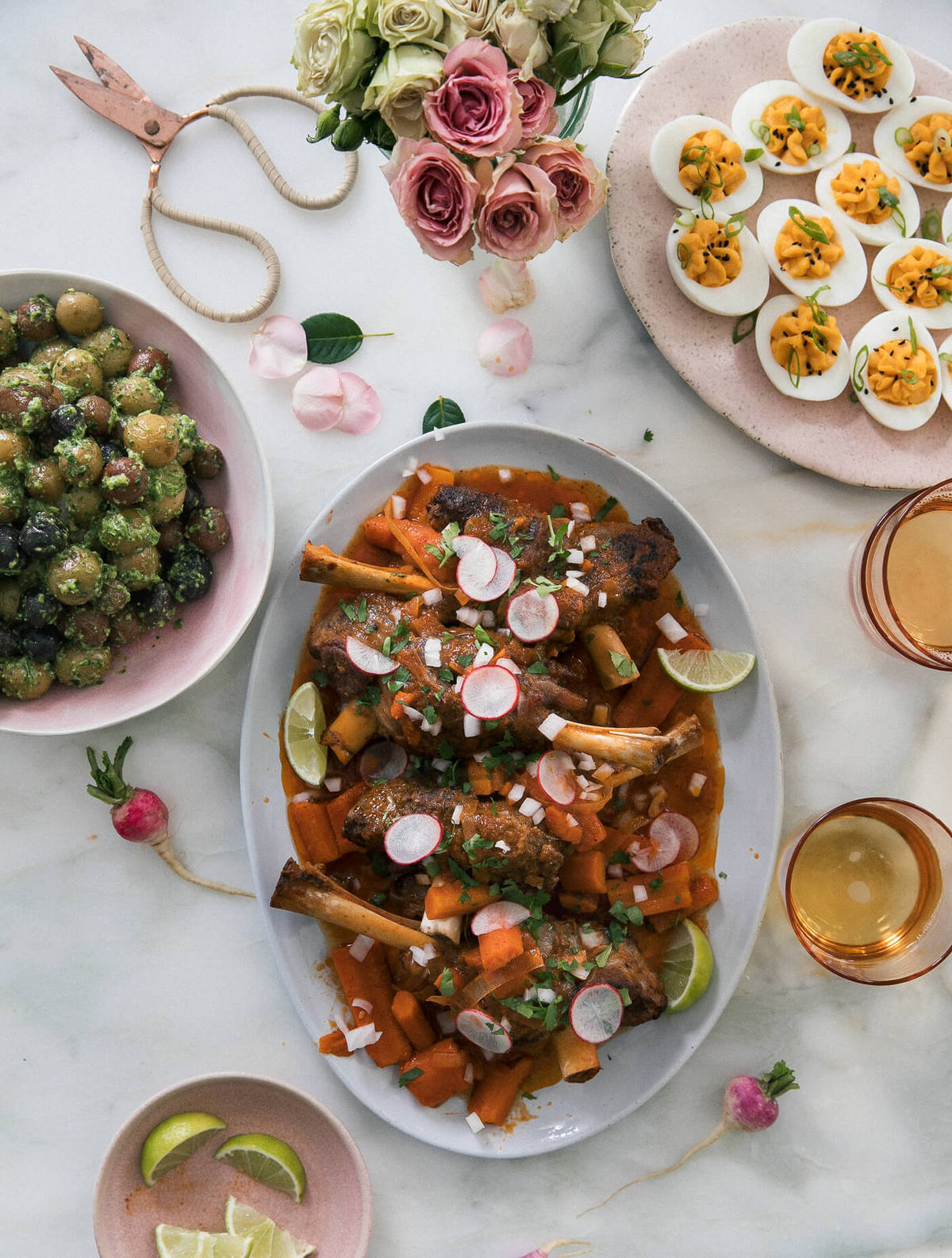 Sunday dinners are my favorite. The sounds and smells are delightful: the smells are of steam rising, some sort of adult-friendly jazz or salsa playing, and mom is screaming at you to set the table. Or at the very least, take the trash out because it's gotten full. People are coming over and it's time for the kitchen to go from used up to presentable. And you need to be presentable, too, so put on something nice; your Sunday best is preferred.
My mother was the best at braising things. She was also incredible at delegating and making everyone do what needed to get done. She was doing the most so it was only fair.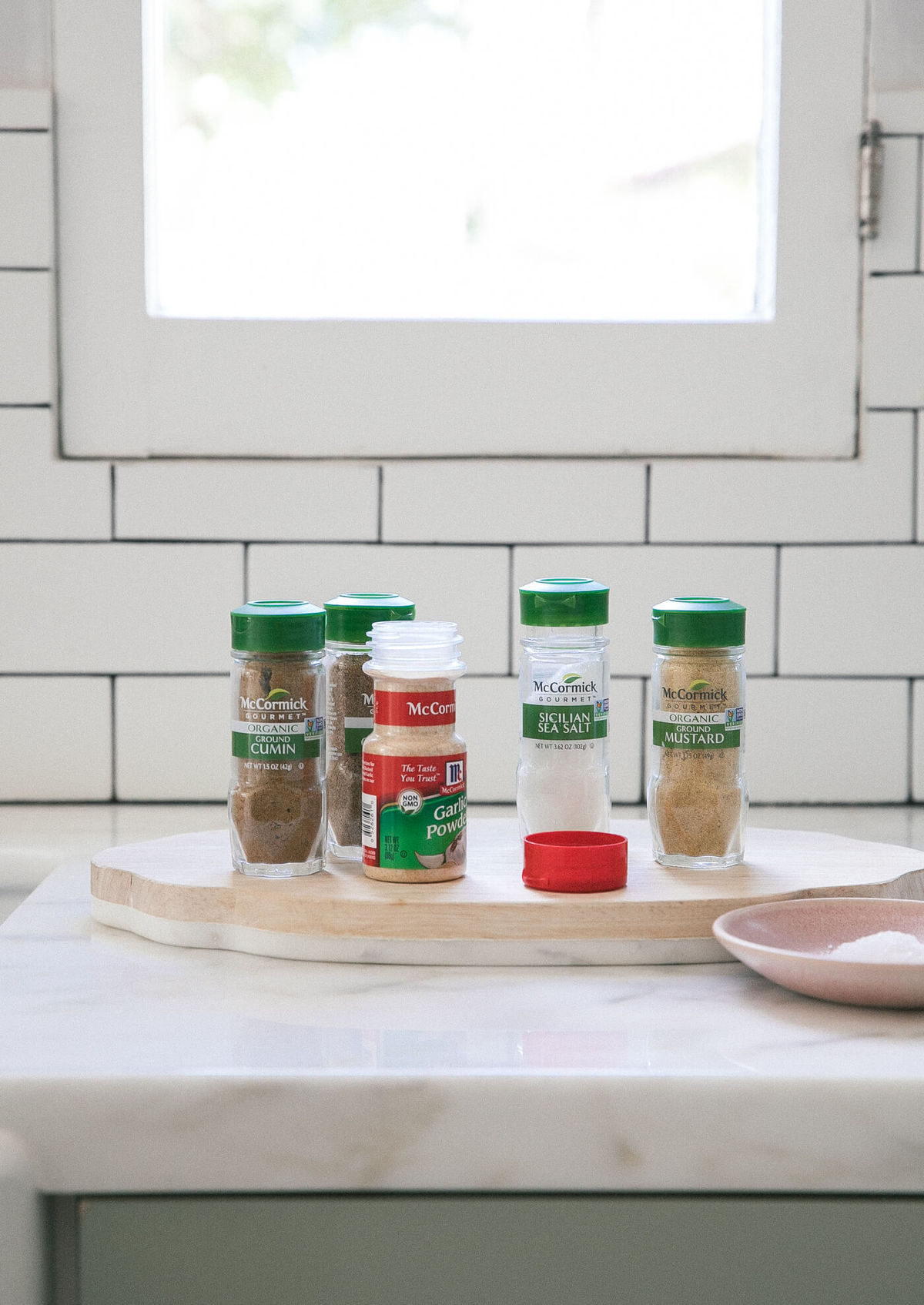 For this post, I teamed up with McCormick to show you how to make Easter Sunday smell and taste amazingly delicious. And to make it as easy as possible, this whole thing is made in an Instant Pot.
What is Lamb Shank?
Lamb shank is the cut of the lamb that is from the lower section of the sheep/lamb's leg. Lamb shanks can be from the back of the legs or front of the legs. They are coated in a very thin layer of fat and tend to be leaner than other parts of a lamb.
How to Make Instant Pot Braised Lamb Shanks?
The Instant Pot makes this dish come together SO fast and easy.
Combine the spice mixture. The lamb shanks are smothered in a spice mixture full of sea salt, garlic powder, cumin, coriander, mustard and black pepper. It's seared and then placed in the Instant Pot with tomatoes and a chipotle in adobo. It's braised with some carrots, onion and garlic.
Sear the Lamb Shanks. Heat neutral oil to a Dutch oven. When hot, sear the lamb shanks on both sides. I found that the Instant Pot wasn't wide enough to sear the lamb shanks. If you want, you can always skip this step if you find it a bit too annoying.
Blend up the tomato chipotle marinade. This part is important because it's really the sauce that makes this dish over the top.
Add everything to the Instant Pot. Add the garlic, onion, carrots, lamb shanks and sauce. Set it to 'high pressure' and to '45 minutes'.
Release the pressure. I like to cover the "seal" with a kitchen towel and use a wooden spoon to pull the lever to the other side to rapidly release the pressure.
Carefully open the Instant Pot and plate. I like to open it away from me. And then transfer the lamb shanks, along with some sauce to a serving platter or large bowl.
Garnish. I then like to make it look super pretty!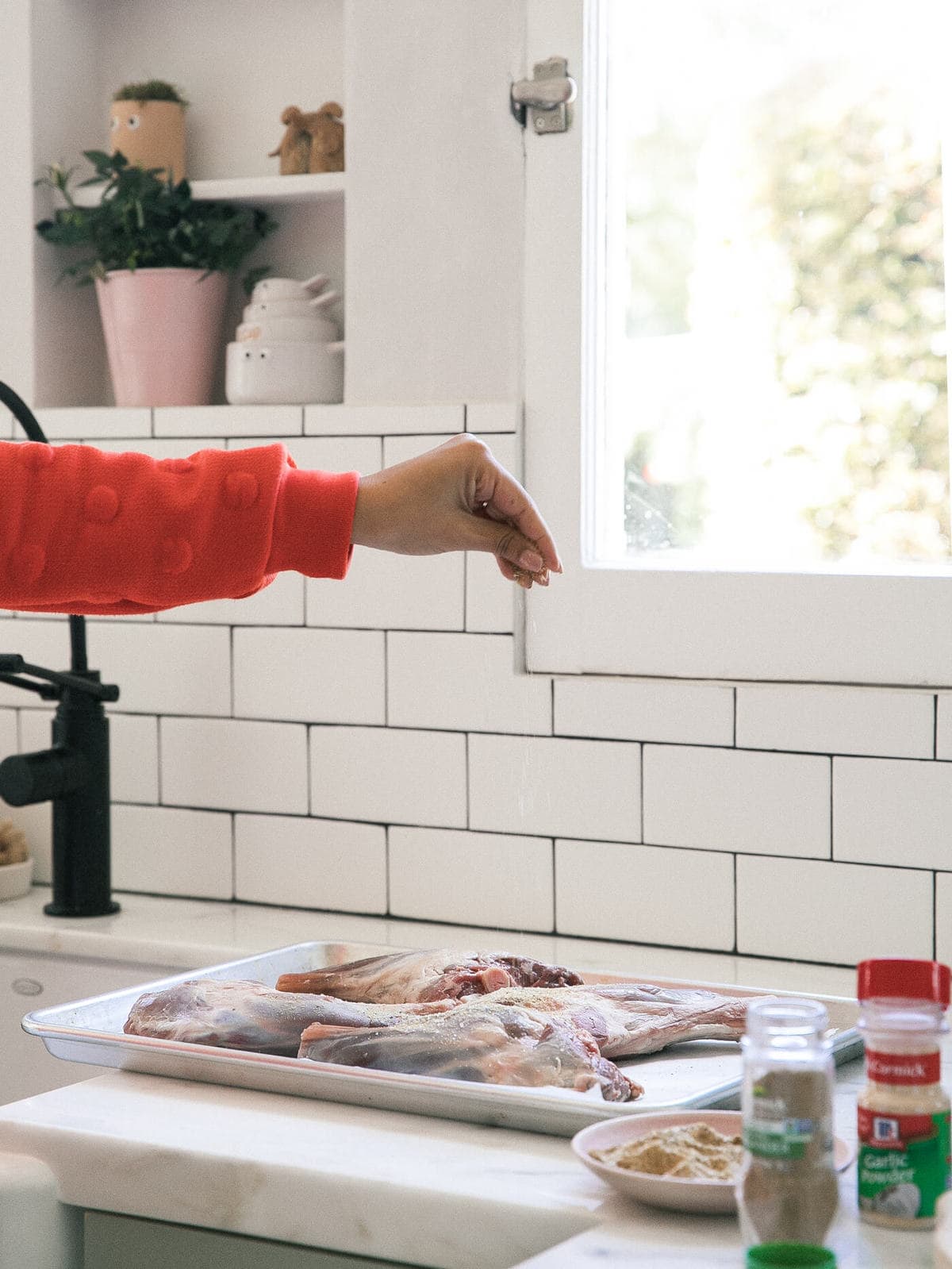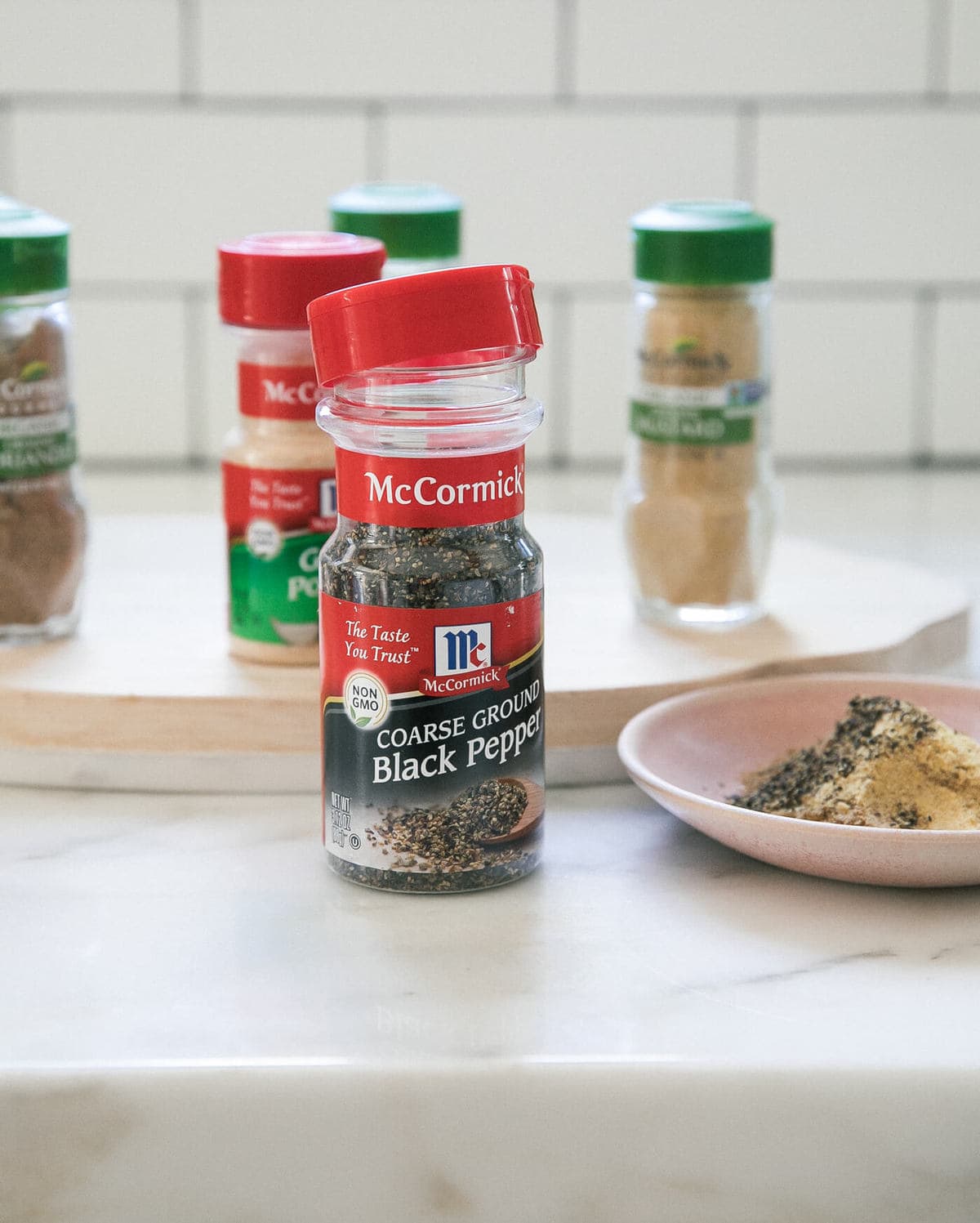 While it was in the Instant Pot doing its thing, I made this potato dish, piped out some deviled eggs and gathered some pretty flowers from the backyard. It was easy as can be.
When I released the pressure and lifted up the lid, the smell of spices and flavor engulfed the entire kitchen and I knew it was going to be amazing.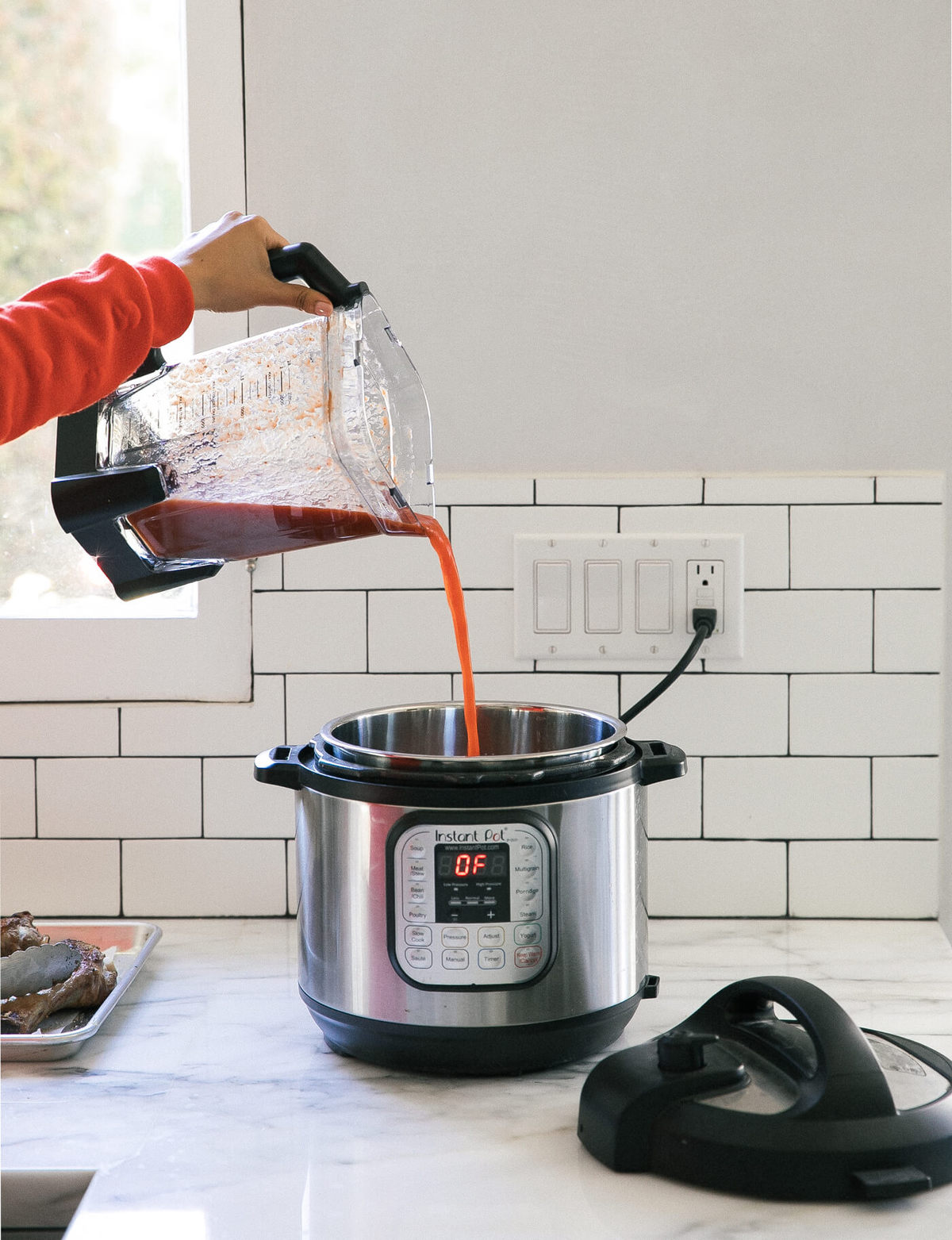 Garnishes for Instant Pot Braised Lamb Shanks!
I garnished the lamb shanks with the following:
a bit of diced white onion
cilantro
radishes.
Just like I would a taco. And if you some how have a batch of tortillas in your fridge, I think warming them up and placing them right next to this lamb would be a very good move.
Let me know if you make this Instant Pot Chipotle Braised Lamb Shank on Instagram!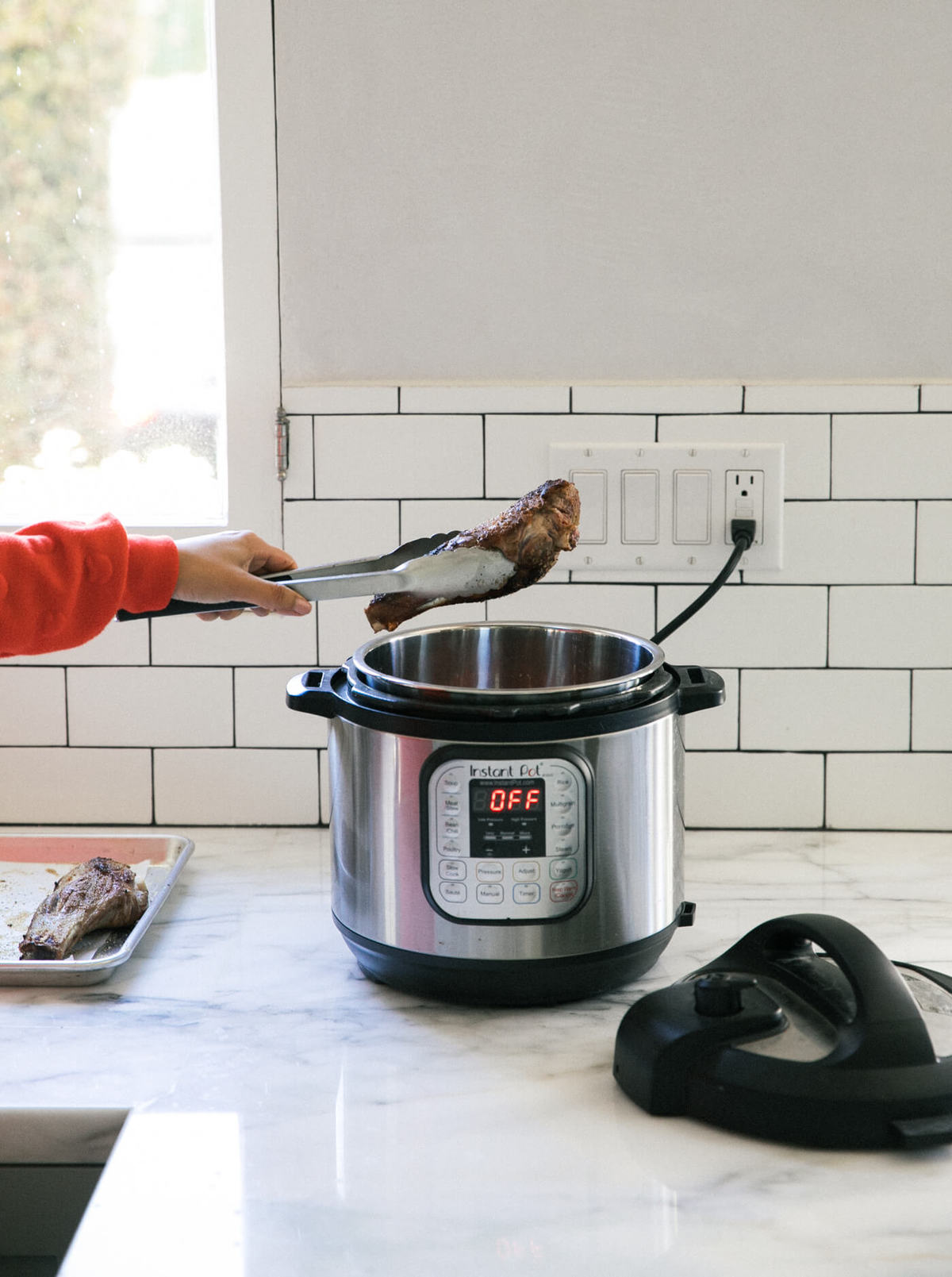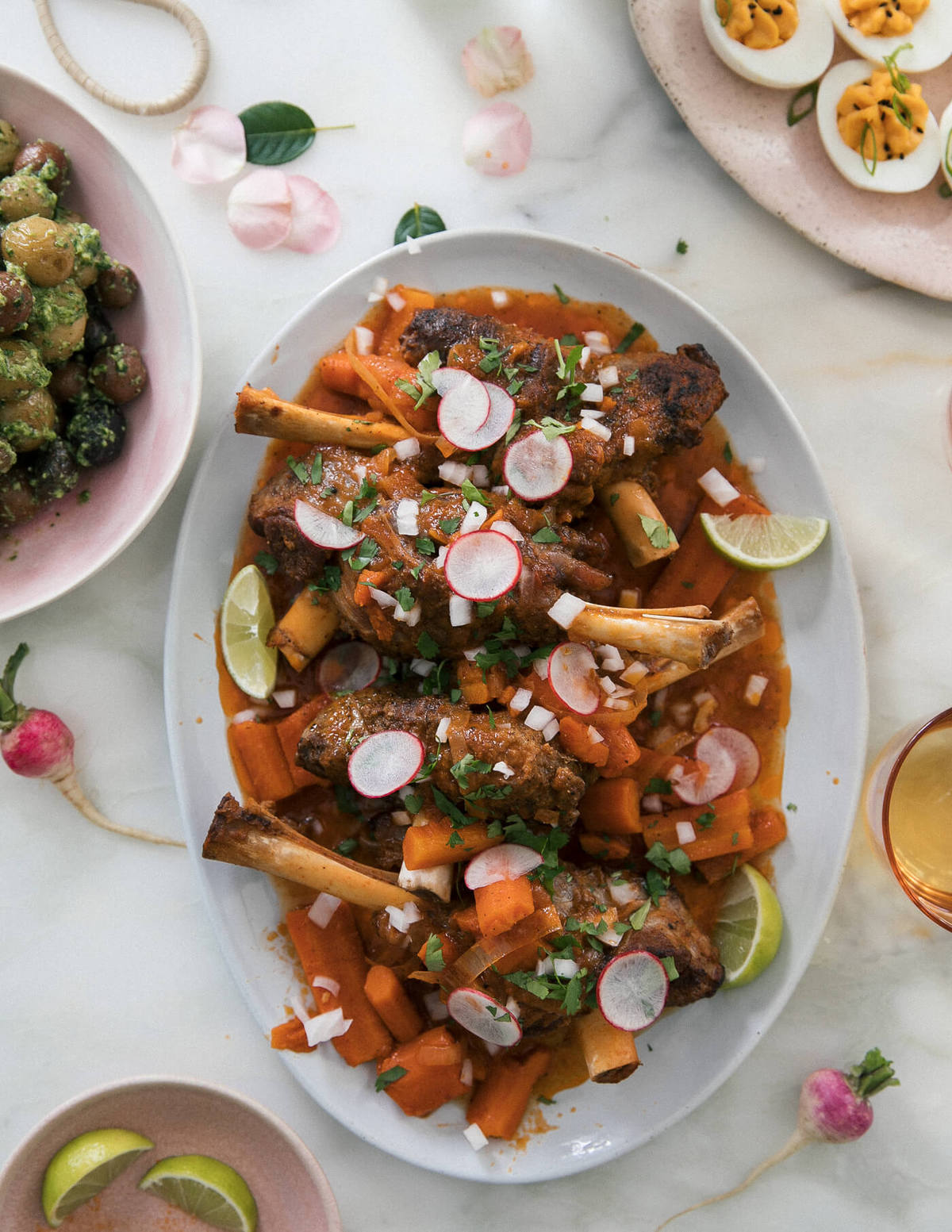 For More Instant Pot Recipes: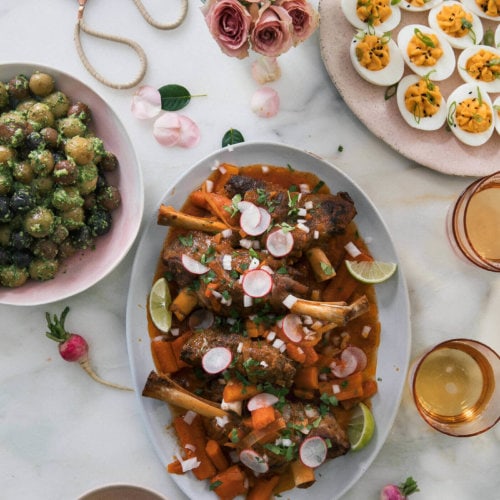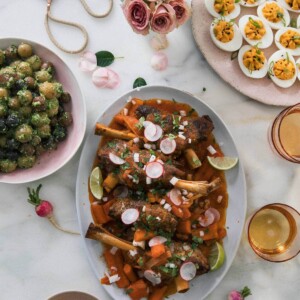 Instant Pot Braised Lamb Shanks Recipe
This Instant Pot Braised Lamb Shanks can be made in 35 minutes! The chipotle flavors, with onions and carrots, are so delicious with a hint of spice. 
Ingredients
Braised Lamb
3 1/2

pounds

lamb shanks

,

about 3

1

tablespoon

kosher salt

2

teaspoons

garlic powder

2

teaspoons

ground cumin

1

teaspoon

ground coriander

1

teaspoon

ground mustard

1/2

teaspoon

freshly cracked black pepper

2

tablespoons

neutral oil

1

(15-ounce)

can of whole or diced tomatoes

1

cup

water 

1

chipotle in adobo

2

cloves

garlic

1/4

white onion

,

sliced, plus more, diced, as garnish

4

carrots

,

trimmed, peeled and roughly chopped 

1

tablespoon

cilantro

,

minced, as garnish

1

radish

,

thinly sliced, as garnish

1

lime

,

cut into wedges, as garnish
Directions
Place the lamb shanks on a cutting board or baking sheet. In a shallow bowl or plate, whisk together the salt, garlic powder, cumin, coriander, mustard and black pepper. Sprinkle the lamb shanks with the spice mixture and allow them to come to room temperature, about 30 minutes. 

In a large Dutch oven, set over medium heat, add the vegetable oil. When hot, add the lamb shanks, in batches of two, searing them on both sides for about 5 to 7 minutes. Remove them from the pot and transfer them to a bowl. Repeat with the remaining two lamb shanks. 

To a blender, add the chipotle in adobo, tomato sauce, water and salt. Blend until pureed, about 1 minute. Give it a taste and adjust salt to your liking, I added an additional pinch of salt. 

To the Instant Pot, add the garlic, sliced onion, carrots and chipotle/tomato sauce mixture. Next, add the lamb shanks. Place the lid on the Instant Pot and manually set it for 45 minutes on "high pressure." When the lamb shanks have finished cooking, allow the Instant Pot to naturally release for 15 minutes. Open the steam valve to release the remaining steam and once that's complete, remove the lid and transfer the lamb shanks to a serving plate and cover with foil. 

Turn the setting to sauté and allow the sauce to cook and thicken for about 10 to 15 minutes. 

To serve, uncover the lamb shanks, pour the sauce and carrots over the shanks. Garnish with minced cilantro, sliced radishes, diced white onion and lime wedges. 
Nutrition Facts
Instant Pot Braised Lamb Shanks Recipe
Amount Per Serving (6 g)
Calories 350
Calories from Fat 90
% Daily Value*
Fat 10g15%
Cholesterol 128mg43%
Sodium 9mg0%
Potassium 129mg4%
Carbohydrates 5g2%
Protein 25g50%
* Percent Daily Values are based on a 2000 calorie diet.