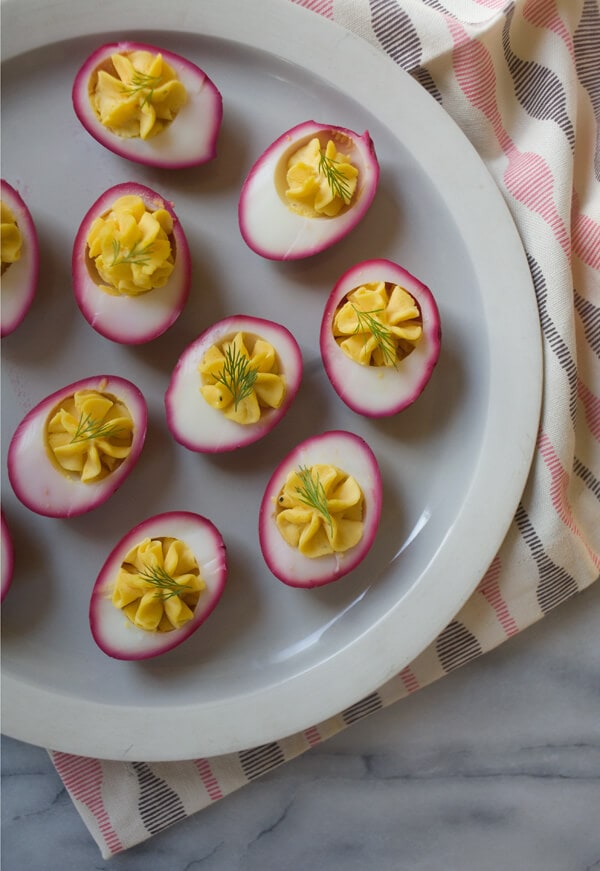 Last year I stayed at home like the homebody that I am. I enjoyed it, honestly. I did just get a puppy corgi so I wasn't super excited about going into the world of glittery dresses, cars and champagne and vomit, but this year is different! I'm actually going out. Josh and I are gonna watch one of his best friends get married on New Year's Eve and I'm kind of excited to have a place to go, get all dressed up for and a group of people to celebrate with.
So, basically, what I'm saying is that I'm not making these Beet-Pickled Deviled Eggs because I'm going to a wedding and showing up with a homemade appetizer would probably piss off catering, but you definitely should! They'll be the stunner of the appetizer table, I can guarantee it.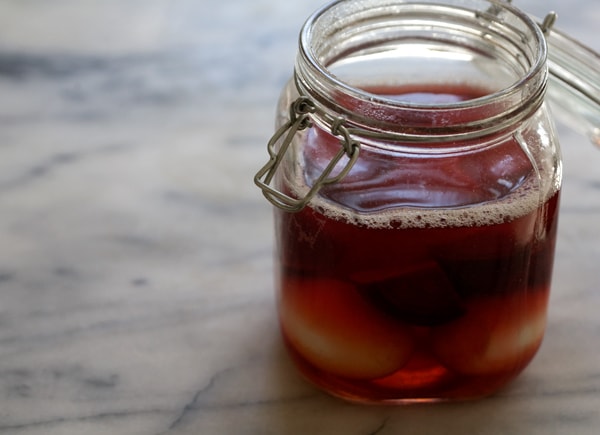 If you're not staying home, which is totally fine by me, I bet you're probably going to someone's house for a small gathering. This is my second favorite New Year's activity, behind being at home in PJs. I really dig the whole quiet New Year's thing at someone's house where you can kinda chill, listen to music, talk to your friends, eat some food and then make out at midnight and then head home.
If that's on your to-do list, then these would be a good lil' addition. Aren't they pretty?! There needs to be more pink foods.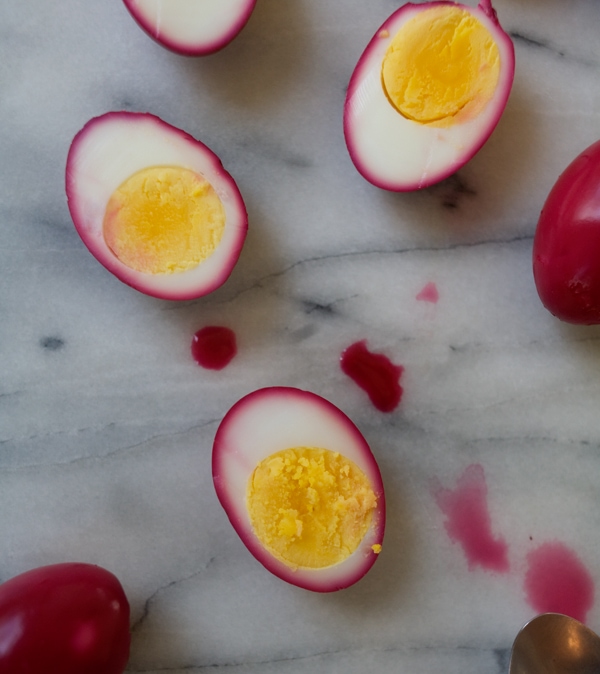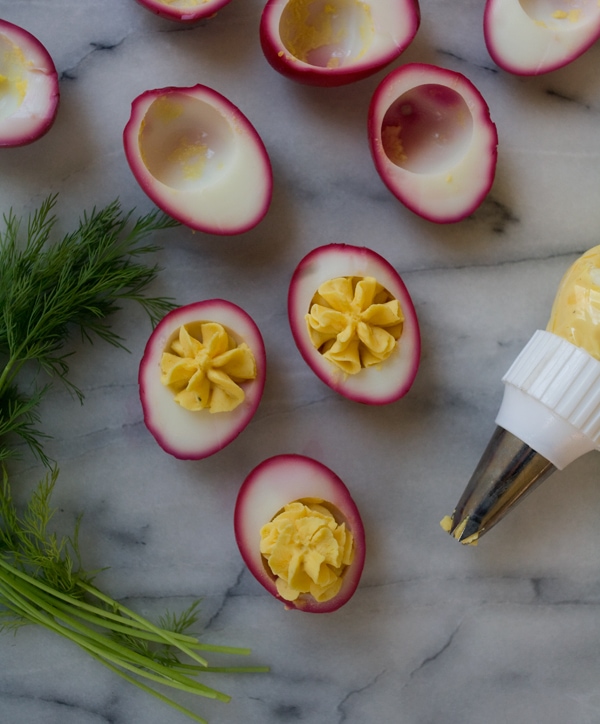 These aren't super difficult to make, nor do they take a ton of time; but do plan accordingly because the pickling does take a bit of time.
Also, let's talk about dang peeling eggs. I used eggs that were about 5 days from the time I purchased them. Phew. I really do think that the older the eggs: the easier they are to peel. I know a lot of people like to debate this notion, and if you're in a particularly tip-giving, argumentative mood, feel free to leave your opinion below! I love opinionated people, and I mean that sincerely.
Tomorrow I'll be bringing you one more recipe for your New Year's drinking pleasure, so see soon!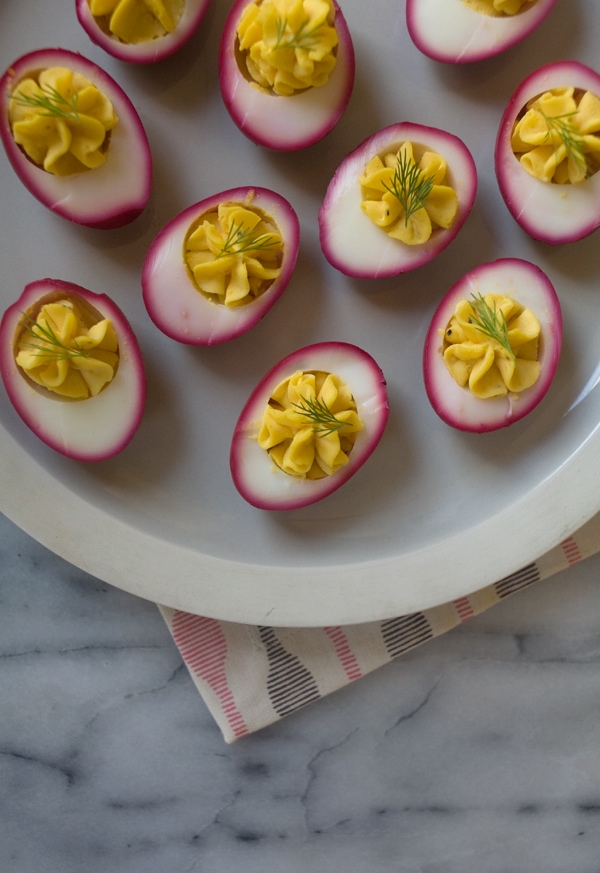 Print Recipe
Beet-Pickled Deviled Eggs
Serving Size:
lil' deviled eggs
Ingredients
Pickling:
8

large eggs

3

cups

water

1

cup

apple cider vinegar

3

tablespoon

sugar

1

teaspoon

kosher salt

1

beet

juiced

1

beet

peeled and quartered

1/2

yellow onion

peeled

1

garlic clove

peeled

5

whole cloves

1

cinnamon stick
Deviling:
3

tablespoons

mayonnaise

2

tablespoons

sour cream

2

teaspoons

Dijon mustard

1/2

teaspoon

freshly ground pepper

Salt to taste

Fresh dill

for garnish
Instructions
To boil eggs: Place eggs in a pot and cover the eggs with water. Transfer the pot to the stove and turn the heat to high. Bring the pot of water to a medium boil. The second the boil begins, turn the heat off, cover the pot and set your timer to 9 minutes. This will give you a firm yolk---yet not overcooked---that's perfect for deviled eggs. Drain the eggs and run cold water on them--just so they're cool enough to handle. I find that warm eggs are easier to peel than cold eggs. Peel each hard boiled egg and set them aside.

To a medium saucepan, add all of the pickling ingredients: water, apple cider vinegar, sugar, salt, beet juice, beet, yellow onion, garlic clove, cloves and cinnamon stick. Bring the mixture to a simmer; cook for 20 minutes, until the beet is very tender when poked with a fork.

Transfer the pickling liquid to the refrigerator or freezer (I put it in the freezer for 15 minutes to cool it down quickly) to come to room temperature. (We're doing this so the liquid doesn't overcook our perfectly boiled eggs.) When the mixture is room temperature, transfer it to a large bowl or jar. Carefully drop in the hard boiled eggs and allow to pickle for at least 2 hours or up to 2 days. Obviously, the longer you allow them to sit, the more pink in color they'll be and the more they'll taste like the pickling liquid. The pickled eggs you see pictured were pickled for 2 1/2 hours.

Once pickled, remove the eggs from the pickling liquid and slice them in half. Gently scoop out the egg yolks and transfer them to a medium bowl. Mash the egg yolks with a fork until they reach a fine crumble. Mix in the mayonnaise, sour cream, Dijon mustard and freshly ground pepper until the egg yolks are very smooth. Salt to taste and adjust any other seasonings to your liking (you may find you need to add a tablespoon or two more of mayo or sour cream to reach a smooth consistency).

Scoop dollops of the mixture into each of the egg-white halves. Alternatively, if you're feeling fancy, transfer the mixture to a piping bag fitted with a star tip and pipe-in the mixture into of the each egg white halves. Garnish with a teeny sprig of fresh dill, if you like, and serve.