Carrot Cake Cupcakes with Cream Cheese Frosting are a true gift to the season of spring. Moist, delicious grated carrot is speckled throughout this cake batter, along with spices and diced walnuts. I topped these with beautiful spring "grass" and buttercream flowers.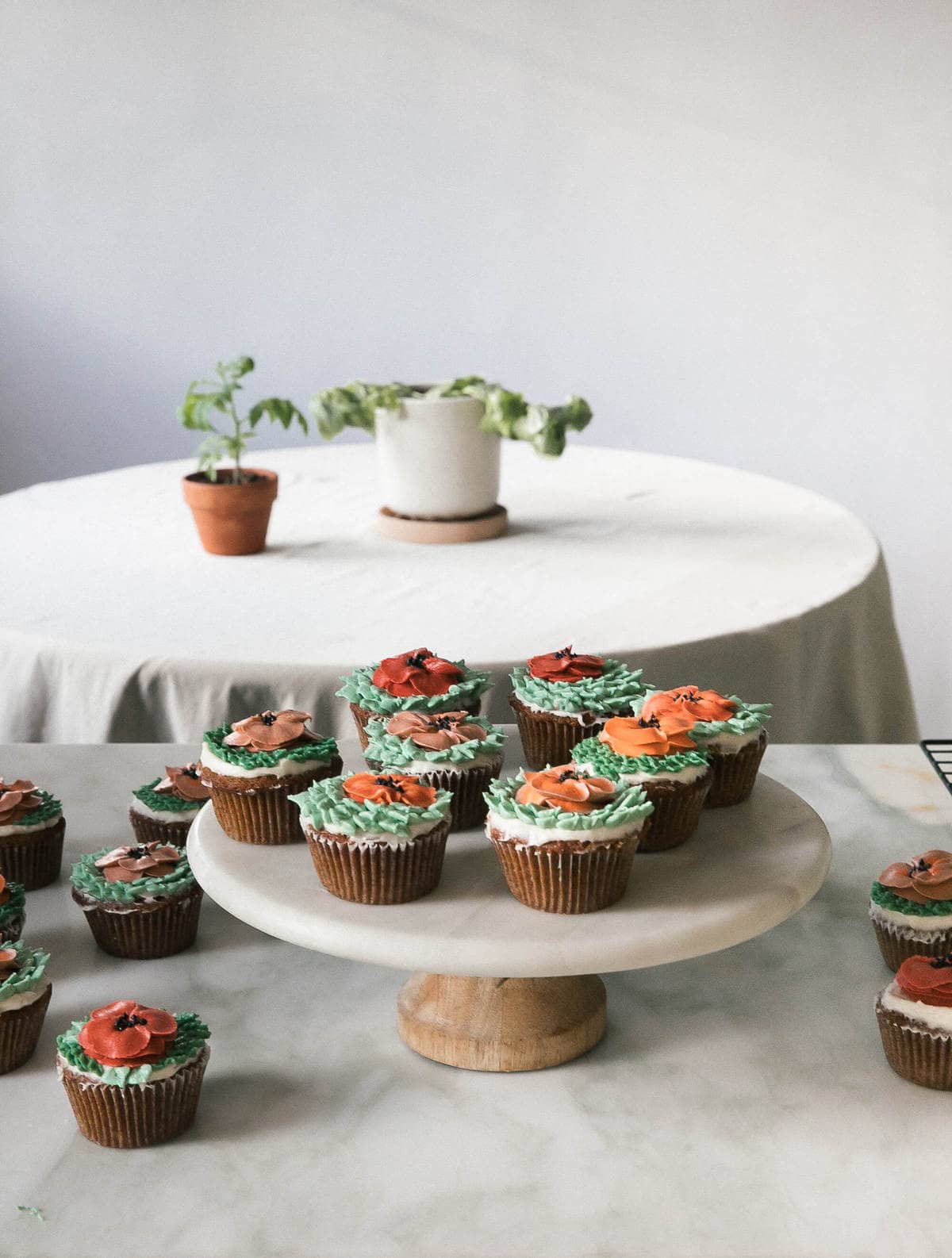 I'm not gonna front, these carrot cupcakes are THIS carrot sheet cake recipe in cupcake form. A lot of people have asked me "can I make this sheet cake into cupcakes?" The answer is absolutely! It's as simple as making the batter and putting it into cupcake liners.
But listen, I know that might sound more than easy but sometimes we have to see it in its transformed state in order to actually be inspired to make it you know?
Here they are transformed!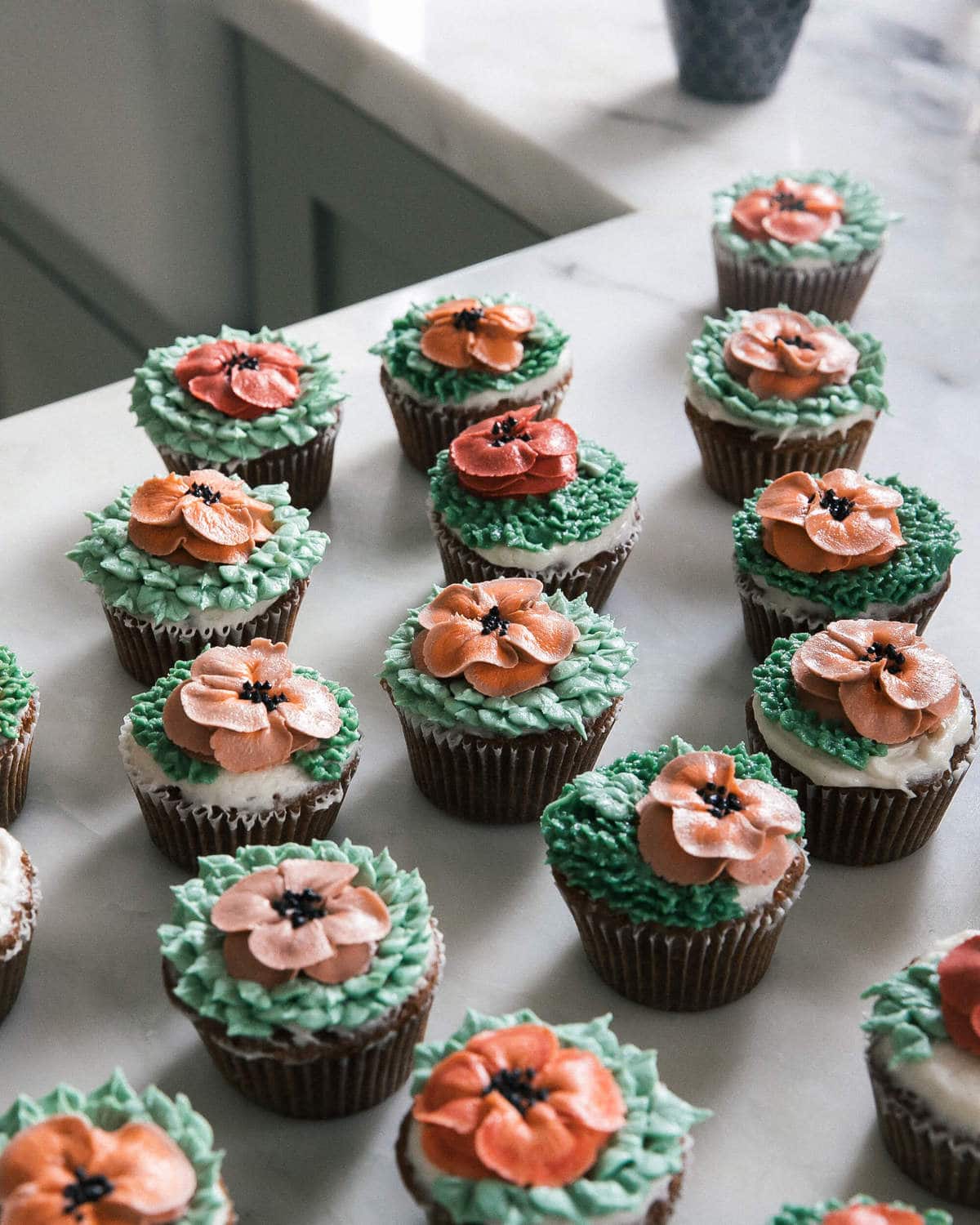 Why Cupcakes?
The real question is why not? While I think sheet cakes are great for both transporting and feeding a crowd, so are cupcakes. People love that cupcakes are nicely contained and neat. They're also beautiful on display, whether that's on a cake stand or large platter.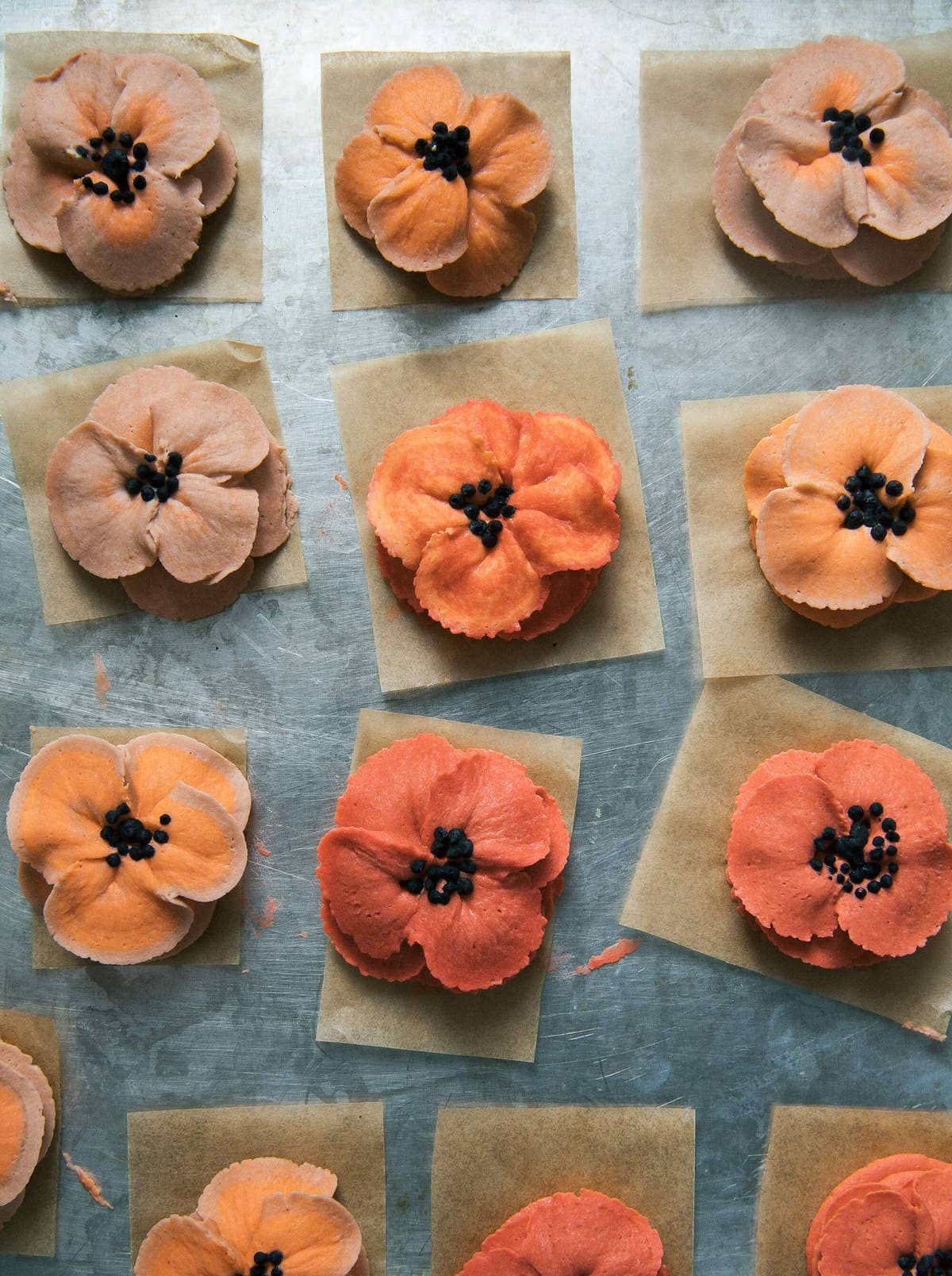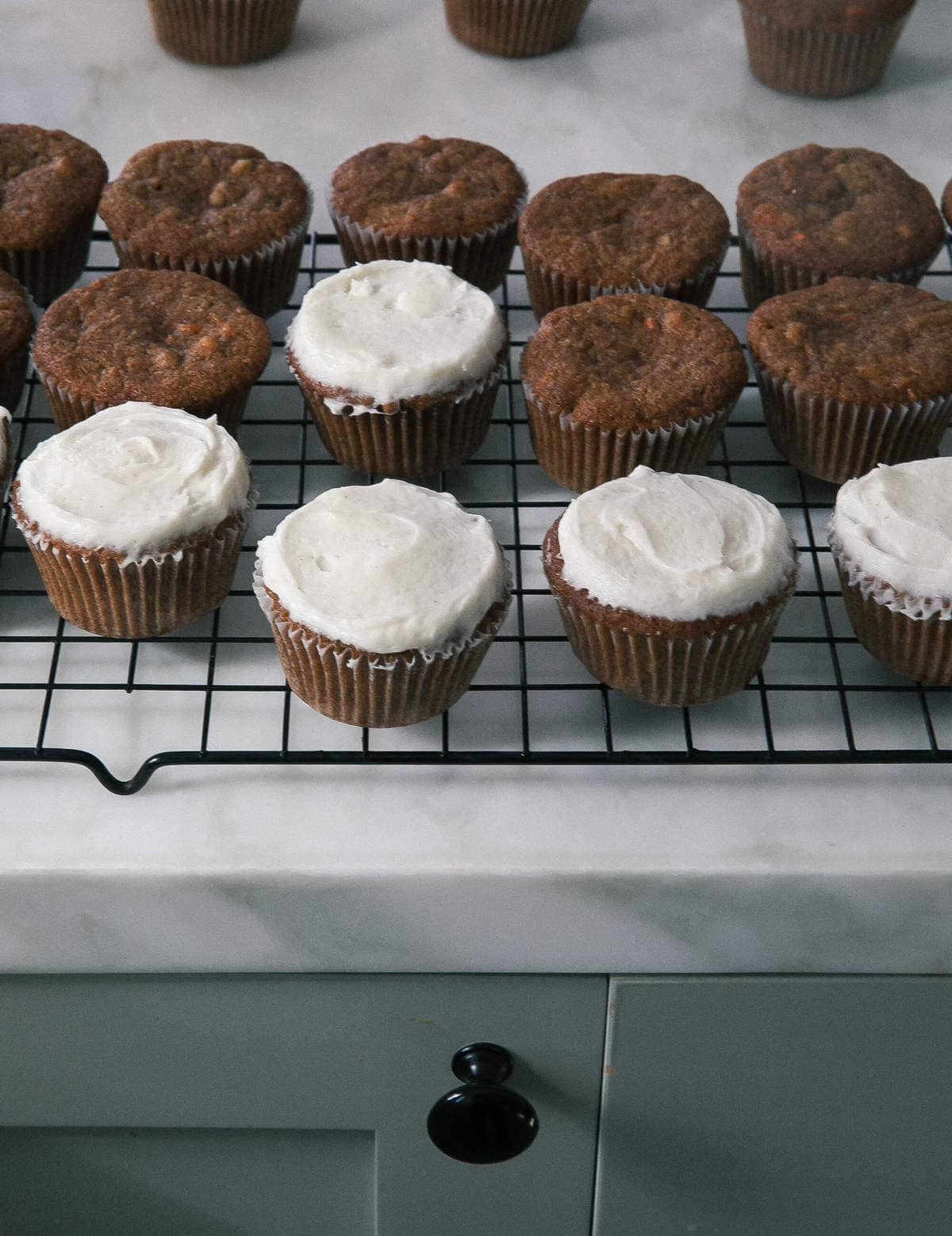 Carrot Cake is Truly the Best!
A lot of times people ask me, what is your favorite type of cake. I have a hard time with this question because I love a lot of different types of cake BUT I LOVE CARROT CAKE. It has a large crumb, it speckled with warm spices, grated fresh carrots and a healthy amount of walnuts. Carrot cake is moist and delicious and then it's typically topped with cream cheese frosting. YUM.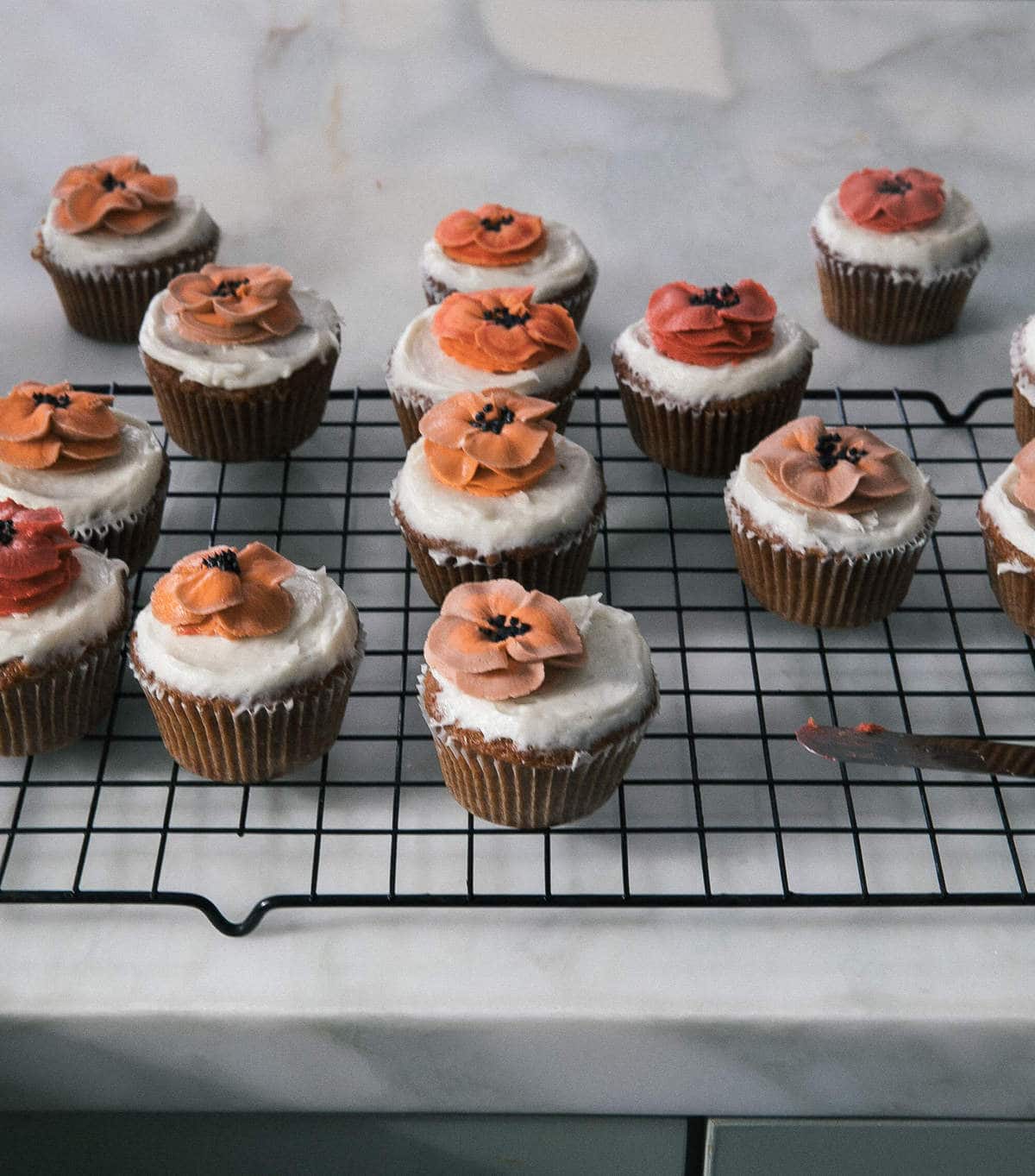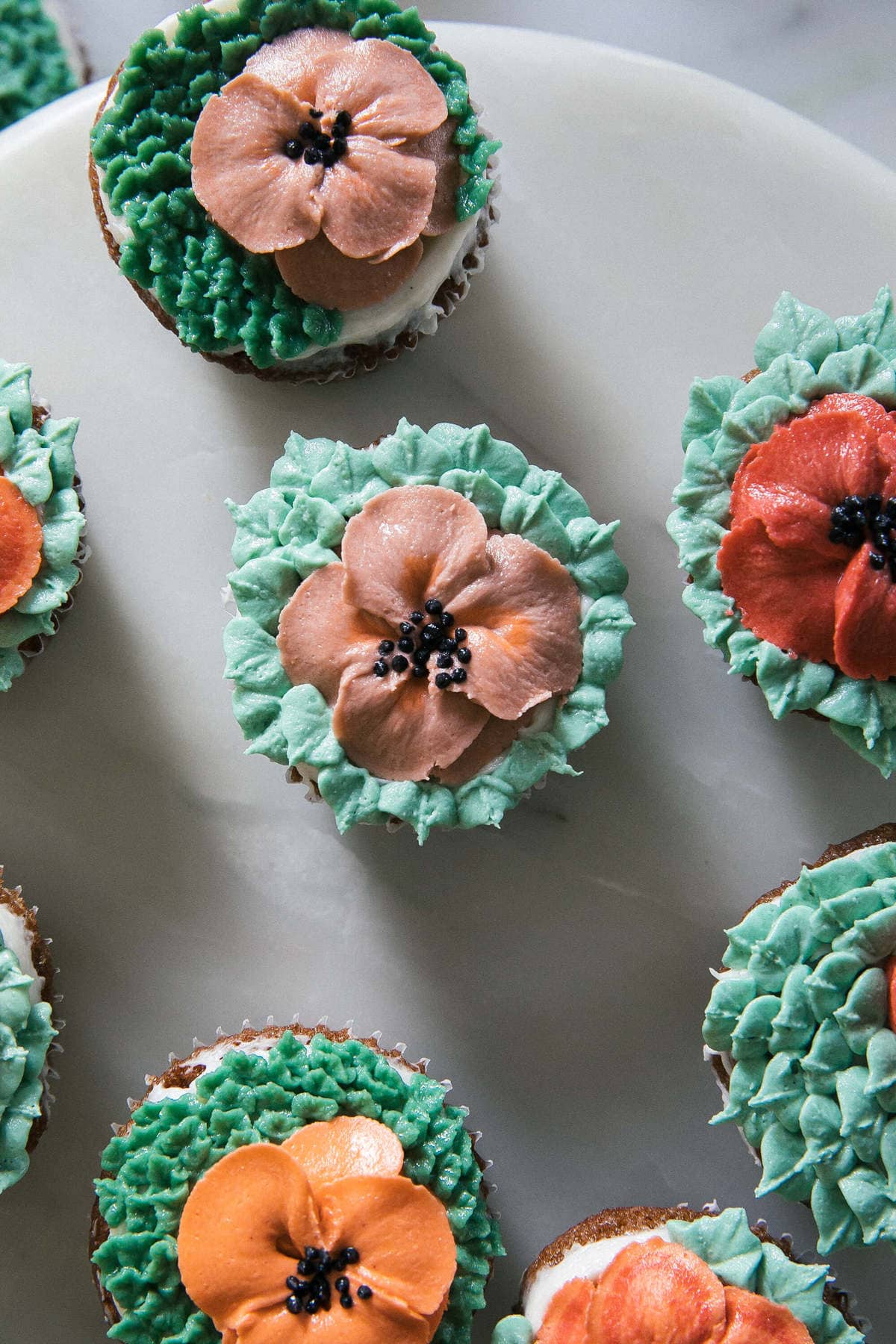 How to Make Homemade Carrot Cake Cupcakes with Cream Cheese Frosting
Whisk together the dry ingredients. We the usual culprits: all-purpose flour, leavening, salt and spices like cinnamon, nutmeg and ground ginger.
Cream together the butter and sugars. This recipe uses both butter AND oil. The butter gives us flavor, while the oil gives this cake a lot of moistness.
Next, pour in the oil and then crack in the eggs. 
And then, alternating between the buttermilk and dry mixture, you're going to add them to the egg mixture. This will allow the batter to absorb slowly and properly.
Lastly, you're going to add the grated carrots and walnuts. YUM. It'll smell delicious.
I like to give it a last mix, being sure there aren't any pocket so of flour at the bottom of the bowl.
Divide the batter amongst the cupcake tins. I like to do this with a cookie scoop.
Bake 'em!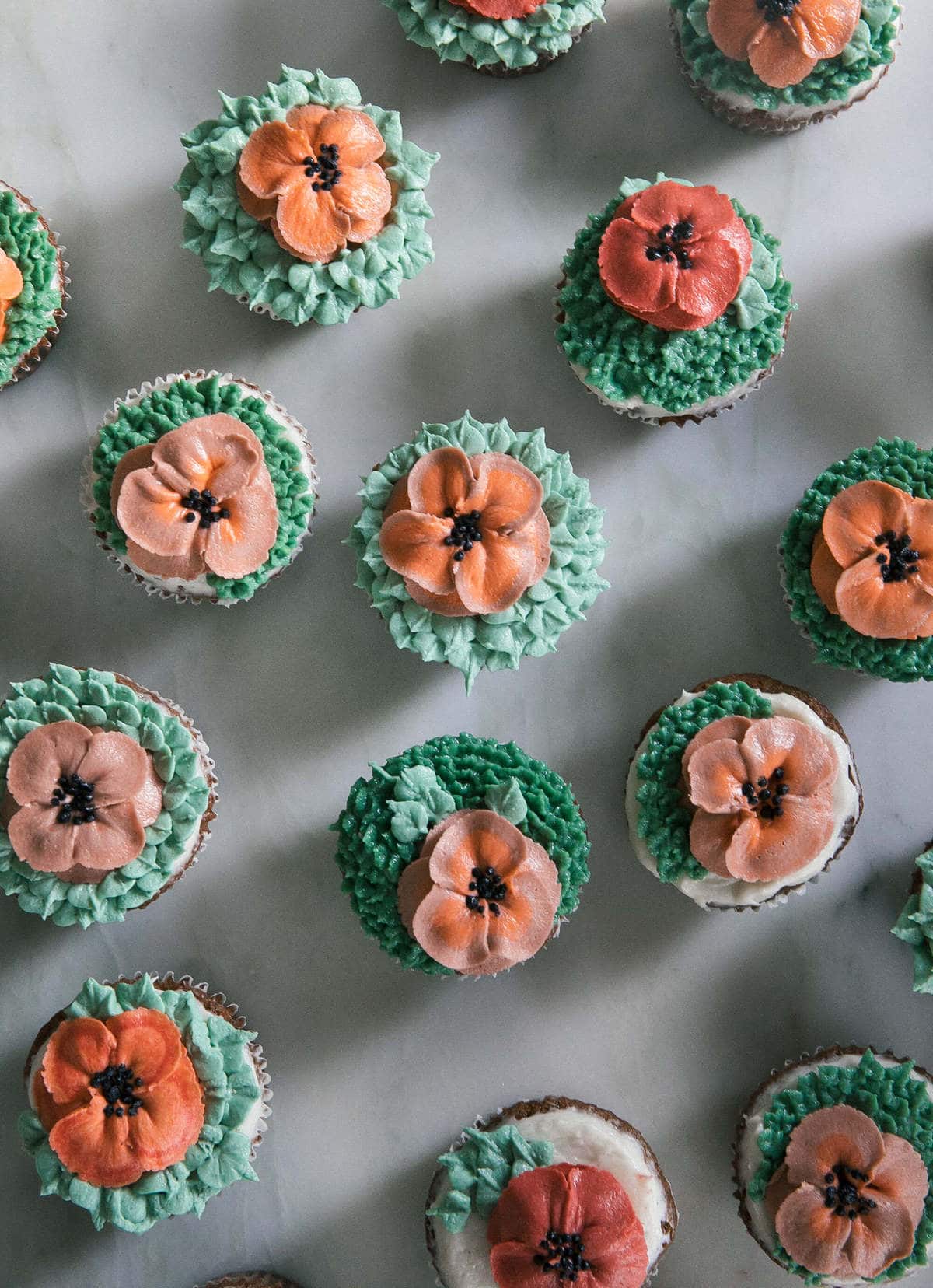 Can You Freeze Carrot Cake Cupcakes with Cream Cheese Frosting
Yes, absolutely. Like all cake, carrot cake cupcakes freezes really well. I would advise frosting them. To freeze cupcakes, you want to place them on a baking sheet and transfer them to the freezer for about 1 hour. When they're rock solid, transfer them to a freezer-safe container or bag. They'll be good for 3 months. To thaw them, remove them from their container and thaw on the counter at room temperature.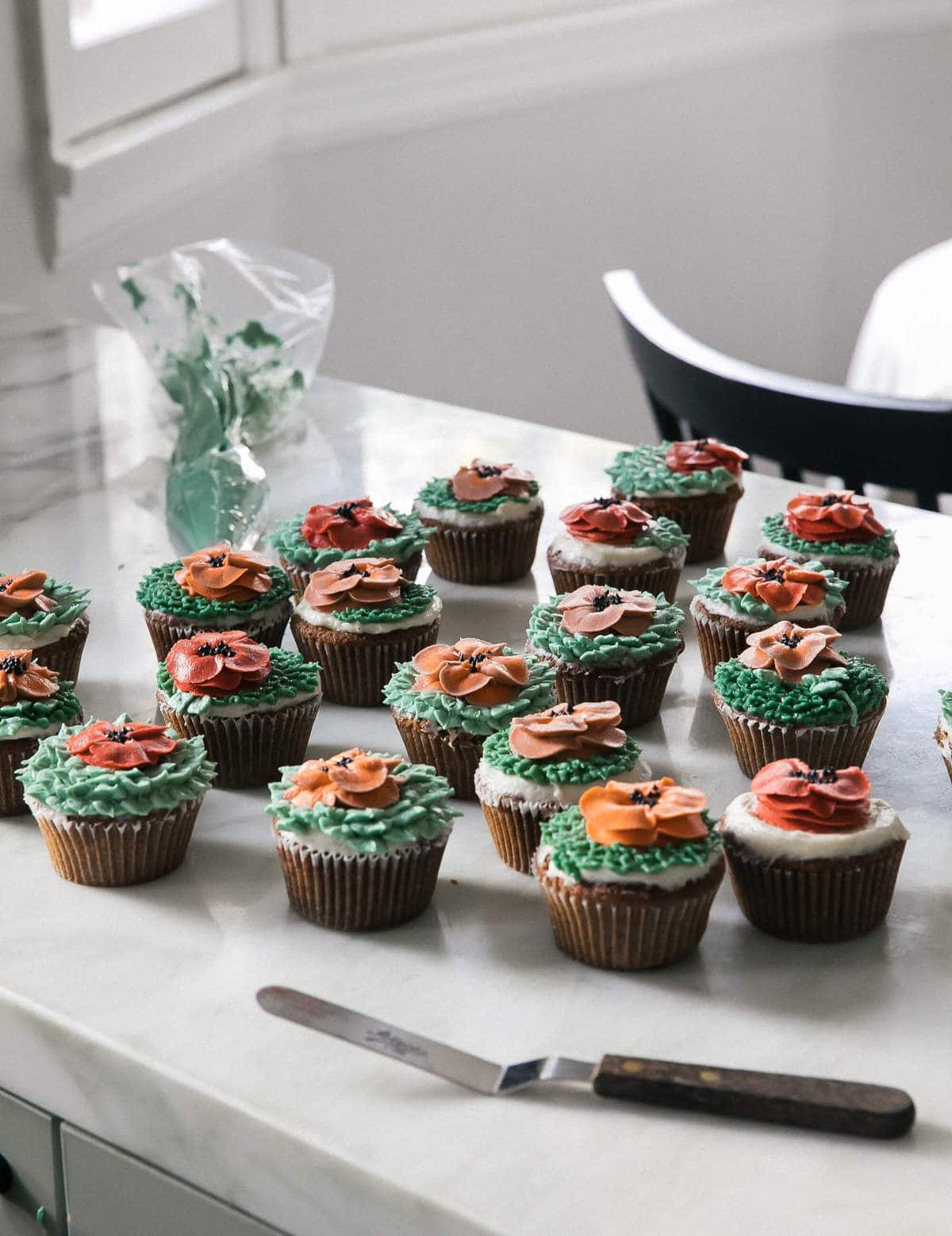 How to Decorate Carrot Cake Cupcakes
I was an overachiever and tried to make buttercream flowers. This is not necessary. It's cute, but not totally necessary. I topped them with cream cheese frosting and they're super delicious. No one will be angry if you just plop on the frosting and make a bit of a swirl on top with a butter knife! Add custom sprinkles if you like!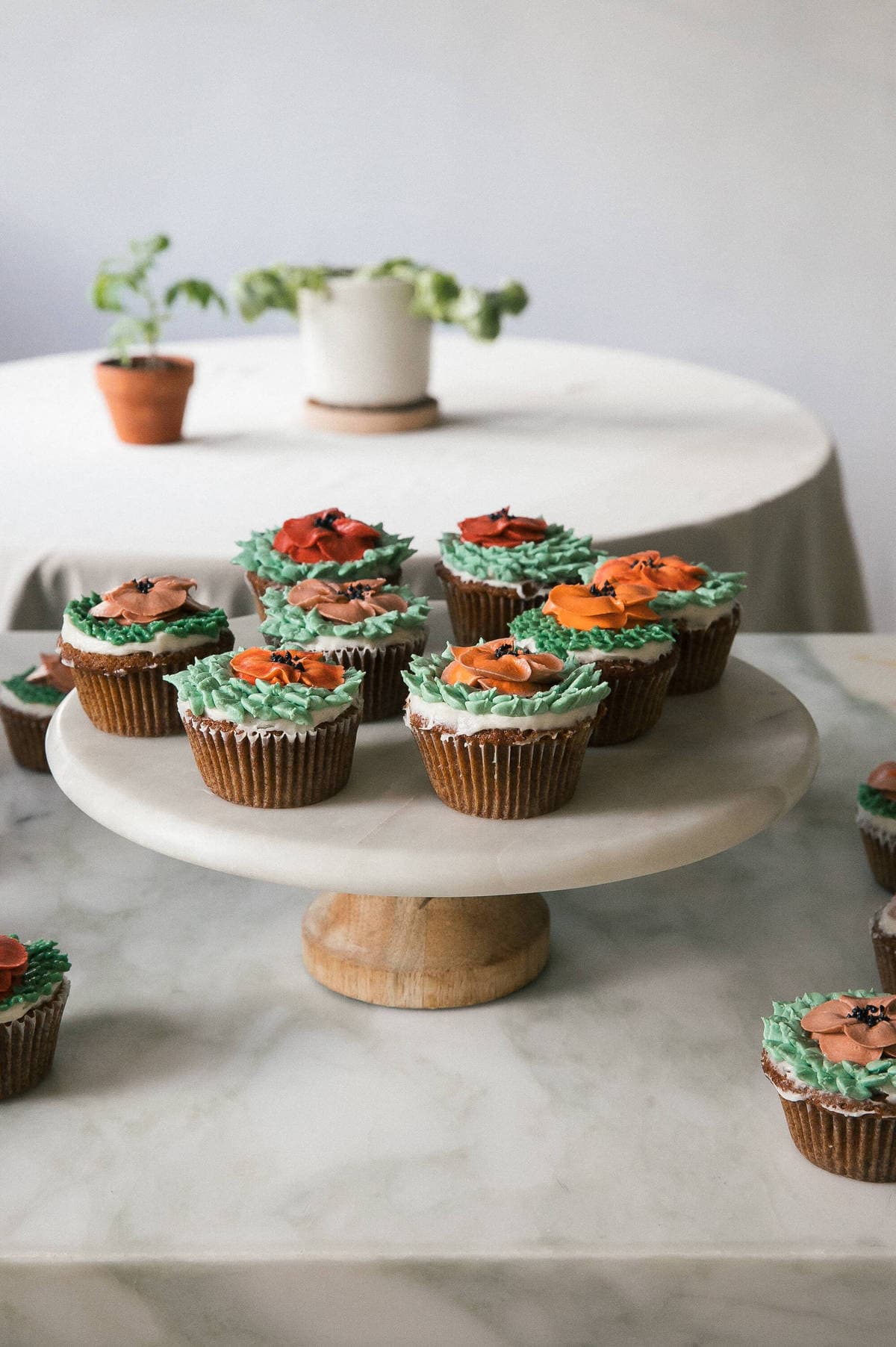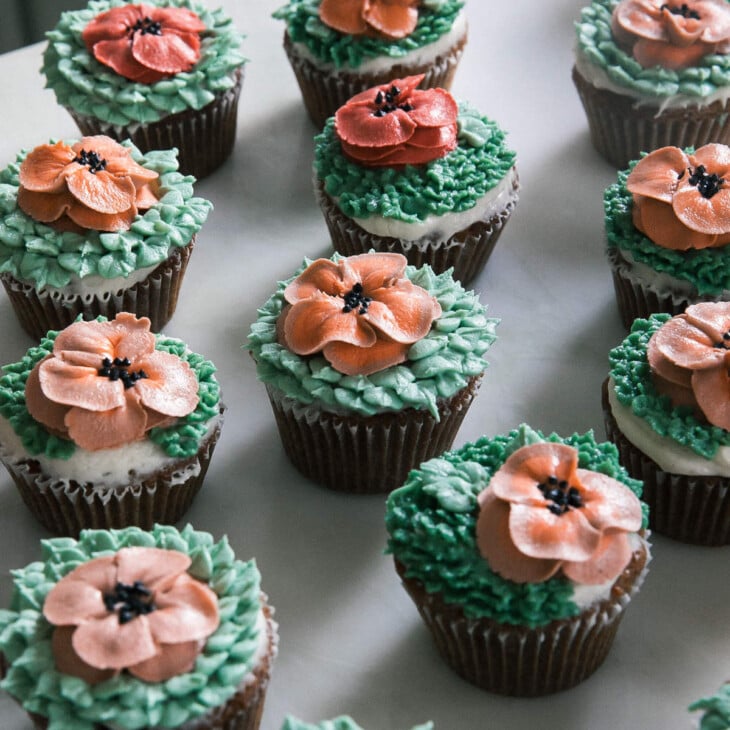 Print Recipe
Carrot Cupcakes with Cream Cheese Frosting
The ultimate carrot cupcakes with cream cheese frosting. These fluffy carrot cupcakes are moist and delicious. Top them with classic cream cheese frosting.
Ingredients
Carrot Cake Dry Mix:
2 1/2

cups

all-purpose flour

2

teaspoons

baking soda

2

teaspoons

ground cinnamon

1

teaspoon

freshly ground nutmeg

1

teaspoon

kosher salt

1/2

teaspoon

ground ginger
Carrot Cake Wet Mix:
1/2

cup

unsalted butter, at room temperature

1

cup

white granulated sugar

1

cup

brown sugar

1/2

cup

vegetable oil

3

large

eggs

3/4

cup

shaken buttermilk

2 1/2

cups

grated carrots

1 1/2

cups

chopped walnuts
Cream Cheese Frosting:
1/2

cup

unsalted butter

at room temperature

8

ounces

cream cheese

at room temperature

1

teaspoons

pure vanilla extract

Pinch

kosher salt

3

cups

powdered sugar

sifted

2

tablespoons

heavy cream
Instructions
To Make the Cupcakes:
Preheat oven to 350 degrees F. Line 2 cupcake tins with parchment or paper liners.

In a medium bowl, whisk together the flour, baking soda, cinnamon, nutmeg, salt and ginger. Set the dry mixture aside.

In the bowl of a stand-up mixer, with the paddle attachment, add the butter, white sugar and brown sugar; beat until nice and fluffy, about 2 to 3 minutes. Pour in the oil and eggs. Beat until combined.

Alternating between the buttermilk and the dry mix, add them to the butter mixture, until just combined. Lastly, add the carrots and walnuts and mix until thoroughly distributed throughout the batter.

Pour the batter into the prepared cupcake liners, filling them up about 3/4 of the way. Transfer to the oven to bake for 20 to 22 minutes, or until a skewer inserted into the center comes out clean.

Allow them to cool in the pan for about 5 minutes and then transfer them to a cooling rack to cool before adding the frosting.
To Make the Frosting:
Add the butter and cream cheese to the bowl of a stand-up mixer (or bowl using an electric mixer); beat until both are smooth, about 1 minutes.

Sift in the powdered sugar and add the vanilla extract, salt and heavy cream. Beat the frosting for about 3 minutes. The fluffiness from the heavy cream really lightens up this frosting so be sure to beat it for the full 3 minutes. If the frosting is too loose, feel free to transfer it to the fridge to chill for about 10 minutes. Then beat it one last time.
To Assemble the Cupcakes:
Add about a teaspoon or two of frosting to each cupcake and smooth out the tops. Feel free to pipe on buttercream flowers, if you like!
If you make these Carrot Cake Cupcakes with Cream Cheese Frosting, let me know on Instagram! 
Looking for more spring desserts? Here are some other favorites: