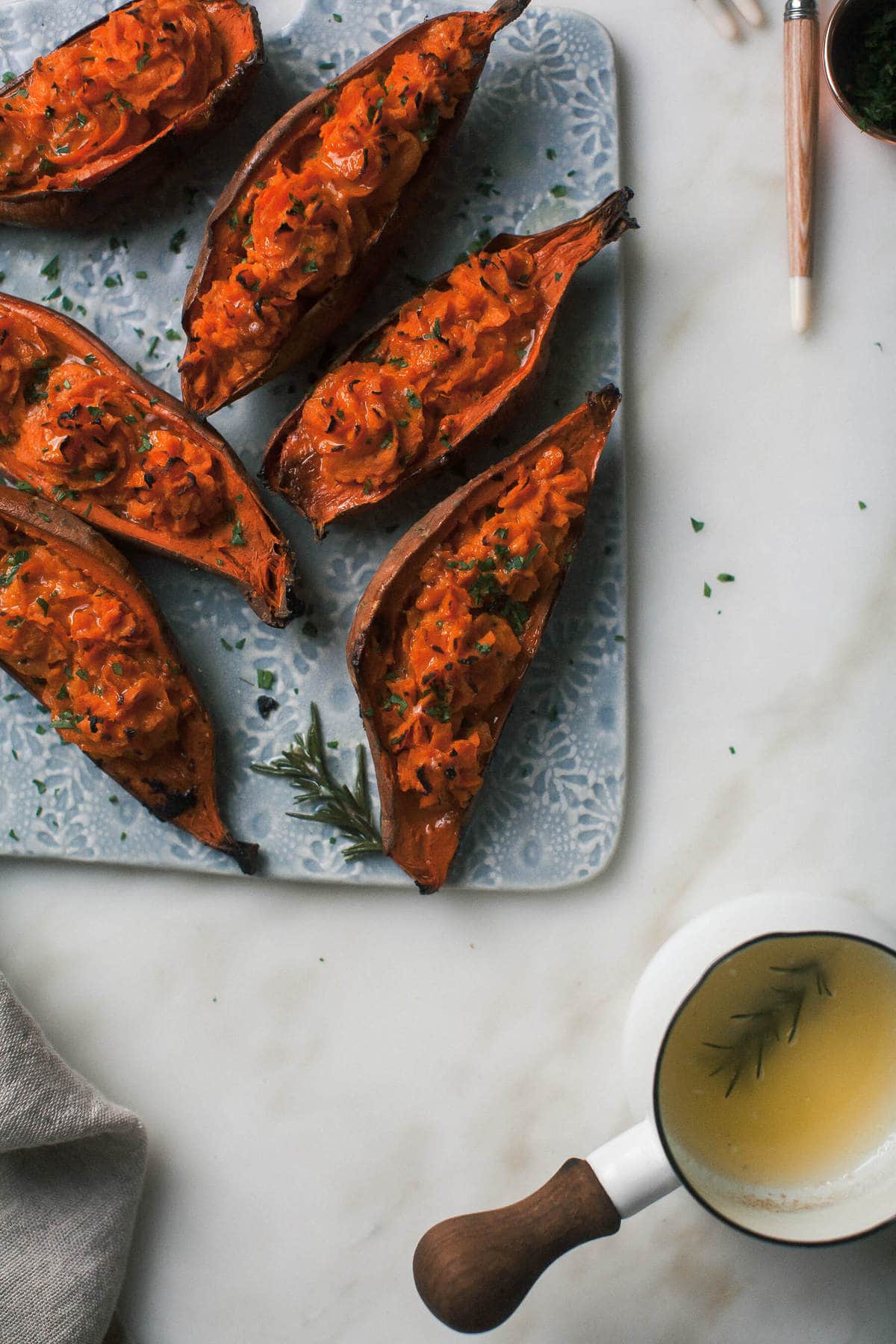 Thanksgiving is next week! I kinda don't have plans. Is that weird? I think it's going to be a Friendsgiving situation.
Usually Josh and I do something family-oriented for Thanksgiving but this year I wasn't in the mood to travel (and plus I'll be in Seattle next Saturday!) so we're in LA with our friends.
We were thinking of going out to a restaurant, which I did once (I think when I was a kid) and LOVED IT, mainly because that meant zero dishes, but then some friends invited us over and I think it'll be nice to be in a home around a bunch of people.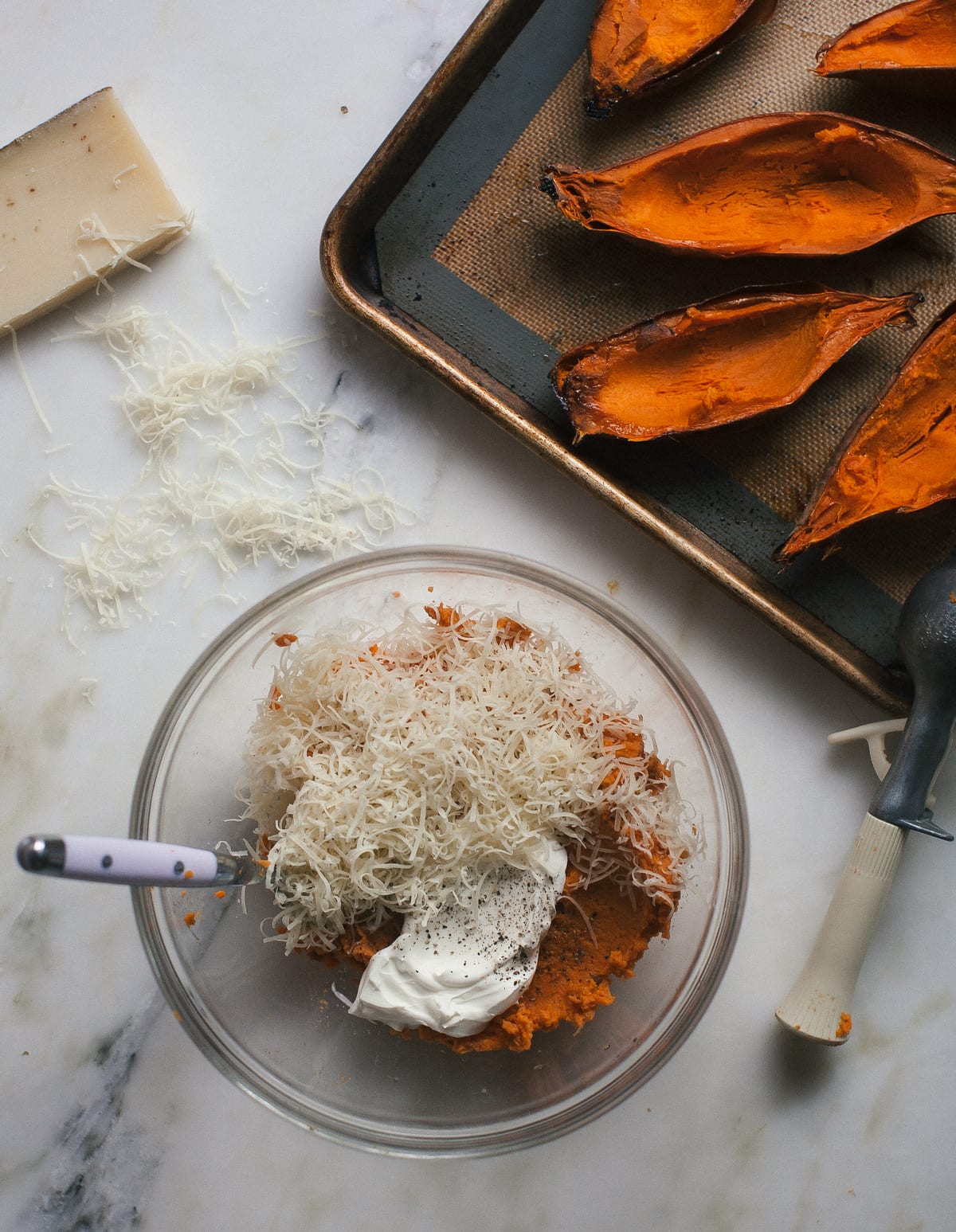 I made this yesterday because I remember how much I love sweet potato and comté cheese together. But I switched it up by adding caramelized onions into the mix and drizzled a bunch of rosemary butter all on top of 'em. Dreamy!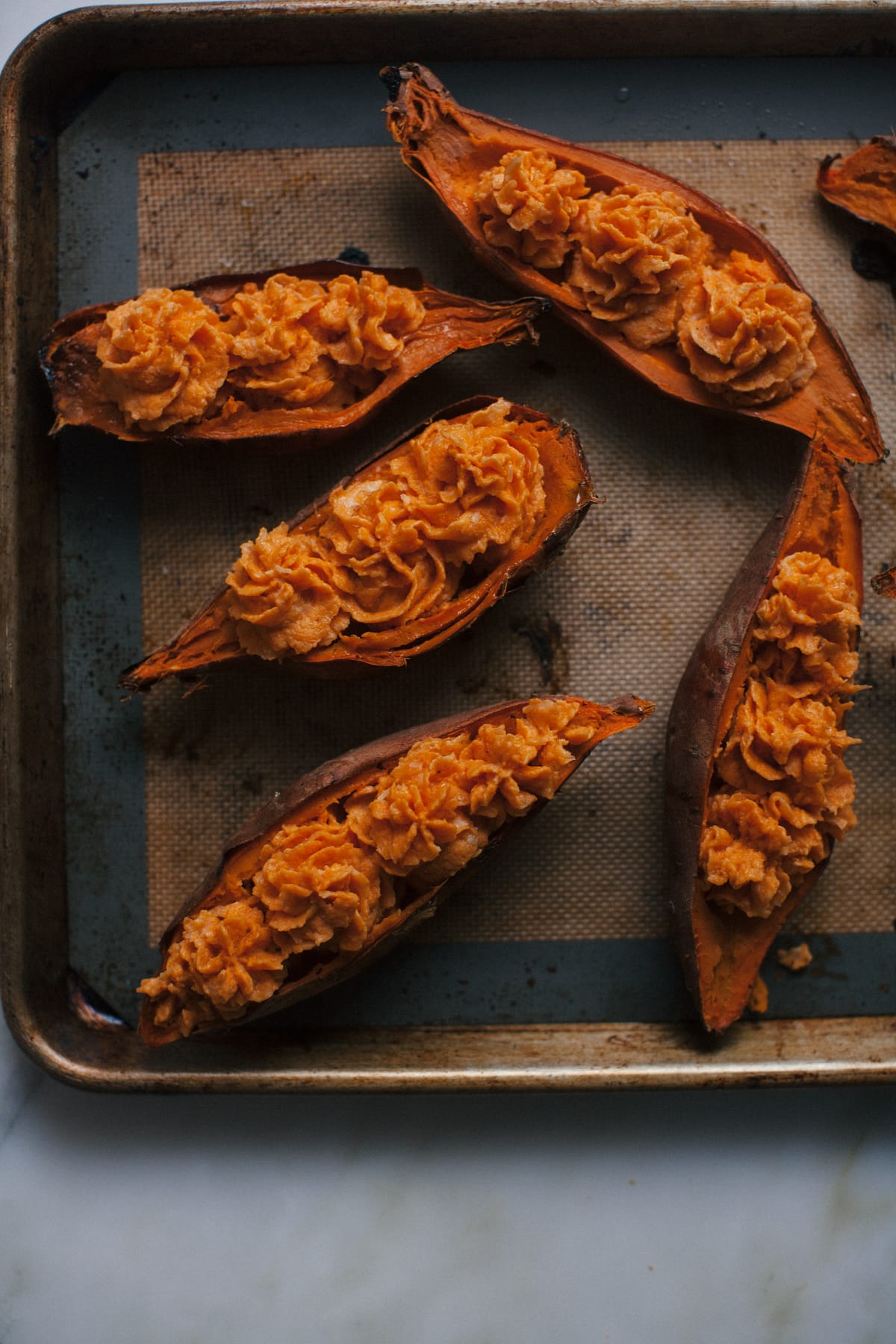 The trick to making twice baked sweet potatoes pretty is adding the mixture to a piping bag and using a star piping tip. Star piping tips are a gift from the baking gods because even if you're a terrible piper, the star-tip makes everything look pretty!
After I made these yesterday, I decided that this is dish I'm bringing to Friendsgiving. I'm also thinking of bringing this fennel dip because I remember last year we ate it SO fast after it was shot.
Are you guys planning everything yet?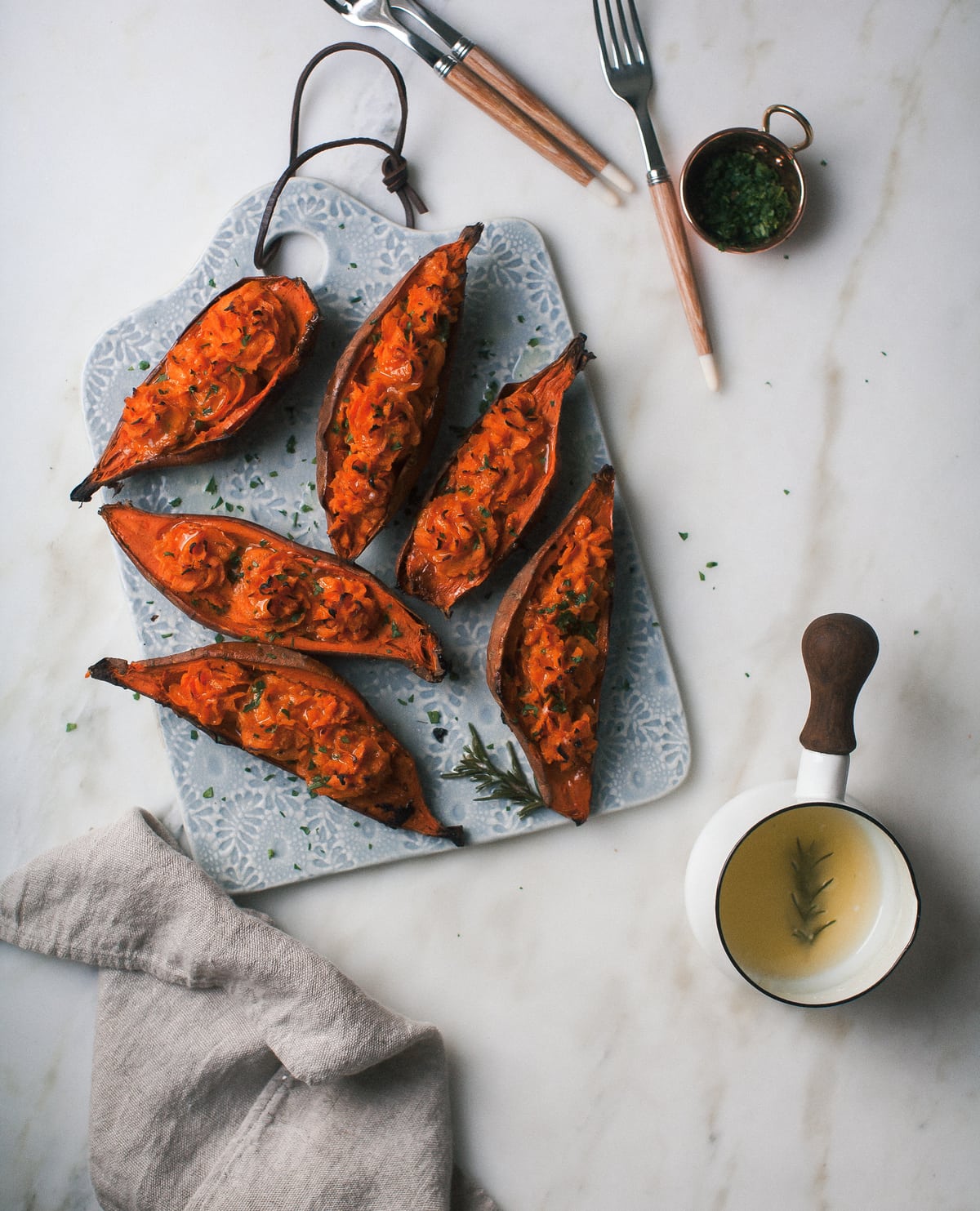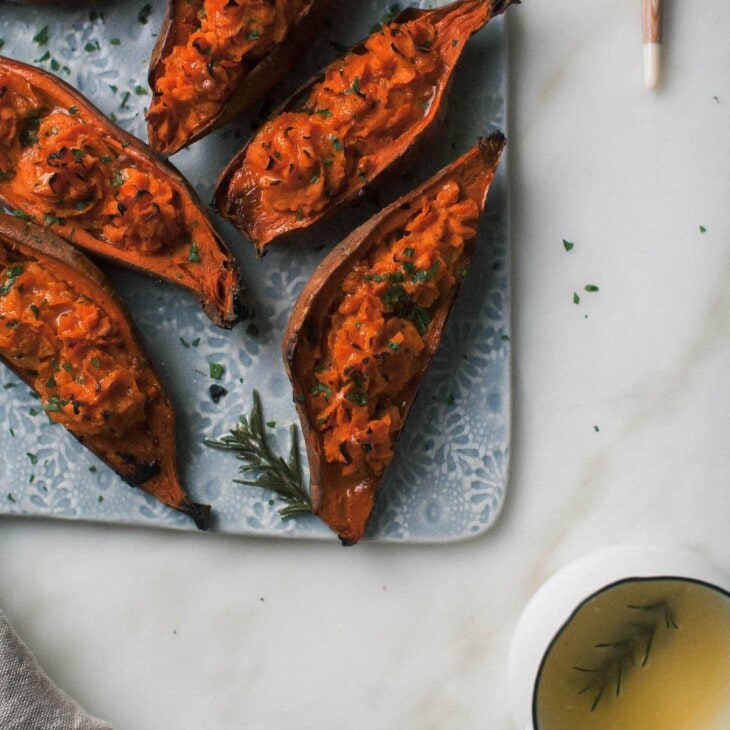 Print Recipe
Twice Baked Sweet Potatoes with Comté
Ingredients
4

sweet potatoes

3

shallots

caramelized or 1/2 yellow onion, caramelized*

1

cup

about 2 ounces finely shredded comté cheese*

3

tablespoons

creme fraiche or sour cream

Salt

3 to 4

turns of freshly cracked pepper

2

sprigs of rosemary

1/4

cup

unsalted butter

1

tablespoon

minced Italian parsley

as garnish
Instructions
To make the sweet potatoes: Preheat oven to 375 degrees F. On a baking sheet that's lined with parchment or a baking mat, place the sweet potatoes side by side. Roast in the oven until tender, about 1 hour. Allow to cool for about 10 minutes, until they're cool enough to handle. Decrease the oven's heat to 350 degrees F. Slice them in half and scoop out the inside of the sweet potato, leaving some sweet potato in the shell so it has structure. Pick the ugliest sweet potato half and scoop everything out completely and then discard the shell.

Run the sweet potato and caramelized onions, in batches, through a potato ricer and into a medium bowl. If you don't have a potato ricer, you can simply use a potato masher. Add comté cheese, creme fraiche or sour cream, 1/4 teaspoon salt and pepper. Give it a good mix and give it a taste; adjust the salt accordingly (I added a pinch more salt).

If you wanna get fancy, transfer the mixture to a piping bag with the star-tip attached. Pipe the sweet potato back into the sweet potato shells. Transfer to the oven to bake for 15 to 20 minutes, until the tops are slightly browned.

To make the rosemary butter: in a small saucepan, set over medium heat, add the butter and rosemary. When the butter has melted, turn the heat off and allow the butter to steep in the rosemary.

Pour the butter atop the sweet potatoes and garnish with a handful of Italian parsley.
Notes
*To caramelize onions, add a teaspoon or two of oil to a medium skillet, set over medium-low heat. Add sliced onion to the pan, moving then and stirring them, every 2 to 3 minutes or so, until caramelized, about 25 minutes. Remove from the heat and transfer to a small bowl.
*If you can't find comté cheese (I found mine at Trader Joe's), Gruyere is a good substitute! And I also think smoked gouda would be delicious.