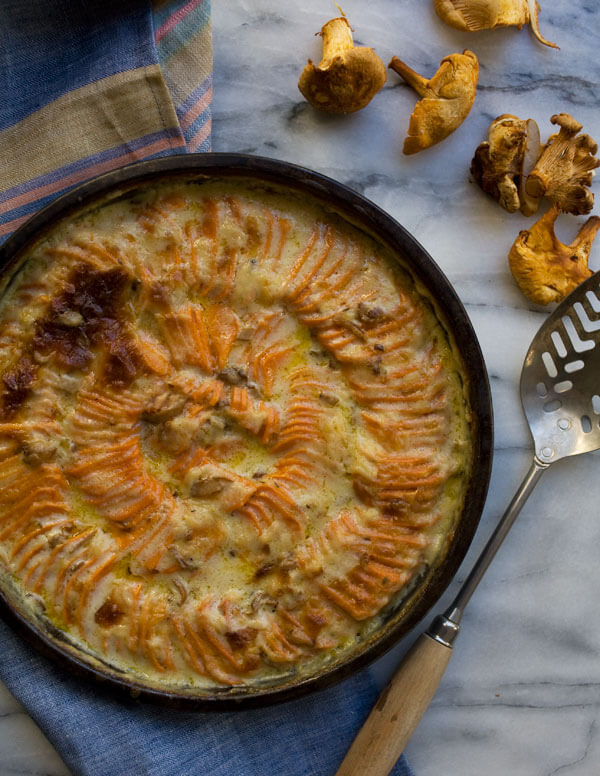 One of my favorite "single-person" meals is a baked sweet potato with about three tablespoons of butter on top. It's the most delicious thing to eat when all I want to do is sit on the couch and watch a TV show. I love the act of eating something and watching something. In film school, I'd go to Chipotle right before class and sneak a burrito into the theater and sit in the back while watching some super artsy movie. It was very much against policy to eat in our school theater, but I couldn't help it–I wanted to watch the movie AND eat.
Whenever I do go to the movies now, I always try and convince Josh to get a burrito before, but he always wins because his argument about sitting down at an actual restaurant like a real human versus sneaking burritos in my purse is a valid one, you know. Sooo…now you know my single-person/gossip TV meal. This gratin is a hella fancy version of that…sorta.
This is Thanksgiving-table worthy. It's cheesy and slightly sweet and delicious.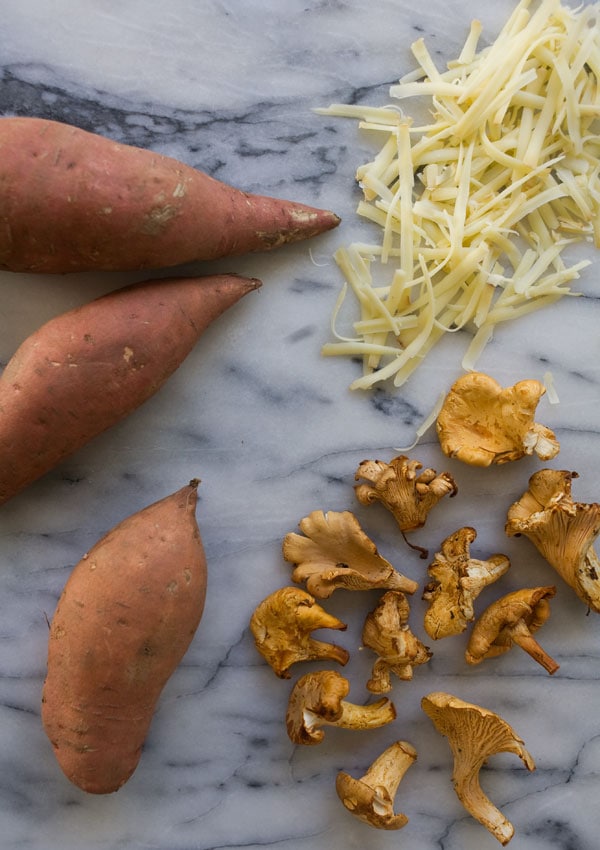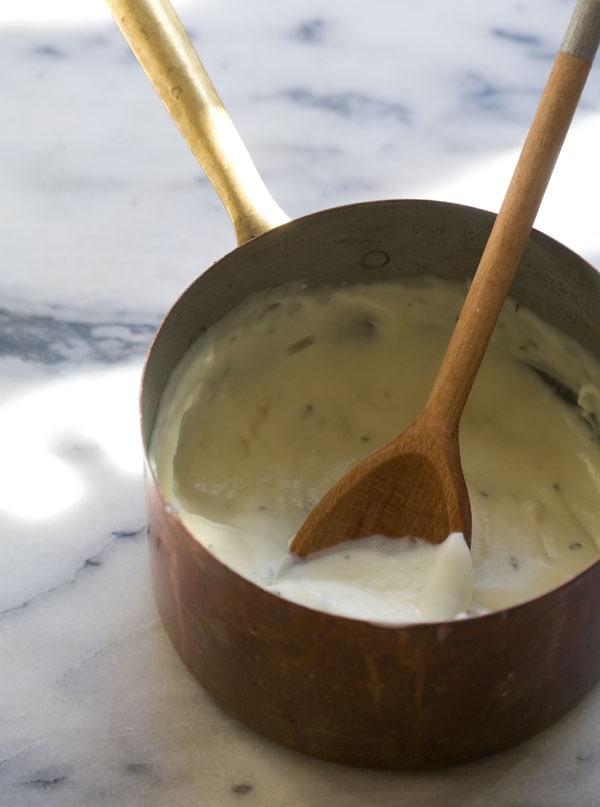 I love a traditional gratin. It's maybe my favorite thing to make for Thanksgiving. I love a simple gratin with simple potatoes, lots of thyme and mushrooms. I make it every year. This is a twist on that. There's sweet potato in place of russett potatoes and I used beautiful chantrelles I got from the market.
Of course, you don't have to do all this. You could use this same exact recipe and swap in russett potatoes–it'll be delicious. If you can't find chantrelles, use creminis or oyster mushrooms. If you can't find comté use Gruyere!
I made the potatoes in a domino shape because I like to arrange things in wreath-like shapes. What is wrong with me right now.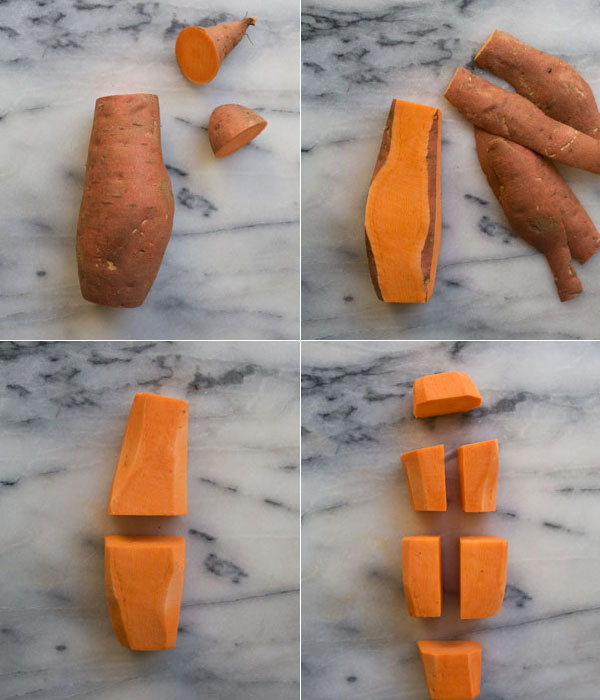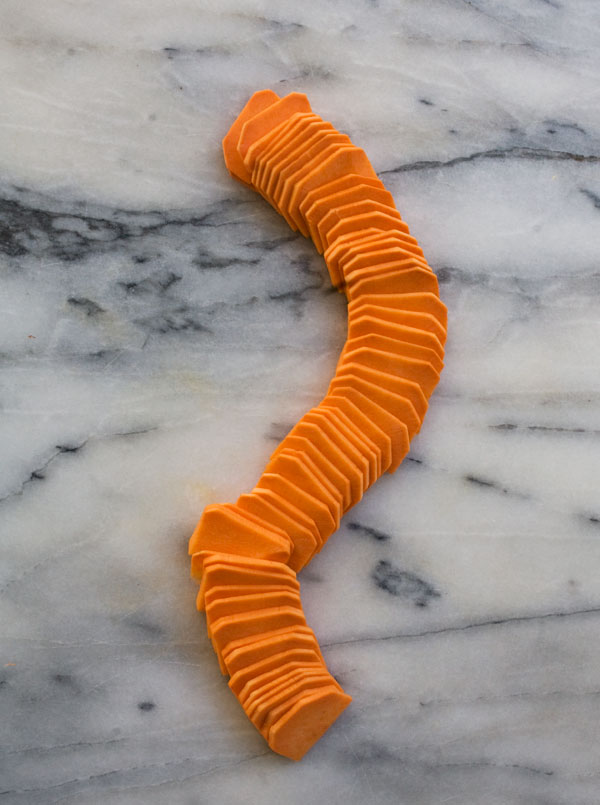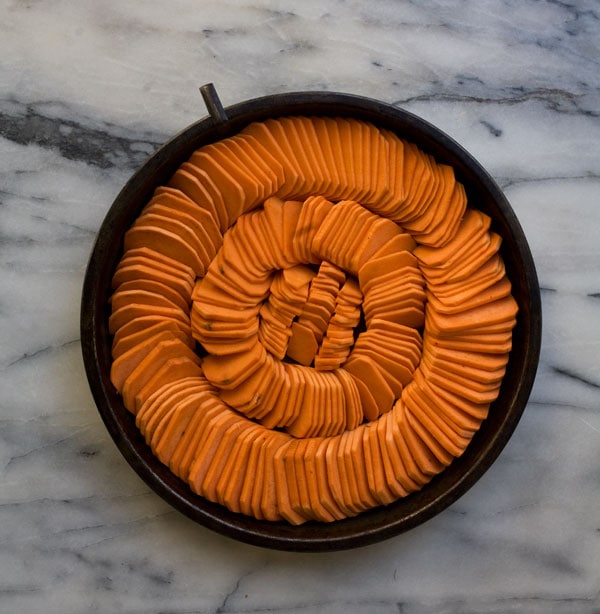 You can do this, and if you do I think this little step-by-step photo series as to how I cut them is helpful. But if you don't want to bother, then don't! Cutting the potatoes in rounds like a traditional gratin will work great, too.
Thanksgiving is officially two weeks away. Do you have your menu set? (If you don't, I won't judge you because you're talking to the biggest procrastinator known to man.)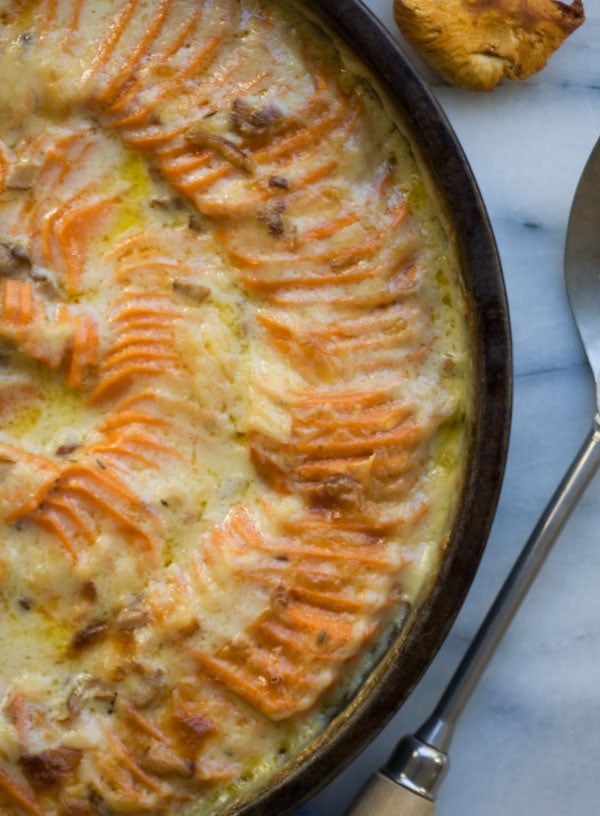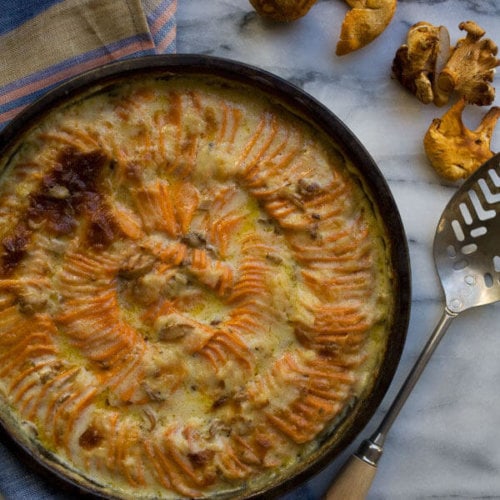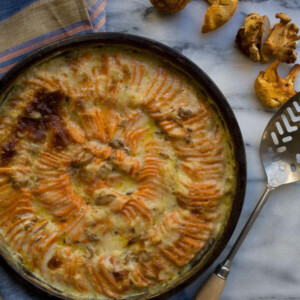 Ingredients
2-3

sweet potato yams

2

tablespoons

unsalted butter

1

tbls

all-purpose flour

1 1/2

cup

whole milk

1

cup

comte cheese

1/4

teaspoon

freshly ground pepper

1/2

teaspoon

dried thyme leaves

Pinch

freshly grated nutmeg

3-4

chantrelle mushrooms

,

about 1 ounce, chopped
Directions
Preheat the oven to 325 degrees F. Two variations on this gratin could work: you could simply take your knife or mandolin and slice the potatoes into 1/8-inch thick rounds. Or you could do what's pictured above, which is to slice the tops and sides off. Halve the center piece of potato and then cut that into quarters. Cut each quarter into 1/8-inch thick slices and repeat the cutting process until you've gone through the remaining potatoes. Arrange the "domino" slices in a round 10-inch dish in a circular pattern, starting on the outside and working your way inward. Set aside.

In a medium saucepan, set over medium heat, melt the butter. Once the butter is melted, add the flour and mix until the mixture is smooth. Pour in the milk and stir until the mixture has reached a slight simmer and has thickened; the béchamel should be thick enough to coat the back of your wooden spoon. Add the cheese, pepper, thyme leaves and nutmeg. Mix until the cheese is all melty. Salt to taste. I added about 1/2 teaspoon. Fold in the chopped chantrelle mushrooms.

Pour the béchamel sauce over the arranged potatoes, using the back of your wooden spoon to even it out. Transfer the dish to the oven and bake for 25 to 30 minutes, until the potatoes are tender when poked with a knife and the sauce has bubbled. Remove and serve warm
Nutrition Facts
Sweet Potato Gratin with Chantrelles and Comté
Amount Per Serving (4 g)
Calories 0
* Percent Daily Values are based on a 2000 calorie diet.