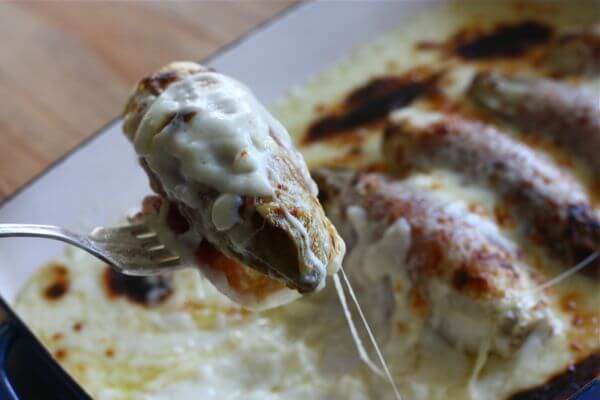 "My lady…"
"Your Grace…"
"Lady Adrianna…"
"Your Lordship…"
I wish someone–at some point in my life–would address me with one of the titles listed above. It would make my day if I walked into my coffee shop and the barista was all like, "Lady Adrianna, would you like a cappucino or your usual cup of Coava?" And then I'd be all like, "Ohhh Alex, I'll take the Coava, thank you." And he'd be like, "Of course, Your Grace."
Umm…hello!!! How rad would that be?!?!
I've clearly been watching too much Downton Abbey/Game of Thrones. Clearly.
But let's be serious, even if I did live back then, I wouldn't be a princess. I don't have a single drop of blue blood running through these veins.
My life would probably be spent in some dark basement kitchen making crazy meals for the royals. And I'd probably be really happy there, because unlike the "Lady," I'd get to marry a dude I actually liked. That's pretty huge. Imagining spending your life with some boring rich dude?! That'd suck, big time.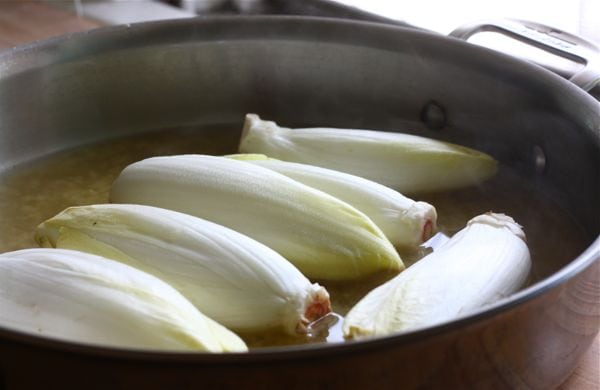 I wonder if they had endive back then. I'm guessing they probably hated it. A lot of people stay away from this spear-like leaf due to its bitterness.
But I'm here to tell you that endive, like most things, is majorly awesome when wrapped in prosciutto, and covered and smothered in cheesy bechamel sauce.
The bitterness is there, but only slightly–it's subtle. I think the endive works wonders with the salty prosciutto and cheesy, creamy sauce.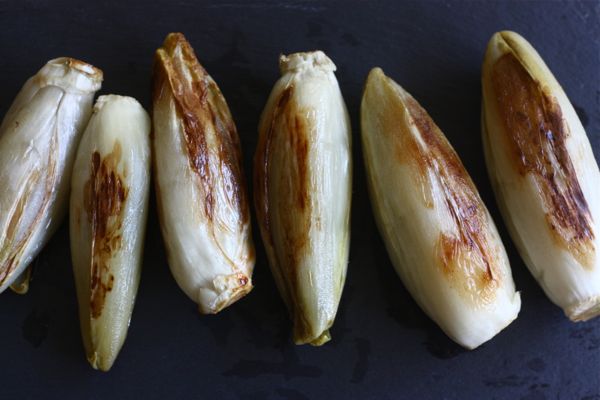 There's a few (easy!) steps to this dish. It starts off by the endive being simmered in chicken broth for about 10 minutes. The endive is cooked, but not over cooked. Important. I then drained and dried it, thoroughly.
I wanted the leaves to be a slightly crispy and brown, so I added it to a few tablespoons of hot oil and browned both sides.
I then wrapped each head of endive in prosciutto…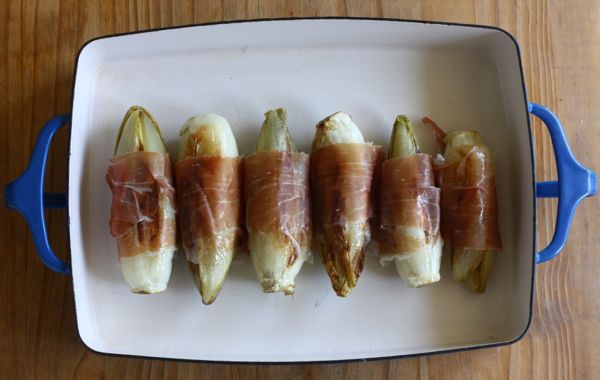 Next, I cooked up the bechamel.
This bechamel has Gruyere, mustard and a pinch of nutmeg. Wut's up, creamy deliciousness!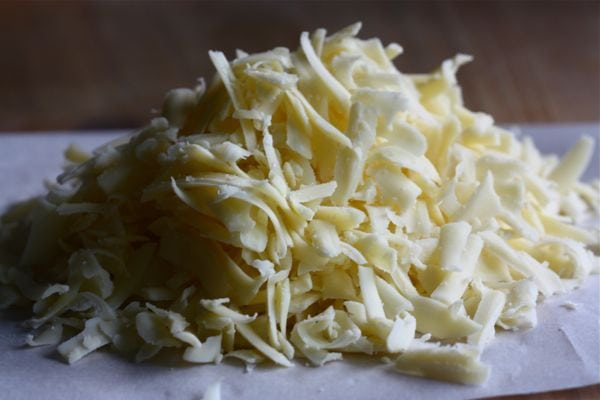 I did a little pour-over action and stuck the casserole dish under the broiler for 5 minutes. I've realized that broilers will always scare me. Always.
Mine is under my stove and it's just scary, man. I have to get all on the floor to peek to see if everything is okay and not burning to smithereens.
Also, whenever I turn the thing on my fire alarm goes off, so it really takes me a lot to put something under the broiler. I can tell you that this gratin needs a date with a broiler. The crispy cheesiness is everything.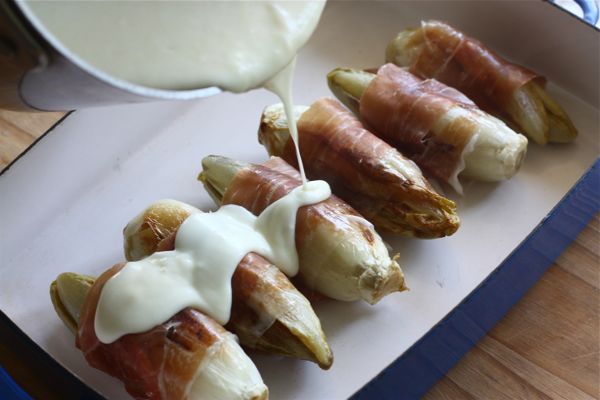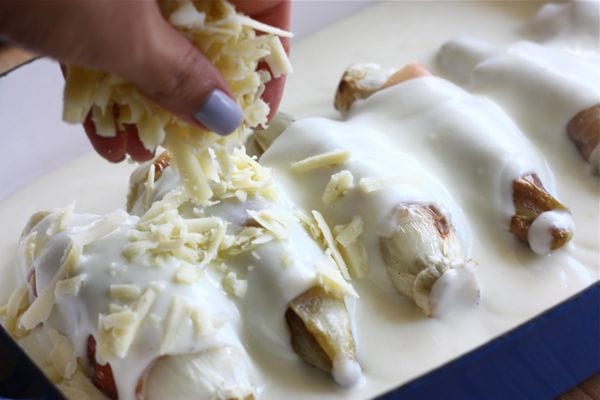 Before I stuck it in the oven, I considered quartering the bechemel recipe for you, because there's a lot of it; but when I served it up, I felt like every bite was even better with a spoonful of sauce.
Cheese on vegetables is the way to go.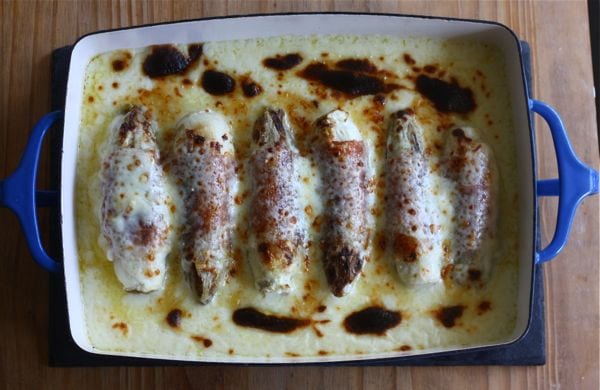 Endive Prosciutto Gratin
3 cups low-sodium chicken broth
6 heads of Belgian endive, washed and outer leaves removed
Olive Oil
6 slices of prosciutto
3 tablespoons unsalted butter
3 tablespoons all-purpose flour
1 1/4 cups whole milk
1 teaspoon sea salt
1 1/2 teaspoons Dijon mustard
Pinch of ground nutmeg
1 1/2 cup Gruyere, shredded and divided
1. In a medium saucepan, over medium-high heat, bring broth to a simmer. Add endive and simmer, uncovered, until tender, about 10 minutes. Drain thoroughly. Place the endive on paper towels, allow to cool and then dry thoroughly. Important! Next, we're going to get this endive brown and crispy, so it needs to be as dry as can be. While your endive is cooling, clean and dry the saucepan. We're saving dishes here, ladies/gents.
2. Place the saucepan over medium-high heat; add 3 tablespoons of olive oil. When oil is hot, place endive in the pan and cook until browned, about 1-2 minutes; flip and cook on opposite side until brown. Remove from the saucepan. Next wrap each head of endive in a slice of prosciutto and place in a 10 1/2 x 8 1/2 casserole dish.
3. To a small to medium saucepan, melt the butter over medium heat. Once melted, add the flour and stir until the flour and butter become one. Whisking vigorously, pour in the milk and bring to a boil. Cook until the sauce thickens and coats the back of a spoon, about 2-3 minutes. Turn off heat and add the salt, mustard and nutmeg. Whisk until all of it dissolved. Next up, add the 1 cup of Gruyere and mix until it's melted. Yum!
4. Pour sauce over the endive and top with the remaining 1/2 cup of Gruyere. Set under a broiler and cook for 4-5 minutes, and until cheese is toasted.
I made these two recipes (here and here) make out, which resulted in what you see above. BOOM!