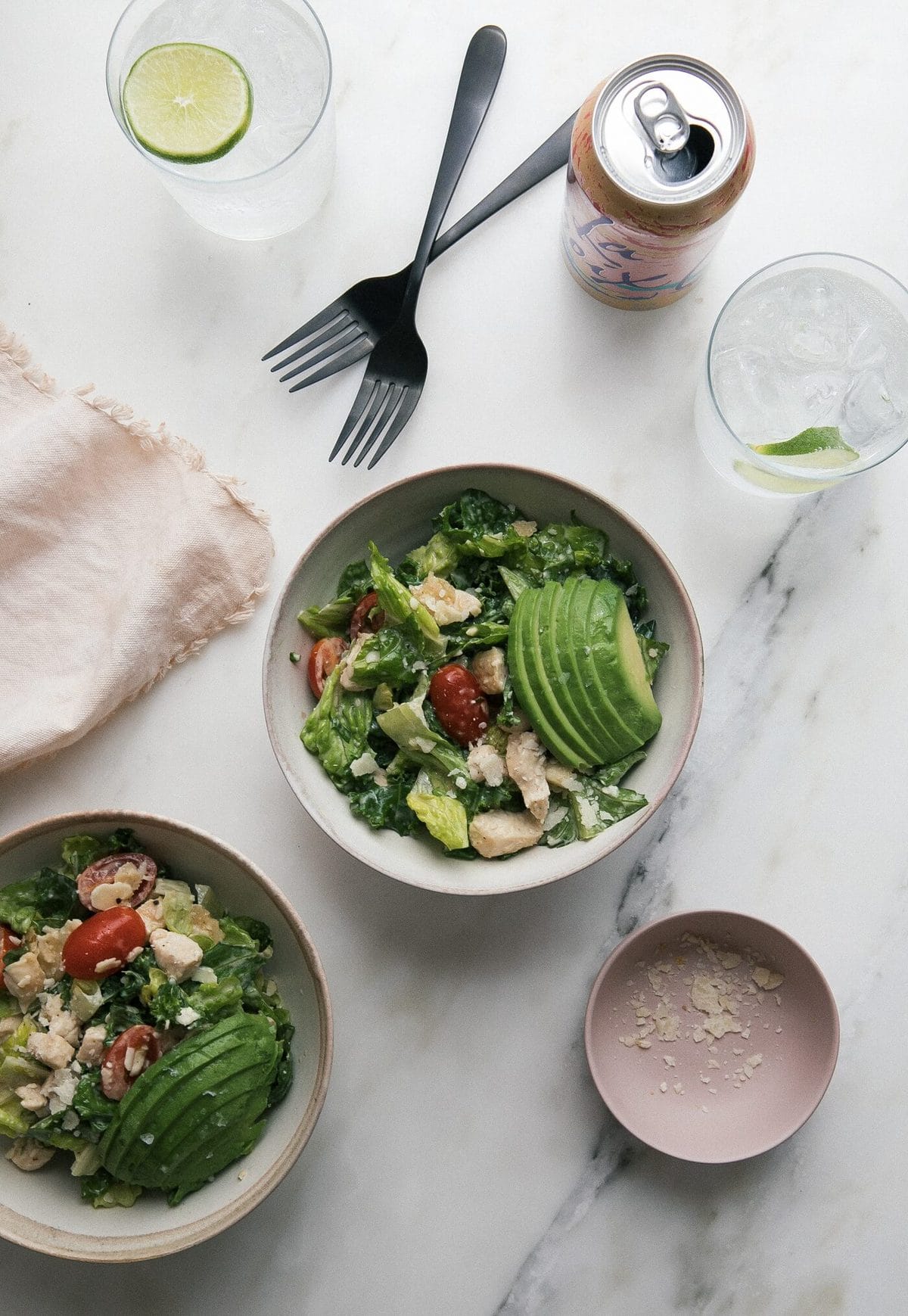 Last week I shared with you three 15-minute lunches that I make for myself. In keeping with that real-life-food-talk, I wanted to share this recipe: Copycat Sweetgreen Kale Caesar.
Most days I want to eat healthy. Whether I actually achieve that or not is another story lol. Trying to balance sweets, baking, cheesy things and health is something I'm constantly juggling. Admittedly, I'm not perfect at it but having things in the fridge for a healthy lunch makes it THAT much easier.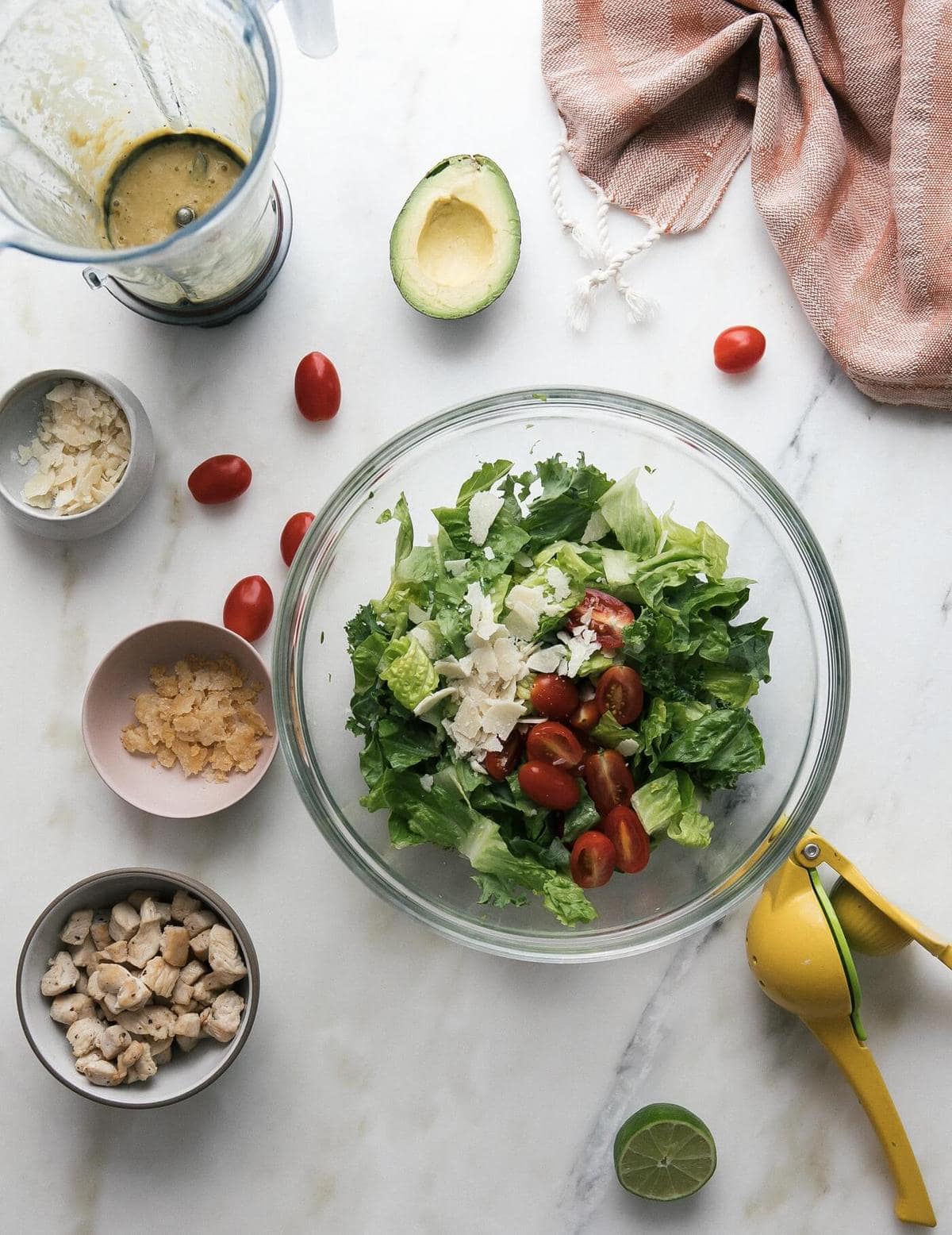 When Sweetgreen first opened, there wasn't one near me (and there still isn't, really) but when I started to go to a cycling class in Hollywood, I started heading there post-workout to grab a healthy dinner.
Most days, when I work out, I wanna eat something healthy and nourishing for dinner.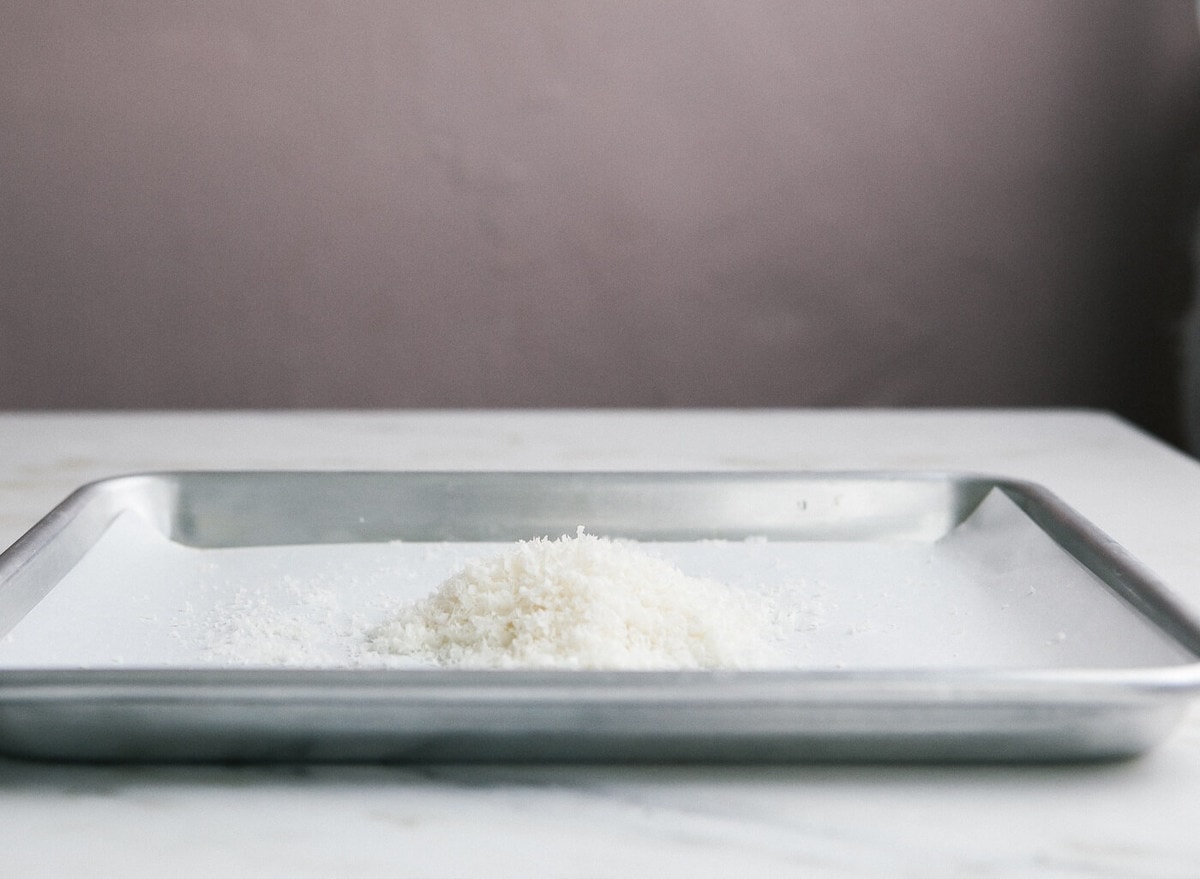 Other times (like on a Friday or Saturday night), I like it because I'm like, I worked out, let's eat pasta and pizza and fine wine!
But during the week, I try and keep it pretty healthy-ish. I don't always achieve that balance that I go after but I try to do a decent job.
There are a lot of options at Sweetgreen but the salad that I keep ordering, over and over is their kale caesar.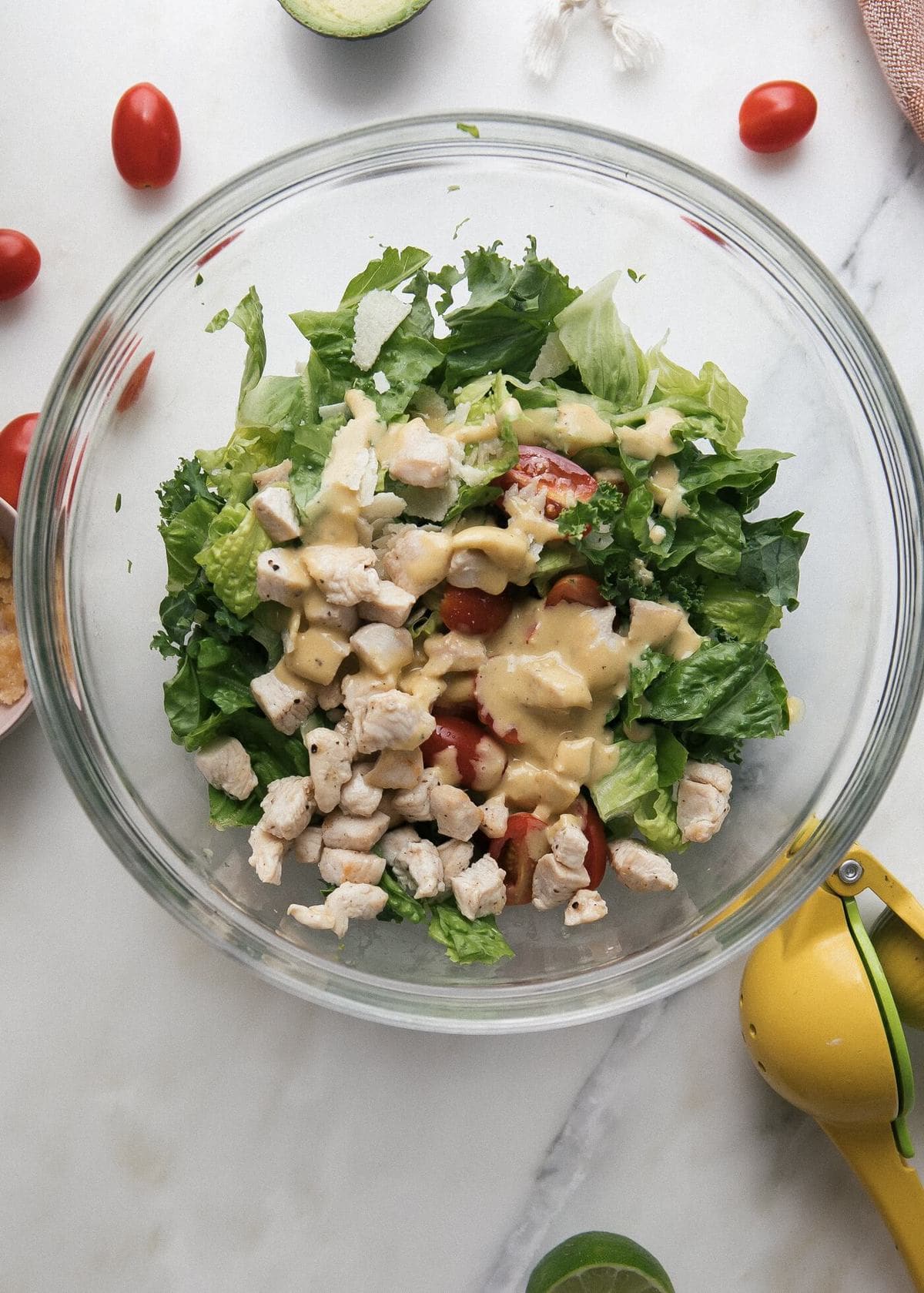 Sweet Green Salad Traits!
Their kale caesar is SO good. In place of croutons are these thick parmesan crisps that add a nice chewiness to the salad. There is roasted cubed chicken, tomatoes and I like to add some extra tomatoes and avocado at the end. The best part about the salad is the squeeze of lime at the end—it makes it a super refreshing salad.
But I don't always go to Hollywood but I want the dang salad so I figured why not make it at home! So here we are with this Copycat Sweetgreen Kale Caesar!
I'm guessing you probably don't live near a Sweetgreen because they're not like Chipotles (yet) so hopefully you'll find this salad delicious, whether you've had the real version or not.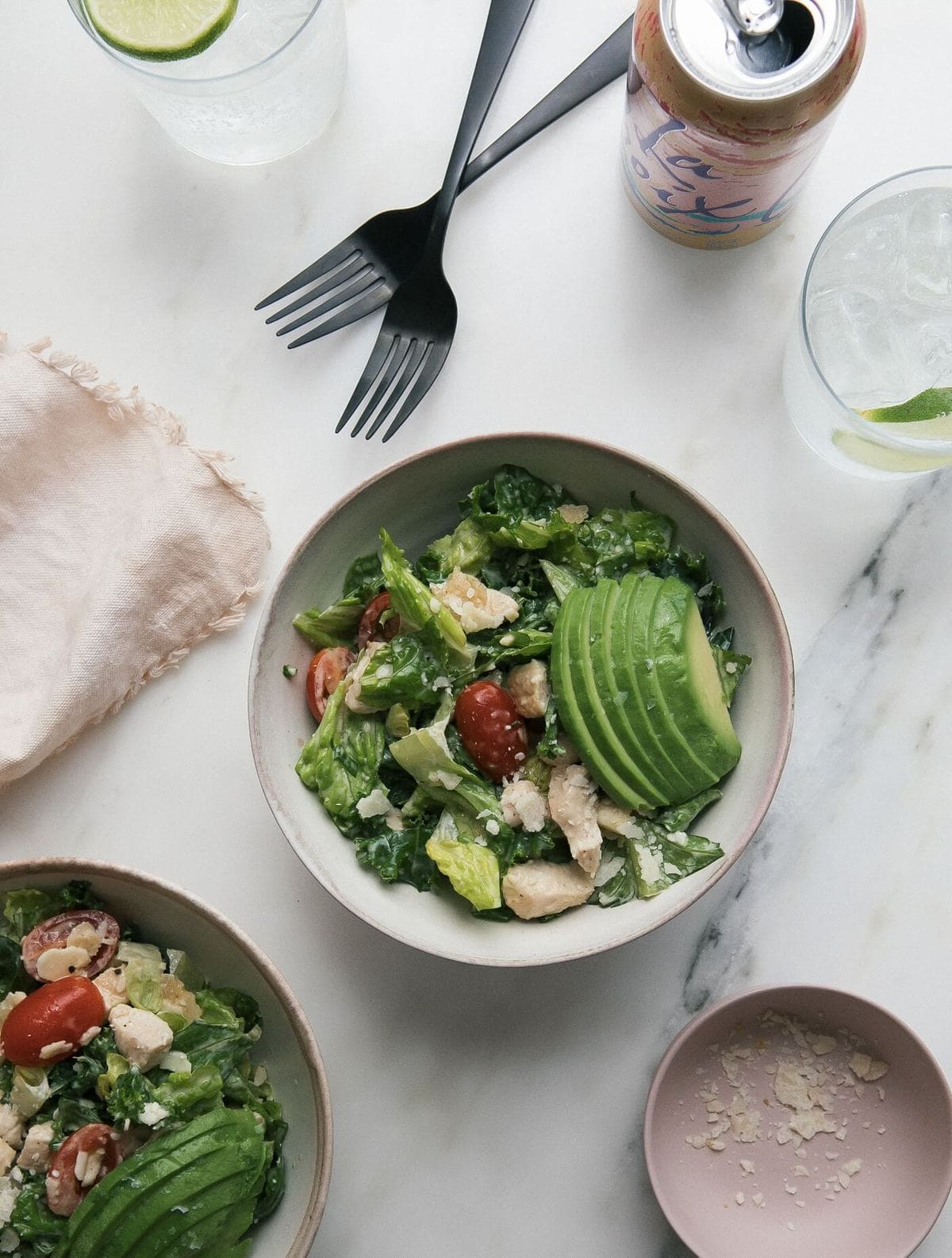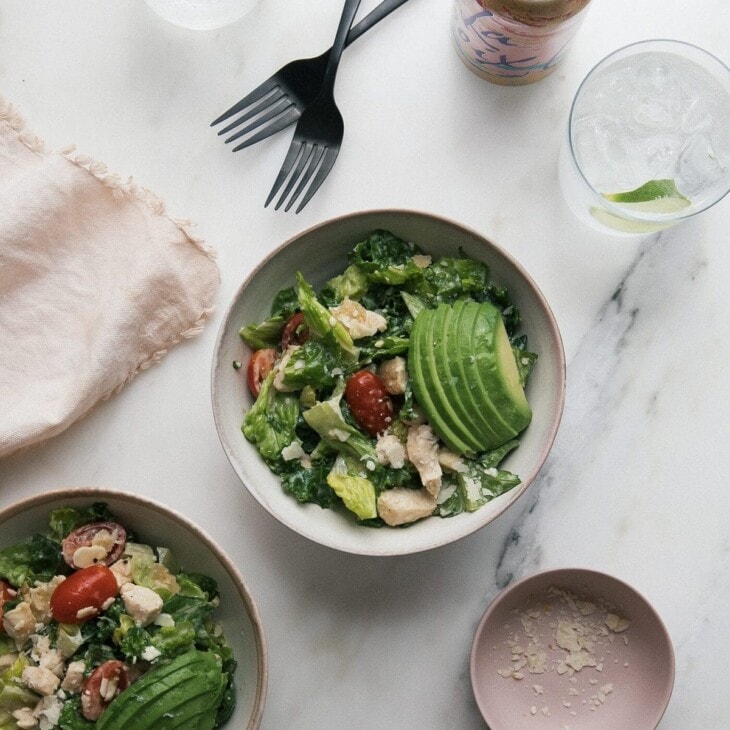 Print Recipe
Copycat Sweetgreen Kale Caesar Salad
Copycat Sweetgreen Kale Caesar Salad is a mix of kale and romaine lettuce, tossed in a caesar dressing with tomatoes and parmesan crisps.
Serving Size:
people (WITH LEFTOVERS)
Ingredients
Roasted chicken:
2

bone-in chicken breasts

Oil

Salt

Pepper
Thick Parmesan Crisps:
1/2

cup

finely shredded Parmesan-Reggiano

Grana Padano will work too!
Dressing:
1

tablespoon

anchovy paste

or 2 filets

2

small garlic clove

2

large egg yolk

4

teaspoons

fresh lemon juice

juice from about 1 lemon

1/3

cup

finely grated Parmesan

Freshly ground black pepper

1/2

cup

olive oil

Pinch

of sea salt
Salad:
2

cups

chopped kale

2

cups

chopped romaine

5 to 6

cherry tomatoes

sliced or quartered

Juice from 1 lime

1/2

avocado

on the top (optional)
Instructions
To make the roasted chicken:
Preheat oven to 375 degrees F. On a parchment-lined baking sheet, add the chicken. Drizzle with about a tablespoon of olive and sprinkle both sides with salt and pepper. Transfer to the oven to roast for about 40 to 45 minutes. Allow to cool and chop up into cubes. (This makes a bigger batch. I use about half for the two salads. I keep the rest in the fridge and use at a later time.)
To make the parmesan crisps:
On a baking sheet lined with a silicon baking mat (I tried to do it on a piece of parchment and was super frustrated because it stuck so I definitely recommend a Silpat or something similar to it), add the parmesan in a big pile. Transfer to the oven to cook for about 6 to 7 minutes. (If your parmesan pile is smaller, I would check on it at the 3-minute mark but we're trying to go for a bit thicker crisps.) Remove from the oven and allow to cool on the baking sheet. When cooled, break up into bite-size pieces and set aside.
To make the caesar dressing:
To a blender of food processor, add the anchovy paste, garlic clove, egg yolk, lemon juice, Parmesan cheese and a few rounds of freshly ground pepper. Turn the blender on and with it running, add the olive oil in a steady stream, until it's emulsified and thickened. Give it a taste and add salt to taste. (I needed a few pinches of salt and another round of black pepper.) This salad makes enough for about 4 salads. I usually save the dressing for another day.
To assemble the salad:
To a medium bowl, add the kale and a few tablespoons of the dressing. Toss that salad until the kale is really coated in the dressing. Let it sit for like 5 minutes, while you gather the rest of the ingredients. Add the romaine, cherry tomatoes, parmesan, parmesan crisps, lime juice, reserved cubed chicken and a tablespoon or two of more dressing. Toss once last time and divide amongst two bowls. Top with slices of avocado. Sprinkle the avocado with a bit of salt and the last bit of lime juice from the used up lime. SERVE!
Notes
I actually found parmesan crisps in the cheese department of most grocery stores so if you don't have a Silpat or silicon baking mat to make the cheese crisps on, you can always buy them. ALSO, I'm pretty sure you can make them in a non-stick skillet over the stove, too.
Don't try it on parchment because the one time I did, I'm pretty sure I ate some paper. I survived!
And if your idea of a salad contains pasta, this Hawaiian Mac Salad is for you!