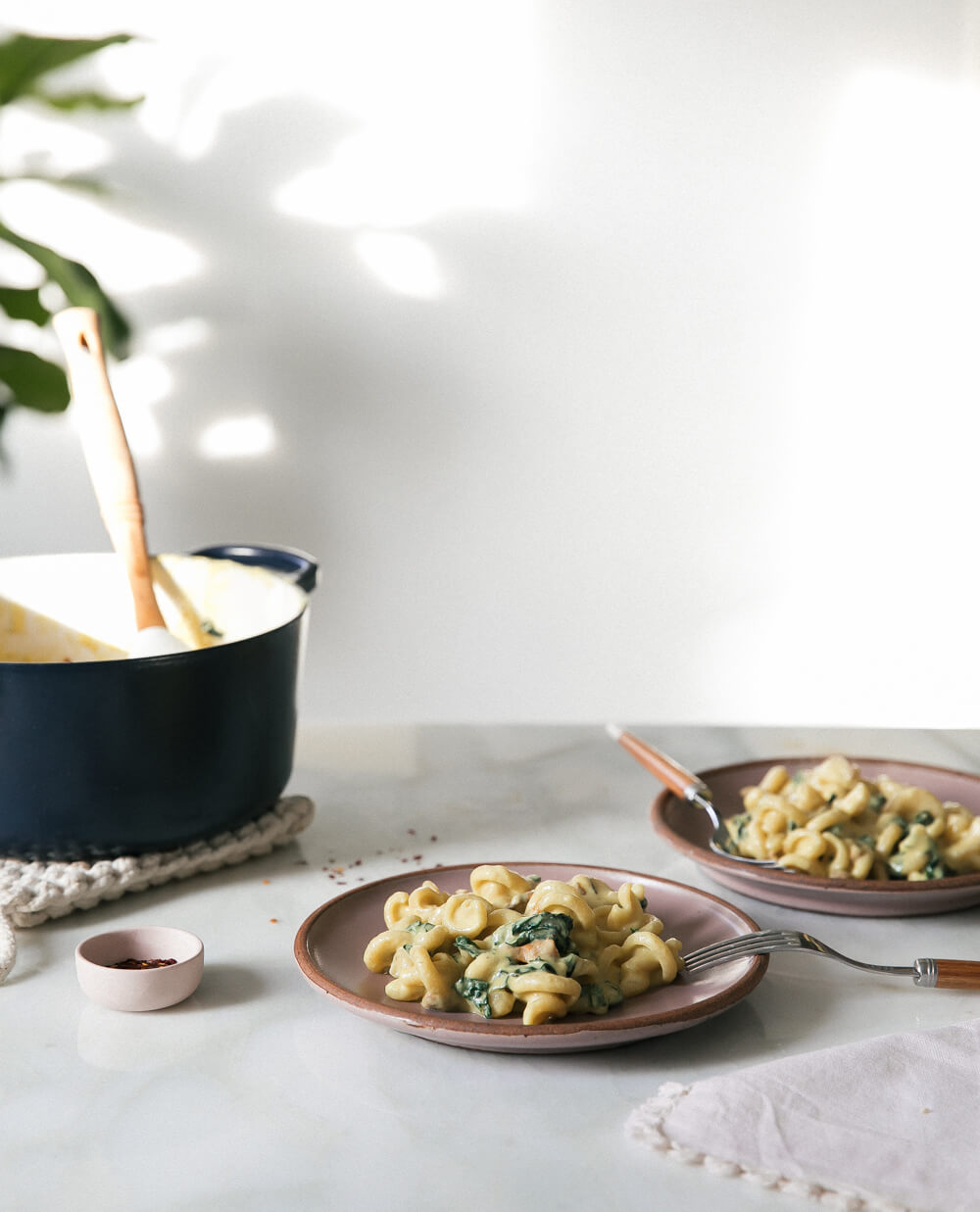 I made a vision board on Day 1 of 2018 (because Oprah told me to).
I put all my dreams and hopes onto my vision board. 2017 was the hardest year of my life…even though professionally, it might've been my best year yet. Maybe one day I'll tell you all about it. Right now, I'm just not ready. Maybe I'll never be. I will say that seeing your family break up is incredibly sad. I do know that so many of you probably know how it feels.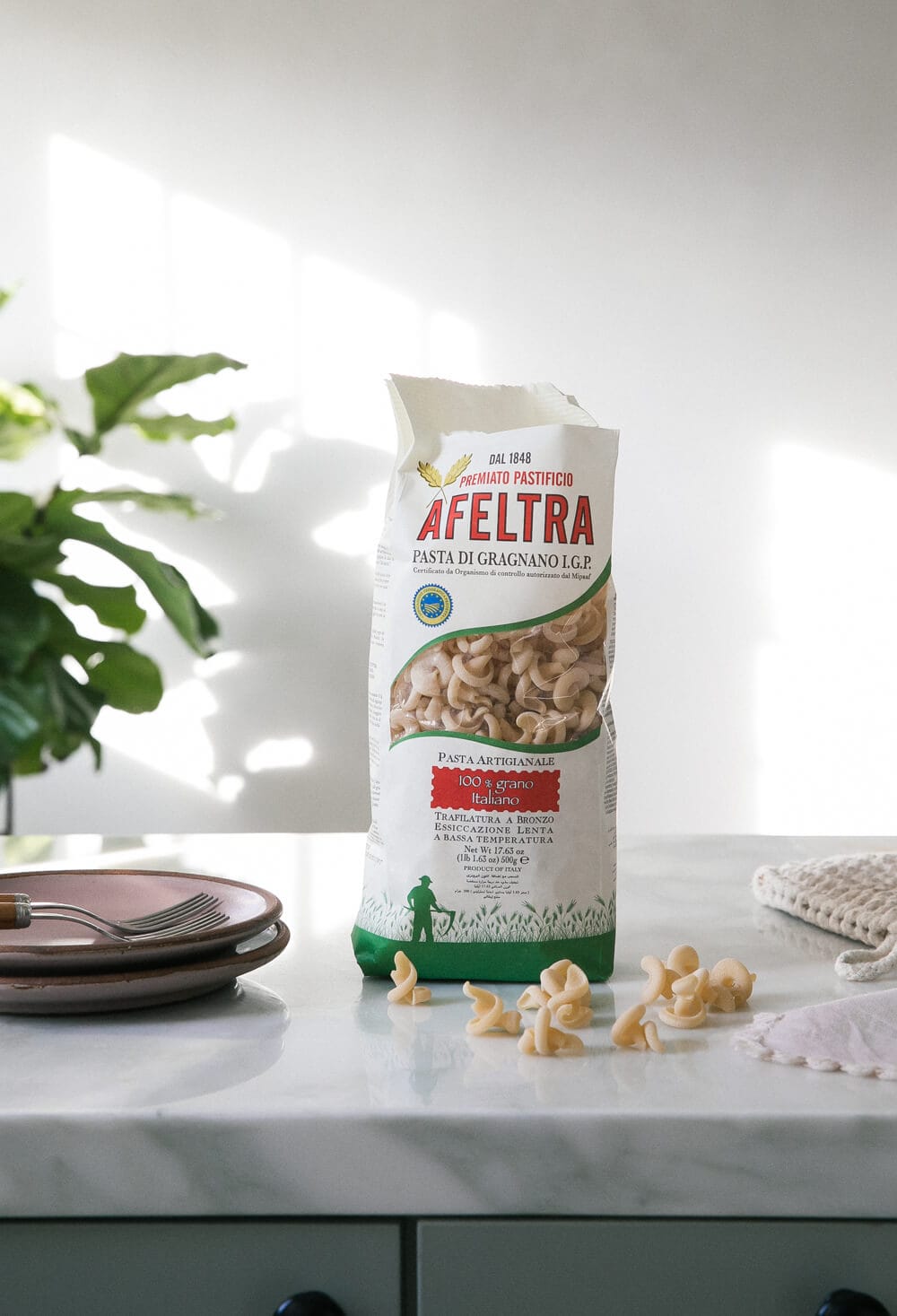 My 2018 vision board is about healing and peace and forgiveness. How do you forgive someone who has never said they're sorry nor never will? It's not an easy thing to do. I'm guessing it will be my greatest lesson of 2018. Or at least I hope it will be.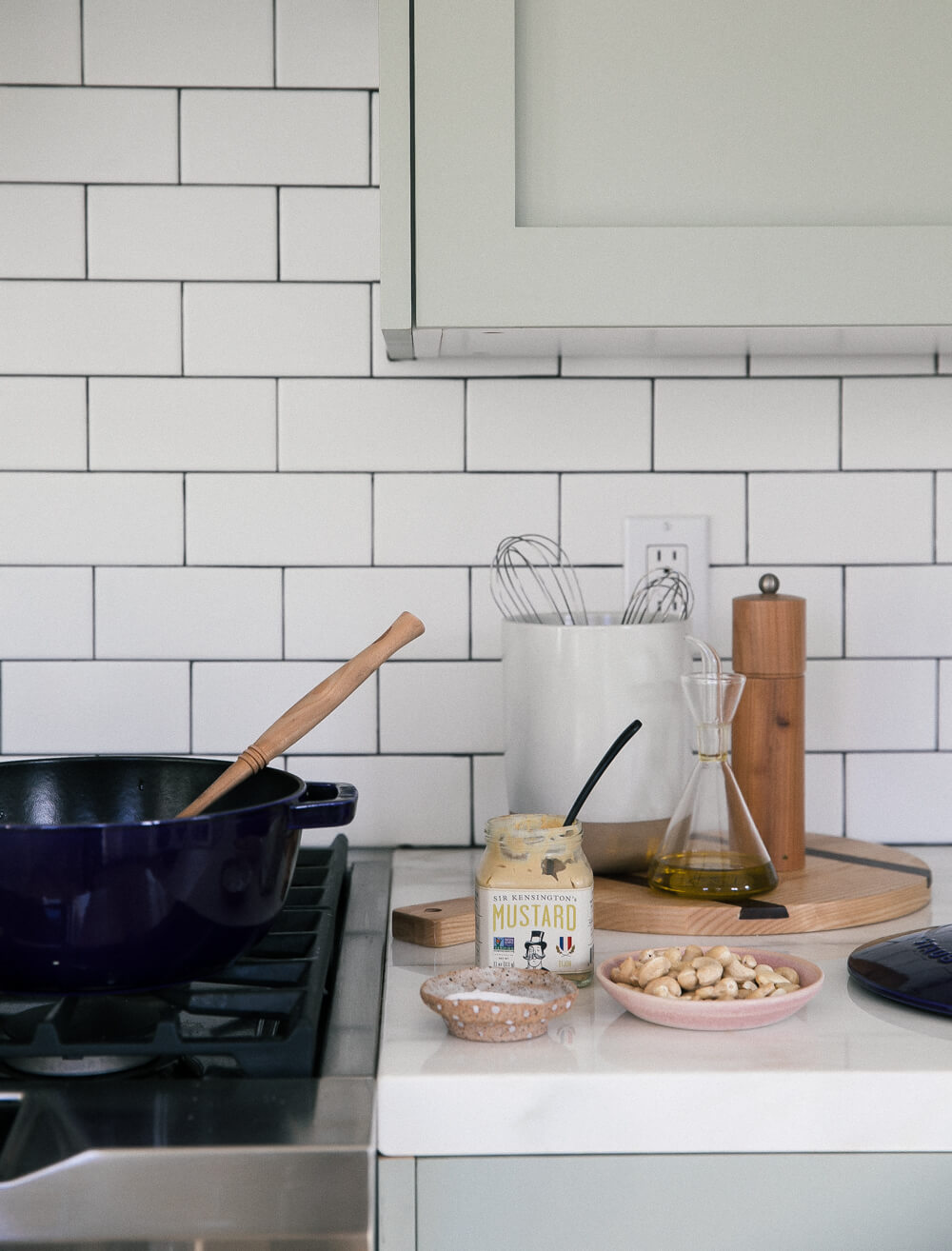 My vision board is about moving towards new career goals.
It's also about making beautiful work that people find happiness looking at and recreating. I'm so grateful for this space, for the power of creating; it has helped me heal and find happiness over and over and over. I hope I make things until the day I die.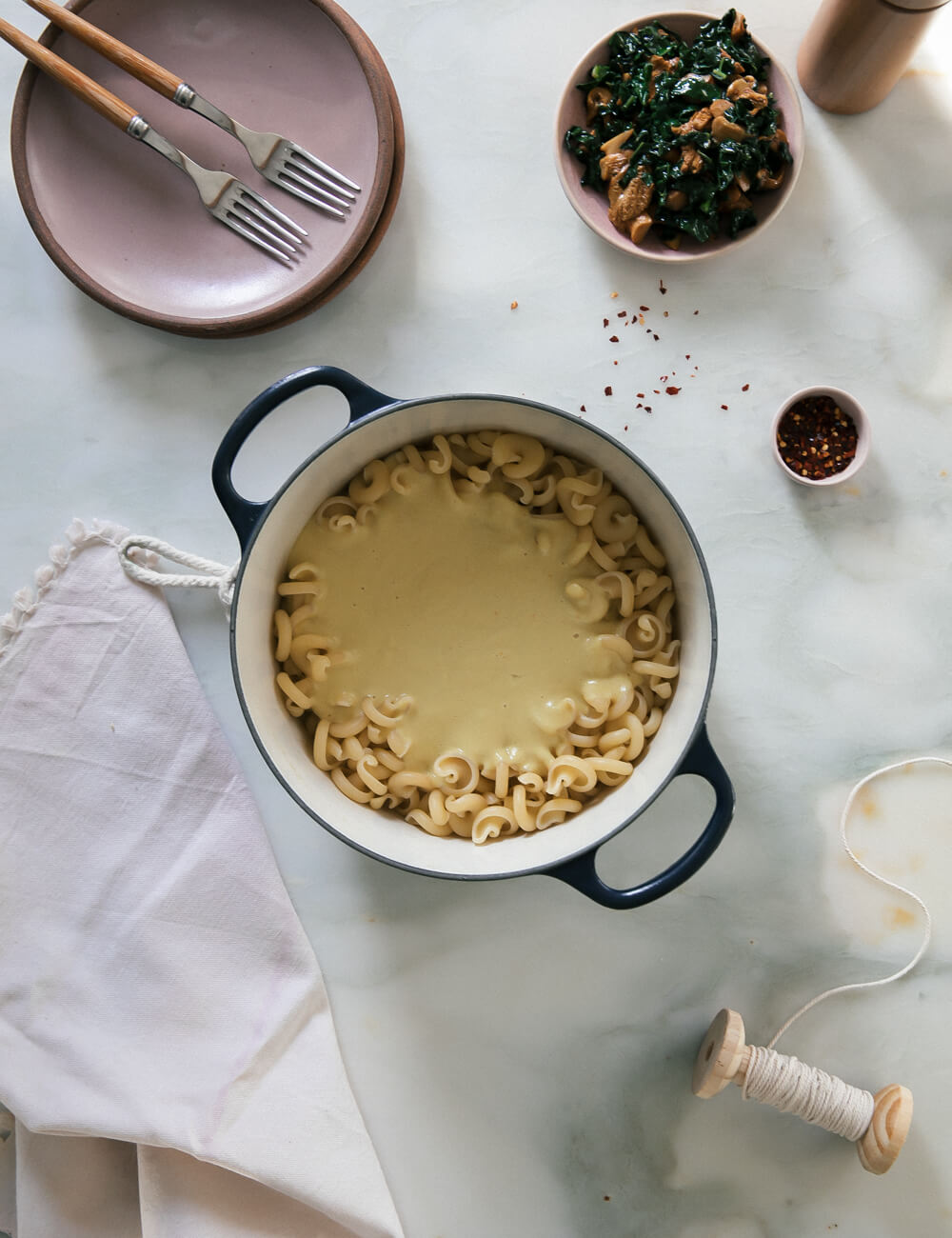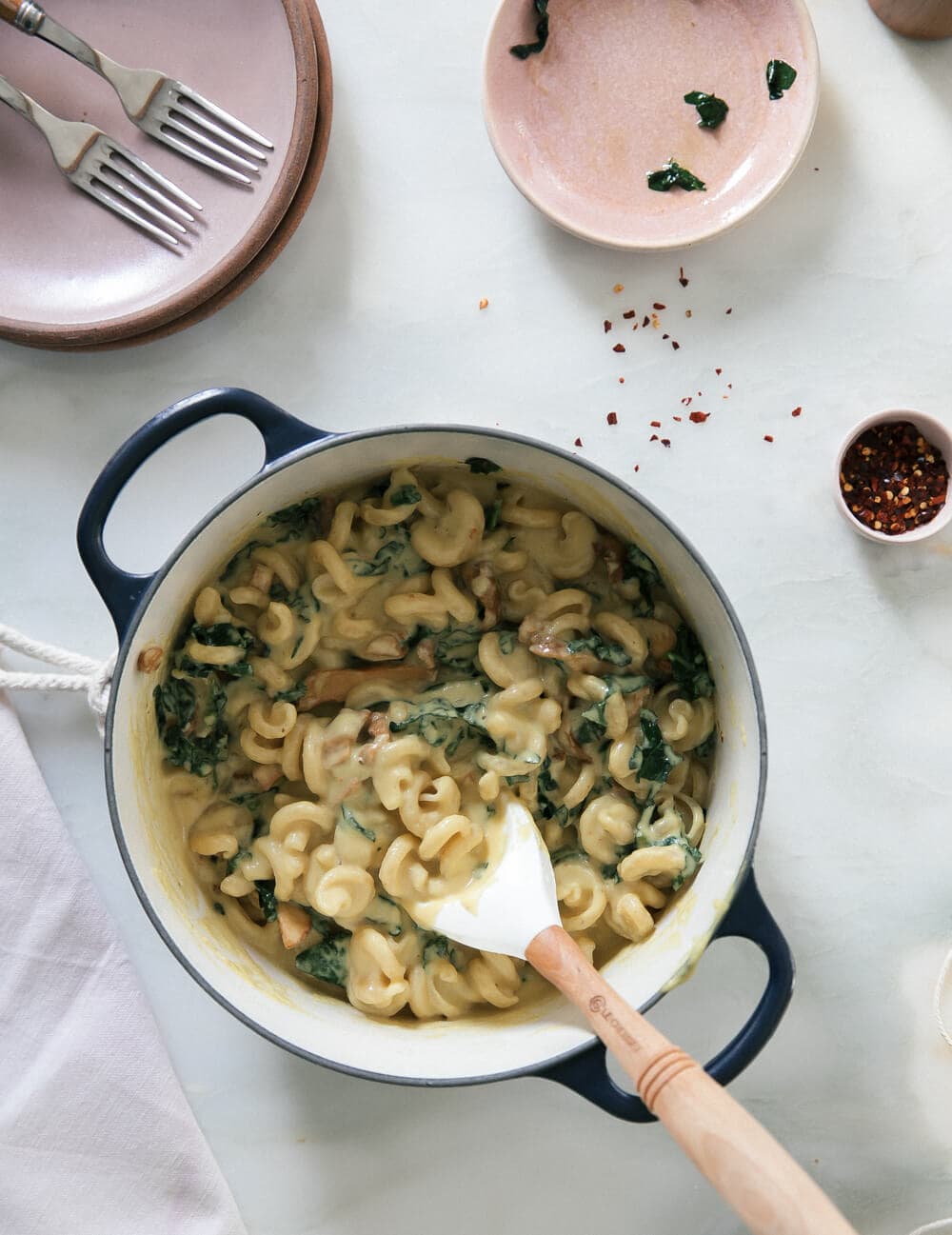 I've also been working on trying new food things, which for me isn't all that hard. I love it so much. A few people slide into my DMs and said they were looking for vegan recipes. I was up for the challenge because I hardly ever make vegan things. And I want to!
If you're anything like me, you have given "vegan macaroni and cheese" mad side-eye. I'm not gonna lie, when I look at vegan cheese in the grocery stores, I sort of shudder. But vegan cheese has come a long way (I love Kite Hill). ANYWAYZZZ, this recipe doesn't include any vegan cheese, instead it relies on a potato, nutritional yeast and cashews to give it its creaminess.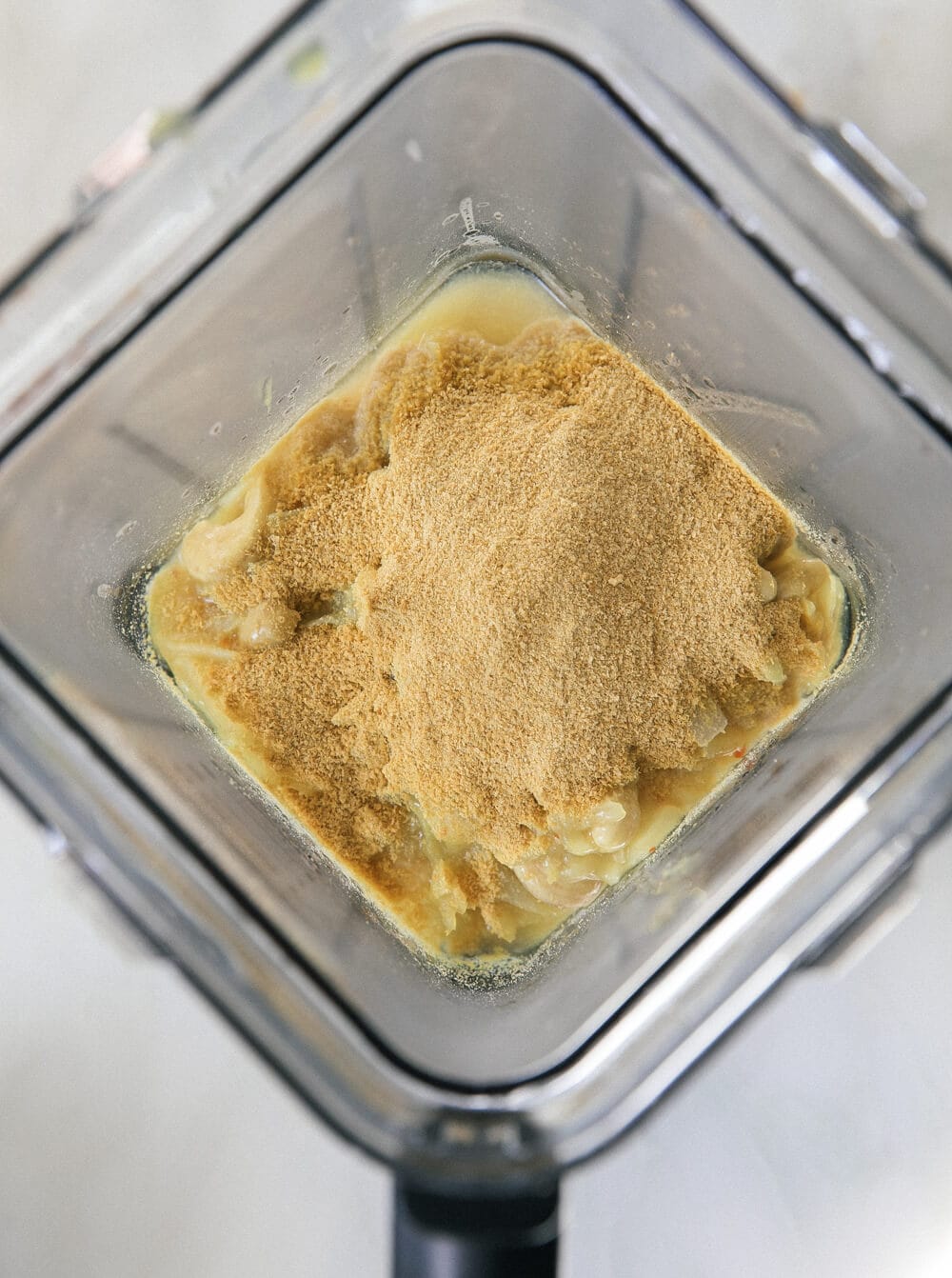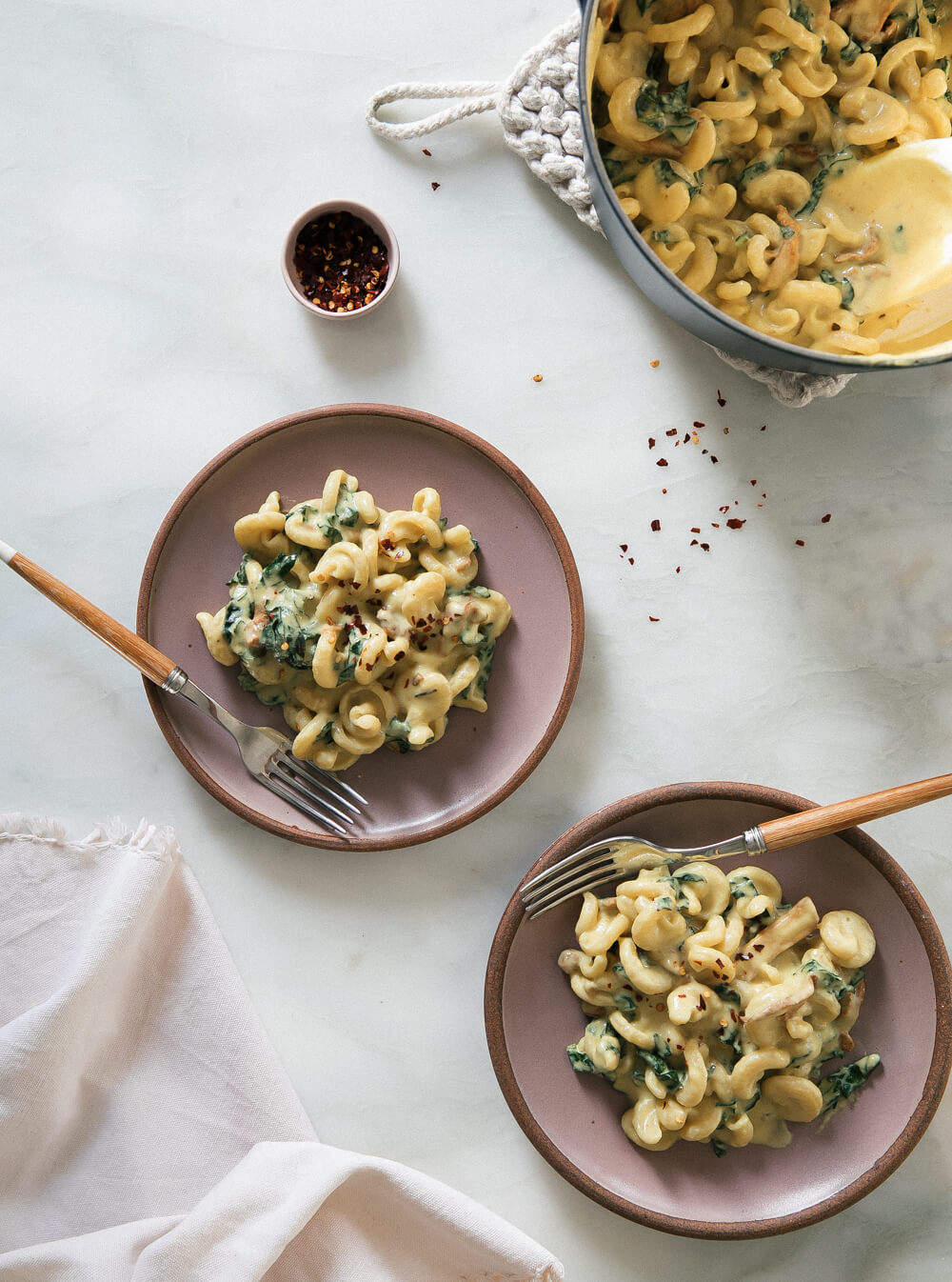 I adapted this recipe from Cookie and Kate because Kate is a G when it comes to vegetarian/vegan recipes.
I made some changes, like more water, more crushed red pepper, I added some turmieric and switched around the add-ins but for the most part, give or take, the core of the recipe is hers.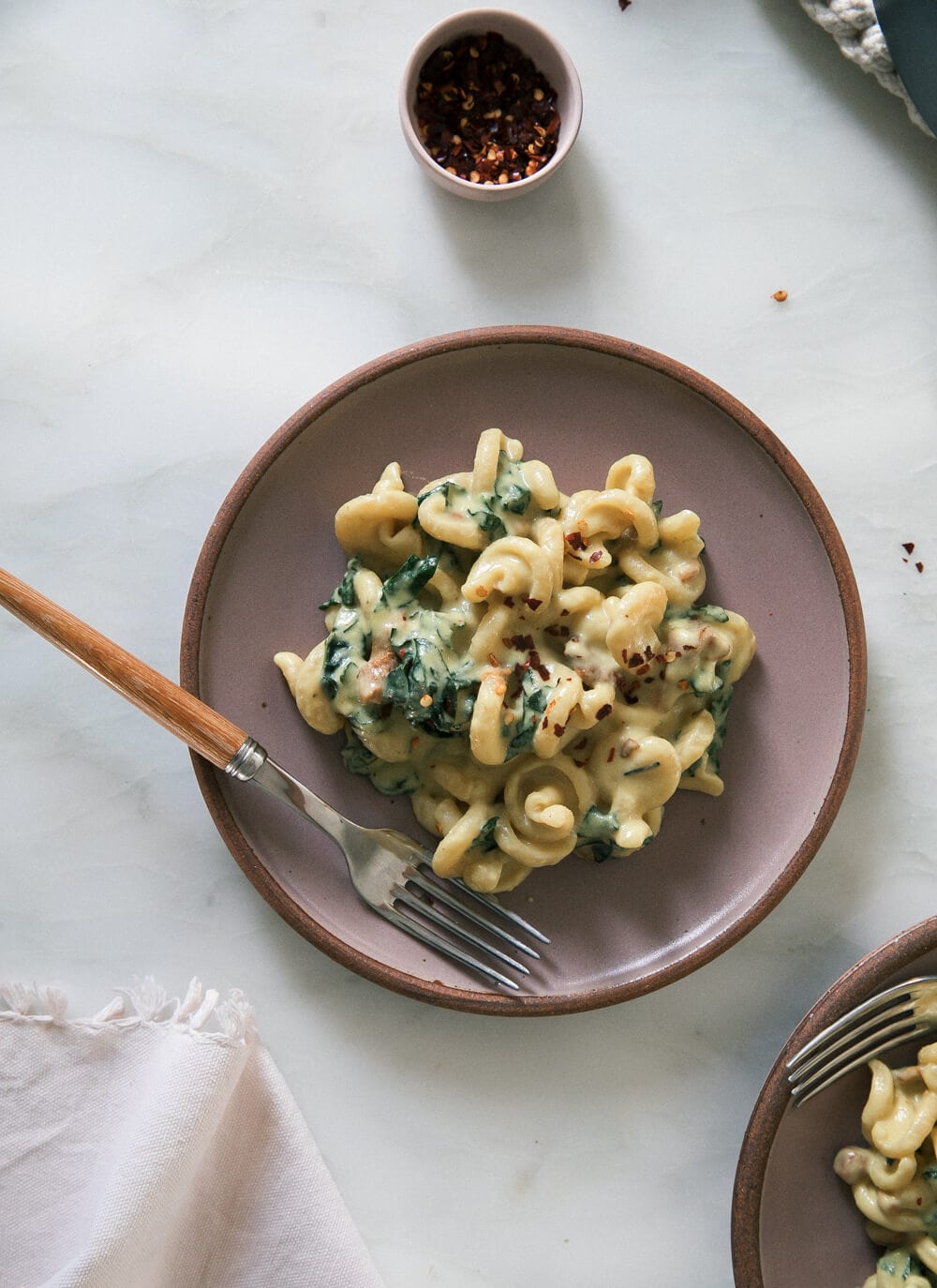 It is so creamy and delicious. It doesn't feel weight-y or heavy. It's also quick, quick! It's definitely a weeknight meal and feels cozy and comforting.
I hope you give this a whirl, even if you're like me and maybe give it a lil' side-eye.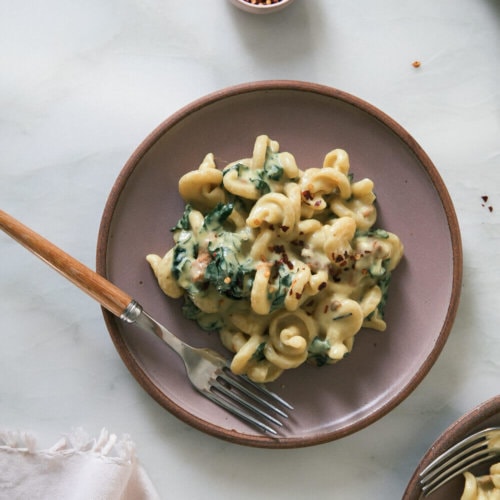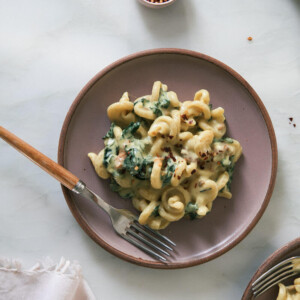 Creamy Vegan Kale and Mushroom Macaroni and Cheese
Ingredients
Olive oil

4

ounces

mushrooms of choice

,

I used chanterelles, sliced

1/2

batch of kale

,

sliced

1

teaspoon

olive oil

1/2

yellow onion

,

roughly chopped

4

garlic cloves

,

peeled and smashed

1/2

teaspoon

fine-grain sea salt

,

plus more to taste

1

teaspoon

Dijon mustard

1/2

teaspoon

crushed red pepper

Pinch

of turmeric

,

this is just for coloring so if you don't have it, feel free to skip it

1

medium russet potato

,

peeled and grated

2/3

cup

raw cashews

1 1/2

cups

water

,

plus more at the end

1/4

cup

nutritional yeast

Juice from 1/2 lemon

1

pound

pasta

,

of choice
Directions
To a medium pot, set over medium heat, add a teaspoon of olive oil. When warm, add the kale and mushrooms. Cook until the kale is bright green and the mushrooms have softened, about 5 minutes. Add a few pinches of salt. Scoop the kale and mushrooms out of the pot and set aside. No need to wash the pot out, we're gonna use it again for the sauce.

Add an additional teaspoon of olive oil. When warm, add the onion, garlic and salt. Cook until translucent, about 3 to 4 minutes. Mix in the Dijon mustard, crushed red pepper and turmeric. Next, add the potato, cashews and water. Bring to a gentle simmer, stirring occasionally, and cook for about 5 to 7 minutes, until the potato is completely cooked through. Transfer to a high-powered blender, along with the nutritional yeast and lemon juice. Process until very smooth, about a minute. Give it a taste and adjust the salt until you really taste the flavor. I added about 1/2 teaspoon of salt.

Bring a pot of salted water to a boil. Cook the pasta according to the package's instructions, until al dente. Drain and add back to the pot. Pour the "cheese" sauce over the pasta and add the sautéed kale and mushrooms. Give it a stir and divide amongst plates.
Nutrition Facts
Creamy Vegan Kale and Mushroom Macaroni and Cheese
Amount Per Serving (4 g)
Calories 0
* Percent Daily Values are based on a 2000 calorie diet.