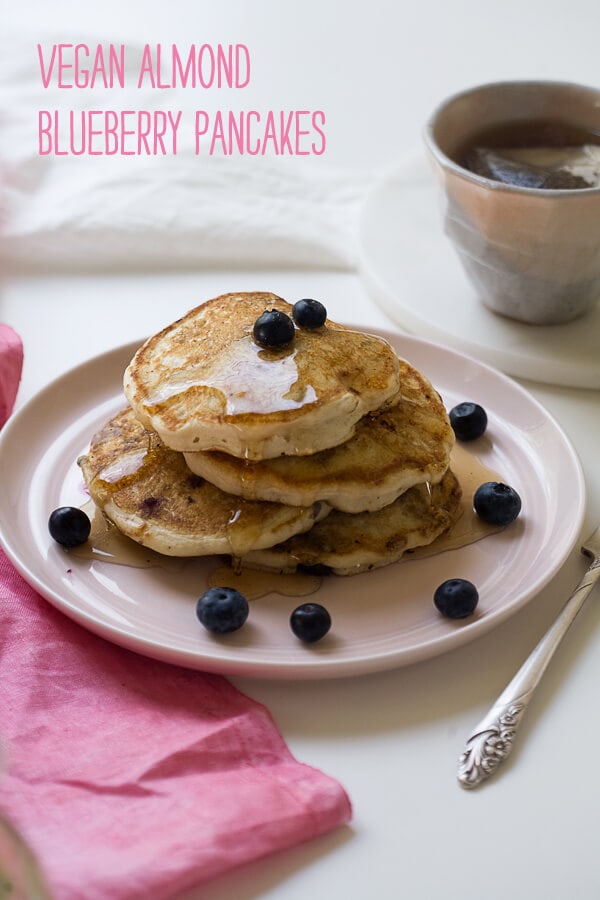 When I fly home, I always get a call from my mom right before my flight takes off, "will you be wanting animal flesh for dinner." She's not kidding…haha. My mom has been vegan for a long time now and while I can't imagine being vegan, her body has never felt better. I remember, as a kid, she'd always get stomach aches and feel sick after she ate meat and dairy. It really does prove that everyone's body is different and what works for one person, won't always work for another.
Luckily these vegan pancakes don't taste vegan. They're fluffy, tender, soft and are pleasantly sweet. If you're vegan, you'll be delighted that they're dairy and egg-less; if you're not vegan, you won't be able to taste a difference, I promise.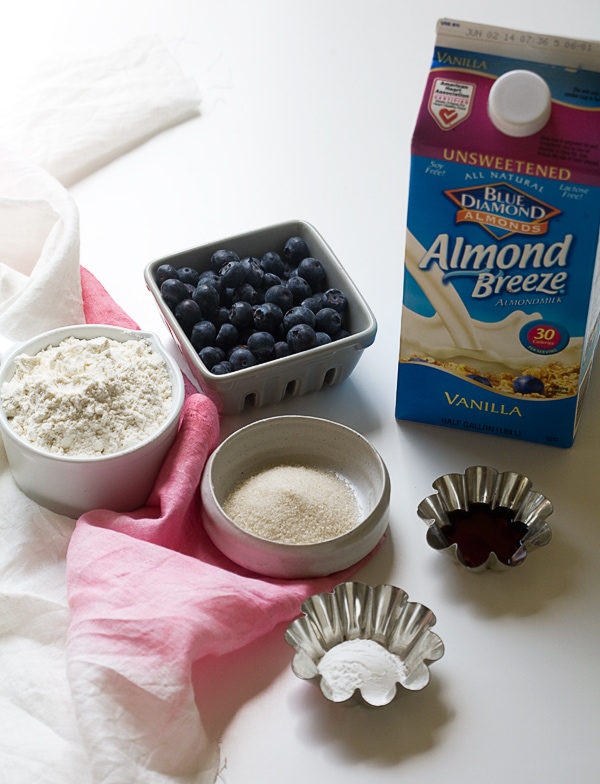 I'm not gonna be home with my mama this Mother's Day (I mailed off this box a few days ago!), but if I was, I'd make her a stack of these pancakes. She has a recipe similar to this, that I created for her so she can get her pancake-making on.
This stack is a bit fluffier (I played with the leavenings a bit more), a bit sweeter than my typical pancakes (I think it pairs well with the tart blueberries) and there's a hint of almond flavor thanks to the almond milk.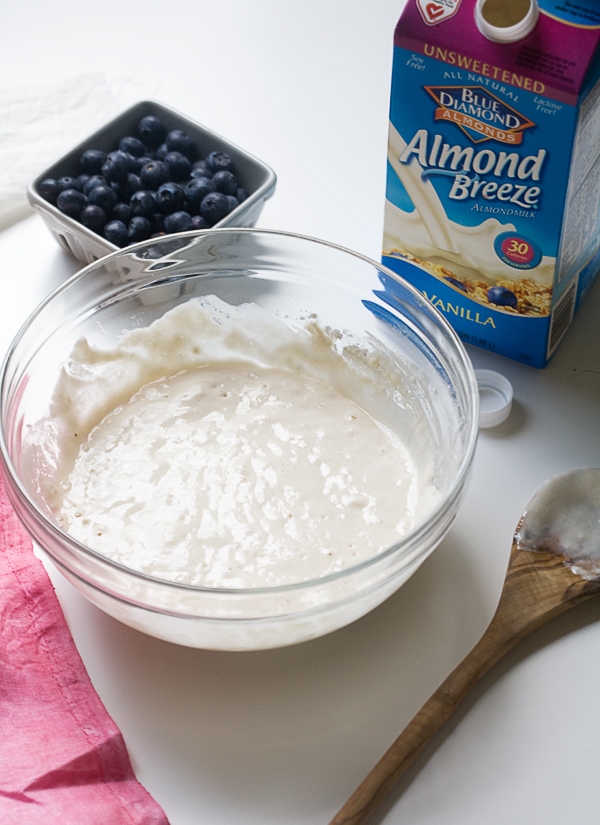 Sometimes I wonder what I'd do without my mom and it makes me have internal panic attacks. I call her daily and we usually talk about the most boring, mundane things: what we had for breakfast, what we had for lunch, what exercise we tried that day, etc. But those conversations are what keep me focused on what's important. They make me feel better and safe.
Happy Mother's Day to all the mamas out there! xoxo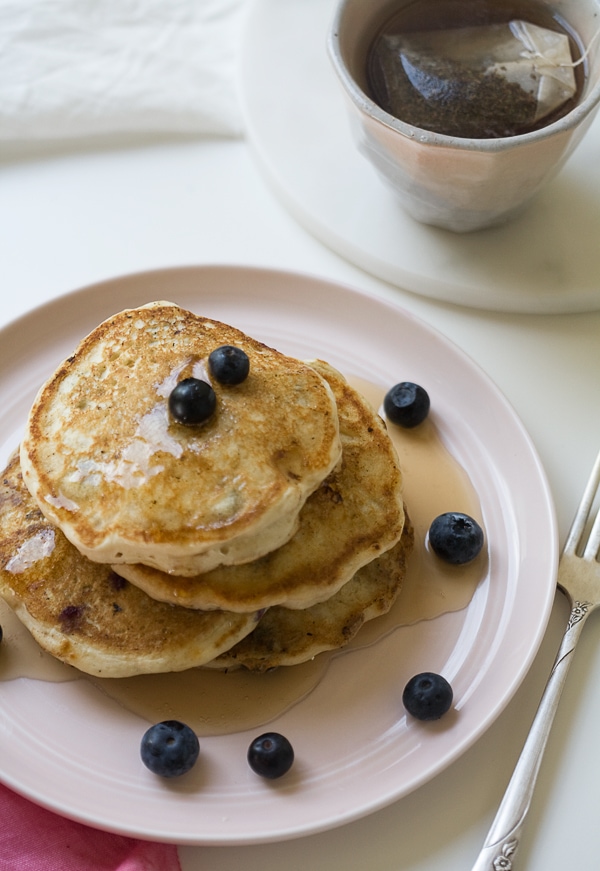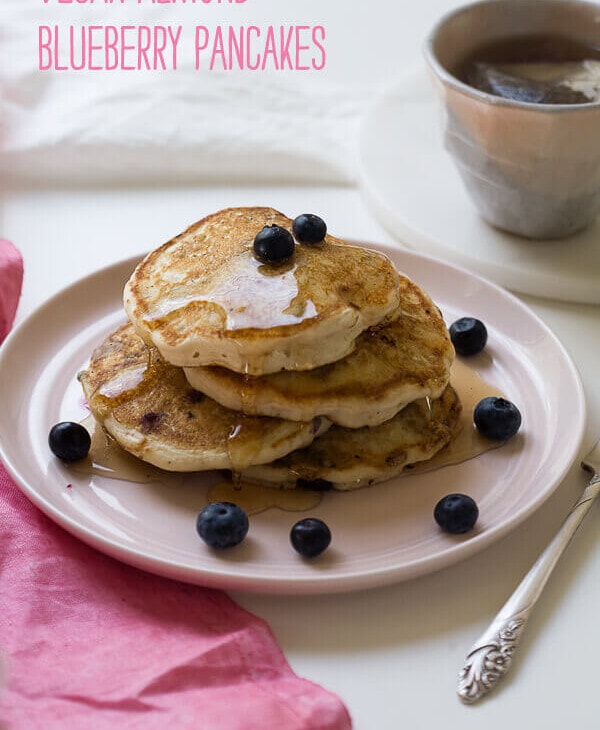 Print Recipe
Vegan Almond Blueberry Pancakes
Ingredients
Dry Ingredients:
1

cup

all-purpose flour

2

tablespoons

pure cane sugar

2

teaspoons

baking powder

1/2

teaspoon

baking soda

1/2

teaspoon

salt
Wet Ingredients:
3/4

cup

plus 1 tablespoon, Vanilla or Original (Unsweetened) Almond Breeze Almond Milk

1

teaspoon

vanilla extract
Coconut oil, for the skillet (Or, if you're like me and bad at being vegan, you can use butter)
Instructions
In medium bowl, mix together the flour, sugar, baking powder, baking soda and salt.

In a measuring cup or small bowl, measure out the Almond Breeze Almond Milk and vanilla extract.

Preheat your skillet over medium heat and brush with 1 teaspoon of vegetable oil. Using a 1/4-cup measure, scoop the batter onto the warm skillet. Add four to five blueberries to each pancake, nestling them into the pancake's surface. Cook for 3 to 4 minutes until small bubbles form on the surface of the pancakes, and then flip. Reduce the heat to medium-low and cook on the opposite sides for 1 to 2 minutes, or until golden brown.

Transfer the cooked pancakes to a baking sheet and place in a preheated 200 degree F oven to keep warm. Repeat the process with the remaining batter, adding more vegetable oil to the skillet when needed. Serve immediately with a few blueberries on top and a drizzle of warm maple syrup.
(This post is sponsored by Almond Breeze. Thank you for supporting the sponsors that keep A Cozy Kitchen cozy.)