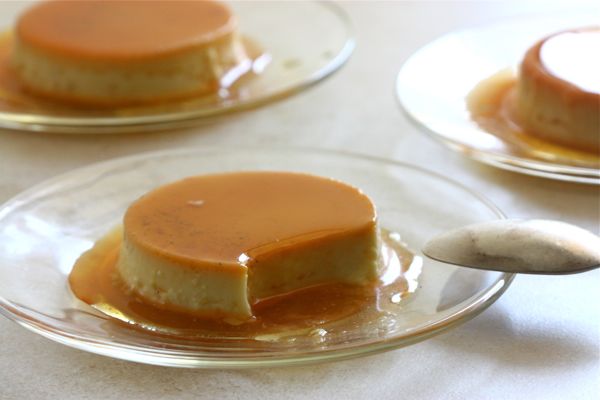 OMG! It's Monday. I feel like before we dive into sugar and eggs and cream, I should make you watch this video of this bear waving, because it'll really set a tone for the rest of this blog post (and for the rest of your week). Let's make this Classic Flan!
Alright, I'll wait…
Now that you've had a nice little laugh, and thought to yourself, How did that bear wave like that?! it's time to talk about flan!!
I Grew Up Hating Flan!
This is because the majority of flan served in latin restaurants, throughout South Florida, is really really eggy, not super smooth and overly sweet. I always skipped flan and just ate more rice.
Even my great aunt's recipe–which is considered to be a family treasure–is not my favorite. I really wish I was giving you some recipe that was a family heirloom or whatever, but sometimes it's just not the case. Instead, this recipe is mash-up of a Jose Andrés recipe (who had similar flan memories as myself!) and this old Bon Appetit recipe I've made a few dozen times. The ratios in this recipe are pretty flawless, really–it's only the technique that I've tweaked here and there. This flan isn't too eggy. Not too sweet. And the custard is incredibly smooth. Totally dreamy!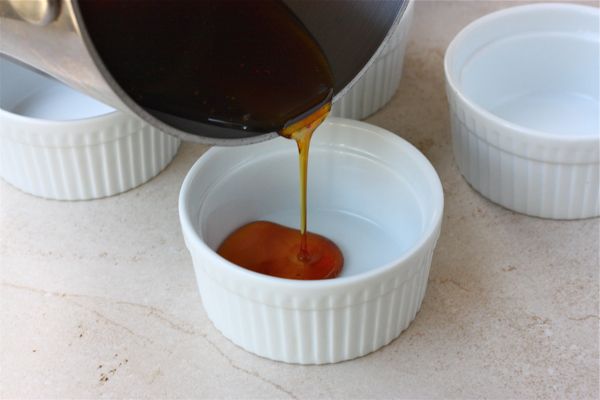 If you've never made flan, I can tell you that it's a lot scarier than it looks.
How to Make Flan!
It starts with making the custard. Heating up milk and heavy cream and vanilla together and then mixing it with some sugar and eggs. No biggie!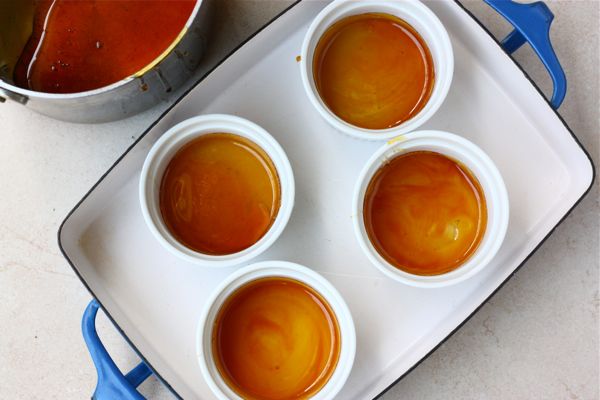 Then there's caramel, which I know is a lil' scary, but not really. Making caramel means that you have to focus. No distractions. That's all!
No texting and carameling!! It doesn't work!
After you make the caramel, it gets swirled in each of the ramekins.
The custard is added. And then the whole thing takes a trip to the oven in a casserole dish filled with water.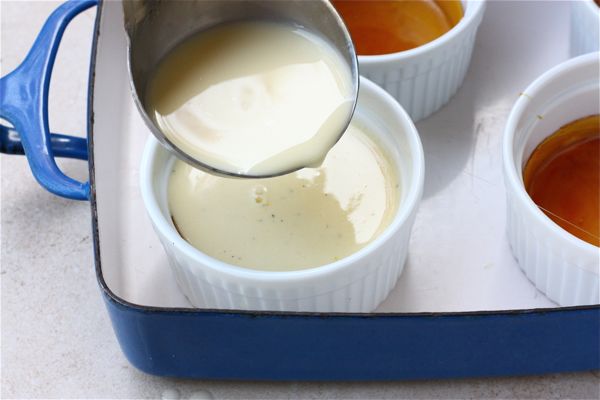 The biggest challenge is not eating the stuff warm, straight out of the oven. It's imperative that they have time to chill on the counter. And super important that they have time to chill in the fridge overnight.
The next afternoon or evening, you'll take them out, run a knife along the sides, plate them up and watch all the caramel ooze out the sides. So good!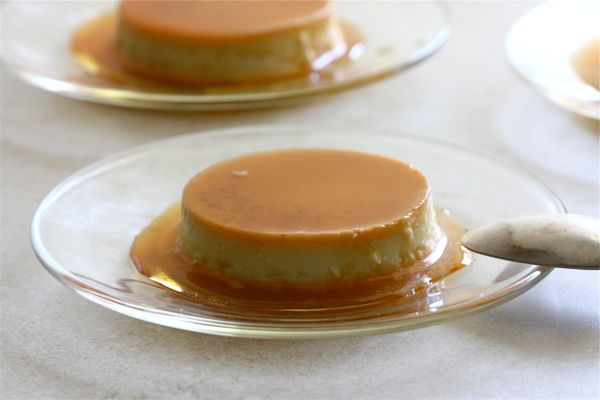 This Classic Flan is sillky smooth and utterly delicious and sweet. This custard topped with a runny caramel is a Spanish and Latin American favorite.
Total Time:
3
hours
15
minutes
Ingredients
1 3/4

cups

whipping cream

1

cup

whole milk

Pinch

of salt

1/2

vanilla bean

,

, split lengthwise

1

cup

sugar

1/3

cup

water

3

large eggs

2

large yolks

7

tablespoons

white granulated sugar
Directions
Position rack in center of oven and preheat to 325°F. Combine cream, milk and salt in heavy medium saucepan. Scrape seeds from vanilla bean into cream mixture; add bean. Bring to simmer over medium heat. Remove from heat and let steep 30 minutes.

Whisk eggs, egg yolks and 7 tablespoons sugar in medium bowl just until blended. Add a 1/4 cup of the milk mixture to the beaten eggs and mix. (This will bring the temperature of the eggs closer to that of the milk mixture.) Add all of the egg mixture to the milk mixture and gently whisk without creating lots of foam. Pour custard through small sieve to eliminate any eggy bits. Set aside.

Combine 1 cup sugar and 1/3 cup water in another heavy medium saucepan. Stir over low heat until sugar dissolves. Increase heat to high and cook without stirring until syrup turns deep amber, brushing down sides of pan with wet pastry brush and swirling pan occasionally, about 7-8 minutes. Quickly pour caramel into six 3/4-cup ramekins or custard cups. Using oven mitts as aid, immediately tilt each ramekin to coat sides. Set ramekins into 13x9x2-inch baking pan.

Pour the custard into the prepared ramekins, dividing evenly (mixture will fill ramekins). Transfer baking dish to oven rack and fill the baking dish with enough water into baking pan to come halfway up sides of ramekins. Bake until centers of flans are gently set, about 45 minutes. Transfer flans to rack and cool. Chill until cold, about 2 hours. Cover and chill overnight. (Can be made 2 days ahead.) To serve, run small sharp knife around flan to loosen. Turn over onto plate. Shake gently to release flan. Carefully lift off ramekin allowing caramel syrup to run over flan. Repeat with remaining flans and serve.
Nutrition Facts
Classic Flan
Amount Per Serving
Calories 245
* Percent Daily Values are based on a 2000 calorie diet.