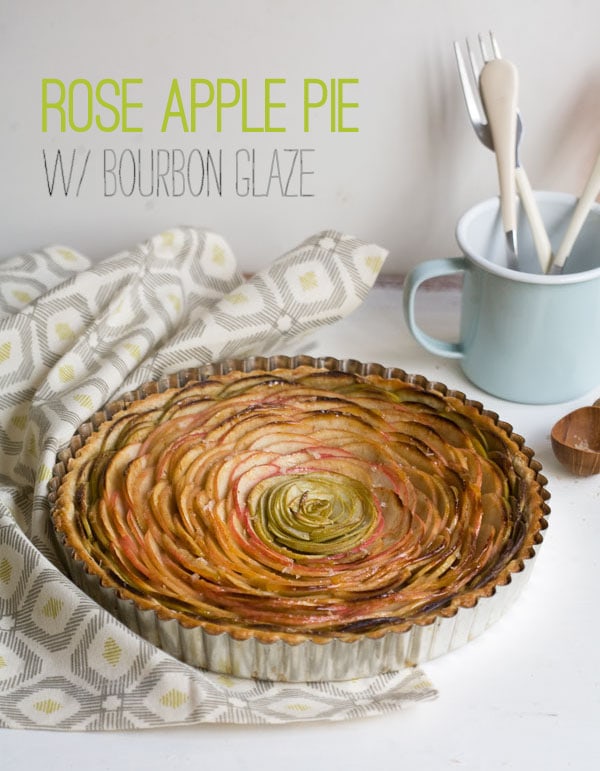 I'm mostly filled with love. I like to consider myself a good, optimistic-half-glass-full kind of person. But I do curse like sailor and my "hate" list runs loooong. I guess it's a bit of a conundrum but it is what it is. I think it's because I know what I like and am not all that afraid to share my opinion. I like my positivity to be accompanied by a firm handshake and a bit of snark.
At the top of my "hate" list definitely lives spiders and weather that makes me sweat and tarts with glazes. Oh tarts with glazes, how I hate you! You're so 80s in the worst way. Good 80s: Morrissey and neon (done with restraint). Bad 80s: tarts with glazes!! AHH!
And today, here I am pushing this pie situation with none other than a glaze! Who am I. But I'd like to defend this glaze. This one starts with burnt sugar and then it has a bit of water for thinning and bourbon in it. So it's a little different. Way different, I'd say. I gave the whole thing a sprinkling of smoked sea salt because I couldn't help myself. This is like the pie version of these Bourbon Caramel Apples with Smoked Sea Salt.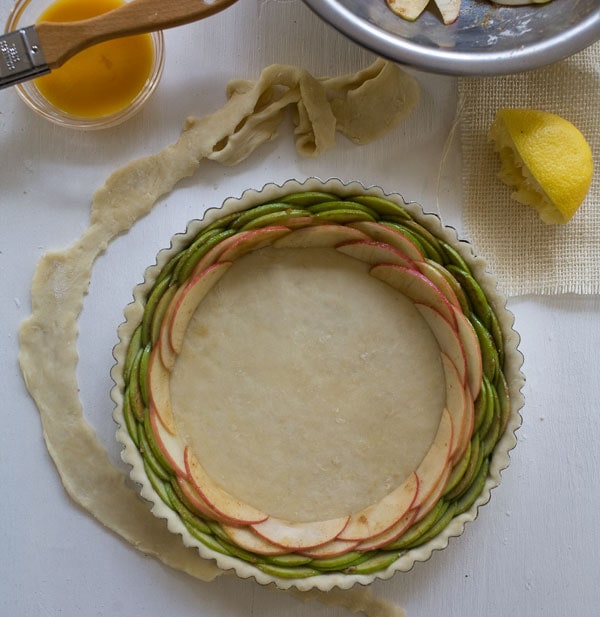 This pie may seem difficult and I'm not even gonna pretend and say it's easy and you can make it in an hour because that'd just be silly.
It's totally doable. But I'd say that if you're in charge of making EVERYTHING, like, the stuffing, turkey, gravy, etc., don't make this. I love you and wouldn't want you to pull your hair out. But, if you're maybe making one or two dishes then definitely make this! Why not.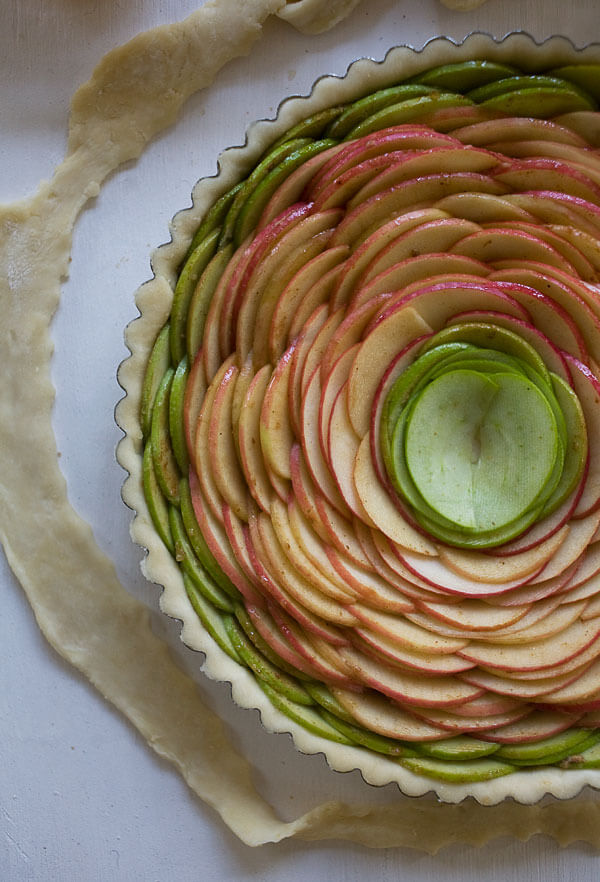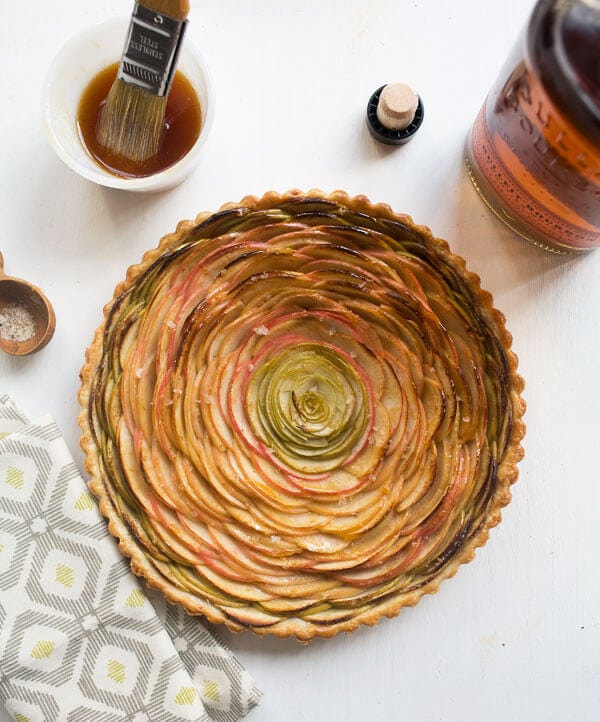 It looks harder than it looks, for sure. Because this recipe is a bit more challenging (really just with the arranging), I'd like to share some things to keep in mind:
1. A mandolin is a must. It'll make the whole process go much quicker and you really need to have apple slices that aren't too thick.
2. My apples were pretty small. If you're using normal-sized apples, use a pie pan. (I opted to use a tart shell because the apple slices were pretty small.) My apples were too small for a normal pie pan and a tad bit too big for a tart shell so I trimmed about a 1/2-inch from the bottom of the slices.
3. Arranging the slices along the edge (see the second photo from this post). The second layer of apple slices should be arranged in between the first layers indentations. Does this make sense? This creates the illusion of a rose. It's fairly easy and actually kinda fun once you get started.
4. Freeze the whole thing for an hour. I know that seems weird but arranging the apple slices takes a good 15 minutes or so. By the time you're done, the pie shell or tart shell will need to rechill. I kept mine in the freezer overnight with no problems, but an hour would suffice.
And that's it! Oh and use apples you love. I used a combo of small Granny Smith's and Pink Lady. That combo yielded a bit of a tarter apple pie, but the glaze adds some nice sweetness. I think any good baking apple would be great.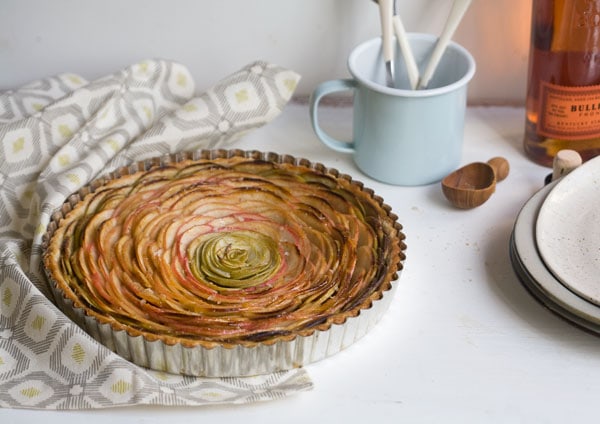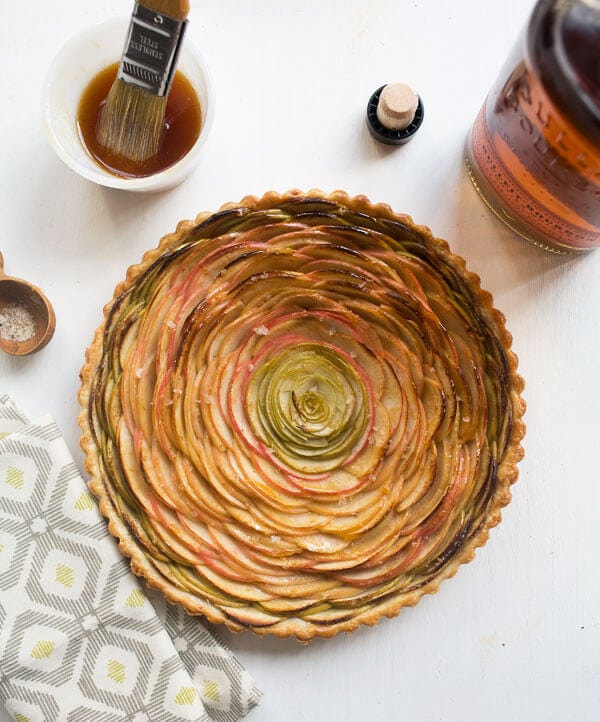 Print Recipe
Rose Apple Pie with Bourbon Glaze
Serving Size:
single 9-inch pie crust
Ingredients
Filling:
1

lemon

7-8

apples

weighing: 1 1/2 pounds , cored and quartered

1/4

cup

light brown sugar

2

teaspoons

all-purpose flour

1

teaspoon

ground cinnamon

Pinch

freshly grated nutmeg

Pinch

salt
Bourbon Glaze:
1/2

cup

white granulated sugar

1

tablespoon

unsalted butter

cubed

2

tablespoons

bourbon

1

tablespoon

water
Equipment:
9-

inch

tart shell or 9-inch pie pan

Mandolin
Instructions
Squeeze the lemon into a medium bowl. Using a mandolin (set on the second setting), slice each quartered apple into 1/8-inch slivers. As the apples are sliced, transfer them to the bowl and toss them in the lemon juice; this will prevent them from browning. (Reserve one quarter of an apple for the center - we're going to slice that later). Repeat until all the apples are sliced and in the bowl. To the bowl, add the brown sugar, flour, cinnamon, nutmeg and salt. Toss until evenly coated.

Roll out your pie crust and place it in a 9-inch pie pan or 9-inch tart shell. (I chose the latter.) Arrange the apple slices side-by-side, starting closest to the edge of the tart shell. For the second layer, arrange the slices, overlapping them in concentric circles. As you get to the center, you'll need apple slivers that are very thin. Slice the reserved quarter of an apple very thinly (on the mandolin's first setting) and arrange it until the gap in the center is completely closed.

Transfer the pie to the freezer and freeze until firm, about 1 hour. Preheat your oven to 400 degrees F. Brush the edges of the crust with egg wash and place in the oven for 25 to 30 minutes, checking on it at the 20-minute-mark to make sure all is ok, until the apples are lightly golden brown and the edges of the crust are browned. Allow to come to room temperature on a cooling rack.

Meanwhile, let's make the bourbon glaze. In a heavy-bottomed medium, placed over moderately high heat, pour in the sugar. Cook until the sugar begins to melt and turns a light golden brown around the edges. Using a silicon spatula, begin to stir until the sugar melts completely and turns a lightly golden brown. Cook for an additional 30 seconds or so until the sugar turns a golden brown color. Immediately take the pan off the heat and stir in the butter. Once the butter has melted, pour in the bourbon and water. The mixture will bubble up, not to worry - this is normal, just keep stirring until smooth. If the mixture seizes, place the mixture over very low heat and keep stirring until it becomes smooth. The mixture should be thin.

Brush the apples liberally with the warm glaze. You may have a tablespoon or two of extra glaze. I say put it your coffee!