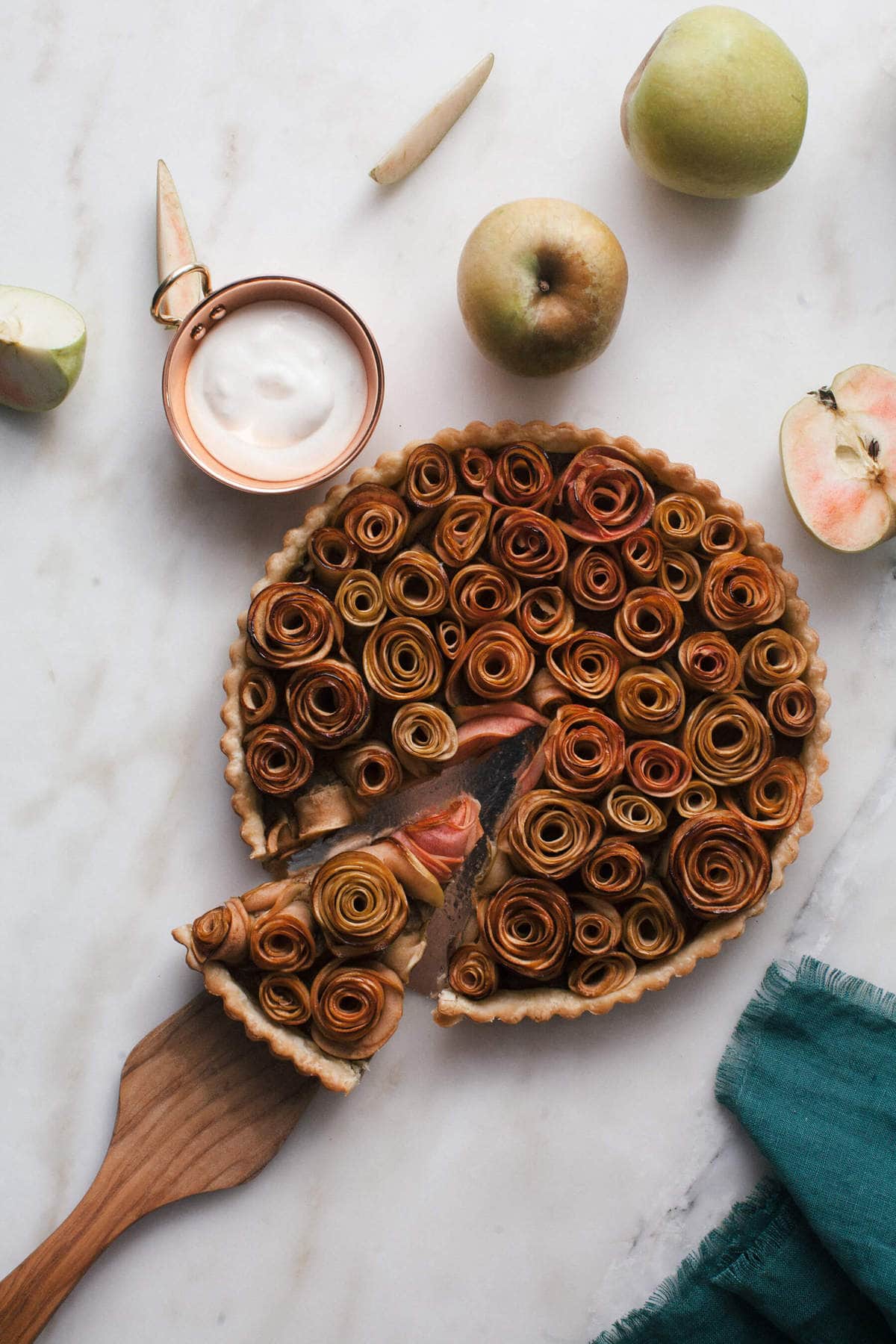 I'm not going to lie to you and tell you this is one of those easy recipes that you can throw together on a whim…because it's not.
It's one of those things you make when maybe you're feeling angsty and need to get lost in the process for awhile. You need to be a patient person. Maybe someone who likes to listen to music and think about their life…
If you are, then this is for you.
It also helps tremendously if you make the pistachio butter and pie crust the night before. And I'll even go far as to say that you can use store-bought pie crust, too because this is a good amount of work.
Some people on the Instagram said they tried to make roses out of apples already and their apple slices kinda snapped and wouldn't roll correctly.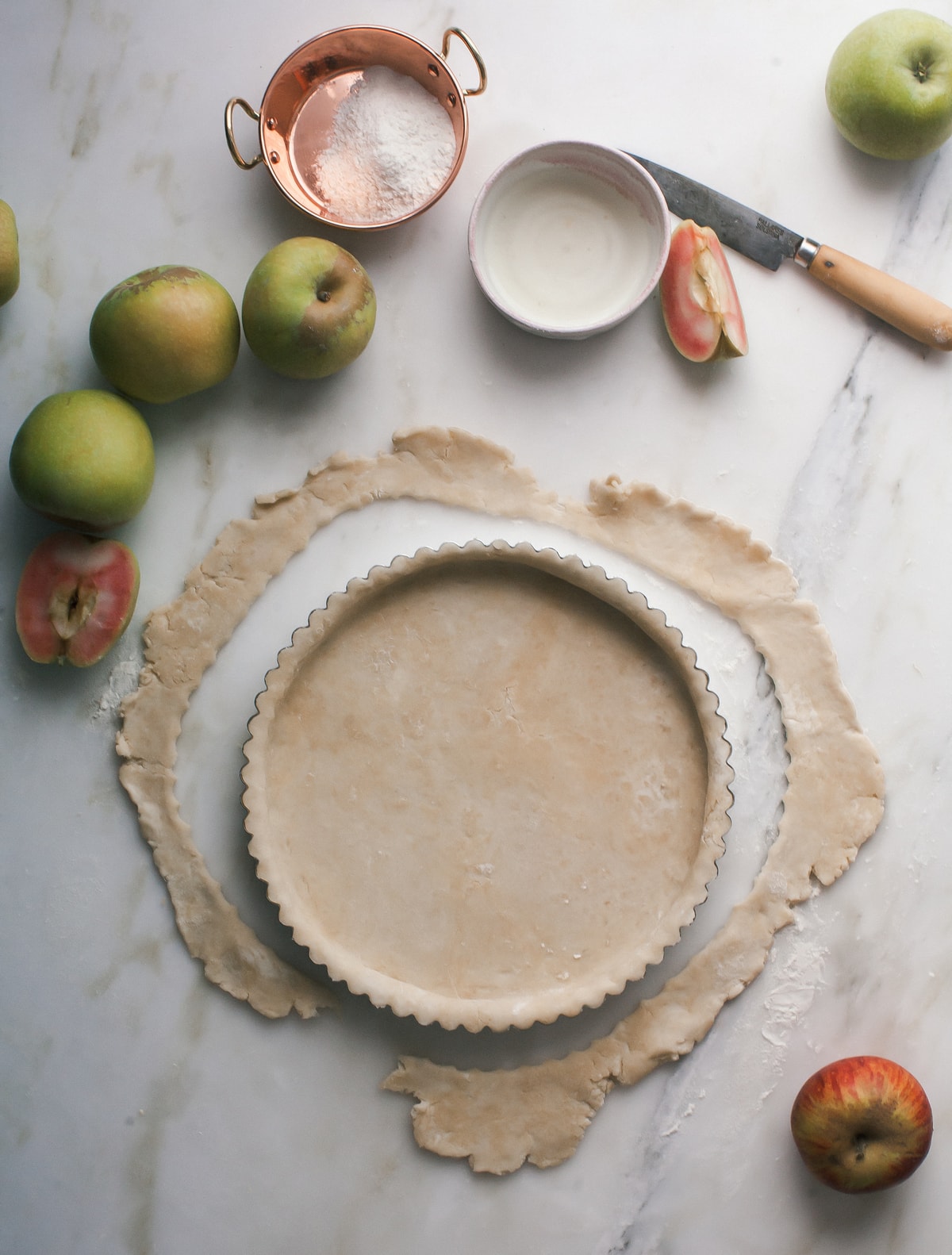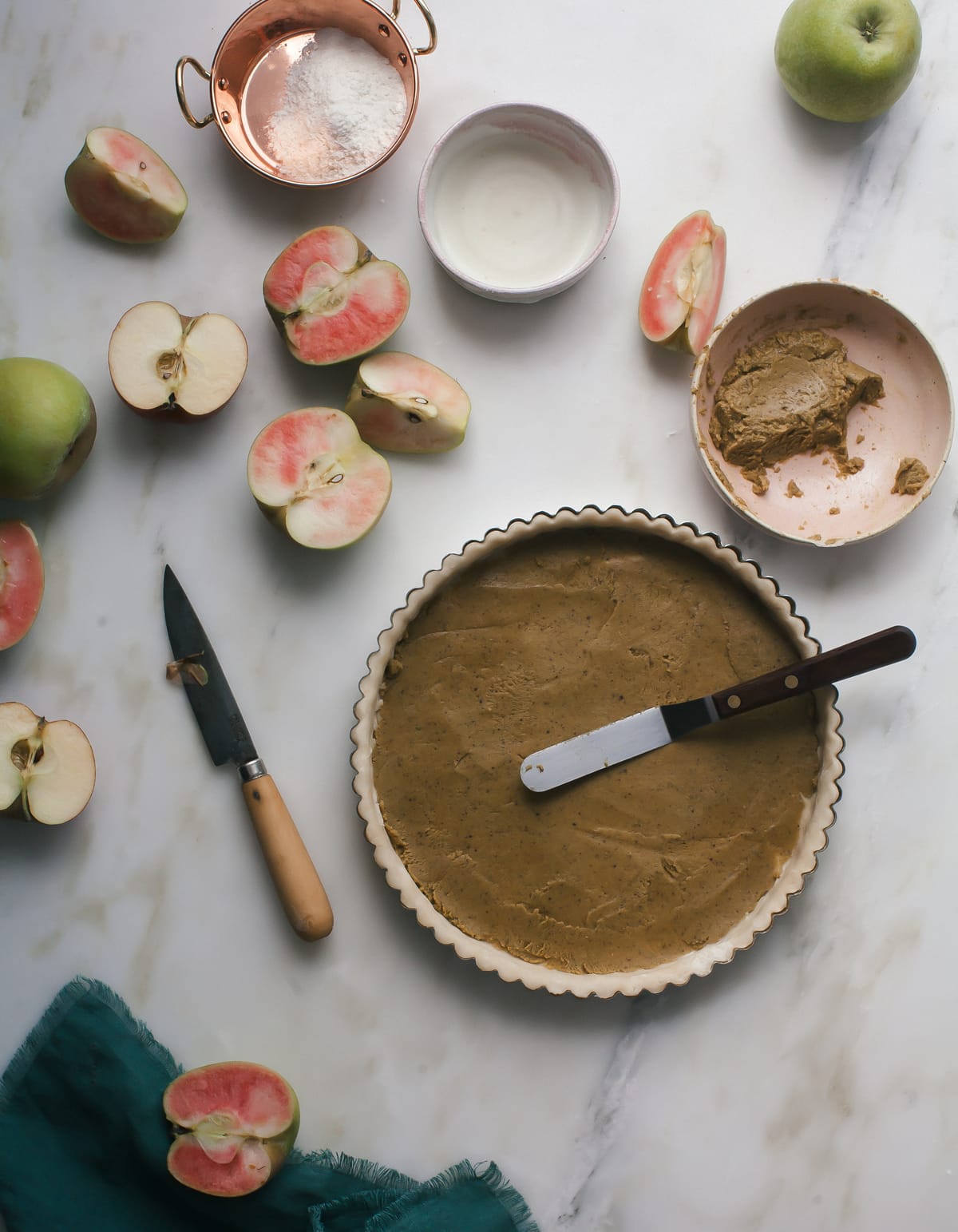 Here are some tricks I found:
1. First step – Use nice crisp apples. I used a combo of Granny Smith and these fancy Pink Pearls Josh found at the market.
2. Send step – Get you a mandolin. You can't do this without one.
3. Third step – Mandolin the slices thinly, until they're bendable. This will depend on your apple. Test a few slices, see if you can roll them up, if not, then they need to be thinner.
ALSO, the thinner they are, the better they are to use at the start of your rose. I found this was key. The thicker slices can be used at the end when they don't have to be so bendable. Does this make sense?
4. Get other people involved – This goes much quicker if there's more than one person involved. Obvious advice, I know, but seriously get some helpers!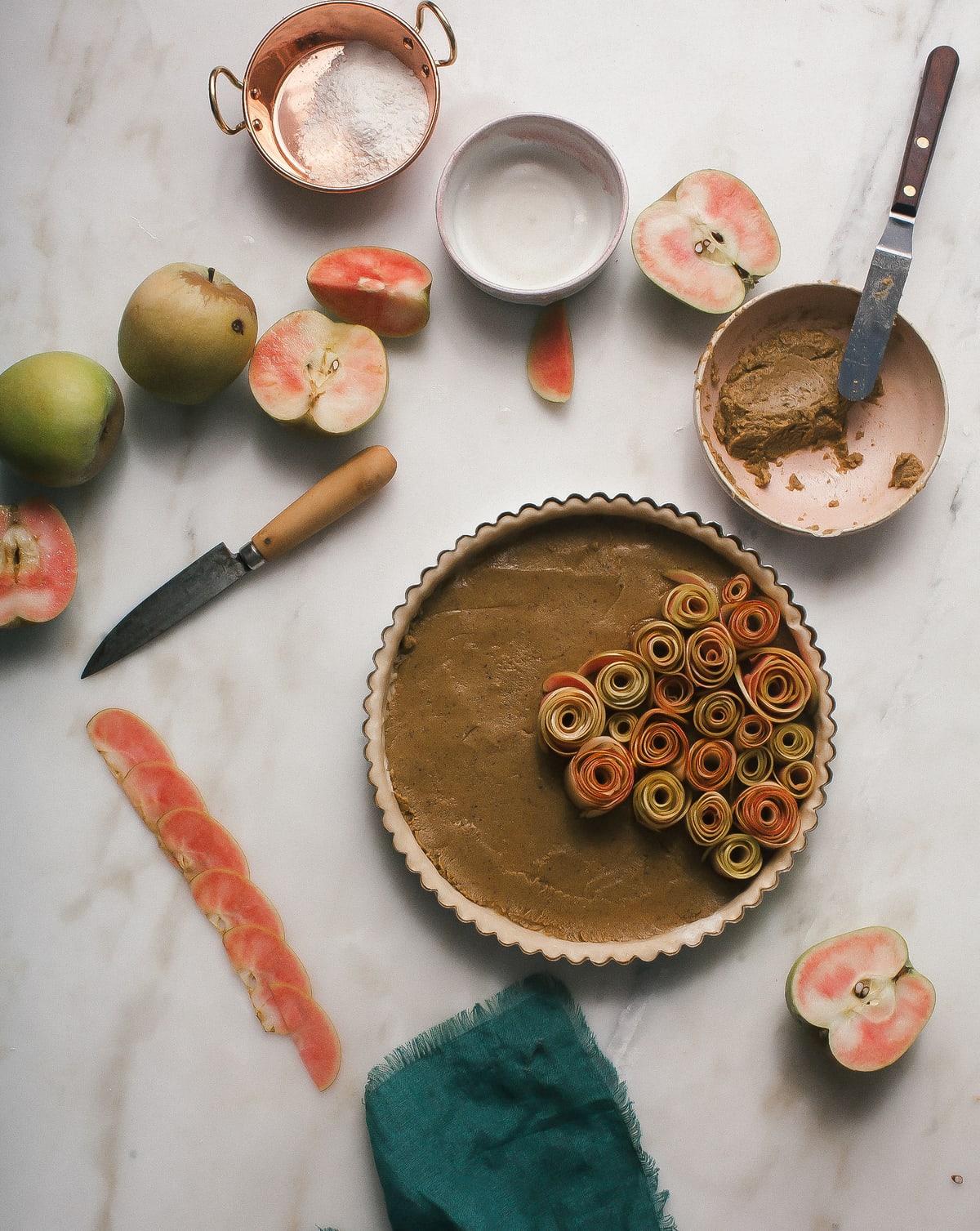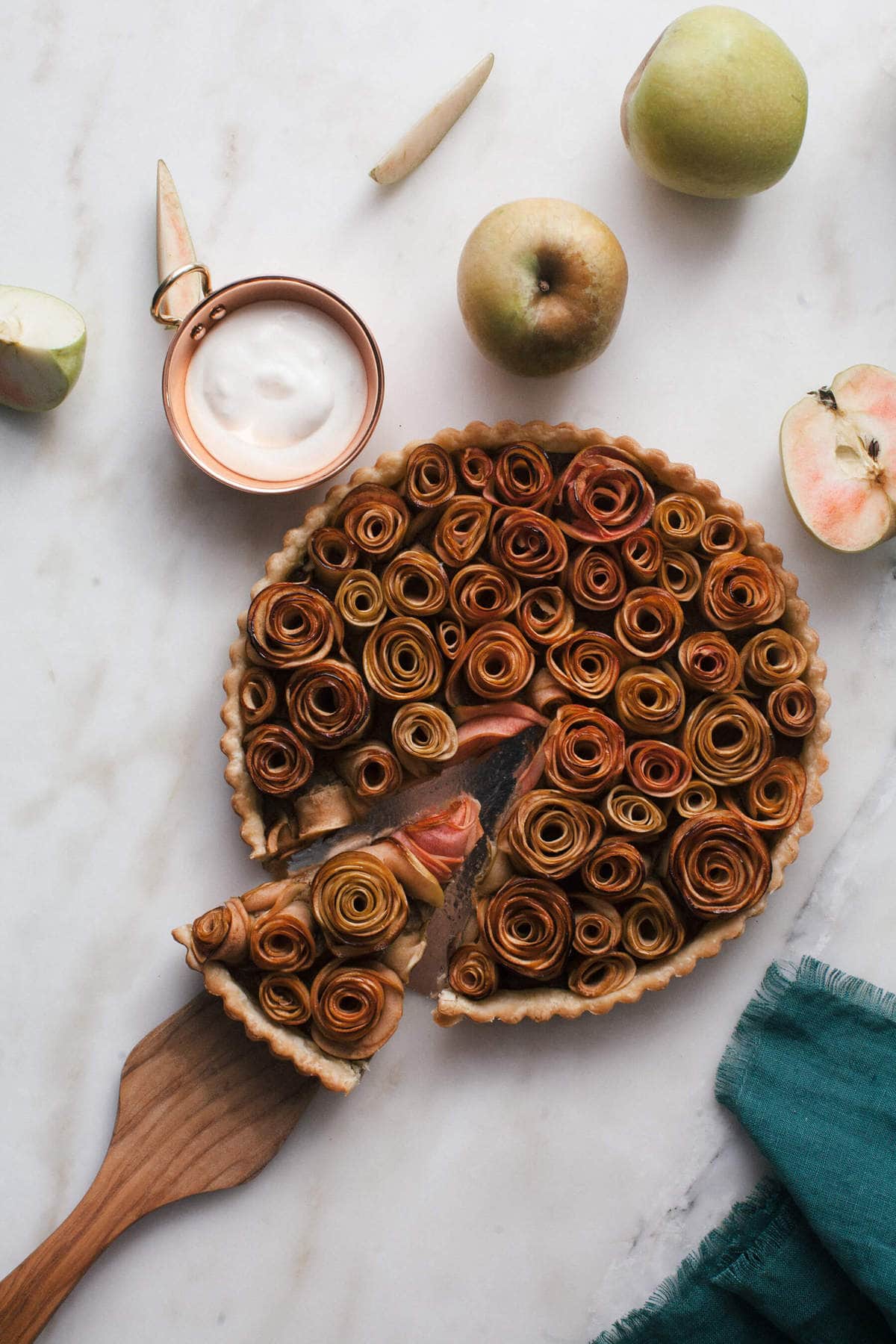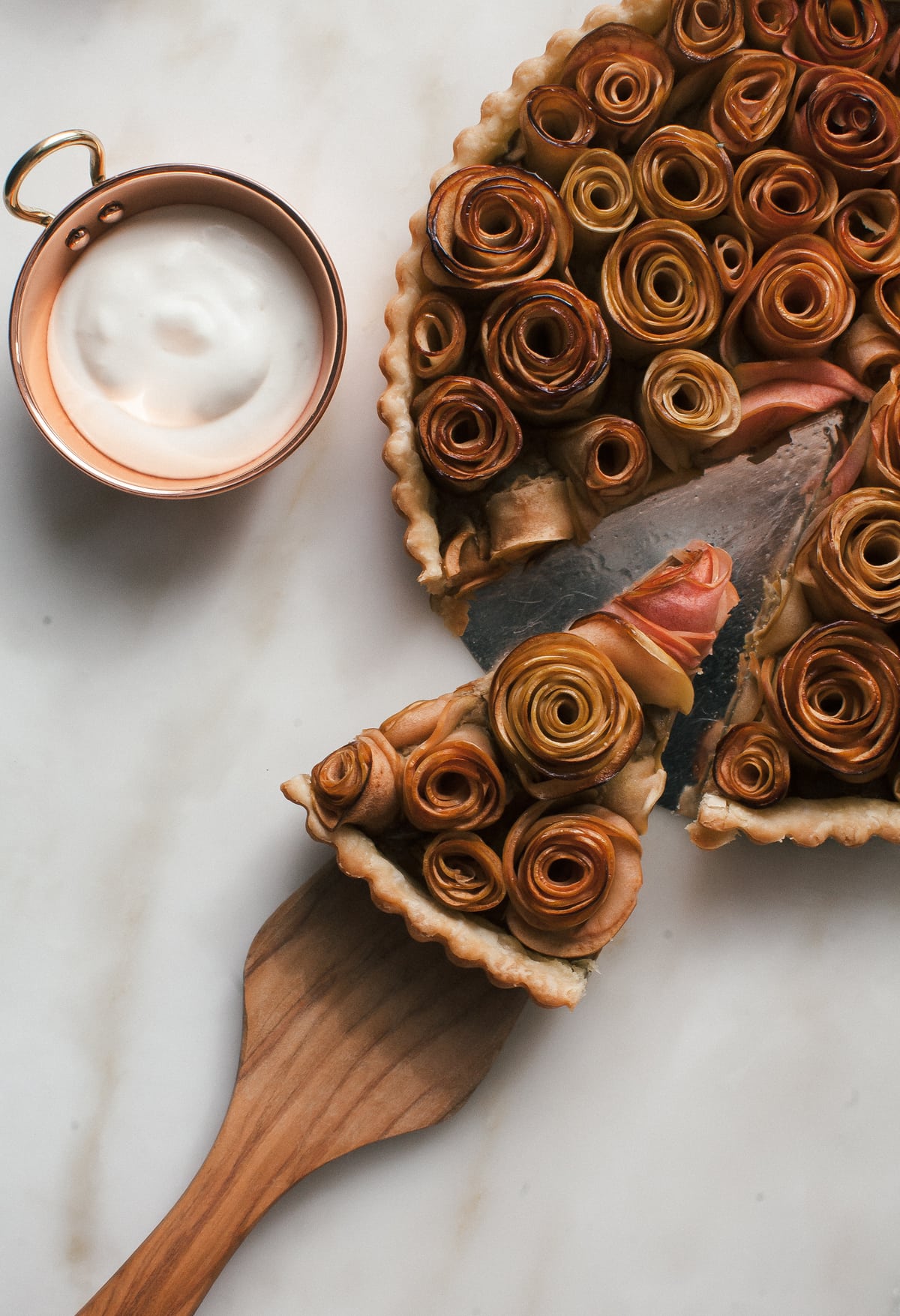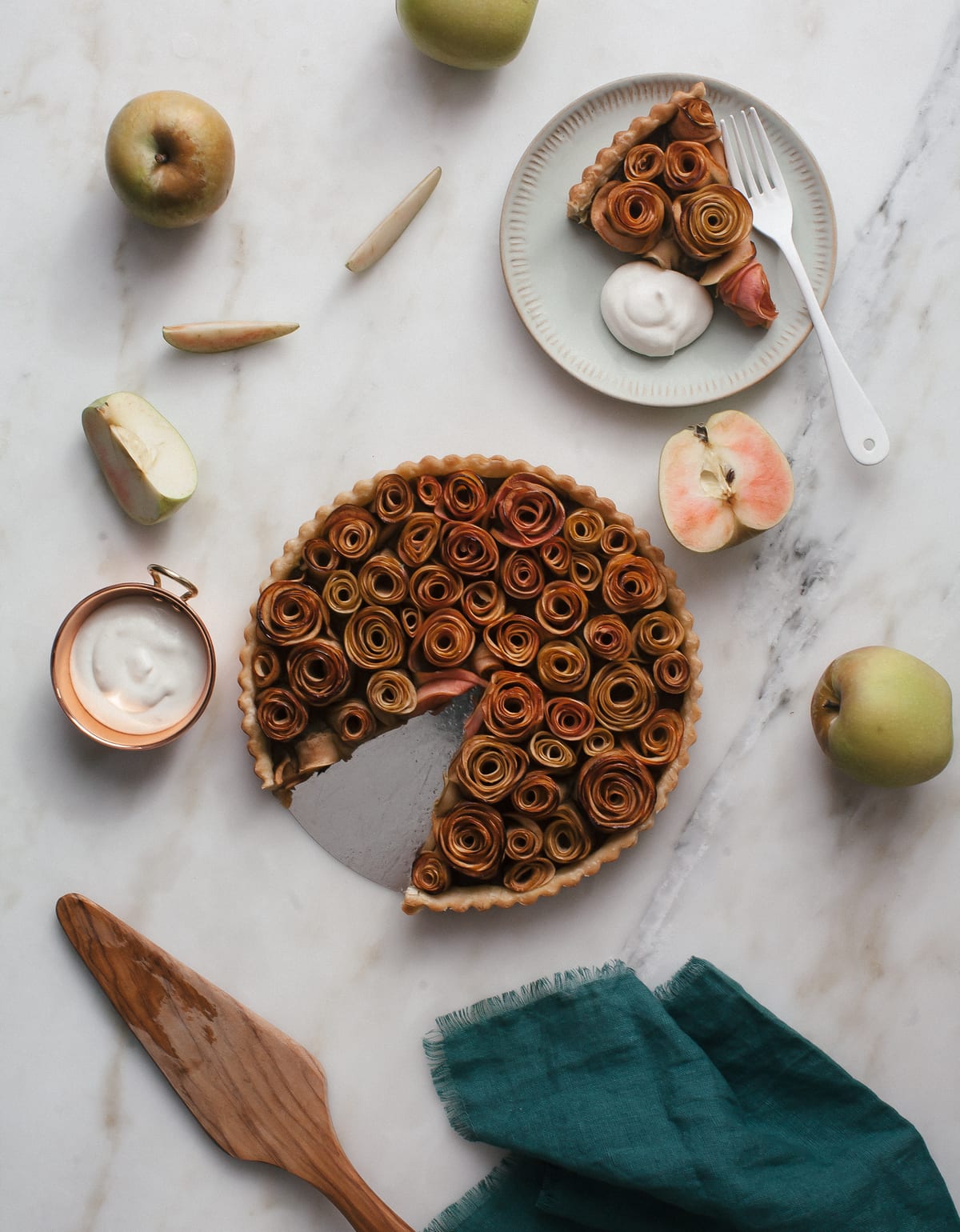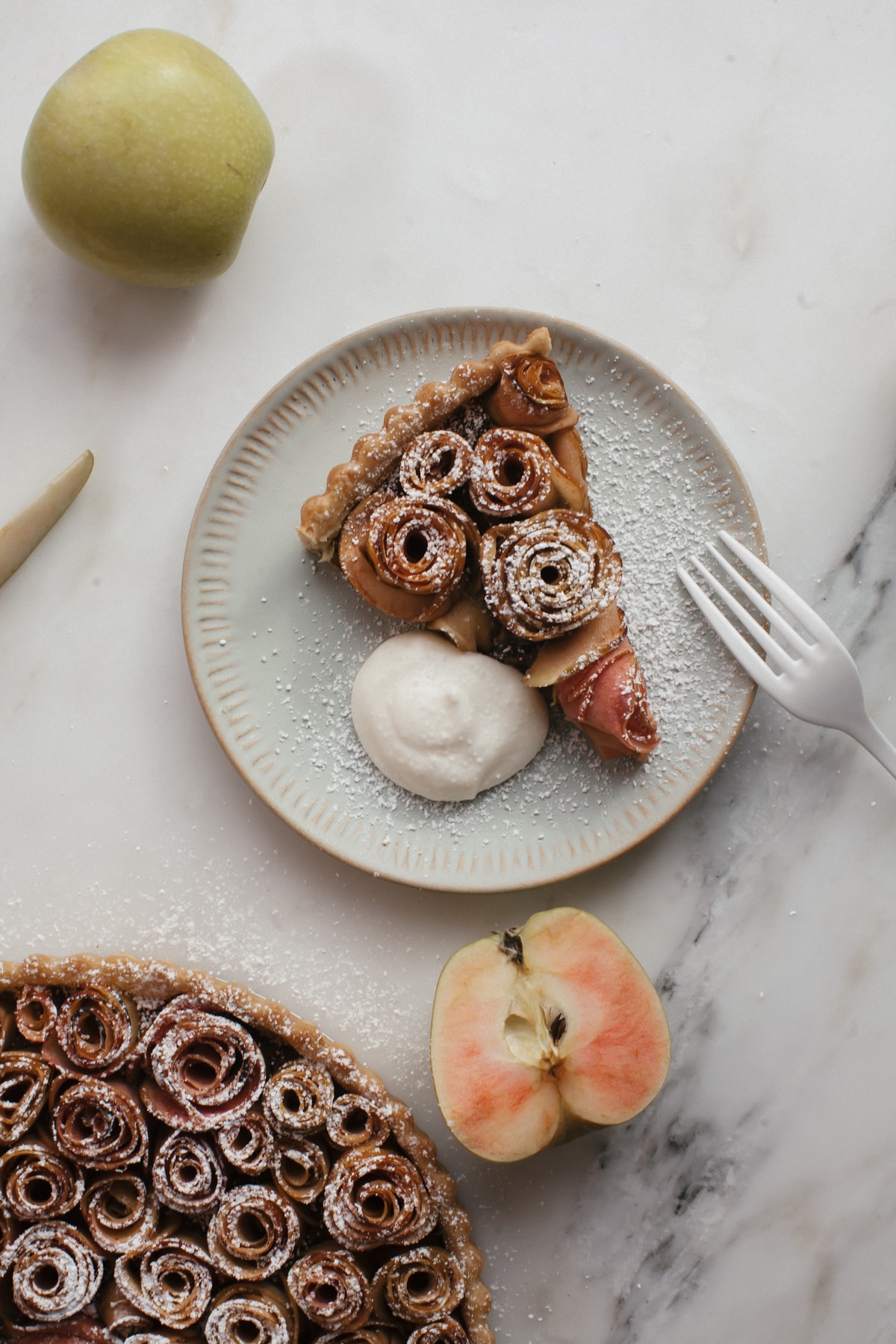 This tart is an updated version of this apple tart I made a super long time ago AND also inspired by Alain Passard's very famous apple tart. I watched his Chef's Table and I loved what he said. If you haven't watched it, I'll paraphrase. He basically said what he loves the most is design and construction.
I think I love that, too. ARE THE SAME?! I kid…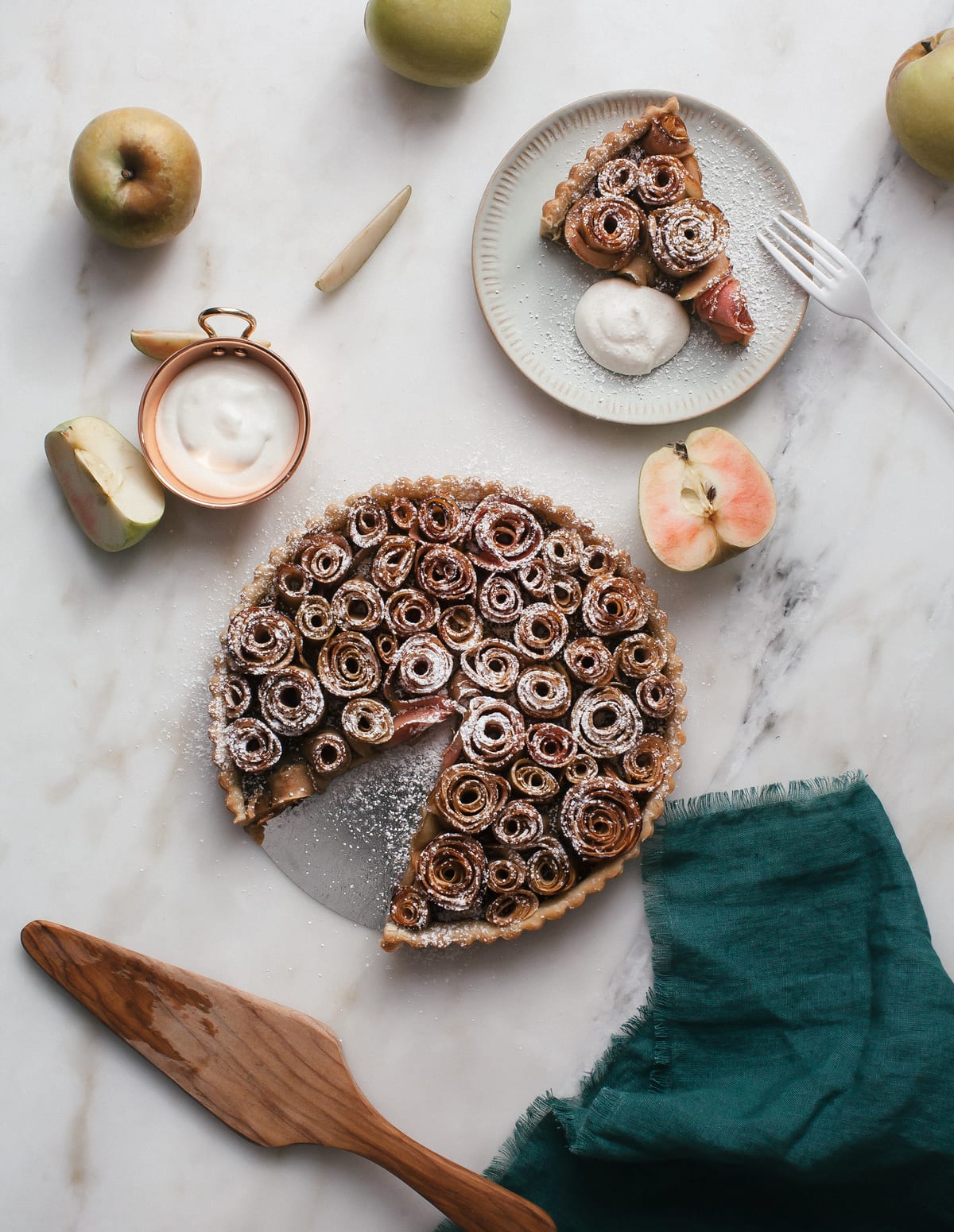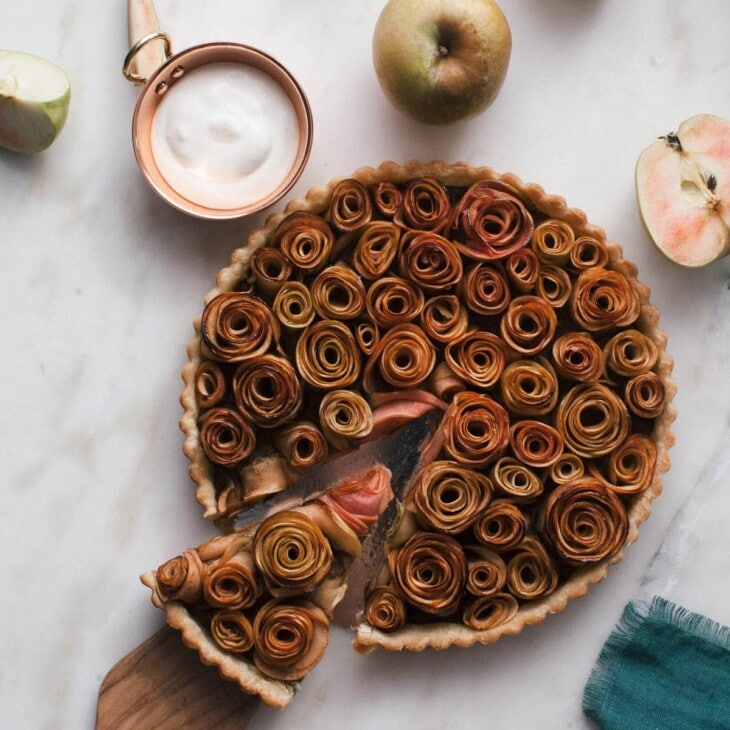 Print Recipe
Rose Apple Pistachio Tart
Ingredients
1

store-bought or homemade single pie crust

1/2

batch of pistachio butter

you can also use store-bought almond butter if you want to skip a step!

4 to 5

crisp apples

about 3 pounds of choice (I used a combo of Pink Pearl + Granny Smith)

Juice from 1 lemon

squeezed into a small bowl

1 to 2

teaspoons

powdered sugar

for dusting (optional)

Whipped cream or ice cream

for serving
Instructions
Remove your pie crust from the fridge and roll it out into a 13-inch circle (this can be eyeballed). If you're using a homemade batch, you may need to let it chill on a lightly floured surface before rolling it out. Lightly flour your rolling pin and roll the pie crust, moving it every so often, and adding flour underneath it, if needed. Roll it over the rolling pin and onto a 9-inch tart pan. Gently give the pie crust some slack so it can lay flush to the crevices to the tart pan. Do this all the way around the tart.

Take your rolling pin and roll it over the tart pan; the edges of the tart pan will cut the pie crust. Remove the scraps and set them aside. Transfer to the freezer to chill for 5 minutes (this will help with spreading pistachio butter onto the surface). Smear pistachio butter in an even layer to the bottom of the tart shell.

Remove the core and slice the first apple in quarters. Using a mandolin, thinly slice the apples. You should be ending with sort of moon shape slices (see photo above for visual assistance). Lay about 15 to 17 slices (for bigger roses) or 8 to 10 (for smaller roses) side by side, overlapping them slightly, horizontally. Brush them with a bit of lemon juice.

If you have any super thin slices, place them at the start of the "rose." Roll up the apples, gently, going from the very thin slice to the end. Transfer it to the tart and push it slightly into the pistachio butter. This should hold it in its place. Repeat with the remaining apples.

This does take a bit. It took me a solid hour and a half to do. I know, insanity. But it's so much better with some music and a friend. I actually enjoyed myself.

I alternated by putting the red apples roses next to the green apple roses. And made sure to include small roses next to big ones. When you're all done, transfer the tart to a baking sheet and place that in your fridge for 1 hour. This will really firm up the pie crust and apples.

When you're ready, preheat the oven to 375 degrees F. Transfer the baking sheet with the tart to the oven and bake for 30 to 35 minutes, until the edges of the tart crust is lightly golden brown and the apples' tops are lightly golden brown, too.

Allow to cool slightly before slicing it up with a very sharp knife. Dust with powdered sugar if you like and serve with whipped cream or ice cream