Pumpkin Sheet Cake with Brown Butter Frosting
115
Sep 20, 2017, Updated Nov 29, 2023
Disclosure: This post may contain affiliate links, which means I may earn a commission if you click on the link and make a purchase.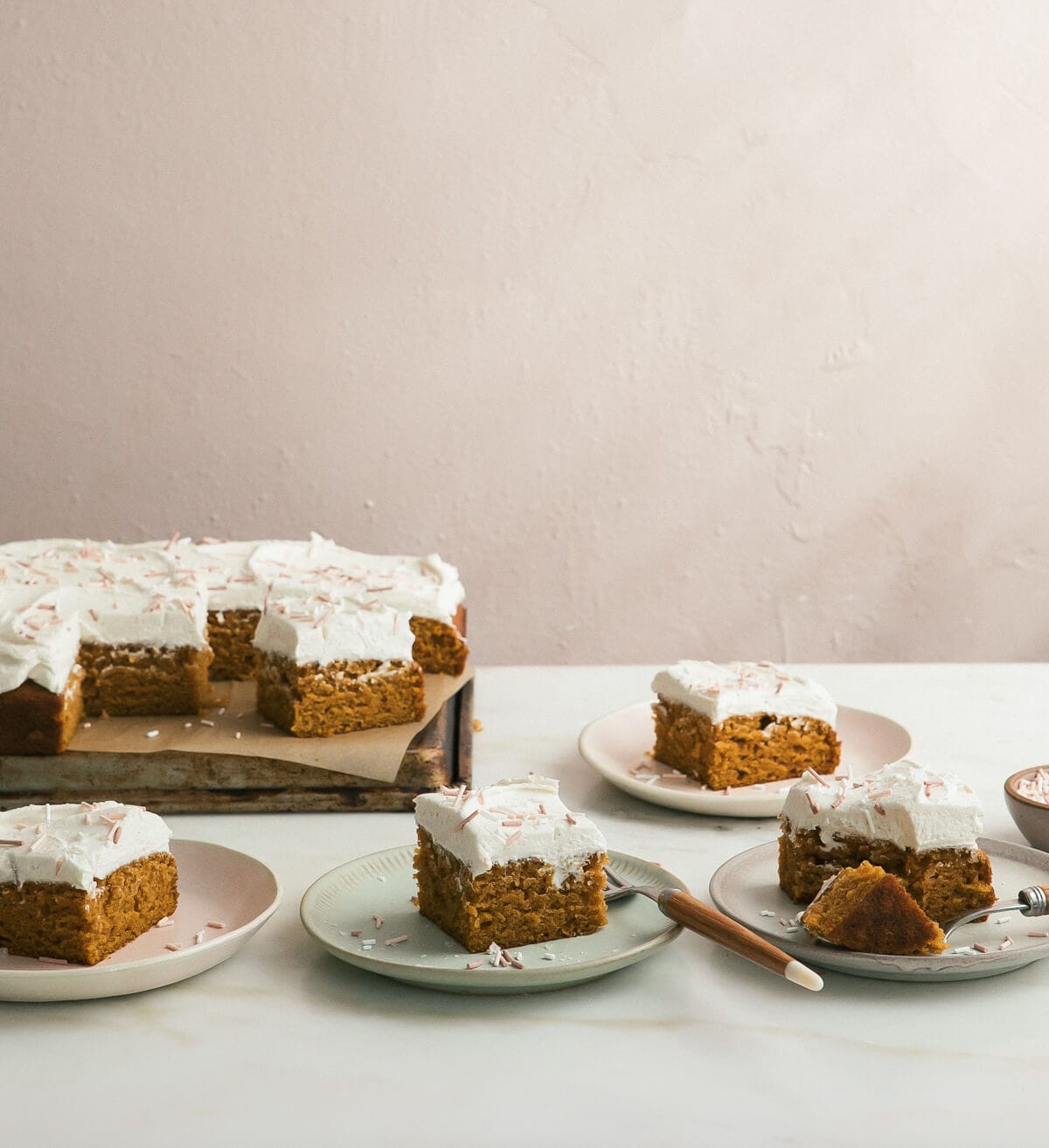 This pumpkin sheet cake with brown butter frosting is moist, fluffy and smothered with brown butter frosting. The frosting is nutty, buttery and a perfect balance of salty and sweet.
'Tis the season to make a pumpkin sheet cake with brown butter frosting! Don't you think?
I'm not sure if you've noticed but me and sheet cakes have a thing. It's not an old relationship at all. In fact, this guy right here was kinda the first sheet cake I'd ever made. But once I made that one, I was like WHOAA. This is WAY better than a big, layered cake because it's a million times less stress and time. I also think that anyone, AND I MEAN ANYONE, can decorate a sheet cake.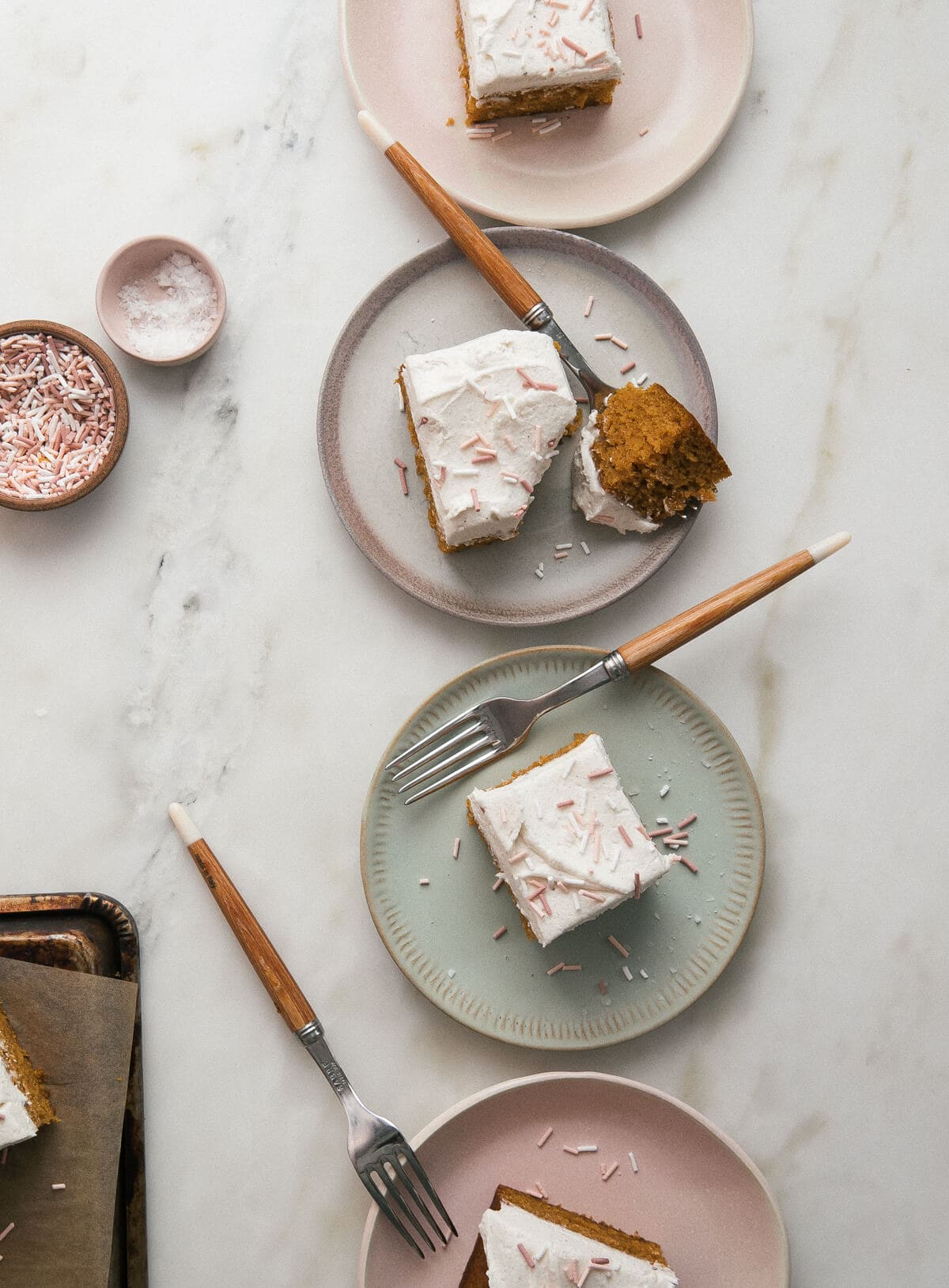 It just takes some swoops and swirls with a trusty off-set spatula and that's it. I mean, even a butter knife could do the trick.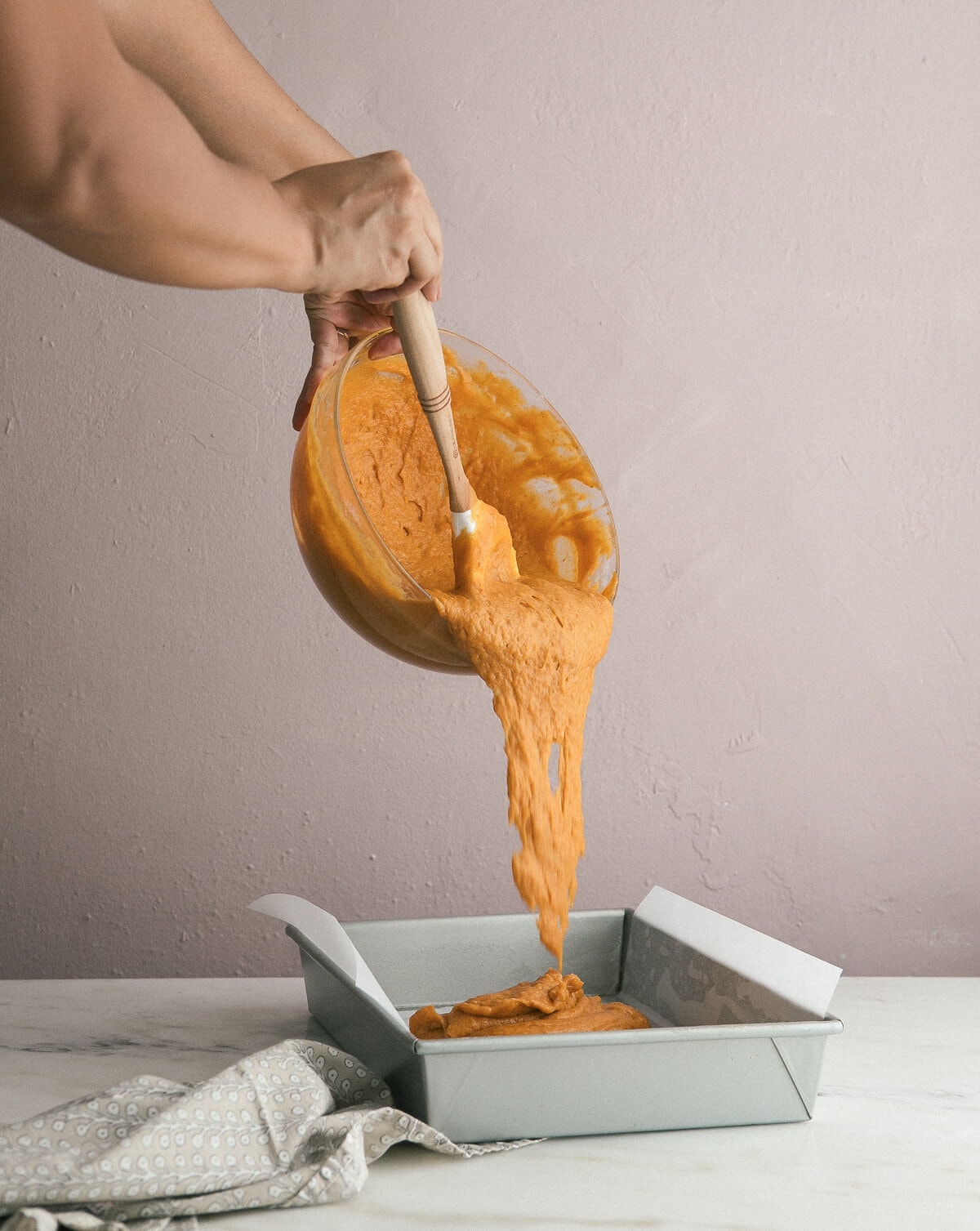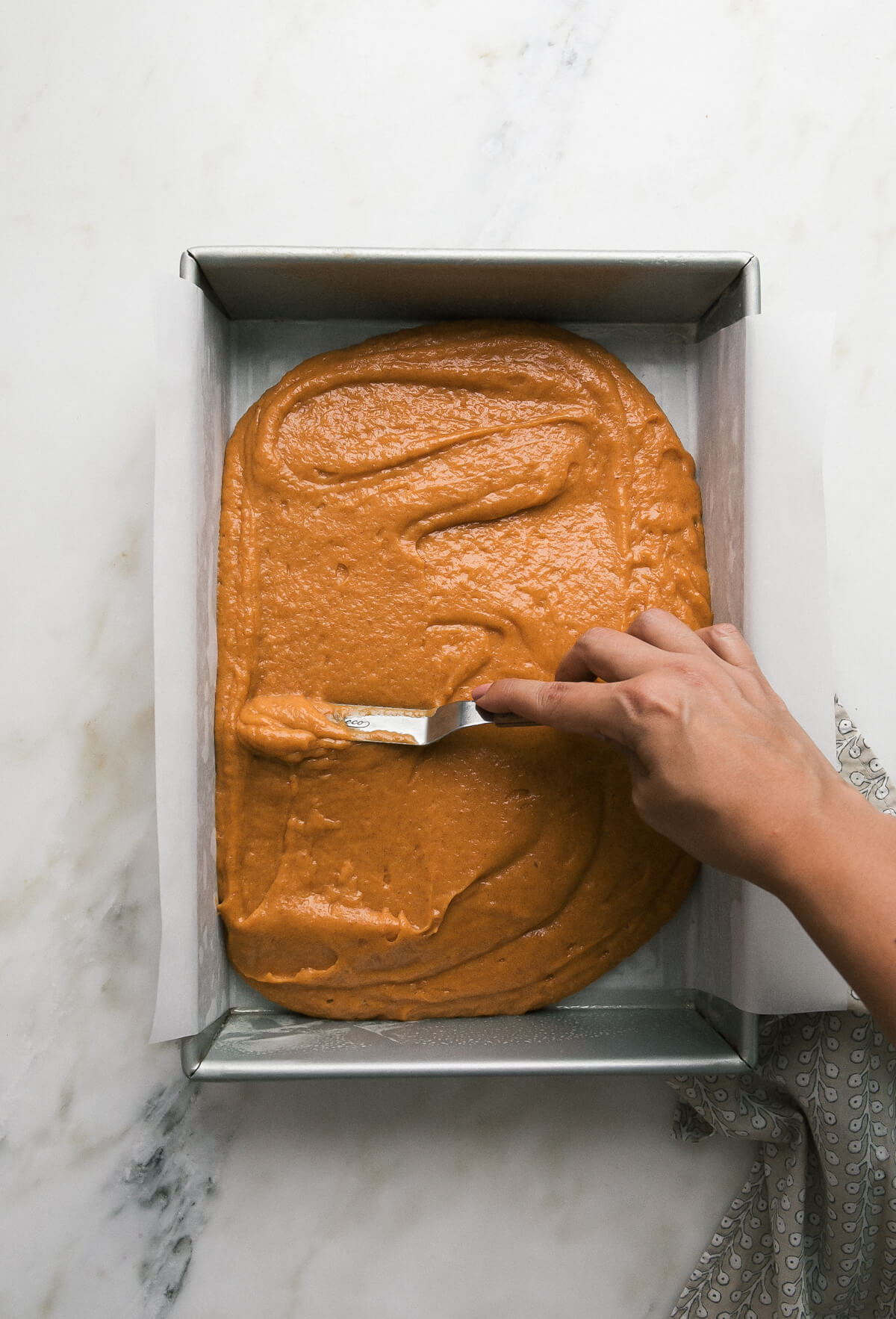 Here's the trick—I found—to making those bomb-ass swirls: You gotta plop all the frosting right in the center and then push it out. It really works splendidly. It also takes under 5 minutes. If you mess with it too much then it starts to look too purposeful.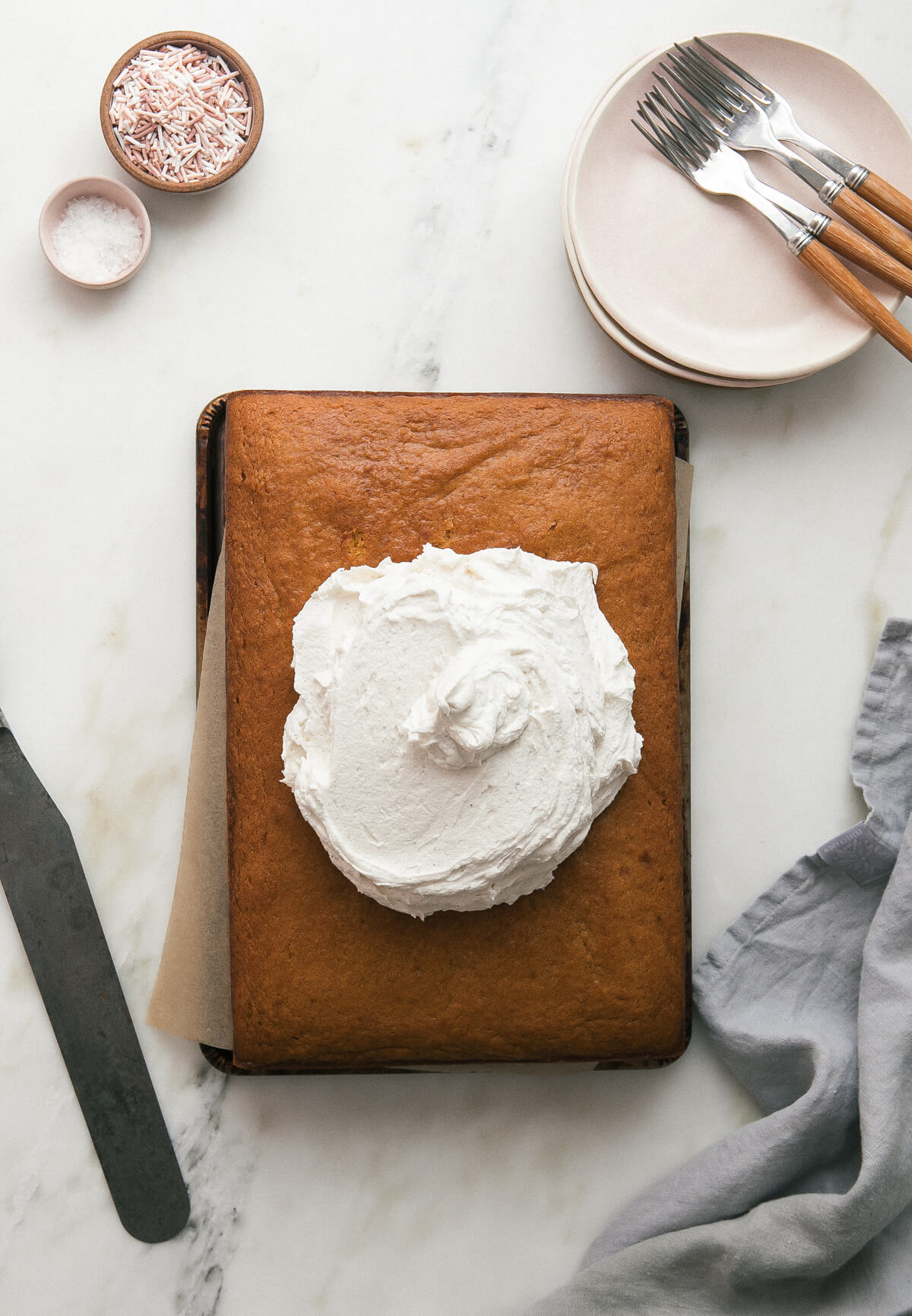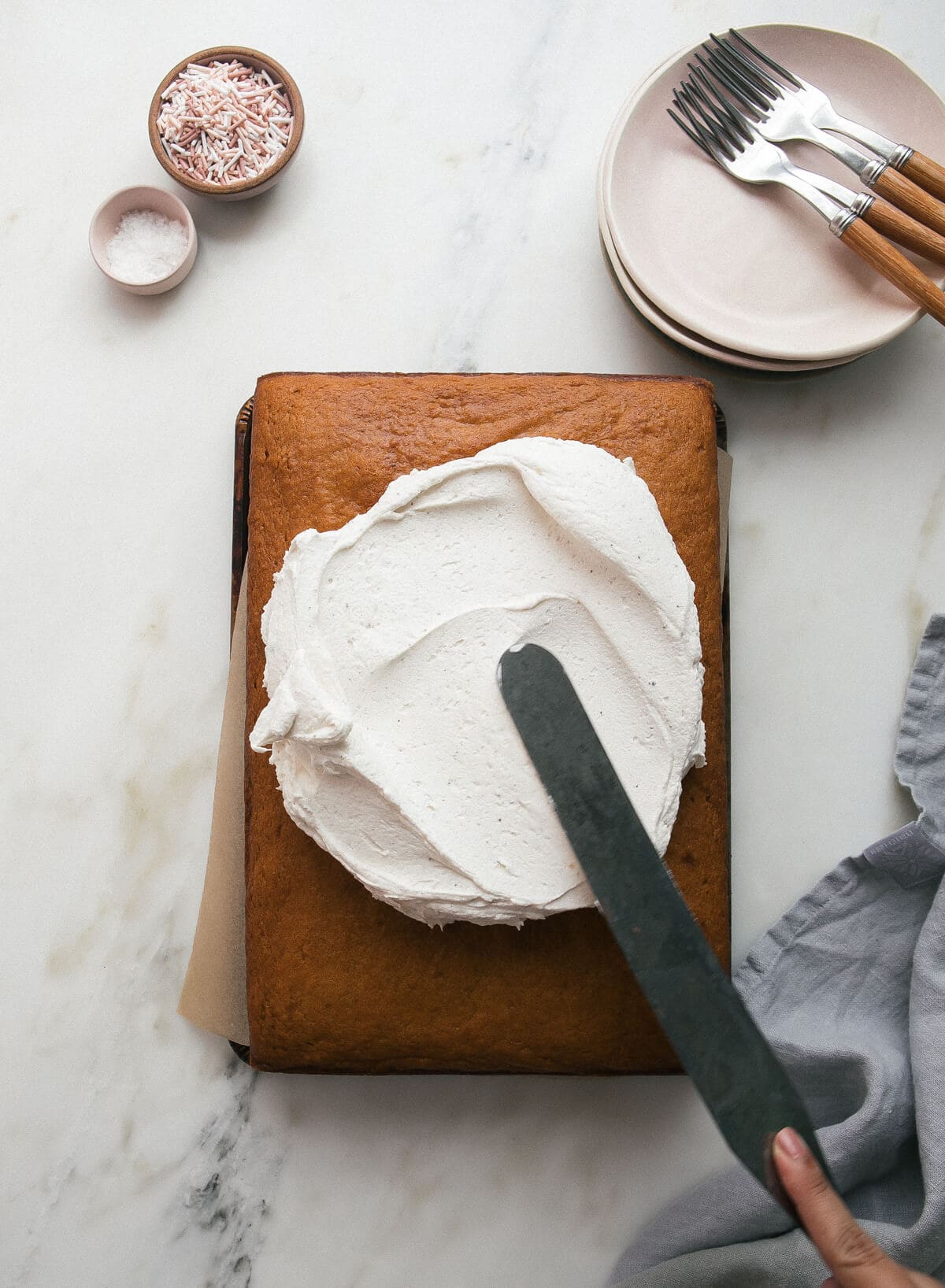 The decorating needs to look casual yet cute. Don't put too much effort into it, you know.
This combo is A++++, too.
Brown Butter Frosting Is Delicious!
When I first started this recipe, I was set out to make a salted caramel frosting. But then we made the salted caramel frosting and both HATED IT.
It was way too sweet! I wanted gigantic glass of water and a salad after I took a taste of it. But then, Billy got the bright idea to do a brown butter frosting. At that point we set off to make it and never looked back. It was magical.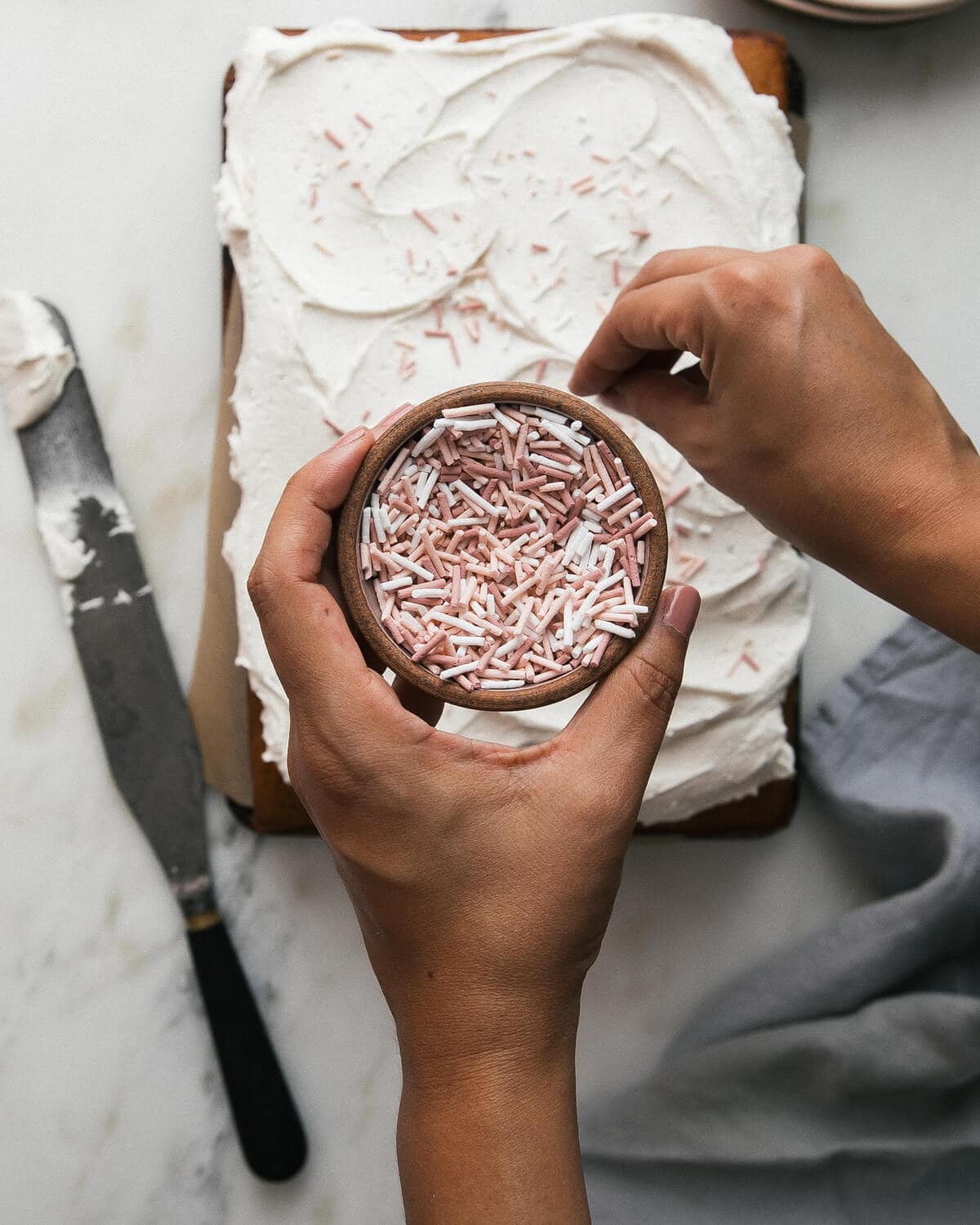 I always love adding savory elements to sweet things. I think it's a welcomed tasting note vs. just sugar sugar sugar. It makes things way more interesting and delicious.
The brown butter frosting is delicious and nutty. The pumpkin sheet cake is fluffy with just the right amount of pumpkin spice and pumpkin. Add too much pumpkin and it'll be heavy and meal-y. Add too little and it tastes just like a spiced cake.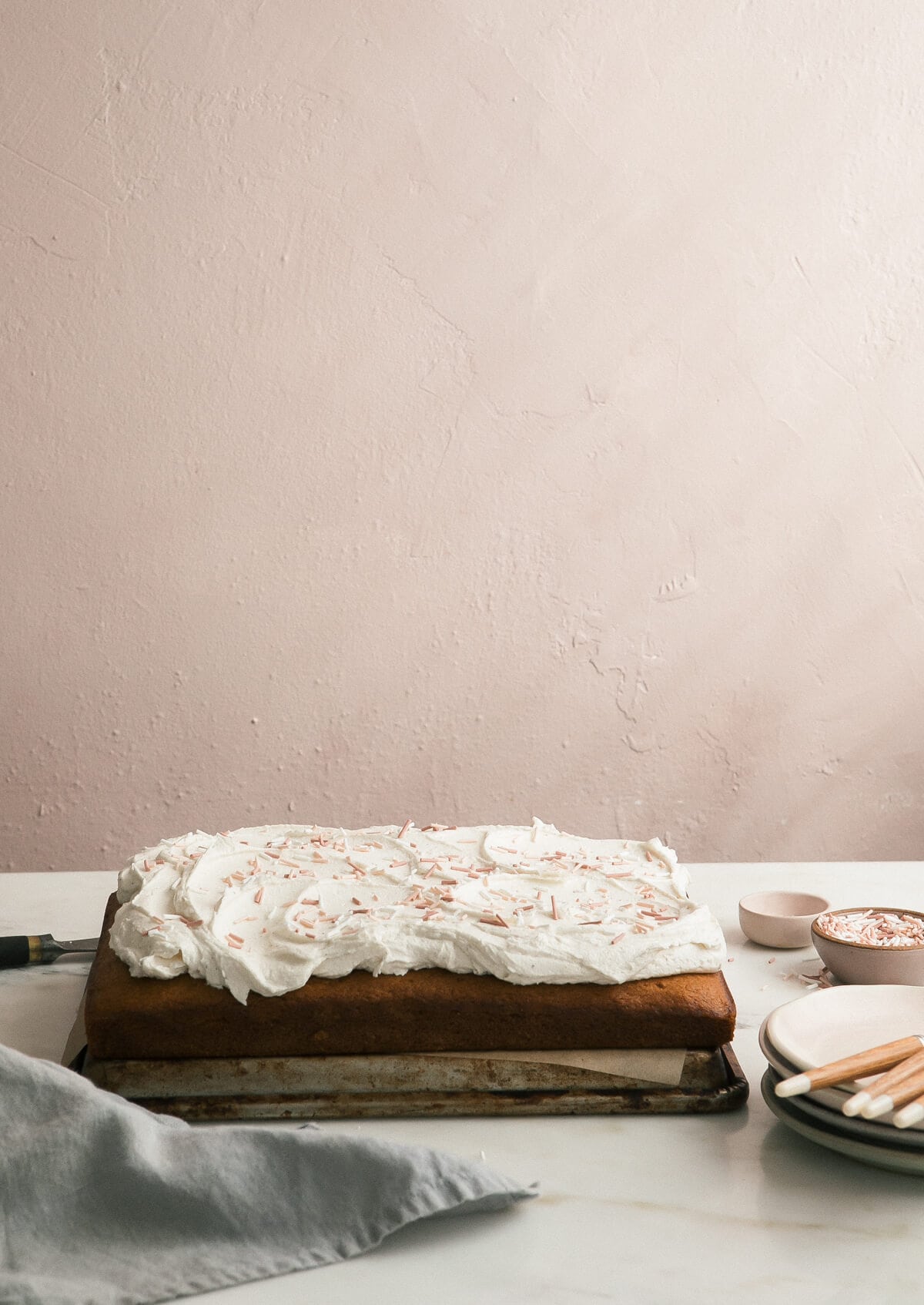 This is Pumpkin Sheet Cake with Brown Butter Frosting is my official love letter to fall. It's starting early this year. Let me know if you make it on Instagram!
xoxo,
Adrianna
P.S.
Here is the cake pan I love using.
Here is a link to the sprinkles I made!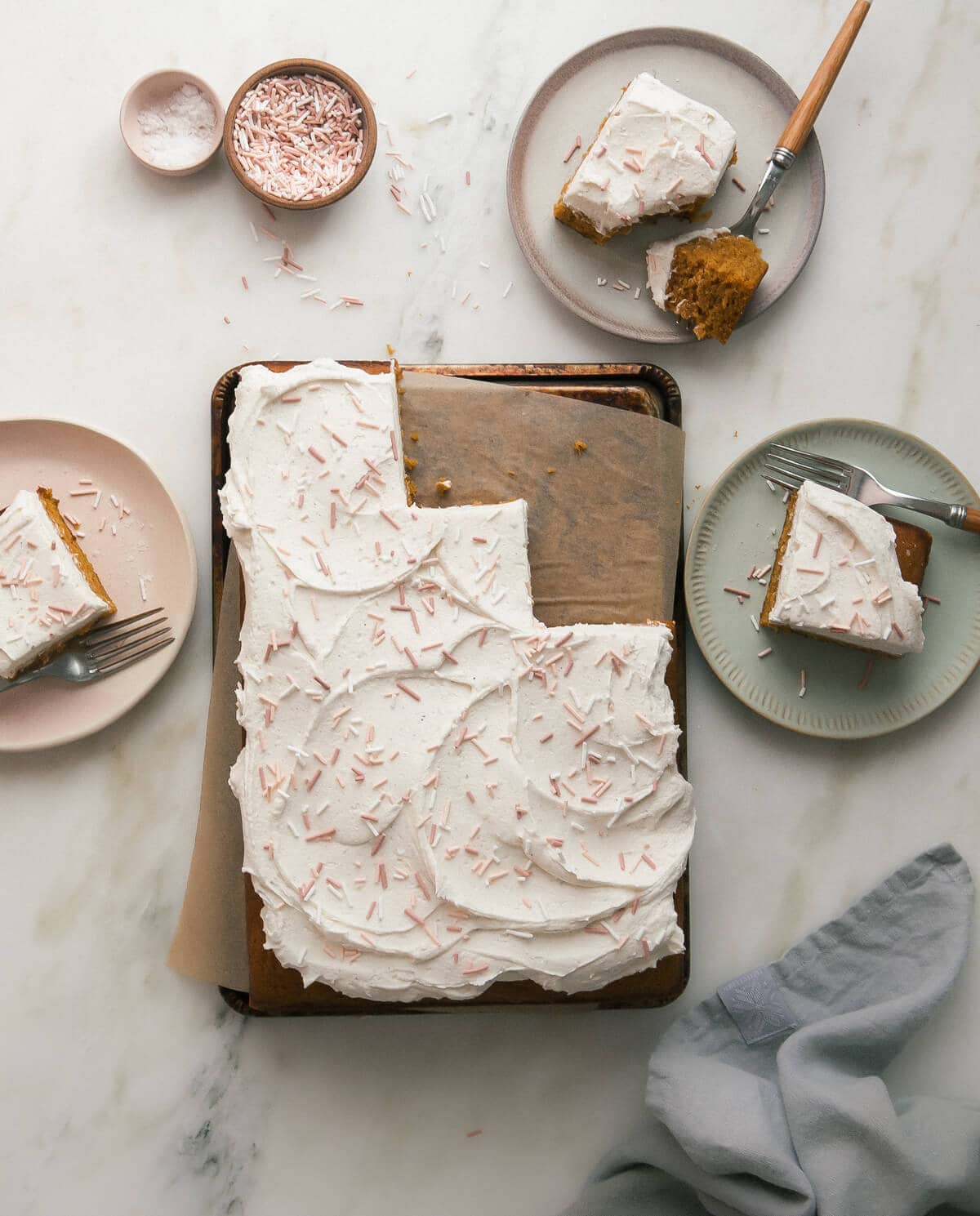 Pumpkin Sheet Cake with Brown Butter Frosting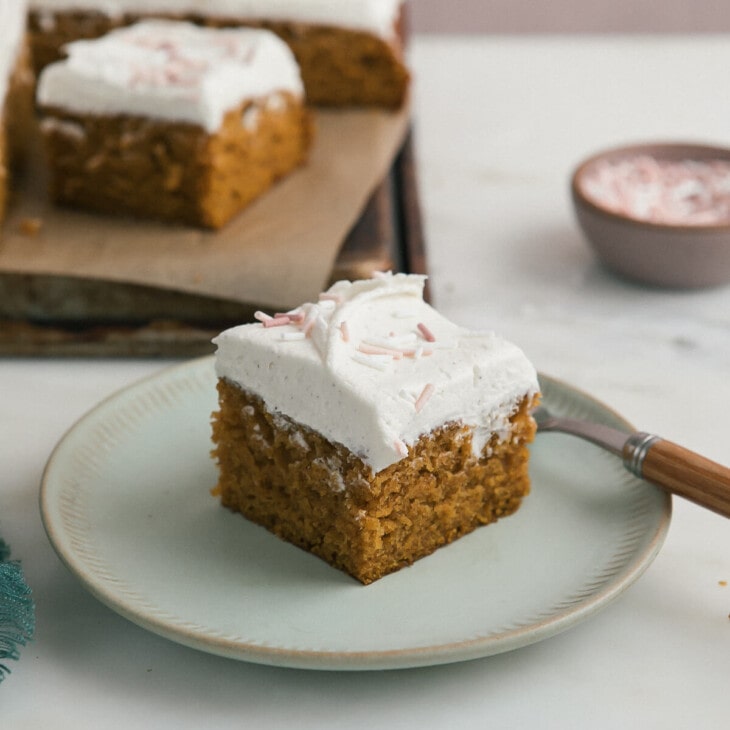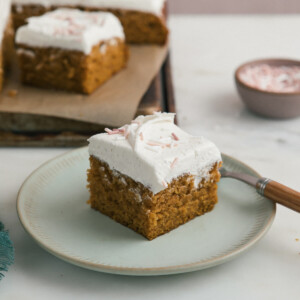 Pumpkin Sheet Cake with Brown Butter Frosting is a fluffy pumpkin cake for a crowd. The brown butter frosting is to die for! It's buttery and nutty and indulgent.
Ingredients
One-Bowl Pumpkin Sheet Cake:
2

cups

all-purpose flour

1 3/4

cups

white granulated sugar

2 1/2

teaspoons

baking powder

2

teaspoons

pumpkin pie spice*

1

teaspoon

baking soda

1/2

teaspoon

kosher salt

3

large eggs

3/4

cup

neutral oil

,

(such as avocado, vegetable or safflower oil)

1

(15-ounce) can

pure pumpkin puree

1

teaspoon

pure vanilla extract
Brown Butter Frosting:
1 1/2

cup

unsalted butter

,

divided (2 sticks are just room temperature)

4

cups

powdered sugar

,

sifted

1/2

teaspoon

pure vanilla extract

1/4

teaspoon

fine-grain sea salt

2

tablespoons

heavy cream
Instructions
To Make the Cake:
Preheat the oven to 350 degrees F. Grease a 9×13-inch cake pan with cooking spray and line with a sheet of parchment (this makes it easier to remove it from the pan) and set aside. Alternatively you can make cupcakes and cake pans

In the a medium bowl, whisk together the flour, sugar, baking powder, pumpkin pie spice, baking soda and salt.

In the bowl of a stand-up mixer (or a large bowl using an electric mixer), whisk together the eggs, neutral oil, pumpkin puree and vanilla extract until smooth.

Add the dry ingredients and mix until just combined. Pour the batter into the pan and smooth it out using an offset spatula or butter knife. Transfer to the oven to bake for 25 to 30 minutes, or until a skewer comes out clean. Allow to cool in the pan for about 10 minutes and then invert it onto a cooling rack. BE CAREFUL IT'S A BIG CAKE.
To Make the Brown Butter Frosting:
If you'll notice in the recipe it calls for the butter to be divided so! Two sticks (1 cup) are going to be room temperature. One stick (1/2 cup) of the butter is what we're going to brown.

Go ahead and start by adding the room temperature butter to the bowl of a stand-up mixer with the paddle attachment (OR a medium bowl using an electric mixer).

Cube up 1/2 cup of the butter (1 stick). In a small saucepan, set over medium heat, add the cubed butter. Once it's melted, it will begin to foam up and bubble a bit. Allow it to cook until you begin to see lightly browned specks beginning to form. Give it a stir and cook until it's browned. You should also start to smell its nutty aroma. Remove it from the pan and continue to stir to cool it down.

Transfer it to a small bowl (freezer-safe) and place it in the freezer to chill, for about 10 to 15 minutes. We want it to be around room temperature butter. After it gets to that room temperature butter-firmness (it can be a bit softer—that's ok), transfer it to the bowl with the other room temperature butter.

Sift in the powdered sugar and add the vanilla extract, salt and heavy cream. Beat the frosting for about 3 minutes. The fluffiness from the heavy cream really lightens up this frosting so be sure to beat it for the full 3 minutes.
To Assemble the Cake:
Pour all of the frosting on the cooled sheet cake and spread it around, creating cute swoops as you go. Top it with some sprinkles and cut it up and slice! Cake will stay moist for about 3 days when wrapped properly.
Notes
*If you don't have pumpkin spice, you can make your own by adding this to the dry ingredients:
1 1/2 teaspoons ground cinnamon
1/4 teaspoon ground nutmeg
1/4 teaspoon ground ginger
Pinch of ground cloves
This recipe can be made into cupcakes! 
This recipe will make 24 cupcakes. Fill each cupcake liner about 3/4 of the way. Bake for 20 to 24 minutes, until a skewer comes out clean. 
This recipe can be made into a layer cake! 
Divide the batter into two 8-inch or 9-inch cake pans. Bake for about 30 to 35 minutes, until a skewer comes out clean. 
Let's talk about different oils! 
In the cake pictured, I used vegetable oil. But avocado oil (a very neutral healthy oil) will work great. As will coconut oil, though it will give off a bit of a coconut flavor so beware. 
Nutrition
Nutrition information is automatically calculated, so should only be used as an approximation.