This Italian Pistachio Cake with Roasted Plum Frosting was inspired by a recent trip to Italy. This pistachio cake recipe is matched with the tangy flavor of the naturally colored pink plum frosting.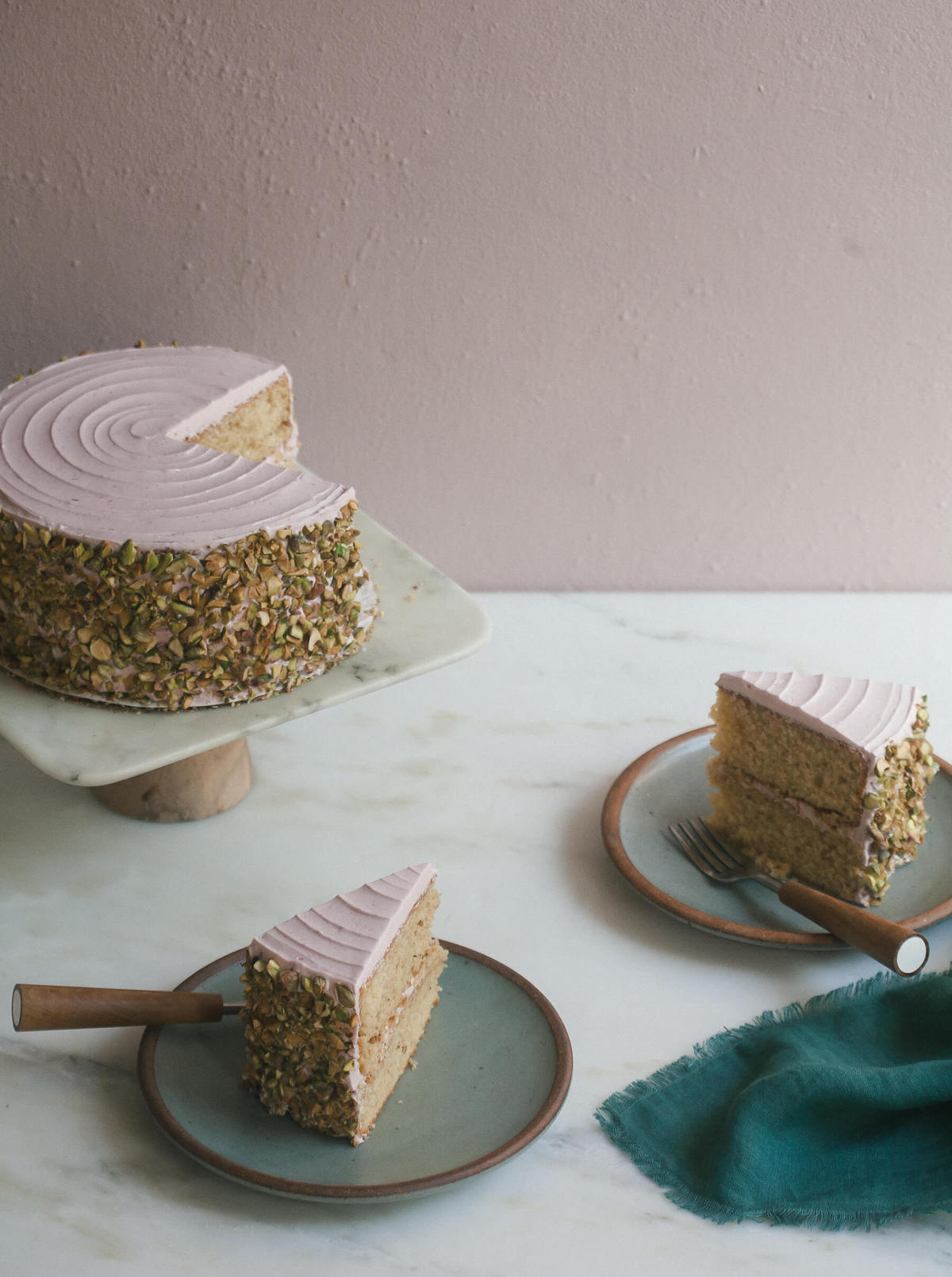 This cake is so dreamy. Pistachio cake is one of my favorites of all cake varietals. I used beautiful Sicilian pistachios and paired it up with a plum frosting that is SO GOOD. Let's dive in!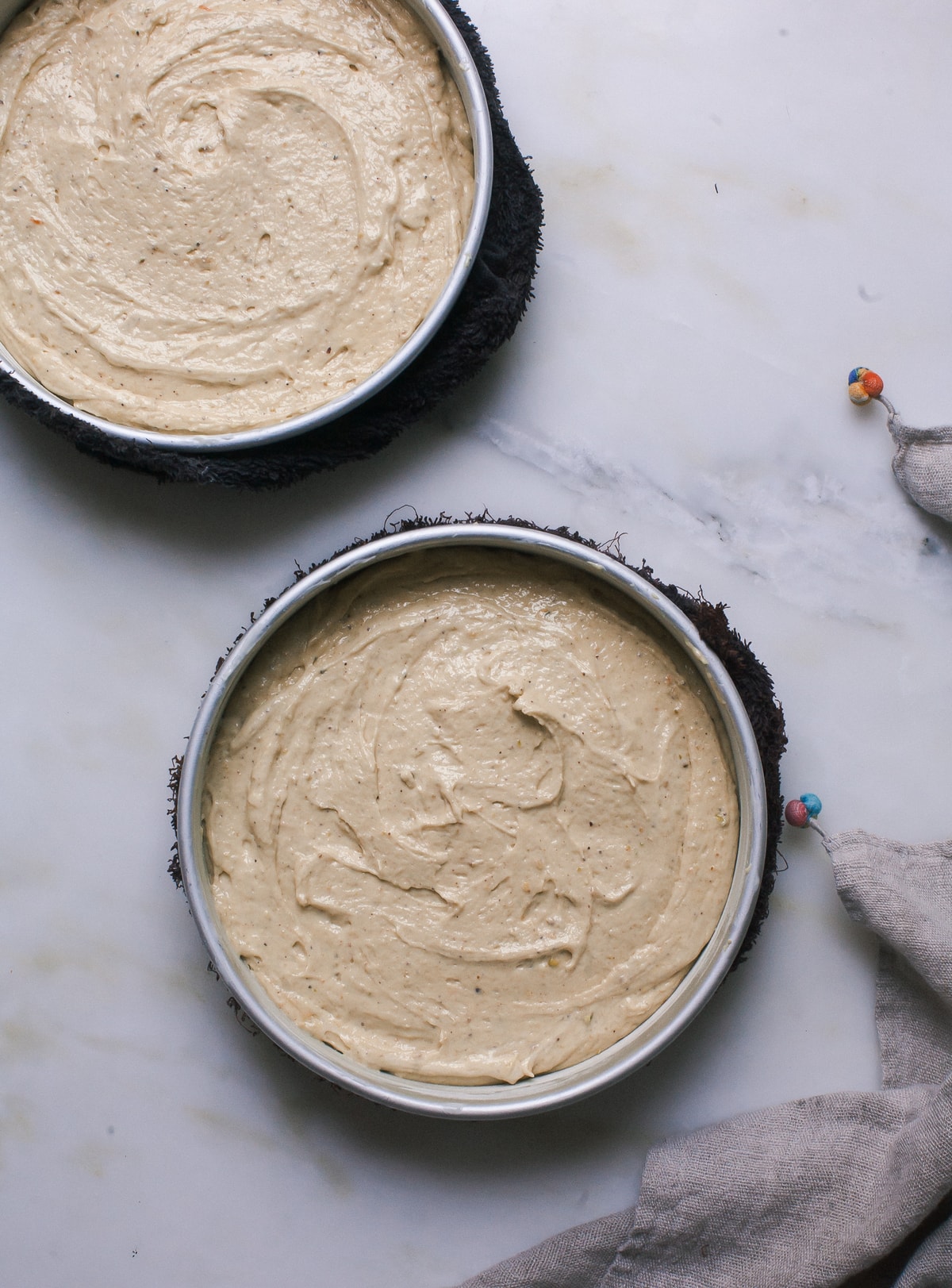 What is Pistachio Paste?
Pistachio Paste is a simple mixture of ground pistachios and sugar syrup cooked to a certain temperature to make a thick rich paste to flavor baked goods.
How to make Pistachio Paste:
This is what gives the cake it's rich flavor! It can be a little tricky to find in stores, so I've gone ahead and made it here. There's some steps but it's not too difficult!
Pulse the pistachios to break them down in a food processor.
Make a sugar syrup and cook it to 220ºF.
Mix with the pistachios and then return to the food processor to blend into a smooth paste. Pretty easy!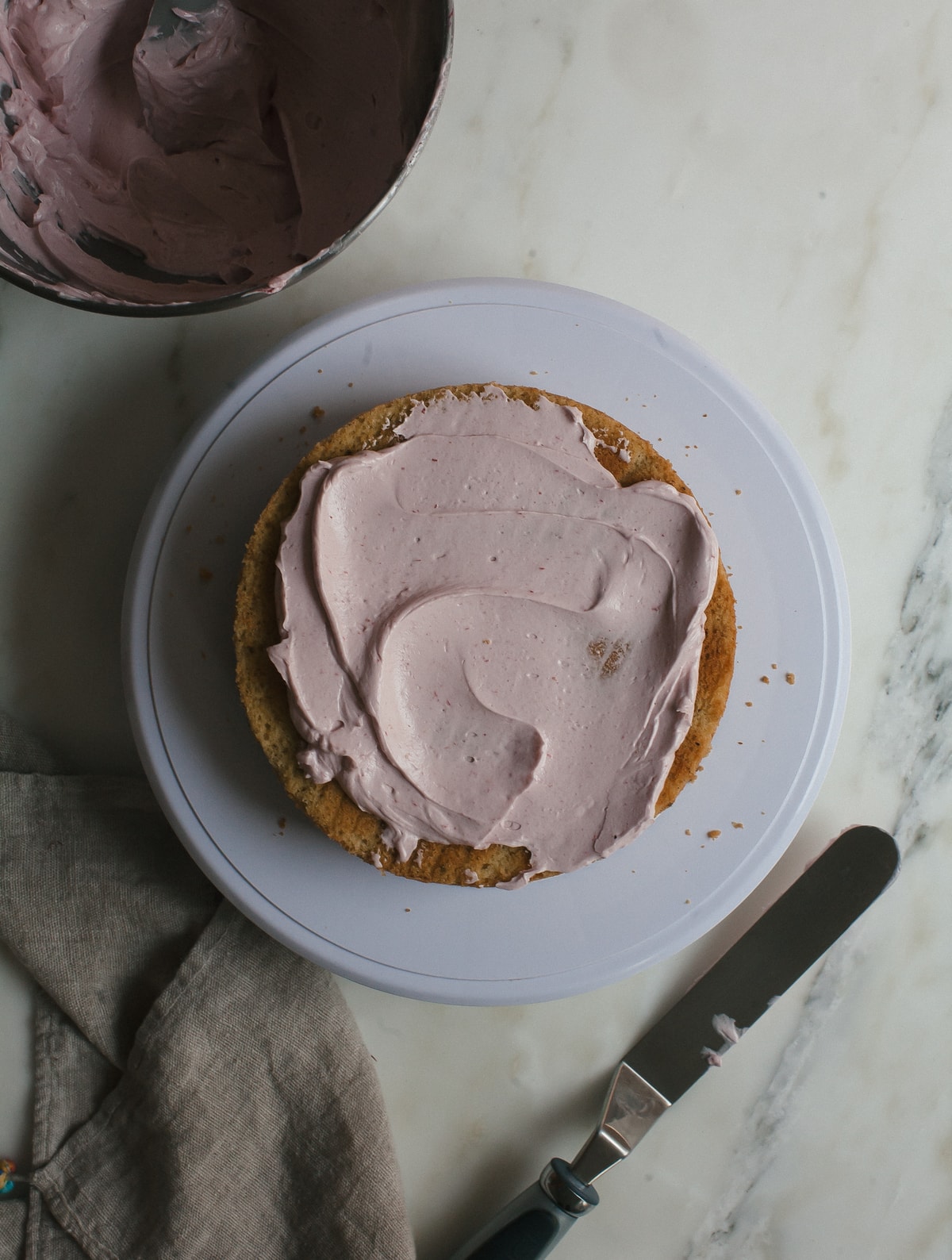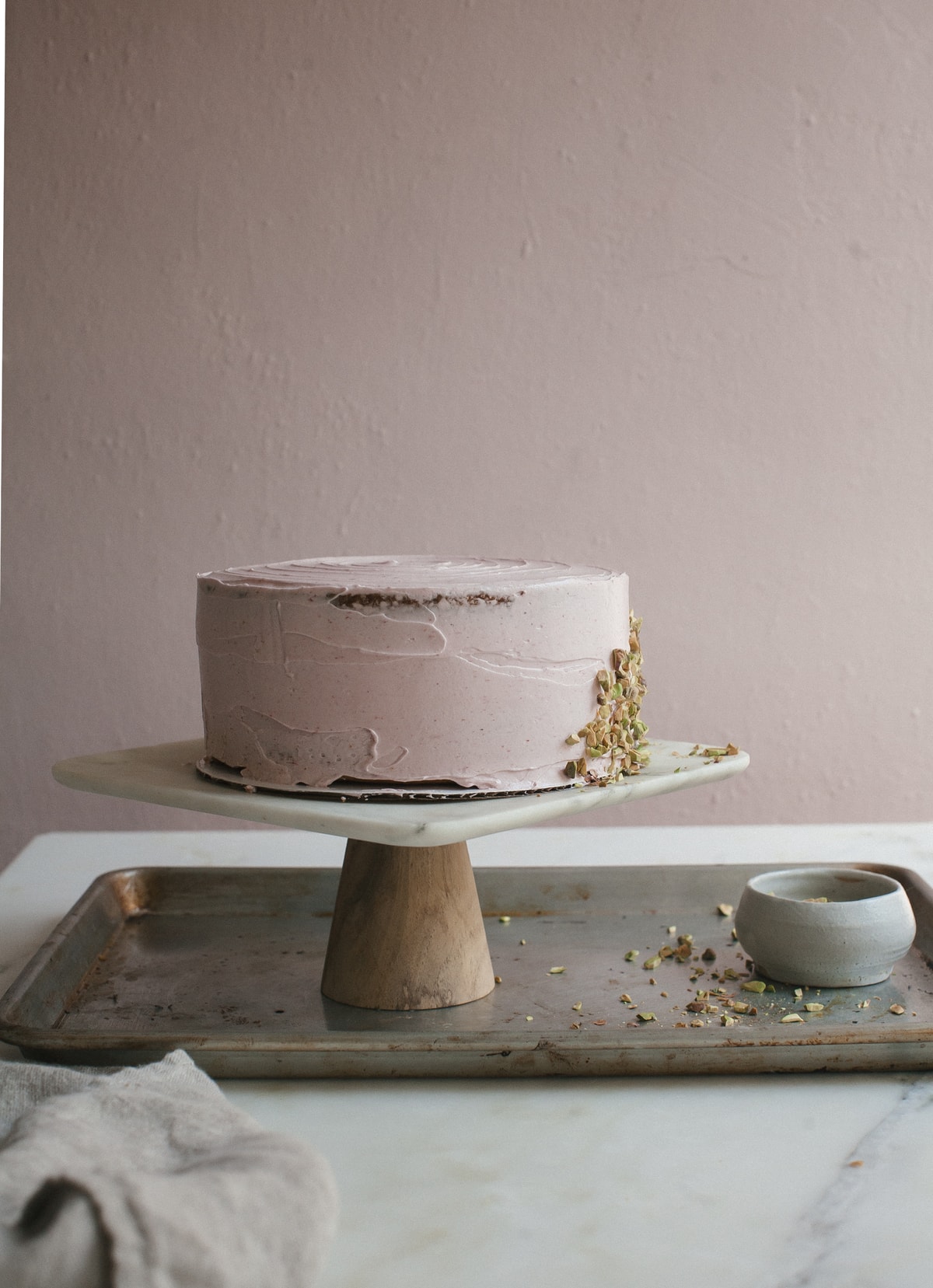 How to Make Pistachio Cake from Scratch:
Make or buy some pistachio paste.
Prep your cake pans by spraying them with nonstick spray and lining with parchment circles. If you want to bake flat even cake layers, check out my post on how to bake flat cake layers!
Whisk together the flour, baking powder, and salt.
Cream together the butter with the sugar and the zest. Adding the zest to the butter will help with the flavor traveling further in the cake.
Add eggs one at a time, then the vanilla.
Alternate adding the yogurt with the dry ingredients. Yogurt helps make a moist cake, and alternating with the dry ingredients will help make a fluffier cake.
Lastly, add the pistachio paste.
Evenly divide between the prepared cake pans and bake!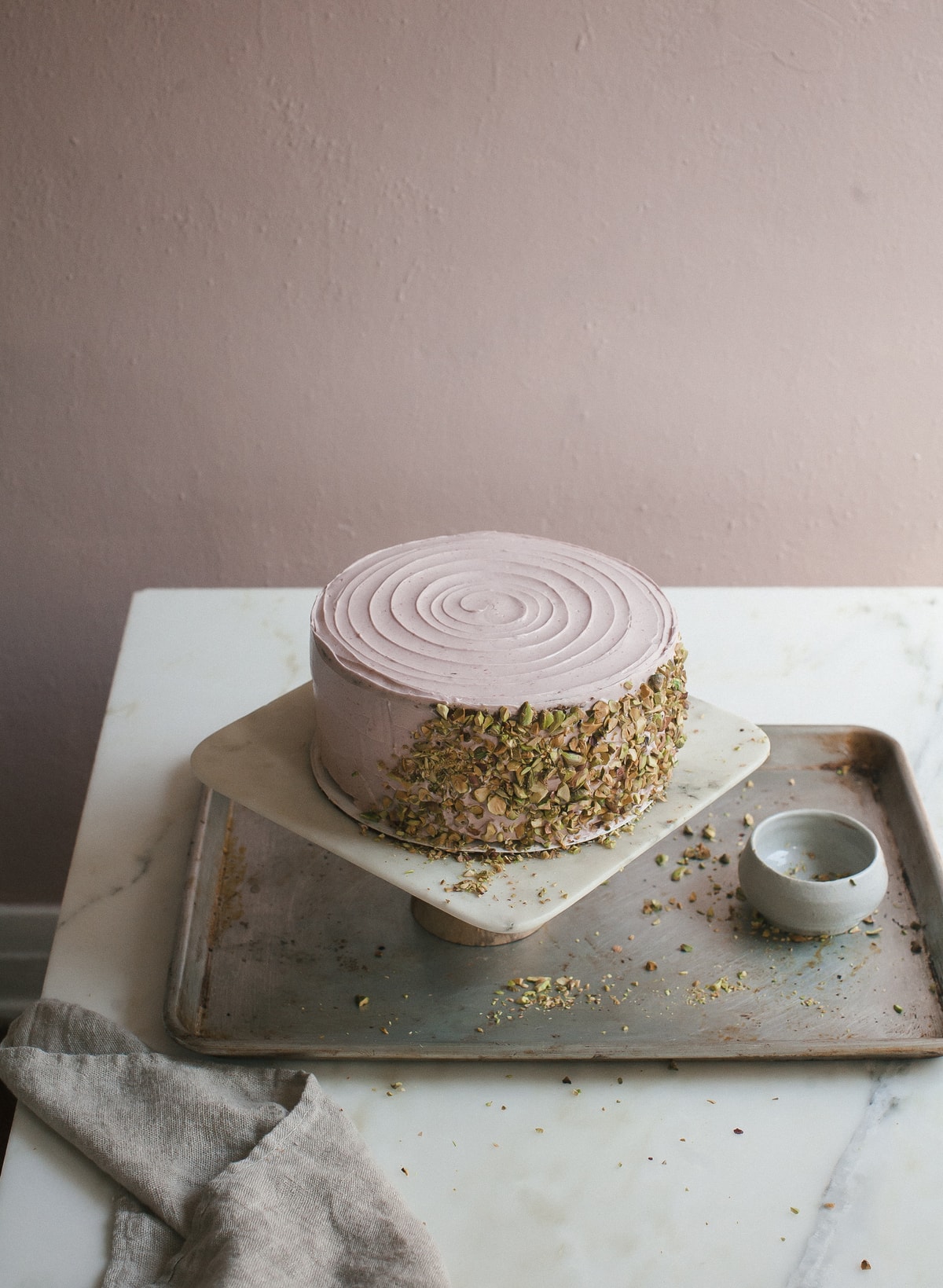 How to Make the Roasted Plum Frosting:
Roast your plums! This helps soften them, pull out more juices, and makes them just a little but sweeter.
Let them cool for about 15 minutes then puree them in a blender and strain out into a measuring cup to measure out 1/3 cup.
In the bowl of a stand mixer, whisk together the sugar and egg whites then set over a saucepan with an inch or so of boiling water (The frosting we're making is technically a Roasted Plum Swiss Meringue Buttercream).
Heat the egg white mixture until it reads 160ºF on a thermometer then carefully place in the base of your stand mixer fitted with a whisk attachment.
Beat the mixture on high speed for a full 8-10 minutes, this cools down the mixture and as a result won't melt the butter when you add it.
After the 8-10 minutes switch to the paddle attachment and beat on medium speed adding the butter a tablespoon at a time. Too fast and it will become a greasy mess.
Once all the butter is added mix in the plum puree and set it aside until you're ready to assemble!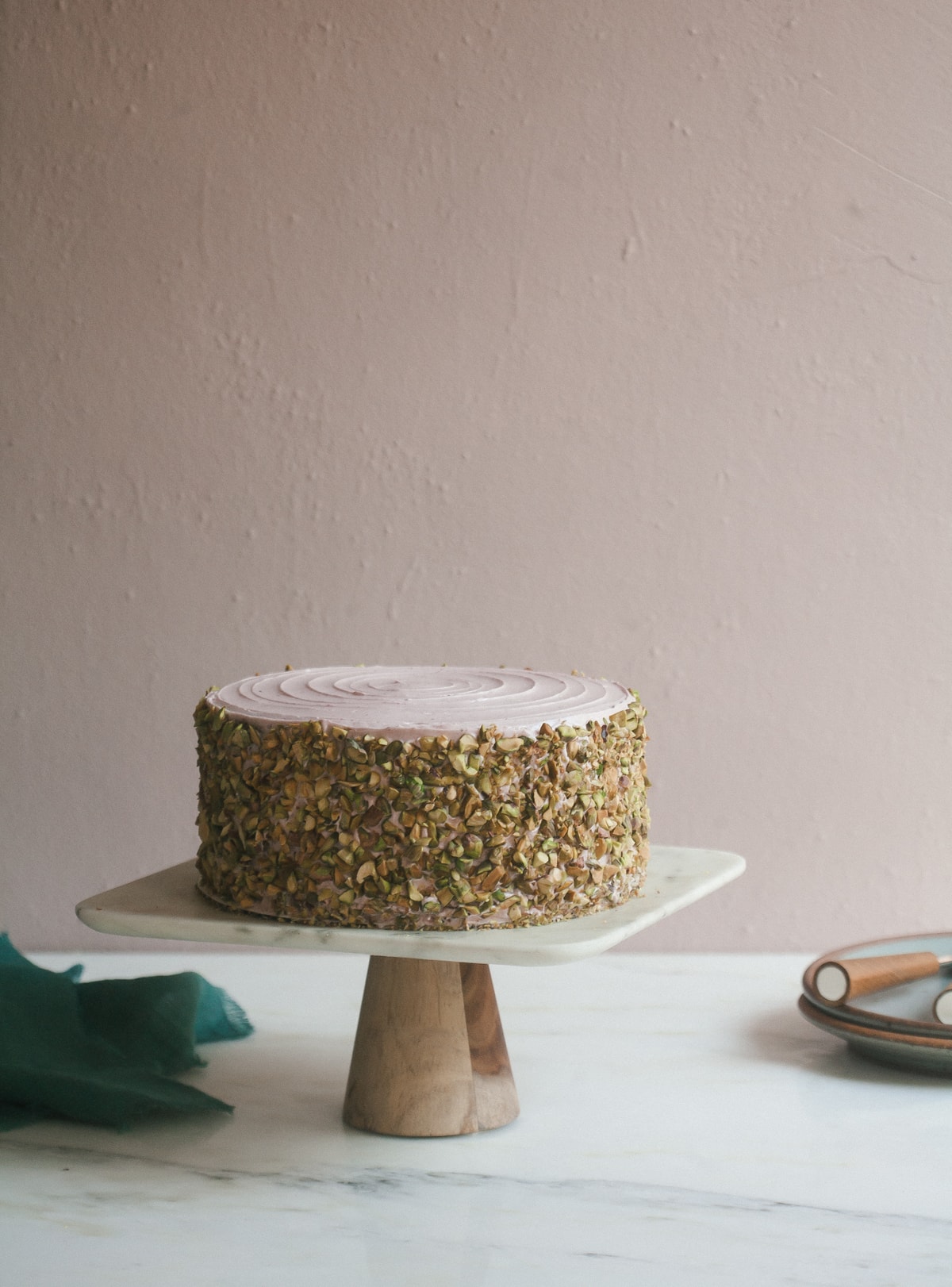 Tips and Tricks for Italian Pistachio Cake with Roasted Plum Frosting
The plum puree can be made a day or two ahead and just stored covered in the refrigerator.
The cake layers can be made the day before! Just wrap with a couple layers of plastic wrap and store on the counter.
The pistachio paste can also be made several days ahead and stored in the refridgerator, breaking up the steps makes this an easy pistachio cake.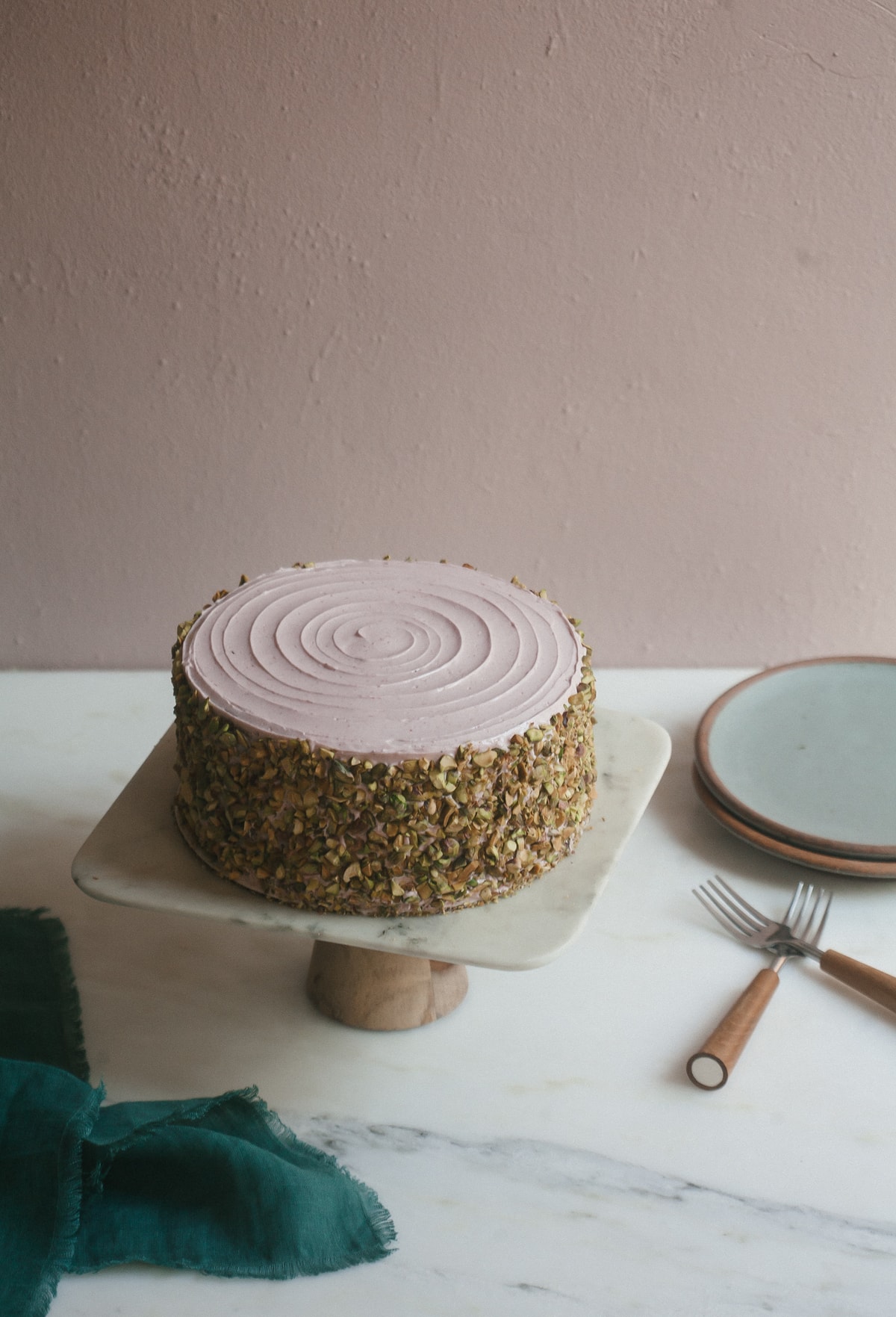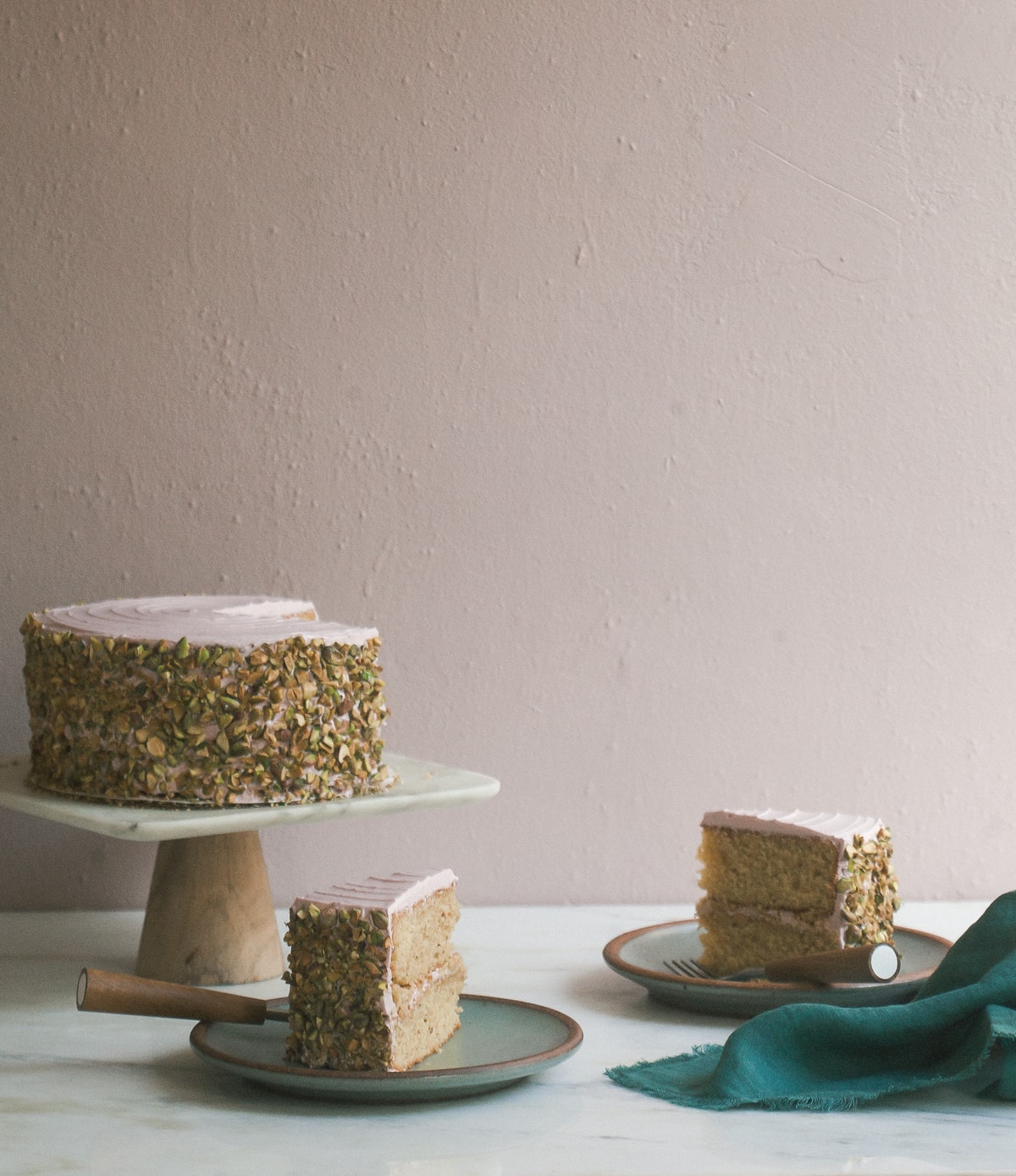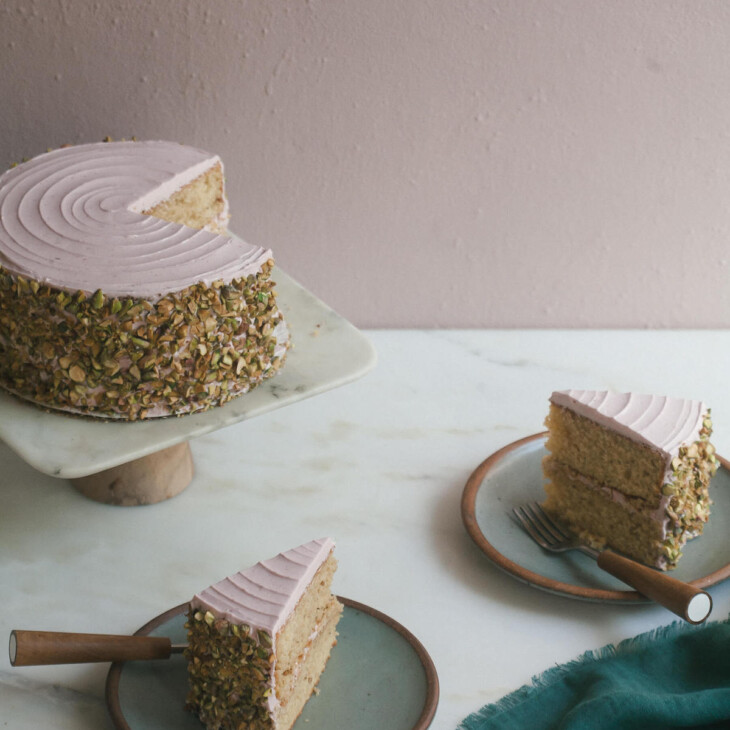 Print Recipe
Italian Pistachio Cake with Roasted Plum Frosting Recipe
This Italian Pistachio Cake with Roasted Plum Frosting matches the perfect toasty flavor of the pistachios with the sweet and tangy flavor of the naturally colored pink plum frosting
Serving Size:
1
(8-inch two layer) cake
Ingredients
Pistachio Paste:
1 1/3

cup

shelled pistachios

1/3

cup

granulated sugar

2

tablespoons

water

2

tablespoons

melted coconut oil

1/2

cup

almond meal
Plum Italian Meringue Frosting:
2

black plums

such as Santa Rosa Plums

1/4

cup

white granulated sugar

1

teaspoon

balsamic vinegar

3

tablespoons

water

Pinch

kosher salt

1

cup

white granulated sugar

1/2

cup

egg whites

from 4 large eggs

1 1/2

cups

about 3 sticks unsalted butter

at room temperature
Pistachio Cake:
2 1/2

cups

cake flour

sifted

1

tablespoon

baking powder

1

teaspoon

kosher salt

1

cup

unsalted butter

room temperature

1 1/2

cups

white granulated sugar

1/2

teaspoon

lemon or orange zest

from about 1/2 orange

4

large eggs

1 1/2

teaspoons

pure vanilla extract

1

cup

Greek yogurt

1/2

cup

homemade or store-bought pistachio paste
For garnish:
3/4

cup

chopped pistachio nuts
Instructions
To Make the Pistachio Paste:

To a high-powered blender or food processor, add the pistachios. Pulse until roughly ground. Transfer to a small bowl. In a small saucepan, combine the water and sugar. Cook over high heat until it reaches 220 degrees and is bubbling. Pour over the pistachios and mix immediately.

Transfer to the blender or food processor and pulse until finely ground. While the machine is running, pour in the oil. Blend until it resembles a soft peanut butter, about 2 minutes. Transfer to a bowl, mix in the almond meal. At this point it should go from soupy to firm. Measure out 1/2 cup of the paste and store the rest in the fridge. Set aside.

To Make the Frosting:

Preheat your oven to 400 degrees. In a small baking dish, toss together the sliced plums, sugar, balsamic vinegar, salt and water. Roast for 15 minutes, or until the plums are super juicy and a syrup has formed. Set aside to cool slightly, about 5 minutes. Add the plums and its juices to a blender and pulse until completely pureed.

Pour through a strainer, into a small bowl. You should end up with about 1/3 of a cup puree. In the bowl of a stand-up mixer with the whisk attachment, add the egg whites and sugar; beat just until combined. Add a few inches of water to a saucepan and bring to a simmer. Place the stand-up mixer bowl atop the saucepan, creating a double-boiler.

Heat until the mixture reads 160 degrees on a thermometer and/or until it's very hot to the touch. Transfer the bowl back to the stand-up mixer and beat, on high, for 8 to 10 minutes until medium to stiff peaks form. The sides of the bowl should be cool to the touch. Remove the whisk attachment and in place of it, add the paddle attachment.

While the mixer is on low, add the butter, a tablespoon at a time, until it's light and smooth and fluffy. Lastly, add the 1/3 cup of plum puree and mix until combined. If the frosting is soupy (mine was because it was really hot), add the bowl to the fridge to chill for 5 to 10 minutes. This will work like a charm. Set aside until you're ready to frost the cake.

To Make the Italian Pistachio Cake Layers:

Preheat oven to 350 degrees F. Butter and flour two 8x3-inch cake pans. Line the bottoms with a round of parchment (this isn't totally necessary but I always do this because my biggest fear is cake sticking to the bottom of pans). Set aside.

In a medium bowl, whisk together the flour, baking powder and salt. In the bowl of a stand-up mixer add the butter and sugar; cream together until light and fluffy, about 2 minutes. Add the zest and then crack in one egg at a time, adding the next egg only when the one before it has combined.

Almost lastly, add in the vanilla extract. Turn the mixer down to low speed and add the yogurt and flour mixture in a few batches, alternating between the two. Lastly, add the pistachio paste and mix until properly combined.

Divide the cake batter amongst pans, smoothing out the top with a spatula (the batter will be a little thick so it'll need some help smoothing out). Transfer to the oven and bake for 40 to 45 minutes, or until a a skewer inserted into the center comes out clean. Cool the cakes in their pan for 10 minutes before removing them to cool completely on a wire rack.

To Assemble the Cake:

Place the first layer of cake on a cake board or a cake stand. Add about 1/4 cup of frosting the top of the cake layer and smooth it out, pushing it out to the sides. Add the second layer on top and then add a second 1/4 cup to the top of that. (These measurements can be eyeballed.)

Smooth out the top and add a nice thin layer all the way around the sides of the cake. Transfer to the freezer to chill for about 5 to 7 minutes. This is the crumb coat. Add a second even layer on the outside. Transfer to the cake to a baking sheet and press the chopped pistachios all around the sides of the cake. Slice and serve!
Nutrition
Serving:
12
g
|
Calories:
153
kcal
(8%)
|
Carbohydrates:
12
g
(4%)
|
Protein:
3
g
(6%)
|
Fat:
5
g
(8%)
|
Saturated Fat:
3
g
(19%)
|
Cholesterol:
21
mg
(7%)
|
Sodium:
3
mg
|
Sugar:
6
g
(7%)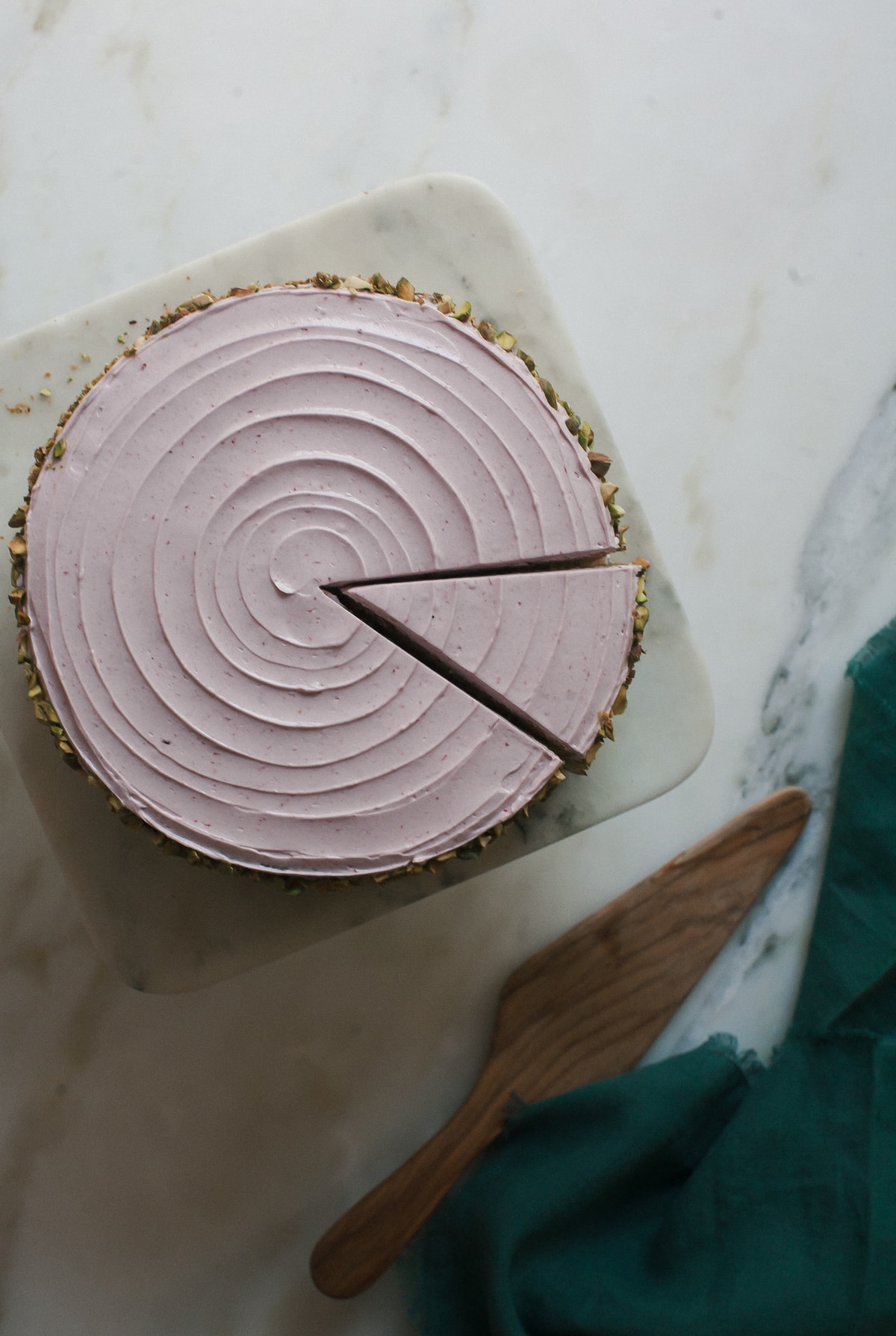 If you make this Italian Pistachio Cake with Roasted Plum Frosting, let me know on Instagram!
Looking for more cake recipes? Here are some favorites: