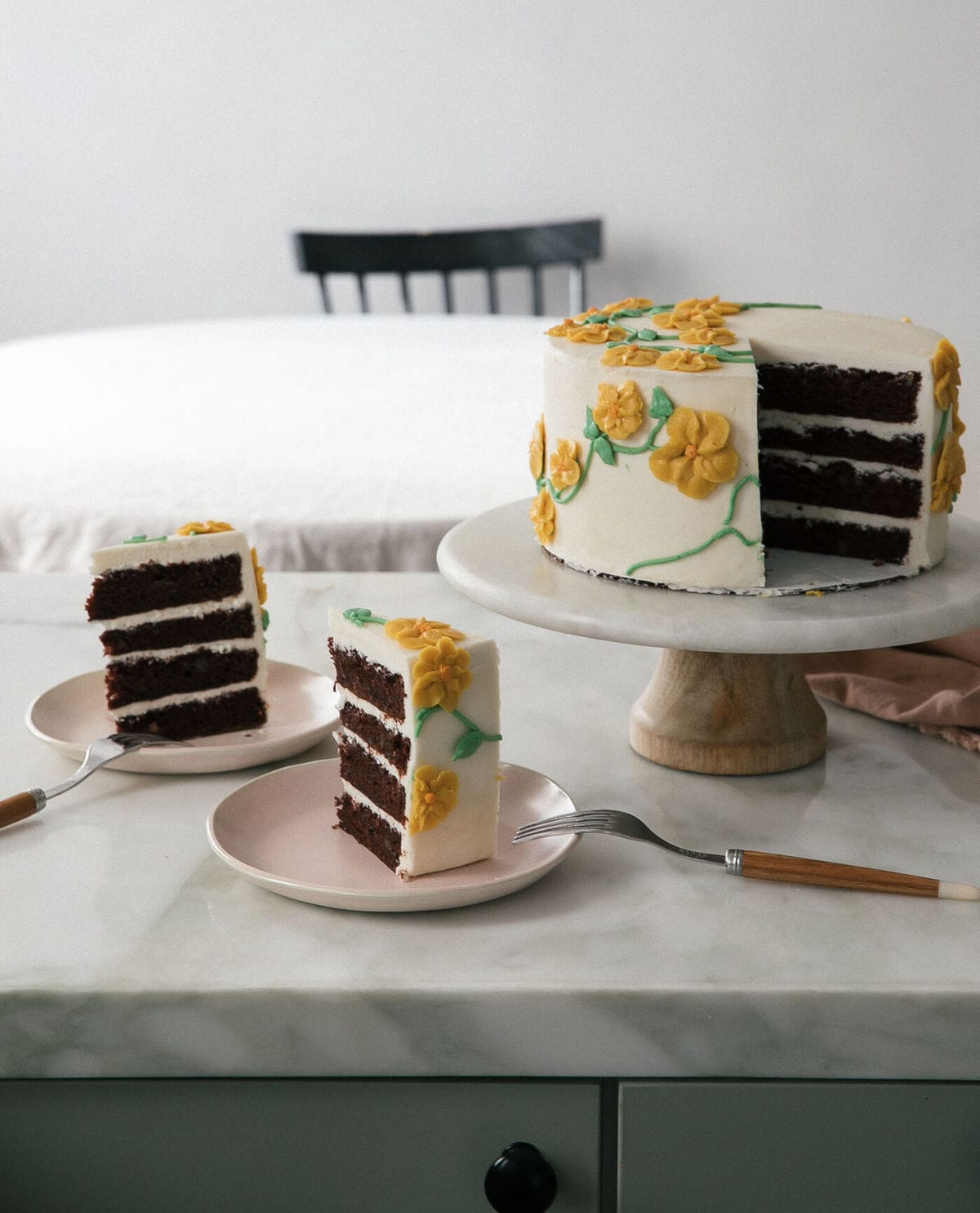 For some reason, I'm still totally enthralled with the idea of Azalea Banks wandering around Elon Musk's house. It's truly hilarious story that I hope we learn more about. If you're into procrastinating, it's a fascinating lil' story.
Secondly, on this beautiful Wednesday morning, I made a little playlist on Spotify. It's a cooking playlist but can be used anytime when you want to feel peaceful and escape the world around you. For me this is always at the grocery store. I always bring my headphone with me so I can be in my own world while I pick up things and put them in my cart.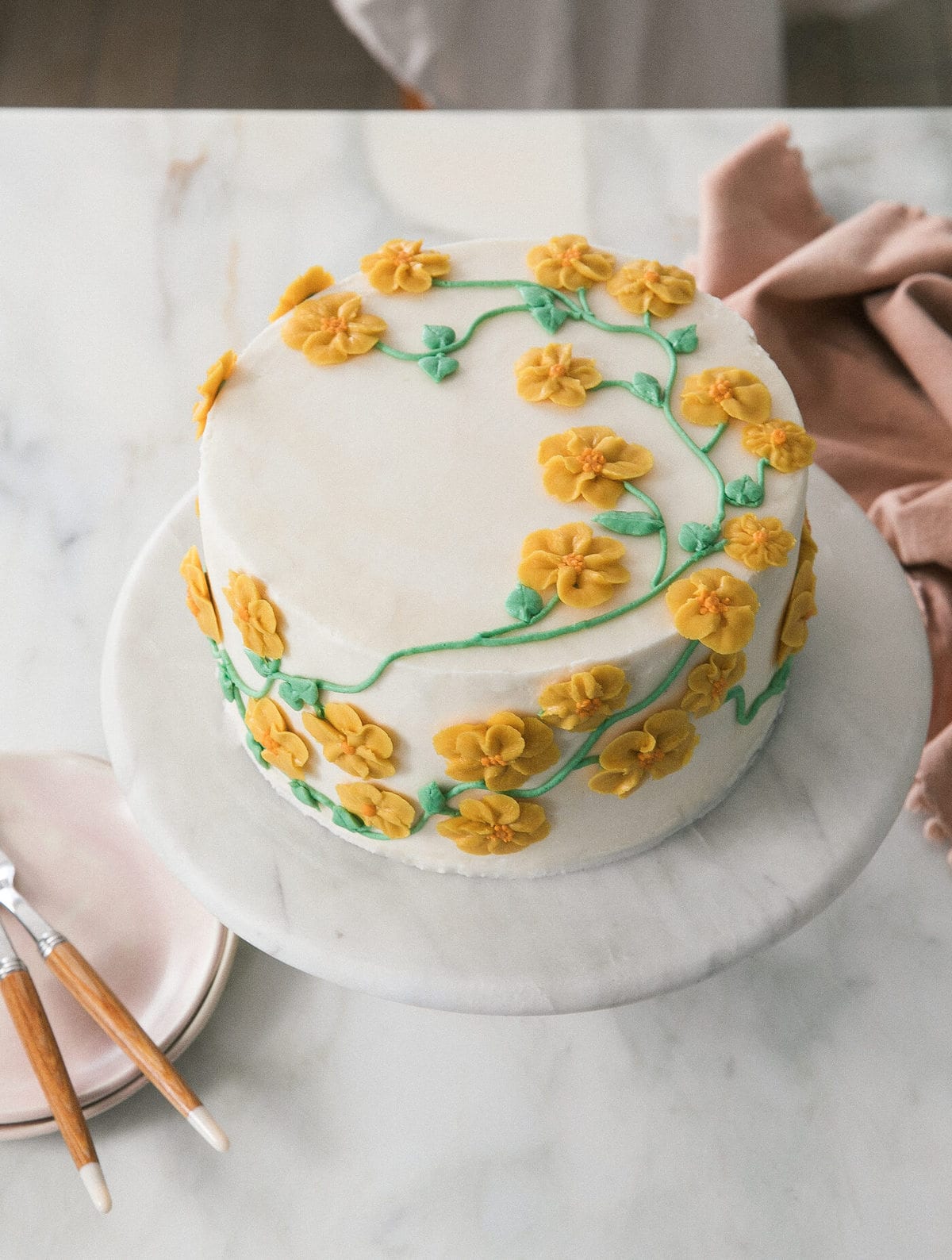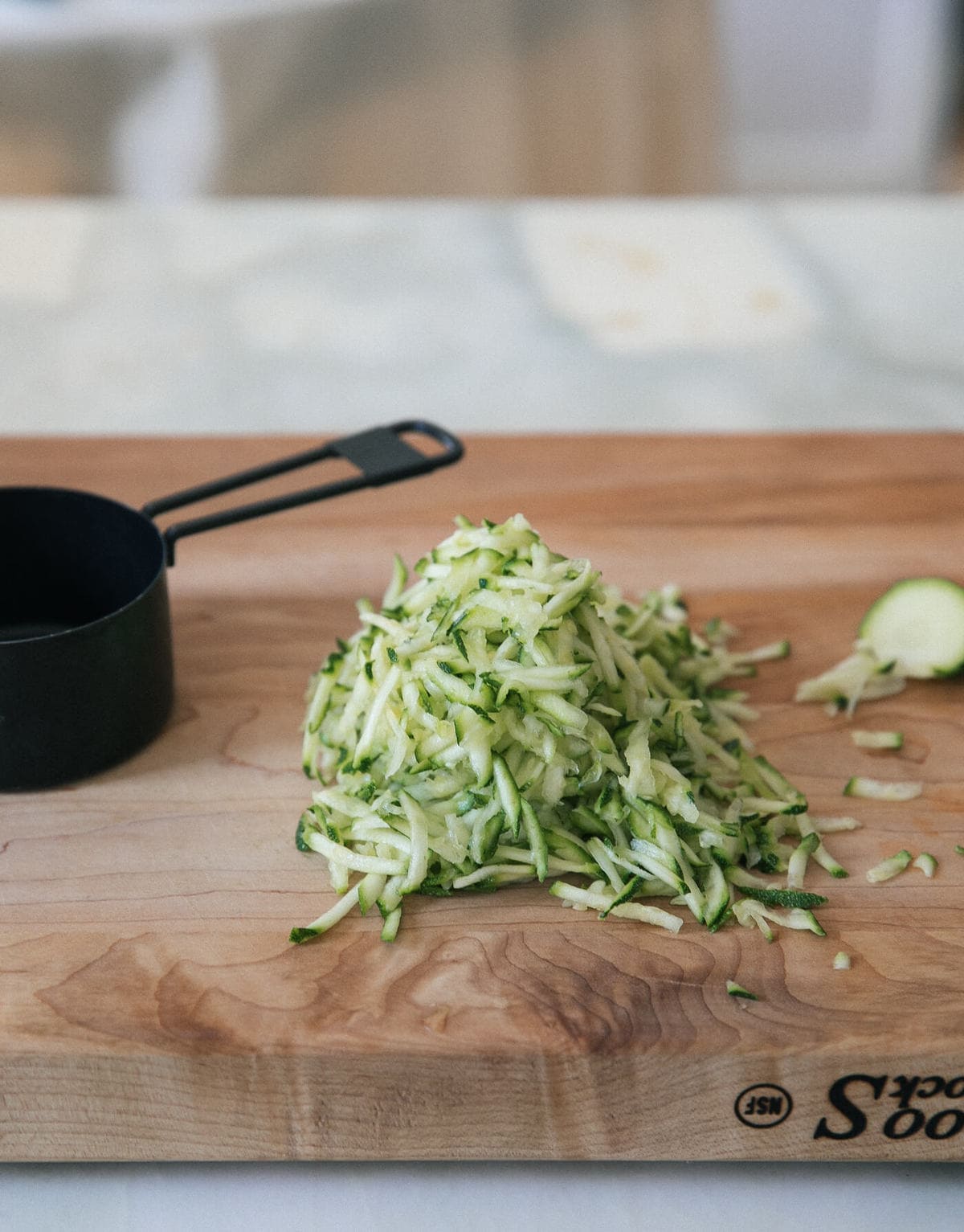 Now, let's move to this cake. This zucchini cake started with the highest hopes. It was meant to be a watercolored cake with yellow petal flower with dark green vines. Well…it didn't work exactly according to plan. I mean does it ever? But there are plenty of happy accidents and this is one of them.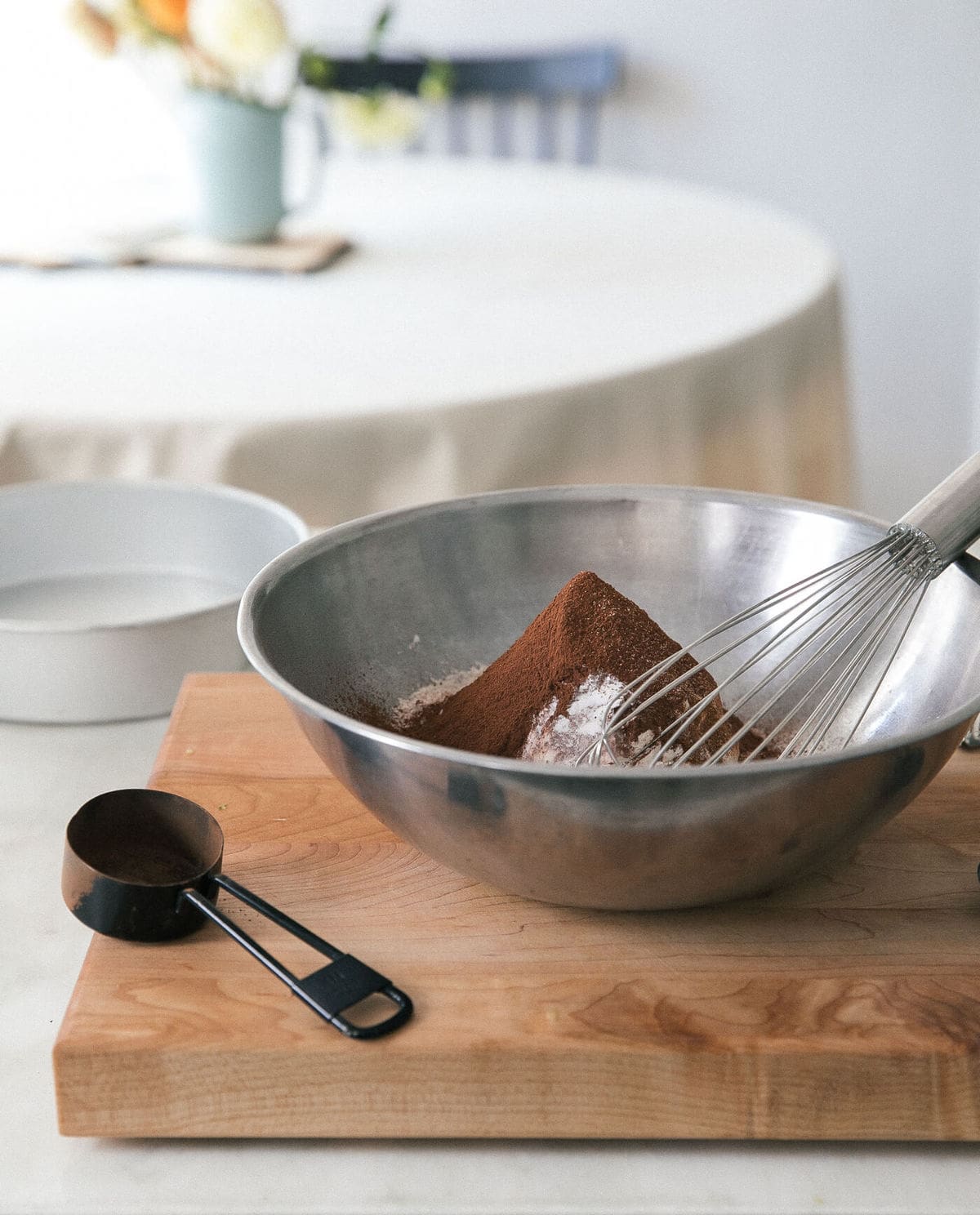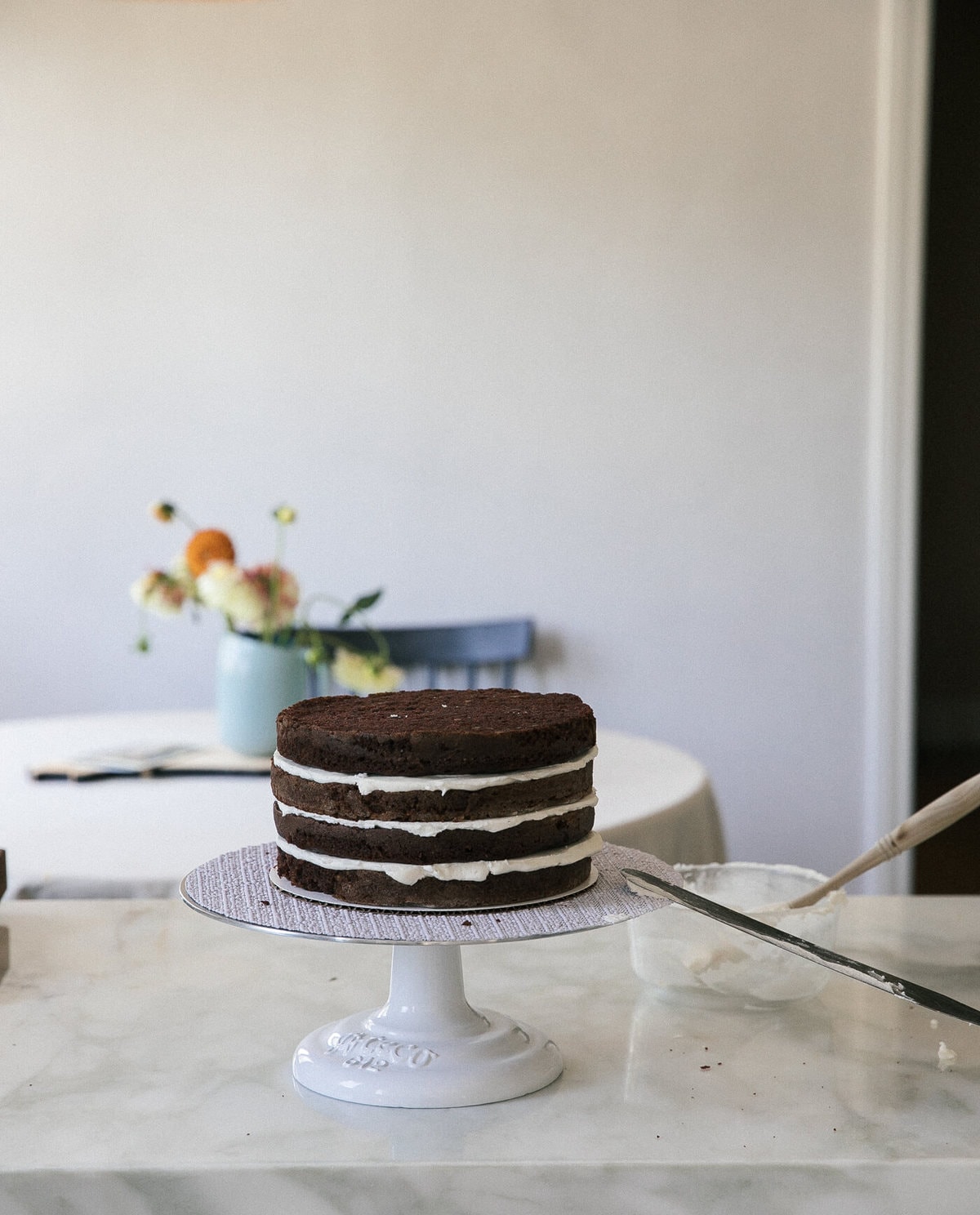 I am fervently against fondant. I actually hear marshmallow fondant tastes delicious but I can't buy it and well, it simply sounds like too much work. So, when my buttercream watercolor dreams failed, I turned to piping tips and it was pretty simple.
1. I followed this YouTube video.
2. I used this this nail. I swear by this kit.
3. And I used these gel colors to get the yellow and green.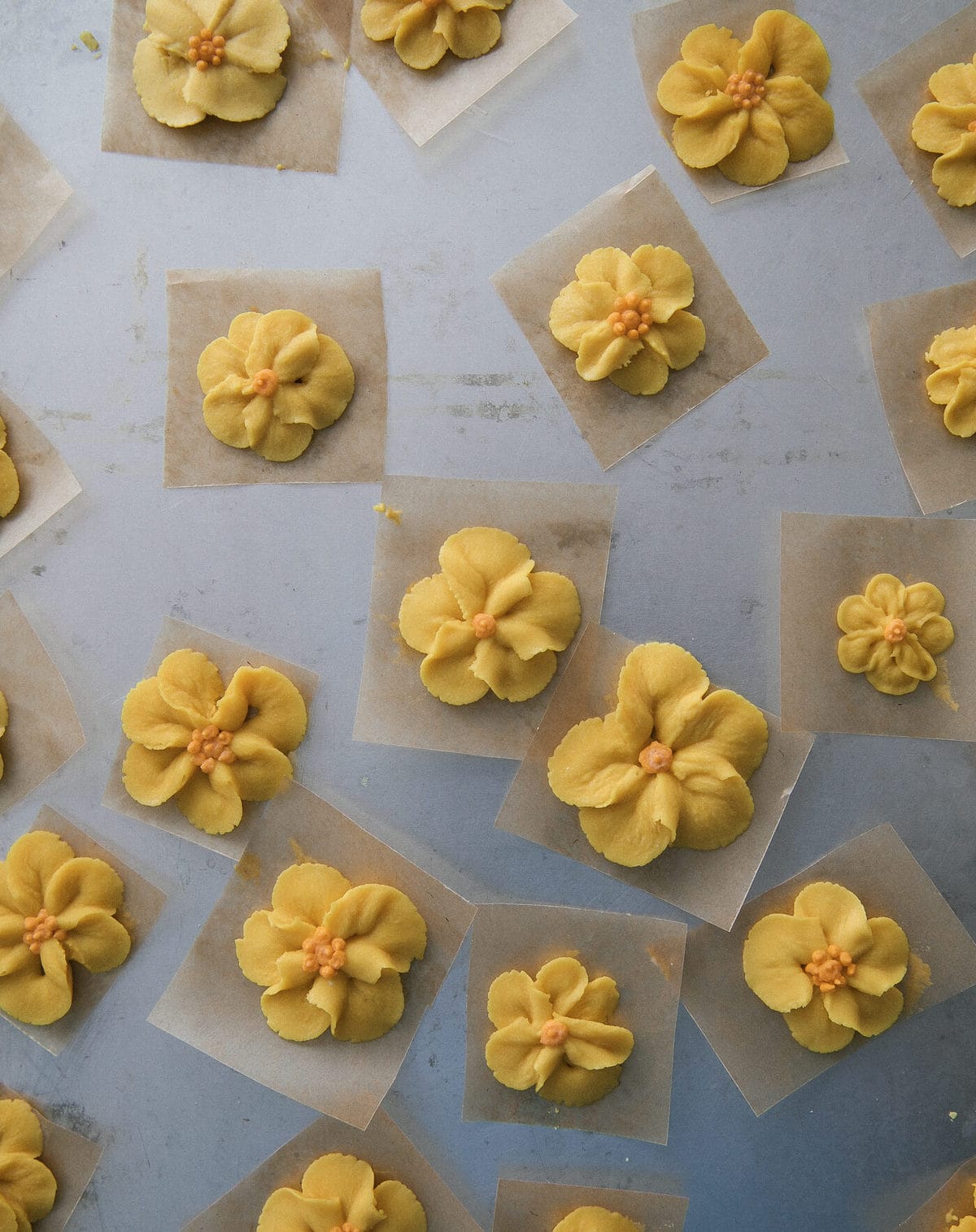 The good news is that if you want to make this cake, you don't need to pipe on flowers. You can simply make the cake, smear on the frosting and you're good to go!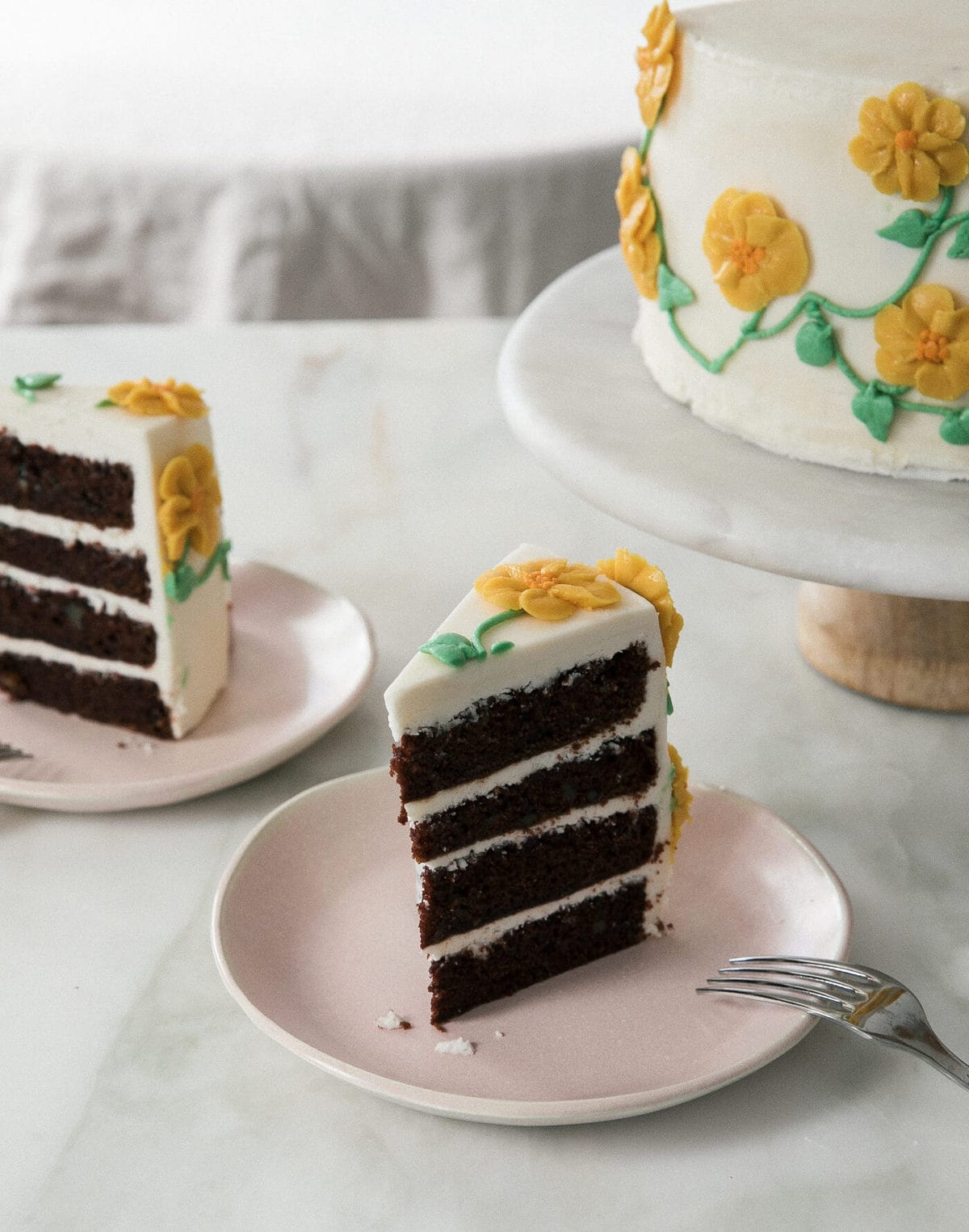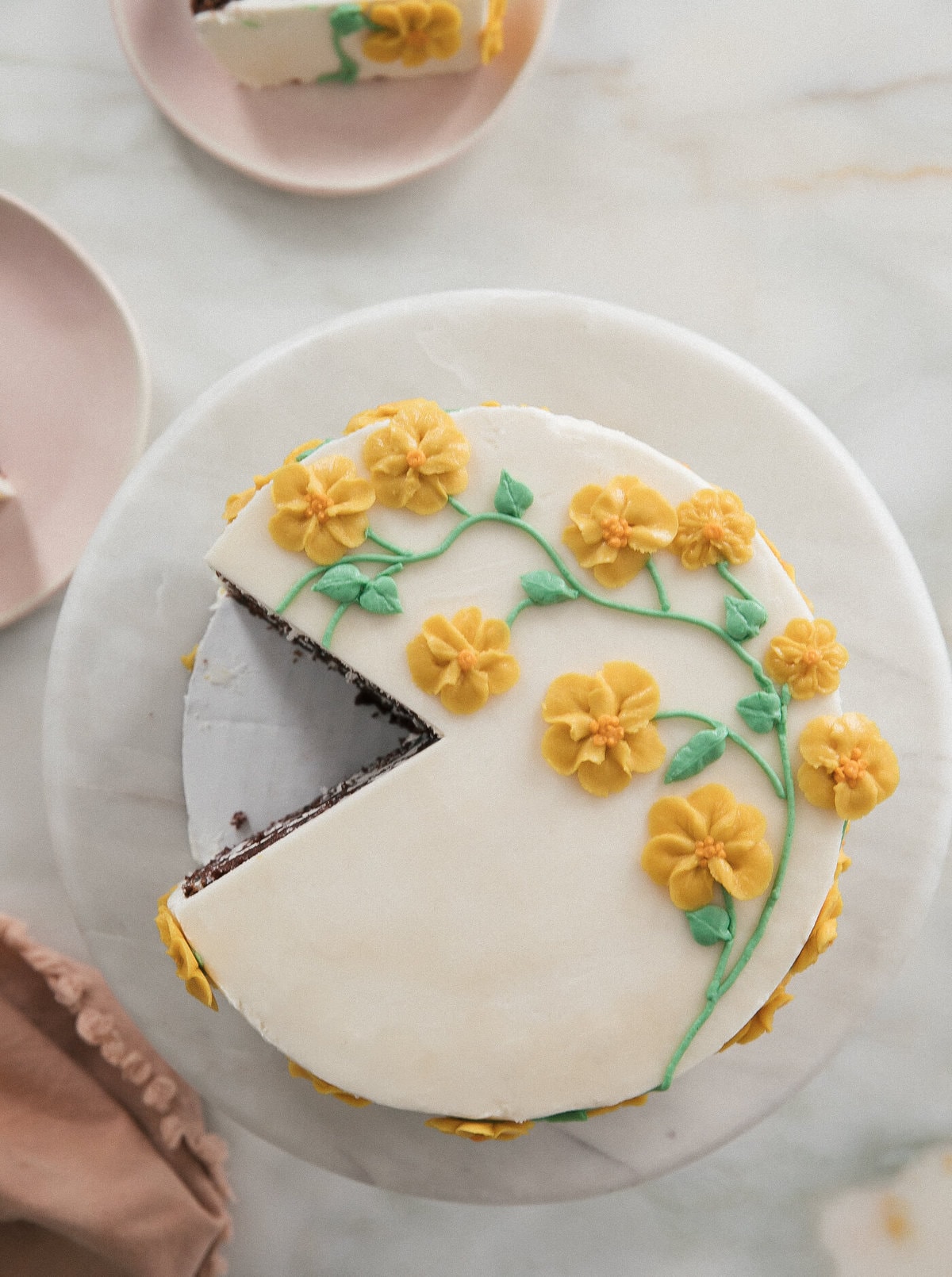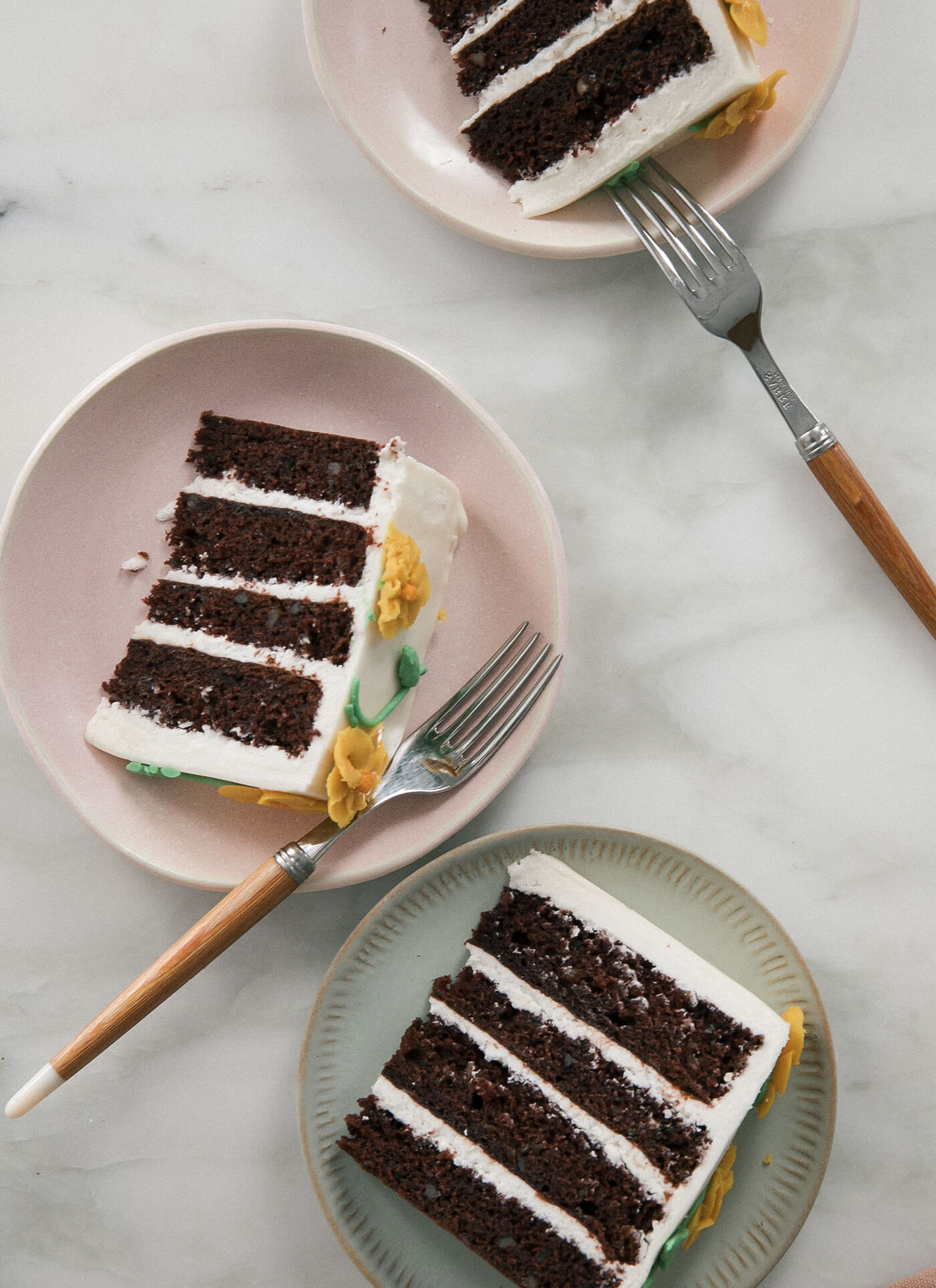 The cake is delicious. It's lightly chocolate, almost like how a red velvet cake is chocolate-y but not really. The zucchini what makes this cake extremely moist and light.
If you have extra zucchini and need a way to use it up, here's is your recipe!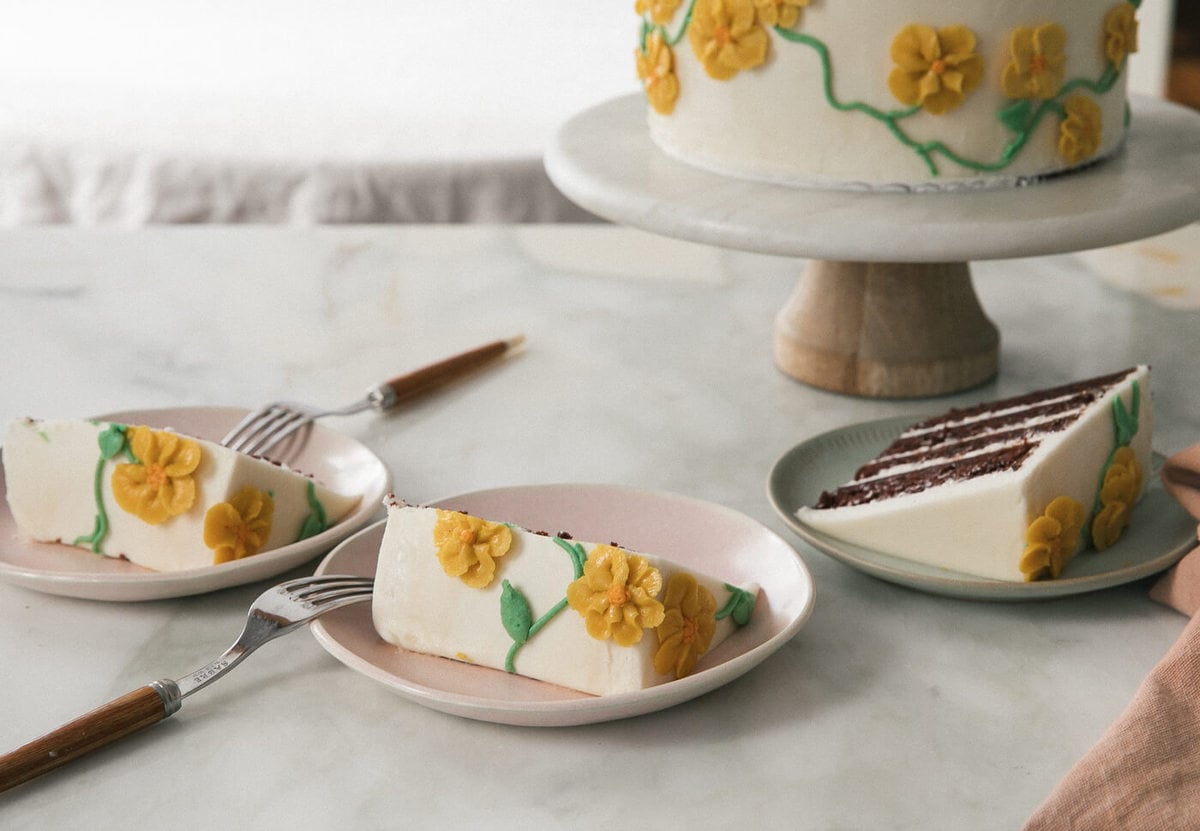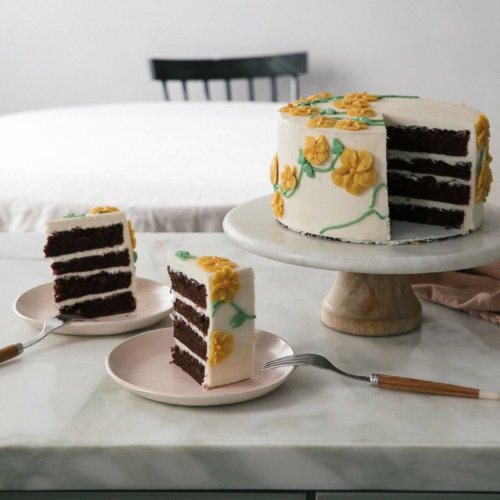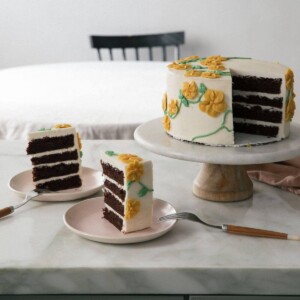 Ingredients
Dry:
2 1/2

cups

all-purpose flour

1/4

cup

cocoa powder

2

teaspoons

baking soda

1

teaspoon

ground cinnamon

1/2

teaspoon

freshly ground nutmeg

1

teaspoon

salt
Wet:
1/2

cup

unsalted butter

,

at room temperature

1

cup

white granulated sugar

1

cup

brown sugar

1/2

cup

vegetable oil

3

large eggs

1

cup

buttermilk

2 1/2

cups

grated zucchini

,

from about 3 small zucchini

1/2

cup

chopped walnuts
Frosting:
1

cup

unsalted butter

3

cups

powdered sugar

,

sifted

2

teaspoons

pure vanilla extract

2

tablespoons

buttermilk
Directions
To Make the Zucchini Cake:
Preheat the oven to 350°F. Grease two (8-inch) round cake pans and line the bottoms with parchment paper.

In a medium bowl, whisk together the flour, cocoa, baking soda, cinnamon, nutmeg and salt.

To the bowl of a stand-up mixer (you could also do this in a large bowl with a whisk), with the paddle attachment, add the butter and white and brown sugar; beat until light and fluffy, about 2 minutes. Pour in the vegetable oil, eggs, one at a time and then the buttermilk. Add the dry ingredients and beat until just smooth, about 1 minute. Pour in the grated zucchini and walnuts and mix once more.

Divide the batter between the pans and bake for 27 to 30 minutes, or until a wooden pick inserted into the center comes out clean. Allow to cool in the pans for about 5 minutes and then invert them on cooling racks.

I sliced my cakes in half so I would have four layers, but you certainly don't have to do this!
To Make the Frosting:
*If you're making petal flowers and vines, you'll want to double the recipe above. It'll give you enough frosting in order to have extra to decorate. After you make a double batch, you'll want to remove about 1/4 of it and color it yellow. Remove another 1/4 and color it green.

Add the butter to the bowl of a stand-up mixer (or medium bowl with an electric hand mixer) and beat until smooth about 30 seconds or so. Take the paddle attachment off and place a sieve on top of the bowl and sift in the powdered sugar. Turn the mixer to low until the powdered sugar is almost incorporated. Add the vanilla extract and buttermilk; and beat once more until combined.
To assemble the cake:
Place one layer on a cake board or cake stand or plate (I also love turning plates upside down and using them as cake stands). Add about 1/4 cup (you can eyeball this measurement) to the top of the first cake layer; smooth it out so it's a nice even layer of frosting. Place the second layer on top and repeat the process. Skim the top and sides and transfer it to the fridge to chill for about 15 minutes.

Remove from the fridge and give it one last layer of frosting. If you like, this is totally optional, divide the frosting amongst a few piping bags with different tips on them and decorate the top! Slice up and serve.
Nutrition Facts
Zucchini Chocolate Cake
Amount Per Serving (6 g)
Calories 0
* Percent Daily Values are based on a 2000 calorie diet.