Dukkah Goat Cheese Crackers
19
Feb 16, 2015, Updated Dec 23, 2018
Disclosure: This post may contain affiliate links, which means I may earn a commission if you click on the link and make a purchase.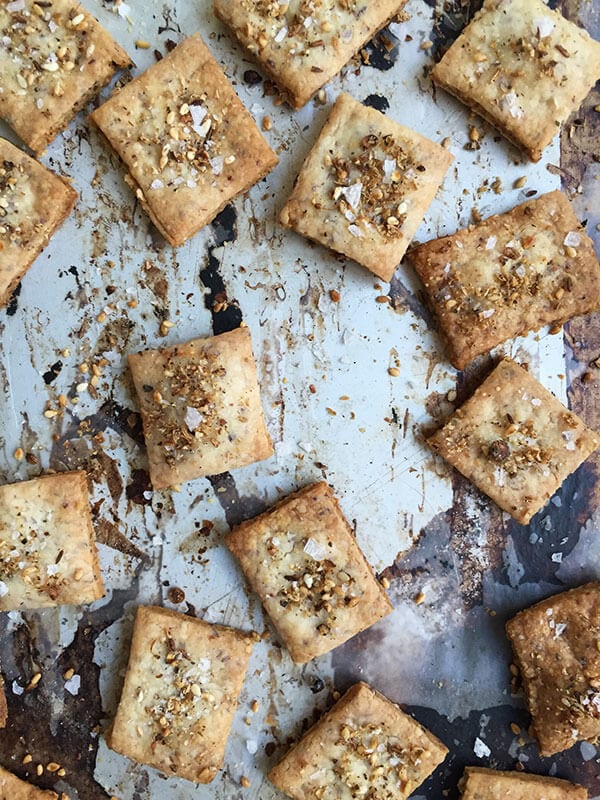 I'm having a moment with two things: The Bachelor and making spice mixtures. I know, I know, it's the most random combination ever and no, they do not have any relation to one another, thank heavens, but I'm sort of obsessed with them both.
I'm into The Bacheclor for the first time, ever. Past seasons never interested me but now I can't stop watching. It's like one part tragedy meets comedy and I'm v v into it. And for the record, if I was on that show I'd have one convo with Chris and be like, NOPE THIS DUDE IS BORING BYYYEEEE. Seriously, I've never watched a human be less funny in my entire life.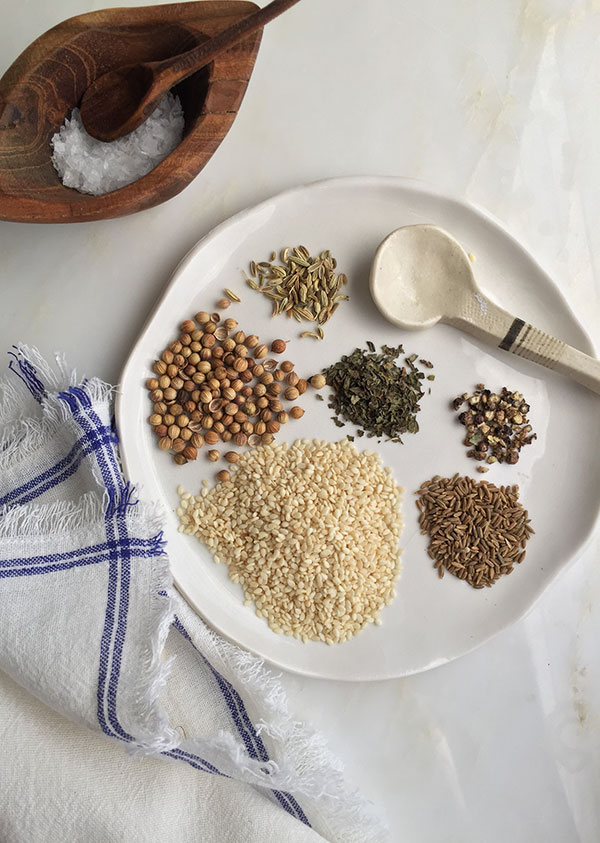 Let's talk about dukkah. It's an Egyptian spice mixture. They're are endless variations of it and honestly I've only had it with these ingredients you see below, but I've read other versions exist so there is no absolutely right way.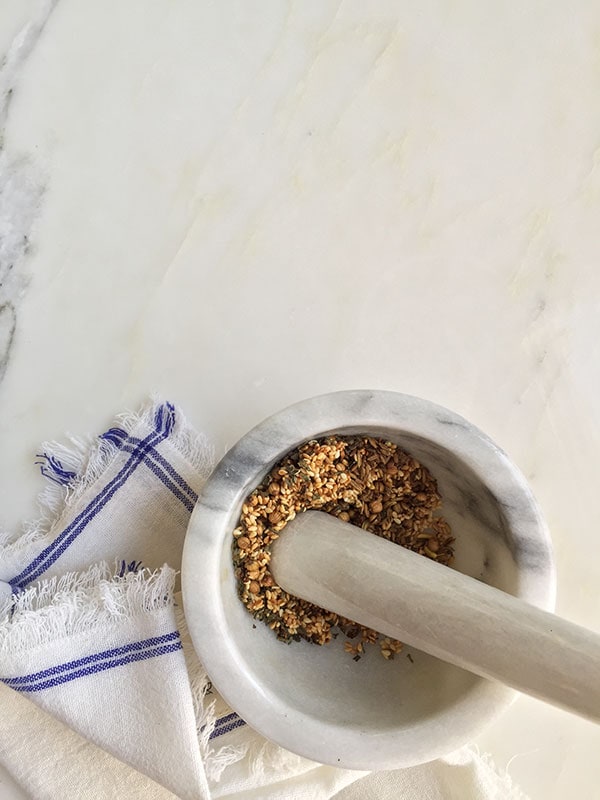 This spice mixture would be good on anything, ANYTHING. I'm talking a piece of chicken, in salad dressing, on a steak, really the possibilities are endless. I will say that this isn't exactly dukkah because I didn't include the hazelnuts in the spice mixture, but instead they're in the cracker itself. I thought it made for a really interesting tasting cracker. The goat cheese adds this bit of tartness that is sooo cool. When I ate the cracker, it kinda tricked me into thinking that they could've been made with a sour dough starter because of the subtle tartness. I was very into them.
This recipe will yield you a bit of extra dukkah (well, sort of dukkah because it will be absent of hazelnuts), but nonetheless, put it on other things. It's delicious. The smell could almost be made into a candle or a musk that a cool girl would be into wearing.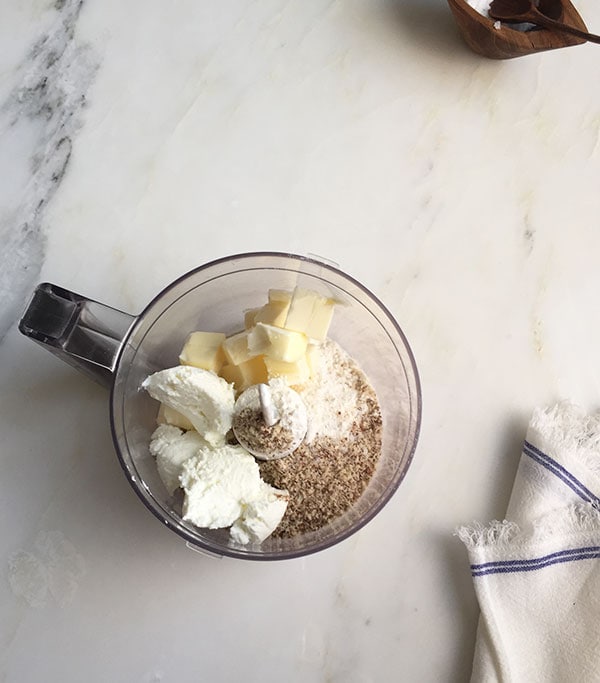 Dukkah Goat Cheese Crackers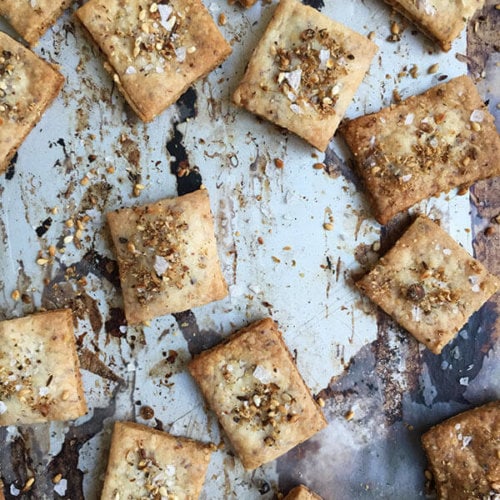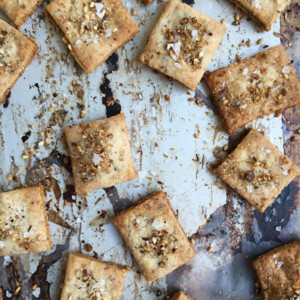 Ingredients
1

tablespoon

sesame seeds

1

teaspoon

black peppercorns

1

teaspoon

coriander seeds

1/2

teaspoons

cumin seeds

1/4

teaspoon

fennel seeds

1/4

teaspoon

dried mint leaves

1/2

teaspoon

Maldon sea salt

4

tablespoons

goat cheese

4

tablespoons

2 ounces unsalted butter, room temperature

3/4

cup

all-purpose flour

,

plus more for dusting

1/4

cup

hazelnut meal

1/4

teaspoon

fine-grain sea salt

1

tablespoon

whole milk

2

tablespoons

olive oil
Instructions
To a small skillet, set over medium heat, pour in the sesame seeds and moving the continuously moving the pan, toast until lightly golden brown, about 30 seconds. Transfer to a mortar and pestle and repeat the toasting process with the black peppercorns, coriander seeds, cumin seeds and fennel seeds. Add the dried mint leaves to the mortar and pestle; mash and twist and mash and twist again until the spice mixture Set aside.

Preheat oven to 350°F. Line a baking sheet with a silicon mat or sheet of parchment. To a food processor, add the goat cheese, butter, all-purpose flour, hazelnut meal, salt. Pulse until the mixture is combined. Add the milk and pulse for about 30 seconds, until the dough forms a ball.

On a lightly floured piece of parchment, using a floured rolling pin, roll the dough to 1/8-inch thickness. Using a knife, cut 1 by 1-inch squares.

Transfer the crackers to the parchment-lined baking sheet. I found using a sharp paring knife very helpful in this transfer. Place in the oven to bake for 12 to 15 minutes, or until the ends are barely browned. Remove from the crackers from the oven and immediately brush the crackers with a teeny bit of olive oil and then top with a heavy sprinkling of the dukkah spice mixture. Allow to cool on the baking sheet.
Notes
You may have some dukkah spice mixture leftover. Add it to your scrambled eggs, roasted chicken, salad dressings, basically anything and everything!