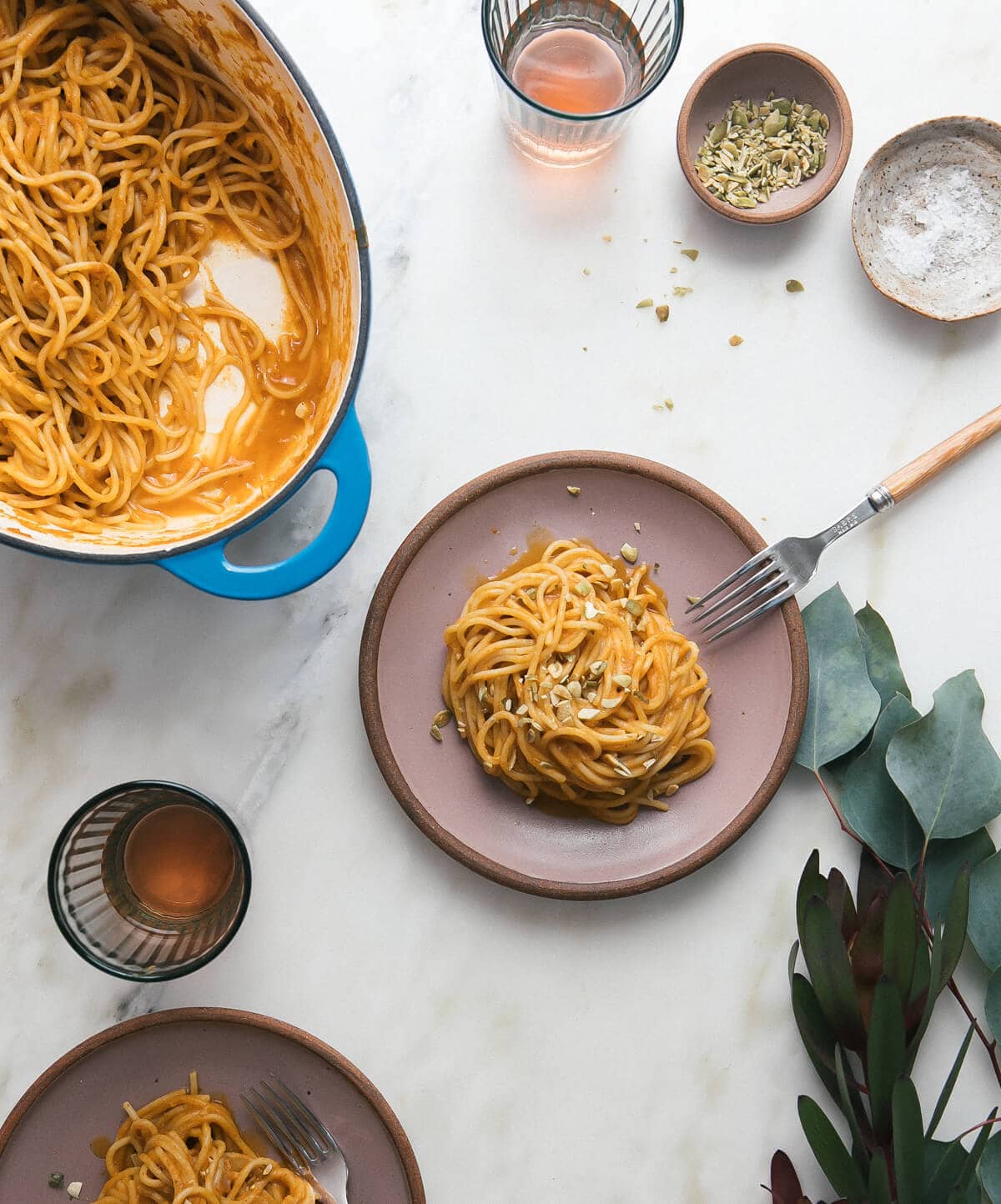 The kitchen is coming along (more on that soon). And this year I'm so happy to be in a new home because I'm super excited about decorating for fall. At our Echo Park apartment we never got any trick-or-treaters because we lived on an insanely steep hill and our apartment was hidden from the street.
BUT, the house that we're moving into is in a neighborhood where tons of kids come to in order to get a++ candy.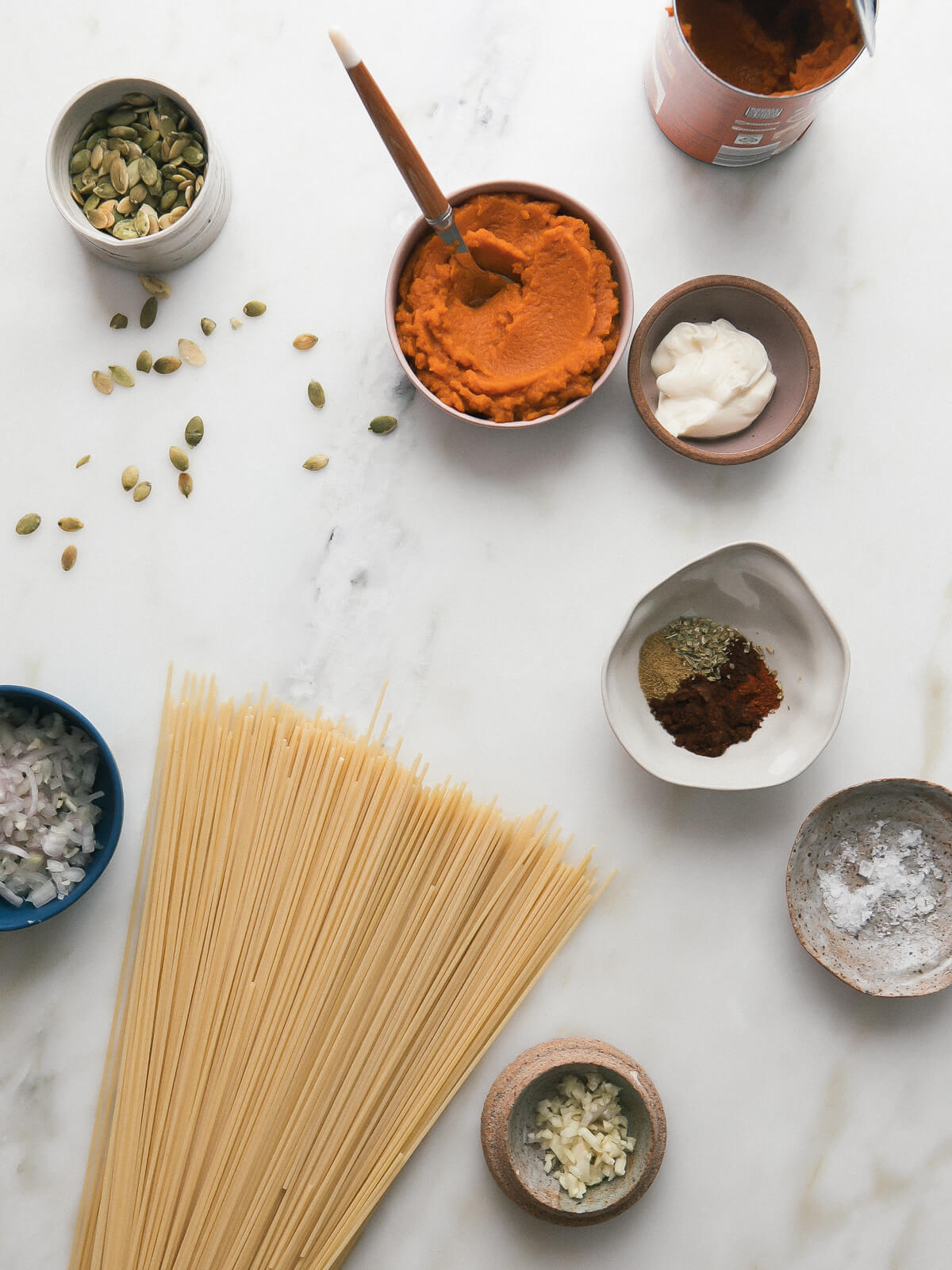 Another thing that I can't wait to do is set-up the entire kitchen with all of my kitchen items. This pretty blue Crofton Cast Iron French Oven and this Cast Iron Saucepan are from ALDI! If you head into the stores starting Wednesday, you'll see them (but only for a short time!). ALDI has a range of beautiful cast iron items on sale throughout the fall and winter seasons.
And let me tell you they are such good quality. The pots heat up evenly (very important!), are heavy bottomed (so they are perfect for literally everything including cozy stews, soups and everything in between), super affordable and the enamel coating makes them super easy to clean.
To kick off the fall season and to break in these new pots, I wanted to make something very seasonal and pumpkin-y.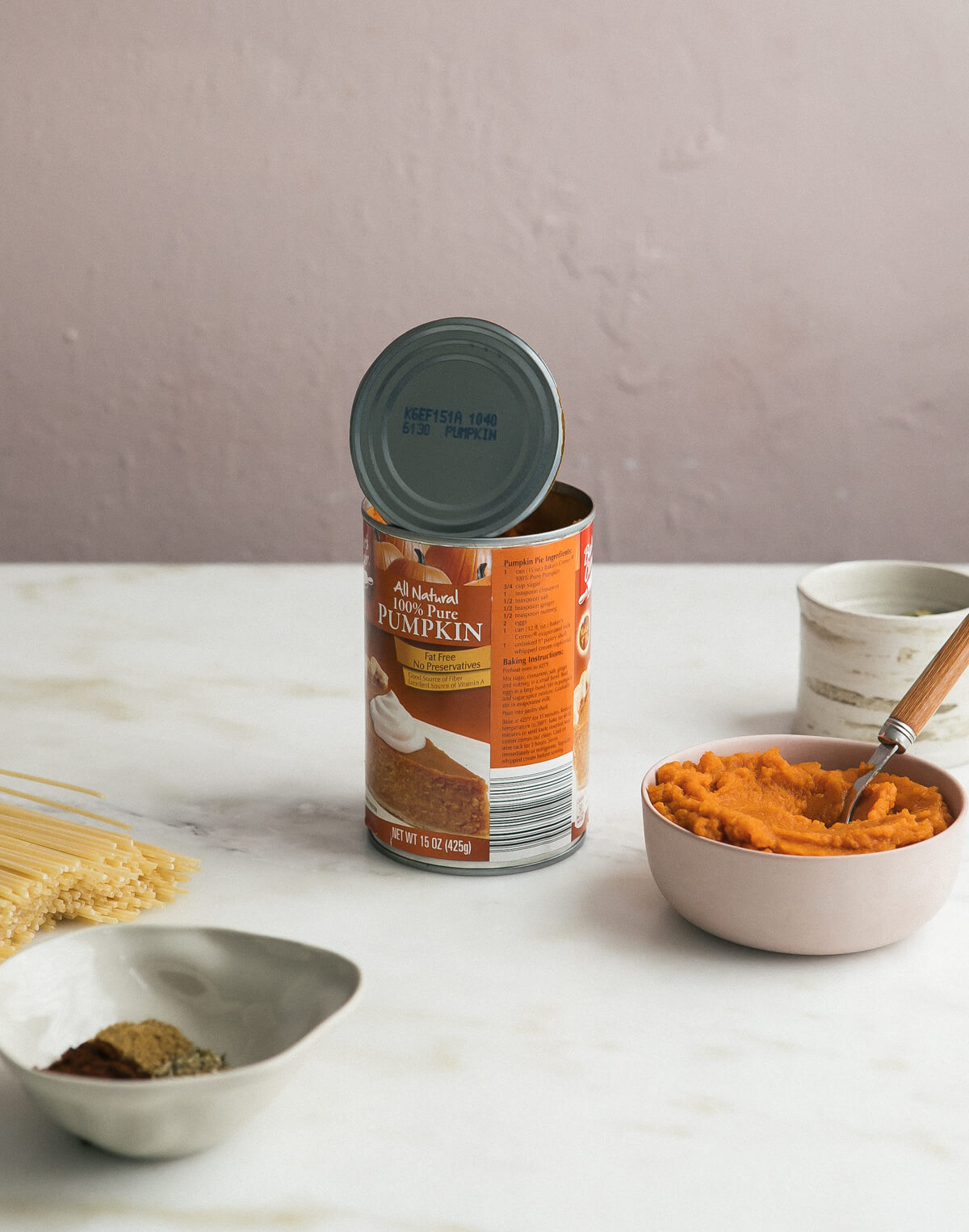 One of my favorite pumpkin/squash recipes is from The Year of Cozy and it's the chorizo-spiced squash soup. I took that idea and applied it to this pasta dish and it is SO good.
Pumpkin puree (this organic puree is also available at ALDI this fall and is super affordable and the consistency is amazing!) is cooked with the spices that traditionally go in chorizo sausage. The spices go in but this dish is still very vegetarian—no meat whatsoever!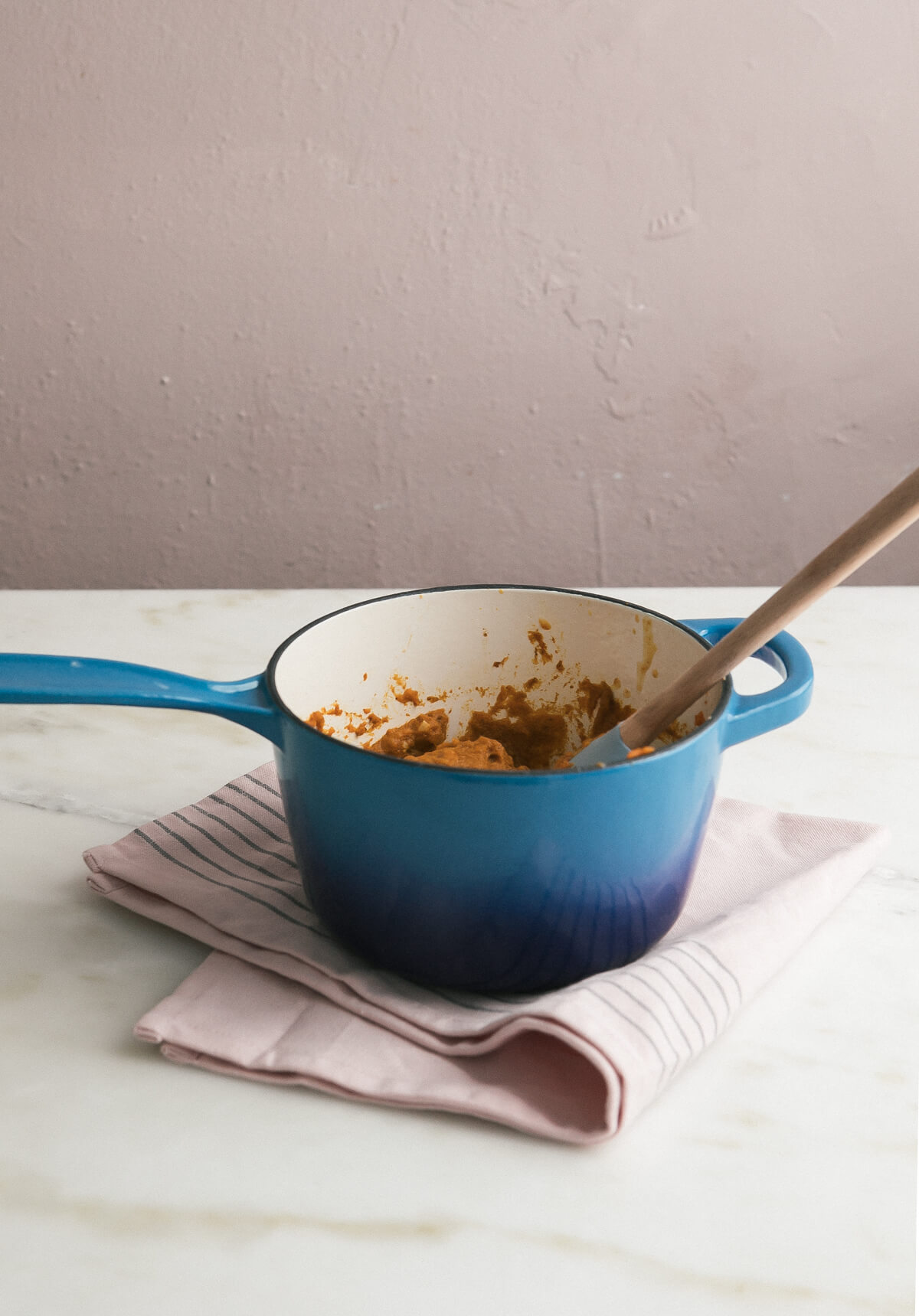 I mixed it with the pasta and a bit of the pasta water to thin it out and topped it with chopped up pepitas. It's a recipe that comes together in about 20 minutes and it's delicious.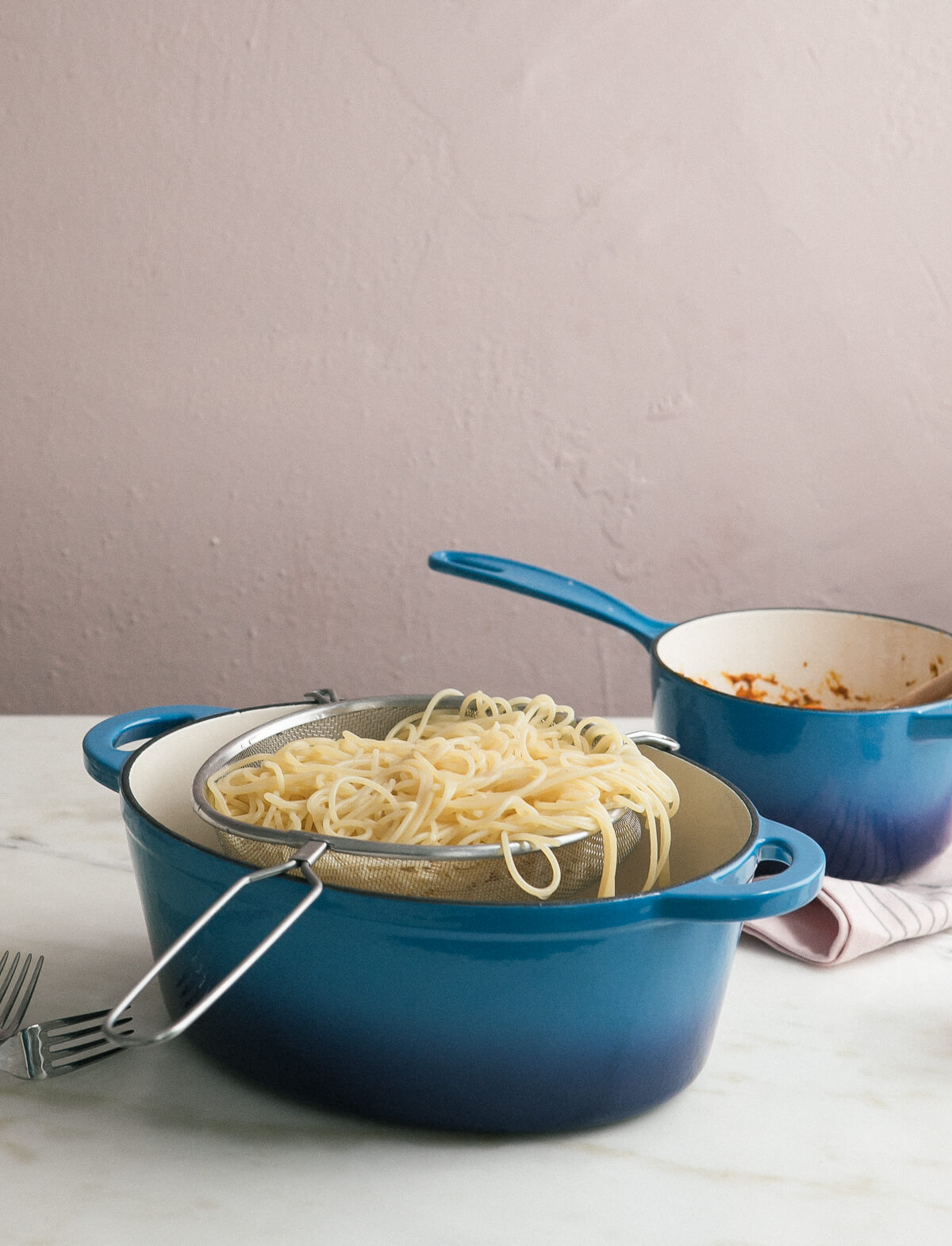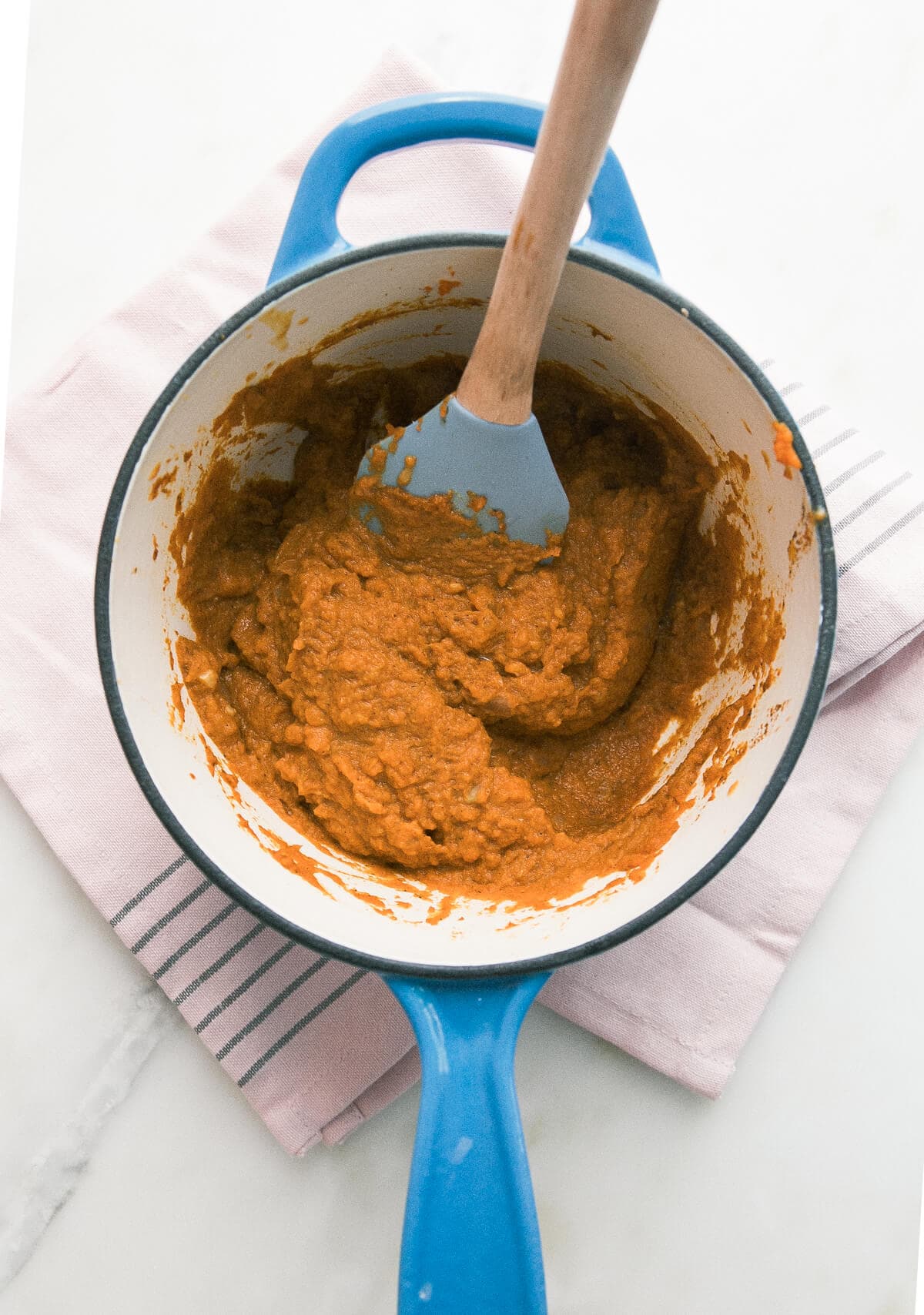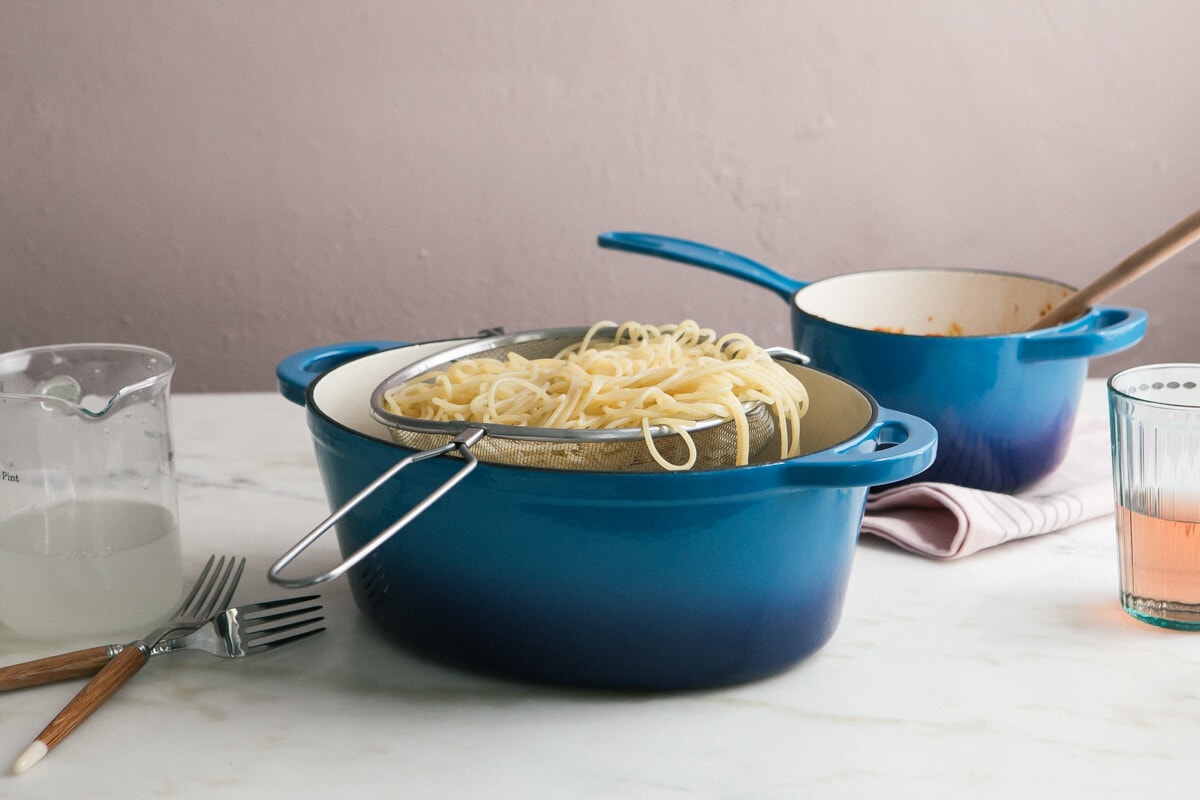 The perfect autumn, weeknight meal and is a good thing to whip up to kick off the coziest season of all!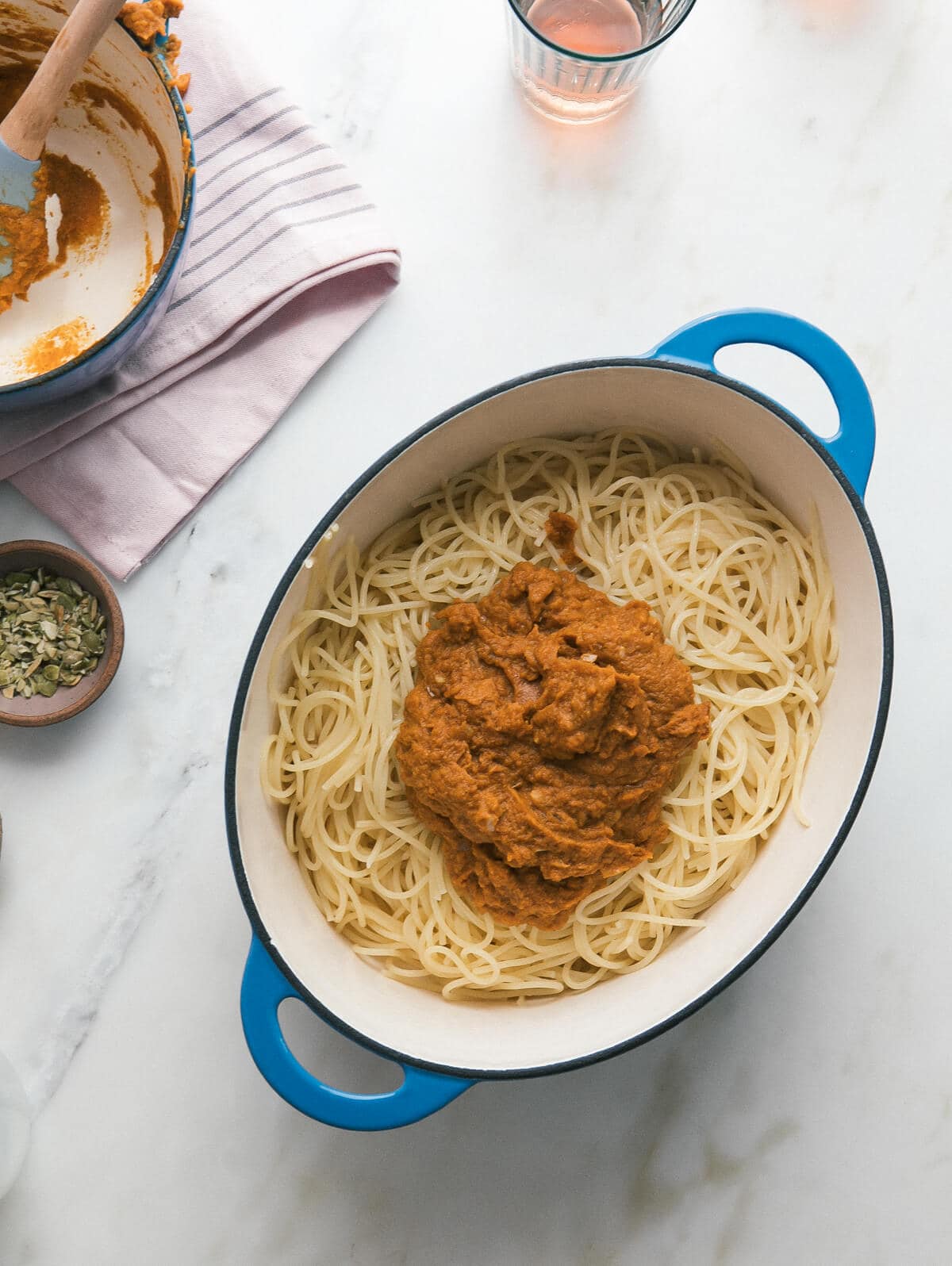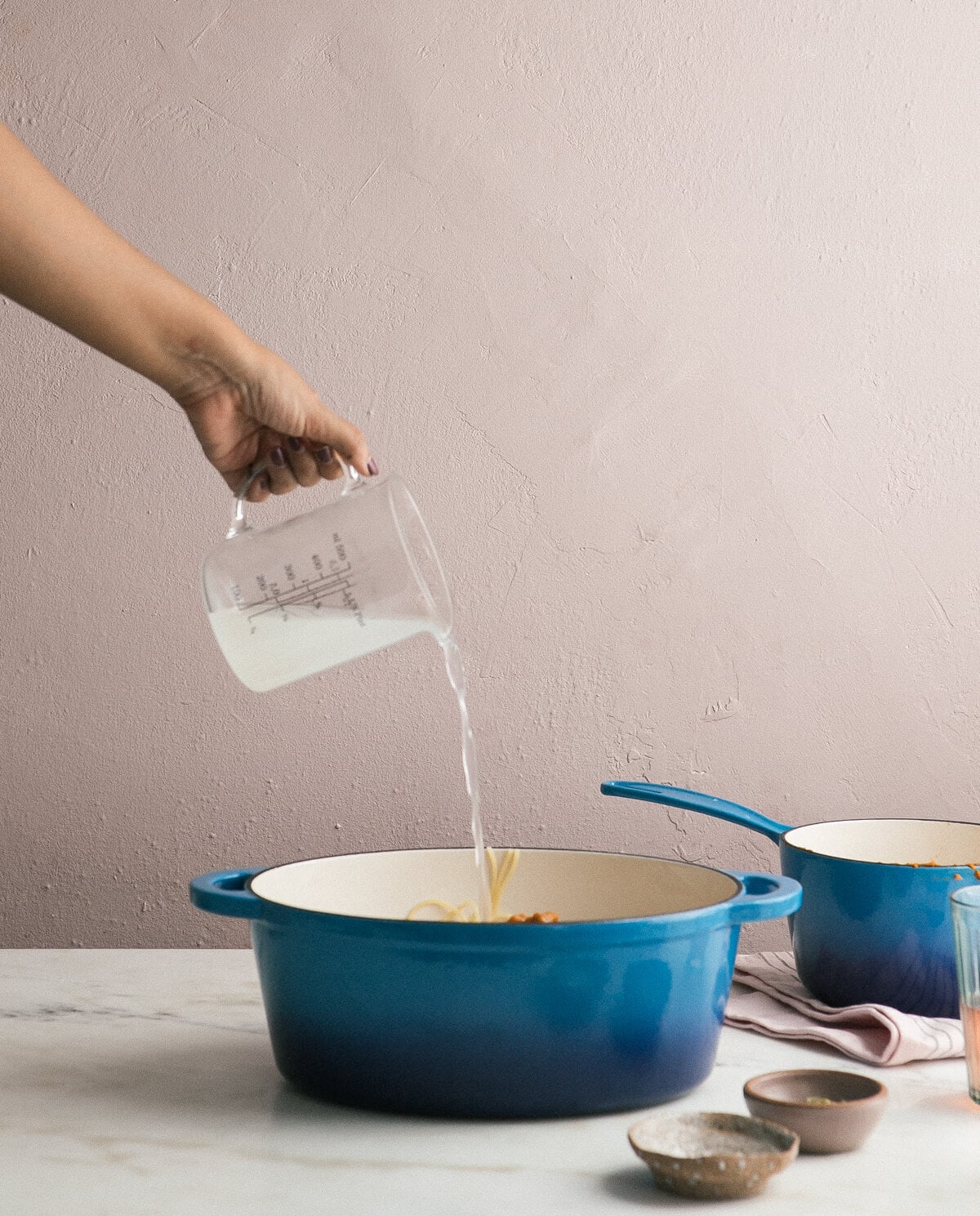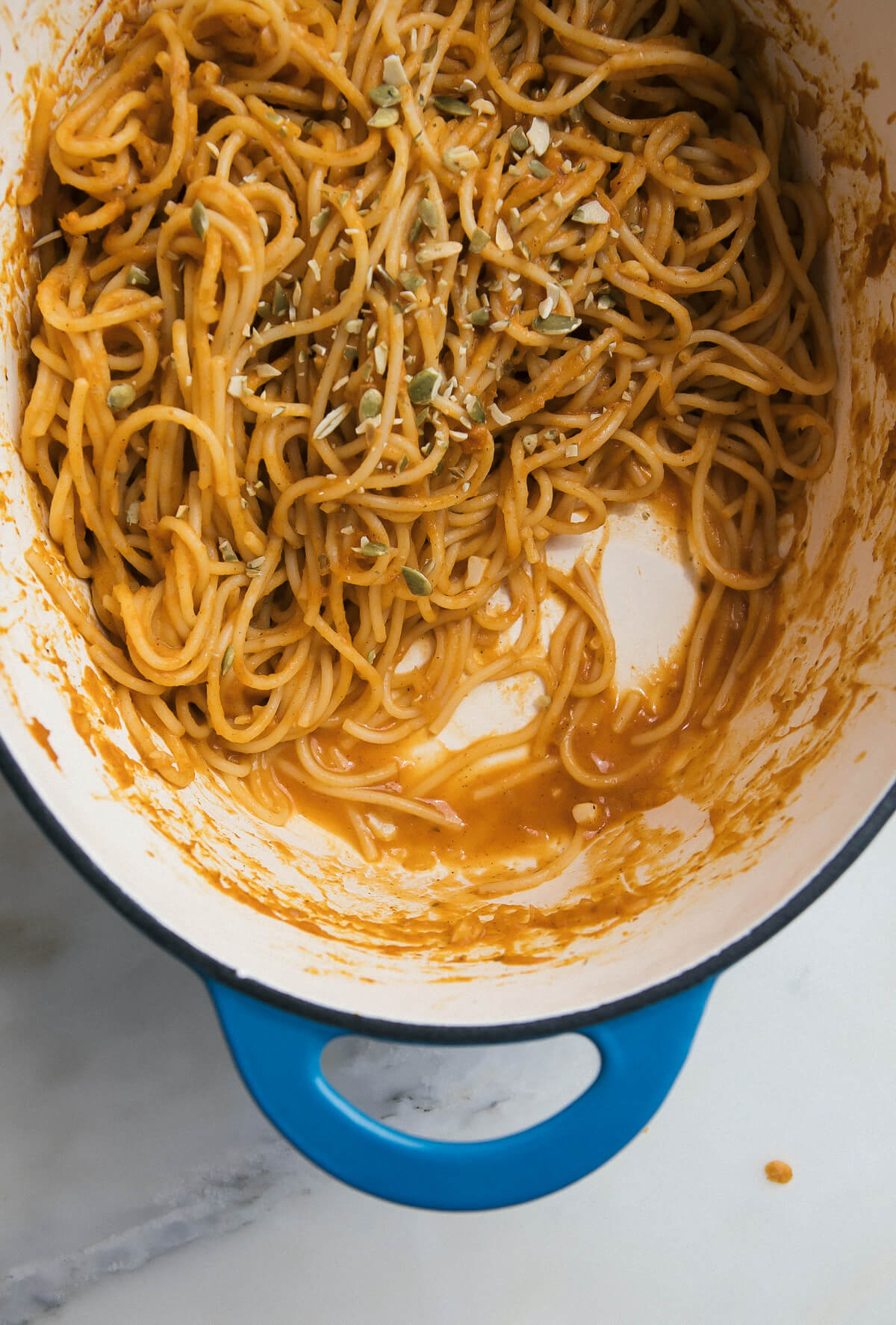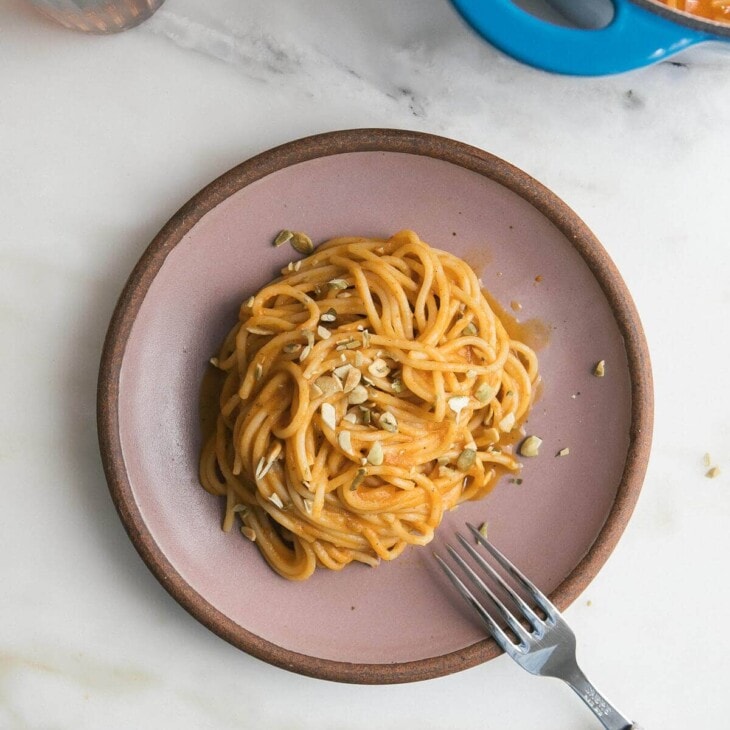 Print Recipe
Chorizo-Spiced Pumpkin Pasta
Ingredients
2

tablespoons

Countryside Creamery unsalted butter

1

shallot

minced

2

garlic cloves

minced

1

teaspoon

ancho chile powder

1

teaspoon

Stonemill ground cumin

1

teaspoon

Stonemill salt

1/4

teaspoon

Stonemill dried oregano 

1/4

teaspoon

ground coriander

Pinch

of SimplyNature organic ground cayenne

Pinch

of ground cloves 

3/4

cup

Baker's Corner 100% Pure Canned Pumpkin

or SimplyNature organic pumpkin

3

tablespoons

Friendly Farms plain Greek yogurt OR crème fraîche

3/4

cup

reserved pasta water

divided 

1

pound

SimplyNature organic spaghetti

or pasta of choice 
Instructions
In a medium saucepan, set over medium heat, add the butter. When melted, add the shallot and garlic. Cook until the shallot has softened, about 2 to 3 minutes. Mix in the chile powder, cumin, salt, oregano, coriander, cayenne and cloves. Cook for 1 to 2 minutes, until the spices are fragrant. Add the pumpkin puree, yogurt or crème fraîche and mix until warmed, about 2 to 3 minutes. Give it a taste and adjust the salt to your liking. It might be a bit salty but it's ok because the pasta will need it! Set aside. 

Meanwhile, bring a cast iron oven filled with salted water to a boil. Add the pasta and cook until al dente (mine took about 8 to 9 minutes). Scoop out about 3/4 cup of pasta water and set it aside. Drain the pasta and add it back to the cast iron oven. 

Add the pumpkin mixture to the pasta and pour in about 1/2 cup of pasta water. Toss until the pasta is evenly coated in the sauce. If needed, add an extra 1/4 cup of pasta water. Divide amongst plates or bowls and garnish with pepitas. 
(This post is sponsored by ALDI. Thank you for supporting the sponsors that keep A Cozy Kitchen cozy.)