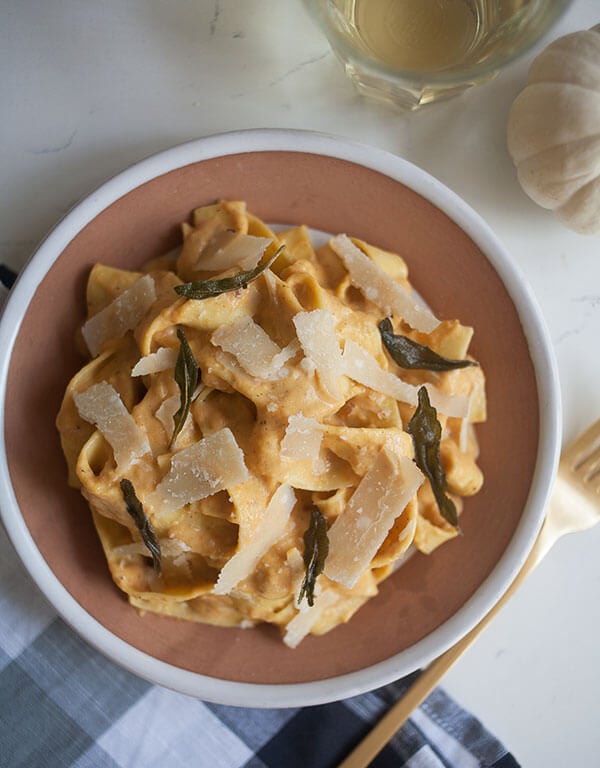 This pasta is special-event worthy. Here are some scenarios when it's perfect:
1. You're feeling sort of under the weather but chicken soup sounds boring.
2. You got a parking ticket but forgot about it but the DMV just sent you a very kind (not really) reminder in the mail.
3. You want a hug but your boyfriend is at work and asking for a hug from a stranger is weird and your dog is being oddly unaffectionate today.
4. YOU'RE HANGRY!
I made this bowl of pasta, and ate this bowl of pasta because of every reason listed above. It's this season in pasta form. It's a little decadent and rich but oddly not overwhelmingly so.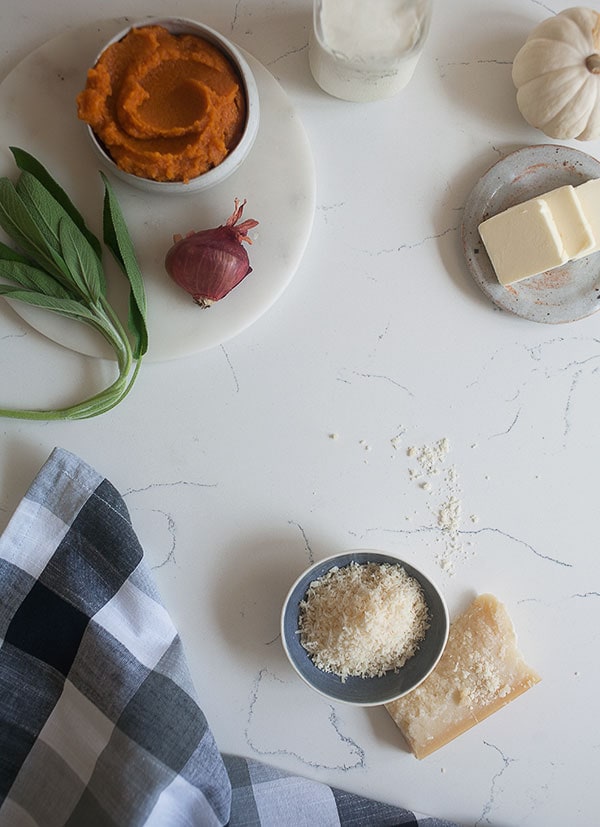 And the best part about it, it's fast! Quick, easy and super, super fast.
The brown butter is the base of the sauce. You cook the butter until it turns brown, not burned like I usually do for baked goods, but brown. Everything is added in layers, creating a nutty, pumpkin-y, cheesy sauce that's laced with just a hint of nutmeg and sage.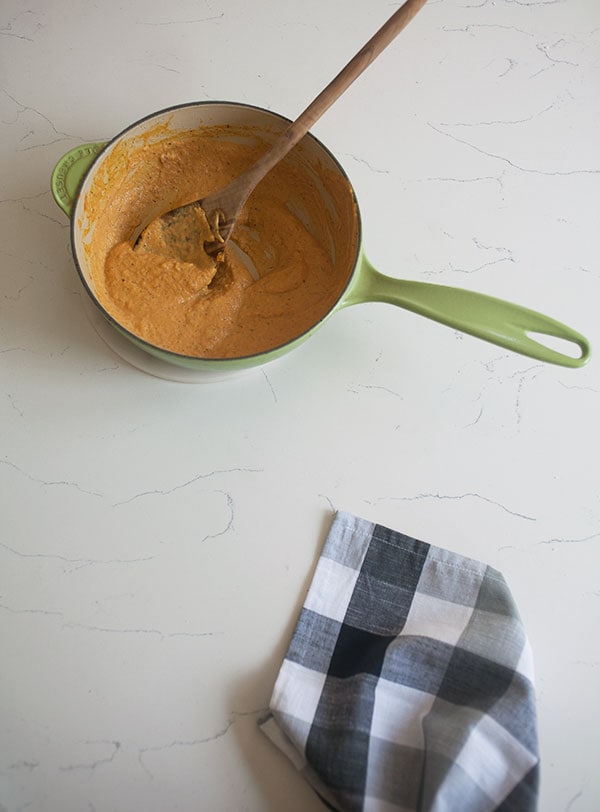 The pappardelle (or any other pasta you like) is tossed in the sauce and then! That's it. The one thing you must keep an eye out for below is reserving some pasta water. It thins out the sauce nicely. It's a must!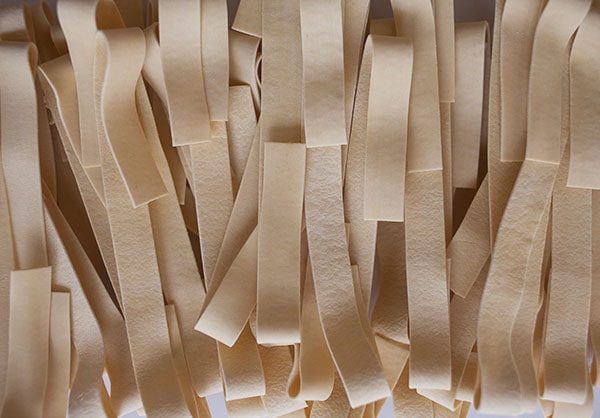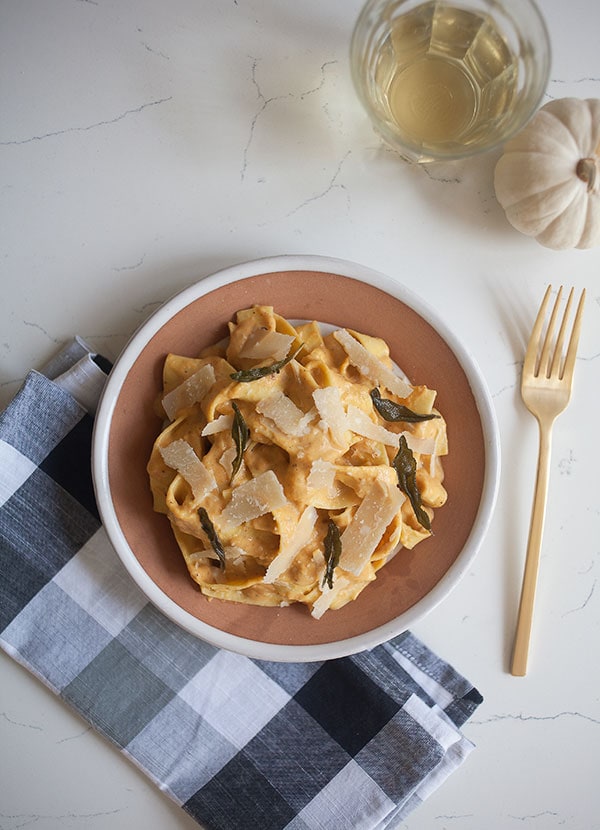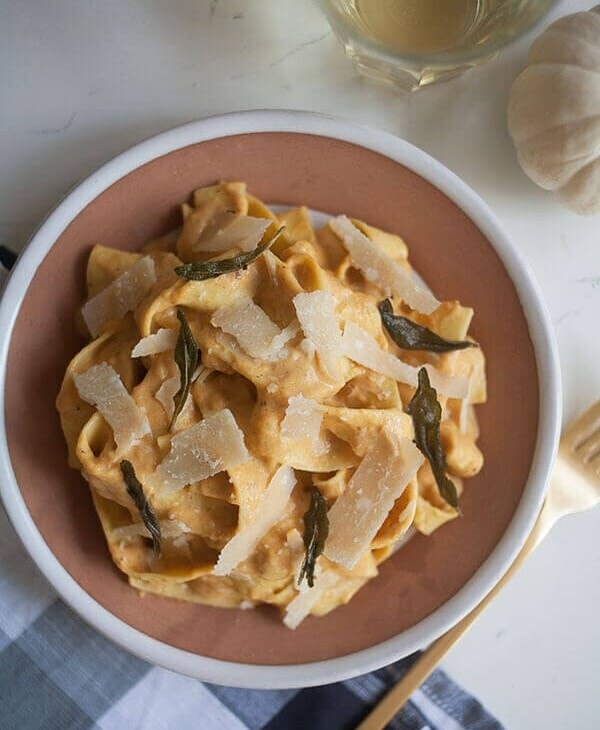 Print Recipe
Pumpkin Sage Alfredo Pappardelle with Brown Butter
Ingredients
8

ounces

pappardelle pasta

or other pasta of your choice

1 1/2

tablespoons

butter

cooked to brown

1

shallot

minced

1

garlic clove

minced

3/4

cup

canned pure pumpkin

3

sprigs of sage. plus more for garnish

1/2

cup

heavy cream

1/4

cup

grated parmesan cheese

plus more for garnish

Pinch

of nutmeg

Salt

Freshly cracked black pepper
Instructions
Bring a medium pot of salted water to a boil. Add the pasta and cook the pappardelle per the package's instructions (mine recommended about 7 minutes). Reserve about 1 cup of pasta water and set it aside (we're going to use it later in the sauce). Drain the pasta and set aside.

In a medium saucepan, melt the butter over medium heat. Cook the butter, stirring constantly, until it begins to foam and brown speckles appear. Keep stirring until the foam subsides and the color turns medium brown. Add the shallots and garlic clove and turn down the heat to medium-low. Cook until the shallots have softened, about 1 minute.

Stir in the pumpkin, sprigs of sage, heavy cream, parmesan and 1/2 cup of the reserved pasta water. Season with the pinch of nutmeg, a few turns of cracked black pepper and salt to taste (I needed about 1/2 teaspoon salt). Give it a good stir and taste; adjust any seasoning you like. I ended up adding an additional pinch of nutmeg and some more pepper. Do this too, if you like. Keep the sauce warm over low heat.

To fry up the sage for garnish, add a teaspoon or two of olive oil to a skillet. When the oil is hot, add the sage leaves and cook until fried, about a minute. Drain on paper towels.

Remove the sage leaves from the sauce and discard. To large bowl, add the pasta. Pour in a bit of the sauce and stir until covered. Divide the pasta amongst bowls or plates. Top each mound of pasta with more sauce, because the sauce is good! Garnish with more Parmesan cheese and the fried sage leaves.