Profiteroles are made from choux pastry and are piped out and baked until they're tall and fluffy! I like to slice them in half, add a scoop of ice cream to the center and drizzle them with warm ganache! Yum.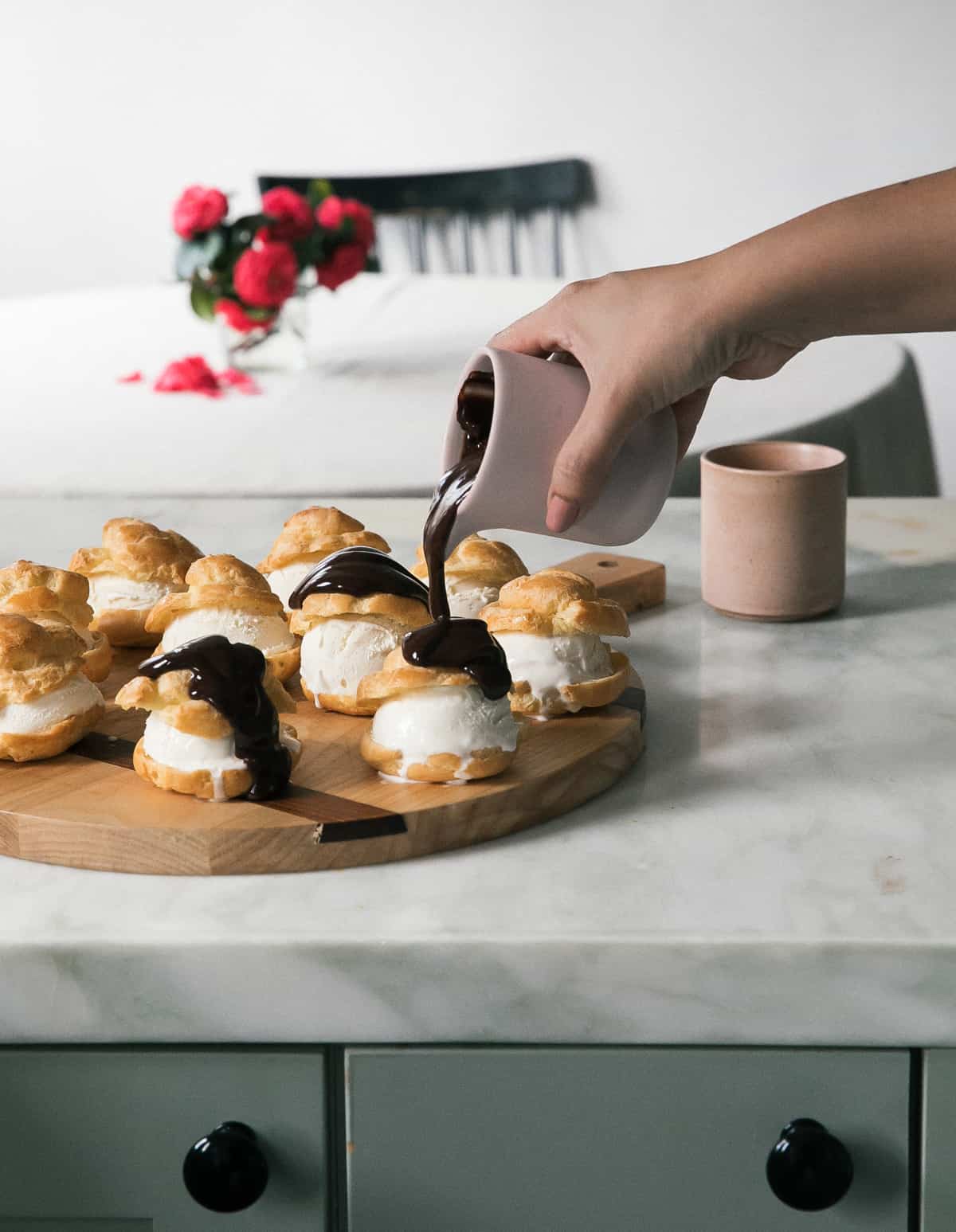 Let's make some Profiteroles! Have you ever made one? What is the difference between a Profiteroles vs. Cream Puffs.
Well, they're pretty similar. They're made from a choux pastry. Very French! Choux pastry is a gateway to so many magical things. For instance, once you get this down you can make Profiteroles (see above), eclairs and all sorts of other pastries.
You see, when you open them up there'll be a gigantic, gaping whole. It's meant for you to fill it with all sorts of custards, cremes, or in this case, ice cream.
Amazing. And surprisingly not too, too difficult.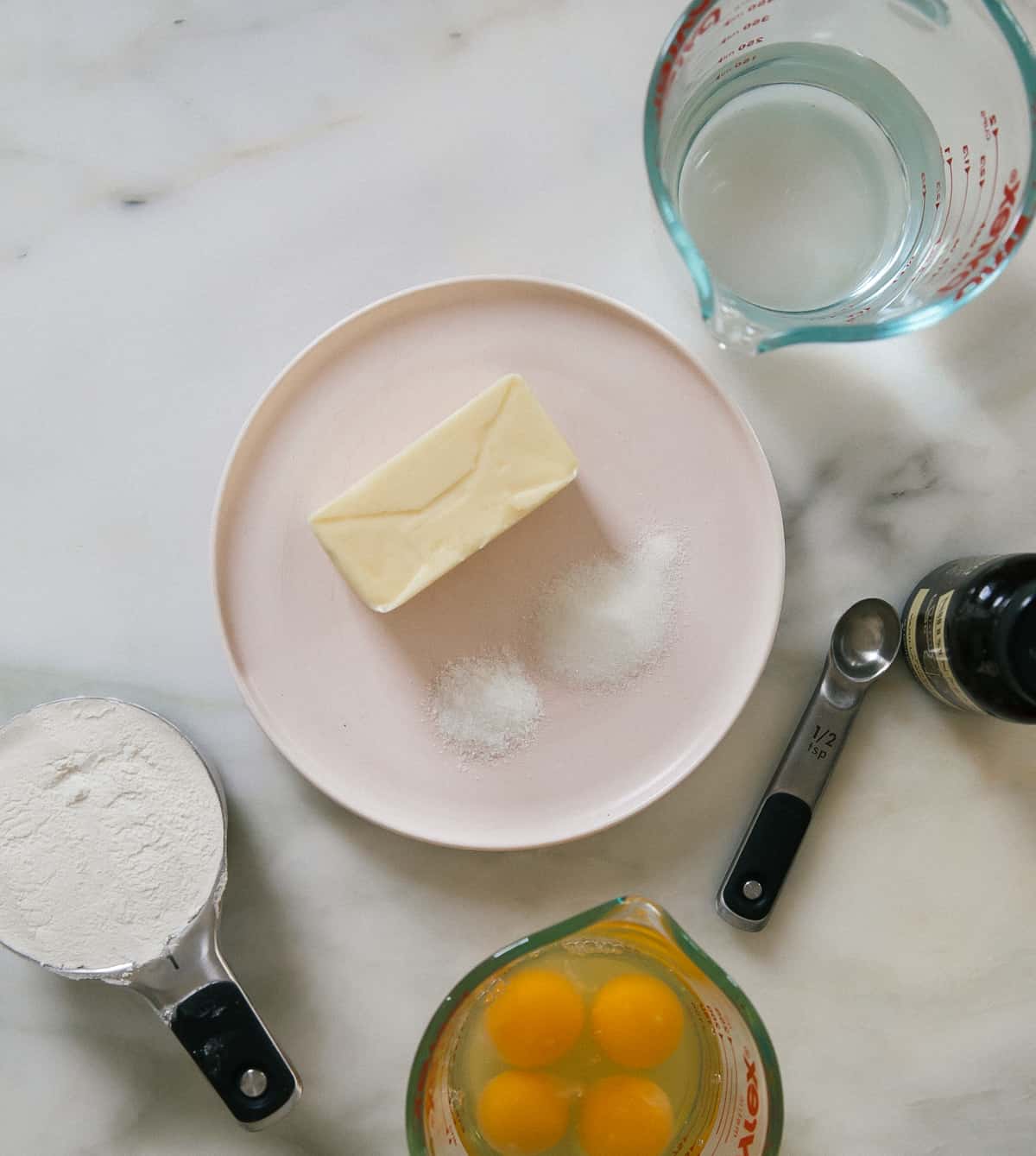 Ingredients You'll Need for Profiteroles
All-purpose flour. You're gonna start with all-purpose flour. And I normally would demand you weigh flour but in this case it's a must. If you don't have a scale then sift the flour first AND then measure. Accuracy is important in this recipe.
Unsalted butter. I like using unsalted because this way we can control the amount of salt in a recipe.
Eggs! A very important ingredient in profiteroles. Maybe the most important. This will add leavening and flavor.
Sugar. We don't need a ton of sugar in this recipe because we'll be filling them with something sweet, i.e., ice cream and topping them with warm chocolate sauce.
Water. This will add our moisture to the dough.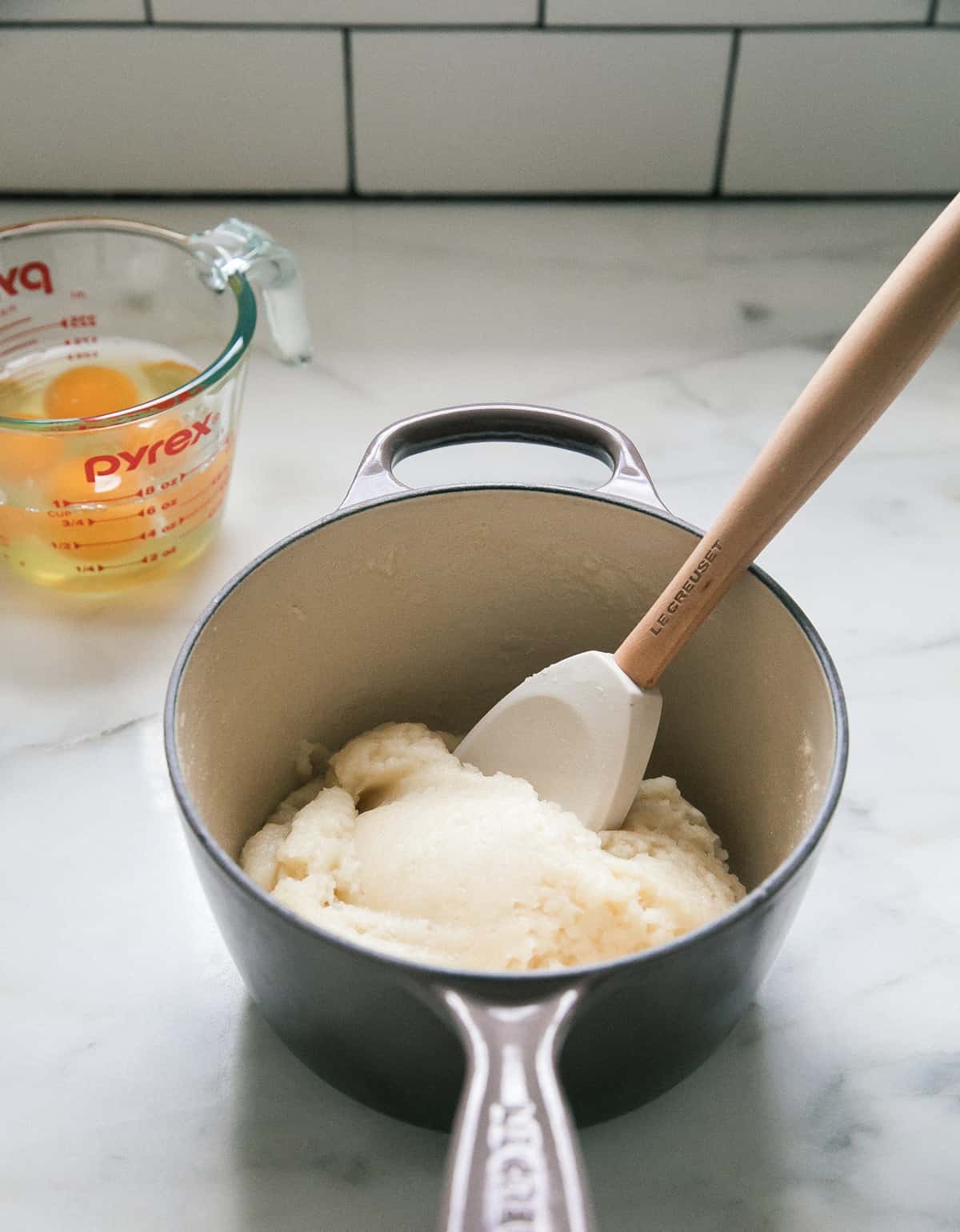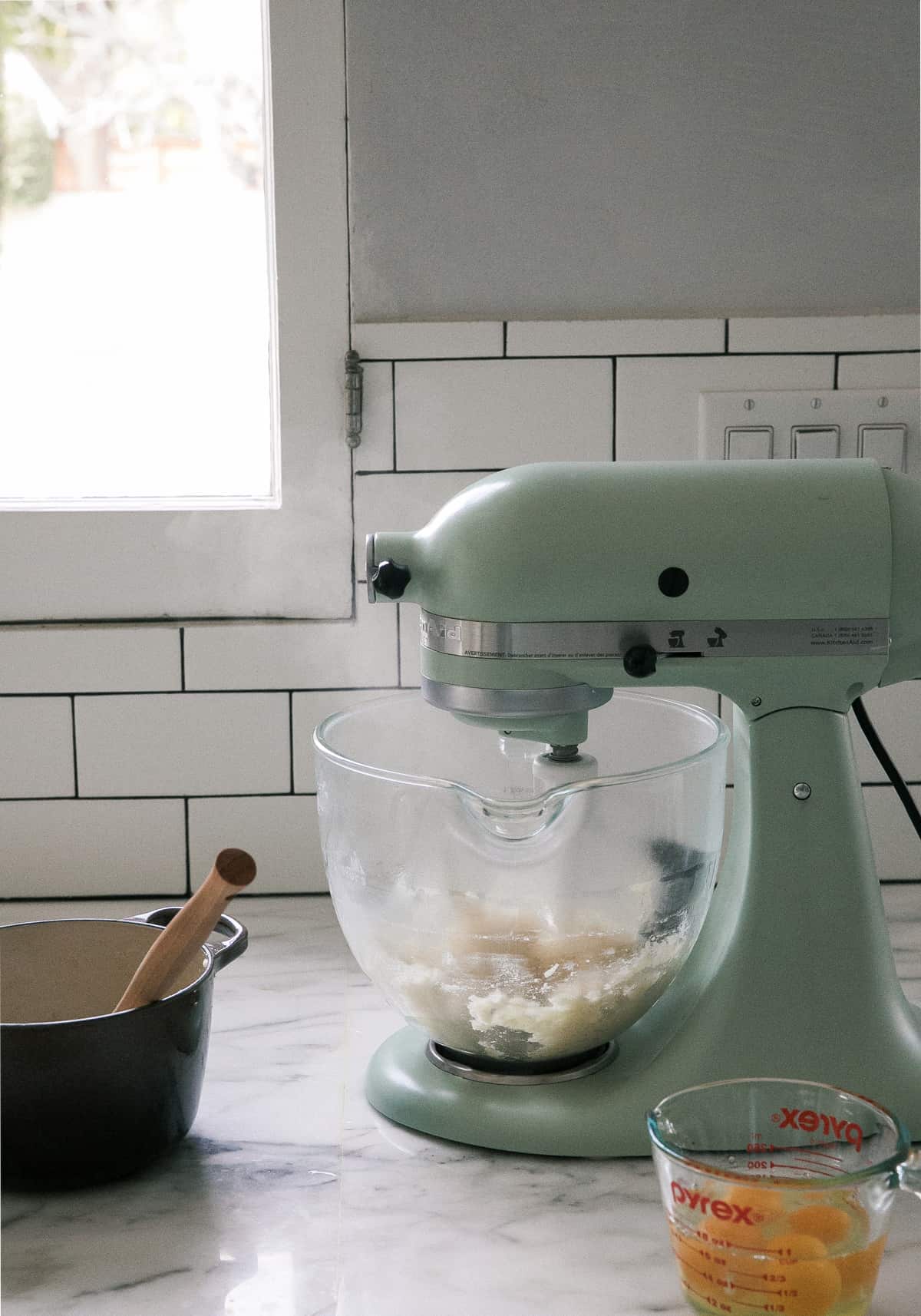 How to Make Profiteroles
Melt the butter and water! Using a medium saucepan, add the butter, sugar, salt and water. Cook over medium heat until the butter has melted.
Then, we want to bring the mixture to a gentle boil. Immediately remove it from the heat.
Pour in the flour and mix until a paste forms. Place it back on the heat until a film develops on the side of the pan.
Transfer the mixture to the bowl of a stand-up mixer. Using a paddle attachment, let it run for a minute. This will release some of the heat and cool it down. As a result, it won't cook the eggs we're about to add. 🙂
Add the eggs, one by one, until the mixture falls into ribbons onto itself.
Transfer it to a piping bag and pipe out choux balls.
Brush VERY lightly with egg wash.
And then bake!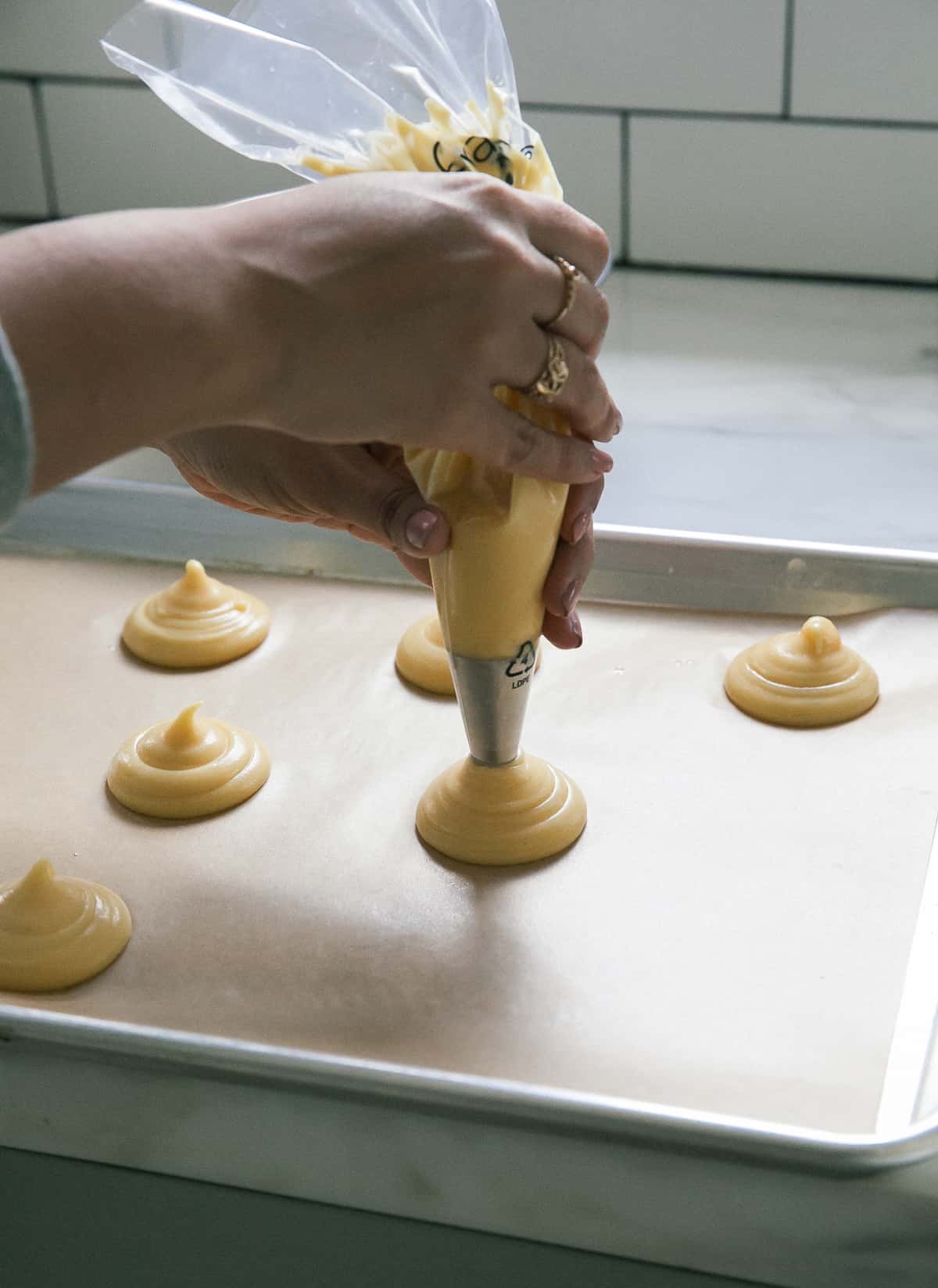 What Makes a Profiterole Light and Tall
The biggest secret to making profiteroles that as light as a feather: the oven temperature.
We're going to be preheating the temperature 350 degrees F. When we're ready to put the profiteroles into the oven, we're going to set the oven to 425 degrees F.
We put the into the oven. This temperature increase will rise, in turn making the profiteroles rise to be light and tall.
Then, we bring it back down to 350 degrees and bake for an additional 15 minutes.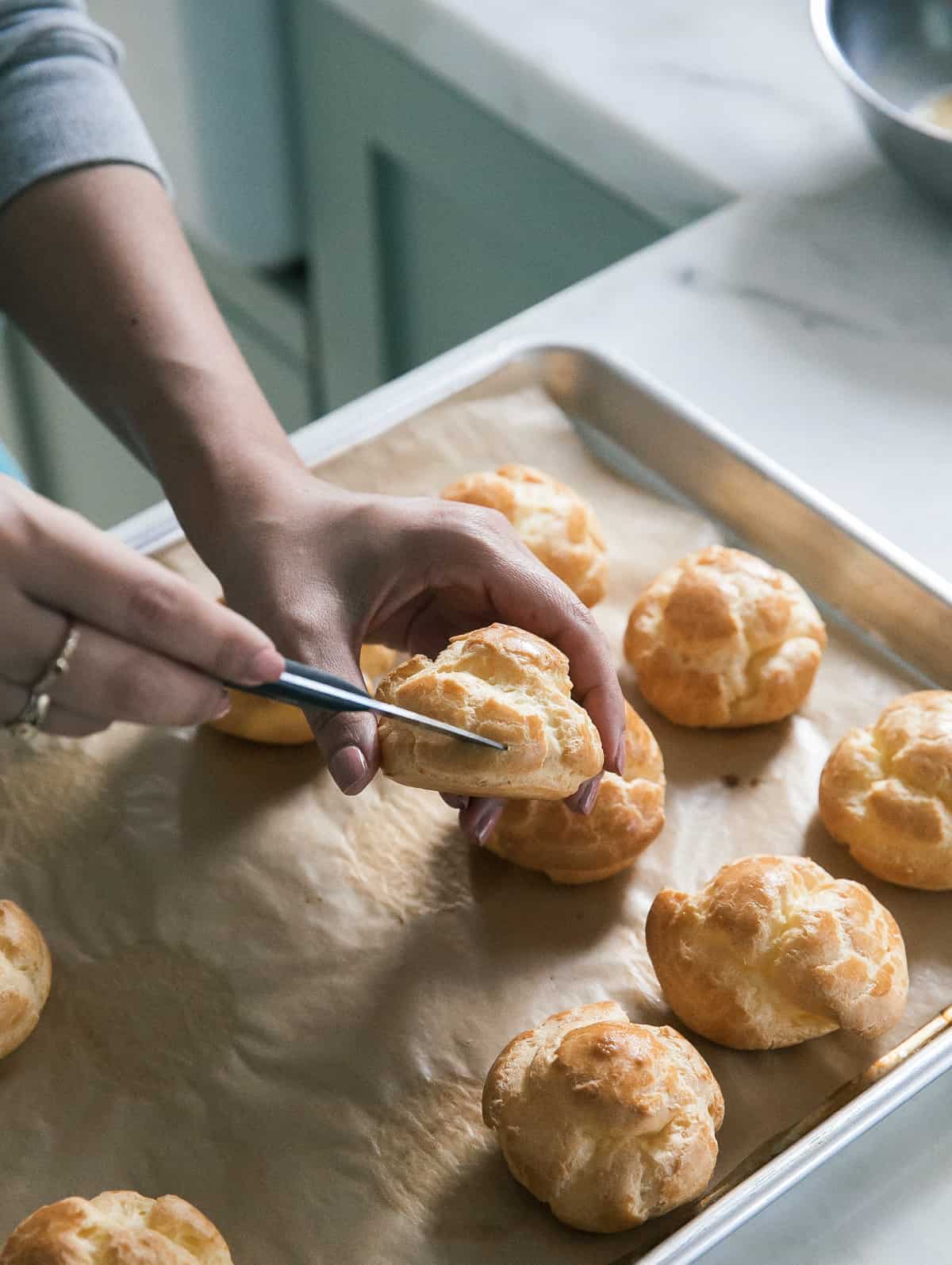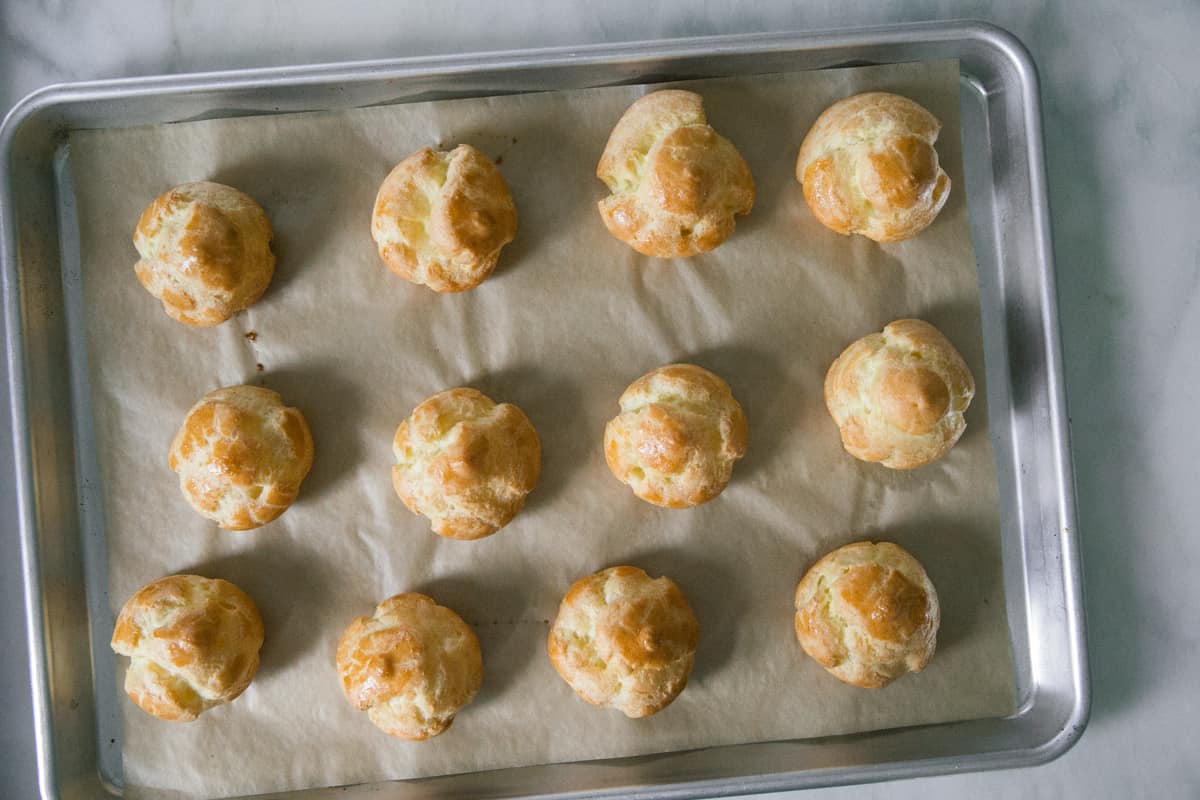 Tips and Tricks
Be sure that the flour mixture isn't too hot before you add the eggs. We don't want the eggs to cook.
Follow the oven instructions! 🙂 I really do believe that it helps make them rise. They're similar to my blueberry muffin recipe.
Pierce the edge of each profiterol; this will help release some of the steam inside the profiterol. As a result, the inside won't be super duper moist and doughy.
Freeze any extras. To freeze them, add them to a baking sheet. And then transfer to the freezer for 1 hour. When frozen solid, transfer to a freezer-safe bag of container. Thaw on the counter.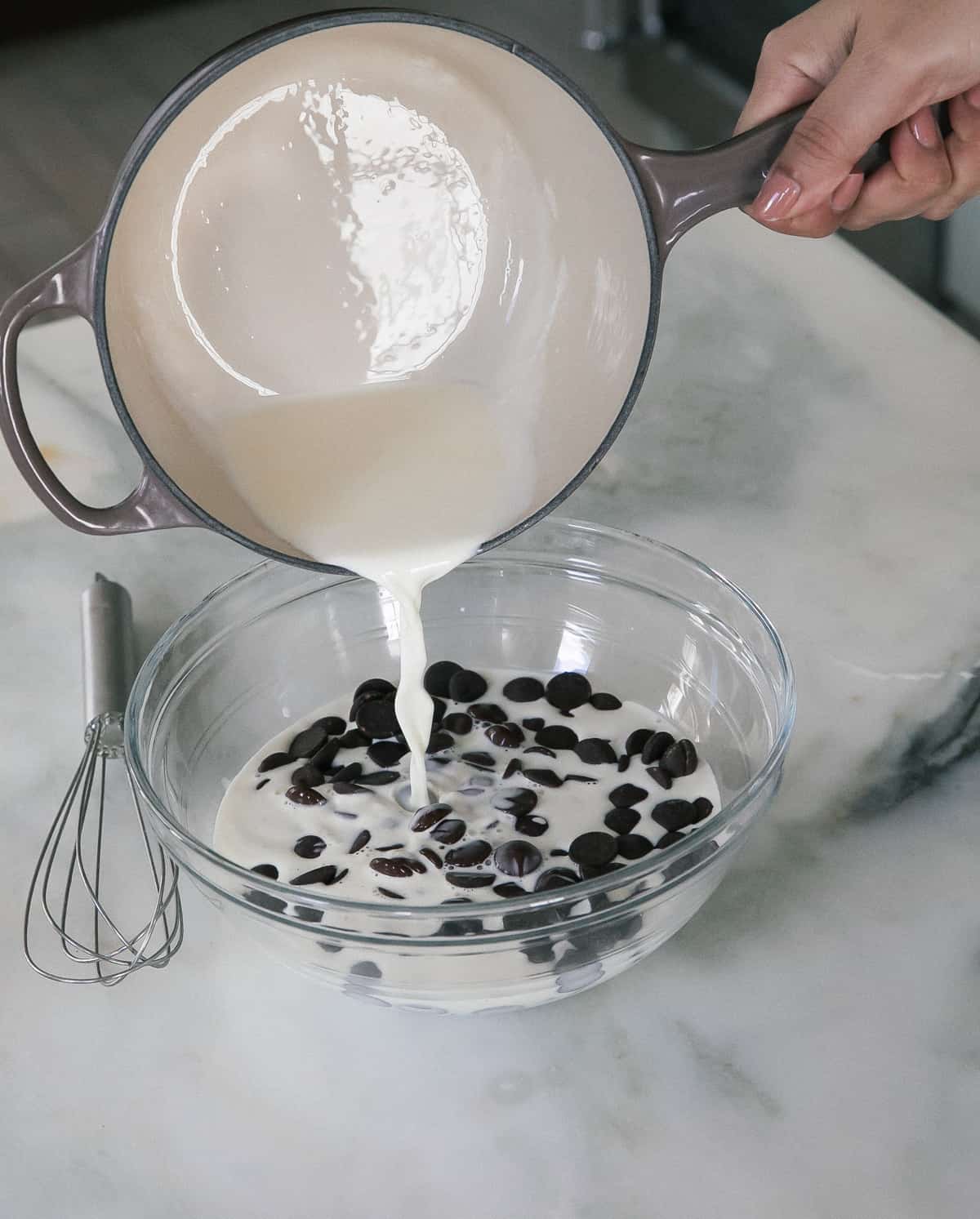 What to Serve with Profiteroles
Most often times, people stuff these with fluffy whipped cream. I like to place a scoop of ice in a profiterol and then top them with chocolate sauce. YUM! The warm and cold combination is delightful.
I've also seen people make a cake with these, and ummm, that's a GREAT IDEA.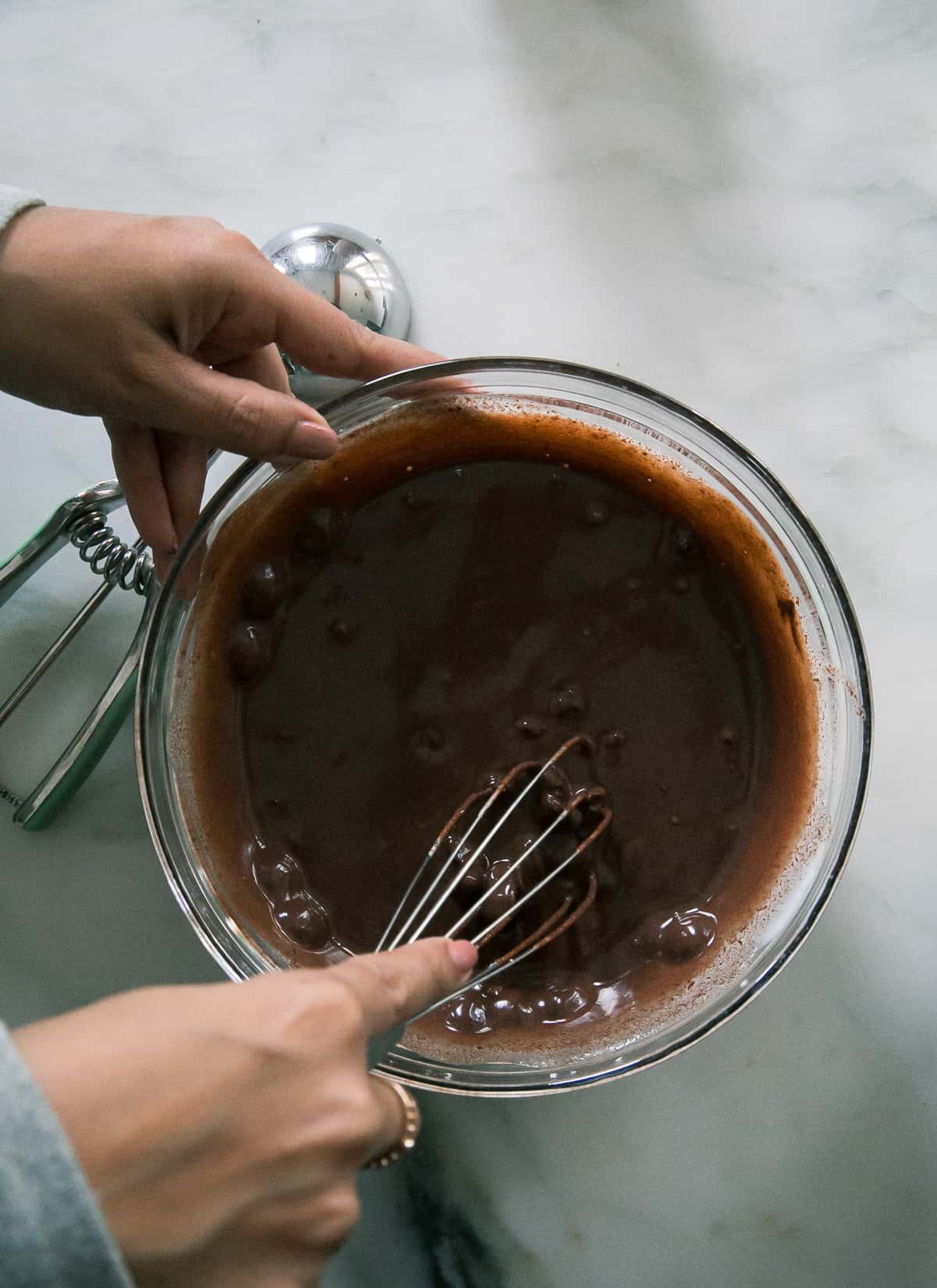 If you make these Profiteroles, let me know on Instagram!
Looking for more recipes? Here are some favorites: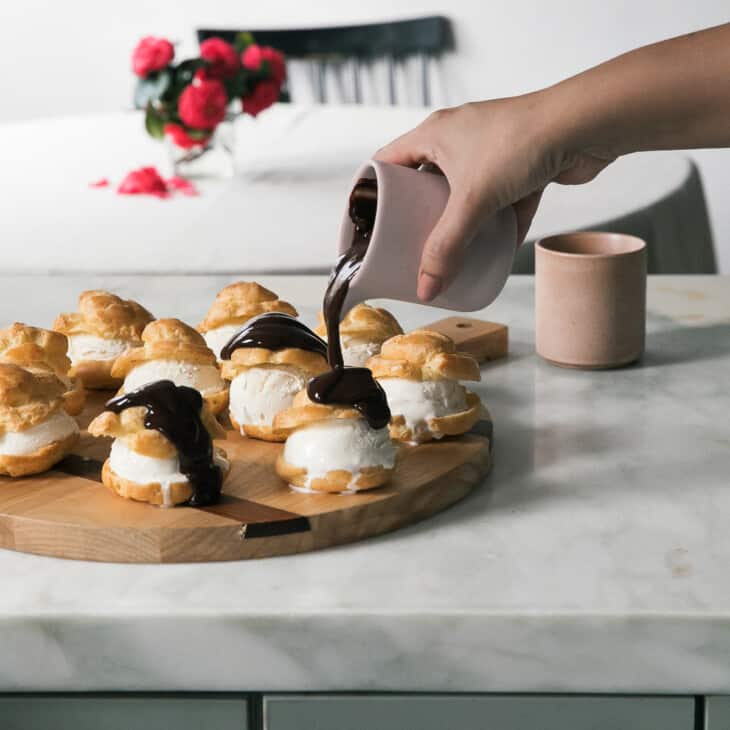 Print Recipe
Profiteroles Recipe (How to Make Profiteroles)
Profiteroles are made from choux pastry and are piped out and baked until they're tall and fluffy! I like to slice them in half, add a scoop of ice cream to the center and drizzle them with warm ganache! Yum.
Ingredients
Pâte à Choux:
1/2

cup

unsalted butter

1

teaspoon

granulated sugar

1/2

teaspoon

kosher salt

1

cup

water

1

cup

all-purpose flour

1/2

teaspoon

pure vanilla extract or vanilla paste

4

large eggs

at room temperature

1

large egg

mixed with 1 teaspoon of water for egg wash
Chocolate Sauce:
1/2

cup

heavy cream

6

ounces

dark chocolate chips

2

tablespoons

unsalted butter

Pinch

kosher salt
Instructions
To Make the Pâte à Choux:
Preheat the oven to 350F. Line two baking sheets with parchment paper. Set aside. Prep a pastry bag with a round tip on the end. If you don't own a tip, no biggie, it's not totally necessary.

In a medium saucepan, set over medium heat, add the butter, sugar, salt and water. Bring to a gentle boil. Do not allow the water to boil for any length of time or it will begin to evaporate, and the proportion of liquid to dry ingredients will change, compromising the final dough. Once boiling, immediately remove the pan from the heat and, using a spatula, quickly mix in the flour.

Return the saucepan to medium heat and continue beating in the flour for 30 seconds. The mixture should begin to thicken, dry out and form a mass. A think film should form on the bottom of the pan and the mixture should begin to pull away from the sides of the pan.

Using a rubber spatula, scrape the mixture into the bowl of a standing electric mixer fitted with the paddle. Begin beating the paste at medium-low speed to release some steam and to allow it to cool somewhat. I did this for about 1 minute.

Pour in one egg at a time, beating continuously until the paste is smooth and shiny. The dough will go from sloshy to smooth and will eventually be smooth and fall on itself.

Transfer the choux to the prepared pastry bag. Pipe out about 9 profiteroles per baking sheet, spacing them about 2-inches apart. Note: If there are any little tips to any of the profiteroles, you can dip your finger in water and lightly pat them down.

Using a pastry brush, lightly coat each piece with egg wash,

Place baking sheet in oven and turn oven temperature to 425F bake for 15 minutes.

At the 15-minute mark, turn oven temperature down to 350F and bake for another 10 minutes, until nice and golden brown. If they're starting to get too dark then remove them. Transfer to a cooling rack. Take a small paring knife and pierce a small hold on the sides–this will let out any moisture. Allow them to cool for 15 minutes.

To Make the Chocolate Sauce:

While the cream puffs are cooling, let's make the chocolate sauce. Add the chocolate to a heat-proof bowl. In a small saucepan, heat the heavy cream and butter to a gentle simmer.

Pour the heavy cream over the chocolate; let stand for 1 minute. And then whisk until smooth.

To Assemble:

Cut the cream puffs open, place scoops of vanilla ice cream and top with silky smooth chocolate sauce. Yum!
Nutrition
Serving:
12
g
|
Calories:
340
kcal
(17%)
|
Carbohydrates:
10
g
(3%)
|
Protein:
3
g
(6%)
|
Fat:
12
g
(18%)
|
Saturated Fat:
2
g
(13%)
|
Polyunsaturated Fat:
2
g
|
Cholesterol:
120
mg
(40%)
|
Sodium:
20
mg
(1%)
|
Potassium:
200
mg
(6%)
|
Fiber:
12
g
(50%)
|
Sugar:
5
g
(6%)
|
Vitamin A:
50
IU
(1%)
|
Vitamin C:
1.7
mg
(2%)