Let's make some Profiteroles!

Whoa! December, where did you come from? These upcoming weeks are gonna be intense, right? Holiday parties, pretty dresses and tights, shopping, lots of to-do lists.

It's time to take a break. Sit in front of the TV, watch It's a Wonderful Life, paint your nails….and then when they dry, get your Profiterole makin' on!

Consider learning how to make this cream puff dough like a gateway recipe to all things awesome. For instance, once you get this down you can make Profiteroles (see above), eclairs and all sorts of other pastries. You see, when you open them up there'll be a gigantic, gaping whole. It's meant for you to fill it with all sorts of custards, cremes, or in this case, ice cream.

Amazing. And surprisingly not too, too difficult.

You're gonna start with bread flour. And I normally would never recommend weighing flour but in this case it's a must. If you don't have a scale then sift the flour first AND then measure. Accuracy is important in this recipe.

Then get your butter on. (I weighed this too.)

Then you're gonna add some water to a pot, your cut up butter, salt and little sugar and you're going to bring it to a boil AND then take it off the heat and add the bread flour.

It'll start to look like this. Keep stirring at this point. It's almost like making a roux, you know, when you're making mac n cheese and stuff.

Then add it to a stand-up mixer and turn it on low (with the paddle attachment) just to get some steam out. (Sorry for the blurry as heck picture, but I just wanted you to see what it looks like at this stage.)

Then one, by one, add the eggs.

This is the consistency the batter should be at. You see that little channel? Right after you swipe your spatula through the batter, the channel should fill in slowly. That's how you know you have the right consistency. If it's too think then add an egg white. And keep going until it's juuuust right.

Then add it to a piping bag. Or in my case a freezer bag. Whatever.

And pipe it. You should really be using a 5″ round tip, but I only had a 4″ star tip. Mine came out juuust fine.

Then brush on a little egg wash….and put them in a pre-heated oven to 350F. Now this is when it gets interesting.

Right when you put them in the oven, raise the heat to 425F. This increase in heat will actually help the cream puffs rise even more. Thank you, Alton Brown (and Dad).

For the last 10 minutes, bring the heat down to 350F. You want the moisture to bake out of the cream puffs. I swear it's not that hard, just use a timer. No biggie!

Then…

Total cuteness!

You see how there's a hole in the center? Let them cool on a baking sheet. If you want, poke a small hole on the side to let out even more moisture. When you open it (like below) the center should be dry. Even if it's a little wet, no biggie.

Then you can do awesome things, like, filling them up with ice cream…and pouring sexy chocolate sauce all over them.

Hot chocolate sauce, cold ice cream, crunchy yet soft pastry. Amazing.

Oooooo! One more idea. Bake these one night, take 'em to a party and let people assemble their own Profiteroles. Fast way to make friends. Guaranteed.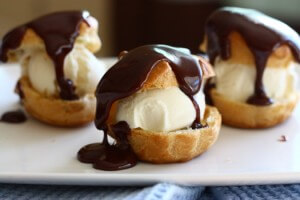 Profiteroles (How to Make Profiteroles)
Print
A profiterole, cream puff, or chou à la crème is a filled French choux pastry ball, and in this case it's filled with ice cream and topped with melty chocolate.

Ingredients
Cream Puff Dough a.k.a. Pate a Choux
8 1/2

ounces

unsalted butter

,

cut into small pieces

1

pint

water

1/4

teaspoon

white granulated sugar

1/4

teaspoon

kosher salt

12

ounces

bread flour

,

sifted

10 to 12

large

eggs

,

at room temperature

1

large

egg + 1 tablespoon water

,

for egg wash
For Assembly of Profiteroles:
Chocolate sauce

Vanilla Ice Cream
Directions
To Make the Cream Puff Dough/Pate a Choux
Preheat the oven to 350F.

Line the baking sheets with parchment or silicon baking sheets. Set aside.

Combine the butter, sugar and salt with 1 pint of water in a stainless-steel saucepan over high heat and bring to just a boil. Do not allow the water to boil for any length of time or it will begin to evaporate, and the proportion of liquid to dry ingredients will change, compromising the final dough. Once boiling, immediately remove the pan from the heat and, using a wooden spoon, quickly mix in the flour.

Return the saucepan to medium heat and continue beating in the flour for 30 seconds. The mixture should begin to thicken, dry out and form a mass. A think film should form on the bottom of the pan and the mixture should begin to pull away from the sides of the pan. Take care that you do not overcook the mixture, as the fat might separate out and the final product will have an unappetizing reddish tint.

Using a rubber spatula, scrape the mixture into the bowl of a standing electric mixer fitted with the paddle. Begin beating the paste at medium-low speed to release some steam and to allow it to cool somewhat.

Working with one at a time, crack each egg into a small bowl and then add it to the paste, beating continuously until the paste is smooth and shiny. You will know you have added enough egg when 1.) a ribbon of dough forms and does not break when the paddle is lifted out of the bowl, 2.) a spoon run through the paste leaves a channel that fills in slowly; and 3.) a dollop of paste lifted on a spatula curls over on itself and forms a hook.

Then transfer the paste to a pastry bag and pipe it in alternating rows.

Using a pastry brush, lightly coat each piece with egg wash,

Place baking sheet in oven and turn oven temperature to 425F bake for 15 minutes.

At the 15 minute mark, turn oven temperature down to 350F and bake for another 10 minutes, until nice and golden brown. If they're starting to get too dark then remove. Transfer to a cooling rack. Take a small paring knife and pierce a small hold on the sides--this will let out any moisture. Then after 15 minutes, they're ready to eat.

While the cream puffs are cooling, add chocolate and heavy cream to a bowl and place over a saucepan with simmering water, creating a double-boiler. Melt chocolate down until it reaches a smooth, thick consistency.

Cut the cream puffs open, place scoops of vanilla ice cream and top with sexy chocolate sauce. Yum.