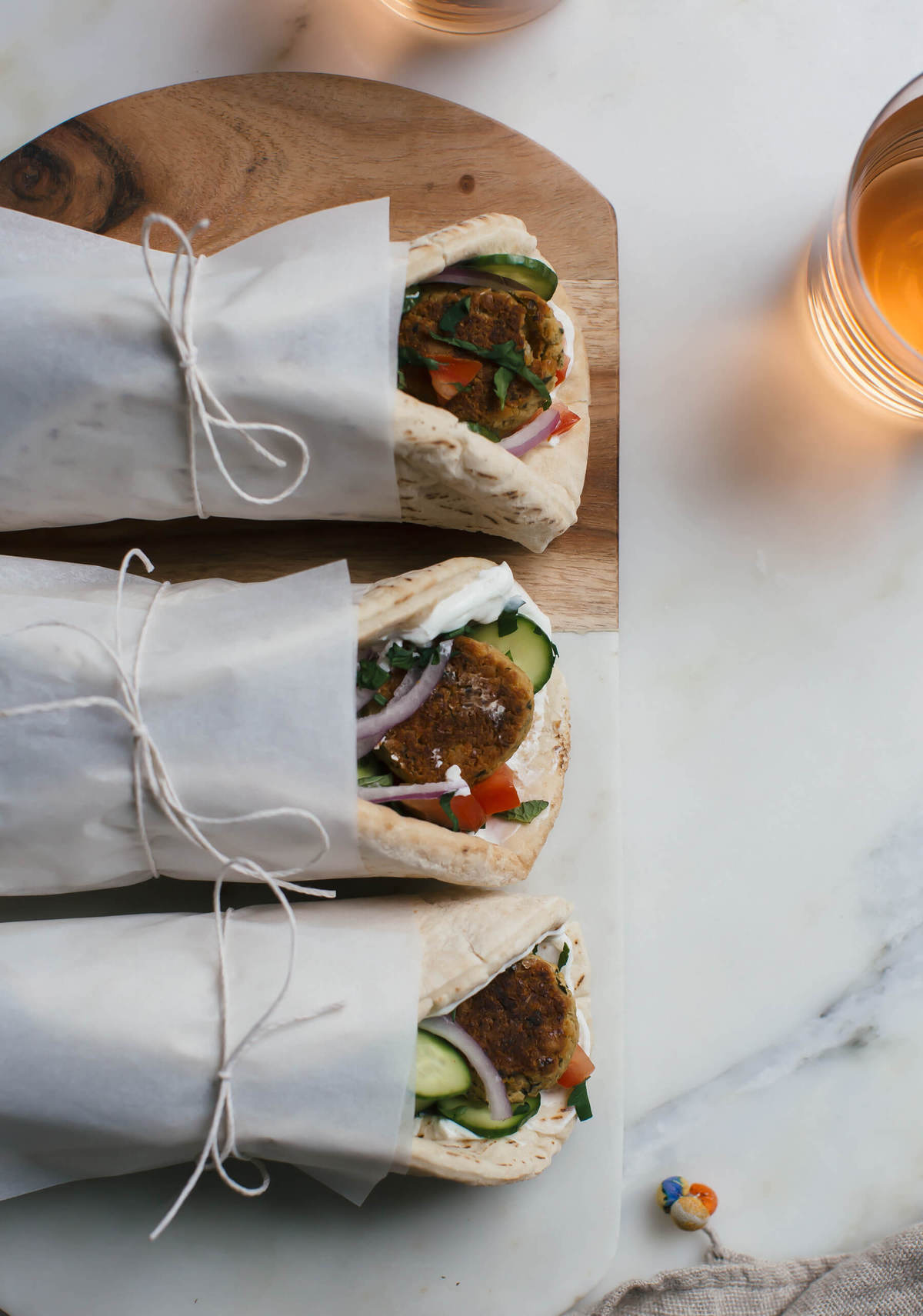 This weekend was a celebration! The bees successfully packed up their belongings and moved their hive to Pasadena and we got honey! Woot woot! The honey is dark amber, delicious and rich. It wasn't enough to make a whole dessert from but it was just enough to drizzle on some ricotta slathered on a piece of toast. Good enough for me.
And! And! Joshua is back from a 2-week stint in Asia so I celebrated by baking cookies and making a whole bowl of good things: sautéed artichokes, asparagus, brown rice, an avocado sort of shaped like a rose, and a bunch of bloosmdale spinach.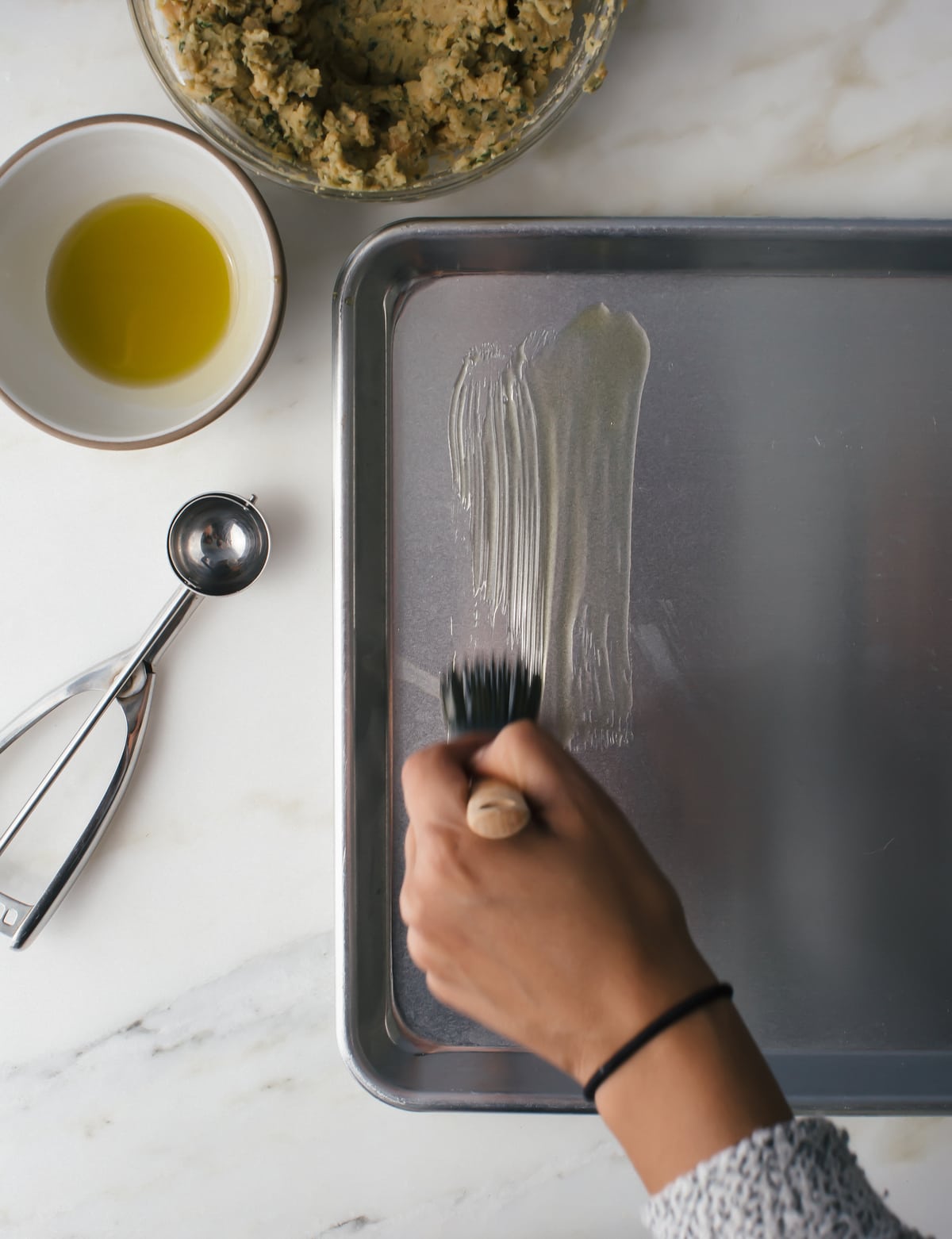 And then I decided to make these baked falafel balls because I'm allergic to frying things (sometimes).
I learned a trick from Mark Bittman. The trick to good baked falafel is to brush a baking sheet with a few tablespoons of olive oil so it almost pan fries in the oven. The result is a nice golden brown crust all on the outside. Genius, right?!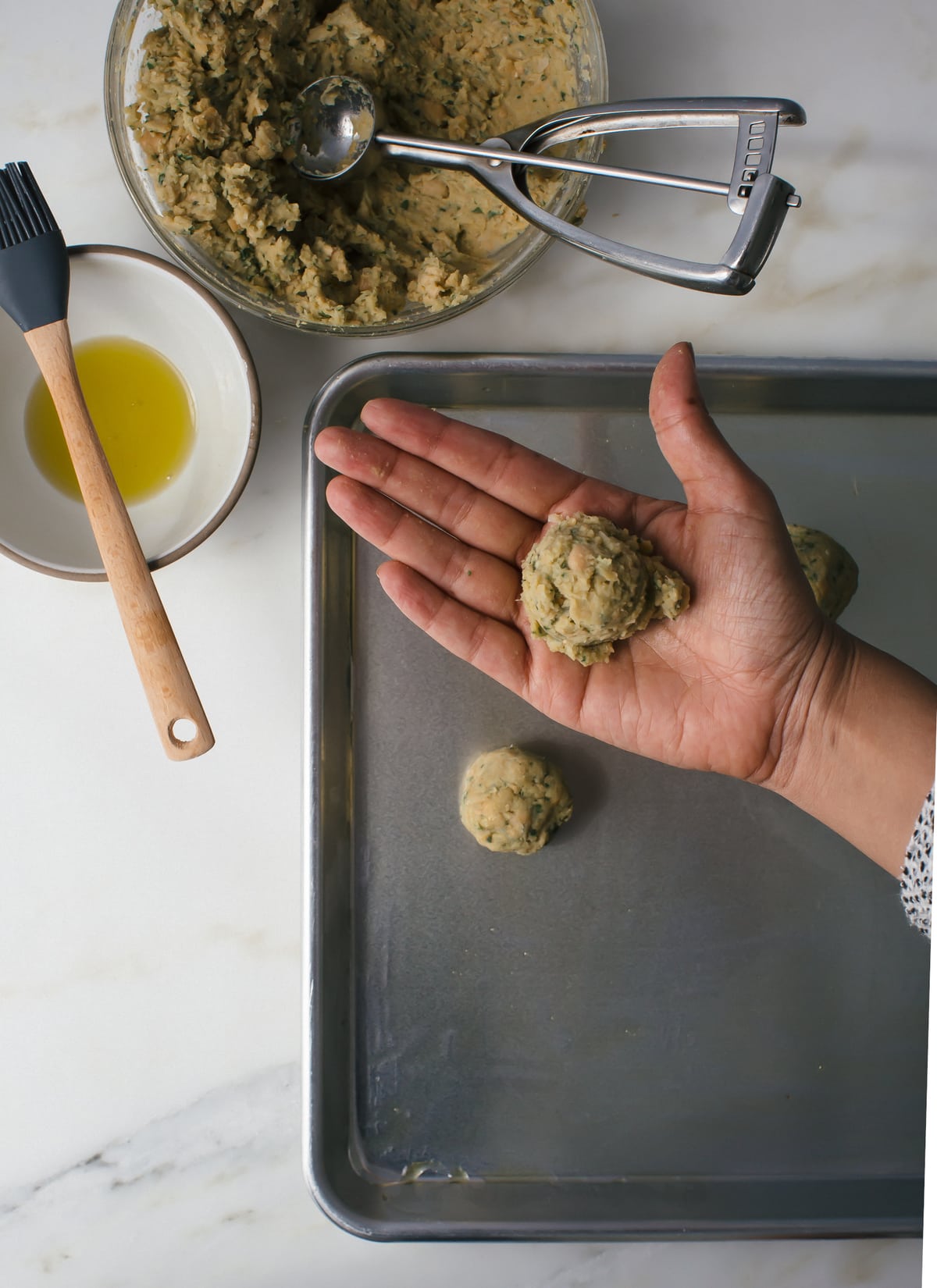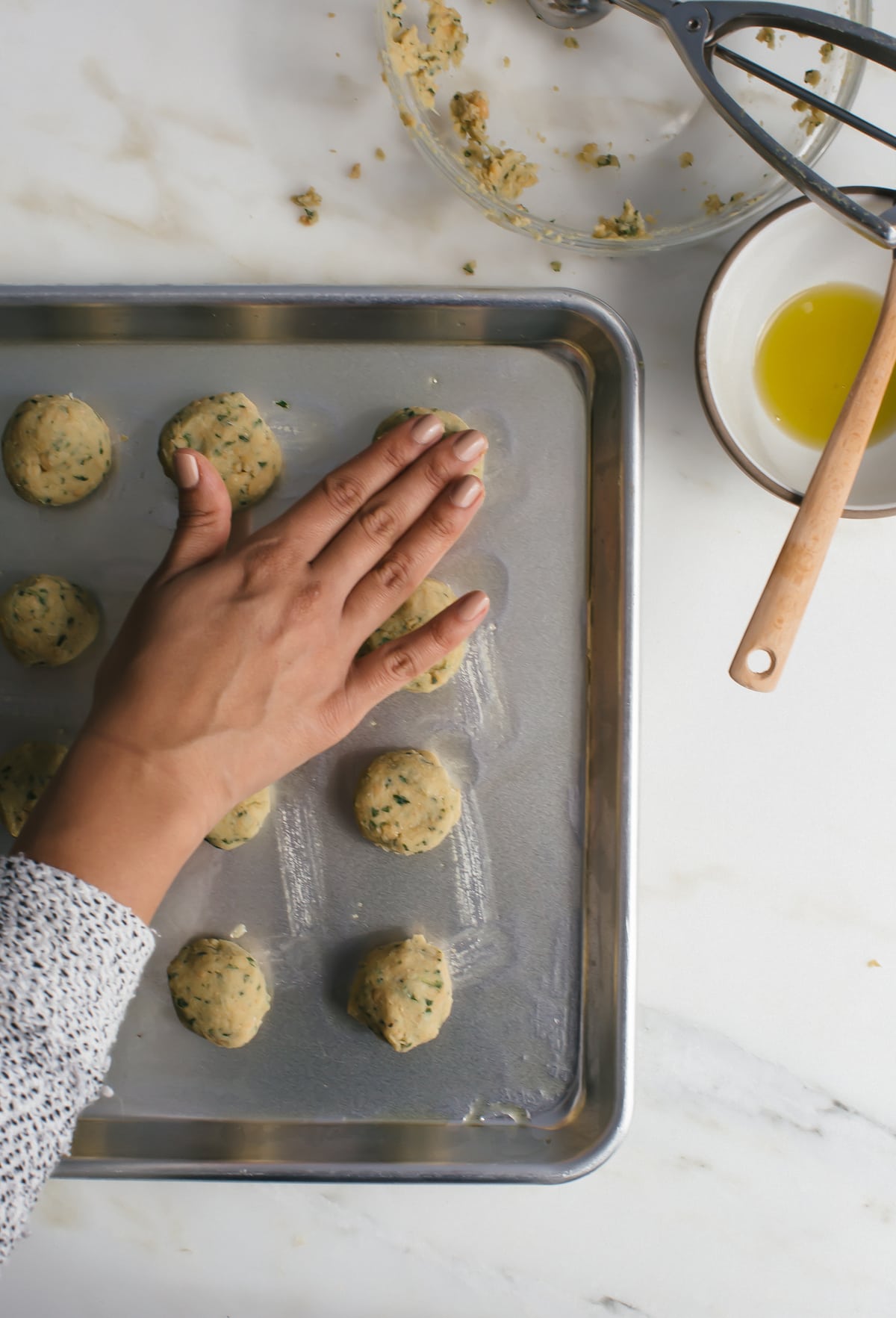 I always like my falafel with a ton of herbs. I like it to be practically green inside, though I would say these are more like a brownish green inside. And I like ample amounts of labneh because this whole thing needs lot of sauce!
I just mixed some garlic cloves, lemon juice and ample salt all up in it. I could eat it just like that with a spoon.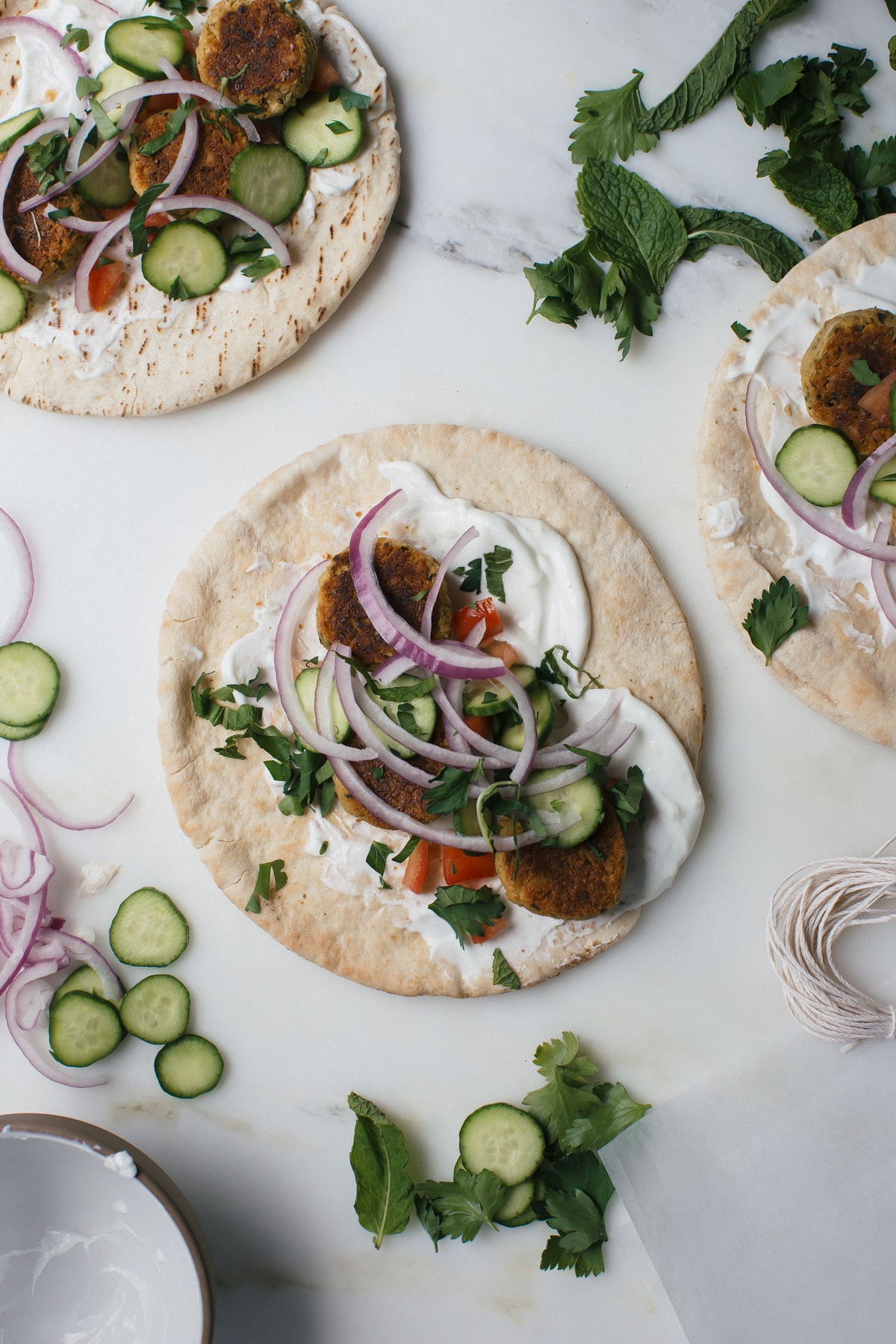 And then herbs and crunchy things like cucumber and tomato and raw red onion. It's the easiest dinner situation because you could make the falafel puree the night before and just bake it up when you want fresh, straight-out-of-the-oven piping hot falafel.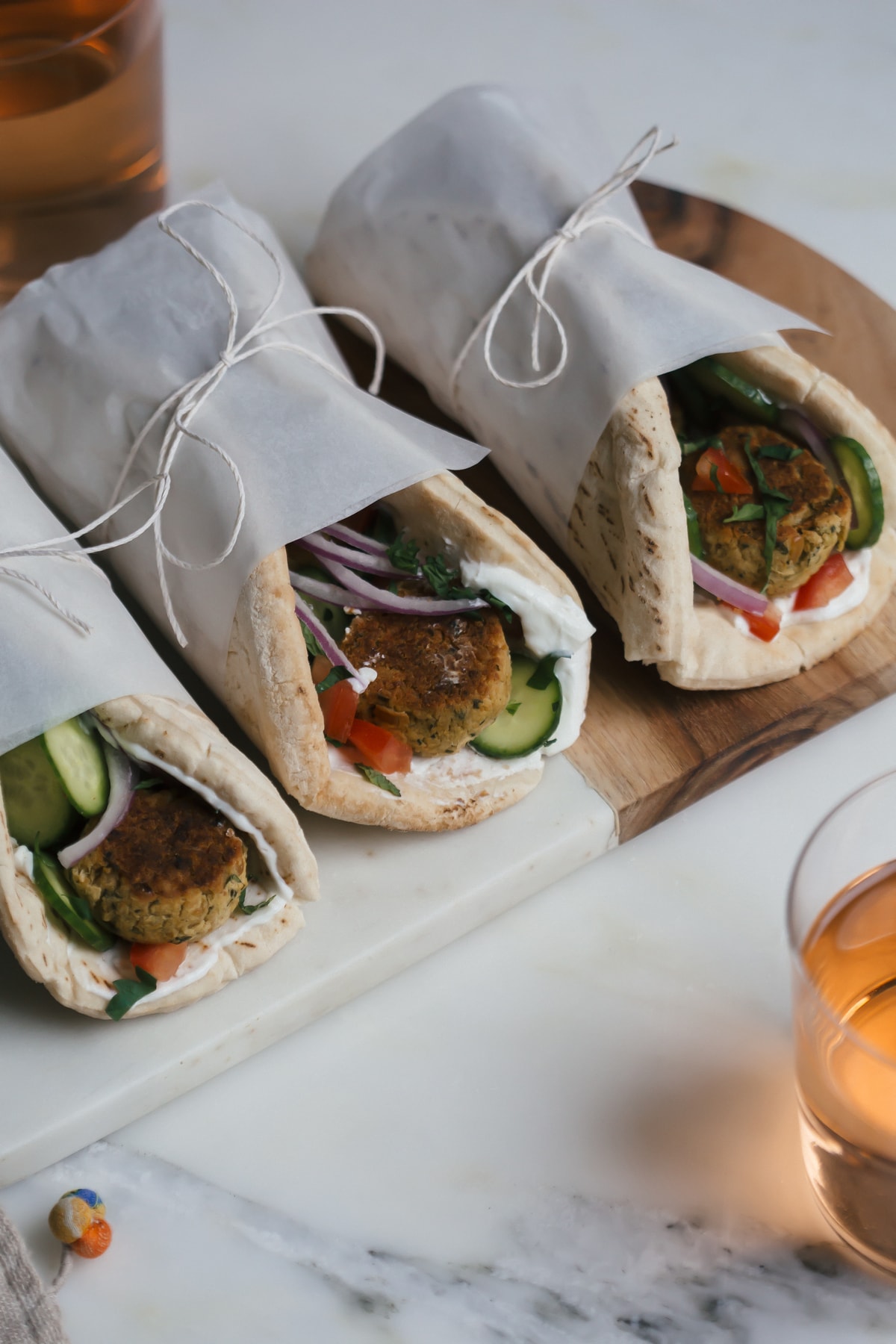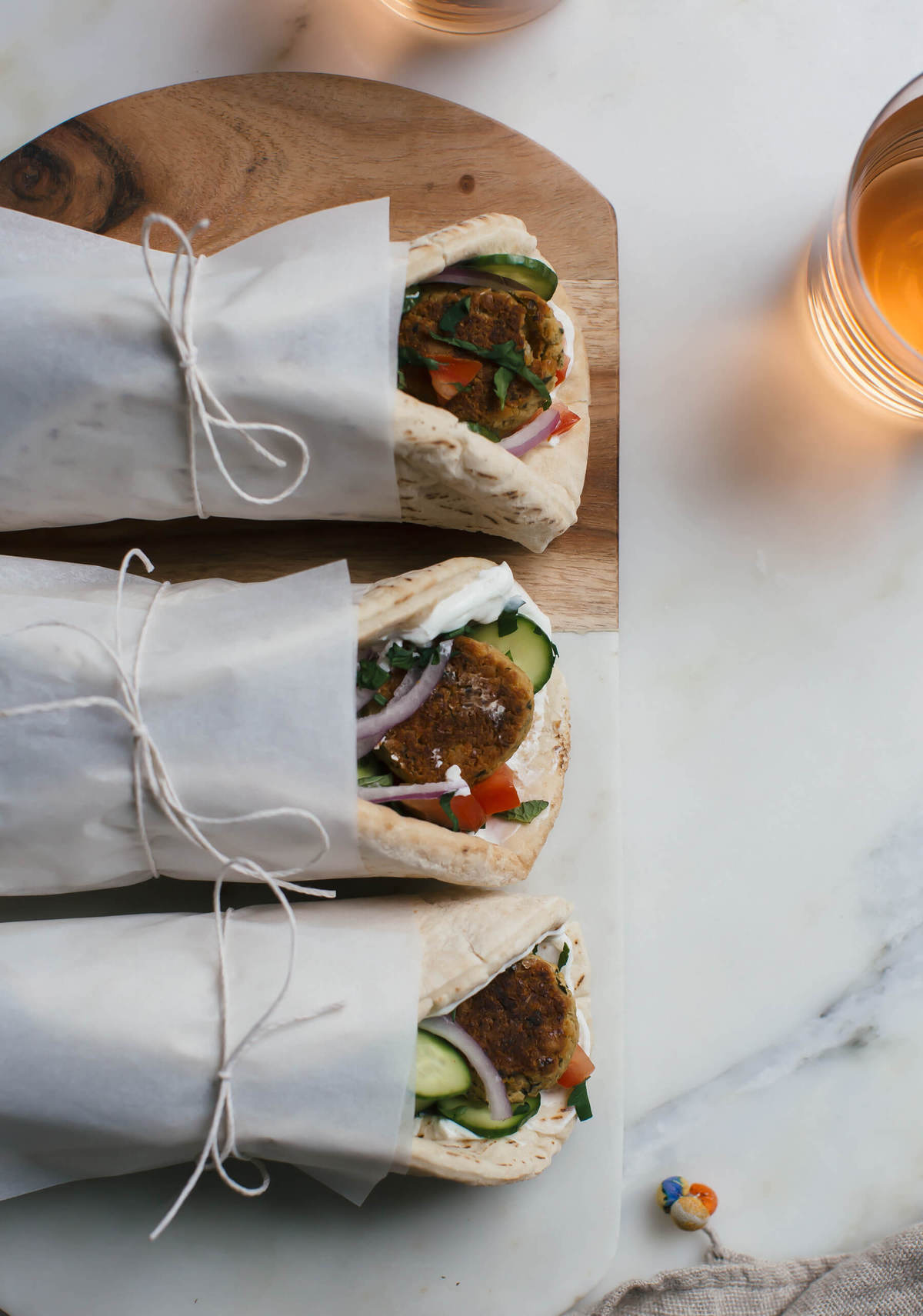 Ingredients
Falafel:
2

garlic cloves

,

peeled

1/2

yellow onion

,

peeled

1

cup

packed fresh Italian parsley

2 to 3

fresh mint leaves

1

teaspoons

ground cumin

1/2

teaspoon

ground cayenne pepper

Juice from 1 lemon

1

teaspoon

baking soda

1

teaspoon

salt

2

15-ounce cans chickpeas, drained and rinsed

2

tablespoons

of olive oil
Accompaniments:
3/4

cup

labneh

2

garlic cloves

,

peeled and minced

Salt

Juice from 1/2 lemon

Warm pita

,

for serve

1/2

red onion

,

sliced

1/2

vine ripe tomato

,

diced

Italian parsley leaves

,

minced

Mint leaves

,

minced
Directions
Preheat your oven to 350 degrees F. In a food processor (you may need to do this in batches if your food processor is small), add the garlic cloves, yellow onion, Italian parsley. Pulse until the mixture is minced, scraping down the sides, as needed.

Add the cumin, cayenne pepper, juice from 1 lemon, baking soda, salt and chickpeas. Pulse until completely combined and the mixture is mostly smooth.

Brush your baking sheet liberally with about a tablespoon of olive oil. Scoop out heaping tablespoons of the falafel mixture and roll them into balls. Place them on the baking sheet and lightly push the tops in. Brush the falafel balls with olive oil and transfer to the oven to bake for 10 to 15 minutes, flipping at the halfway point (around 5 minutes) to ensure even browning.

To assemble the wraps: Mix together the labneh, garlic cloves, a pinch of salt and lemon juice. Slather a few tablespoons of labneh onto each pita wrap. Top with warm falafel balls, slices of red onion, tomato, parsley leaves, mint leaves and cucumber. Wrap them up and tie them with a twine and eat immediately.